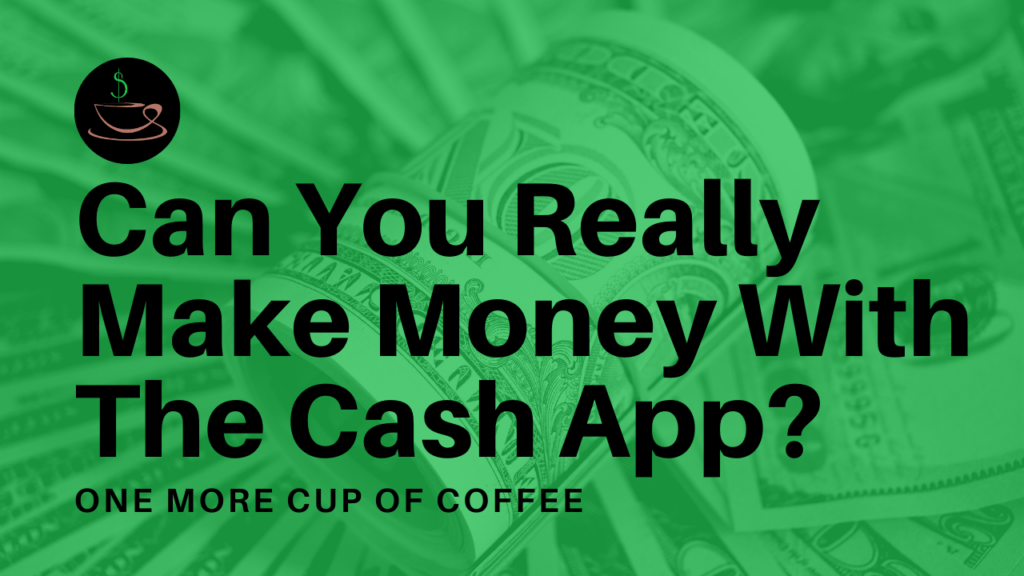 If you're looking for an app with an excellent rating on Google Play that promises to help you make extra cash, then CashApp looks promising IMO. But can you really make money with the CashApp app? Here is what I found out over the course of my research.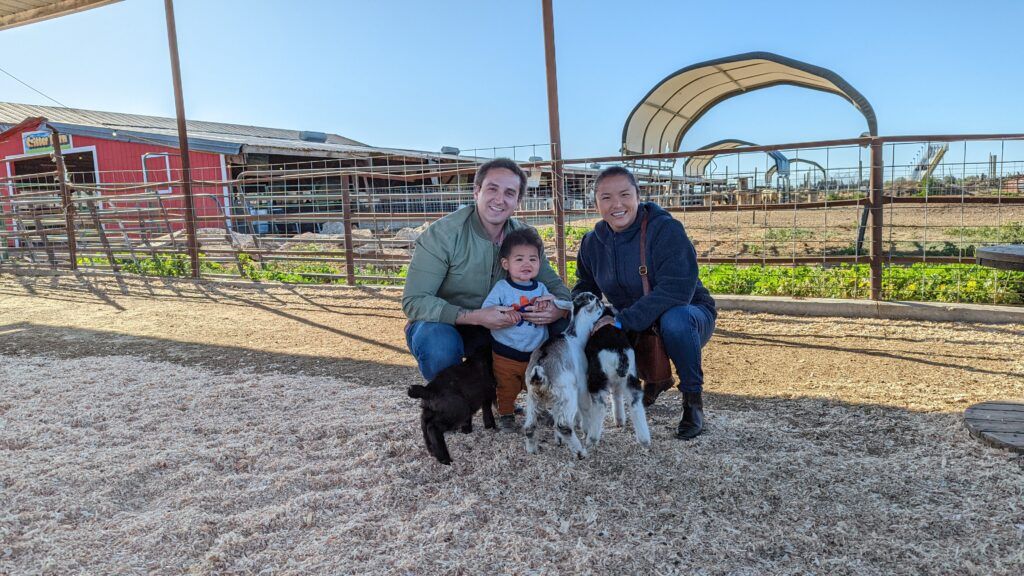 Are You Ready To Work Your Ass Off to Earn Your Lifestyle?
Are you tired of the daily grind? With a laptop and an internet connection I built a small website to generate income, and my life completely changed. Let me show you exactly how I've been doing it for more than 13 years.
But hold up. There's a bit of confusion here. Actually, you might be confusing two different apps, so first off let's figure out which one you're researching!
CashApp VS Cash App
There are two apps to consider. One is the Cash App, and one is the CashApp app. Confusing, right? Actually, you can make money with both of them, but in different ways. I'll break down both of the, but in general here's the breakdown.
Cash App: Make money by investing and getting your friends to download the app
CashApp: Make money downloading other apps in the Google Play store and testing them out
Before you do that though, keep in mind that "apps" will never really make as much money as an actual job. The good news is that you can find some awesome online work with Flexjobs, an online marketplace for finding online work that actually pays out.
Flexjobs is great because you don't have to commit to a full time job, but can find flexible online work to add to your current income whenever you need a bit of a boost.
Making Money With The CashApp App
The CashApp App has been downloaded over 100,000 times, and has an excellent Google Play rating of 4.6 Stars. With a rating like that, it sounds like people are able to generate money with the CashApp, right? So how do they do it?
The app basically works by giving you cash for trying free apps, which is certainly not an altogether new concept. A lot of apps that promise to give you free cash operate with this principle in mind, and this is a fairly common category in the search for ways to earn extra money on-the-go.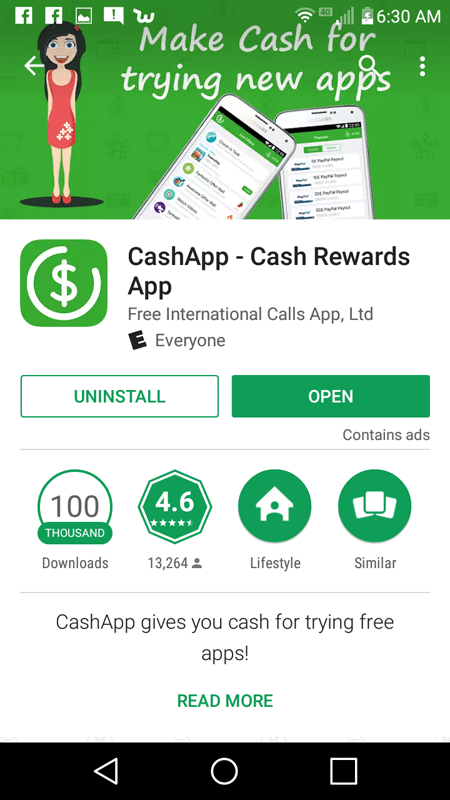 Another common type of app for making money is survey-related apps like Swagbucks.
Obviously, these types of apps tend to suffer from similar downsides, while they also provide some excellent strengths.
The biggest downside to such apps is that they can tend not to pay enough for the work you need to do to earn enough cash to make them viable. For better pay, try this.
But they also tend to come with a very positive upside. They allow you to work on your own and earn extra cash wherever you are, whenever is convenient for you.
But can CashApp manage to balance the upsides and downsides to provide an experience that will make it work?
Here is what I discovered.
Opening Up CashApp For The First Time
This is the first thing I saw upon opening CashApp for the first time.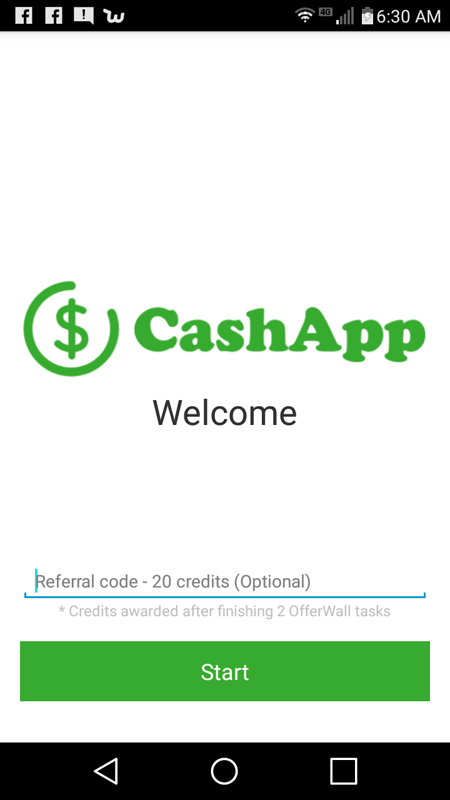 I was awarded 30 credits for joining, which was pretty awesome!
Very soon after, I arrived at what seemed to be the 'main hub' of the app. Here is a screenshot of what it looked like.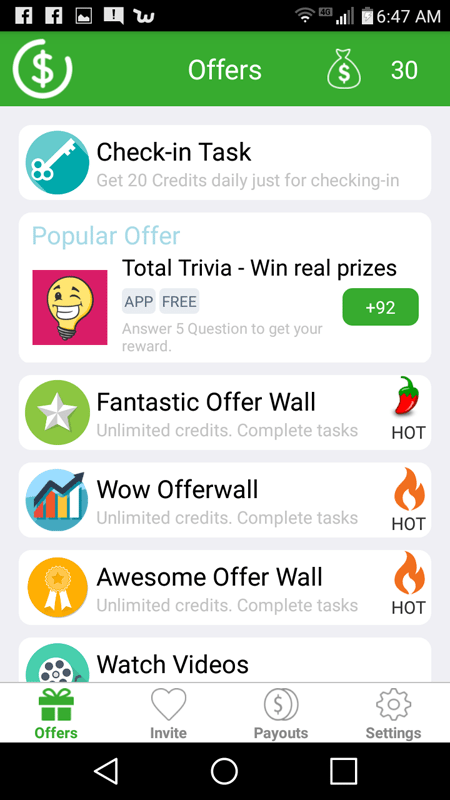 Apparently, what I was looking at here were offer walls that provided different types of experiences for users… or at least, a different variety of offers to take advantage of. I clicked on one of them, and was then taken to this part of the app.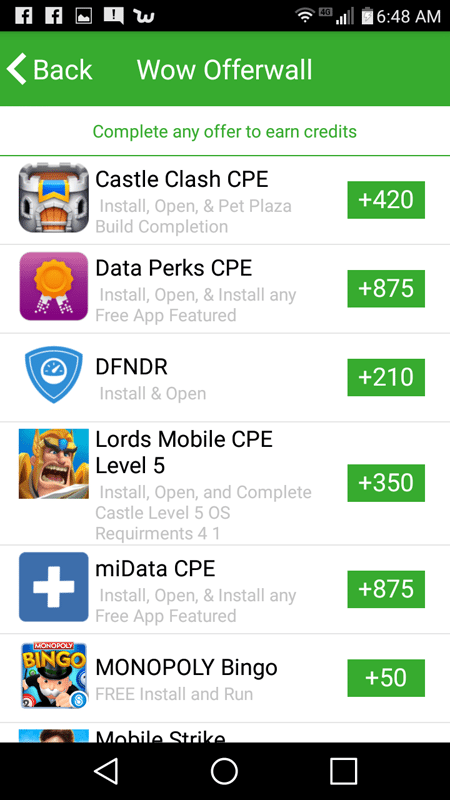 This offer wall contained quite a few different apps that I could download and use to earn points. These ranged in value from around 50 points to almost 6,000 points!
Of course, some of them required you to put some serious time into the app before you could get the points. For example, one app required you to install it, and play until you could upgrade your HQ to a level 10 (it was a gaming app). But as a reward for this, the app promised to give you almost 6,000 points!
Another app, valued at 210 points, just required you to install it and open it to earn the points—so the values really ranged across the board.
I did some calculating, and figured that I could probably easily earn about 600 points a day, if I spent a bit of my free time on it (waiting in line, sitting in the bathroom, waiting for my kids to get ready to go out for dinner, etc.).
Installing apps is the easy part. It is opening them up and running them that takes time, but I wanted to figure out what my income potential could be with this kind of point-gaining speed available… so that's what I looked into next.
How Much Money Could I Actually Earn With The CashApp App?
To figure this out, I went to the 'Payouts' section located at the very bottom of the app. Figuring out how the points converted to real-world money was pretty easy. Here's a screenshot of the Payouts screen.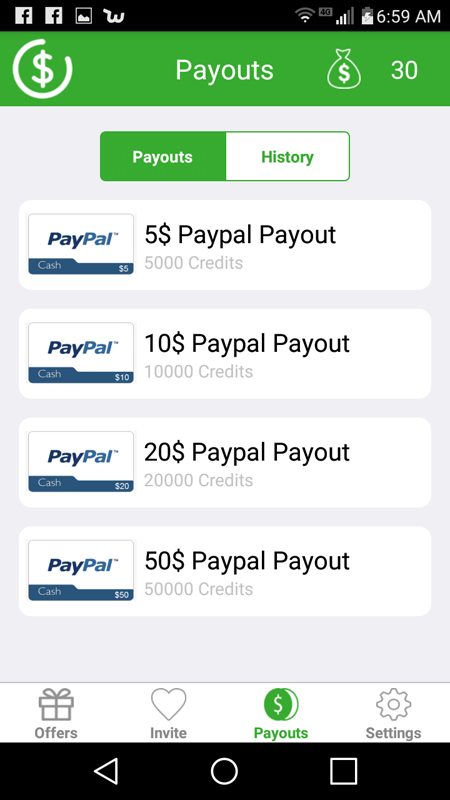 So, basically, 1,000 points equals $1. So at 600 points a day (which would take me about 15-30 minutes, depending on exactly what I'm trying to do). I could earn approximately $0.60 per day, which would equate to about $1.20 an hour.
As you can see, this is a pretty low per-hour rate, but not the worst that I've seen. Another good thing about this app was that it provided a lot of offers that you could take advantage of to earn cash. Some apps like this don't offer nearly as many offers, so the long-term earning potential of this app was actually pretty good.
As you could see, the payouts are all managed through PayPal, which is pretty awesome. PayPal does take a cut out of these types of transactions, but not a very big one.
But now, I was curious to see what other users thought about the app. So I decided to do a quick read-through of some Google Play reviews before weighing in with my final opinion.
Here's what they said.
Reviews For The CashApp App
After taking a look at the Google Play reviews, I will admit that I was impressed. People seem to love this app. They say that it's easy, fast, and provides an awesome opportunity to earn extra cash.
A few people expressed frustration over some glitchy-type stuff, but honestly, I didn't even see enough of these types of reviews to really take them too seriously.
It seems that the CashApp App works really well, for the most part. It also seems like people are responding well to it.
If they keep going like this, you can expect to see a lot more downloads in the future, because they seem to be doing an excellent job of keeping people engaged and entertained.
The app doesn't seem to offer incredible amounts of money if you calculate how much you can earn per-hour… but on the flipside, a lot of people are saying that it is also fun to use. I think that people enjoy downloading the apps and trying them out—and therein lies a really good point about apps like this.
Sometimes, if the app does everything well and avoids frustrating glitches, it can be a lot of fun to download and try out new games and apps… so that provides a bit of extra appeal.
At this point, I felt like I had learned enough about the app to figure out if I would be leaving it on my phone or not. Obviously, my first criteria always has to do with how much cash I can earn… but I also want to know that earning the money isn't going to take a super-long time.
Can You Generate Enough Money With The CashApp App To Make It Worth The Time?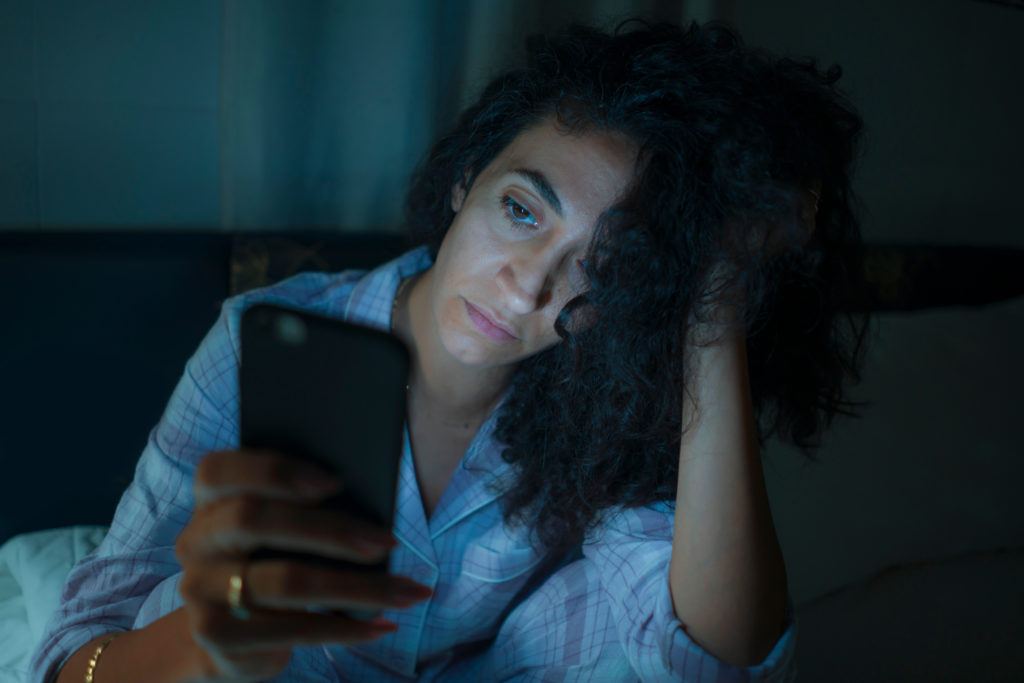 I actually liked a lot of things about this app. I liked that it worked well, that it paid well (in comparison to other apps in its category), that it had such a good reputation, and that it offers more than enough apps to keep you busy earning points in the long-term.
Cashing out through PayPal is relatively easy, and it seems like people are having legitimate positive experiences with it.
I am going to go out on a limb here and say that I might keep this one around for a while. This is pretty unheard of, because usually apps like this just don't pay enough to make it worth your time.
And to be super honest, this app didn't offer enough to impress me—but it did seem to offer more than usual, and it is probably one of the best apps in its category that I have found yet.
I can't say for sure that I will keep using it long term, but it does deserve some extra time. There is obviously a limit to exactly how much extra cash you can earn with it, because you can only download apps and play them at a certain speed.
The hourly income is limited because of that… but isn't most income limited this way anyway?
I seriously doubt that you could even manage to make minimum wage with this app (or even half of that, actually)… but, you can use it anywhere, and therein lies the true beauty of it. You can literally use it anytime—and I would rather be on an app like this earning cash than just twiddling my thumbs if I'm waiting in line or riding along on a long commute.
I do like to download new apps. It's just that apps that pay you to do so don't generally work this well or pay you enough to make it worth your time.
FAQ
How To Make Money on CashApp?
Download apps from the Google Play store and test the out by playing games or completing tasks. Earn point for each task completed, then exchange your points for Paypal cash.
How Much Does The CashApp?
It depends on the app you download and the task required to do. Task pay in points, which makes calculating earnings difficult, but in general you'll earn about $1-$2 per hour if you can work consistently.
Does CashApp Work on iOS?
There is currently no version of CashApp on iOS
Is CashApp a Scam?
No, CashApp is not a scam, but you earn a lot less money than most people imagine.
Earning Money On The Cash App (By Square)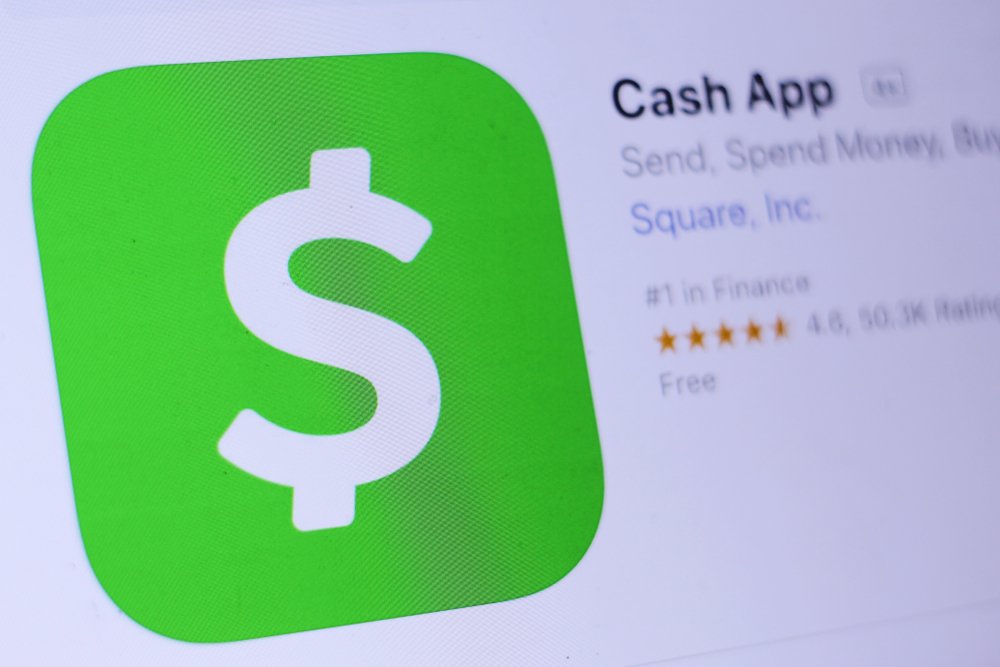 The Cash App is much more well known than CashApp. This is advertised on Joe Rogan's podcast, the biggest podcast in the world, week after week both before and after episodes. They also sponsor other well-known cryptocurrency podcasts, and probably more which I'm unaware of. They have brand penetration similar to MeUndies or BlueChew. The Cash App is owned by Square, which was created by Jack Dorsey, the same guy who created Twitter.
You can actually earn money on The Cash App as well, though it's more indirect than the CashApp.
The Cash App is actually like a digital wallet for your smartphone. You can deposit money into the app, and pay people by scanning QR codes, or by sending it to their Cash App address. It's very similar to Venmo. Some people actually get paid for work via the Cash App since they are not technically a bank, and some folks who can't get bank accounts still need a way to receive and send money in the digital age!
How To Earn Money On The Cash App
The first way to earn money on The Cash App is simply to refer friends with a referral code. Just by referring a friend who links a debit card within 14 days you can earn $5. Alternatively, you could earn $10 by entering a code from your favorite podcast. For example, I used the code stackingsats to earn $10 because I listen to a cryptocurrency podcast and that was their referral code. Joe Rogan also has a referral code joerogan for the same amount.
Check your favorite podcast to see if Cash App is a sponsor! To receive the payout, you do have to start transacting with the app, so you may need another friend to send/receive money to get your bonus.
The second way to earn money on the Cash App is by investing.
Investing in Stocks: You can invest in fractions of stocks and watch your money grow! How much money you earn depends on which companies you buy and the individual movements of the stocks. This is similar to Robinhood. The advantage of investing with the Cash App is that you don't have to buy a whole stock. Tesla is about $500 per share right now, but you could buy a fraction of a share for just $1.
Investing in Bitcoin: You can also buy Bitcoin with the Cash App. Bitcoin also moves up and down in price like a stock, so if you buy at a low price, you could then trade it for cash at a higher price. Of course, just like stocks, there's no guarantee that Bitcoin will increase in price.
With both stocks and Bitcoin, you need money to make money, and there is significant risk that you may lose money instead of earn it. Invest carefully, and only invest what you can afford to lose, or do not need for at least the next 6-12 months. Anything can happen!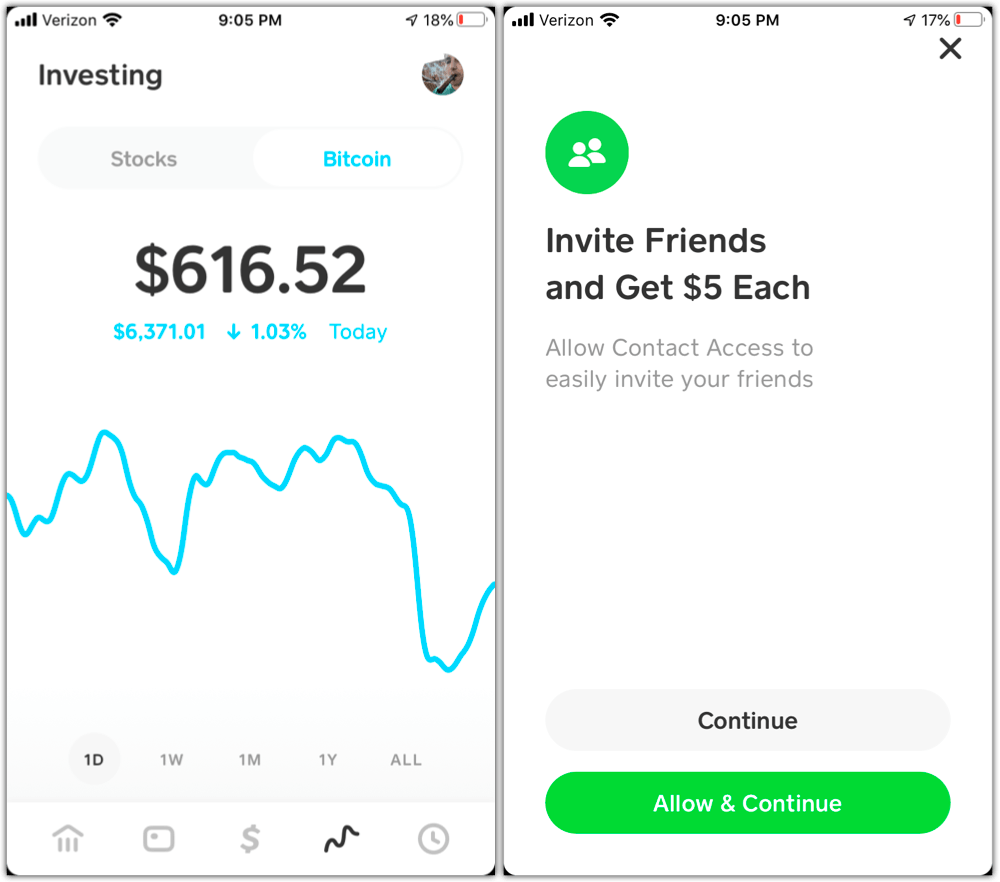 Our Final Thoughts About The CashApp App and The Cash App
Whichever app you decide to download, neither of them are a way to earn consistent money. In fact, neither of them are a good way to earn money to pay the bills.
If you are looking for a side gig to make reliable money outside of a regular job, you're much better off trying something in the gig economy as a side hustle. That way you can actually be trading hours for dollars, instead of tinkering with some silly games for a dollar an hour or risking your money in the markets.
For those of you who are looking to make serious income online however, you must try my #1 recommended program. It's not a "job" in the sense that you can do it 100% online and you don't need any previous experience to do it, but you do have to work! For folks who get serious about it you can make some REAL money. Like buy a house and car real money, not buy a McDonald's coffee money like a lot of these silly side hustles end up being.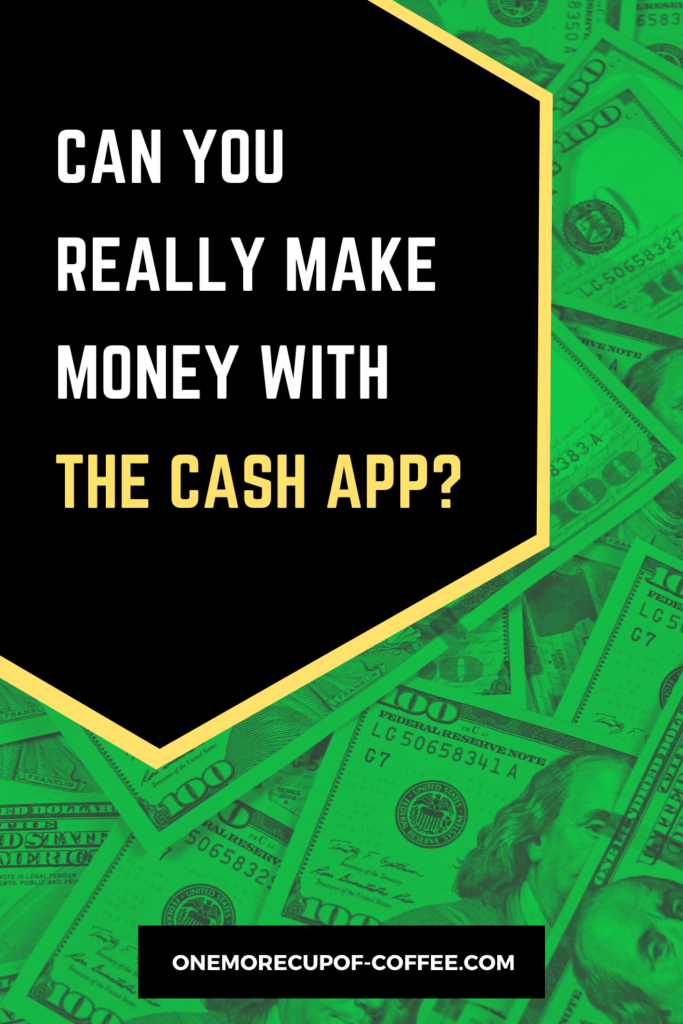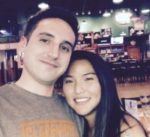 Nathaniell
What's up ladies and dudes! Great to finally meet you, and I hope you enjoyed this post. My name is Nathaniell and I'm the owner of One More Cup of Coffee. I started my first online business in 2010 promoting computer software and now I help newbies start their own businesses. Sign up for my #1 recommended training course and learn how to start your business for FREE!