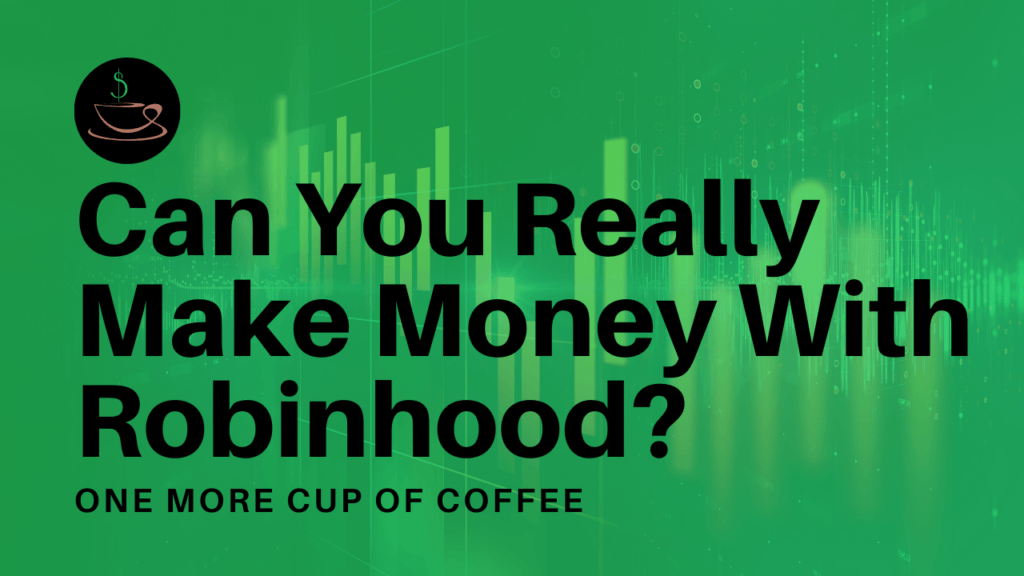 This is an app that claims to let you trade stocks for free. But can you really make money with the Robinhood app?
---
Robinhood is ahead of the game, and launching their own cryptocurrency trading platform. This is really exciting because it'll be one of only two apps of its kind. They plan to launch with a bunch of different crypto coins in February.
Of course, "trading" as you'll find out below can get expensive, especially since there are fees involved with the crypto coins. Apparently, Robinhood won't be making any money from this (just breaking even), so whatever fees there are will be minimal, at least less than their current rival Coinbase.
So, watch out for fees. Also, trading crypto can definitely tank your investments 20%-50% in a single day, so only trade what you can stand to lose.
---
I have a special interest in this app, for a few reasons. First off, I have always been interested in the stock market—but the complicated mess of finding a broker always dissuaded me.
Plus, online sites that help you do it always seemed too complicated to me. I'm sure that they work just fine, but I always chickened out at the last minute, afraid that I wouldn't understand it enough to make the process worth my while.
But lately, I have revisited the idea… and I have found myself wondering if there are any good apps for trading, buying, or selling stocks.
I found out that there were… and not just one! There are quite a few different apps that claim to let you do this, but the Robinhood app seemed to be one of the more popular options out there. Wealthsimple and Clink are two other examples.
The Robinhood app seems to offer a lot of awesome features, and free trades—so I decided to give it a shot.
Here is what I found out over the course of my research.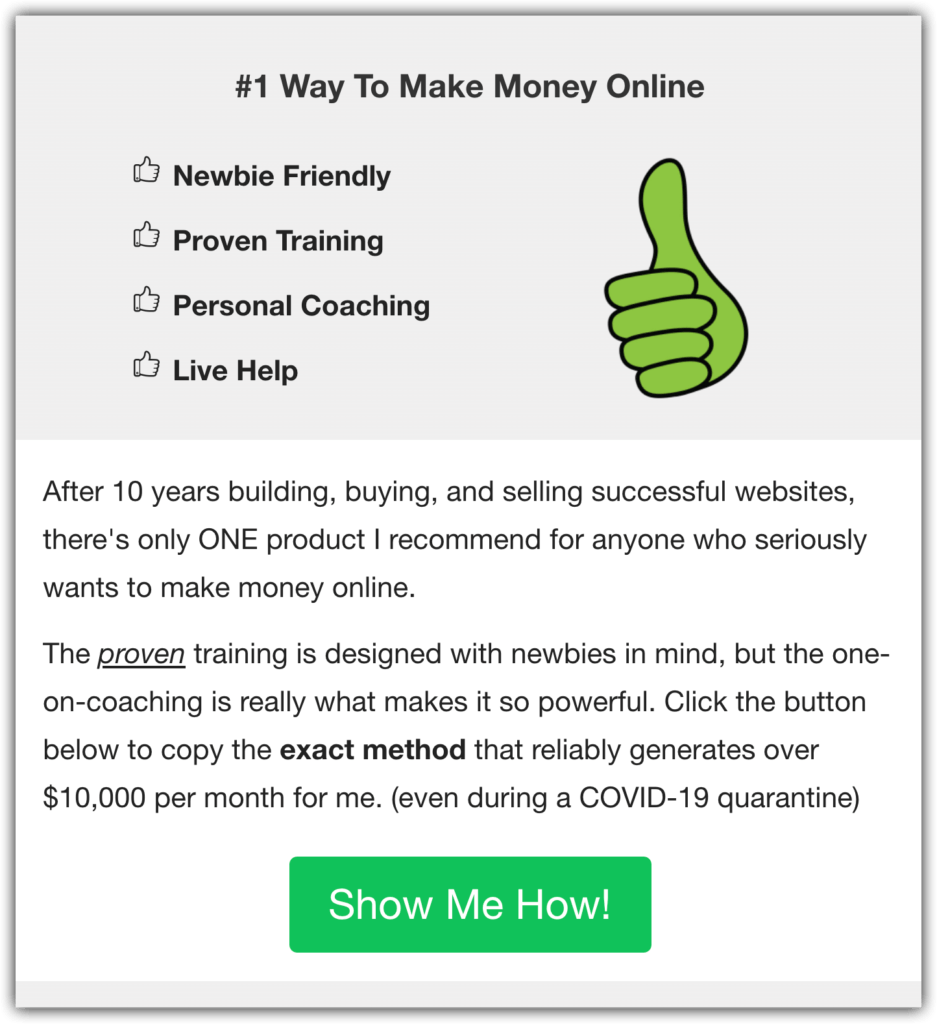 Making Money With The Robinhood App
Let's start out with a basic overview of Robinhood.
This app has over 1 million downloads, a user rating of 4.6 stars on Google Play, and has been reviewed by over 28 thousand users. So if you are looking for a popular app with a strong rating and a large user base, Robinhood automatically out-performs most other apps in this category.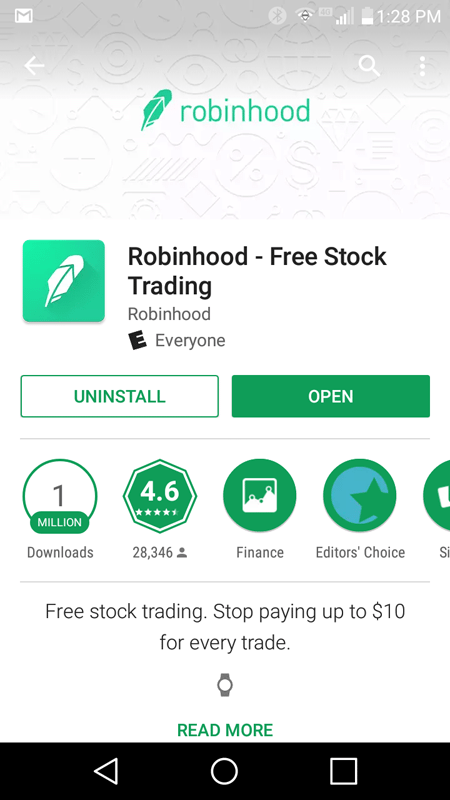 The tagline for the app reads as follows…
"Free stock trading. Stop paying up to $10 for every trade."
Robinhood even won an award for 'Google Play Best of 2015,' which is quite prestigious.
But I was anxious to get started, so here is what I found once I got it downloaded and opened up on my phone.
Opening Up Robinhood For The First Time
Opening up Robinhood for the first time took me through a series of screens that told me a bit about the app and prompted me to create an account. I needed to supply quite a bit of information, including my full name, my email address, my social security number, my date of birth, my address, and so on.
This seems quite intrusive at first glance, but if you were to try to trade using a broker, I believe that you would have to provide the same types of information anyway… so when you take that into account, supplying information to the app like this doesn't seem like that big of a deal.
After creating the account and verifying my email address, I was asked to create a pin for the app.
Thankfully, I used a pin that I was already familiar with (I used my phone's unlock code)… because after creating my account, I let it sit for a night and came back to it the next day to start working on my account—and quickly realized that I had forgotten that I even had to input a pin to get in!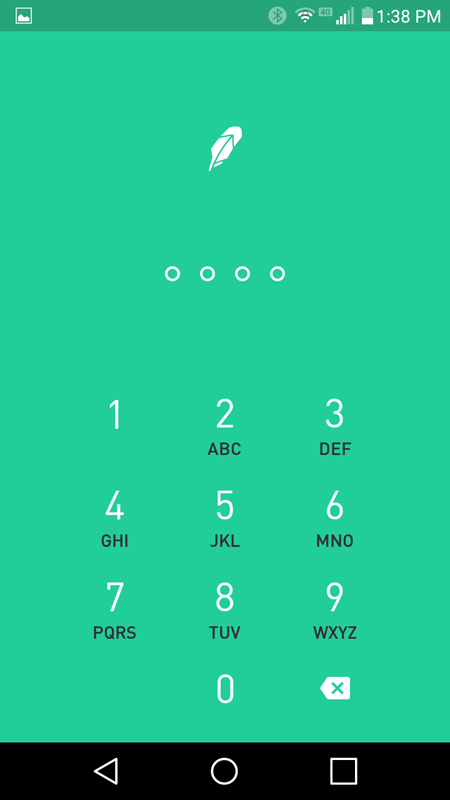 After signing back in, I was asked to fund my account.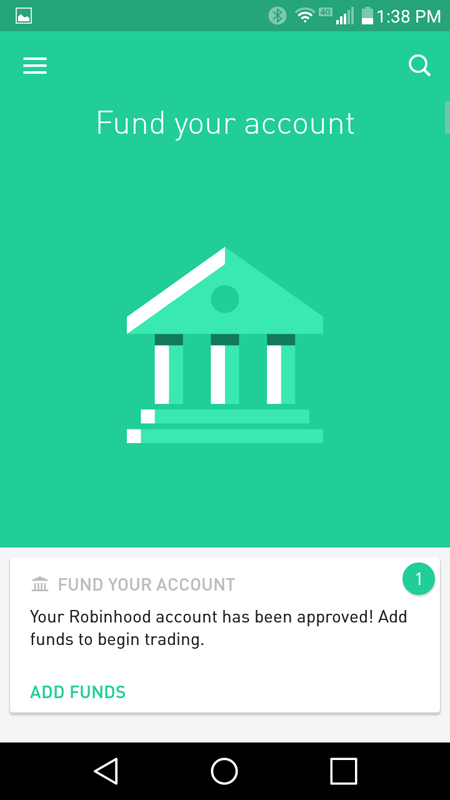 I went ahead and began this process, which involved me inputting the routing number and account number for the checking account I wished to use. Once I did this, I was taken to this screen.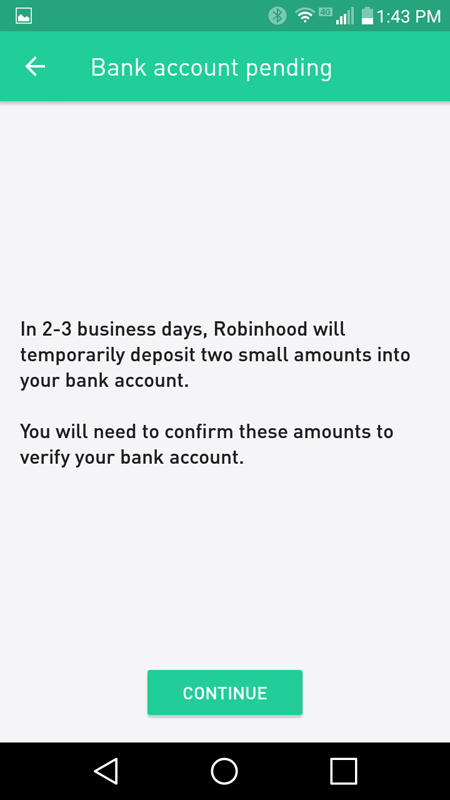 The practice of verifying the bank account with small deposits actually gives me quite a bit of peace of mind. I am not a huge fan of waiting for pending approval like this—but it is well-worth it to know that I am not going to have some kind of problem with my bank account not linking up correctly to the app.
After this, I was taken back to the bank screen, where my account was listed as UNVERIFIED.
Now, it was time to hurry up and wait for the deposits to reach my account so that I could verify.
Immediately after this, I got an email from Robinhood, describing to me how to verify my account. It was pretty easy.
Basically, I would have two small amounts deposited into my account. I would need to correctly input both numbers into the verification screen, which I could find through a button in the email.
Next, I wanted to find out how Robinhood makes its money. I did a bit of digging, and found this document linked to the email they sent me. It has some really good information about what they do and don't charge for… and gives you a pretty good idea of how they make their money.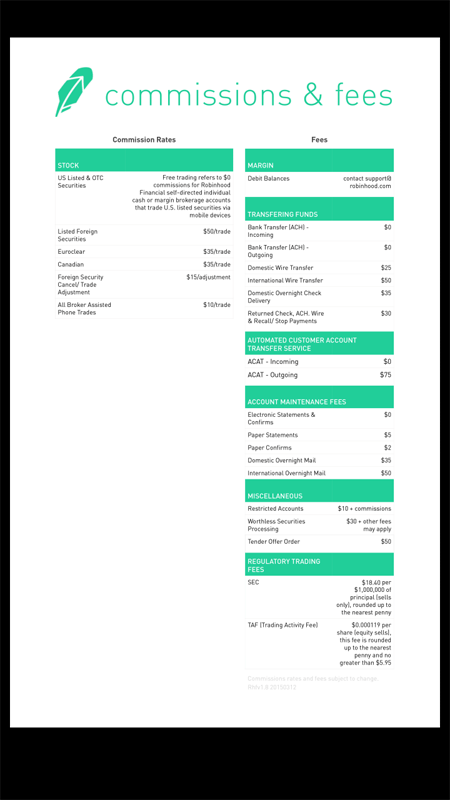 What I Thought Of The Fees In Robinhood
The fees honestly didn't seem that extreme to me, to be honest. No, I am not a stock broker or a stock trader. No, I have never had any experience with stocks, at all. Zero. None. Zip.
So, it is possible that I am not seeing something here that should alarm me. But to be super honest, I didn't see anything like that.
What I saw seemed to make sense. I don't feel like I will want to be trading foreign stocks, or doing a lot of the things on that list that cost money.
I feel like I could most definitely use the apps free trading feature to do everything I need to do. Plus, bank transfers to my bank would cost me nothing—which I was super happy about.
One thing that I did notice, as I was looking through Robinhood's features, was that they offer what is called a 'Pattern day trading protection' feature. This is what this means…
When you buy a stock and sell it on the same day, that is called a day trade. If you make four day trades within five trading days on Robinhood, that will mark you as a Pattern Day Trader.
But if you get marked as a Pattern Day Trader, you may only place day trades if your portfolio value is above $25,000!
So, in order to keep from getting marked like this, there is a feature in Robinhood that will actually prevent you from day trading enough to get your profile marked.
That, to me, seems pretty awesome.
Managing, adding, and withdrawing funds also seems to be pretty simple in Robinhood. I am actually pretty excited to start trading, as soon as my account gets verified.
I will admit that I was really nervous about this app, because I tend to be really cautious with my money. I obviously don't want to misunderstand something and just lose my investments because I did something wrong or missed something.
But I truly feel that Robinhood makes this entire process easy enough to make it possible even for someone with a limited amount of experience (like me).
What Are The Upsides And Downsides To Robinhood?
Obviously, the amount of money that you can make with this app is directly related to how good you are at buying stocks and making a profit at it. You could lose all of your money—but that would not be through any fault of the app.
If you are more interested in saving, then investing your savings (more passive investing), then check out Stash, which is an app that operates similarly but has a different way of managing your money.
Robinhood has a lot of really good upsides. It works well. It is intuitive. It makes the process of buying stocks really easy… easy enough that even I am not intimidated by it at this point, and I am pretty newbish at stock trading!
I like how basic transactions (within certain parameters) don't cost anything. I also really like how bank transfers, both incoming and outgoing, are free in US banks if you are based in the US.
That is super awesome—and makes me feel like I wouldn't have to throw money away to cash out. If you are just starting out, small fees add up bigly.
The downside to making money with Robinhood is that you need some money to start! If you were hoping to "make" money by doing some kind of task, you need to head over to my Swagbucks review.
Two thumbs up to Robinhood for making the stock market way more accessible, user friendly, and less intimidating! A third thumb up for their foray into crypto trading.
Our Final Thoughts About The Robinhood App
As someone that's a long-term investor, I do see the value in having free trades. However, I don't purchase stocks so often that the $5-$10 trading fee is going to make that much of a difference over time. I buy stocks maybe 2-3 times per year, and I hold them for a long period of time (several years).
Free trading is great if you are buying in small amounts, frequently. Even if you aren't a day trader, saving $7 on a $100 trade is huge!
I personally will not use the app right now, but when I get enough money saved so that I have a few thousand of "play money", I may mess around with some riskier trades.
But you need money to make money in this case! If you are more interested in starting a business and making money through online ventures, rather than risking your already-earned money, then check out how I started my own online business with a simple website.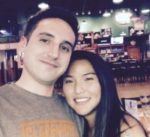 Nathaniell
What's up ladies and dudes! Great to finally meet you, and I hope you enjoyed this post. My name is Nathaniell and I'm the owner of One More Cup of Coffee. I started my first online business in 2010 promoting computer software and now I help newbies start their own businesses. Sign up for my #1 recommended training course and learn how to start your business for FREE!