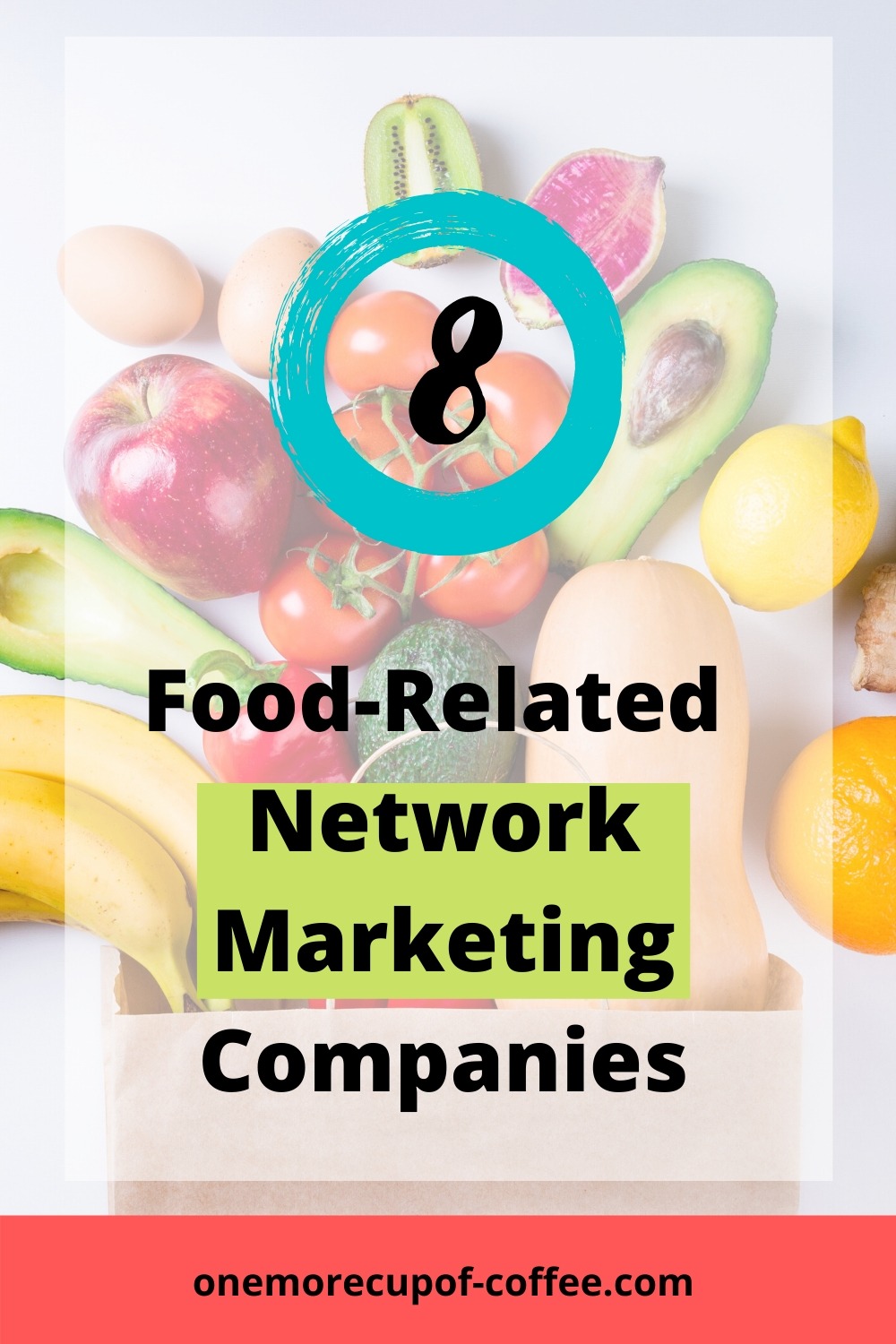 Food is an incredibly popular and emotional topic. You just have to look at sites like Instagram or Pinterest to see just how much food matters to people. There's always more to learn as well, including new recipes, techniques and, of course, new products to use. It's an "evergreen" business since people gotta' eat!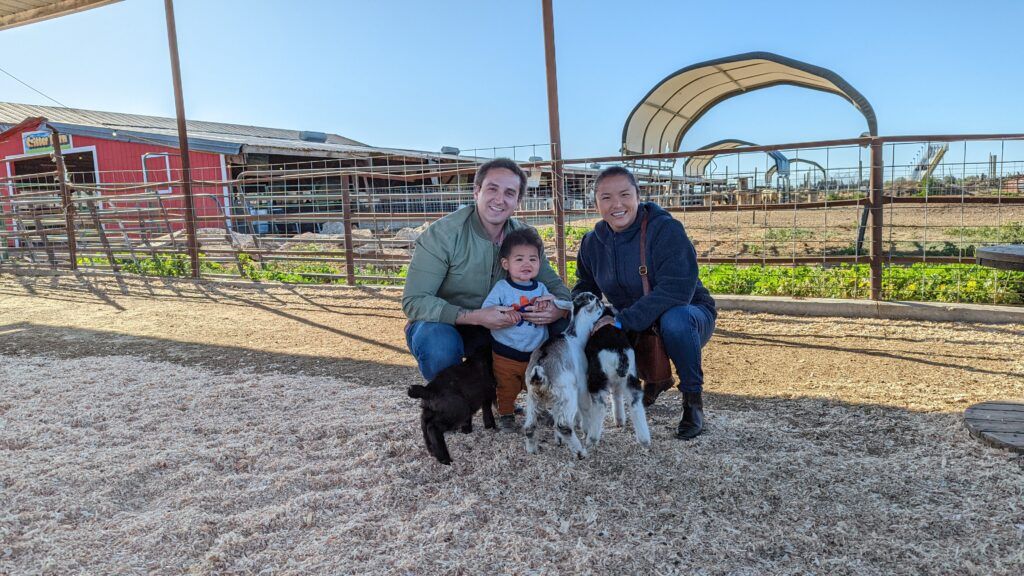 Are You Ready To Work Your Ass Off to Earn Your Lifestyle?
Are you tired of the daily grind? With a laptop and an internet connection I built a small website to generate income, and my life completely changed. Let me show you exactly how I've been doing it for more than 13 years.
All of the network marketing companies in this list focus on food in some way. This often involves providing various spices and mixes to make dishes more interesting, although some could focus on cooking utensils, or snacks and munchies.
What's your passion for food? Mine personal passion is homebrewing beer and grilling meat. I'm not associated with any of these companies, so my best advice right now is to pick the one closest to what you would enjoy working with. That's the point of doing something like direct sales instead of a traditional job, right? The goal of this list is simply to present the options and show how they compare with one another.
Food does make a good product line. You can demonstrate how recipes turn out and how ingredients contribute to a meal at a party setting, or make YouTube videos with product reviews and demonstrations. The emotional connection people have to food can make sales easier as well. You're also dealing with a consumable product, which is perfect for making recurring sales.
Even if you're passionate about food and cooking – pay close attention to the companies and their limitations. If nothing else, there are often extra costs. You'll typically be preparing meals to showcase at parties, using your own ingredients to do so.
This can bring your costs way up. While network marketing uplines will brag about making $100+ dollars per party, they often leave out the cost of their party. A $100 gross profit minus $20 in costs is just $80 in profit. For a 2-3 hour party, suddenly you're making average wages instead of live-changing riches like are often advertised.
Many companies have ongoing purchase requirements as well, so read the fine print carefully. For example, you may be required to purchase a certain number of goods each month just to remain "active" and get your commissions!
One other thing. Make sure you pay close attention to who you plan your audience to be. Many of the most successful IBOs are leveraging their network of friends and family to buy items from them. Do you want to be "that person" posting weekly on Facebook about your new cooking utensils you just have to share?
Without a business plan to get online and develop your own website, you may get stuck in the selling to friends/family loop and slowly erode away those relationships! Here are some great food blog name ideas to start you off!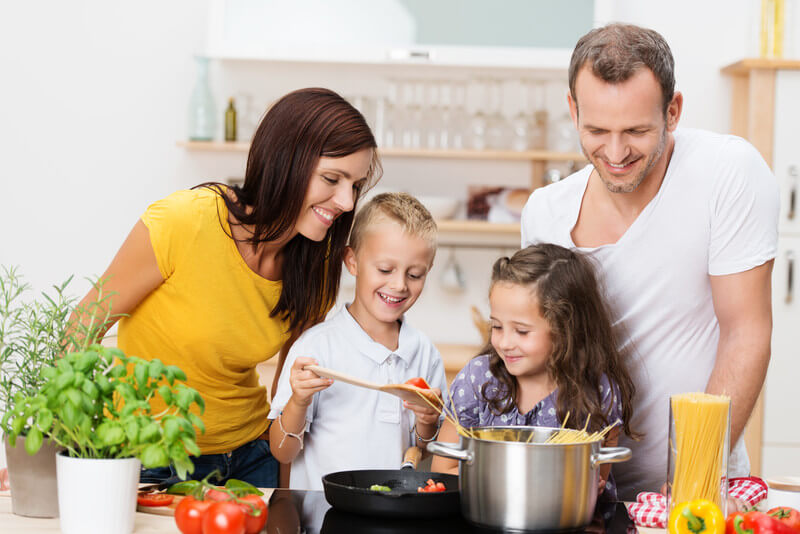 Food Network Marketing Companies
Tastefully Simple
Wildtree
Pampered Chef
Homemade Gourmet
Jerky Direct
Do You Bake?
The Cocoa Exchange
Well Beyond
1. Tastefully Simple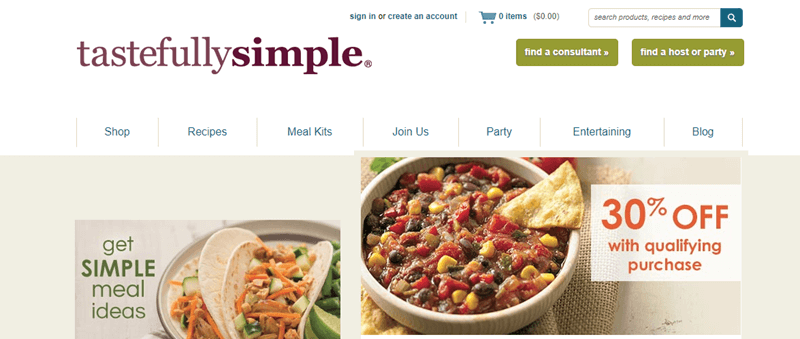 Focus: Meals, related products and meal kits
Minimum Cost: $39.95 (includes a meal kit and business supplies)
Product Overview: Tastefully Simple offers various meals and products to help people cook and eat well. Once again, this involves various meal mixes, along with products like sauces, seasonings and oils. There is also an emphasis on avoiding artificial ingredients, although that claim is pretty vague and Tastefully Simple offers no support for it.
One interesting aspect is the focus on recipes. There is a separate section for these on the site and the individual products have recipes as well. Tastefully Simple also sells meal kits. These are designed to feed a family in under 30 minutes and for less than $3 per serving. Most of the kits are around $69.95. They contain a range of products, along with recipe cards.
Most reviews suggest that the products are decent enough. But, many people say they aren't amazing. As one reviewer pointed out, the products are basically private-label versions of what you'd find in a grocery store. They might taste okay but that's about it. They could be appealing to people who aren't good at cooking or are in a hurry. But, most experienced cooks could make better meals with cheaper ingredients.
What this means for sales depends on your audience. Food is easy to promote and some people will genuinely love the meals. But, if your audience is mostly people who cook meals from scratch, Tastefully Simple may not work well (that's true for the other companies on this list too).
Commission Quick View: Tastefully Simple is fairly tight-lipped about earning money. They do offer a 30% commission rate on sales, along with various bonuses. But, it isn't clear what these bonuses involve or what the ongoing requirements are.
Instead, the overall idea is simply that you build a team and progress up in ranks. The higher your rank, the more bonuses you have access to. That general pattern applies to most other network marketing companies too. Without more details, it's impossible to know the true income potential of Tastefully Simple.
One aspect worth mentioning is ongoing requirements. Distributors need to make $400 or more in sales every quarter (so, every three months). This isn't an excessively high requirement and it's nice that it is quarterly rather than every month. Even so, it's worth considering whether that level of sales is realistic for you.
Final Thoughts: Tastefully Simple isn't amazing but it is fairly decent for the field. The products would sell well enough to the right audience. The main limitation is how few details there are about the compensation plan.
2. Wildtree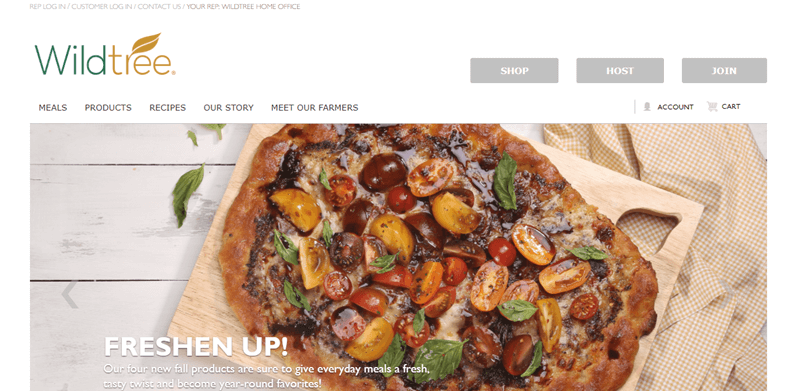 Focus: Healthy meals that use organic and high-quality ingredients
Minimum Cost: $129 (for a New Representative Business Kit that provides products and marketing materials)
Product Overview: Wildtree offers various mixes for creating meals, along with sauces, spice blends and dressings. Their selection of products to make meals is surprisingly small. For example, there are four breakfast products and two of these are just flavorings you mix into oatmeal.
The company's emphasis is strongly on high-quality meals. This includes relying on organic ingredients and minimizing processing. Their cornbread is a good indication of this, as it contains eight different ingredients. That's exceptional for boxed cornbread.
They also have a second angle – workshops. I discussed these in more detail when I reviewed Wildtree. The workshops involve getting a group of people together to do meal prep. Customers order kits from Wildtree (for around $80) and purchase the rest of the ingredients separately.
The kits are a fun idea and the workshops are an interesting alternative to conventional parties. Reviews are mixed. Some people love them, others find that they're expensive and a waste of time. But, if nothing else, they're different. There are hundreds of companies that do parties, Wildtree's style makes them stand out a little.
Commission Quick View: Members earn between 25% and 40% commission on all sales. The company uses catalog ordering, so you don't need to make a purchase first. There are some extra bonuses for hitting sales targets. What's more, you can earn 3% from people you recruit, without becoming a team leader. This style gives you more potential to make money from sales alone.
Of course, there is still a team building aspect. Wildtree doesn't offer details about this component, which is a shame. But, members can earn up to 12% on member sales. Doing so will involve progressing through the ranks and meeting requirements.
There is also an activity requirement. You need to sell (or buy) at least $350 total every four months. That's if you just want to make sales and/or earn from your first-tier recruits. If you want to build a team, you need to hit $350 per month.
Final Thoughts: Wildtree is actually a pretty good choice if you don't want to build a large team. The compensation for this aspect is decent and the requirements are surprisingly reasonable.
3. Pampered Chef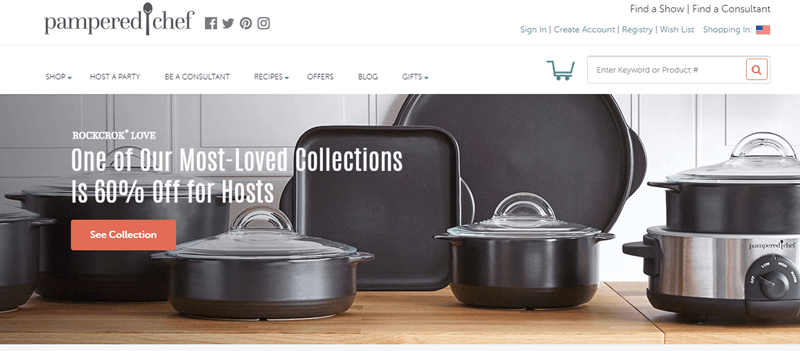 Focus: Cookware, food and related items
Minimum Cost: $109 (for a Starter Kit that contains various products)
Product Overview: Pampered Chef is mostly about cookware and tools for your kitchen. But, they do have a small selection of food-related products as well. The most significant ones are seasoning mixes and rubs. Some items cost around $12.50 or a little higher but most are under $10.
Reviews for the rubs and mixes are overwhelmingly positive. Pampered Chef also has some common combinations and flavors, along with others that are more unique. This style of product works well for pretty much any audience. However, the items are fairly cheap and would last a long time. To make decent income, you'd need to be promoting sales for the other types of products as well.
The cookware and tools provided tend to be more expensive and aren't consumable. Reviews about quality are generally positive but some people don't feel that they're worth the price.
Commission Quick View: Consultants earn between 20% and 25% commission on all sales. The company is catalog-based, so you don't need to buy and then resell the products. You need to make at least $150 in personal sales each month, even if you don't want to earn from a team.
The team-based component uses a unilevel model and has multiple different ranks to progress through. Requirements for the ranks include hitting various personal and team sale targets. You also need a certain number of active consultants. At the higher ranks, you need some team members to be promoted as well, so you can't just depend on your own success.
Sales are primarily made through parties. Consultants are encouraged to showcase their products at these events, including how the items can be used to create meals. Party hosts can earn discounts and free products, which helps to encourage more people to get involved.
There is nothing particularly unusual about this model and it isn't excessively complicated. Even so, the monthly requirements could be a problem. It's tough to get people to consistently purchase each month, especially if real life gets in the way. The bulk of the products are also non-consumable. This might mean you need to regularly find new customers to hit the sales goals.
Final Thoughts: The product range is decent enough and Pampered Chef is popular – so it could work as a way to make money. Just be sure that you carefully consider your audience and your costs.
4. Homemade Gourmet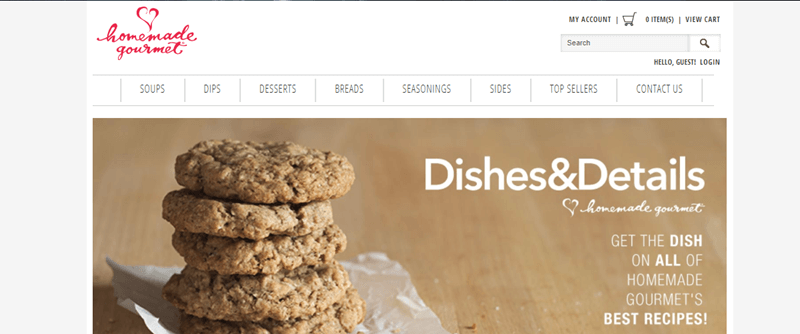 Focus: Kits to make meals, along with various seasonings and similar products
Minimum Cost: $39 (for a starter kit, which includes products and catalogs)
Product Overview: Homemade Gourmet sells a verity of food products. These include soup mixes, dips, desserts, breads and sides. None of these are full meals. Customers still need to purchase the fresh ingredients themselves and prepare the dishes. But, the style is still appealing.
Homemade Gourmet also promotes the idea of fast and easy meals. Many of their dishes can be prepared in half an hour or less. This is a perfect selling point for working parents and busy families.
The site hosts reviews for some of the products. These are often positive, although there are some negative ones as well. This is to be expected for food, as individual preferences and expectations vary so much. Some customers also mention that there are many processed ingredients included.
The reviews suggest that the products are good for their target audience but not necessarily for everyone. For example, the company may be a poor fit for people focused on clean eating and whole foods, but ideal for those in a hurry.
Commission Quick View: Homemade Gourmet mostly focuses on the products. This is actually encouraging but it does mean there are few details about the compensation system. This may a way to help distributors to recruit.
Commission rates range from 25% to 40%, depending on rank within the company. Sales are mostly made in person, via parties. Some reps talk about buying products themselves and reselling at events like fundraisers and craft fairs.
However, there are few specifics about the plan. It's not clear how the team structure works or even whether there are ongoing requirements. You'd need to talk to a distributor to find out specifics. But, be careful, as they will be biased.
Final Thoughts: I do like the product selection from Homemade Gourmet and their emphasis on food first and foremost. But, there aren't enough details to know whether the company is a good way to make money.
5. Jerky Direct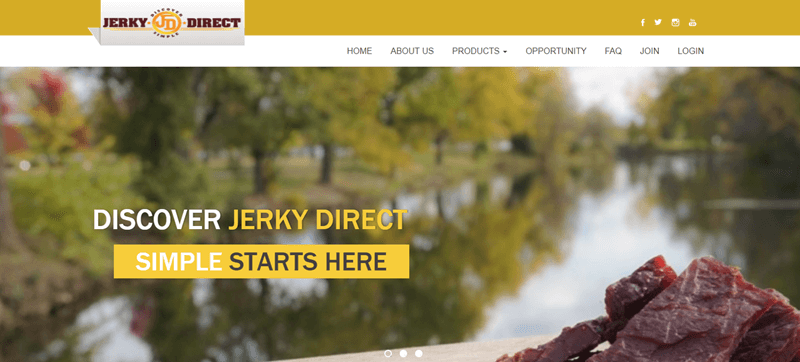 Focus: Jerky
Minimum Cost: $74.00 (for business access and eight bags of jerky)
Product Overview: Jerky Direct simply sells jerky. That's all there is to it. They have a relatively small range. Last time I reviewed the company they offered two product lines and around ten different flavors. Now they just seem to have three flavors: Original, Spicy and Peppered & Garlic.
The jerky comes in 3 oz bags and can be purchased in packs of 2, 6, 15 or 35. The largest pack option calculates to around $7.15 per 3 oz bag of jerky, while the smallest one is around $10.90 per bag.
Reviews for the jerky are generally positive. But, the price is extremely high for what you get. There is also no indication that the product is good enough to justify the price. This aspect would make sales incredibly difficult, especially as there are many other types of jerky out there.
Commission Quick View: Jerky Direct pays a flat rate, rather than a percentage for sales. You earn either $2, $4, $8 or $10 per sale depending on the size of the pack. This is pretty low, as the retail prices for those packs are $21.75, $56.00, $120.00 and $250.00, respectively.
The sales are made on a website that the company provides you with. This aspect means you have no inventory to worry about and you could potentially drive traffic to the site. But, training for doing so appears to be limited.
There is also the ability to earn from up to six levels below you. For the first level, you earn 40% of whatever the people you recruit earn. This is then 10% for the second level, 10% for the third and 40% for the forth. There are also some leadership bonuses, although these have extra requirements.
The end result is a very simple commission scheme. There is no rank system to worry about and no sales requirements. However, you do need to purchase the Affiliate Promo Pack for $25 every 90 days (which gives you eight packs of jerky). The ongoing cost is a little frustrating but it's still lower than most other companies.
Final Thoughts: Jerky Direct acts as a simplified direct marketing company. It has fewer requirements but has less potential as well. But honestly, I highly doubt that you could sell the jerky, it's far too expensive for what you get.
6. Do You Bake?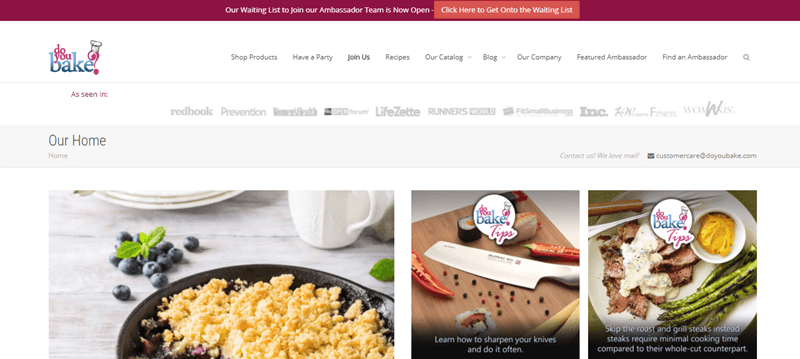 Focus: Meals (mostly in the form of mixes that you add ingredients to)
Minimum Cost: Free to join (currently)
Product Overview: Do You Bake strongly focuses on food. Their website and catalog are filled with images of meals, including dishes like Apple 'n' Grain Flip Flop Flapjacks, Warm Vanilla Sugar Superfood Hot Breakfast Bowl and Slow Southern Pulled Pork. There are also related products, like seasoning blends and oil infusions. Specialized diets are supported as well, including low sugar products and items that are gluten-free.
But, despite all the marketing, Do You Bake doesn't sell fully prepared meals. They're basically offering mixes that can be used to create meals. The finished dish might look exactly like their image but that's not guaranteed.
The prices vary considerably. Many are under $10 but it's not unusual to see items that are $12.95 to $15.95. It's hard to know how good the food is, as there are few reviews about the products. But, the company has been operating since 2010, so they're clearly doing something right with their items.
Commission Quick View: Do You Bake allows members to earn up to 37% commission, which is amazing. The problem is, you don't start there. Instead, the base commission rate is just 20%. That's decent enough but many companies do better. You can get up to 25% by making $51 in sales (or more) within a month.
Requirements to earn from your team start off tough. You need three active recruits to earn anything from your downline and you start off just earning 1% from these individuals. You need to progress up the ranks to earn more. The requirements don't get easier either.
Progressing through ranks is never simple, regardless of the company. But, the requirements for Do You Bake are more difficult than usual. The amount earned from the team is also pretty low. Even at the highest rank, you're earning 5% from your first level, then 3%, 2%, 2% and 1% from the levels further down. This can still add up but it's lower than most companies that I've seen.
The one good thing is that you can sell online or through parties (although the website costs $30 per year). There are probably monthly requirements for spending as well, although Do You Bake doesn't specify these.
Site Note: This summary is based on the currently available information for Do You Bake. But, the website for Do You Bake is currently undergoing changes including a new recruitment drive. This may lead to changes in the compensation plan as well.
Final Thoughts: I can see how the products would sell but I'm not convinced about the plan. Growing a team would be more difficult than normal and you'd need a decent-sized team to earn significant income.
7. The Cocoa Exchange (formerly Dove Chocolate Discoveries)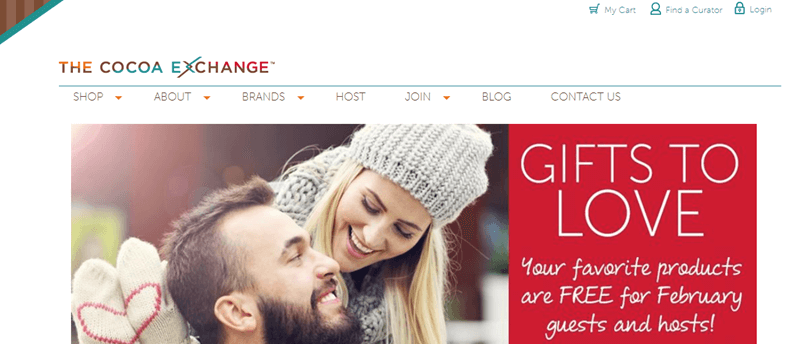 Focus: Chocolate!
Minimum Cost: $129 (for a starter kit)
Product Overview: The Cocoa Exchange is simply about chocolate. They offer three different selections of products.
The first is Dove Signature. This contains various chocolates, including options like Sea Salt Cocoa Caramels, Mint Chocolate Cookie Bites and the Dessert Truffle Collection. The pricing varies but follows the idea that these are high-quality luxury chocolate products. For example, the truffle collections tend to cost $18 and contain nine truffles.
The second range is Pure Dark. The selection is much narrower and includes some styles of chocolate nibs, along with dark chocolate rounds in various flavors. Notably, the rounds are marketed as dark chocolate but most don't have any details about the cocoa percentage.
The final range is Pod & Bean. This one is more unusual and offers food-related chocolate products. Examples include White Chocolate Raspberry Honey Mustard and Blackberry Chipotle Sauce. Many cost around $14 to $16.
The products seem to be popular and they're consumable, which is always a bonus. Chocolate is also something that people get excited about. Even so, the products are expensive. Many people will be willing to pay this much for high-quality chocolate but not everyone. You also need to make consistent sales. Chocolate is a treat food – and many people won't want to purchase it every month.
Commission Quick View: Distributors can earn between 25% and 40% in commission from sales. You can actually hit the 40% mark with sales alone (i.e., no team building). But, you need to be selling a lot of chocolate to do so. In fact, you need $2,000 in sales per month just to get 30% commission.
Hitting those sales targets won't be realistic for most people. Still, it's nice to see a company that allows you to focus just on sales.
The Cocoa Exchange heavily relies on a party-based model. The idea is that you showcase the chocolates and possibly the sauces as well in an event setting. Anyone you get to host a party gets discounts and even free products. The style can work well for this type of product and people will often want to buy as a result.
But, be aware of the cost. Hosting parties takes time and you'll normally need to provide samples and/or gifts. Those costs can add up, especially if you get few sales from some of the parties. You can also sell through a replicated website, although you'd need to get people visiting it. Selling chocolate on a website is also tough, as people like to try it first.
Beyond this, you earn from your team. You can earn between 3% and 5% commission on the sales of people in your downline. But, there are no specifics about the structure and rank requirements.
Finally, you need to $600 in sales every six months. I love that this isn't a monthly requirement. Still, $600 is a lot of chocolate to sell. The requirement may be too high if you're simply hoping for a little income on the side.
Final Thoughts: The products are appealing and it's easy to see how you could get sales. But, unless you have a very large audience, you'd need to rely on recruiting as well as sales to make a decent income.
8. Well Beyond (formerly Xocai)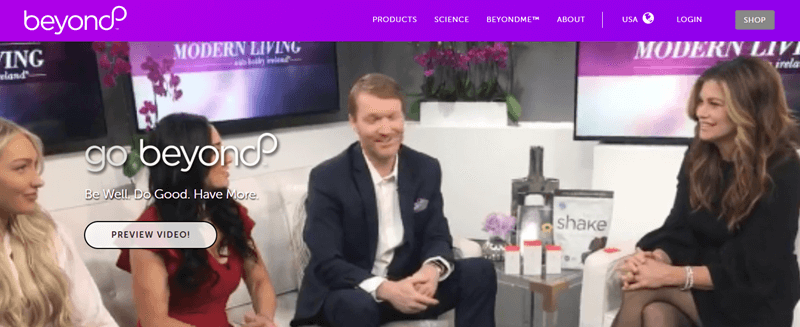 Focus: Health and Nutrition
Minimum Cost: $25 (enrollment fee) + 100 BV initial order (total price isn't specified)
Product Overview: Well Beyond actually focuses on health, rather than food specifically. Some of the products were previously promoted under the Xocai label, but, I'm including it because they have a healthy chocolate range. The products are all dark chocolate and they're designed to promote health in various ways.
For example, Well Beyond Nuggets are high in antioxidants, with the flavors of blueberries and acai. The XoBiotic Squares actually contain probiotics, while the Xolove Bites include L-arginine and Maca.
The company does provide details about flavonoid and ORAC levels, which suggests there should be some benefits. Even so, it's hard to know how healthy the chocolate actually is. One immediate issue is the percentage. Most of the products don't specify this but the Nuggets claim to have a high cocoa percentage of 70%.
But, 70% cocoa is actually on the low end of the dark chocolate scale. Most people suggest you need at least 75% to get benefits and the ideal is 85% or more. By focusing on a lower percentage, Well Beyond undermines their own goal. This would also decrease the chance of making a sale.
That aside, the products are expensive. A 120-piece pack of any of the chocolate squares costs $157.95 retail or $118.00 for subscribers. That's a lot to pay for small squares of chocolate that may promote health.
Commission Quick View: Well Beyond uses a purchase first model. You buy the products at the wholesale price (around $110 per pack) and then sell them at an increased rate. Well Beyond recommends $150 per pack, which then gives you a $40 profit. This profit stays consistent regardless of your progression.
Purchase first is always a risky approach. That's particularly true here because the products don't seem like they'd sell. Most people won't be willing to pay that much for chocolate, even if it tastes amazing.
As for your team, there are multiple ways to earn. The style is more complex than most other companies. For one thing, they operate both a binary and a unilevel plan. The binary system is the main approach. This creates two teams under you and you earn based on how they compare to one another.
The style can be confusing for beginners and it's also tough to optimize. To make the most money, you need to balance the two sides. But, people are unpredictable. You'll find that some perform better than others. Some might even randomly drop out.
There are also bonuses based on ranks and you earn from your personal enrollment tree as well. The end result is simply messy. It's even difficult to tell what the income potential is. My gut feeling is that this is more difficult than most MLMs and the amount you can earn isn't that much better.
Final Thoughts: Well Beyond has an expensive product line and a very complicated compensation plan. Nothing about the company suggests that it's a good way to make money.
Top Pick
The companies all have their quirks and limitations. But, if I had to pick a single one to recommend it would be Wildtree. The main reason is just that they have some unique elements. The meal prep workshops give you an unusual way to sell and reviews suggest that many people do enjoy them. You could also just skip the workshops and rely on more traditional types of parties.
Beyond this, the commission rates are reasonable and the activity requirements aren't absurd (especially if you focus on sales only). The main limitation is that there aren't too many details about the compensation plan. You'd need to talk to a distributor to get more information about what to expect. You might also consider food affiliate programs. At least with these, you can target a much wider audience.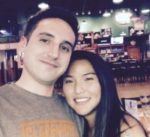 MLM Critic & Author: Nathaniell
What's up ladies and dudes! Great to finally meet you, and I hope you enjoyed this post. I have to be honest though. I'm not a big fan of MLM. Tried it. Hated it.
Affiliate marketing is cheaper, faster, and easier. See for yourself and join millions of other successful affiliates generating income from their blogs!
No inventory. No fees. No recruiting. 3 BILLION potential buyers online.
Reader Interactions