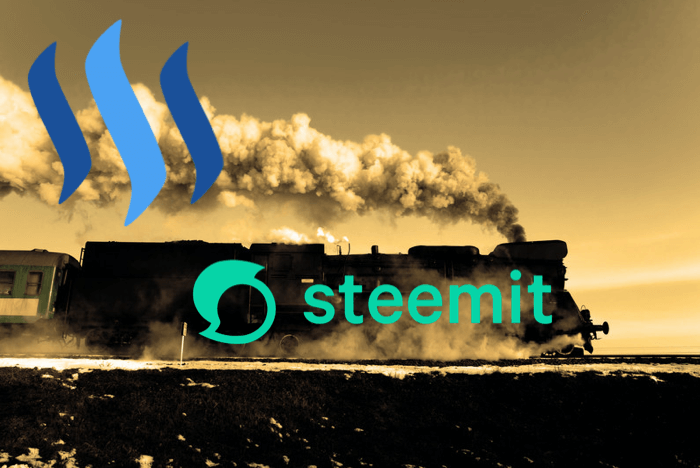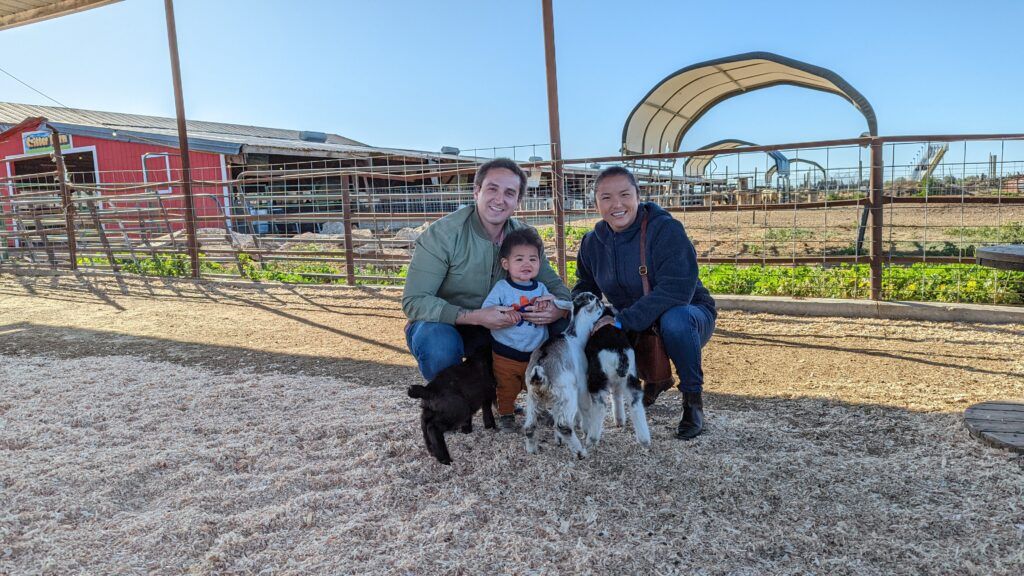 Are You Ready To Work Your Ass Off to Earn Your Lifestyle?
Are you tired of the daily grind? With a laptop and an internet connection I built a small website to generate income, and my life completely changed. Let me show you exactly how I've been doing it for more than 13 years.
I. Introduction
Steemit is a social media and blogging platform founded in 2016 that uses blockchain technology to allow its users to earn cryptocurrency rewards for creating content and interacting with the site. It can be compared to both Reddit and the blogging platform Medium. Steemit runs on an independent blockchain called Steem, which is continually creating new digital tokens and distributing them as rewards to users who interact with the platform. In the words of the company's whitepaper, "Steem aims to support social media and online communities by returning much of its value to the people who provide valuable contributions by rewarding them with cryptocurrency, and through this process create a currency that is able to reach a broad market, including people who have yet to participate in any cryptocurrency economy."
Users can receive digital tokens from Steemit in two ways. First, tokens are awarded in proportion to the amount of upvotes their content and comments receive from other users. Second, users get tokens for the upvotes they have given to others, known as curation. These tokens can be traded on exchanges for other cryptocurrencies such as Bitcoin. Thus, it is possible to turn the STEEM tokens earned on Steemit into fiat currency with the proper exchanges.

In order for users to be rewarded for their contributions to the platform, the creators of Steemit have created a sophisticated voting and rewards system. Steemit determines the influence of a user's vote by the number of special illiquid Steam Power tokens he or she holds. (Steem Power will be further explained in the next section.) Steam Power cannot be easily sold in order to ensure that members have a financial incentive to vote in a way congruent with the long-term interest of the Steemit platform.

II. How Steemit's Token Economy Functions
A. Introduction to the Tokens
The developers of Steemit chose to have not one but three different types of tokens that are issued to users. These are STEEM, Steem Dollars (SBD) and Steem Power (SP). Two of these tokens, STEEM and Steem Dollars, can be swapped for other cryptocurrencies such as Bitcoin or Ethereum through third-party exchanges.
STEEM
Steem is the base liquid cryptocurrency token in the platform. It is similar to bitcoin, so it can be bought and sold on exchanges. Currently on Coinmarketcap, Steem is the 28th largest cryptocurrency, with a value of around $3.50 USD per token and a market cap of $900 million USD. It can also be traded to other users as a form of payment.
STEEM Power (SP)
Steem Power is a measurement of how much influence a user has in the Steem network. When users vote on content, their influence over the distribution of the rewards pool is directly proportional to the amount of SP that they have. Users with more SP have more influence on the distribution of rewards. The exact formula for determining how much influence a user's upvotes have will be discussed in the voting section below.
A user can trade SP for STEEM, but the conversion will happen over a 13-week period. This means that SP is locked up on the platform and can't be traded away easily. This is because the creators of Steemit want users to be committed to the platform and have a long-term perspective. Without the vesting protections of SP, users could theoretically hold STEEM short-term and influence the community in detrimental ways.
SP holders are also paid interest on the balance of SP that remains vested. 15% of the yearly inflation is paid to SP holders as interest. The amount of the interest that they receive is directly proportional to the amount of SP they hold relative to the total amount of vested SP across all users.
Additionally, SP can be loaned, or delegated, from one user to another. New users are usually loaned some SP when they first create an account by the system.
Steem Dollars (SBD)
Steem Dollars also known as Steem Blockchain Dollars (SBD) are liquid stable-value currency tokens designed to be pegged to $1 USD. They are designed to make the value of STEEM on crypto markets more stable. They can also be transferred to other accounts for commerce or exchange.
In order to determine the rate that SBD can be converted to STEEM, there is a price feed which is maintained by members called witnesses. Witnesses are elected from among Steem users and are paid to maintain an accurate price feed. The actual price used for conversions can be derived as the median of the feeds. In order to prevent corruption of the price feed, Steem factors out short-term price fluctuations by using the median price over a period of 3.5 days. The median published feed is sampled every hour on the hour.
All conversion requests from SBD to STEEM must be delayed for 3.5 days in order to prevent people from gaming the system. SBD has a market cap of around $40 million USD, which places them at around 239th on the Coinmarketcap list. They trade for around $4 USD each.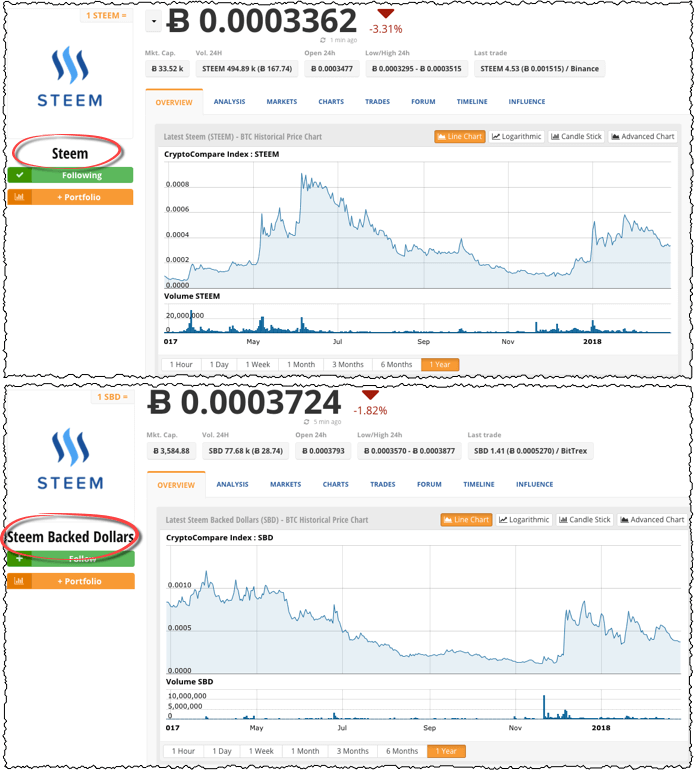 SBD normally pays interest, as long as its value is below $1. This is because Steemit views those who hold SBD as holding debt. The interest rate is set by the same people who publish the price feed. Note that SBD, though designed to be worth around $1 USD, currently have a value of four times that. Thus, SBD currently pays no interest. According to the white paper, this is because the market is willing to extend more credit than the community is willing to take on. The white paper says:
"Any time Steem Dollars is consistently trading above $1.00 USD interest payments must be stopped. In a market where 0% interest on debt still demands a premium, it is safe to say the market is willing to extend more credit than the debt the community is willing to take on. If this happens a Steem Dollars will be valued at more than $1.00 and there is little the community can do without charging negative interest rates."
Compared to SBD, it seems that STEEM is the better token to hold because it has a larger market cap and is more liquid.

B. Where do the tokens come from?
STEEM tokens were mined at the beginning of the Steem blockchain using proof-of-work, like Bitcoin. Starting December of 2016, Steem stopped using proof-of-work, and began creating new tokens at a yearly inflation rate of 9.5%. The inflation rate is decreasing about 0.5% per year, and will continue decreasing at this pace until the overall inflation rate reaches 0.95%. This will take about 20.5 years.

C. How are the tokens distributed?
Every day, a fixed amount of STEEM tokens are allocated to the network reward fund, commonly called the "reward pool." 75% of the new tokens that are generated go to fund the reward pool, which is split between authors and curators. 15% of the new tokens are awarded to holders of Steem Power. The remaining 10% pays for the witnesses to power the blockchain.
There are two ways to receive distributions from the reward pool. The first is by having your work upvoted by other users. Steemit calculates how much reward you will earn on your post depending on a variety of factors, including how much Steam Power the voter held. All payouts from this type of activity are received in 50%-50% split of Steem Power and SBD.
The second way to earn rewards is by curation, or upvoting other users' posts. Up to 25% of a post's payout is awarded to curators as a reward for discovering the content. The other 75% is awarded to the author. If curators vote for a post within the first 30 minutes of it being created, a portion of their curation reward is added to the author payout. This portion is linear to the age of the post between 0 and 30 minutes. Therefore, upvoting at 15 minutes old will donate half of your potential curation reward to the author.
According to the white paper, users are allotted a fixed amount of voting power which is determined by how much Steam Power they have. Every vote that is cast uses a percentage of remaining voting power. Users can vote for more posts, but each vote will be worth less, and it will take longer to reach full voting power again. Voting power recharges at a fixed linear rate of 20% per day.
Payouts occur seven days after posts are made.

D. How does the Steem blockchain achieve consensus?
Steem's blockchain uses a system called delegated proof-of-stake to achieve consensus. The term "achieving consensus" means ensuring that transactions recorded in Steem blockchain are accurate. In the case of Steem, the transactions recorded are the votes taken by users.
This is a different system than the proof-of-work used by Bitcoin. Steem's blockchain has what are called witnesses. Like with bitcoin miners, witnesses need to have servers running specialized software. These servers, or nodes, allows them to analyze the transactions of the Steem blockchain and ensure they are accurate. This requires a fair amount of technical knowledge.
But having a witness server is not enough. Once someone has a server up and running, they must get other users to vote for them to be a witness. 21 witnesses are selected to create and sign each block of transactions. 20 of these witnesses are selected by approval voting and one is timeshared by every witness that didn't make it into the top 20 proportional to their total votes. The 21 active witnesses are shuffled every round to prevent any one witness from constantly ignoring blocks produced by the same witness placed before.
What this effectively means is that users of Steemit can vote for witnesses. Witnesses are chosen on the basis of their reputation and can be voted out if they inaccurately count transactions or engage in any kind of fraud. To be done properly, this requires that users do some investigation and research into the people asking for their witness vote.
For a further explanation of how delegated proof-of-stake works, see this article. Note that Steem's system is the same as the one used by Bitshares, as it was created by the same people.
Now that the technical aspects of Steemit have been explained, let's look at how to actually use the platform.

E. Is Steem A Scam?
Here's a debate (it's pretty long) between a Steem lover and a Steem skeptic. The skeptic, Tone Vase, is a "Bitcoin Maximalist", meaning he pretty much thinks all crypos are trash except for Bitcoin. He regularly identifies actual scams within the crypto space, so it's not like he's just some hater that wants to see the price of Steem drop. He's a very smart dude, and his arguments against Steem are compelling.
This is an awesome video to watch if you are seriously thinking of investing in Steem. If you are just planning to make some Steem then convert it to Bitcoin or cash, well, that's another story.
Another "warning sign" of Steemit possibly being a scam, or at least in danger of imploding at some point is the high number of users on YouTube and other social media with video thumbnails like this: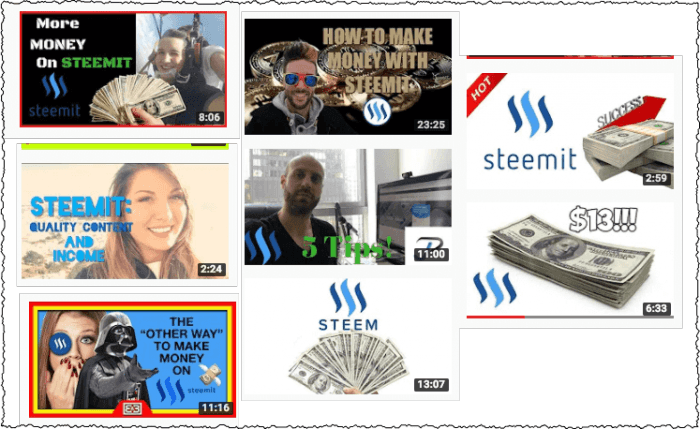 You want to make money? Oh! All you have to do is join the site and it's super easy money!
Well, the good news is that you don't get paid to refer people to Steemit, so there's really no incentive for these people to make videos promoting Steemit other than being excited about the platform. Perhaps you could make the case that they want more followers, thus more upvotes, and more money. Also, you see many of the same style videos for other types of crypto like Litecoin or Dash. People are excited about crypto and want to see their "top pick" win.
So, if you are wondering if Steemit is a pyramid or ponzi scheme, it's my opinion that it's not. But can you make money with Steemit? Keep reading.
III. How to Use Steemit
A. Account Registration
To register a new account, Steemit requires an email address and phone number. Steemit's FAQ says this is because registering a user on Steemit requires the creation of a user account on the underlying Steem blockchain, which costs a small amount of cryptocurrency that has a real monetary value. In order to prevent people from creating multiple user accounts for free, Steemit wants verification beyond just an email address.
If you want to avoid giving up your personal information to Steemit, there are four other ways to open an account that involve third-party tools, each of which is detailed in the FAQ:
SteemCreate accepts credit cards, or BTC to create a Steem account. You do not need to have an existing Steem blockchain account to use the service, but there is a charge on top of the blockchain account creation fee for using the service.
AnonSteem accepts bitcoin, Litecoin, STEEM, or Steem Dollars to anonymously create a Steem account. You do not need to have an existing Steem blockchain account to use the service, but there is a charge on top of the blockchain account creation fee for using the service.
SteemConnect allows you to create accounts by paying or delegating the account creation fee. There is no additional fee to use the service but does require an existing Steem blockchain account to pay the account creation fee to create the account.
BlockTrades accepts bitcoin, Litecoin, STEEM, Steem Dollars, BitShares, Dash, Dogecoin, Ethereum, and more to create a Steem account. You can also send extra tokens to pre-load the account with additional Steem Power. You do not need to have an existing Steem blockchain account to use the service, but there is a charge on top of the blockchain account creation fee for using the service.
Once you have created an account, you are able to start blogging.

B. Site Navigation
1. Feed Page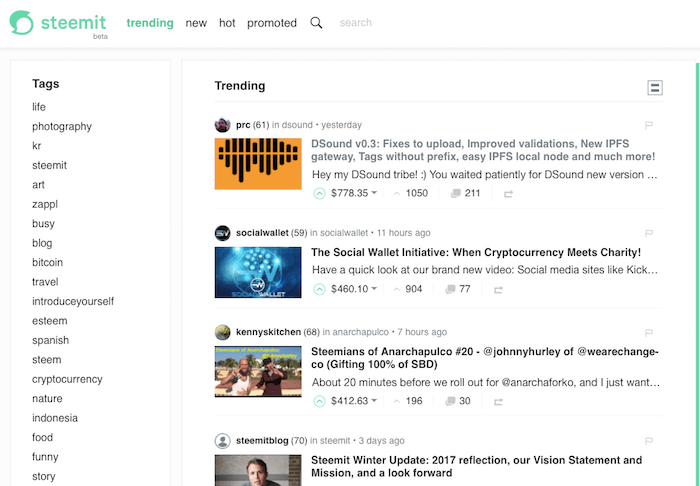 If you click on your user icon and then "Feed", you will be taken to the feed page. This is where you access content from other users, including those you follow. On this page there are four categories across the top: trending, new, hot and promoted. According to the FAQ, trending refers to "posts with the most number of votes, stake-weighted, recently," while hot refers to "popular posts at the moment." The exact difference between these is unclear. Promoted posts are listings that are boosted by Steem Dollar payments for greater visibility. The new post category shows the latest posts.
When you click on a tag you will be shown the posts that are trending for that tag. Click on any of the other categories, such as new or hot, and you will be shown the new or hot posts with that tag. You can also search for key phrases or tags in the field next to magnifying glass.
The tagging system is a bit confusing. Posts seem to sometimes have tags that are chosen because the tags are popular, not because the post is related to the tag. Also, many of the tags are vague, such as "price", "love," "fun" or "life." There are also some tags, such as "cn", "sndbox" or "zappl" which don't make sense unless you have spent time on the site and researched them.
2. Profile page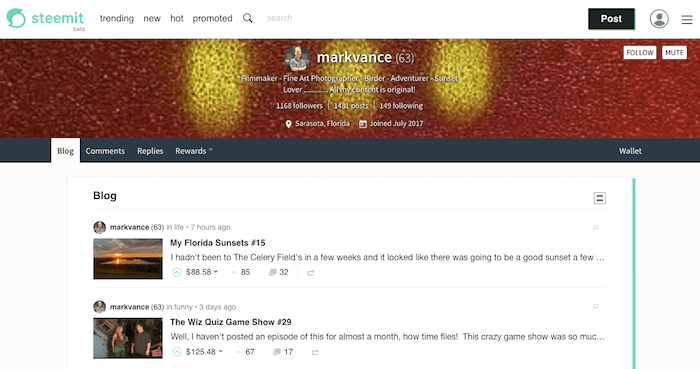 If you click on your user icon in the upper right, you will see an option for the "Blog" page. This is your profile page. At the top will be your username with a number in parenthesis. This number is your reputation score. It starts at 25 and goes up from there and increases based on interactions with other users. Below your display name is the number of followers you have, the number of posts and comments you have written, and the number of people you are following. It also shows the month and year when your account was created.
Aside from "Blog," across the top of your profile pages you will see "Comments", "Replies", and "Rewards," as well as "Wallet" and "Settings" on the right-hand side. Clicking on comments show the comments you have. Replies shows replies that other users have made to your posts.
Clicking on "Rewards" reveals a dropdown menu where you can see your rewards broken down by Curation awards (for upvotes) and Author rewards (for posts you make).
On the "Wallet" page, you will see how much STEEM, Steem Dollars, and Steam Power that you have, along with the estimated account value in US dollars. Note that you can also check the size of the wallet of any other user on Steemit.
3. Post Creation Page
Clicking on the "Post" button will take you to the post creation page where you can write blogposts. The basic blogging interface is fairly straightforward. There is space for a title and room for up to 64,000 characters in the body text. Steemit is optimized for mobile natively. The default setting is to write in Markdown mode.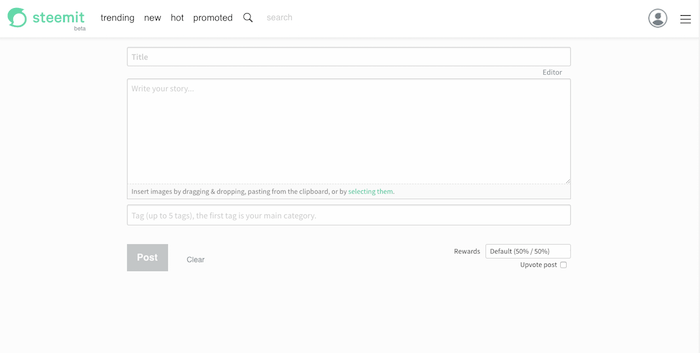 This is not intuitive, as the Editor mode, which is hidden behind a button, allows for easier formatting.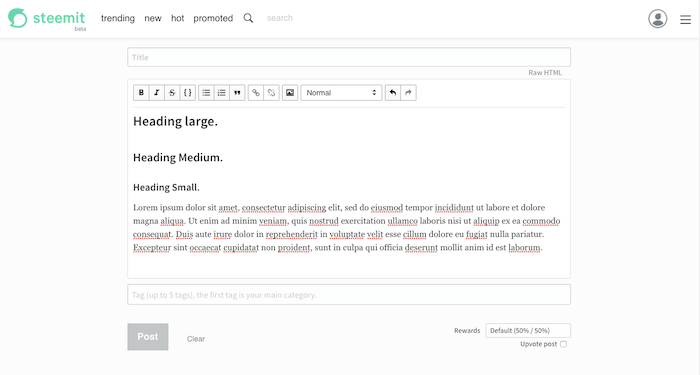 Writing in the Editor mode should be the default since it has more options for formatting. You have a limited choice of heading sizes and you can add bold or italics. Also, there is the option to add quotes and embed hyperlinks, and a spell checker. You can also add pictures, though they can only be displayed in one size that stretches across the screen. After adding and formatting text in Editor mode, you can see the HTML by switch to "Raw HTML" mode.
In regard to videos, you cannot directly upload a video to Steemit, it must be stored elsewhere. Steemit supports embedding only of YouTube and Vimeo files. You just copy the link into your blogpost and it will be embedded. All in all, it is a fairly rudimentary editing experience with just the essentials.
4. Wallet

Every user has a wallet detailing the balances of the various Steemit tokens. All wallets are public, so all uses can check each other's balances as well as their transactions.

C. General blogging With Steemit Notes
1. Display of Payout Amounts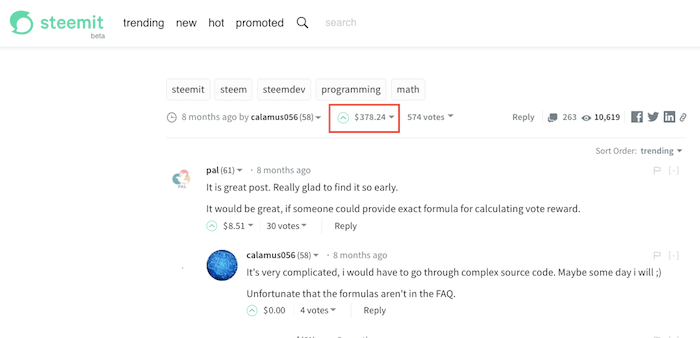 On all of the posts and comments on Steemit, there is a US dollar amount listed, which represents the amount of money that it has earned. This calculated when the platform adds up all the upvotes that the post has received and calculates their worth in STEEM and SBD. Note that this calculation underestimates the value. See the "Can You Use Steemit to Make Money" section below for more information. This amount can change depending on whether its receives any upvotes or flags (which count as a downvote).
2. Tagging
At least one tag must be chosen for each post before publishing. Up to five tags can be added. A good way to choose tags is to look at the homepage and see what tags are commonly used and popular.
3. Frequency of Posting
There is a limit to how frequently you can post or make comments. The most you can post is once every five minutes and the most you can comment is one every 20 seconds. Posts can be edited after publishing, but only for seven days. After that, you can no longer change your post.
4. How does Steemit compare to WordPress or Medium?
Effectively, in terms of creating posts, Steemit is an inferior blogging platform to either WordPress or Medium. Both have better design and more functionality than Steemit. There is also no limit to the amount you can post or make later revisions on either WordPress or Medium.
WordPress has much greater flexibility in terms of formatting and features. You can set up WordPress to be as sophisticated as you want, with many plug-ins available that allow for a high level of customization. WordPress is a powerful blogging platform that has widespread usage and support and is a more powerful tool than Steemit. Also, WordPress can also be used to host entire websites and track analytics, while Steemit's blogging system is limited to the site. However, there is a plugin that moves work from WordPress to Steemit called SteemPress (not to be confused with Steam plugins).
If you are looking to build an affiliate website or long term online business, there's no question. You should create a WordPress website, and you can simply leverage traffic or brand-building power from Steemit.
Medium is simpler than WordPress but offers a better designed interface that outclasses Steemit as well. Medium will automatically embed links, videos, and tweets, and it has a wider variety of ways to display images and text. It is also a WYSIWYG (What you see is what you get) editor, which makes writing on Medium easy and enjoyable. Steemit also has WYSIWYG, but it is more clunky, and you have to switch away from the "Editor" mode to the "Raw HTML" mode. Generally, Medium is more refined and intuitive blogging platform than Steemit.
Medium currently has a wider variety of high-traffic topics and a bigger user base. Steemit tends to be crypto focused, and the quality of content is not nearly as good as on Medium.
5. Other Services on Steem
In addition to blogging, Steem also supports several other content publishing services than run the Steem blockchain. They are integrated into the upvoting system as Steemit, except some of them take a cut of the rewards the user would normally receive. Some of the most popular of them are:
IV. Can You Use Steemit to Make Money?
The big question with Steemit is how much money content creators can earn on the site. Here is an example of a post which has some pictures of Florida sunsets. There are nine photographs in the post.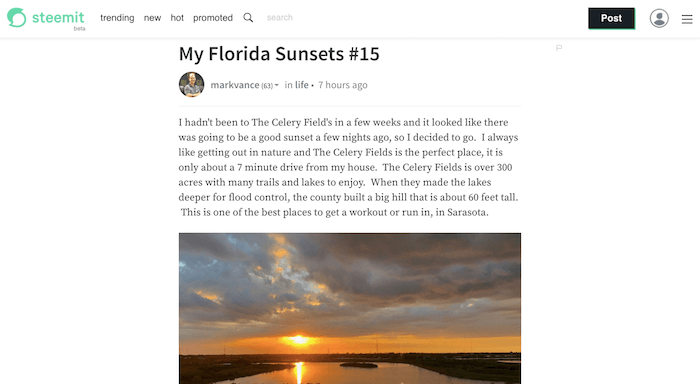 Here is the payout of the post:

Note that the payouts are calculated incorrectly and underestimate the value. This post is valued at $88.58 because it values Steam Dollars at $1 each, when in reality they are trading at $4.27 each. If Steam Dollars are properly valued, this post is worth around $234 USD, not $88.58. Assuming this payout is correct, and the user receives the tokens, it's not bad for blogpost of some pictures of a park at sunset.
While all the posts on Steemit can be seen by non-registered visitors, if you are trying to on earn STEEM rewards, it is the registered users you want to focus on. As stated earlier, there are two ways to earn STEEM rewards: having your posts upvoted by other users, or by receiving curation rewards, which means you upvote other users' posts early and share in the post's overall payout.
This incentive structure leads Steemit users to engage in two different strategies for receiving rewards. The first is by creating posts that are designed to appeal to other Steemit users, especially those known as whales. (Whales will be explained below.) The second is by reading new posts and upvoting posts that you think will eventually be popular and have a large payout. Both are these strategies require Steem users to pay close attention to what their fellow Steem users are doing. Understanding what is popular with Steemit's user base could help with earning rewards.
However, it's important to keep in mind that rewards from upvotes are usually paid out in a 50-50 mix of Steem Dollars and Steam Power. Steem Dollars are fairly liquid and be traded or converted to STEEM in three days. By comparison, curation awards are only paid out in Steam Power, which is relatively illiquid. Thus, those who are looking to maximize earnings should focus on receiving upvotes.

A. Strategies For Making Money
1. Attracting Upvotes to Your Content
In order to attract upvotes to your content, it's important to understand how the rewards system on Steemit works. As mentioned earlier, votes in Steem are stake-weighted, which means that the votes of users with more Steem Power in their wallet have a greater influence over the allocation of the daily reward pool than voters with less Steem Power. So, one upvote from a user with a large amount of Steem Power can result in a larger payout than hundreds of votes from users with small balances.
This results in a dynamic where some Steemit users compete for the attention of users with high balances, called whales, in hopes that they will upvote their content. There is a website called SteemitWhales.com which lists the wallet balance of every user on Steemit. Also, there are many guides on Steemit for how to attract the attention of whales. In this guide, the user @walkingkeys, who has this to say:
I spent my first two weeks reading and replying to people [with a reputation score] over 50. The ratings of each member are beside their names in a circle. The higher the rating, the more experience and value that person has. I simply found about 20 people that I really liked their content and that were ranked 50+ and I replied to their daily posts each day.
He goes on:
I created a list of people that I would go and check out their posts each day. Then when I got to their posts, I read them and gave an honest and thoughtful response.
However, it was a time-consuming process:
Sometimes I would write a paragraph responding to a post. It takes a long time. I spent hours and hours following and responding to the top people. It has to be an authentic answer to work. Whales will sniff out anyone trying to get a leg up, so you have to be interested and invested.
User @hitmeasap recommends in a post checking steemwhales.com to find whale candidates, and then using steemd.com to analyze their voting behavior, what types of articles they comment on or other clues to their preferences. However, he also says that it's important to build your followers, increase your reputation score and maximize the number of people viewing your content.
2. Curating Content
The other option for earning rewards is to find content early that will become popular and upvote it. As stated earlier, up to 25% of a post's payout is awarded to curators as a reward for discovering the content. Timing is crucial with curating. It works like this:
If a post is upvoted the moment of posting, 100% of the curation reward goes to the author.
At 3 minutes, 90% goes to the author and 10% to the curator.
At 15 minutes it's a 50/50 split.
At 27 minutes, 10% goes to the author and 90% to the curator.
If a post is upvoted 30 min after posting, 100% of the curation reward goes to the curator.
According to this guide by @calamus, entitled, "Curation rewards explained in great detail," the best scenario is for a curator to upvote a piece of content at 30 minutes and to be the first person to upvote it.
The rewards for comments is one of my main gripes for this platform. The potential of monetary compensation for commenting fast means that many of the comments are thoughtless. Here are some examples of useless comments that earned money on a post about coffee.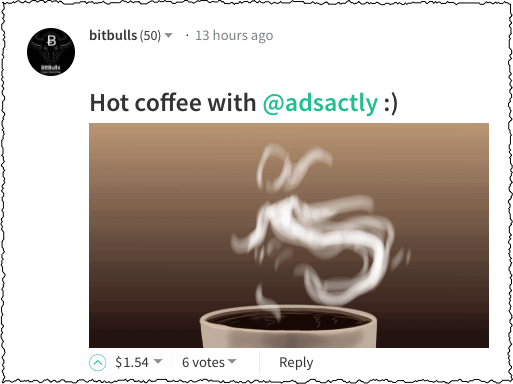 What drives this type of activity is clearly the money. Someone in a developing country can sit at their computer all day and just upvote content they guess will do well, and add comments quickly hoping for pity votes to earn a few dollars. That's totally fine, and within the rules of Steemit, but it makes me concerned about the long term viability of the product. If value is not what's driving the community (and payments), then over the long term, users who are giving value will migrate somewhere else.
This happened with the social media site called TSU which claimed to be the "Facebook that paid people", but closed down within a year of launching. Their comment and sharing activity was eerily similar to Steemit, albeit the quality of original content on Steemit is better so far in my opinion.
3. Using Steemit As A General Purpose Blogging Platform
You could also post your content on Steemit and to whatever other platforms you normally use in order to promote your content to Steemit's user base. All posts in Steemit can be read by non-registered users as well.
Steemit is currently ranked by Alexa as the 988th most popular website in the world and 796th in the United States. Medium, by comparison, is 284th globally and 138th in the United States. Compared to the most popular social media platforms like Facebook or Twitter, though, Steemit has a relatively small number of users, which reduces its utility for building a brand or connecting with a large audience.
I have known about Steemit since about June of 2017. However, my inspiration to write this article about making money with the platform comes from my interest in the current ranking power of the blog. As I do my research for cryptocurrency, I regularly run into blog posts on Steemit.com ranking on page 1 of Google. I hardly ever see blog posts from ancient platforms like Blogger or Blogspot on page 1 anymore!
In my experience, shared/free blogging websites don't perform very well in search engines consistently. They may enjoy a stint of good rankings, such as Squidoo back in 2011 or Street Articles in 2012, but that power (so far) hasn't lasted long. Also, I have only noticed the crypto-related posts ranking high. I don't know if that's due to my search habits, or that the domain is just more powerful for ranking crypto-related terms.
What does this mean for Steemit as a blog for the online business owner? Personally, I think that at this time, you would be smart to invest some time into experimenting with a Steemit blog, especially if you are in a cryptocurrency or tech niche. However, I wouldn't build my main website there. I would use Steemit to build your brand on another platform, and possibly drive traffic to your main website where you own the property and can build a long term strategy for your business.
B. Converting STEEM to cash
In order to receive cash for the STEEM or Steem Dollars earned, you'll need to find an exchange. According to Coinmarketcap, STEEM trades on the following exchanges:
Binance
Bittrex
Poloniex
Upbit
HitBTC
OpenLedger DEX
Steem Dollars can be traded at:
Bittrex
Poloniex
Upbit
OpenLedger DEX
HitBTC
Shapeshift.io used to offer STEEM conversions, but is not currently. The reason is perhaps explained in this post.
STEEM and Steem Dollars can also be traded at Blocktrades.

V. Conclusion
Can you make money with Steemit? Yes.
It's is currently the only social media platform with a sizeable user base that directly pays its users with cryptocurrencies for the content they publish. Essentially, it turns using social media into a game and creates financial incentives for its users to post content and interact with the site. Steemit's use of cryptocurrencies is its strength, or its weakness, depending on your view. The cryptocurrency markets are volatile, which leads to the risk that the tokens received on Steemit could quickly lose value.
When the STEEM token was first released in the spring of 2016, it traded at around 70 cents USD. It then spiked to around $4 USD in mid 2016 before crashing down to less to 20 cents. As recently as November of 2017 it was trading for less than $1 USD. It is anyone's guess whether the current price levels, around $3.50 USD, will last. If you invested in creating content for the platform early, you will have made money not only in real payouts, but in value-gains from the crypto coins themselves.
Whether that value will hold over time, or if the content contributors to the network will continue to earn is still undecided. Personally, I think the community will continue to earn for some time, but that the decreasing value of content creation as more members join will cause the most valuable members to leave and the community will eventually dissipate.
Earning tokens on Steemit require a significant time investment, both in understanding how the site works and in creating content attractive to other Steemit users. Another thing to keep in mind is that the rewards pool grows at a set rate, but the user base has no such limit. If a large number of new people join Steemit, then there will be fewer rewards to go around.
However, using the blockchain does have some benefits, namely that it allows Steemit to be decentralized. New projects like Civil and unrest regarding the heavy hand of Google, Twitter, and Facebook show that people are clamoring for a decentralized, social media news and blogging platform that cannot be censored or controlled by a centralized organization. Steemit is still in the early stages, and could become a powerful force for un-censorable content in the future.
Finally, as a platform using a new method of paying content producers, it's presently unclear what the potential of Steemit's token economy model is. It could become the future standard for how content creators get paid on the internet. Or it could fizzle out to nothing. Ultimately, the success of Steemit is linked to the adoption of cryptocurrencies. If crypto use becomes widespread, then the value of STEEM tokens could increase. Yet even in that case, Steemit's success is not assured. There is nothing stopping someone from setting up a competitor site that could ultimately put Steemit out of business.
If you're interested in earning money on Steemit and optimistic about cryptocurrencies, the best solution is to try it out, and see if you earn a reasonable return on the time invested. Just don't quit your day job and make an exit plan.
---
Have you made any money using the Steemit platform?
What are your thoughts on the long-term viability for creating a brand or blog?
What do you think about the quality of content?
Let me know in the comments below. I want to know what you guys think!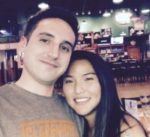 Nathaniell
What's up ladies and dudes! Great to finally meet you, and I hope you enjoyed this post. My name is Nathaniell and I'm the owner of One More Cup of Coffee. I started my first online business in 2010 promoting computer software and now I help newbies start their own businesses. Sign up for my #1 recommended training course and learn how to start your business for FREE!