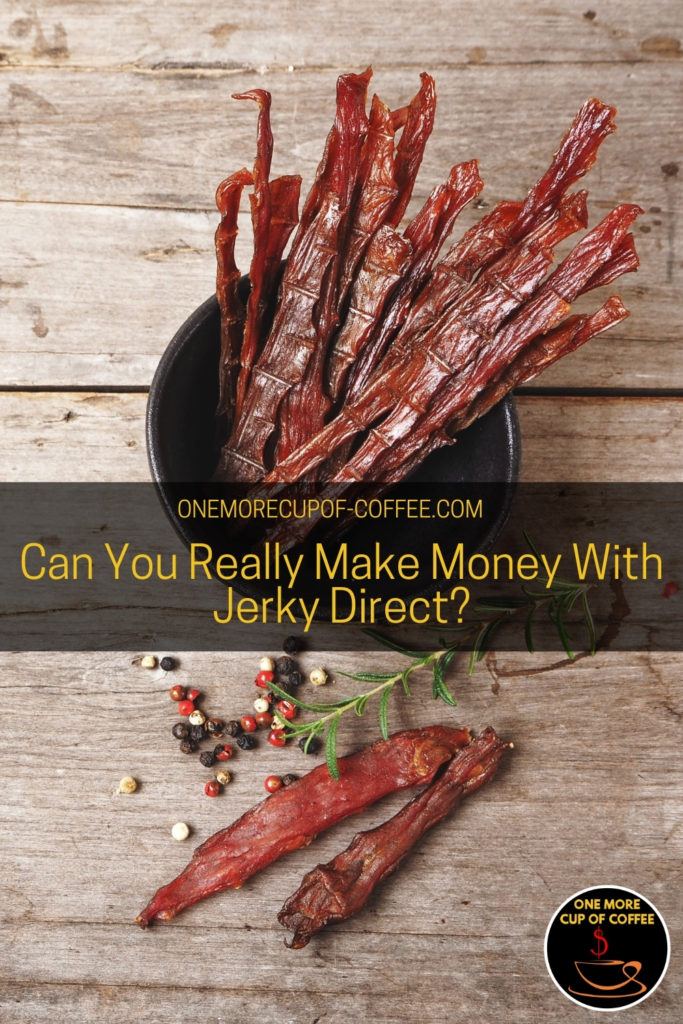 Jerky Direct Review
Company Name: Jerky Direct
Costs: $15.95
Rating: 34/100
Do I Recommend Jerky Direct?
Jerky Direct has some differences to most other MLMs, including a simplified compensation plan and a relatively small product selection. For some people, it would be possible to make money with Jerky Direct – although there is actually more potential in sales than in recruitment.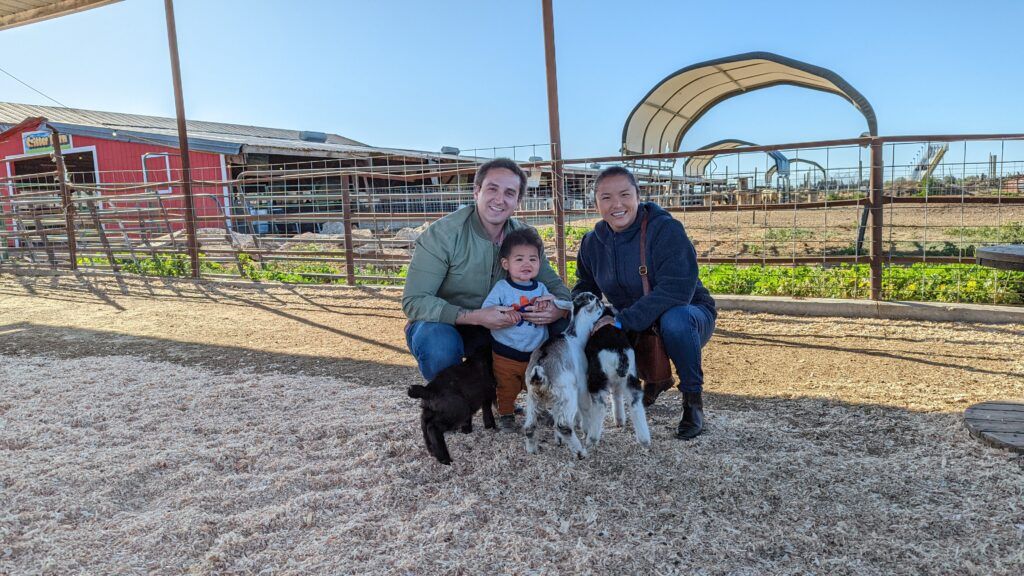 Are You Ready To Work Your Ass Off to Earn Your Lifestyle?
Are you tired of the daily grind? With a laptop and an internet connection I built a small website to generate income, and my life completely changed. Let me show you exactly how I've been doing it for more than 13 years.
But, even then, I don't recommend the company. Perhaps the biggest problem is the products being sold, as they are overpriced and not all that special. You could easily find more competitive and higher quality jerky products, then promote those through affiliate marketing – giving yourself more control and greater long income potential.
What Products Does Jerky Direct Sell?
As the name suggests, Jerky Direct simply sells jerky. The company focuses on producing a high-quality product, one that relies on fresh ingredients and is USDA certified. The jerky is sold in twin packs, which consist of two bags – each of which contains 2.5 ounces of jerky.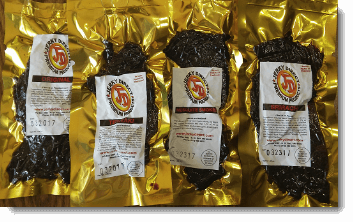 They offer two distinct styles of jerky. One is Midwest Fresh, which is a thicker cut type of jerky and comes in two different lines – 100% Natural and 100% Fresh. There are four flavors available across those two lines, which are:
Original
Peppered
BBQ
Smokin' Hot
The other type is Southern Style, which is thinly cut. In this case, there are 6 flavors available. The company is also planning a BBQ flavor for this range in the future as well.
Original
Teriyaki
Mesquite
Smoked
Sriracha
Hot Chili Lime
The jerky itself sounds like it would be good. It's also nice to see a company that doesn't simply mass-produce the cheapest possible products. But, the price for this is an issue. In particular, it costs $21.75 for a twin pack of jerky. That's $21.75 for 5 ounces!
I enjoy jerky myself and I can imagine spending that much once or twice as a special treat or a gift. But, the price point would be too high to get consistent sales from most people.
Additionally, there is very little information about what actual consumers think. Almost all of the Jerky Direct reviews out there focus on the opportunity, not on the product. The few reviews that I did find of the jerky itself all came with purchase links, so they were probably written by distributors.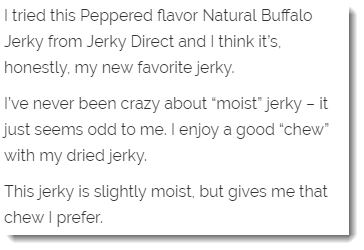 Even without many legitimate reviews, the jerky may well be amazing. But, it's hard to imagine that any jerky would be worth what the company is charging.
Which begs the question, could you sell it? After all, the main goal of being a distributor is to make money. With Jerky Direct, you have 10 different flavors of jerky that can be purchased individually, along with a couple of sampler packs. But, that's it.
As a result, there aren't all that many products for you to promote and a very little variation between them. If you had an audience of jerky lovers who might pay top dollar, then the opportunity could work. But, for any other audience, the products would be difficult to consistently sell.
Selling jerky sounds a little boring to me but to each his own. If I were to make money with a "meat" company, I'd much rather promote a wide variety of snacks, or a wide variety of jerky companies, each with their own pros/cons.
Is Jerky Direct A Good Business Opportunity?
Jerky Direct is an MLM. The term means that you make money from sales and also from recruitment. It's even clear that some people have been successful, as the current owners were originally distributors for the company. But, not everyone makes money.
First of all, let's take a look at the sales. Most MLMs offer distributors a percentage of the sale price as commission, often around 20% to 30%. In this case, Jerky Direct pays a set commission of $5 per sale. That calculates out to around 23% commission, so it's a fairly typical rate for the industry.
But, that $5 rate is consistent for almost any sale. So, you earn $5 even if people buy the more expensive sampler pack and you get it regardless of whether they pay retail or affiliate prices (however, that's just on the first sale for affiliates).

This pattern does make it easier to predict your income – although it offers fewer opportunities to optimize it.
Members can promote sales in person or through a replicated website. Theoretically then, you could use social media or build your own website to drive traffic to your Jerky Direct website and get sales that way. That idea is fairly powerful but there is a catch with Jerky Direct – you don't earn as much.

So, any sales that you make online will net you less than 50% commission compared to an in-person sale. To me, that's a serious problem. For one thing, promoting online gives you access to a wider audience and that's where most of your income potential would be.
At the same time, the people you promote to locally may prefer buying online for the convenience factor. It's easy to see how those lower commissions would decrease how much you can earn.
Of course, sales are only part of the equation. The main income potential normally comes from recruiting people as well. By doing so, you build a team under you. The people in that team then recruit and sell products as well.
Most MLMs have a fairly complex compensation plan, which offers various ranks and different requirements to progress through them. That's not the case with Jerky Direct though. Instead, the company uses a 7 level network hand that has no requirements about how your team is structured.
The rates of payment look like this: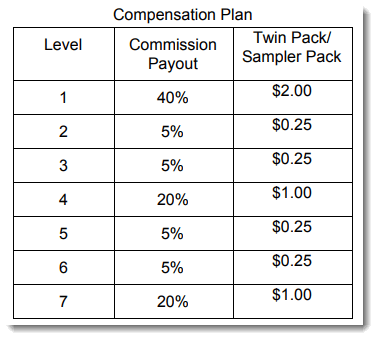 So, you earn between $0.25 and $2 from any sale made within your team, depending on what level the team member is on. These totals could easily add up, especially if you had a large enough team. Still, your income would rely on everyone making consistent sales.
On a side note, the percentages here are misleading – as they are based on the commission you would normally make from a sale ($5), not on the sales price of the product. That distinction is important if you plan to compare to other MLMs, as most others provide the percentage based on the sales price.
There are also two fast-start bonuses. The first means you earn a $40 bonus if you make 10 website sales to 10 new customers, with 5 days of joining. That bonus is nice – although hitting it may not be realistic for many people. It's also a one-time bonus, so it wouldn't help with long-term income.
The simple nature of the plan is appealing but there is one additional complexity.
Based on the compensation plan, the amount you earn from sales changes when someone becomes an affiliate. You earn 100% commission (i.e. $5 per twin pack) from the first purchase that they make. After that, you're earning based on the compensation plan. So, if they're at the first level, you're getting $2 per sale.
This suggests that you actually earn less per sale from affiliates than from people you're selling to. If that's accurate, then this is one of the few MLMs where you might actually earn more from simply selling to people, rather than recruiting them – unless you could build a large and successful team.
Advantages Of Jerky Direct
The product choice for Jerky Direct isn't all that impressive and the amount you earn isn't amazing either. But, there are some advantages to the company. The first is just that the whole process is simpler. So, there are no ranks to worry about and the compensation plan is fairly easy to understand.
Getting started is also easier. To become an Affiliate, there is a $15.95 fee and then a yearly $14 fee (but only after your first year). To actually earn commissions, you need to be a Qualified Affiliate. This just means you need to make a purchase or make a sale.
That's it. The only ongoing cost is the yearly fee and that's low compared to other companies. There is also no pressure to buy any product yourself or to meet quotas – and you don't have to run home parties either.
This makes it much easier to try out Jerky Direct and see if it works for you. In fact, the overall risk is low.
Jerky Direct's Relaunch
If you're going to make money from a company, you want it to be reliable. After all, you would be pouring hours into promoting the products – so you want the company to stick around. But, the history of Jerky Direct isn't encouraging in this area.
In particular, the MLM officially closed at the end of June 2016. This would have meant that current members lost any income they were earning, along with their team structure and bonuses.
Nevertheless, the company didn't close entirely. Instead, a group of distributors relaunched the company, relying on the same general principles that it had originally followed. So, Jerky Direct does still exist and the overall approach is fairly similar to what it was under the older leadership.
This pattern is concerning, especially as it hasn't been all that long since the relaunch. Realistically, new MLMs are always vulnerable and there is an increased risk that they will fold. Additionally, the fact that Jerky Direct closed once before suggests that perhaps there isn't enough demand for the products to make the company worthwhile.
As a result, there is more risk in Jerky Direct than with many other MLMs. There is still potential, of course. The new owners may be able to take advantage of the previous mistakes. This is similar to what PUREhaven ESSENTIALS is trying after the crash of Ava Anderson Non-Toxic. Nevertheless, time will tell whether or not Jerky Direct is successful.
Making Money With Jerky
I can see the appeal of jerky as an MLM product. Many people do love their jerky and are prepared to pay top dollar for something that tastes amazing. Plus, this is one product that is going to appeal to males, as well as to many females. That aspect alone is attractive, as so many companies focus on female-centered products, such as jewelry, makeup, and body care. Indeed, many of the companies out there aim to empower females, leaving men out of the picture entirely.
So, for men who want to join an MLM, Jerky Direct might seem like a good choice. There is certainly more sales potential, simply because there are relatively few product lines that are directed at males.
If you are interested, I would suggest focusing mostly on sales, both in-person and through the site, you're provided. The quirks of the compensation plan actually mean that there is more income potential this way – unless you are able to build a considerable team.
But, why limit yourself to one company? There are countless different affiliate programs out there, which come with their own selections of products. You could even find other programs that sell jerky and do so at a more reasonable price. With your own website, you could even promote multiple products and/or brands at once. You could even choose to add Jerky Direct to that mix as well.
Can You Generate Reliable Income With Jerky Direct?
The Jerky Direct Review
I'm just not that into selling jerky, and I wouldn't want to promote this to friends and family, let alone convince them to sell it. This company is not for me!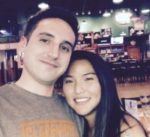 MLM Critic & Author: Nathaniell
What's up ladies and dudes! Great to finally meet you, and I hope you enjoyed this post. I have to be honest though. I'm not a big fan of MLM. Tried it. Hated it.
Affiliate marketing is cheaper, faster, and easier. See for yourself and join millions of other successful affiliates generating income from their blogs!
No inventory. No fees. No recruiting. 3 BILLION potential buyers online.
Reader Interactions