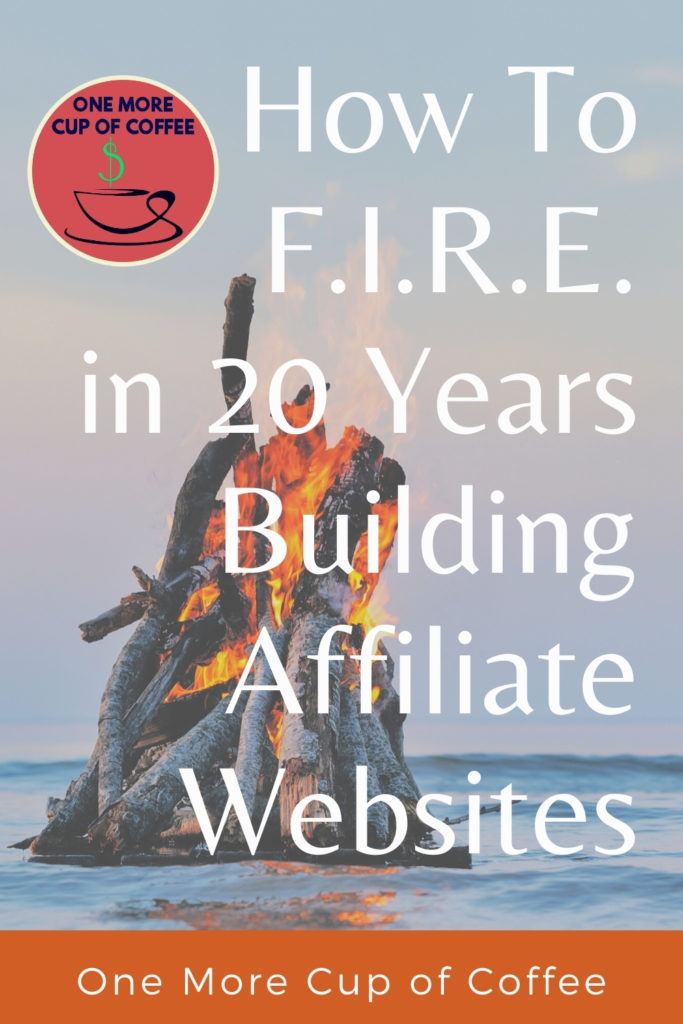 FIRE stands for Financial Independence Retire Early. It's a new movement, (or some might call it a buzzword) which is basically a group of people who are focus on trying to save enough money and create enough cash-flowing resources so that they can retire early. "Early" could mean 25, or it could mean 45. Each person's goals and situations differ, but the main idea behind the movement is that people spend too much money on unneeded garbage, and if you are frugal enough, then you can actually spend a lot less time working.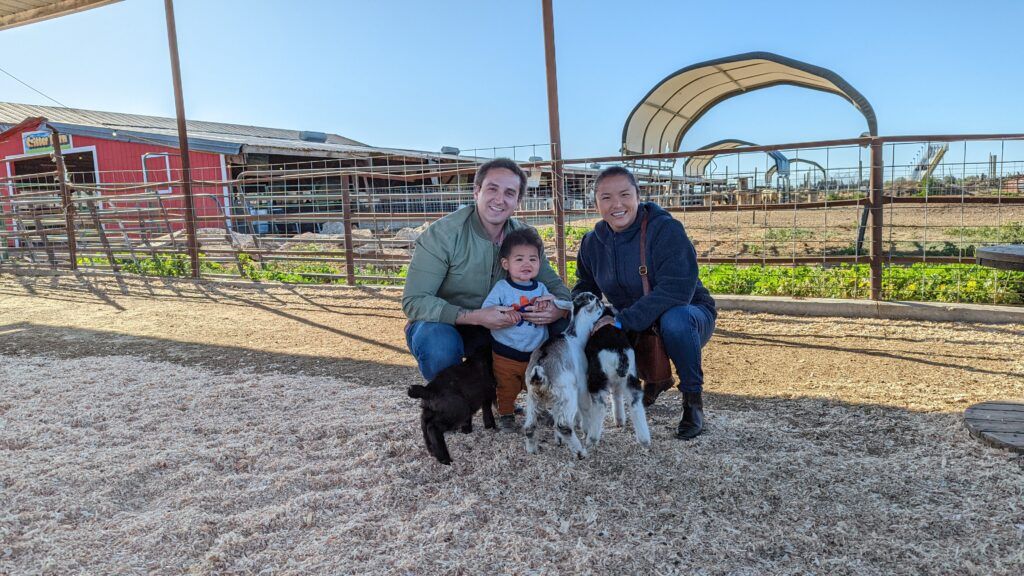 Are You Ready To Work Your Ass Off to Earn Your Lifestyle?
Are you tired of the daily grind? With a laptop and an internet connection I built a small website to generate income, and my life completely changed. Let me show you exactly how I've been doing it for more than 13 years.
Some people are pretty extreme, and buy 50 pound bags of black beans then literally eat just beans and rice for 10 years, and make their own toothpaste from backing soda and mint leaves they pick from the neighbors yard. Some people are a little more chill, and simply cut the fat, save a lot, and aim to retire in their 40's. You get to choose your own adventure!
One of the big tenants of FIRE is that a lot of people will need an evening or weekend side hustle to supplement their income. What really surprises me is how little people talk about how starting a blog can really be a huge source of income, and it doesn't have to be a full time job!
Sure, there are plenty of FIRE blogs out there, and some make a lot of money, but there are so many other profitable topics out there! You can start a blog about literally anything and make money. You can work on it in the evenings and the weekends to jumpstart it, and it's very possible that within a couple years, your blog income will surpass your job income.
Even if it doesn't, it can still be an awesome side hustle that is much easier to scale than most other side hustles because you're not just trading hours for dollars. Once you put in the initial work, you can enjoy a bit of passive income, then decide if you want to scale further or stay where you are and take your foot off the gas.
Because of this, I think building affiliate websites is a great way to reach your FIRE goals, and in this post I wanted to map out a general overview of what that FIRE journey might look like.
F.I.R.E. in 20 Years Building Affiliate Websites
Step 1: Build Your Affiliate Website
I'm not going to cover the exact steps here because I've mapped them out here. You can even get my personal coaching by signing up to my recommended course. However, in general, here's what you need to do:
Pick A Topic
Build A WordPress Website
Publish Articles

Product Reviews
Listicles
Tutorials

Make A YouTube Channel (optional)
Add Affiliate Links
Monetize With Adsense (optional)
Repeat
That's pretty much the formula. The internet is all about information, so if you can publish information about a specific topic, you can make money through affiliate advertising. You get to decide the products to promote, and the method to promote them. You do not have to be any special kind of "brand rep" or sponsorships. You can be as subtle or overt as you want. It's your brand.
The main idea is that you pick an area of expertise, where you are already an expert, or plan to be an expert. You can do something lifestyle oriented like #vanlife, or you can do something which doesn't even require you leave the home like slow cooker reviews. There's an infinite amount of products and topics to cover, and even if it feels "saturated", like weight loss or Yoga, these are popular categories because they are always changing, and there's always something new to say.
Plus, your voice is your brand, and two people promoting the same product might do it in different ways, which resonate with different audiences. An L.A. chick doing yoga to feel good about herself is not the same audience as a high stress CEO doing yoga to decompress after work and improve productivity.
Step 2: Make A Work Schedule & Stick To It
TBH this is where most people lose the plot. They forget that you have to put in a good amount of work to see a blog successful, and a lot of that work is "front loaded", meaning you may work for six months straight and not see any money at all. Or you might see nothing at all, and the first six months was you experimenting, making mistakes, and setting the stage for your successful website the next time around.
Who knows. That's the risk. Risk takers make money.
Time can be an issue if you have a family and a normal job, but you just have to imagine what sacrifices you're willing to make now, in order to enjoy the fruits of your labor later. Here's a pretty intense schedule that could really skyrocket your blogging results. Do you have the focus to do something like this?
2-5 Hours Monday-Friday
5-10 Hours Saturday-Sunday
It's been a while since I had a normal job, so perhaps this is too idealistic, but I would imagine if you get home by 6 from work, spend a couple hours with the family, then work at the computer from 8-10, that's 10 hours logged for the week and it's not even that intense of a schedule. You still have time for the family or house projects, and you still make daily progress on your blog (business).
If you're in your 20's and have that fire in your belly, then you could definitely log 5 hours a night, working from 6-11 M-F. Keep in mind, "working" is sitting at a desk, and may include "research" which is browsing Amazon or watching tutorials. In fact, if you chose your niche correctly, it could involve playing around with something cool like drones or hydroponic gardening.
If you can do that, you've got 25 hours before you even hit the weekend. Put in another 10 on Saturday + Sunday, and you have a total of 45 hours per week building your side hustle.
That may seem unsustainable, but people work 60-80 hour weeks all the time! The issue isn't the physical aspect of it, since you're just sitting in an ergonomic computer chair at home with air conditioning and snacks. It's a mental game. It's tough, for sure, but it's not like you're outside breaking rocks. Plus, a 10-hour day on the weekends means you're still just working from 8-6, which means you get a good night sleep and still have the evenings to chill out.
Of course, this type of schedule isn't possible for everyone. There are other responsibilities that need to be taken care of, and for most people, a schedule like that would spell burn-out real quick. I'm just showing what's possible. Do what suits your lifestyle and goals.
Step 3: Reach $10,000 Per Month In 10 Years
Simple right? Just make ten grand! Couldn't be easier.
Though you're probably rolling your eyes right now this is a lot easier than you think, and I specifically wrote it this way to make a point. TEN YEARS IS A LOT OF TIME IN THE ONLINE WORLD.
It took me 18 months to start a six-figure online business with just a laptop sitting on a wicker chair in China. Then I started another one. Then I started another one. In 10 years I was able to take three different websites of $0 to $10k. You could do just one, right?
Let's say you undershoot and don't hit the $10k/month mark. Even if you don't market a single affiliate product on your blog and just write power drill reviews, or teach people how to build decks, or do video editing tutorials on YouTube, from display ads alone you could be pulling in $5k/month from 10,000 page views. Add some affiliate links, and $1,000 days are not that far off.
This can all be done in 2-3 years, let alone 10. So even if you take the slow road, achieving this goal is not unrealistic at all.
Step 4: Educate Yourself About Dividend Investing
Since the goal is to retire, we have to figure out how to have money to live without actually working. One of the most common ways to do this is to live off of of dividend income. So if you have a million dollars that pays a percentage each year, and you take out a fixed amount, your portfolio continues to grow even though you keep taking out money.
That's the 4% rule you hear people talk about. As a side note, while doing a bit of research for this post, I discovered that you don't withdraw 4% of your portfolio per year, it's that you set the 4% of your stack to withdraw at the beginning of your retirement, then you take out that same amount of money each year.
So let's say you save a million dollars in 10 years. That means (with quite a few assumptions) you can take out $40,000 per year for the rest of your life and you'll still have a million dollar stack.
But is it actually realistic to save a million dollars in today's world? Yes.
Step 5: Save $500,000+ In 10 Years
Saving a million dollars in 10 years is not unrealistic, at least in theory. I can't say that I've done it myself because I've been too busy buying beer and fixing up my house. Saving at that rate takes more commitment than I have. It is possible though.
According to the plan, we spent 10 years building our business. The next 10 years is all about saving money. $10k/month x 12 months is $120k/year. Minus taxes and expenses, let's say you get to keep $65,000 each year. You're still working a full time job, or maybe you're married and can live off of your spouse's income. The point is to save as much as possible.
Multiply that by 10 years, and you now have $650,000 cash at the end of 10 years. Not quite a million dollars, but we're getting there.
Step 6: Sell Your Blog For $360,000 (or more)
A profitable website sells for 24x – 40x monthly earnings. A good affiliate blog with relatively passive income could easily sell for 36x, so if you're earning $10k/month, you could sell it for $360,000. Fees from a broker might be 15%, so that's $54,000 gone right away. Minus taxes, that's another $120k gone. We're down to $186,000.
Total saved now is $836,000 total saved.
Step 7: Live Off Of 1 Million Dollar+ Dividend Investments
In the meanwhile, your savings are hopefully earning some kind of dividends depending on where you put your money. Everyone's predicting a market crash in the next couple years, or a reduced rate of return. The stock market has been a rocket lately, and of course, you know everything else is kind of crazy, so who knows what will happen in the next decade.
So, let's assume that you just barely keep up with inflation and get just 3% return on your investments. Here's what a compound interest calculator has to say about that. With 3% return and saving $10k/month for 10 years, you end up with 1.3 million dollars.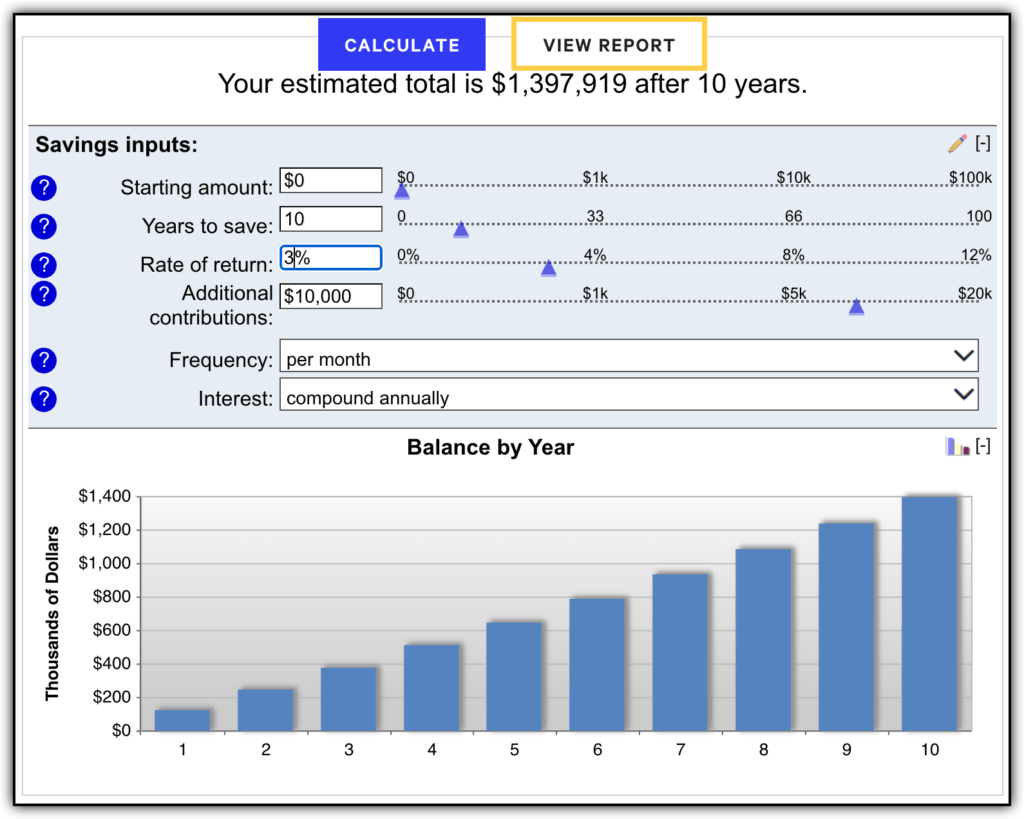 Of course, you probably won't put in exactly $10k each month, but it's highly likely you could be getting double the rate of return if you invest in crowdfunding real estate, bitcoin, high dividend stocks, or the stock market in general. Maybe you bought a house and it's a rental now, adding to your income, but reducing your dividend earnings. There are lots of options when you have a million dollars.
The calculations are not perfect, and that's why I'm not really getting super analytical with these calculations. It's not my style. Everything changes all the time, so I like to paint with broad strokes when making life plans.
The point is that the combination of saving a lot and investing you can most likely end up with a million dollars or more in 10 years, and it all started with a side hustle affiliate blog.
Final Thoughts
No doubt someone with an analytical mind will be able to poke holes in this plan. It's not a precise step by step action plan. It's a broad idea of what's possible when you start making money from affiliate websites. If you want to FIRE in 20 years, an affiliate blog could be an incredible vehicle to get you there.
Let's say you fail at everything I mapped out above and you only end up earning $1,000 per month from your blog after 10 years. FIRE might not be in the cards, but you've now added $12k to your yearly income that you can invest. It's a great safety net, or a down payment on a house you wouldn't have otherwise had.
The absolute worst case scenario is that you make nothing at all, but even then, you end up with a marketable skill set like search engine optimization, blog writing, WordPress website building, social media marketing, graphic design, etc. You can now leverage those skills to work for other people, or even freelance on your own and that could be your side hustle.
The worst case scenario is still pretty awesome IMO.
If you're still unsure if this is for you, I recommend joining my 5-day email course on affiliate marketing for newbies so you can see how the basics work, and how to take your first steps to building consistent, reliable online income.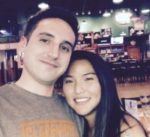 Nathaniell
What's up ladies and dudes! Great to finally meet you, and I hope you enjoyed this post. My name is Nathaniell and I'm the owner of One More Cup of Coffee. I started my first online business in 2010 promoting computer software and now I help newbies start their own businesses. Sign up for my #1 recommended training course and learn how to start your business for FREE!