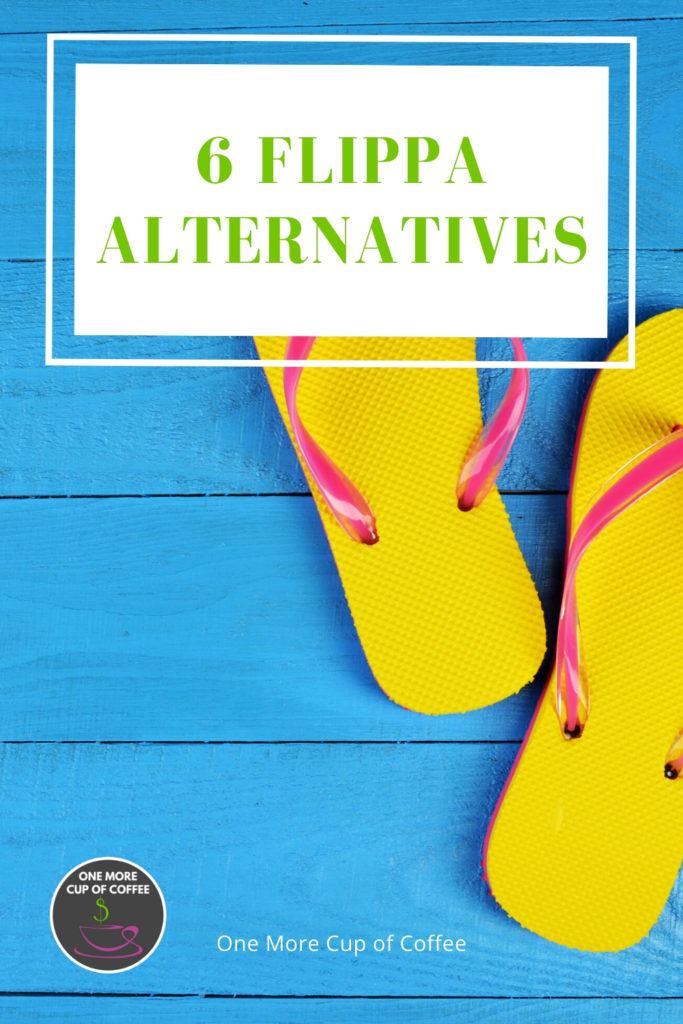 Ever since it got its humble start in 2009, Flippa has been the top leading marketplace for selling and purchasing small-medium sized websites and niche blogs. For over a decade, they have ruled the roost so to speak, but not without their fair share low quality sites you have to sort through to find that gem you're looking for. That said, it comes as no surprise that millions of people are now searching for decent Flippa alternatives where they can buy and sell their sites with more confidence.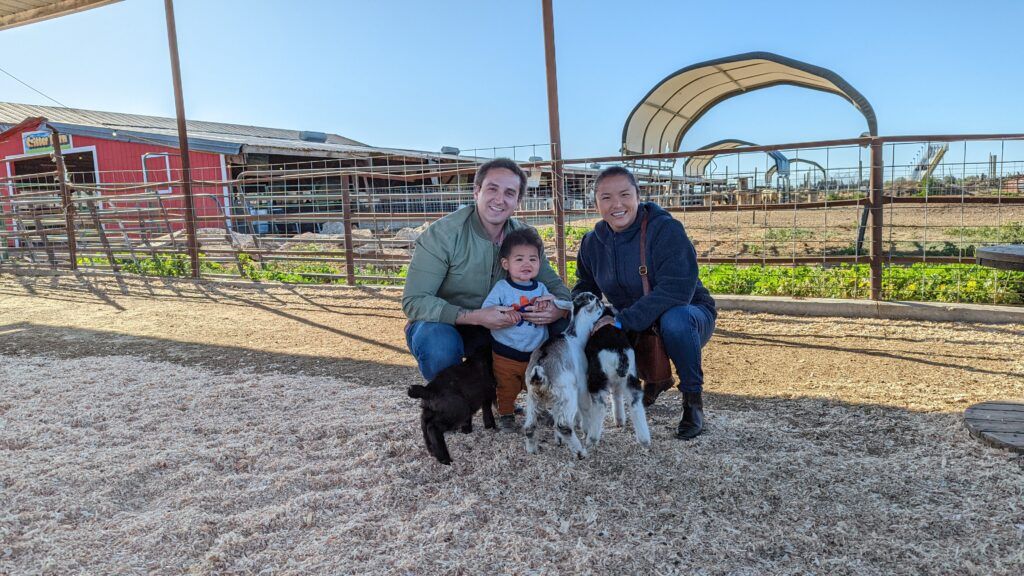 Are You Ready To Work Your Ass Off to Earn Your Lifestyle?
Are you tired of the daily grind? With a laptop and an internet connection I built a small website to generate income, and my life completely changed. Let me show you exactly how I've been doing it for more than 13 years.
I've used Flippa in the past, and you can read all about it here in my Flippa review, but I've also used a couple other brokers over the years (listed below)
In general, Flippa is known for its wide range of prices and qualities of websites. It's attractive to new buyers because many of the price points are less intimidating. They also have a range of pre-made websites that come populated with content and possibly some rankings, but no earnaings.
It also has a fairly low brokerage or listing fee, unlike many of the Flippa alternatives which attract higher-quality sites (and thus bigger buyers and sellers). Flat rate listing fees and only Escrow taking a percentage of the final sale price is attractive, but many high-valuation sellers will still opt to pay the 15% seller fee charged by the top brokers in the space. Why pay 15% when you can pay much less?
From a seller's perspective, peace of mind that you'll find a quality buyer and not wasting your time is probably the main reason why customers are searching for the alternatives to Flippa.
From a buyer's perspective, it's all about not getting scammed.
Regardless, competition for website brokers is heating up, and each one listed below has some unique qualities worth mentioning such as price range, 0% fees, and general reputation.
Top 6 Website Brokers That Make Great Flippa Alternatives
Empire Flippers
Motion Invest
FE International
BuySellEmpire
Quiet Light Brokerage
Investors Club
1. Empire Flippers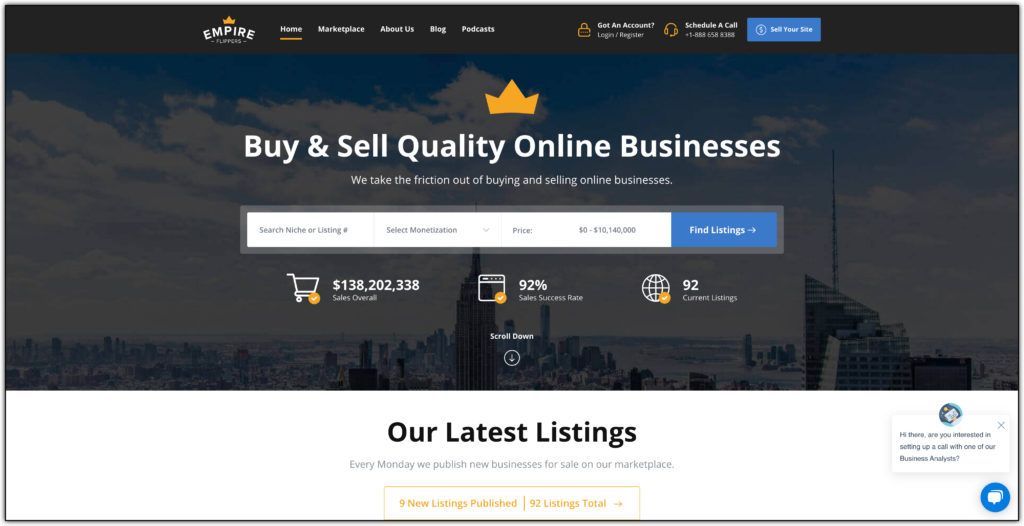 Value: Best for websites and businesses earning $2k-200k per month
Exclusivity: 6 months
Listing Fee: $297 first time listers, $97 returning listers
Brokerage Fee: 15% of final sale
Success Rate: 92%
Heard of Empire Flippers? No doubt! They are often known for being the crème de la crème of website brokers. They are best known for having revenue-generating websites, meaning for the right price, a buyer can purchase an already good or high-quality website that is profiting every month. They are able to do this by maintaining a streamlined vetting process in which each seller is verified and each website is vetted for authenticity. Additionally, from a seller's standpoint, you can use their handy valuation tool which lets you get a hint at what your site is potentially worth – even before you commit to paying to list it!
So who can sell on Empire Flippers? Anybody can. When it comes to how much you can sell for, typically, you can expect a 20-60x markup price of your website's annual net profit with Empire Flippers (depending upon your site's assessment). Generally, websites sell for 24-36x, so although Empire Flippers doesn't have any guarantee, they tend to see higher sale rates than other Flippa alternatives do.
As a seller, it costs $297 to list on Empire Flippers whereas it only costs $49 on Flippa. The difference in price seriously cuts away at spam and instead allows only serious buyers and sellers legitimate access to the marketplace. By the way, that fee is non-refundable once your site is vetted and listed on the marketplace. However, if you aren't accepted to sell, you can get a full refund on that $297.
If you don't see any success with Empire Flippers within 180 days from your listing you can try with other website brokers. You must first wait the 6 months, however, per Empire Flipper's exclusivity requirement.
Thanks to the streamlined vetting process, high-quality sites, and overall success rate of 92%, Empire Flippers is one of the most trusted website brokers and marketplaces to buy and sell websites online.
2. Motion Invest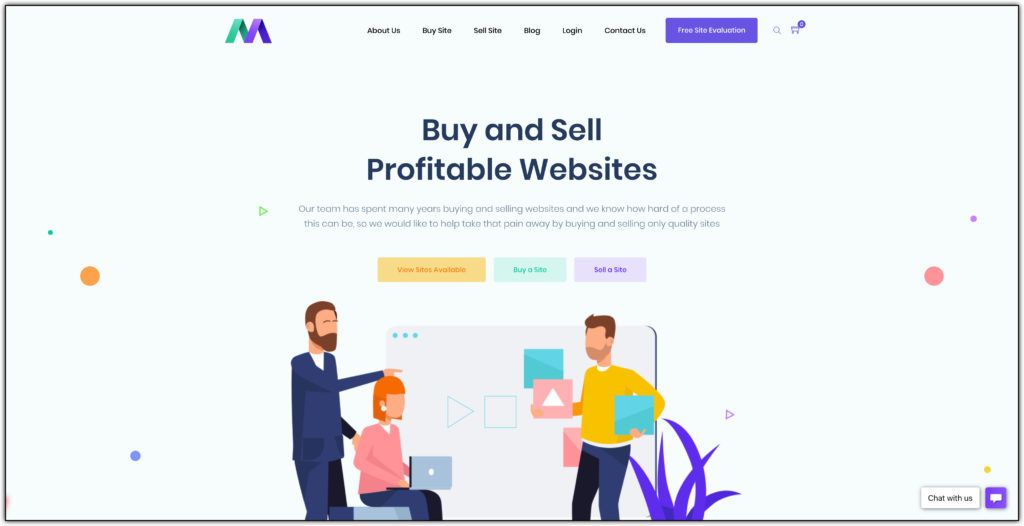 Value: Best for niche blogs and sites earning $50-$2,000k per month
Exclusivity: 31 days
Listing Fee: $0
Brokerage Fee: 0% if you sell directly, 15% if you list on their marketplace
Success Rate: Unavailable
If your site doesn't earn beyond $2k a month to sell on Empire Flippers, or if you're only interested in buying high-quality yet low-earning sites with big potential, then this next Flippa alternative just might be the website broker you've been looking for. Introducing Motion Invest, the marketplace designed to buy and sell quality, vetted niche sites earning anywhere between $50-$2,000 a month.
The idea behind Motion Invest was co-created by online niche king himself, Spencer Haws of Niche Pursuits who has been acquiring and selling niche blogs for years.
What sets Motion Invest apart from other website brokers is their simple two-step process. The guys at Motion Invest, after a thorough vetting process (including taking a peek into your Google Analytics history), will determine whether or to 1) buy your website directly or, 2) list it on their marketplace for potential buyers to see.
The market for the small-earning yet high-quality websites is exactly what makes Motion Invest such a hit. While website brokers like Empire Flippers and FE International (which we'll discuss below) look to sell websites earning over $5k and far beyond, Motion Invest makes room for the little guys.
Flippa also sells low-earning sites, too, but unlike Flippa, Motion Invest thoroughly checks every individual site and vets traffic history, SEO health, and the overall trend in earnings to see whether or not it's a good fit for either them to buy then resell or to offer on their marketplace. This personal due diligence is why Motion Invest is likely the better Flippa alternative in comparison to other website brokers (depending on your website size and value).
To sell or buy on Motion Invest you can book a call or quickly evaluate your website to see its selling potential. If your blog checks all the boxes for their due diligence test, then you can either choose to sell directly (so a guaranteed sell) or list it on their marketplace for a chance to sell to an interested buyer (with no guarantee).
Should you choose to sell directly to their team, there are $0 listing or brokerage fees and payment is often within 72 hours. On the other hand, if you choose to sell on their marketplace, there's a 31-day exclusivity term and a 15% success fee (no listing fee).
Since Spencer announced Motion Invest in October 2019, they have seen huge success. Nearly all of the sites sell as quickly as they are listed. So despite their young age, it seems Motion Invest is one of the better Flippa alternatives for websites earnings less than (but not limited to) $2,000k/month.
3. FE International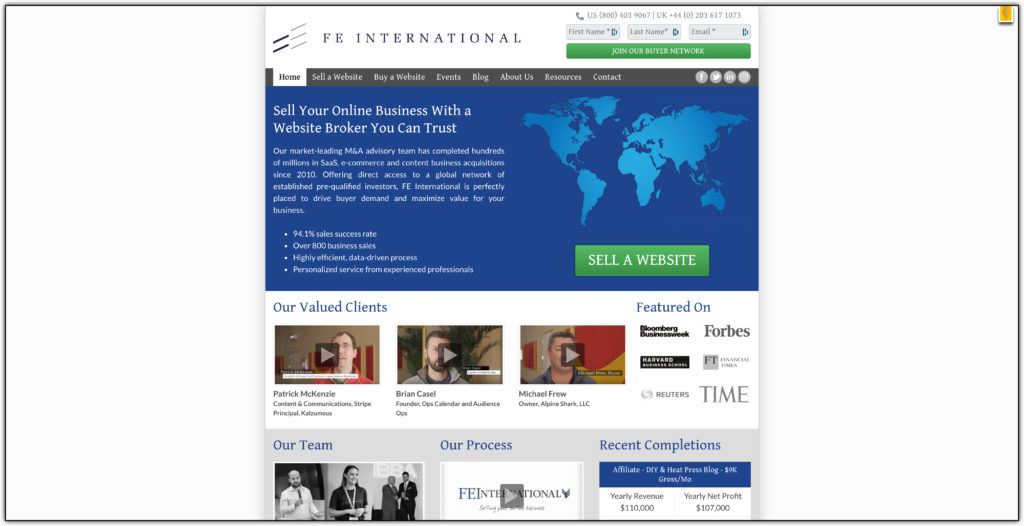 Value: Best for high-earning, professional sites/businesses earning 6-8 figures
Exclusivity: 3 months
Listing Fee: $0
Brokerage Fee: 15%
Success Rate: 94.1%
FE International is another potential Flippa alternative, however, one that lies on the high-end of the scale. Of those brokers dealing in higher numbers, FE International is the most recognized for selling and buying online businesses.
The big difference between FE International and other website brokers, however, is that FE International markets themselves as the most trusted M&A advisors ("merger and acquisitions") for large companies and businesses worldwide, whereas Motion Invest, Empire Flippers, and other Flippa alternatives identify themselves as your neighborhood website broker for niche sites or blogs earning from affiliate marketing and/or AdSense.
With that said, it's unlikely to take your niche blog and sell it on FE International. They are more reserved for SaaS ("software as a service"), e-commerce (i.e. established Shopify businesses), and content businesses.
If you find FE International to be suitable for your business, the good news is there is no high listing fee. However, you will be charged a 15% success fee once the sale goes through.
4. BuySellEmpire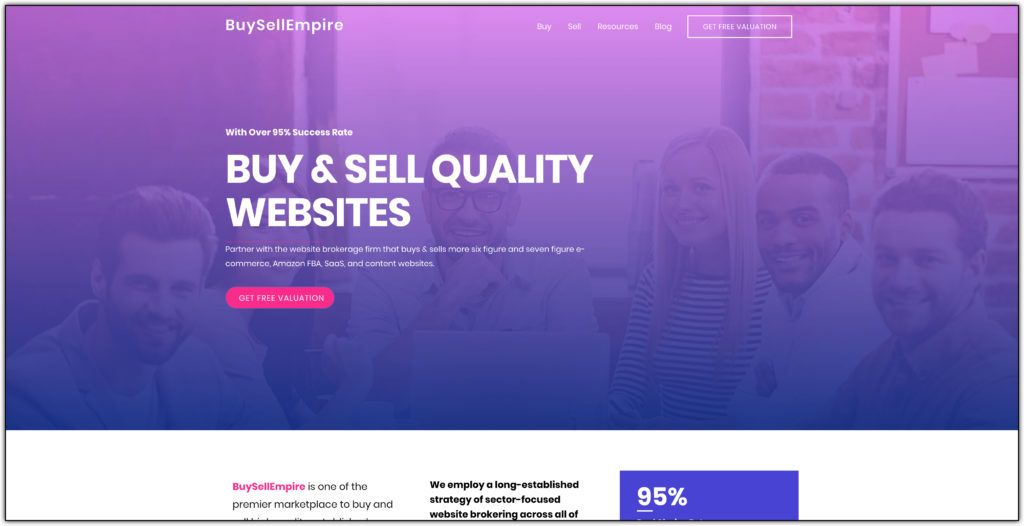 Value: Best for buying/selling websites and e-commerce businesses with 6+ figures
Exclusivity: 2 months
Listing Fee: $0
Brokerage Fee: 14%
Success Rate: 95%
Next, we have BuySellEmpire which is something of a mix between Flippa and FE International. BuySellEmpire focuses on 6+ figure established sites and sells/buys Amazon FBA, SaaS, and content businesses like FE International, but also offers a simpler interface and marketplace features like Flippa and its alternatives.
Likewise, selling on BuySellEmpire is similar to other website brokers. There's first an assessment and evaluation then negotiations, due diligence, and then a closing and post-sale period. However, unlike Motion Invest or Empire Flippers, BuySellEmpire doesn't have its own in-house due diligence team – that part is on the account of the buyer (assistance is provided if needed).
Overall, BuySellEmpire sees a high success rate of over 95% that are sold within the first two months. One thing that kind of bugs me about this particular broker is that they used "Empire" in their branding, and the site is full of stock photos. I've only done a cursory look into this broker and they look legit, but seem to be piggybacking off of Empire Flippers branding.
5. Quiet Light Brokerage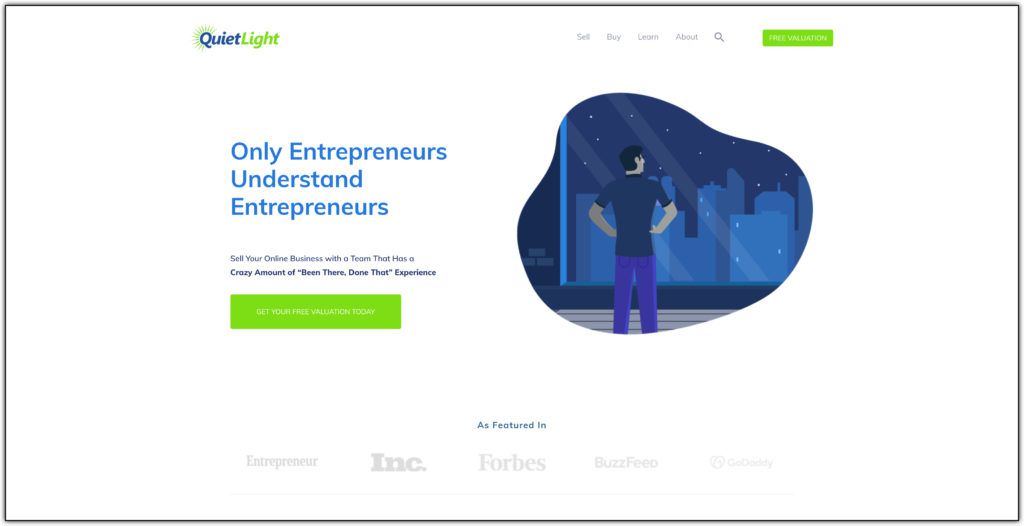 Value: Best for buying/selling content sites and e-commerce businesses with 6+ figures
Exclusivity: 2 months
Listing Fee: $0
Brokerage Fee: 14%
Success Rate: 85% within 90 days
Quiet Light Brokerage is a leading website broker for online entrepreneurs built by entrepreneurs. The team at Quiet Light Brokerage have each built and sold their own websites and draw upon their breadth of experience to bring you up to par with their high standards so that you can be ready to acquire or sell at a maximum rate.
Similar to BuySellEmpire, Quiet Light Brokerage sells a variety of high-end Amazon FBA, e-commerce, and content businesses. Most of these fall in the 6+ figure range, but easily dip into the millions. Their process for buying or selling is streamlined to guide you through every step of the way. As fellow entrepreneurs, they pride themselves on their "been there, done that" expertise. Because of this, most of their sites (85%) sell in 90 days or less.
What sets Quiet Light Brokerage apart is its valuation system. Unlike some website brokers, it doesn't rely on numbers alone. That's why they have an interview with you to learn the depths of your business because what makes it successful is hidden in those decisions you've made along the way.
Overall, the guys at Quiet Light Brokerage have a more transparent process. They'll even deny your business and refer you to another broker if they don't think they're services are have your best interest at heart, which is a nice touch considering many website brokers out there just value their commission more than actually providing you any value in return.
6. Investors Club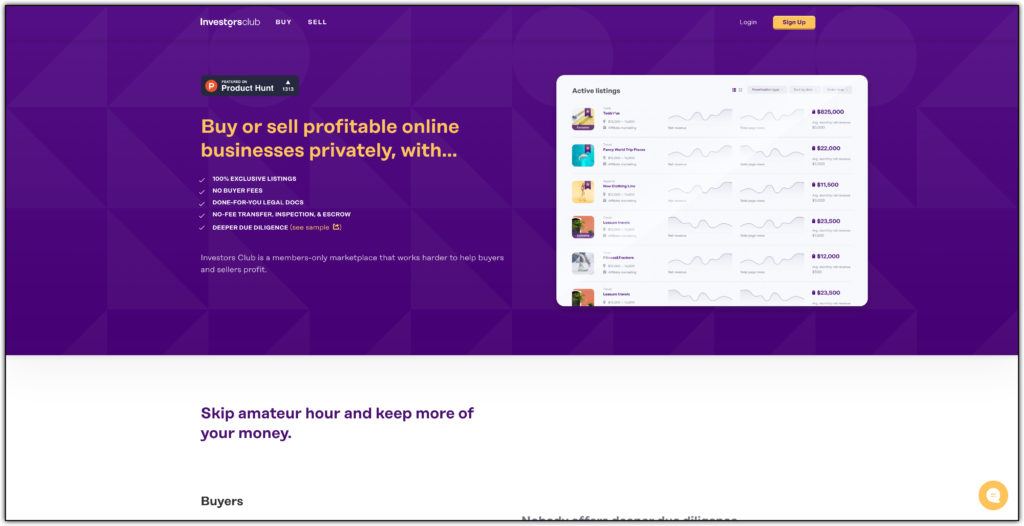 Value: Best for buying/selling niche affiliate and display ads sites. Average asking price is $38,281
Exclusivity: 2 months
Listing Fee: $0
Brokerage Fee: 0%
Success Rate: High/Varies
Last but not least is Investors Club, a private online marketplace exclusively for members only, meaning your site is open to interested paying members rather than the general public. The big advantage of using Investors Club is first and foremost the exclusivity factor which helps to rule out spam. Then, their guaranteed 0% brokerage fee even after a successful sale means you save at least 10-15% on typical brokerage fees.
When selling or buying a site, you can handle the transfer on your own or use the Investors Club Assisted Purchase service which will take care of the technicalities for you. The whole process is protected by an escrow service, so funds are safe until the web files are fully migrated to the new owner. Once the sale is closed, the team will monitor traffic up to 14 days, after which you can continue to grow the site on your own or enlist their services once more to help you build and maintain a steady flow of growth and traffic.
Considering that there are zero listing fees and success fees, Investors Club seriously places itself as one of the better Flippa alternatives. Unlike Flippa's low-barrier entry which creates risk for spam and illegitimate sites, Investors Club is a private marketplace with pre-vetted buyers and sellers. There are no hidden fees and the transaction is fully protected, both legally and financially.
Choosing The Best Broker For Your Business
Personally, Flippa would not be my first choice for a broker. They have lot of garbage on the site, and make very little effort to vet any of it. Buyer beware! There are hundreds of stories of unknowing buyers purchasing overvalued or somewhat low-quality sites, including myself back in the day.
This doesn't mean to say that all investments with Flippa are negative. There are plenty success stories out there, and it's definitely the best place to find undervalued properties.
No two website brokers are the same. Should you decide to list or buy from a website broker other than Flippa then these top six should get the job done. They are some of the best alternatives to Flippa that exist today, and if you know of more, please leave a comment and I'll add them to the list. Dozens of new website brokers and marketplaces are popping up every year!
Here are some final tips worth considering when buying and selling websites online.
Find a website broker that sells the type of business you wish to buy/sell (i.e. content, Amazon FBA, e-commerce, etc.,).
Make sure the website broker deals within the value range of your business. For example, there is no point in listing with FE International if your niche site is earning under $5k.
Double-check the broker's exclusivity terms so you don't end up in a lengthy contract.
Compare brokerage and listing fees – most fees fall between the 10-15% range.
Check for free valuation tools to get an idea of your potential earnings.
Flippa might have been the number one leading marketplace to buy and sell websites for the past decade. However, it's doubtful they'll be able to keep that title for the next ten years. There are simply too many Flippa alternatives out there now offering better deals and higher-quality sites that make it hard to compete with.
Have you ever bought or sold a website via one of these web brokers? If so, which one? What was your experience?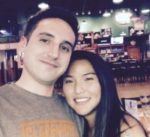 Nathaniell
What's up ladies and dudes! Great to finally meet you, and I hope you enjoyed this post. My name is Nathaniell and I'm the owner of One More Cup of Coffee. I started my first online business in 2010 promoting computer software and now I help newbies start their own businesses. Sign up for my #1 recommended training course and learn how to start your business for FREE!