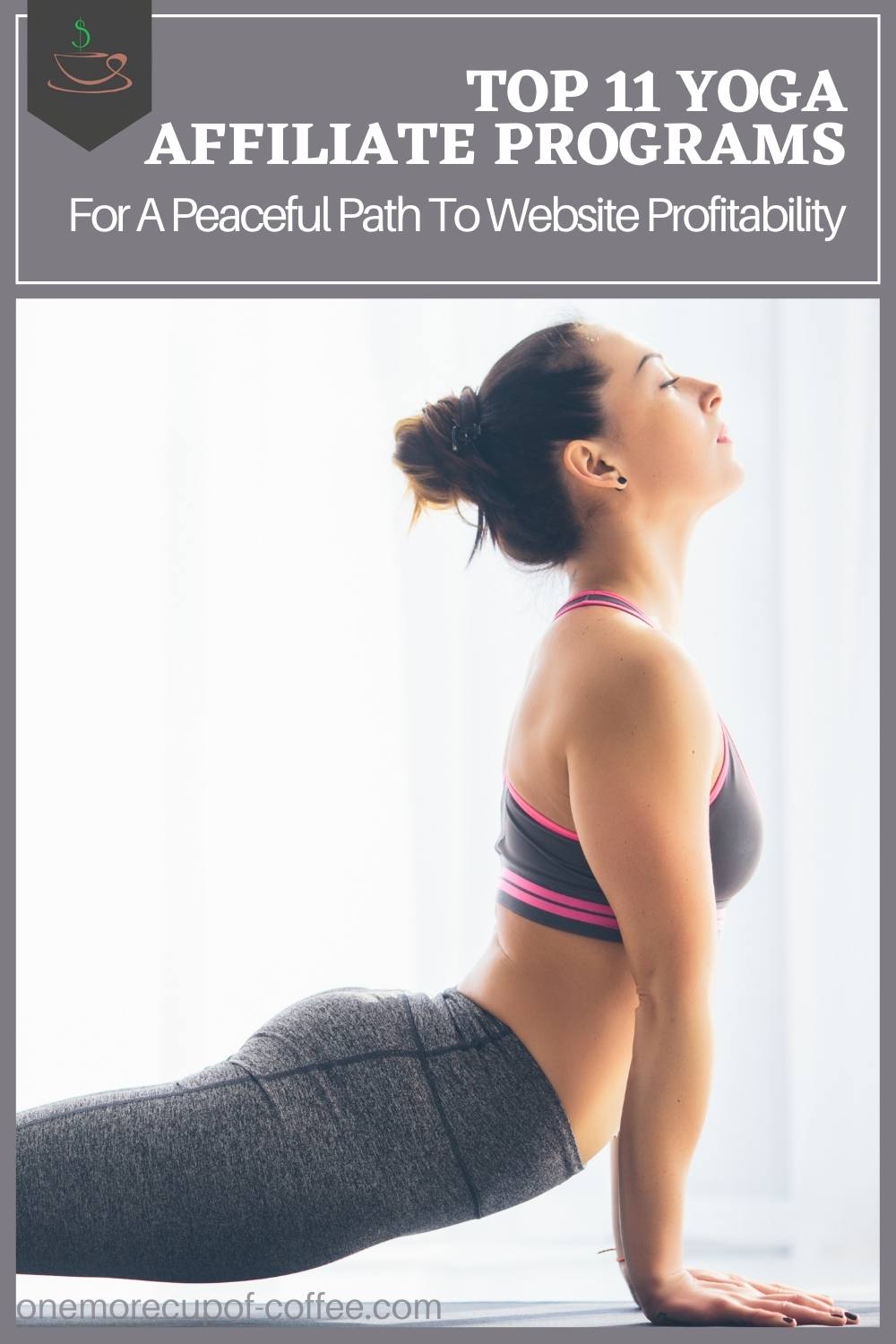 Yoga is projected to be an 11 billion industry in 2020. It continues to increase in popularity because of its mental, physical, and relaxation benefits.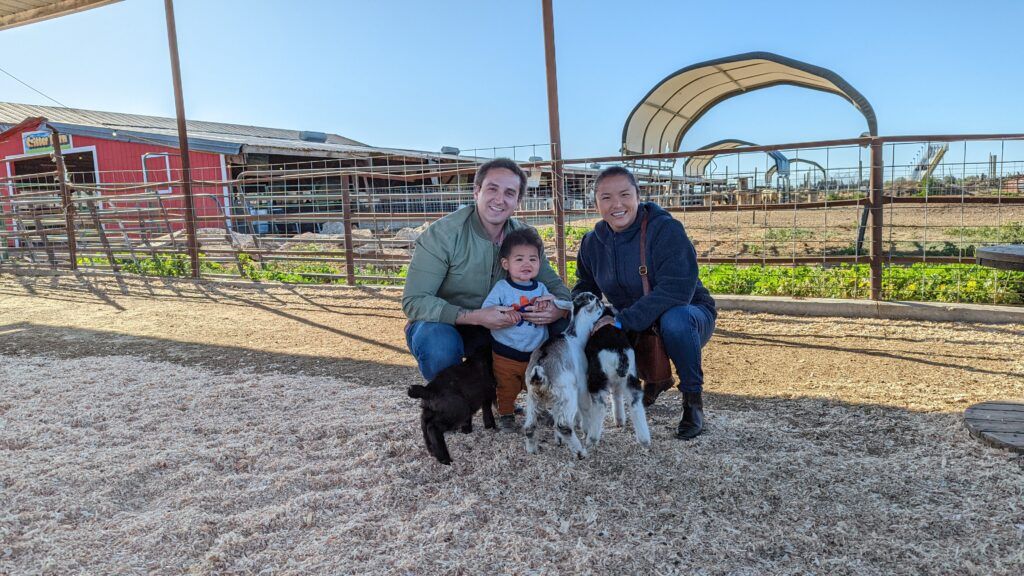 Are You Ready To Work Your Ass Off to Earn Your Lifestyle?
Are you tired of the daily grind? With a laptop and an internet connection I built a small website to generate income, and my life completely changed. Let me show you exactly how I've been doing it for more than 13 years.
In 2015, almost 37 million people practiced Yoga in the US with the numbers estimated to increase to over 55 million in 2020. Yoga classes make up the majority of the industry's revenue but people just learning will also need to buy yoga-related products to get started.
If you have a Yoga-related business, even if it's just a personal blog that talks about your hobby or interest in Yoga, you can definitely be making money by leveraging affiliate programs. Do you sell Yoga products? You probably don't sell everything, and for that reason, affiliate programs can help you increase your monthly income too. Here are the 10 great Yoga affiliate programs to help monetize your website.
Plus, don't forget, I've broken down the entire Yoga niche for you, with keyword suggestions, more affiliate programs, and ideas for how to get traffic to your website.
Yoga Affiliate Programs
YogaDownload
Barefoot Yoga
Brilliant Yoga
Healthy Moving
Manduka
Jade Yoga
YOGABODY
Wai Lana
Everything Yoga
Yoga Direct
Book Yoga Retreats
YogaDownload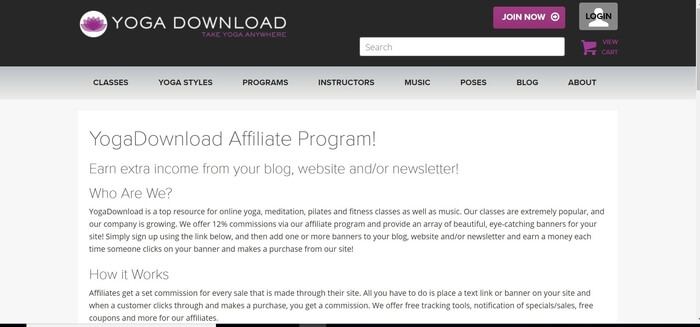 YogaDownload is a top resource for online Yoga music and classes along with meditation, Pilates, and fitness classes. It's their mission to make Yoga accessible and affordable for everyone, everywhere. The benefits of YogaDownload are convenience, quality, variety, and affordability. Many of their 20 minutes classes are free.
They offer their affiliates 12% commissions on sales. The cookie life is 30 days. They use ShareASale to manage their affiliate program and offer an array of eye-catching banners and links to use on your blog, website, or newsletters. They also have tracking tools, free coupons, notifications of sales/specials, and more. YogaDownloads created several unique tools as well that allow their affiliates to better monetize their traffic including SkimLinks and VigLink.
Why Should You Promote YogaDownloads: Generous commissions, eye-catching banners, lots of coupons, and marketing materials
YogaDownloads offers a variety of Yoga classes and music that you can take with you anywhere. They also have lots of material materials and tools to help you better monetize your traffic.
Barefoot Yoga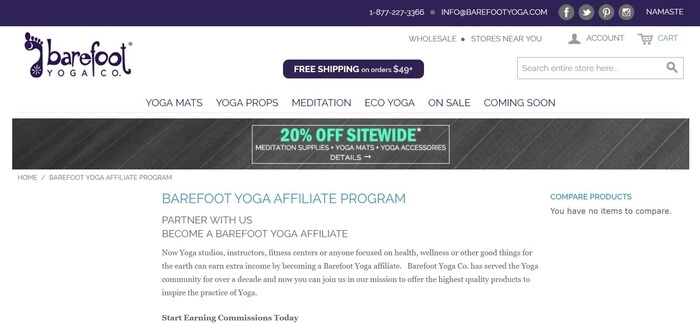 Barefoot Yoga has been providing Yoga customers with the highest quality eco-friendly Yoga products since 1998. They are an innovator and leader in the Yoga industry and created the first Yoga mat bag, Bamboo blocks, and Indian Rosewood blocks. They were also the first to bring authentic Mysore practice rugs to the United States. Barefoot Yoga is well known around the world. Over 2000 Yoga studios use and sell their products.
Affiliates receive 10% commissions on all sales with over 5,000 products to promote. Since Barefoot Yoga has been selling online for over a decade, they know how to closely monitor product availability and conversion rates to help keep their customers and affiliates happy. They use ShareASale to manage their affiliate program and provide their affiliates with a large selection of images, text links, and promotional banners to use.
Why Should You Promote Barefoot Yoga: Generous commission rate, a large selection of products to promote, lots of marketing material, long cookie life
Barefoot Yoga is a trusted name in the yoga industry with lots of products to promote and a generous commission rate for their affiliates.
Brilliant Yoga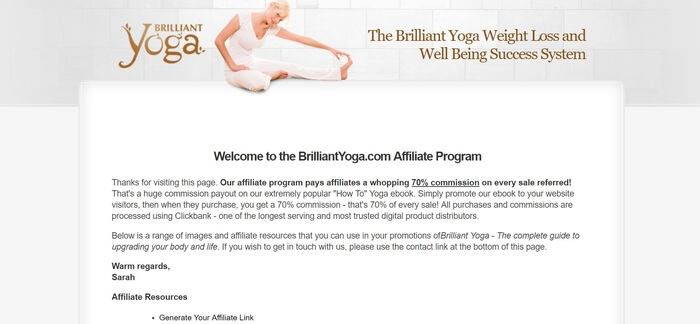 The Brilliant Yoga Ebook is a Yoga weight loss and welling being success system. It was developed by a team of experts and yoga teachers to help you feel better without modern medicine. With your purchase, you will also receive free bonus material like "How to Stop Back Pain", "The Essential Pilates", and "Stretching & Calisthenics Made Easy".
It also comes with a risk-free 8-week money-back guarantee and exceptional after-sales support to help you succeed.
Affiliates receive an unheard of 70% commission rate on every sale with a 60-day cookie life. The Brilliant Yoga Ebook and bonus materials are currently being sold for $47 so there is huge profit potential for every sale you refer.
They offer their affiliates lots of helpful tips and ideas on how to best marketing their ebook and provide them with marketing materials like images and banners. Brilliant Yoga uses Clickbank to manage their affiliate program and payouts out twice a month every time you make over $100 worth of sales.
Why Should You Promote Brilliant Yoga: Astonishingly high commission rate, twice-monthly payouts, lots of marketing materials, and helpful information
The payout potentials from their high commission rate alone make Brilliant Yoga worth checking out. However since they only sell one ebook package, it's probably best to join a few other affiliate programs that sell other Yoga-related products.
Healthy Moving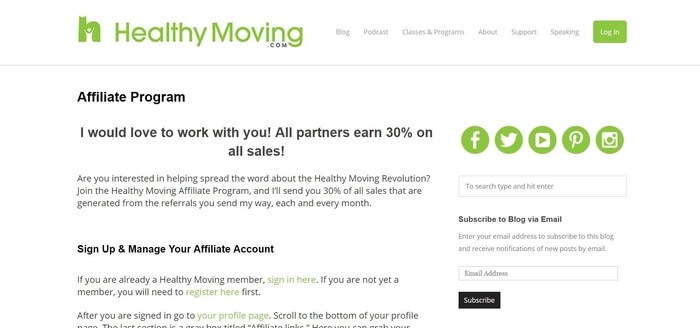 Healthy Moving is run by Jen Hoffman, a Certified Personal Trainer- Restorative Exercise Specialist™ and a Registered Yoga Teacher. She has worked with thousands of students and clients. Jen teaches that you don't need to "exercise" because your body is not shaped by what you do in the gym but by how you move all the time.
So to improve your health and wellness, you should focus on how you move and position your body and learn how to improve it. Before you buy, you can sign up for the free "No-Time Exercise Solution" class to see why exercise doesn't work and what you can do to improve your health. All courses come with a money-back guarantee. Just send them an email within 14 days of registering for a full refund.
Affiliates receive very generous 30% commissions on all sales besides your own purchases and community services events and programs. The cookie life is 6 months long so you have half a year to earn commissions from your leads.
The affiliate program is run on their site and affiliates are paid via PayPal within 2 weeks of month-end. Each affiliate receives a unique affiliate ID and instructions on how to build your affiliate links. You also have access to lots of buttons and badges which you can use however you like. Some examples are the featured image on a blog post, on your Facebook page, or in an ad configuration.
Why Should You Promote Healthy Moving: Very high commission rate, 6-month cookie life, money-back guarantee
Healthy Moving courses help people feel better without exercise. Every course comes with a money-back guarantee so people are more likely to sign up which means more commissions for you. Plus the very high 30% commission rate makes it worth checking out. Like Brilliant Yoga, it's probably best to supplement this affiliate program with other programs that sell Yoga-related products.
Manduka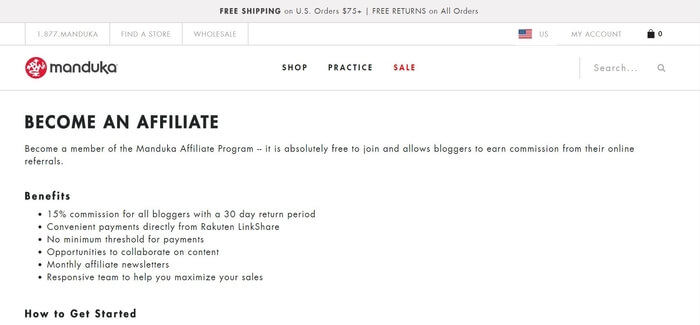 Manduka was built by and for yoga teachers and their students. They were founded on the simple idea that a better yoga mat could make a world of difference. Their quality and performance are unmatched in the marketplace.
Manduka crafts their products using natural and whenever possible renewable materials. They are still evolving and introducing new products to improve and enhance Yoga accessories. To help you decide what Yoga mat would work best for you and your lifestyle, they have a Yoga Mat Finder tool.
Manduka offers a lifetime guarantee on the Black Mat PRO®, Manduka PRO®, and PROlite® yoga mats. They are guaranteed to be free of manufacturer defects and to last a lifetime if cared for and used properly.
Their affiliate program is open to bloggers. They also offer partnership opportunities with Yoga studio owners and industry professionals. Bloggers receive a 20% commission on all sales with a 7-day cookie life. Manduka uses Refersion to manage their affiliate program and grant access to banners and links, track sales, and process affiliate payouts.
There is no minimum threshold for payments and they have a responsive team to help you maximize your sales. Bloggers also have opportunities to collaborate on content and receive monthly affiliate newsletters.
Why Should You Promote Manduka: Great commission rate, month-long cookie life, lots of marketing materials, and support to help you maximize sales.
Manduka offers a lifetime guarantee on some of their most popular Yoga mats. Their affiliate program is open to bloggers but they also offer partnership opportunities with Yoga studios and industry professionals.
Jade Yoga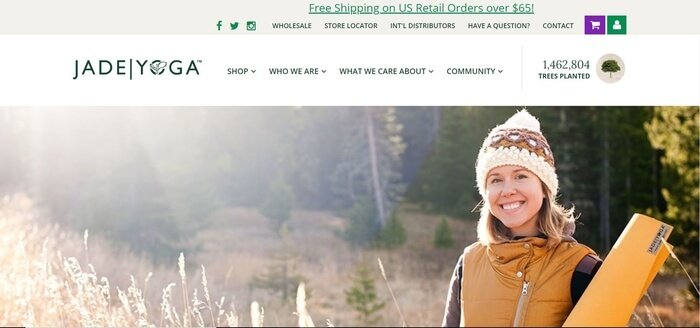 Jade Yoga was created by a family whose grandfather emigrated to the United States over 100 years ago to start an oriental rug business. It just so happens that one of the first known Yoga mats was a rug pad. However, Jade Yoga wanted to fix the most annoying quality of Yoga mats that they are slippery.
They are also usually made of cheap imitation plastic that can be toxic. So in 2000, Jade Yoga created the first natural rubber yoga mat. Because natural rubber is a renewable resource they also made the first "green" and non-toxic yoga mats. Jade Yoga now sells a large variety of Yoga products and continues to care about the environment and their community. For every product they sell, they plant a tree. They have planted over 1,000,000 trees so far.
Their affiliate program was created as a way to say thank their community and their Ambassadors. Affiliates earn 20% commissions on every sale they refer. The cookie if is 30 days. Jade Yoga uses Refersion to manage their affiliate program and provide affiliates with links and banners to place on their websites. They payout commissions quarterly or whenever a $50 minimum is reached.
Why Should You Promote Jade Yoga: Very high commission rate, good cookie life, lots of marketing materials, one tree is planted for every product sold
It's important to note that instructors who teach at any Jade retailers are not eligible to join without the permission of the studio owner. This program is mainly for yoga teachers and studio owners so you might want to reach out to them if you are a blogger who would like to join their affiliate program.
YOGABODY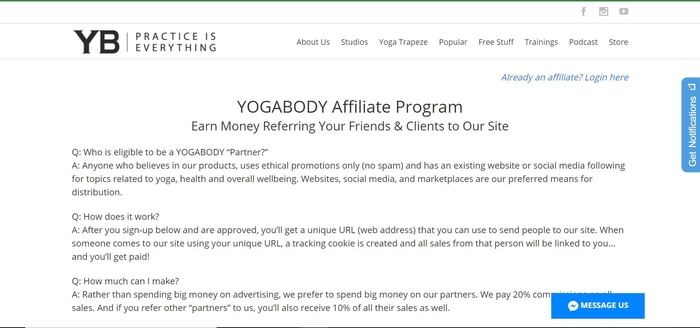 YOGABODY was created by Lucas Rockwood in the back of his yoga studio in 2007. The company has now grown into a internationally recognized nutrition and education organization serving 81 countries. In 2013, YOGABODY Fitness was founded. It is a revolutionary yoga studio business model that pays teachers a living wage and makes the healing benefits of Yoga accessible to everyone.
Along with their wide selection of Yoga products, visitors can also listen to their podcast, download free yoga sequences, recipes, watch videos, and more.
Anyone who believes in YOGABODY's products and has a website or social media following of yoga, health, and wellness fans can join their program. They don't like to spending money on advertising so they'd rather pay their affiliate partners to thank them for spreading the word about YOGABODY.
Affiliates receive 20% commissions on sales. You also receive 10% of sales from the all affiliates you refer to their program. The tracking cookies last an amazing 1 year so you have a very long time to capture sales. Their affiliate program has been very successful with their top affiliate making over $16,000 last year. YOGABODY uses Ultracart as their affiliate management system because it's easy to use and extremely accurate.
Why Should You Promote YOGABODY: Extremely long cookie lfe, very high commission rate, referral commissions
Not only does YOGABODY offer great commission rates and a very long cookie life, affiliates also receive a percentage of sales from the affiliates they refer to the program.
Wai Lana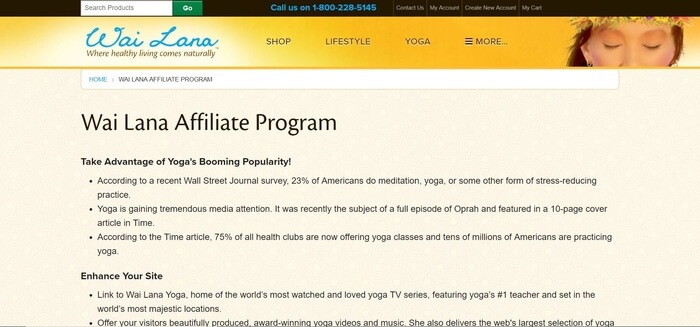 WaiLana.com is home to the world's most-watched and loved yoga TV series which airs on five continents. It features Yoga's #1 teacher and is set in majestic places around the world. They also have the largest online selection of yoga mats and accessories along with a line of children's yoga products and top-quality Pilates products. Visitors also have access to Wai Lana's Relaxation Club, yoga lifestyle tips, lots of healthy recipes, and online meditation.
Affiliates receive a very competitive commission rate of 15% on all sales generated through your website. The average sales amount is almost $90.
Why Should You Promote Yoga Direct: High average sales amount, generous commission rate, very long cookie life.
Wai Lana's well-respected TV series also offers the largest online selection of yoga mats and accessories to their viewers. Their high average sales and very long cookie life make it worth checking out.
Everything Yoga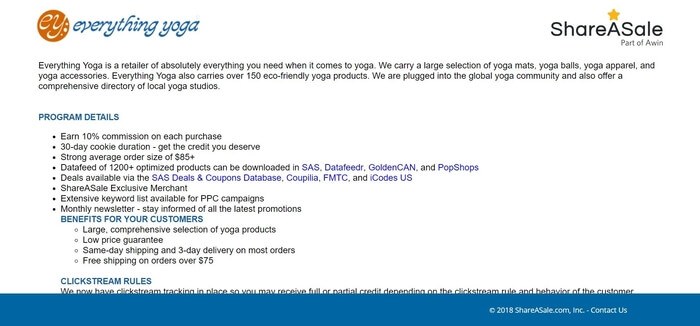 Everything Yoga has as its name suggests everything you need for Yoga. They are also well connected in the global yoga community and have a comprehensive directory of local Yoga studios. All orders over $75 are eligible for free shipping. They offer same day shipping and 3 day delivery on most orders.
Affiliates get 10% commissions on sales and a 30 day cookie life. The average order is over $85. Everything Yoga uses ShareASale to manage their affiliate program. Affiliates get access to a deals and coupons database and their datafeed with 1200+ optimized products.
Why Should You Promote Everything Yoga: Large selection of Yoga products, high average order amounts, generous commission rates.
Everything Yoga has everything you need for Yoga plus a comprehensive database of local Yoga studios. They offer their affiliates 10% commissions with an average $85 order value.
Yoga Direct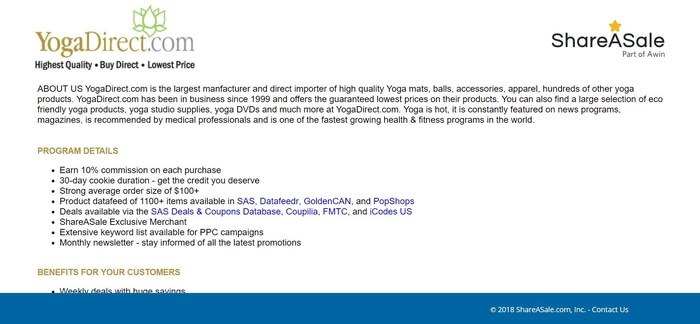 Yoga Direct has been in business since 1999 and offers the lowest prices guaranteed. They are the largest direct importer and manufacturer of high quality Yoga mats, apparel, balls, accessories, and hundreds of other yoga products. Orders are shipped within 24 hours and they offer international shipping to 27 countries.
Affiliates earn 10% commission on every sale. They have a 30 day cookie duration and a high average order size of $100+. Yoga Direct uses ShareASale to manage their affiliate program. Affiliates have access to their datafeed with 1100+ items, deals and coupons, a monthly newsletter, and an extensive keyword lists for PPC campaigns.
Why Should You Promote Yoga Direct: Lowest prices guarantee, fast shipping, generous commission rates, high average order size
It's important to note that affiliates can bid on PPC campaigns, but the7 can not bid on any trademark keywords.
Book Yoga Retreats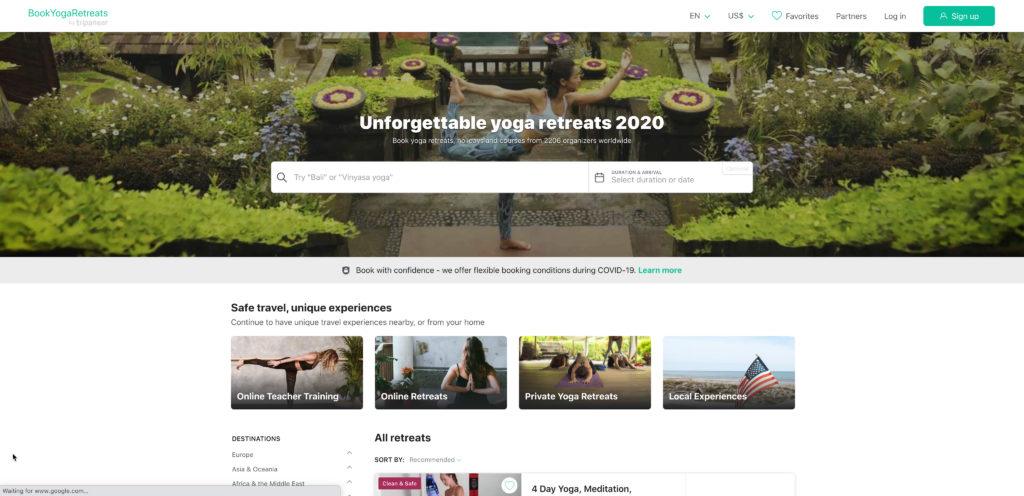 URL: Book Yoga Retreats Affiliate Program
Commission Share: 35-50%
Cookie: 14 days
BookYogaRetreats by Tripaneer is the largest yoga retreat platform in the world. The website now lists more than 7000 retreats, is working with over 3000 retreat organizers, and is promoting retreats in more than 70 countries. From yoga & fitness retreats in Bali to yoga teacher training in Rishikesh, from surf & yoga retreats in Costa Rica to meditation retreats in Ibiza, there are retreats to be found for every type of holiday, yoga style, and level of practice. We believe true wellness comes from a healthy body, spirit, and mind, and with BookYogaRetreats holidays you'll find the holiday best-suited for you.
The affiliate program is built by Tripaneer and designed for bloggers, magazines, digital nomads, and influencers focussed around yoga, detox, meditation, yoga teacher training courses, and the overall wellness industry. The program could be easily implemented into destination guides, 'top things to do' articles, and personal recommendations of life-changing retreat experiences. You'll receive a unique affiliate code and a login to the Tripaneer Dashboard, in which you can find a link builder, image database, and recommendations widgets to help you create your content.
Tripaneer was founded in The Netherlands in 2013 as the world's first yoga retreat marketplace and has been steadily growing along with the yoga and wellness trend over the years. BookYogaRetreats.com is one of Tripaneer's 13 satellite websites, each focused on wellness, adventure, or cultural multi-day experiences.
Why Should You Promote BookYogaRetreats: with the largest selection of yoga retreats worldwide to choose from, we've also been known for our happy customer base. You can help your readers find the perfect retreat, with more than 40,000 customer reviews – of which 93% recommended to book through us, rather than direct with an unknown retreat abroad. We've helped more than 140,000 travelers to find unforgettable experiences, making the BookYogaRetreats affiliate program the go-to program for those who have an affinity with travel, yoga, and a healthy lifestyle.
Affiliate Website Ideas
Now that you've learned more about my favorite Yoga affiliate programs, it's time to decide what Yoga niche you want to focus on.
Because Yoga is such a huge industry, it would be hard to compete if you were just using Yoga as your main keyword. That why it's better to focus on a more targeted Yoga niche like Bikram Yoga. Bikram Yoga features a sequence of poses done in a sauna-like room to help release toxins. A good affiliate program to promote would be Jade Yoga because they carry Yoga products that can hold up even in hot Yoga classes and offer a high 20% commission rate.
If your yoga style of choice comes from a specific place, you could promote things like travel affiliate programs, including airline tickets.
Another niche you could focus on would be a type of person, such as a busy yoga enthusiast. A great product for them would be online Yoga classes. Many people don't live near a studio or don't have time to visit multiple times per week. You could promote the world's most-watched yoga program, Wai Lana, which offers 15% commissions. Another great online Yoga classes affiliate program is YogaDownload which offers 12-30% commissions for 90 days.
Regarding types of people, lots of people try yoga for exercise and weight loss, so your website doesn't have to be about Yoga in order to promote this type of affiliate program. A great affiliate program for this niche is Brilliant Yoga with their Yoga weight loss ebook package. Affiliates receive an incredible 70% commission rate on every sale with a 60-day cookie life. Yoga for health is another angle, especially as there are various ways to earn while writing health articles.
Lastly, for many, yoga is more than fitness. It's a lifestyle. It's the whole package. Healthy eating. Healthy sleep. Healthy thoughts. A yoga site doesn't have to be about how to get from point A to point B, i.e. instructional and dry. It can be about your life as a holistic person and people can follow you on social media to see how the yoga mentality benefits your life and helps you be a happy person.
Boost Your Affiliate Earnings
These 10 affiliate programs are just the beginning of what's possible. There are hundreds of ways to earn affiliate commissions with your website, including product reviews, top 10 lists, how-to guides, and more
But what about traffic and conversions? How do you make sure your affiliate links get clicked?
I used the affiliate training here to turn my brand new website into a six-figure income generator in less than two years. Build a business, not just a pocket-money side project!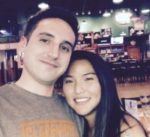 Nathaniell
What's up ladies and dudes! Great to finally meet you, and I hope you enjoyed this post. My name is Nathaniell and I'm the owner of One More Cup of Coffee. I started my first online business in 2010 promoting computer software and now I help newbies start their own businesses. Sign up for my #1 recommended training course and learn how to start your business for FREE!