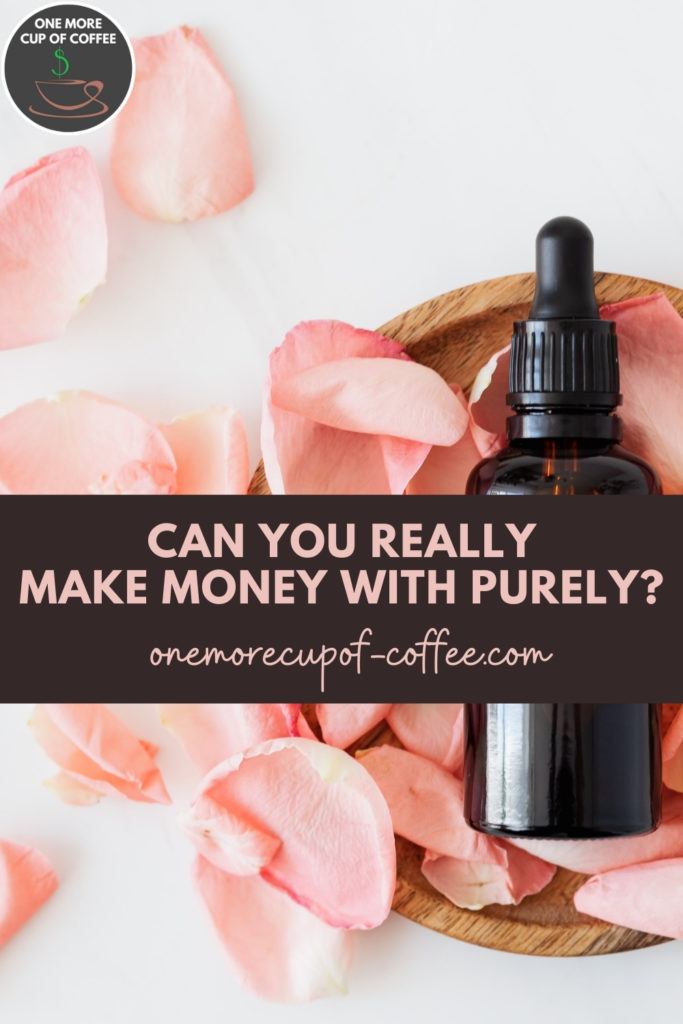 Purely was once simply another essential oils MLM, but it has since expanded to cover a wider range of products. Their selection now includes various beauty and household items, as well as CBD oil.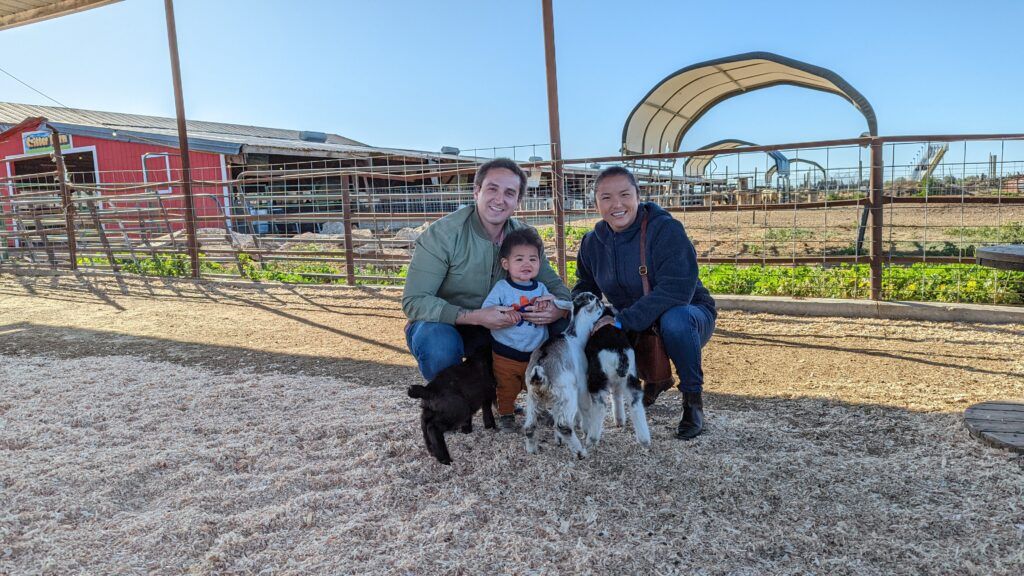 Are You Ready To Work Your Ass Off to Earn Your Lifestyle?
Are you tired of the daily grind? With a laptop and an internet connection I built a small website to generate income, and my life completely changed. Let me show you exactly how I've been doing it for more than 13 years.
While Purely's product range has expanded, the company retains a focus on pure and non-toxic products, ones that rely on natural ingredients. The style is appealing from the sales perspective.
To make sales, you need to be able to convince customers that the product you're promoting is better than the other options out there. Many people are concerned about the chemicals and artificial ingredients in the products that we use regularly, making more natural choices very appealing.
A broad product range also gives you the chance to target a range of customers. This is much better than focusing on a company that only sells essential oils. After all, many people have no interest in those oils at all.
Two Ways To Make Money With Purely
Purely follows the same general style that you'll find with most MLMs out there. This means that selling the products is your basic way to make money. To expand beyond this, you'll need to look at building a team.
MLM plans tend to focus heavily on the team-building aspect, making that side of things essential for long-term income. In this post, we're taking a close look at the two ways to earn, along with whether Purely works well as an overall income opportunity.
Make Money From Product Sales
Purely initially focused on essential oils (much like Doterra and Young Living), so this is a good place to begin our discussion. As the name suggests, there is an emphasis on the oils being pure and free from any impurities.
The company also relies on the first distillation or first pressing of oils, along with regular testing. These areas aren't especially unusual and most similar companies focus on purity as well.
While the oils aren't unique, the style does work. The company comes across as professional and there are fewer marketing claims as well.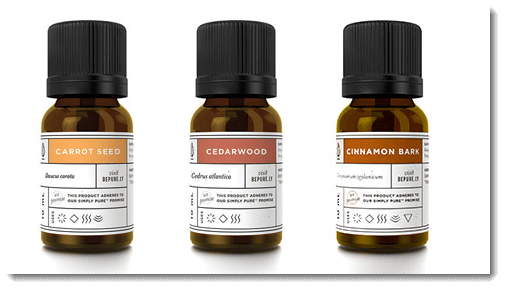 For example, Purely avoids any phrases like 'therapeutic grade'. You'll often see that term with brands like Doterra but the term is largely meaningless. There are few formal standards for essential oils and grades like that are simply ones that companies make up.
The end result is that quality essential oils are mostly the same, regardless of the company you choose. So, the products here should be just as good as what you find from Doterra and Young Living.
The pricing is also roughly on par with other similar companies. For example, the retail pricing for lavender essential oil breaks down like this:
Purely: $25 for 10 ml
Doterra: $30.67 for 15 ml
Young Living: $31.91 for 15 ml
Purely is the cheapest of the three but you're also getting less oil per bottle. The prices do vary for each brand and you do get discounts from being a distributor. But again, the differences aren't dramatic.
However, all three companies are similar and use the same type of model. If you look at essential oils from other places, the pricing is more variable, such as the following:
Viva Naturals: $14.99 for 30 ml
Sky Organics: $9.50 for 30 ml
NaturoBliss: $13.99 for 118 ml
Majestic Pure Cosmeceuticals: $21.50 for 118 ml
Companies like Purely should offer a higher quality product than these examples. But, there's no way to be certain. The price difference is also enough to make many people hesitant. After all, spending $25 or more for a tiny bottle of oil won't appeal to everyone.
As with the other companies, Purely does also offer blends. There is much more variation in price here, with some of the blends costing around $26 or less, while others have a higher price tag.
Most recently, they introduced a CBD oil, which includes gummies, essential oils in different flavors, and a pet oil! CBD and cannabis products are really hot right now, with CBD oil being the more widely available and in-demand product because it's legal in all 50 US states.
The more interesting aspect is their other products. Purely has a stronger focus on health-related products than other essential oil companies. There are many different examples of these items, including bath bars, lotions, lip balms, and skincare products. Most use essential oils as an ingredient.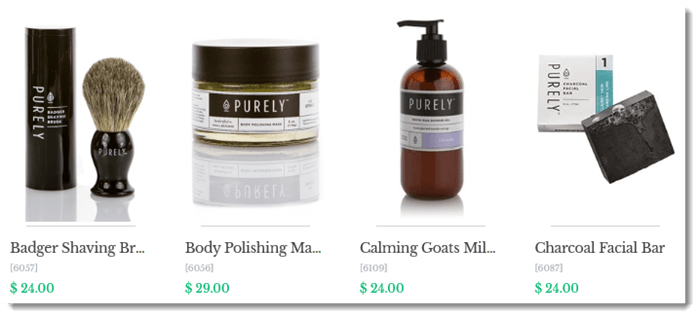 The products aren't radical but it's nice to see a broader range of items. This selection should increase the chances of making a sale. The company also does a great job at branding, making the products look and feel high-quality.
Finally, there are also related products, including diffuser necklaces and diffusion beads.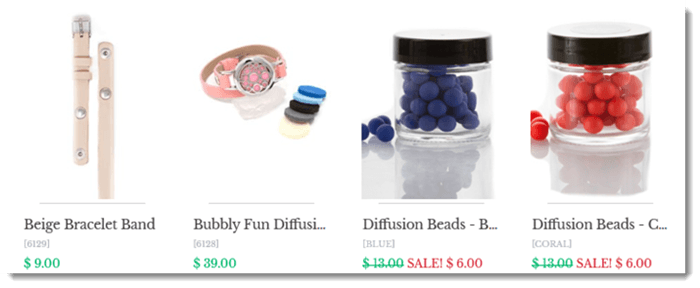 The general pattern is the same here too. So, you've got products that look good and aren't too expensive. But, they're still not incredibly unusual or competitive. Whether you could sell them entirely depends on your sales skills and the audience that you're selling to.
Selling Essential Oils Through MLM
There are some definite advantages to the product line from Purely. For one thing, essential oils are popular. Many people feel that the oils can dramatically improve health. The companies certainly imply this as well.
Other people simply enjoy the smell of the oils, using them to add fragrance to the house. The scents can also lower stress and help people feel better overall.
Essential oils are also consumable products. So, anyone passionate about them will tend to want more oils as time goes on. There are many different scents to choose from too, which increases the sales potential.
Purely itself also manages marketing well. They make their items seem high-quality and avoid using any extreme marketing language.
This all suggests that the product selection is powerful. But, it's not all good. The popularity of essential oils also means that competition is fierce. There are many different companies selling oils, including physical stores, online options, and other MLMs.
You can even make money with essential oil affiliate programs. These programs have the same general concept, allowing you to earn money from sales. But, you get to promote online to a wider audience. You can also choose more competitive products, which is a serious advantage.
But, is selling essential oils through MLM such a bad thing?
That depends on your perspective. If you're passionate about the company and their particular approach, MLM may make sense. But, the model focuses on promoting to a local audience, mostly your friends and family members.
This is where it starts to get difficult. With so many companies out there, most people interested in essential oils will already have somewhere to buy them from. You'll also be competing with other distributors from Purely, as well as those from Doterra and Young Living.
There is also pricing to consider. The various MLM options all have similar prices to one another. But, there are many cheaper places to buy
Could you beat out that competition and make sales? Perhaps. If you had the right audience and good marketing skills, this might be achievable. The competition may even be lower in some local areas.
But honestly, it's an exercise in frustration. Selling to a local audience is tough to begin with. The process is much more difficult when you have expensive products that simply aren't unique.
Compensation For Sales
First of all, distributors earn a base rate of 25% on personal sales, regardless of their success or rank in the company. This increases up to 35% with high enough sales volume.

Make Money Building A Team
As always, sales aren't the main focus. The idea is that as you go along, you start to earn more and more from your team. Your income from sales does increase over time too but not as dramatically.
On paper, the idea makes sense. You're trying to recruit other people, who then make sales and recruit others. You can potentially earn from the success of everyone within your team, regardless of whether you recruited them or not. You can even earn money from people that you've never met and have no interaction with whatsoever.
To do this Purely uses a unilevel design. This is best described as a basic pyramid structure. In this design, anyone a person recruits are directly below them in the team.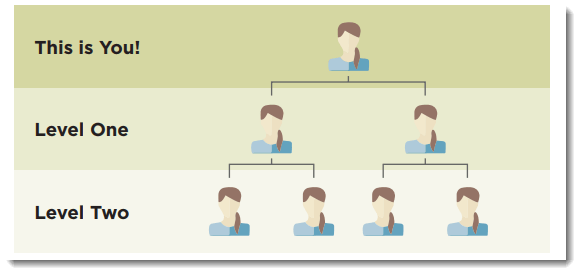 You then earn based on where people fall and the overall structure of your team.
As with most companies, you progress through ranks. New ranks give you the chance to earn off additional levels in your team and get bonuses. For example, active reps (the first rank) can earn 2% off Level One in their team. The next rank up (Advisor) earns 3% from Level One.
I'm not going to go into this in much detail. The basic idea is that each new rank has extra requirements and these get complex fast. Most people end up stuck in the first few ranks, which limits their income potential.
There is one other thing to mention. With Purely, the team commissions for the early ranks look like this: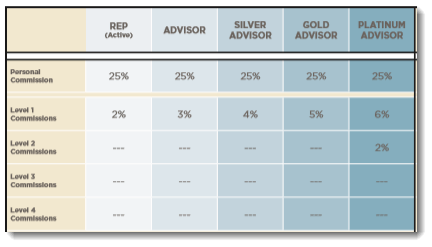 This is incredibly unusual. You have to go through multiple ranks to even earn from Level 2. Most compensation plans are much more powerful than this.
Making Sales
Purely is a catalog-based company. This means that customers make orders and you earn from these. You don't need to buy the products yourself and then resell them.
You make sales in two ways. One is by placing orders for customers. The other is through a replicated website. That website isn't going to rank but it could be a way to reach a wider audience.
There is also a focus on parties. You've probably heard of these before, as many companies follow a similar style. Basically, you hold events at the houses of hosts. Those hosts earn various rewards from the success of the event.
The idea is to show off the products and get people excited. Your audience typically consists of friends and family members of the host. In theory, parties work well. They create sales pressure and you have access to a different audience each time.
The reality is slightly different. You'll often find that the same people come to the parties, simply because people's social circles overlap. Your sales pitch might work well the first couple of times but sales typically decrease as you go along.
After all, essential oils can last a long time and the products from Purely aren't cheap. Many customers won't want a large collection of different oils, especially if they're going through them slowly.
At the same time, there are hundreds of other companies that run a party-based model. Even if there are just a few such distributors in your local area, your audience will get sick of the concept – fast. This aspect alone limits sales. Parties also take time and energy. That can be frustrating for ones that make few sales.
I have seen people run successful parties and businesses, so it's not impossible. But, you do need to be good at sales. It helps to have a large audience as well, including people who are passionate about the products. If you have that, your odds of success will be much higher.
Ongoing Requirements
One important area is personal volume. This refers to any products that you sell, along with your own personal purchases. To be considered an active rep, you need to hit $200 Personal Volume (PV) each month.
This means you have to buy and/or sell at least $200 worth of products every single month. That's not so easy, even if you have regular customers.
If you don't hit that goal, you're not able to receive any commissions from your team. This might not matter at the beginning. But, as you grow your team, losing commissions from them becomes significant.
That creates a problem. Many people get around this issue by supplementing their sales. For example, if you only made $50 of sales in a month, you might buy $150 worth of products, just so that you can still earn from your team. Yet, you often won't know how much your team is going to make in a given month.
The end result is that you can easily end up spending more than you make. If nothing else, you're cutting your profit margins with oils that you may not want or need.
Because of this, it's worth taking a step back. Could you reliably make $200 of sales each and every month, regardless of your circumstances? If so, the model may be fine. But, if this seems difficult, your experience may not be that profitable.
On the plus side, you don't have to remain active to make commissions. If you just wanted to sell the products and nothing more, you could remain an inactive rep. You would still get the 25% commission on sales. But, you wouldn't earn anything from your team.
Many of the bonuses and ranks have requirements too. For example, you need multiple active legs at the higher ranks. This means at least one person in each leg needs to be active as well, as in the image below.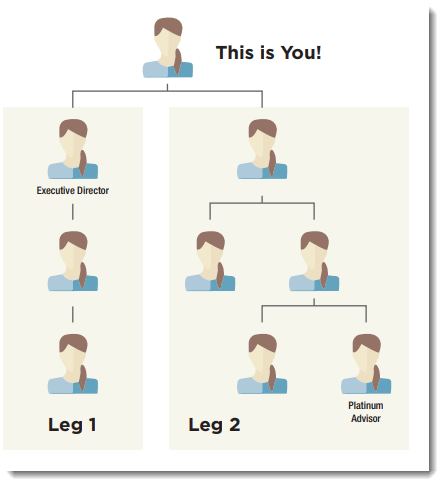 The challenge is keeping that going in the long-term. You'll often find that distributors drop out over time and you have to find new ones. You also can't force people to be successful. This adds another layer of complexity to an already complex system.
Can You Generate Reliable Income With Purely?
The Purely Review
Making money with Purely is far from impossible. The products are appealing and Purely uses effective marketing. There is also a decent selection of items. This could be good for sales too.
Even so, the compensation plan from Purely isn't very powerful. You might be okay if you were just focused on earning a little money with sales alone. If not, you would need to build a decent team before you could increase your profits much.
The limitations of the team compensation plan don't just affect you either. If you want to create a decent team, you'll need team members to recruit too. Many people won't be keen to do so if the initial team compensation is so low.
It's also worth mentioning that many MLM distributors never get past the early ranks of the company that they're in. This is partly because sales and recruitment are much more difficult than they sound.
I'm not saying that you can't make money from Purely, far from it. Nevertheless, it's important to have your eyes wide open when you join the company. That way you can make a realistic decision about whether Purely is worth your time or not.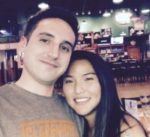 MLM Critic & Author: Nathaniell
What's up ladies and dudes! Great to finally meet you, and I hope you enjoyed this post. I have to be honest though. I'm not a big fan of MLM. Tried it. Hated it.
Affiliate marketing is cheaper, faster, and easier. See for yourself and join millions of other successful affiliates generating income from their blogs!
No inventory. No fees. No recruiting. 3 BILLION potential buyers online.
Reader Interactions