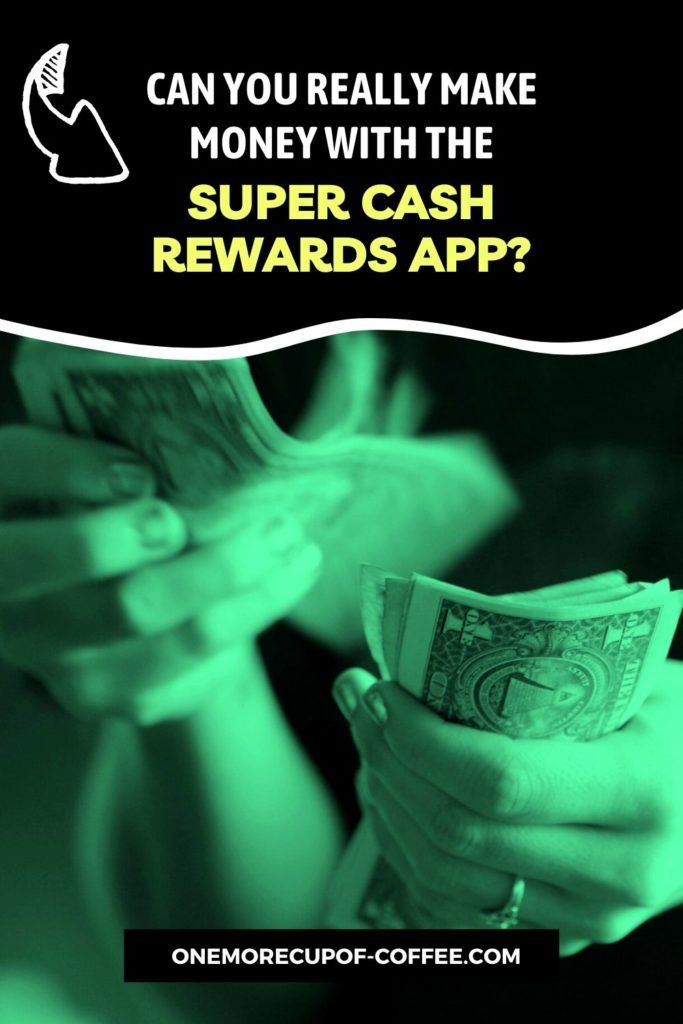 I found this app while researching different ways to make money online. It has 4.7 stars in the Google Play Store, and has over 100,000 downloads. But can you really make money with the Super Cash Rewards App?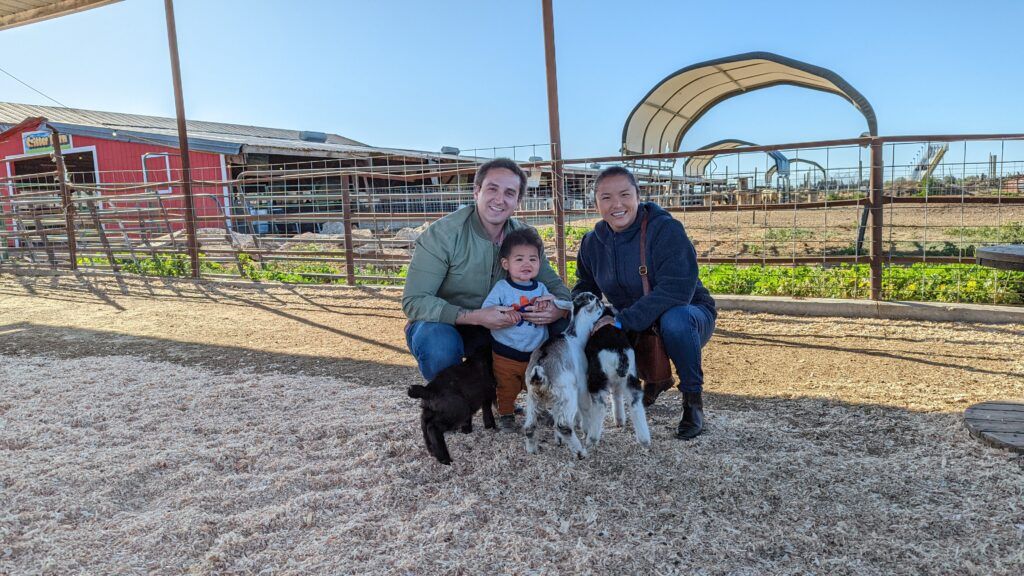 Are You Ready To Work Your Ass Off to Earn Your Lifestyle?
Are you tired of the daily grind? With a laptop and an internet connection I built a small website to generate income, and my life completely changed. Let me show you exactly how I've been doing it for more than 13 years.
This app looked a little sketchy to me, right from the beginning—mostly due to the logo and design. Call me skeptical, but I have kind of a hard time taking apps seriously when they just have a simple drawing of some 'cash' as the app image… or in this case, a simple 'dollar sign' symbol.
But anyway, I decided to just go ahead and give it a try.
Downloading the app was a simple matter on the Google Play Store. And before long, it was ready to go.
Making Money With The Super Cash Rewards App
But before I talk about how well it worked, I may first just like to talk a little bit about why I do this. Why do I test apps… especially when so many of them end up not working or not being profitable enough?
That is a good question—but the answer is actually pretty simple.
Why Do I Test Apps Like This?
The short answer is that I do this to try to find ways to make extra money. But I don't want to make small, tiny amounts of it either. I am looking for a true, profitable, legitimate side hustle—and apps like this offer a sort of unique opportunity to earn extra cash.
So the reason that I try a lot of apps like this is because I am constantly on the lookout for new and better side-hustles.
There is certainly no shortage of apps online that offer to help you make extra money. In fact, I have reviewed a lot of them. Probably dozens, at this point.
But will Super Cash Rewards make the cut?
Here is what you need to know.
Trying Out Super Cash Rewards For The First Time
The sign-up/login screen was pretty simple. It just looked like this.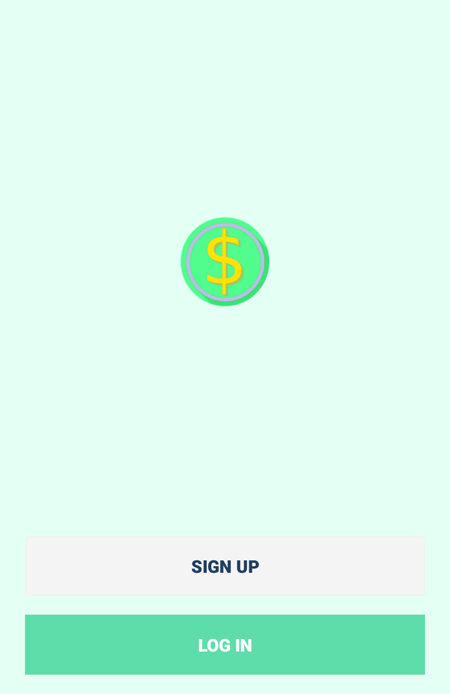 The app symbol could be seen here, as well as the strangely-colored buttons at the bottom. The Sign Up button almost had like a peach color to it—which I found weird.
But whatever. The colors make little difference, as long as the app could work as a quality side-hustle.
I clicked on the 'sign up' button, and was taken to a screen where I was asked to create a username and password. I was also asked to supply my full name and email address.
After filling out all of this information, I clicked on the 'Sign Up' button to try to get started—but what happened next really disappointed me.
A little screen popped up and said 'Please wait,' and then it disappeared… and nothing happened. I was still on the sign up screen, with my information still displayed above… except that I could not move forward.
Puzzled, I backed out of this and tried again.
But it did the same thing. So I made a few adjustments to my password. I capitalized the first letter, just in case it needed at least one capital letter.
I also included an exclamation point, just in case it needed a special character… but when I did this, a little message popped up and told me 'wrong format,' so I knew that this was likely not the problem.
I kept trying to sign up, but to no avail. As it was, I was stuck. So far, this app was definitely not living up to my expectations. And as it was, it was proving to be a rather significant waste of my time… but I don't like to give up this easily when it comes to writing reviews of potential side-hustle apps.
This isn't the first time that I have seen an app do this kind of thing. Unfortunately, this is far more common than you would think.
So I decided to pay a visit to the Google Play reviews, to see if I could learn more. This is usually the route I take when I can't sign in or create an account for some reason.
Here is what I found.
Checking Out The Google Play Reviews For Super Cash Rewards
At first glance, this app seems to have a lot of positive reviews—and it does. But I have been noticing lately that looking only at the positive reviews is not always a good indication of what the app is actually doing… and that you can learn far more by looking at the more 'recently posted' reviews.
So this is what I did—and I found some pretty interesting information here. Here are three of the first reviews that I found.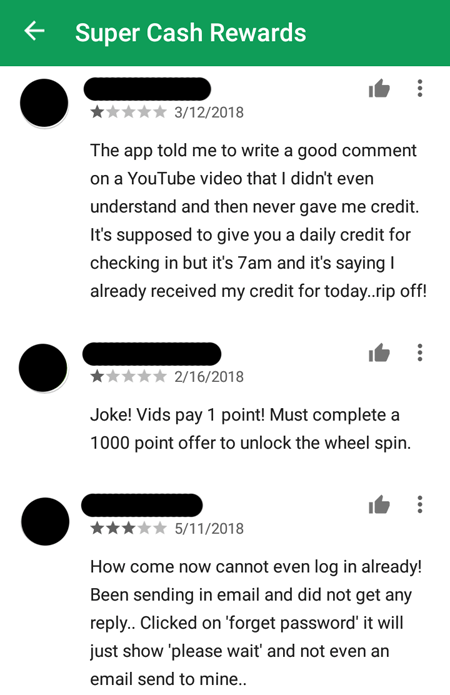 As you can see, one of these reviews complained about the app not awarding points, another says that it pays out far too little to matter, and the third complained that the person could not even log into their account!
I scrolled down just one page, and found some other pretty interesting opinions. Check these out.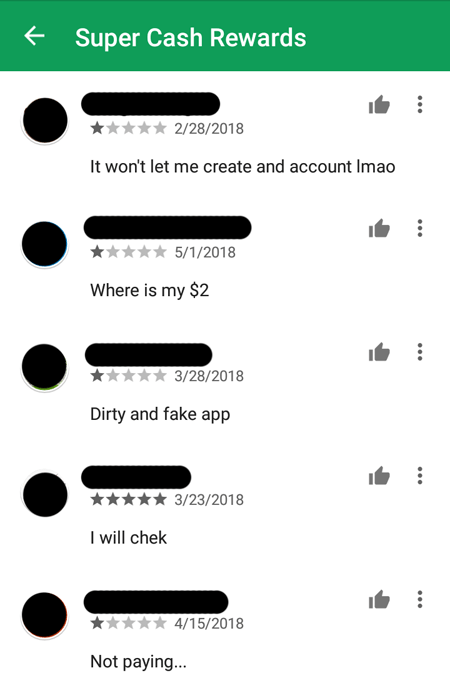 Here, we see someone who had the same problem I did—that the app wouldn't let them create an account. But that isn't all. We also see people who didn't get paid, who labeled the app as 'fake,' and more.
I am also noticing that there are some 5 star reviews mixed in here that do not have anything written on them. Take a look at this suspicious looking activity.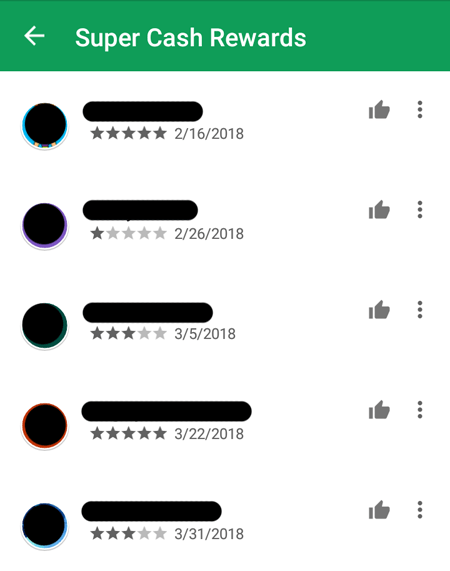 So yeah. This all looks pretty shady to me. I will admit that I was not feeling particularly friendly toward the app at this point, but I went ahead and continued to scroll through the reviews some more—just in case I came across something that really got my attention.
And I did. Here are a couple more reviews that really stuck out to me, for a few different reasons.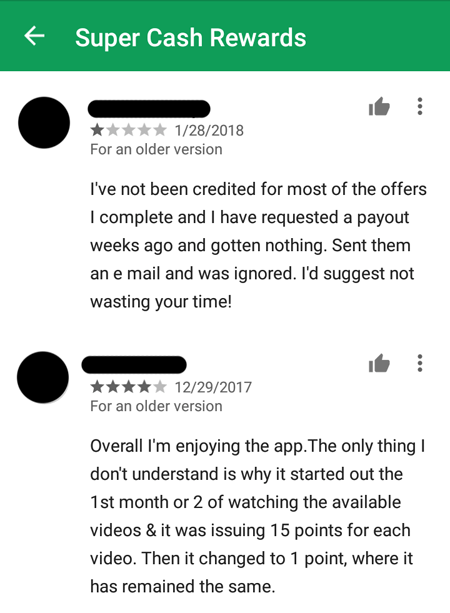 For one, both of these reviews are among some of the first in a long line of reviews that say that they are for an older version. Both users seem to have been able to use the app, but one claimed that they wouldn't pay out, and the other claimed that the payouts changed drastically to make the app not worth the time anymore.
This led me to believe that there may have been some kind of change that the app went through recently, and that this change (probably an update) rendered it much less useful than it used to be.
I am still not totally sure what is going on with the Super Cash Rewards App, but I will tell you this… that at this point, I was not really interested in even trying to figure it out.
These Google Reviews were enough to pound the nails into the coffin on this one for me. Kudos to Google Play, for giving users the ability to leave reviews so that we, the potential app users, can see what is actually going on.
In a lot of ways, we live in a great world… and honest customer reviews are part of what makes this possible.
My Personal Feelings About The Super Cash Rewards App
Personally, I was not a fan of this app—for rather obvious reasons. But even beyond this, I find myself asking this question…
Why?
Why would you create an app and try to market it, only to allow it to deteriorate to this point? Why would you allow something that you created, that you still cared about at all, to just fall by the wayside like this?
I guess I just don't see why a company like this would do something like this. I am certainly not an app developer, so I do not know how difficult (or easy) it is to design and/or create such a thing. But I do know that apps are not rocket science, and that as long as you keep working on them, they should get better… not fall apart, right?
So not only am I displeased with the way in which this app performed, but I am also displeased with the notion that the app developer couldn't even keep it up and going.
It just all seems super lazy to me.
I do love the idea of earning extra cash with apps, and apps like this do have the potential to be useful as real side hustles. But I am afraid that Super Cash Reward did not make the cut with me.
Unfortunately, this is true for many of the apps and websites in this field, like Watch & Earn, Deals n Cash, InstaGC and AppTrailers. Even when the marketing sounds good, the apps themselves generally fail to live up to the hype.
It would have been better if I had gotten the option to even try it. But as it was, even this was not an opportunity that I was afforded.
Our Final Thoughts About The Super Cash Rewards App
Should you download it and see if you can make some extra money with it?
The Super Cash Rewards App Review
Honestly, there are tons of various apps that claim to help you "make money", but really there are two facts to consider. 1) Most of them don't actually work. 2) If you can make money, it's not going be very much. If I'm going to spend any amount of time working online, I want to be working for myself by building my own profitable website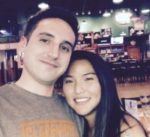 Nathaniell
What's up ladies and dudes! Great to finally meet you, and I hope you enjoyed this post. My name is Nathaniell and I'm the owner of One More Cup of Coffee. I started my first online business in 2010 promoting computer software and now I help newbies start their own businesses. Sign up for my #1 recommended training course and learn how to start your business for FREE!