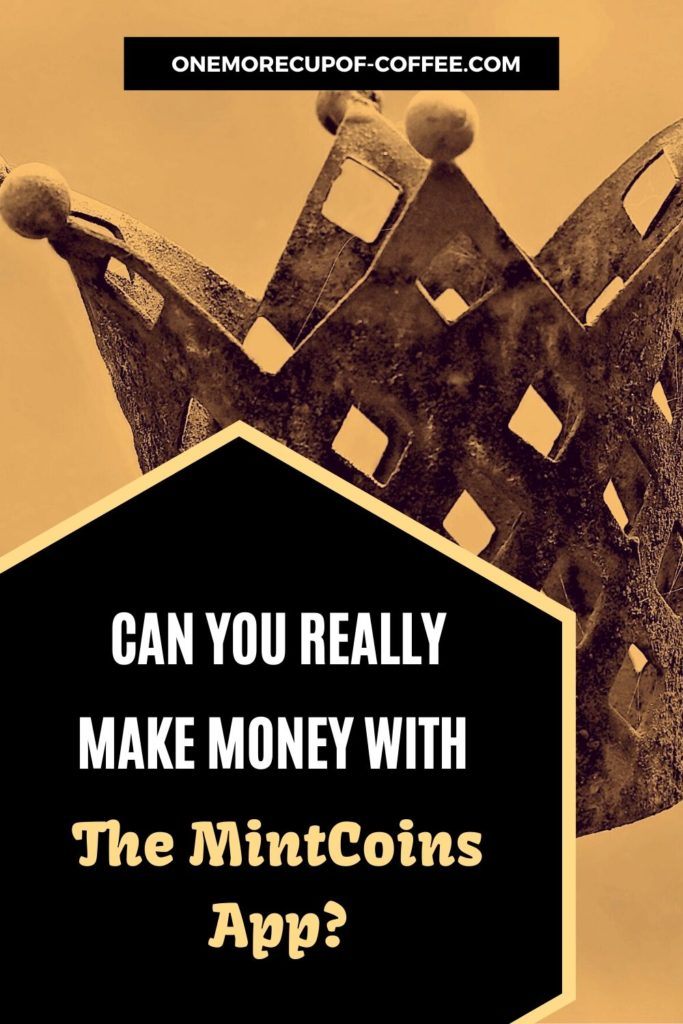 I love earning extra cash. And one of my favorite ways to earn extra cash is through apps. But what about an app that pays you extra cash for trying other apps?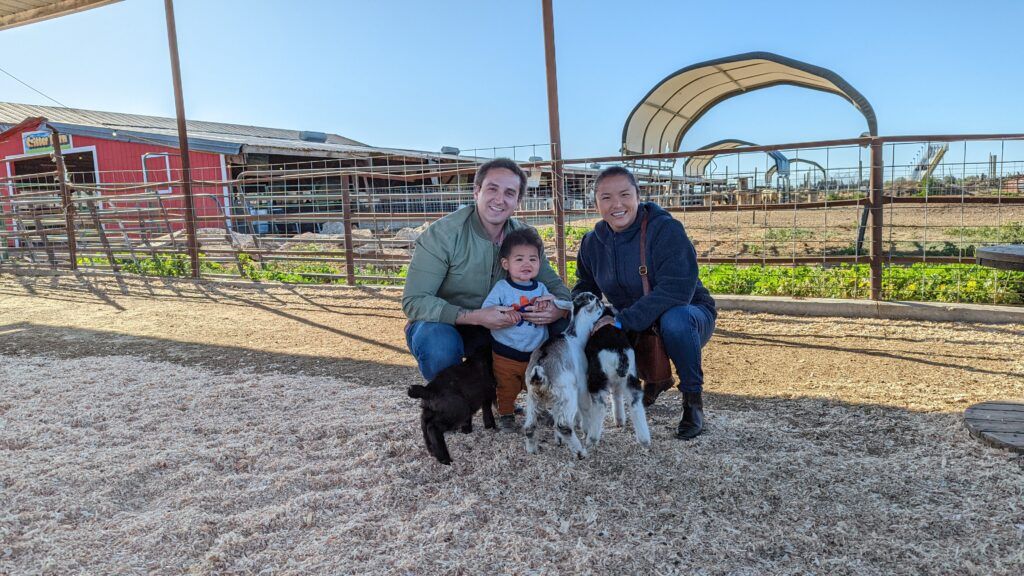 Are You Ready To Work Your Ass Off to Earn Your Lifestyle?
Are you tired of the daily grind? With a laptop and an internet connection I built a small website to generate income, and my life completely changed. Let me show you exactly how I've been doing it for more than 13 years.
That is the concept behind MintCoins. But can you really make money with the MintCoins app, or will you end up with a lot of wasted time, zero space on your phone, and little extra cash to show for it?
That's what I wanted to figure out—so I downloaded the app for myself and decided to get to work figuring it out.
The actual name of this app, in the Google Play Store anyway, seems to be 'Earn Free Cash or Make Money,' which is kind of weird.
At least, this was like the 'Legitimate Name' for the app in the Google Play Store. But the app is actually named MintCoins once you get into it.
Here's what I mean.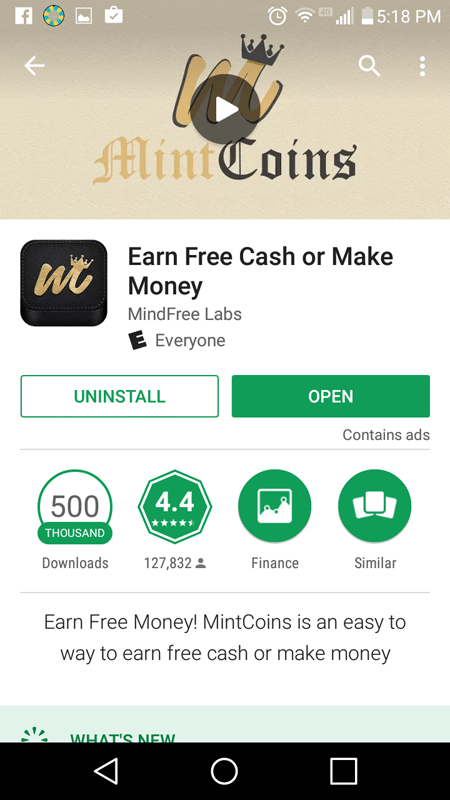 The app has been downloaded over 500 thousand times, and has a rating of 4.4 stars. 4.4 stars is actually a pretty good rating, especially when you take into account that this app has been reviewed by more than 127,000 people! That's quite a large user base really.
But, I've seen apps before with excellent ratings and large user bases that fell flat once I started getting into them—so I was not yet impressed.
Making Money With The MintCoins App
To begin with, let's talk a little bit about the app itself.
Getting Started With MintCoins
Here's a screenshot of the Read More section of the app, which helps to describe exactly how it works.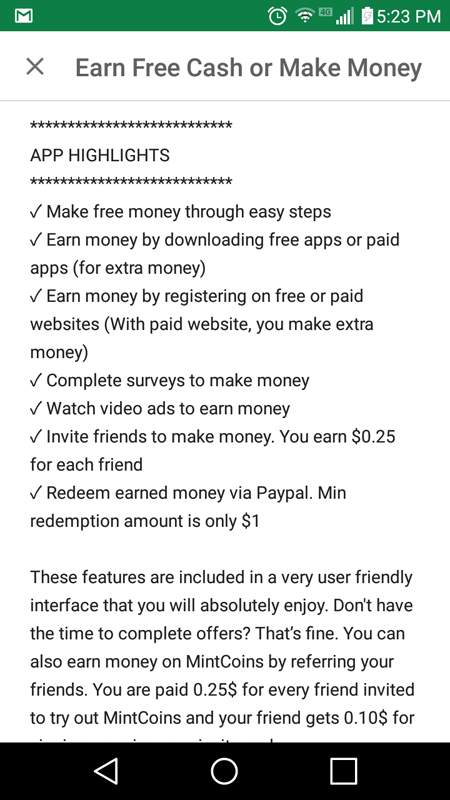 Ok, so here we can see the app highlights—which seem pretty easy to understand. I decided to dive straight into it, and came to this screen first…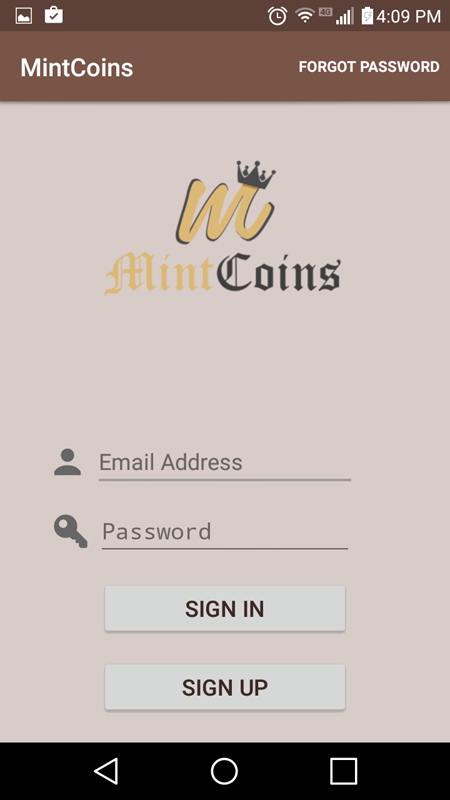 I needed to sign up first, which took me to this screen, where I was asked to input some basic information.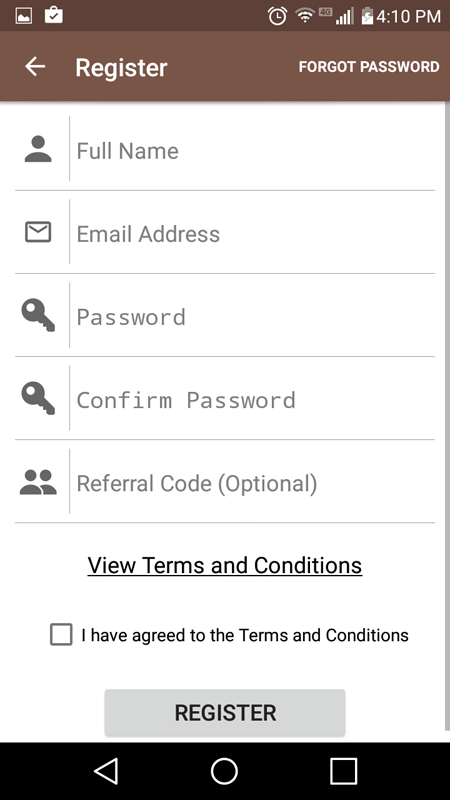 After this, I needed to verify my email—which was a simple matter. After that, I was finished with the sign-up process, and ended up at what appeared to be the main hub of the screen.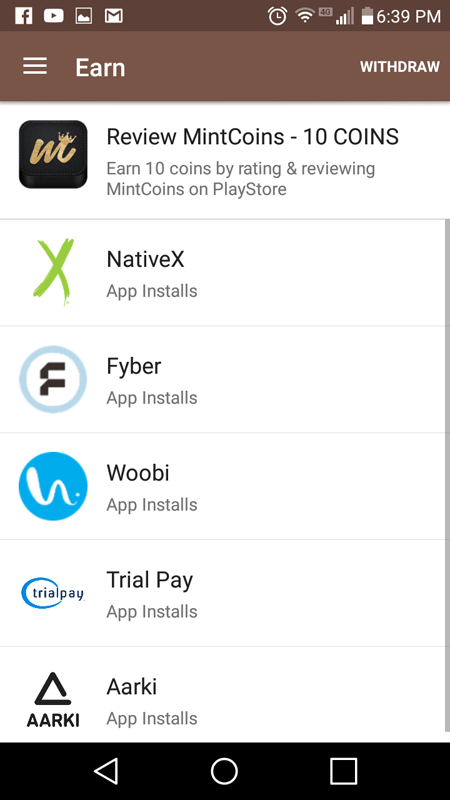 It was now time to figure out exactly how this app worked. So that's what I worked on next.
How Exactly Does MintCoins Work?
At the moment, I only saw options for 'app installs,' offered by MintCoins. At least, that was all that I saw offered on the primary hub screen. Each one of these different options opened into an entire list (like a menu, of sorts) of apps that could be downloaded and tried to earn cash.
The NativeX section didn't seem to work. It actually seemed to glitch out a bit. I'm not sure if this always happens or if it just happened to me… but that was my experience with it.
The Fyber option loaded, but this is the screen I found when it did.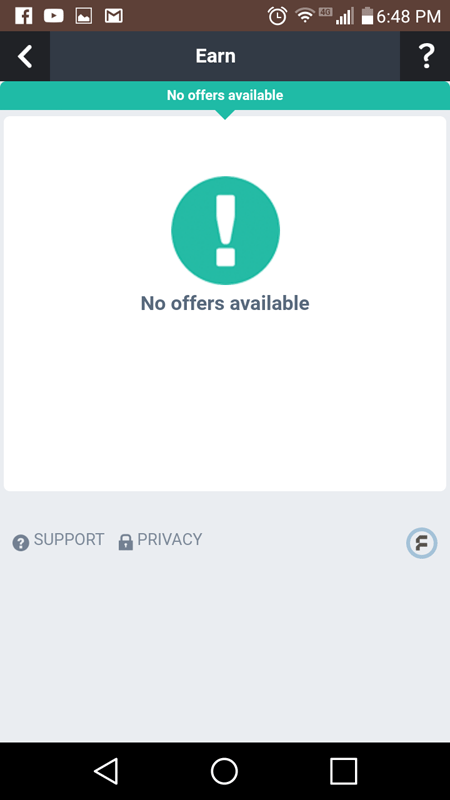 So, Fyber didn't seem to be an option that would yield any results either.
Woobi was next, and I had much better luck with it. It loaded what seemed to be quite a wide range of apps, which was awesome. But it also offered surveys—or at least, apps that offered surveys… though it also seemed like there were some offerings that were strictly surveys.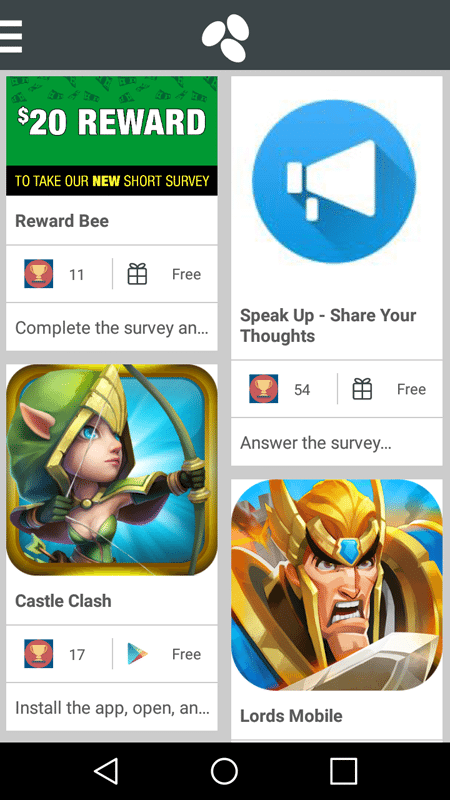 Each offering had a price listing, and what you would be awarded for trying it.
At this point, I decided to try completing a survey to see if I could earn any points. I chose this one…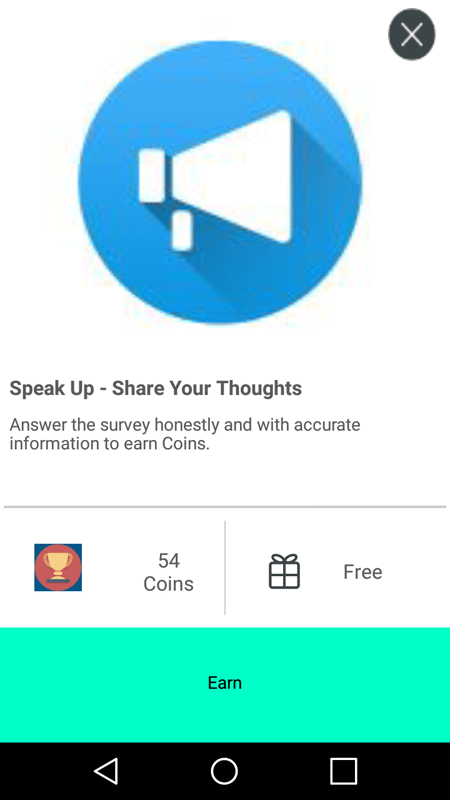 It was worth 54 coins, which seemed pretty legitimate to me. I mean, I wasn't sure how much money this was actually worth, but it seemed like a reasonable amount. I clicked 'earn,' and was taken to the next screen… which was a loading screen.
Next, I was taken to the survey… and found this screen.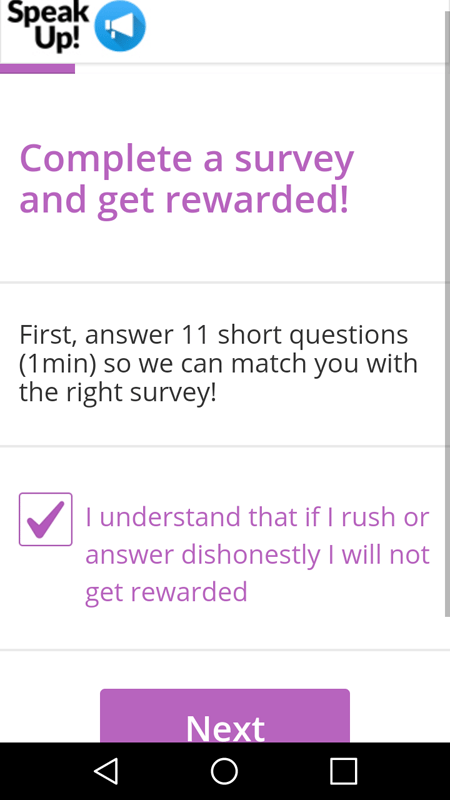 I started the survey… and I will be honest, it was the weirdest survey I had ever taken. They seemed paranoid that I would be a robot, and they asked me several repeat questions, seemingly in hopes of verifying that I was an authentic human.
They even asked me what 5 plus 2 was, just to ensure that I wasn't a bot of some kind!
After I finished it, they said that I qualified for 10 other surveys, and that I had to complete one to get my reward.
(Sigh… big sigh… so this is how it's going to be, MintCoins?)
I decided to proceed, and was taken to yet another page, where I could choose from five different surveys to take. I chose one, and proceeded to get started on it.
I answered like 5 introductory questions, and then clicked 'start survey.' But then, this popped up…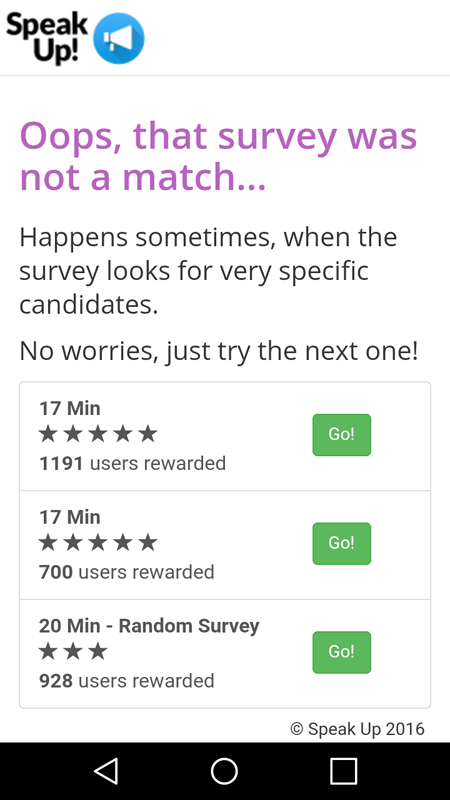 I understand that not all surveys can be a match for everyone, but I spent several minutes trying to figure this out, and ended up, at this point, with no points at all. This was obviously a bit discouraging to me.
I should also add that this is not necessarily uncommon. I've experienced this in other survey apps as well.
I realize that these apps are collecting specific data to sell… so in a way I understand what is going on, it just sucks on the user-end, because it wastes time… and to be super honest, there is no way around it (an obvious possible solution could be to make the payout for surveys high enough to make some run-around worth the money… but I will get to that in a minute).
I also saw that these surveys were, on average, going to take around 17 minutes each to complete. And the reward, as I understood it, would be 54 points… so I decided to figure out how much the points were worth, so that I could figure out what kind of money I would be getting for my time.
Figuring Out What Points Are Worth On MintCoins
I clicked on the 'Withdraw' button at the top-right of the app screen, and found that 100 coins basically equals $1 in real-world currency.
That means that, for each of these surveys, I would be making about $0.50.
A lot of the apps that I saw that you could try out also paid out about the same… 26 points, 50 points, 18 points, 39 points, etc.
So, each point is basically worth a penny… and that is what you can expect to earn for using the app.
Is MintCoins Worth The Time?
So, this app really isn't so different from a lot of other apps in the same category. It pays a bit less than other apps similar to it, but really, apps in this category tend to work with a lot of similarities.
Here are what I would consider the good and bad points of the app.
As for the good… the app works fine. I didn't notice any technical glitches or anything like that. The surveys loaded, the screens worked, and apart from some of the categories (or providers) not really having anything to offer, I had no issues with the app itself.
Another good thing about it is that it would allow you to make extra money wherever and whenever you want.
You don't really need to do anything that's time or location-specific, so you could use it while riding the subway, commuting to work (riding… no taking surveys and driving!), or waiting in line… stuff like that.
Ok, now for the bad. I feel that this app doesn't offer you much money for the amount of work it requires. Some of these surveys are supposed to take like 17 minutes to complete—and they only pay out around $0.50 to $1.00.
So, that's really not much. It amounts to somewhere around $3 or less per hour… and while you can do this work anywhere, it just doesn't seem like it's a really good use of time as far as I'm concerned.
You can make money with it. And you can get paid and cash out with as little as $1 in your account—so that's an upside. But for me, it all boils down to whether or not it's really worth the time—and in my case, with this app, I feel that the answer is no.
The app is well-done, and you can make money off of it—but I am afraid that I will not be leaving it installed on my phone. It does have a really good 4.4 star rating, and I feel that it deserves this, if for no other reason than that it absolutely does what it is advertised to do.
The app also has a surprising number of different ways for you to earn money. Other apps do this too (like App Bounty, GetGiftz and Tapporo), but it is still an appealing approach.
I feel that there are better survey apps out there that are at least easier to use. This app had me answer a lot of questions before I could even get to a survey—so that's another factor.
Our Final Thoughts About The MintCoins App
Should you download it and leave it on your phone?
The MintCoins App Review
Honestly, there are tons of various apps that claim to help you "make money", but really there are two facts to consider. 1) Most of them don't actually work. 2) If you can make money, it's not going be very much. If I'm going to spend any amount of time working online, I want to be working for myself by building my own profitable website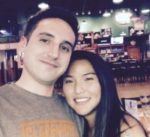 Nathaniell
What's up ladies and dudes! Great to finally meet you, and I hope you enjoyed this post. My name is Nathaniell and I'm the owner of One More Cup of Coffee. I started my first online business in 2010 promoting computer software and now I help newbies start their own businesses. Sign up for my #1 recommended training course and learn how to start your business for FREE!