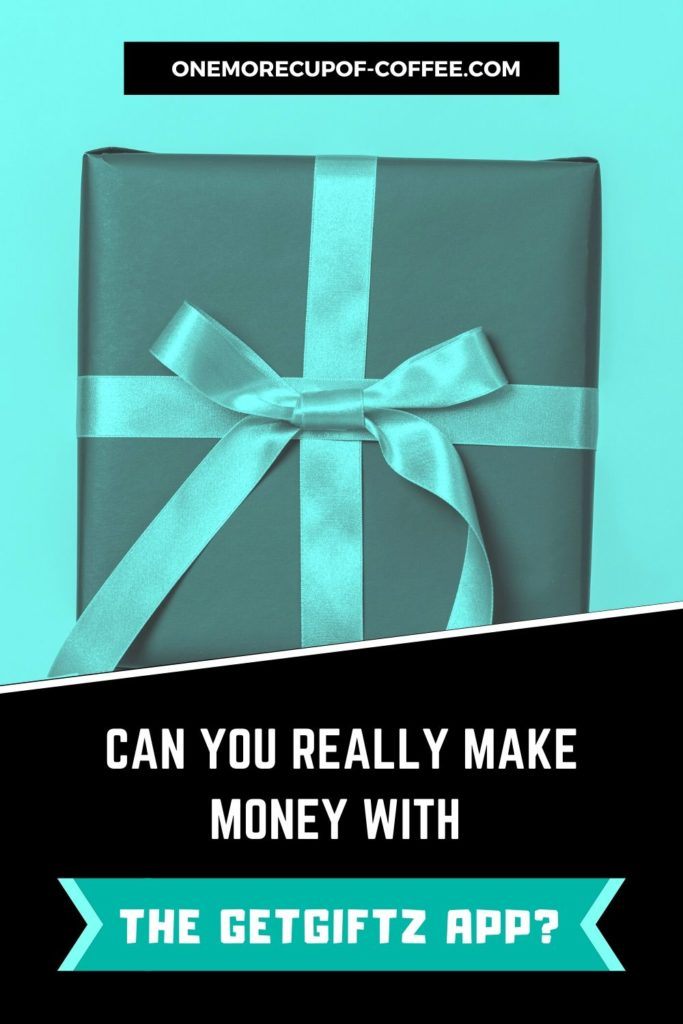 I found this app as I was researching new ways to earn a bit of extra money on the side, and it looked interesting to me. But can you really make money with the GetGiftz app? It seemed cool enough, but I will admit that I was a little bit skeptical.
Making Money With The GetGiftz App
So, to begin with, let's take a look at the app itself.
In the Google Play store, the app has about 100,000 downloads, and has a rating of 3.6 stars. I've certainly seen worse ratings… but I've also seen better (In fact, most similar apps get better ratings, like AppKarma, MintCoins and Gift Wallet).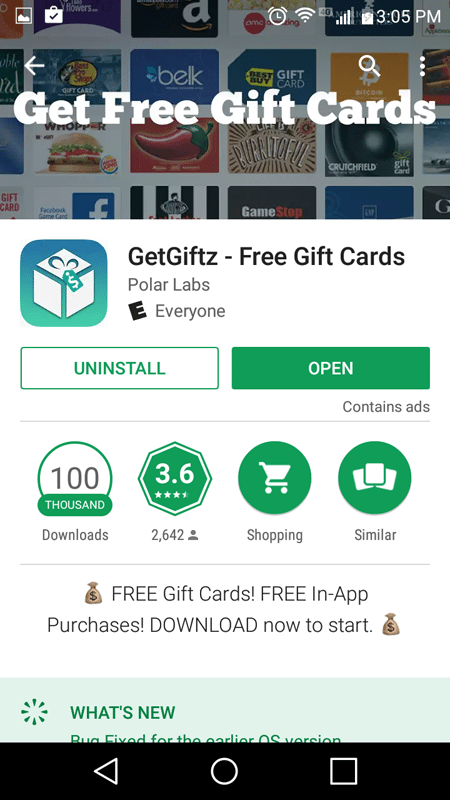 At any rate, I decided to give it a try. I opened it up, and came to the sign up/log in screen.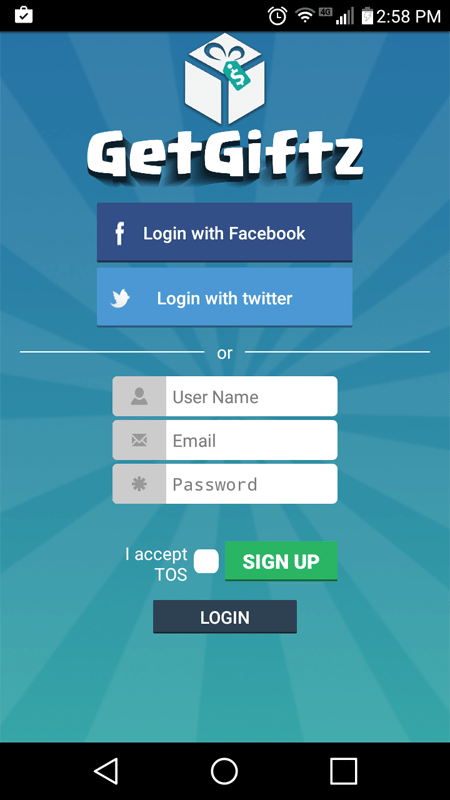 I had the option to Log In with Facebook, so that's what I did. Next, I was greeted with a range of introductory screens that gave me some information about how to get started.
Here is the basic summary of the information that I found on these screens…
Complete Offers to Earn Points
Exchange Points into Giftz
Invite Friends to earn more Points
And that was pretty much it. It should be noted, however, that the app did stop and quit once during these screens the first time around… which made it feel a little bit glitchy.
At first I was worried that it might not work at all, because I have had that happen to me with other apps. But when I started it up again, it ran smoothly.
This brought me to what seemed to be the main hub of the app.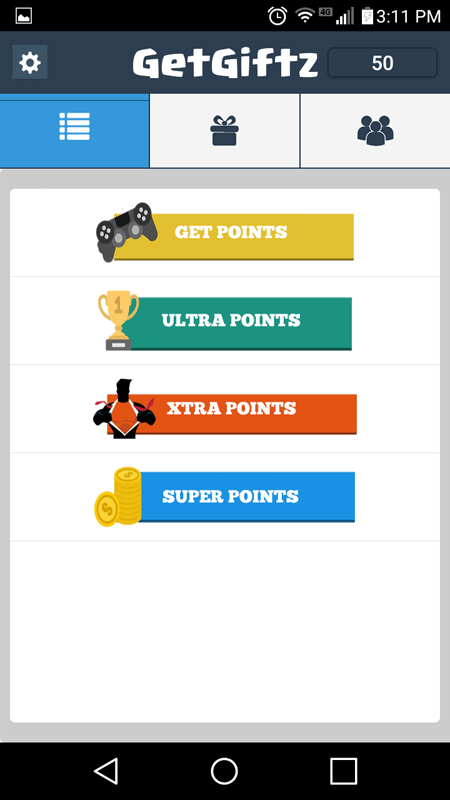 Taking A Look At The Inside Of GetGiftz
At this point, I was inside of the app and taking a look around. There were basically four different buttons here on the main page… Get Points, Ultra Points, Xtra Points, and Super Points.
I clicked on 'Get Points' first off and was taken to this page.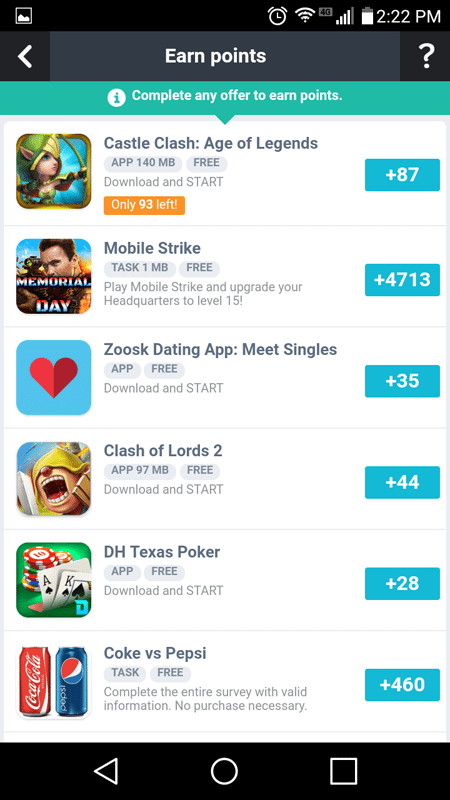 Here, I found that I could redeem offers to earn points. I scrolled down and took a look at them. A lot of them involved downloading apps… but my attention was grabbed by this survey that certainly seemed like it would apply to me.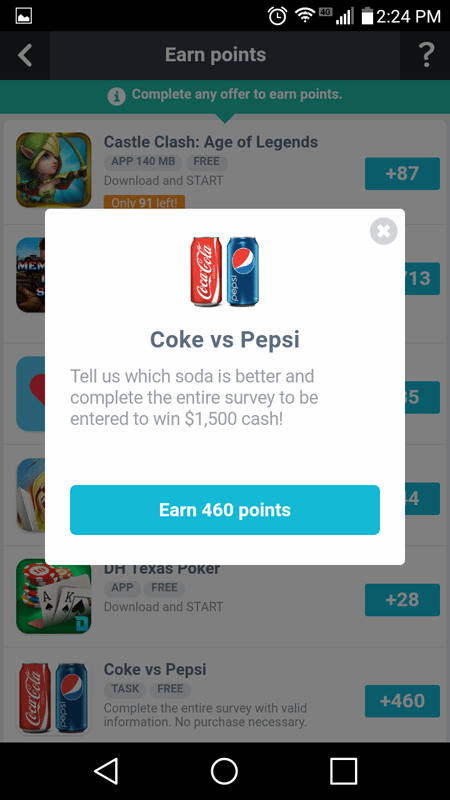 I'm a pretty big Coca Cola fan, and I am pretty passionate about the fact that it is better than Pepsi. (Please don't be offended if you are a Pepsi lover. It's nothing personal… Coca Cola is just better.)
So I decided to go ahead and try this survey out, to see if I could win any points.
Here's what happened.
Taking A Survey On GetGiftz
I clicked to take the survey, and was taken off-site to a different web page. Here, I was asked to fill out a lot of information.
I had to give them my name, phone number, address, (God… someday I'm going to get soooo much junk mail for this. I hope you're all thankful—I'm really taking one for the team here.) date of birth, and a few other bits of information about me.
Once I got past this, I ended up on a survey screen…but it was not the survey that I had clicked on.
I answered some basic questions about my life (my income, if I had a job, if I owned a car, do I have a loved one with diabetes, do I have any debt, etc.), and was then taken to a page where I basically needed to give my permission to be called on my phone number and sent mail to my address… and this was where I drew the line.
I backed out of it and went back to the app.
I'm going to be straight up honest here… I despise this gimmicky nonsense. I am sure that there are some offers on this app that are not gimmicks, but this one, that I just happened to pick out, was absolutely a gimmick.
All the offer seemed to indicate that was required was to answer questions about which drink I liked better. And I never even saw anything that asked me about either drink!
I am not sure if I did something wrong, or if I just got off-track somehow—but I was not impressed.
And to top it all off, I wasn't awarded any points either (of course).
(Note: I learned later on, by reading reviews, that it takes a while for points to show up. So it is possible that I will be awarded those points at some later point in the coming hours. It is difficult to say right now.)
But… for that survey, I would have been awarded 460 points, at least, if it would have worked. So I decided to figure out how much the points were worth. If they were really worth it, then maybe I would try it again and see if I just messed up the first time.
But to figure this out, I had to go to the Rewards section of the app, which was located at the top of the screen.
Here's what I found.
Figuring Out How Much Points Are Worth On GetGiftz
I clicked on the Amazon Gift Card option and was taken to this page.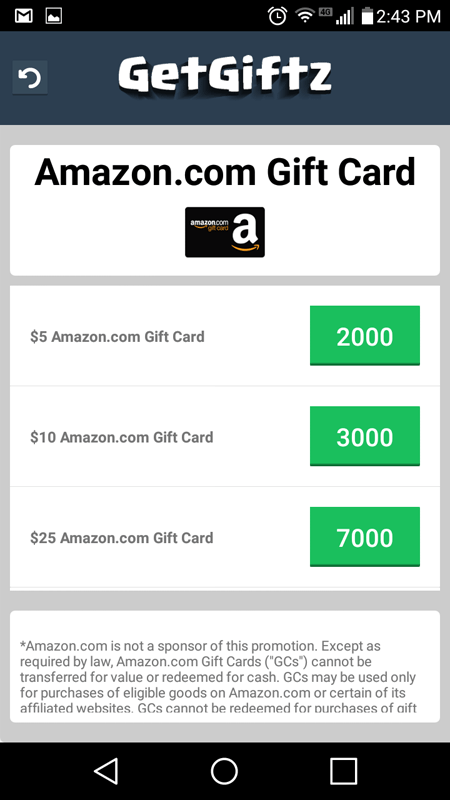 After seeing this, my opinion of the app did soften a little bit. Getting a $5 Amazon gift card for 2000 points might not seem like the best deal in the world. But to be really honest, for the kinds of points that a lot of these offers were giving out, that isn't too bad.
It doesn't necessarily make the trouble worth the time, but at least the app is giving out rewards for what I would deem reasonable amounts of points.
At this point, I felt like I had enough information about the app to know whether or not I was going to be using it. Here is what I decided.
What Did The Google Play Reviews Say?
I did a bit of reading in the Google Play Reviews for GetGiftz, and found out that some people really didn't receive good customer service from the app… so that is a bad thing, for sure.
But I also read that people, in general, tend to have a good experience with the app. They make their points, redeem them, and get gift cards. So that is an upside.
Beyond this, I really didn't read anything that struck me as super-alarming.
Will I Be Using GetGiftz Anymore After My Test?
I liked this app really, for the most part. I have reviewed many apps like this in the past, which basically give you offers that you can then complete to earn points. I will admit that I'm not very fond of many of them.
I was surprised by GetGiftz though, in some ways. I really feel like the conversion rate of points to actual dollars is better on this app—but that doesn't necessarily negate the fact that I felt like it was still not quite worth the time for me.
I only tried one survey, but it was gimmicky—and it made me not want to use the app anymore. But even if the survey would have worked, I wouldn't have been able to make much money by the hour—which is a bit of a downside to me.
I could easily see earning $5 to $20 a month using this app, depending on how much time you put into it… which, in all seriousness, is really not bad. Another really good thing about it is that you can use it anywhere. The app is a tiny bit glitchy sometimes, but not in a serious way.
This might be my favorite app in this category. Of the apps that I have reviewed that give you points for downloading apps and/or taking surveys, this one may be the one that gives you the most money for your time… but I'm just not sure if it was enough for me.
With that being said, I would recommend GetGiftz to any of the following people…
People who have a lot of downtime on their hands and like to use their smart phones to earn a bit of extra cash
People who like to try new apps and take surveys
People who enjoy earning gift cards
People who want to be able to earn extra cash whenever they want
People who don't want to travel or go anywhere special to earn extra cash
People who don't mind making less per hour if it means that they can earn whenever they want
If you don't mind the fact that you will be a bit underpaid in an hourly sense, then GetGiftz might actually be perfect for you.
I give it one thumb up and one thumb down. A thumb up for being a really good example of an app in this category, and a thumb down for not offering me quite enough to make it worth my while.
But all in all, I liked it. Good job GetGiftz! It deserves at least a 3.6 star rating. To be honest, it might even deserve better… but that is just my opinion.
Our Final Thoughts About The GetGiftz App
Should you download it and use it on your phone?
The GetGiftz App Review
Honestly, there are tons of various apps that claim to help you "make money", but really there are two facts to consider. 1) Most of them don't actually work. 2) If you can make money, it's not going be very much. If I'm going to spend any amount of time working online, I want to be working for myself by building my own profitable website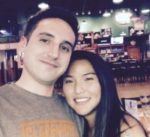 Nathaniell
What's up ladies and dudes! Great to finally meet you, and I hope you enjoyed this post. My name is Nathaniell and I'm the owner of One More Cup of Coffee. I started my first online business in 2010 promoting computer software and now I help newbies start their own businesses. Sign up for my #1 recommended training course and learn how to start your business for FREE!