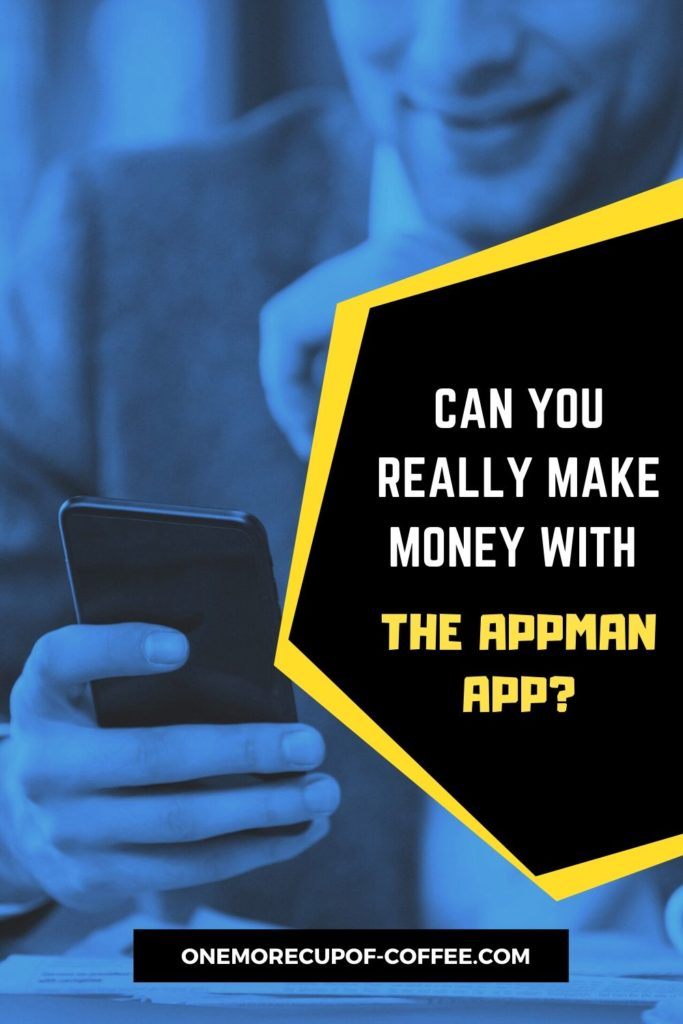 This is another app that promises to reward you for downloading apps, completing surveys, and taking part in various different types of offers. But can you really make money with the AppMan app?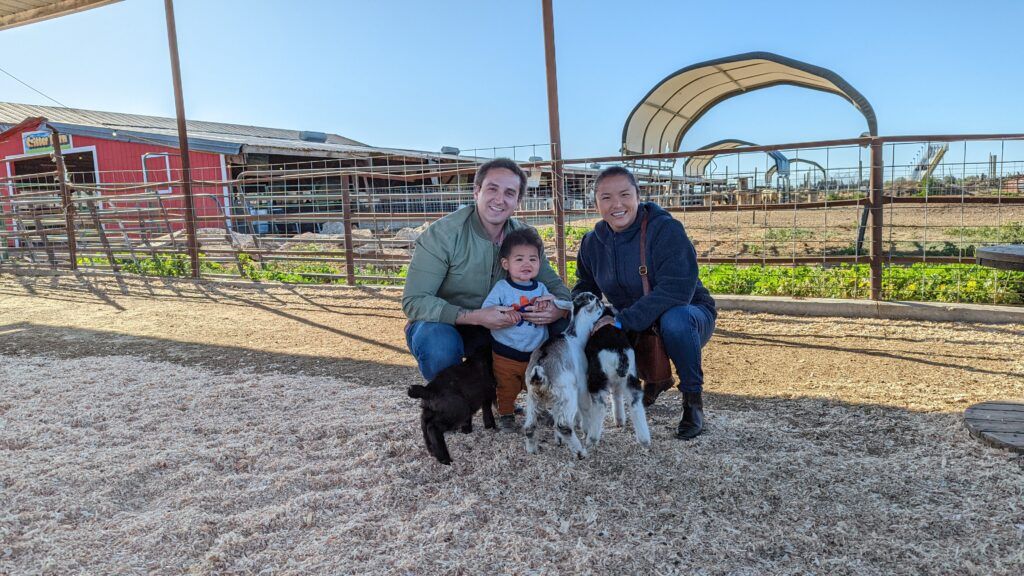 Are You Ready To Work Your Ass Off to Earn Your Lifestyle?
Are you tired of the daily grind? With a laptop and an internet connection I built a small website to generate income, and my life completely changed. Let me show you exactly how I've been doing it for more than 13 years.
This is becoming a pretty popular type of app, and AppMan is certainly not the only example of it floating around out there (others include Toluna, GrabPoints and AppKarma).
These apps basically get you to download other apps and fill out surveys for a chance to earn points. You then spend these points on either gift cards or PayPal cash-outs to make extra money—hopefully enough to keep you coming back and continuing to earn rewards.
But does it work?
I'll be honest—a lot of these types of apps are not worth the time, in my opinion. But I was certainly willing to give AppMan a try. I am, after all, super-pumped about the idea of earning extra cash, and doing so through apps is one of my favorite ways to do it.
Making Money With The AppMan App
But is AppMan going to bring anything different to the table?
Here's what you need to know.
AppMan: Basic Information
First off, let's take a look at the Google Play information for the app.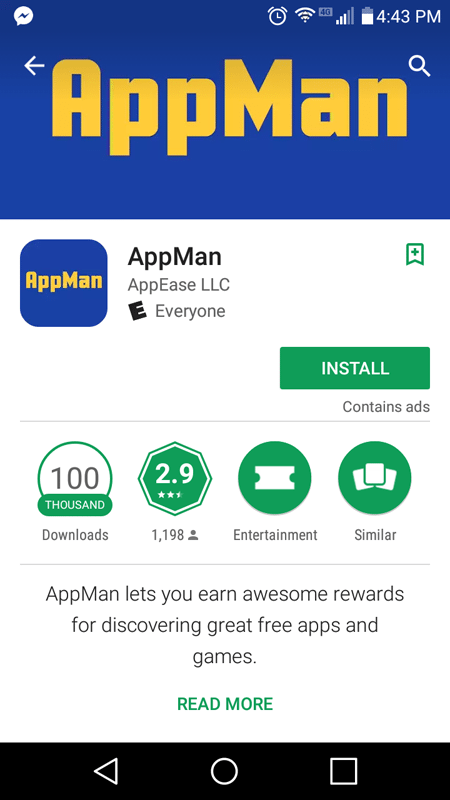 For starters, we see that AppMan has been downloaded over 100,000 times. It has also been reviewed by over 1,000 users—so it certainly has a user base.
But the Google Play Rating is what caught my eye. The app only has a 2.9 star rating. This, honestly, isn't that great. I've rarely reviewed apps with fewer than 3.5 stars and given them a good review… but who knows? AppMan might have this in the bag!
The tagline for the app reads as follows…
"AppMan lets you earn awesome rewards for discovering great free apps and games."
This sounded great to me… as awesome rewards are always something that I'm interested in!
So I decided to open it up to see what I could find.
Opening Up AppMan For The First Time
AppMan was easy to open up. Here is what we found in the very first page of the app, which seemed to be the main hub.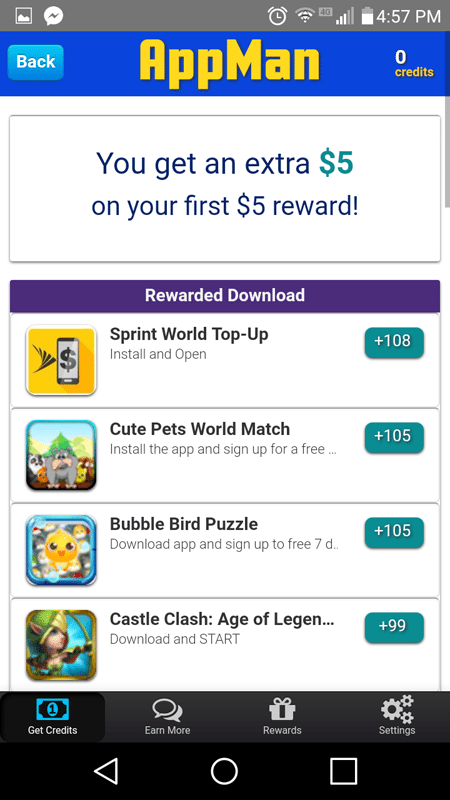 As you can see, I got an offer at the top of the screen for an extra $5 on my first $5 reward, which was pretty cool (Of course, I had no idea how long it would take to earn $5… but I will get to that a bit later!)!
I also saw, right away, that there was a pretty long list of apps and games that I could install and play to earn the specified number of points.
There were slightly different instructions for each. Some just needed to be downloaded and started, but others actually needed to be played for a certain amount of time, etc.
The points ranged in value from somewhere around 10 to 260—so the value varies across the board. The app also gives you access to Peanut Lab Surveys, which is a pretty popular survey service that gives you the ability to take surveys for points.
I will be honest here though, I've tried to use Peanut Labs Surveys before, and I have never once had a good experience with it… so that may or may not be something to keep in mind, but it is something that I have noticed.
I chose an app that seemed to offer quite a few points.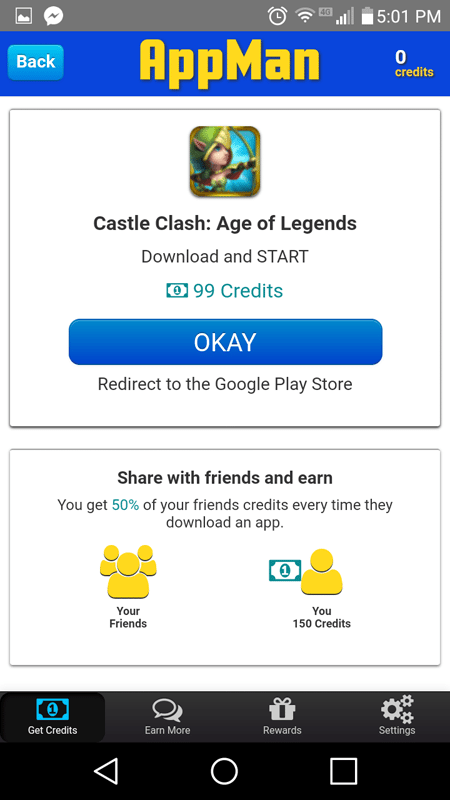 Apparently, to get paid for this one, all I had to do was download and start it… so that's what I did.
Downloading The App And Trying To Get Paid For It
I was directed to the Google Play Store to download the app, which was quite large—so it took a little while to complete the download.
Once I downloaded it, I opened it up and tried to use it. I fired it up, skipped through the tutorial, and got right into the game. Then I closed it out and went to find out if I had earned any points… but I was a bit disappointed to see that no points had shown up in my account.
( I had not yet made any sort of profile. But I hadn't been prompted to either, so I'm not sure what was up.)
I'm not sure if I did it wrong somehow? Maybe the points need a few hours to show up, or maybe I clicked on the wrong thing at some point?
I feel like this can't be a problem for everyone, otherwise the app would have a much lower rating. But, just to see, I took to the Google Play Reviews to see what other people were saying about it.
Did People In The Google Play Reviews Have The Same Problem With AppMan That I Was Having?
I took a look at the Google Play Reviews, and at least a few other people seemed to have similar issues as me. One person said that they had downloaded a bunch of games, but never received any points for them.
But other people said that they had downloaded a bunch of apps and did get paid for them—so I am not sure what to think.
There seemed to be some speculation in the Google Play Reviews that maybe the app doesn't work very well with Android devices. I'm not sure if this has anything to do with it or not, seeing as how it is an Android download on the Google Play Store… But maybe some devices don't work as well with it as others?
At any rate, I decided to bypass this little issue for now, and tried to figure out how much you could make with the app if it were working the way it was supposed to.
Figuring Out How Much I Could Make With AppMan
To figure this out, I figured out about how much I would make from downloading and trying like 3 apps. That seemed like a pretty decent amount.
The number of points I came up with was about 300 points, give or take. That seems like a number of points that I could earn in a day, if I spent some time on the app during down-moments and also a little bit in the evening.
Obviously, if I needed to play the apps for a while to really earn the points, it might take longer, and I might make less… but let's go with this number for the time being.
I clicked on the 'Rewards' section of the app, along the bottom-screen-menu, and opened it up. I was shown exactly how much the AppMan points were worth when translated into real-world dollars (Amazon Gift Cards… but still, dollars nonetheless).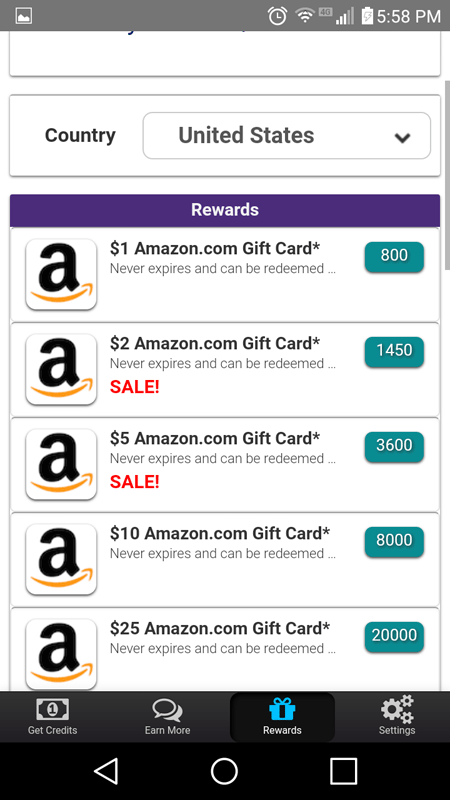 I will be honest about this… I wasn't very impressed with the conversion rate. You 800 points to equal just $1 in Amazon Gift Card money… and by my calculations, I would really only earn 300 points a day if I spent a bit of time on the app between engagements and during down time.
This means that I could expect to make, give or take, about $2 over the course of a week using this app, which equals out to $8 a month.
I mean, this isn't terrible if you don't mind a really really low per-hour reward for your effort—but there are definitely apps, in my opinion, that can earn you more for your time.
My Personal Opinion Of AppMan
Personally, I wasn't really that pleased with the app.
It worked fine, despite a few little glitches. I am not sure that it is really compatible with my device.
Either that, or I just did things wrong and didn't get points for the app I downloaded. I feel like it isn't necessarily fair to penalize the app for that though, because it is possible that I just messed it up.
But for a ratio of 800 points to $1 of real-world currency, it isn't worth the time for me to try again, honestly.
The conversion rate on this app is pretty bad, in my opinion. Yes, you can earn extra cash with it, but don't expect to earn very much of it, or to earn it as a very fast rate.
This app can provide a relatively easy way to earn a few dollars for Amazon if that is all you need… but it really seems like it would be a lot of work to earn enough points to really cash out at higher levels.
The good points? It works pretty well, it does pay out, and there are some people who are pleased with it.
The bad points? It has a very low Google Play Rating, isn't worth the time (in my personal opinion), and won't be able to make you much feasible extra cash in the long term.
I feel that there are just better apps out there. Sorry AppMan.
Our Final Thoughts About The AppMan App
Should you download it and use it on your phone?
The AppMan App Review
Honestly, there are tons of various apps that claim to help you "make money", but really there are two facts to consider. 1) Most of them don't actually work. 2) If you can make money, it's not going be very much. If I'm going to spend any amount of time working online, I want to be working for myself by building my own profitable website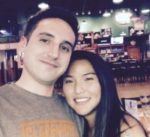 Nathaniell
What's up ladies and dudes! Great to finally meet you, and I hope you enjoyed this post. My name is Nathaniell and I'm the owner of One More Cup of Coffee. I started my first online business in 2010 promoting computer software and now I help newbies start their own businesses. Sign up for my #1 recommended training course and learn how to start your business for FREE!