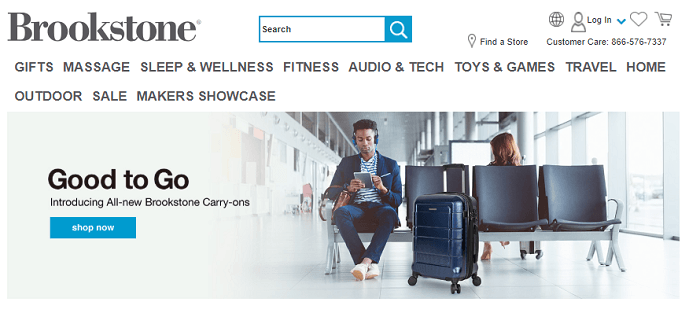 Mindlessly wandering through an airport? Looking for a last minute gift idea? Want to feel the softest blanket in the world? Interested in the latest awesome tech gadget? Need amazing luggage?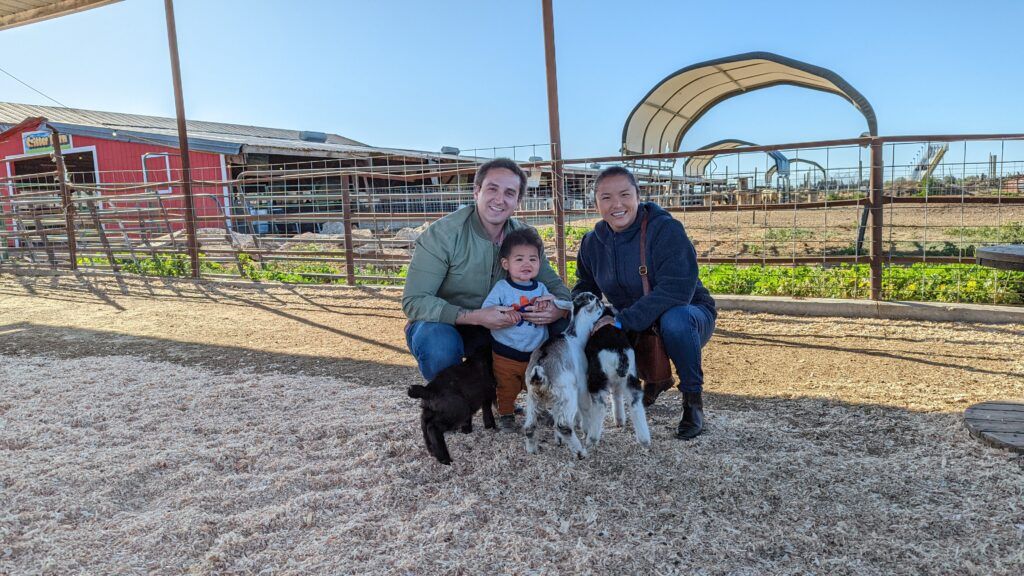 Are You Ready To Work Your Ass Off to Earn Your Lifestyle?
Are you tired of the daily grind? With a laptop and an internet connection I built a small website to generate income, and my life completely changed. Let me show you exactly how I've been doing it for more than 13 years.
Brookstone!
We all know this store and absolutely love walking through their little stores and kiosks in malls and airports around the world. The kind of snuck up in the international market over the past 10 years and have become known as that go-to place for last minute gifts and travel items.
When they on-boarded their affiliate program online, I jumped on board right away! This is one of those companies that is so well trusted and known that it's easy to talk about and sell that it's a no-brainer to involved.
For those of you not familiar with affiliate programs or with Brookstone, I'll go through everything below including what affiliate programs are, what products Brookstone sells, what commission you can get, and how the affiliate program for Brookstone is setup.
So whats an affiliate program?
They are one of the easiest ways in the online social media/blogging world that you can make money by talking about products/services. Basically for whatever niche social media network, website, or blog you have, there are thousands of complimentary affiliate programs around the world to pair with it.
Each affiliate program provides you with graphics, banners, urls, and other links which each direct a customer to that company's website. For sending a customer to the website you can either earn per customer's click or with a % commission of any sales made. They're easy to use, but you gotta know which one to pick.
Read on to find out if Brookstone is the right pick for your site 🙂

What kind of awesome products does Brookstone sell?
Brookstone has a reputation for very high quality products either for leisure or travel. These include tech items, audio, toys, games, sleep, and more. No matter who you are, there are amazing items for you – especially if you need the perfect gift idea for someone's birthday or anniversary.
Here's an overview of Brookstone's products:
Gifts: They have gifts based on different categories: men, women, personalized, home, gadgets, weddings, etc.
Massage: An assortment of massage chairs, body massagers, and other accessories.
Sleep/Wellness: Pillows, sleep therapy, bedding, tempur-pedic, wellness, bath, and napping comfort.
Fitness: Activity trackers, fitness recovery, and fitness equipment.
Audio/Tech: Speakers, headphones, projectors, batteries and chargers, phone accessories, telescopes, binoculars, and video cameras.
Toys and Games: Drones, electronic toys, game room, golfing accessories, scooters, bikes, toys for kids, office games, sports memorabilia, and collectibles.
Travel: luggage, travel accessories, wallets and passport covers, and travel apparel.
Home: Furniture, wine and bar items, cooking accessories, home accents, rugs, pet accessories, weather instruments, home security, and office accessories.
Outdoor: Grilling, hammocks, swings, outdoor furniture, outdoor games, garden decor, and fire pits.
There are also great sale and showcase items that can be found on the site which are great when advertising for holiday ideas especially.

What Is The Commission Rate?
Affiliates using the Brookstone tools to advertise their site and products will get a percentage of commission on any product that sell within 30 days of the visitor clicking their link. The way Brookstone tracks this is by an affiliate partner ID which is embedded into the special links that you will learn about below.
When someone makes a purchase on Brookstone using your links, you get a 6% commission of that sale no matter how small or large the sale it. If a customer makes a purchase after the 30 day period is over, you will no longer receive any commission unless they click one of your affiliate links again.
Are there any exceptions?
There are exception products which you do not receive a commission on which include shopping in retail stores, gift cards, gift wrapping, and the Tempur-Pedic products which are all not available and are at 0% commission.
Additionally there is a a 'low margin" product list which has products which Brookstone does not earn enough to be included in the 6% commission list. It's important to know which products fall into that list because you only get a 2% commission on those items. Best to focus on the higher commission product types.
In general though, the 6% commission you get on most all products is a really great day for you as an affiliate and ranks higher than most programs on the market currently.
Alternative Affiliate Programs
There are hundreds of affiliate programs on the market currently, but finding ones that match the truly high-quality products that Brookstone has you'll need to use well established names.
The two best companies which I think are good matches as alternatives (or I prefer to call them complimentary affiliates) are these two:
Hammacher Schlemmer: By far one of the most well known luxury gift companies in the world, Hammacher Schlemmer(HS) is a perfect complimentary company to pair with Brookstone. While Brookstone will have more of the comfort products, HS will have those rare things like a personal submarine in the shape of a shark! Their affiliate program commission is a flat 8% on all products.
Amazon: While Amazon does have many lower quality products they also have incredible luxury and first class items in all of the same product categories that you see on Brookstone. The biggest difference is the affiliate commission. Amazon has a range of commission rates from 0-10% so when you start looking at which company to promote think about which product you're advertising and then pick the company with the best commission rate.

Website Ideas
Lets explore some different ways you can use Brookstone with a few ideas for some websites.
Seasonal/Gifts: One of the easiest ways to have traffic flowing through your site and an easy way to gain social media following is by advertising seasonal products and gifts. While I dont suggest that you use only Brookstone, but you can use them along with a couple other companies. Build your site around providing the best suggestions on "this weeks great deals" or "best gift for a certain holiday". You can also add monthly "best birthday gifts" and "best gifts for $20" type entries. This type of site is best promoted through social media because humans eat up great deals really fast!
Luxury Items: another great avenue to checkout is a luxury item site. You don't need a huge following as long as you have the right people found. The luxury market is huge and getting it penetrated can be difficult but once you do it, you'll be sailing strong! Luxury items like what Brookstone and others offer have very high commission rates. Investing a bit in getting into the market of luxury items can show impressive rewards.
No matter what you choose when working with Brookstone or any other company, the key to success is first building good content. Don't make a post with just a couple photos and never write about something you haven't properly researched first. If you build good content, your following will come!
Can You Make Money With The Brookstone Affiliate Program?
There are lots of ways to make money using Brookstone, but you'll need to learn how to use the affiliate tools first. To start using Brookstone's affiliate program you'll need to sign up with their 3rd party affiliate partner called CJ at www.cj.com.
Once registered with CJ you'll unlock hundreds of affiliate partners, but each will require you to apply. To get setup with Brookstone search for Brookstone in the advertiser's list and select "apply". Brookstone will need to approve you to join their program before you have access to their tools.
Once approved you will be able to see all of the program terms and get access to their tools. You'll see the overview of Brookstone is shown in the screenshot below.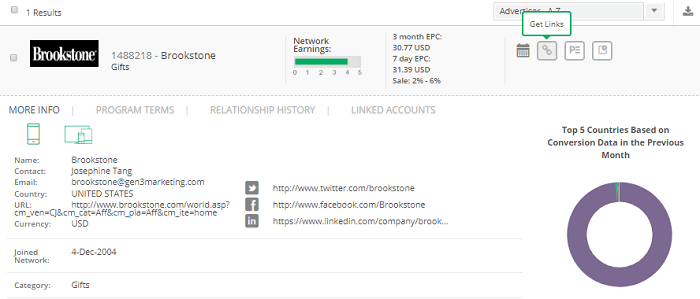 To use the program's affiliate tool, click on the paperclip looking icon which says "Get Links" to be taken to their affiliate links.
Here's where the magic happens. You'll be given a long list of different link types that you an use, but I find it easiest to filter them by opening the "Link Type" filter on the left side and selecting the one you want.
Here is an overview of the link types available through Brookstone:
Banner: There is an assortment of Brookstone banners either showing their products, sales, free shipping information, new deals, and more. Use the banners on your website or social media site to get the word out.
Text Link: Using text links is one of the most important things you can do on your site. They dont distract from the content you're writing but act as a background way to get people to use your affiliate links. You can hyperlink text or embed a link into an image that you're discussing.
Each of these links/banners that you get above will all have your unique affiliate ID embedded into them. It's important to only use these on your site so you have that embedded ID. Without it, you get no credit and you cannot dispute it if you didn't use the right link.
Pros/Cons of Working With Brookstone
While every company has it's pros and cons, with Brookstone I'd say it's a definite pro in general! Nevertheless, here's the good and the bad of their affiliate program:
Pros:
Awesome commission of 6% on almost all products (few exception products).
Great affiliate partner using the CJ affiliate dashboard.
High quality products with a large variety.
Plenty of great banners that Brookstone provides making it an easy program to get into.
Lots of email communication with special affiliate links/banners with limited offer deals once you've signed up.
Cons:
High competition with other companies in this niche, especially with Amazon Affiliates.
No inventory of products to link directly to a specific product. There is only links to product groupings and deals.
No affiliate "search box" type tool available for you to add to your website like other affiliate programs have. This isn't a game changer, but it looks cool.
If you have another company you use similar to Brookstone with a great affiliate program, share it with me here so I can give it a review as well!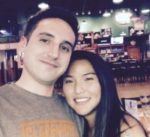 Nathaniell
What's up ladies and dudes! Great to finally meet you, and I hope you enjoyed this post. My name is Nathaniell and I'm the owner of One More Cup of Coffee. I started my first online business in 2010 promoting computer software and now I help newbies start their own businesses. Sign up for my #1 recommended training course and learn how to start your business for FREE!