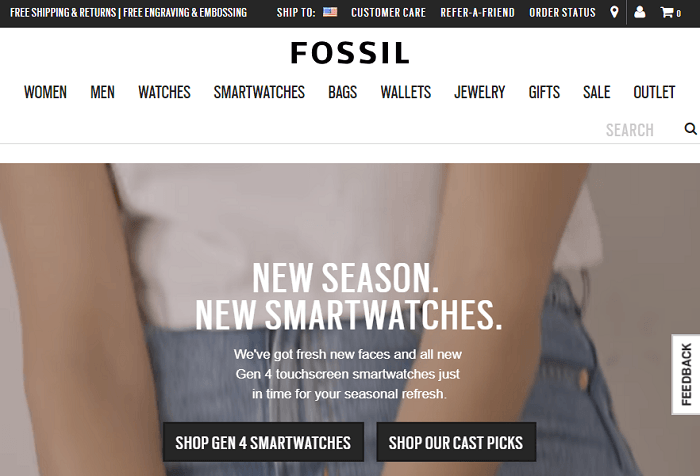 With so many companies making watches these days we lose track of the different brands and names, but nobody forgets the name Fossil when it comes to watches. This brand is always evolving and stepping up their game to make sure they only create the best watches on the market.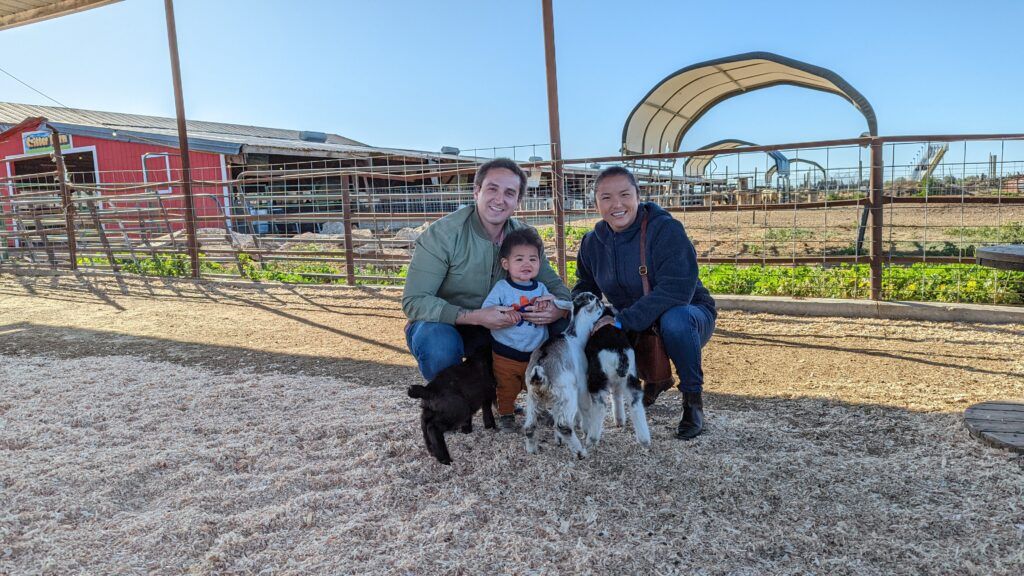 Are You Ready To Work Your Ass Off to Earn Your Lifestyle?
Are you tired of the daily grind? With a laptop and an internet connection I built a small website to generate income, and my life completely changed. Let me show you exactly how I've been doing it for more than 13 years.
While they have 500 stores in over 150 countries currently, we all know the largest sector in the world is becoming the eCommerce arena – online! It's in this online world where companies are competing to be seen and heard of the most.
Thats why there's affiliate programs! Free Advertisement!
Companies enlist the help of affiliate programs to give them free advertisement of their products and services to keep their brand strong, widely known and to create another model of doing business.
Fossil utilizes a 3rd party company to manage their affiliate network called CJ which hosts the fossil affiliate program. If you want to get signed up with Fossil, go to www.cj.com and sign up. Once signed up, you'll simply search for Fossil in the advertisers list and request approval to start advertising with Fossil.
Throughout this article I'll review with you what Fossil is as a company now in the new digital age, what their commission rate is for affiliate partners, some of the alternative companies which are similar to Fossil, and the pros/cons of working with them. Also, don't forget, they are not the only luxury watch affiliate program out there!
What Kind of Products Does Fossil Make Now?
Of course without a doubt in your mind, Fossil still makes those traditional beautiful metal watches that we all remember our parents having in our childhood. But how have they evolved? What else do they make now?
Lets take a look at their different product offerings:
Fossil Watches
Of course fossil still has all of the traditional metalic face watches each coming with their own unique design and style. They have in both shiny white gold with white backgrounds, rose-tones, solid black, or black with the inner face open to see the metalic pieces moving inside.
Each watch is perfectly built to last a lifetime and they come in either men or women styles. You can get both a metal chain link band or treated leather bands to match your unique preference and style.

Smart Watches: The newest crave around the world is having your watch interact with your phone and Fossil is right there at the leading edge with a beautiful Fossil branded watch that offers all of the important features you care about in a smart watch including:
Date/Time
Weather
Heart-Rate
Touch Screen
Text/Call Notification
Email Notifications
Tap to Pay – Payment Method
Waterproof
Untethered GPS – Maps
Much much more!
Fossil Bags/Wallets/Accessories
While Fossil primarily has specialized in watches they took their accessory market a bit further and now included bags and wallets. In both Men and women styles including work bags for your laptops, backpacks, travel bags, totes, satchels, bi-fold wallets, and zip clutch wallets.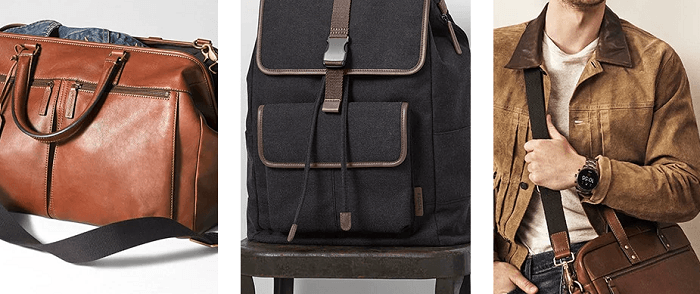 And of course, to top it all off, no accessory collection would be complete than great jewlery to match that great watch/bag combo. Fossil has always created great accessories including neclaces, earrings, bracelets, belts, sunglasses, and key chains.

What Is The Commission Rate?
By using the Fossil affiliate program, you get a commission of the sales that you make by referring customers to Fossil's online marketplace. If a customer makes a purchase on their website, you automatically get a commission as long as they went to Fossil via your affiliate URL which we will discuss more below.
The commission rate you get is split into 2 categories:
Fossil Q Items: Each year Fossil puts out a list of items which fall on their Q List which affiliates get a 12% commission on all of these products. These typically aren't new release products, but they are still great ways to get a high commission on a sale.
Fossil Normal Items: For all other items that dont fall on their Q list, you get a 5% commission on any product sold.
Most online marketplaces have a range of 3-7% commission on products so Fossil really does meet them at the average point with a general 5% commission. But where Fossil really is ahead of the game is offering a 12% commission their Q list items. This is a great way for you to focus in on some really high-commission products. If a watch alone costs $300, you get $36 from that sale!
Alternative Affiliate Programs
While Fossil is one of the best luxury watch brands on the market, it's always good to have a bit of variety if your niche market is in watches. Thats why I suggest to have a few different brands under your belt if you're getting into the watch affiliate market.
The great news is that there are many great affiliate programs in the watch arena including two well known ones like Ambassador and Ashford.
Ambassador offers really high quality luxury watches as well and comes with over 50 years of experience making great watches. If you join their affiliate program, they also offer a high commission of 8% starting and if you increase your sales, they also increase your commission rate which is a great incentive to sell more on their brand. They also have a 60 day commission cookie, which means if a customer makes a purchase within 60 days, you get the credit for tha tsale.
Ashford as well offers many great watches from different brands such as Bulgari, Hamilton, Rado, and many more. These are all high-quality watches that are well known but through Ashford they are typically a much lower price that you'll see purchasing them directly by the retailer themselves. Ashford also offers affiliates 6% of the total sale which adds up when many of their watches come with a price tag of over $1,000 USD.
Website Ideas
Watches are a really great gifts for friends, family, partners or yourself no matter what the occasion. With Fossil watches they are even better because they're made to last a lifetime.
So when you begin to start thinking about how you can use the Fossil brand, think about all of the great reasons people may want to purchase a watch.
Fashion is one of the biggest niche markets in which watches, bags, and other accessories fall in line perfectly. If you already have a fashion blog and your current focus is on clothing, augment that clothing fashion blog with incredible accessories. Fashion is one of the largest section of business in the eCommerce world and is growing every year so why not step your feet into that arena.
Other potential ideas for a website could be luxury watch reviews, smartphone watch reviews, or even travel and activity-related websites where a specific watch function could come in handy.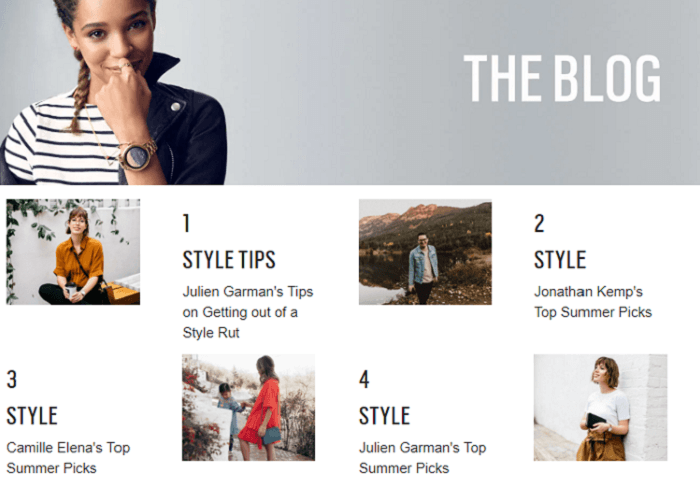 Adding Fossil to your fashion affiliate arsenal is just one way to increase your profit, but make sure that you provide good content. Fashion is all about catching someone's eye so having great photography is one of most important ways you can achieve sales.
Using Instagram and Facebook is where you're going to find the biggest success here. While Instagram doesn't necessarily allow for URLs except on our main profile, you can always use it go gather followers and increase your influence. Facebook on the other hand you can embed your links onto your postings and directly refer potential customers to your Fossil links.
Can You Make Money With The Fossil Affiliate Program?
Every affiliate program offers the ability to make money, but knowing what to promote, how to sell it, and using the tools successfully can often be a difficult balance.
Lets review how to utilize the Fossil affiliate program within the CJ portal. Once you have successfully signed up, you will see Fossil in your advertisers list. Clicking on Fossil will take you to the overview page of Fossil like below.

Here you will see all of the information including the affiliate commission and by simply clicking on the "Get Links" button which looks like a paperclip, you will be taken to the area where you can start using the affiliate links.
It's here under the Get Links area that you will see both text links and banners. Utilizing text links and banners come at different times. If you're using a blog site, using banners is a great way to visually advertise for Fossil on your header, footer, or sidebars.
Using text links are important to embed in images and hyperlink to text when you're talking about specific items with Fossil. I cant tell you how important it is to embed your photos with text links. It creates an easy way to send a customer right over to Fossil's site. From there, Fossil will do the rest of the work.
Pros/Cons of Working With Fossil
So why should you work with Fossil? That decision ultimately will be up to you, but here's some of the good and the bad.
Pros
Very well established brand with a great reputation
High affiliate commission of 12% and 5% for purchases
Easy to use CJ Affiliate portal
Large range of products, not just watches, so you can diversify your niche into accessories and bags as well.
Cons
Only a 25 hour cookies period – so you only get commission if they purchase within the day.
Fashion can often be difficult to get your foot in the door, but once you get your following it's a breeze!
I'll keep exploring all sorts of great affiliate niches that you may be interested, but if you have any fashion affiliate programs you love give me a holler in the comments below.
The Internet's #1 Affiliate Training
It sounds like you're pretty familiar with the basics of how affiliate marketing works. Awesome! But is your website profitable yet? Are you stuck spending hours wondering why you aren't seeing results yet?
You aren't alone. Most newbie affiliate marketers are a little lost, jumping from one "how to" guide to the next, hoping to learn the secret sauce of how to make money with affiliate marketing
I was able to turn my basic niche blog into a six-figure earner in 18 months following the training from this company. They focus on building a sustainable business that will earn for years, not just a website that will "game" search engines for temporary rankings. That's why 8 years later my websites are still earning and still growing.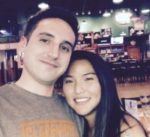 Nathaniell
What's up ladies and dudes! Great to finally meet you, and I hope you enjoyed this post. My name is Nathaniell and I'm the owner of One More Cup of Coffee. I started my first online business in 2010 promoting computer software and now I help newbies start their own businesses. Sign up for my #1 recommended training course and learn how to start your business for FREE!