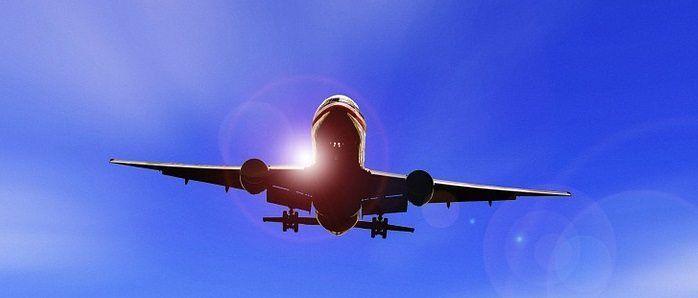 Affiliate Programs, Keyword Lists, and Niche Research for Travel
Traveling is one of my passions, and I've been to 28 countries so far in my lifetime. If you read the about me page you'll also see that I lived outside the US for 10 years teaching English before returning home to start my affiliate marketing business.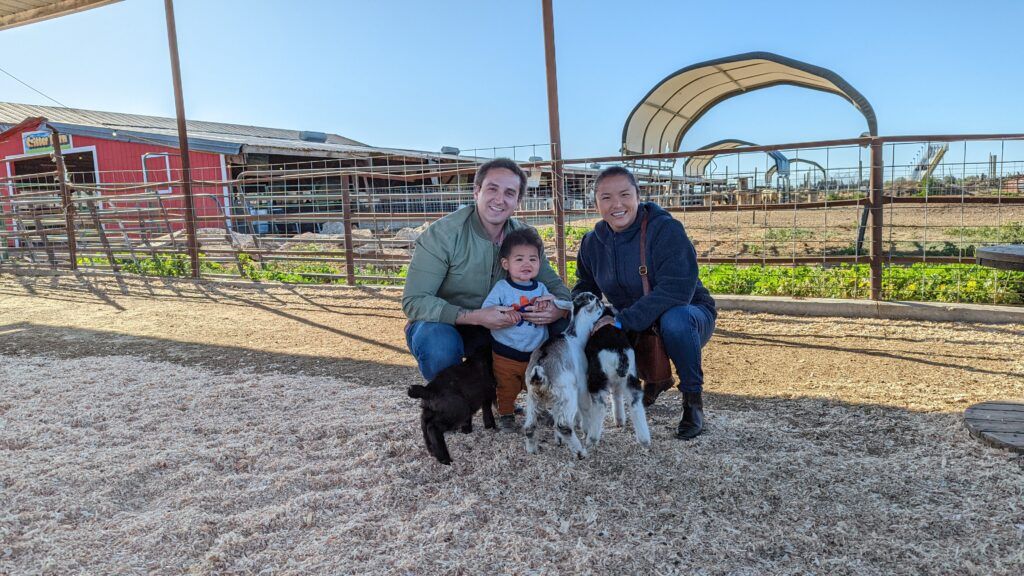 Are You Ready To Work Your Ass Off to Earn Your Lifestyle?
Are you tired of the daily grind? With a laptop and an internet connection I built a small website to generate income, and my life completely changed. Let me show you exactly how I've been doing it for more than 13 years.
Being that travel a broad niche you should not have any problems coming up with topics to write about and high search volume keywords.
And as for the low competition variety, all you have to do is be a little more specific which audience you are targeting, which I will show to you in just a bit.
Finding types of affiliate programs should not be a problem either. Travel gear, hotels, plane tickets…it's all possible. There's a lot of competition between travel service companies, so you bet that they'll pay you to promote for them!
As usual, I did some searches in Google trends to see what's up with this market on a global level. Unfortunately, I found a lot of downward trends for the initial ideas I had, but that doesn't mean we can't suss out a few ideas to make some money.
One thing that you must understand when looking at the following graphs is that the interests in the travel niche is seasonal, with highs and lows at certain times of the year depending on location or event.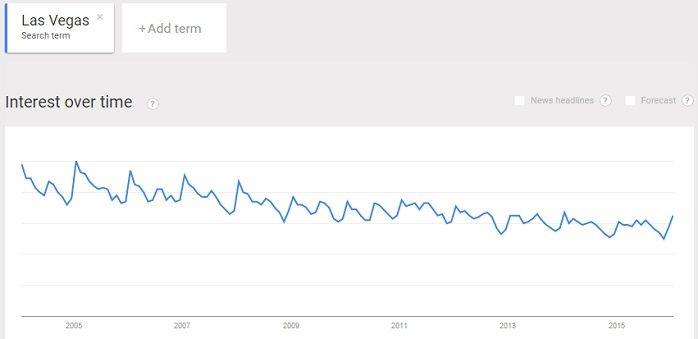 Though a majority maybe trending downward or maintaining an even keel, they all remain at a relatively high level of interest when compared to other leisure activities.
As you can see in the graph below, interest in travel to the Caribbean is highest during the winter months here in the northern hemisphere.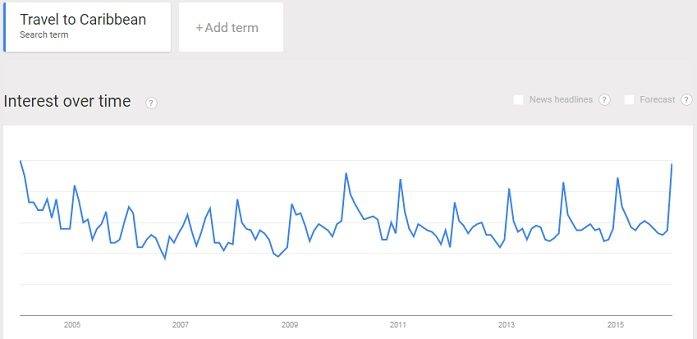 Now there are many different kinds of travel. There is traveling by air, bus, car, train, and ship. With the latter, cruise ships are also another popular way of traveling in style in your floating hotel room to far off ports of call. Because of problems on a couple of cruises recently, interest has slipped in recent years but still peaks fairly high.
This was a bummer to discover, as I thought this was going to be a gold mine for an online business. I have no interest in cruises, but I know quite a few people that have gone on one.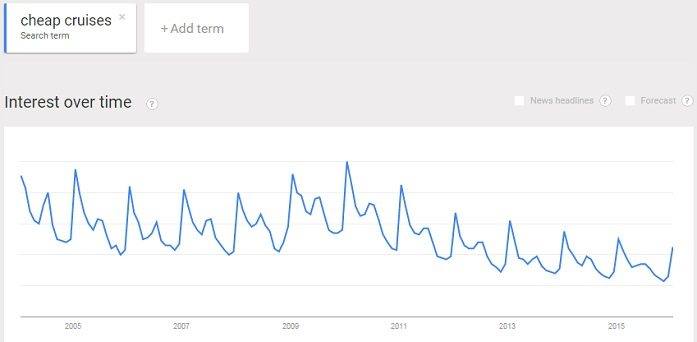 Let's get creative! when we step away from looking at the travel niche in respect to destination and mode of travel, it opens up a variety of related ideas with potential for profit.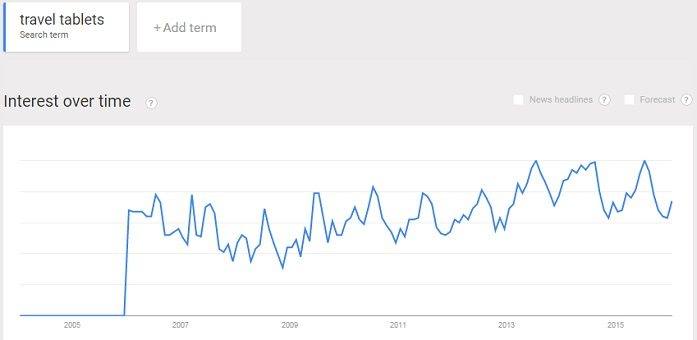 In the graph above we see one of the other niches that is gaining interest among travelers. Why bring a laptop on board a plane, train, bus, car or ship when a tablet can do just as good a job and take up less space. They also make great ways to entertain your children on a long journey, allowing them to play their favorite games. So now let us look at some more sub niches.
Travel size toiletries
Rental Cars
GPS Navigation
Travel games
Event tickets and passes
RV and motorhomes
Group tours
Senior citizen tour groups
Travel luggage
Traveling with a family of 5+
Food and beverage coolers
Portable cooking grills
First aid kits
Travel insurance
Disney Experience packages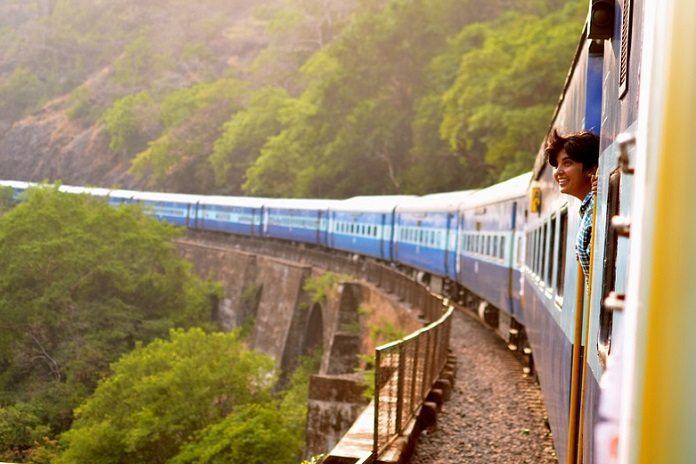 Top 3 Affiliate Programs
My Thoughts
When it comes to travel affiliate programs I was not really impressed by many of the better known travel websites. Those like Travelocity, Priceline, Hotwire, Hotels, Kayak, and others, which didn't even make my top ten list, just didn't live up to my expectations in either affiliate information and/or had very cheap 1% commissions and low 1-day cookies.
Another thing to consider when choosing a travel affiliate program is that there are a lot of programs all offering the same thing. Being that travel is such a broad niche, there could be many different programs that are not centered around airfare and hotel deals. Of the 10 programs I list below, 5 are not associated with these common travel markets.
I am sure I could have found more diverse programs dealing with some of the sub niches I list above, but I will leave that up to you. Once you "niche down" and narrow your ideas to a specific market, you can start looking for more relevant affiliate programs. Here's what I found for general travel though:
JetRadar
Comments: JetRadar is one of the largest online search engines for flights all over the world. It helps thousands of people to compare airline prices, track down carriers' special offers, and book the cheapest tickets available. JetRadar is the fastest travel search engine on the web, helping users to find flights to all destinations from all major airlines.
I have chosen them as my number 1 affiliate program because not only do they have the highest commission and 30 day cookie, but also because their affiliate website was one of the easiest to use in finding the affiliate program information. They also are very upfront with information on the owners and behind the scenes staff that other programs have not done.
RushMyPassport
Comments: My number 2 selection is in a unique yet necessary sub niche of travel, especially when needing to travel out of the country. RushMyPassport is considered a leader in expedited passports. They are a member of the American Society of Travel Agents (ASTA), the National Association of Passport and Visa Services, and are licensed passport hand couriers with the U.S. Passport Agency. This allows them to get your U.S. passport processed by the U.S. Passport Agency in as quickly as 24 hours.
In addition their website is very informative, easy to navigate, and they have gained many testimonials from people and companies alike. RushMyPassport offers an above average 90 day cookie and their service and online U.S. passport software makes getting your passport easy, secure, and quickly all online.
El Monte RV
Comments: El Monte RV is America's premier nationwide RV rental company. The company was founded in 1970 by Ken Schork in the town of El Monte, California. Since then, the company has grown to become one of the largest companies of its kind offering motorhome rentals. El Monte RV has locations throughout the United States, and is known worldwide for its commitment to offering quality recreational vehicles and services to those looking to rent a motorhome.
Though their affiliate program page is hard to find, because it redirects to their join page, I have chosen them as my number 3 selection because I know someone who has used their service and he raved about his experience with them. I even got to camp out in the RV a couple of nights. Even though their commission is only 5%, their average rental sales are $1,000 to $1,500 and they offer a 30 day cookie.
Other Affiliate Programs
Trip Advisor
50%
Hotels, flights, vacation rentals, restaurants, destinations, cruises, attractions
Expedia
Up to 20%
Flights, hotels, cruises, bundle deals, rental cars, attractions
Smart Destinations
5%
All-Inclusive passes to more than 400 attractions across eleven North American destinations, including Boston, Chicago, Las Vegas, Los Angeles, Miami, New York, Oahu, Orlando, San Diego, San Francisco, and Washington, D.C.
LuggagePoint
10%
Various kinds of luggage such as: rolling, spinners, carry on, garment bags, duffle bags, tote bags, backpacks, hardside cases, laptop cases, briefcases, kids luggage
eBookers
1% to 10%
Flights, hotels, flights+hotels, rental cars, cruises
Samsonite
5%
Personal and business roller/spinner luggage, carry-ons, backpacks, shoulder bags, hardside cases
Orbitz
2% to 5%
Hotels, flights, bundle deals, rental cars, cruises, attractions
Travel Keywords Breakdown
10 Low Competition Keywords (Searches/QSR)
best family hotel near disney world – 72/2
what is the best month to go to disney world – 167/5
best cross country rv – 104/6
what is the best laptop for travel – 89/7
motorcycle traveling tips – 112/14
travel size toiletries in bulk – 231/15
travel sites for vacation packages – 720/25
one travel airline tickets – 3354/30
clark howard travel deals – 5677/42
bing travel predictor – 3381/51
What's QSR
10 High Traffic Keywords (Searches/QSR)
cheap airline tickets – 497312/234
travel supermarket – 165597/250
co op travel – 90500/181
american express travel – 47518/192
travel trailers for sale – 10601/243
expedia travel deals – 9422/122
travel medical insurance – 9057/197
foreign office travel advice – 7544/205
cheapest travel packages – 7401/150
overseas adventure travel – 6754/219
Why Is This Different From Google's Number?
Though Google's Keyword Tool has improved in recent years, it still gives inflated (inaccurate) traffic numbers. The keyword tool I use takes data from a variety of search engines, not just Google. Remember that Bing + Yahoo own 30% of the search market.
Other Great Keywords (high traffic, low competition)
las vegas travel
last minute travel deals
cheap travel deals
travel agency in singapore
travel agent jobs
best travel agencies
pilot travel centers
worldwide travel insurance
travel insurance reviews
jayco travel trailers
travel size toiletries
best places to travel to
graco travel system
cheap rv rentals
adventure travel companies
travel agent training
rail travel europe
kayak travel site
ski travel insurance
backpacker travel insurance
europe travel deals
military travel discounts
budget travel insurance
free travel brochures
what is the best tablet for travel
when is the best time to travel to disney world
aaa travel discounts disney world
cheapest car rental in denver
class b motorhome rental
wholesale travel size toiletries
travel tips for international travel
cheap tickets to disney world
costco travel car rental
disneyland travel packages
expedia travel packages
best places to travel in december
aarp travel center
best luggage for international travel
gift experience scotland
Affiliate Marketing Action Plan For Travel
With such a broad niche you will want to take some time to think about what your narrowed down audience is going to be about. Here's one really cool idea I came up with: carry on luggage. With airlines charging more and more for check-in luggage, and each airline having a different size requirement for their carry on luggage, traveling by air can be a real pain.
Where there's pain, there's money to be made in finding a solution!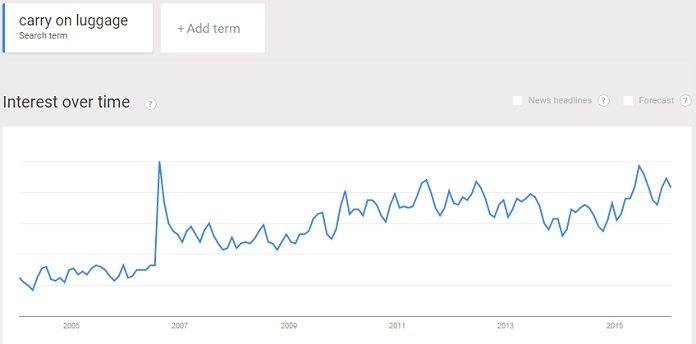 Types of carry on luggage like leather, special colors, brand + size combinations, type of storage compartments, hard case, rollers, all have great potential for keywords and easy rankings.
In addition, duffle bags, backpacks, tote bags, and briefcases and other types of luggage will give you elbow room to grow your site into the future. Because of this, I would select luggage as my sub niche and start out even more focused with carry-on luggage. This way I can get sales from people who use these types of bags for travel or just going to a friend's home or to school.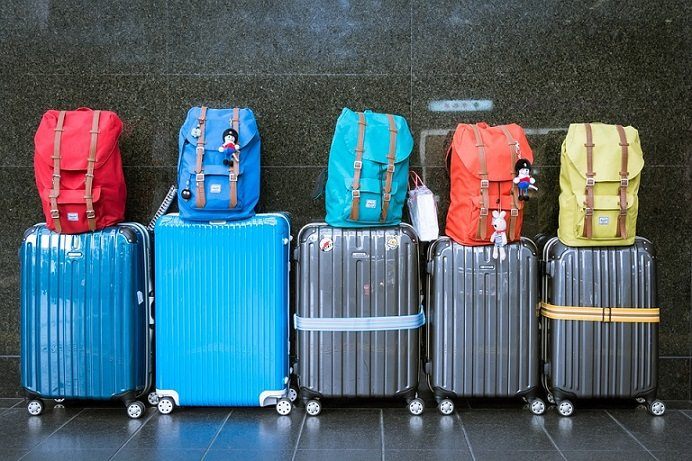 One more idea that would work for a family-oriented person would be traveling with kids. I'm not personally interested in it, but I know that it would be a huge pain to take kids with you to travel destinations, and parents will be looking for any way to make the trip more enjoyable for everyone. Solving a problem = making money!
Need Extra Help?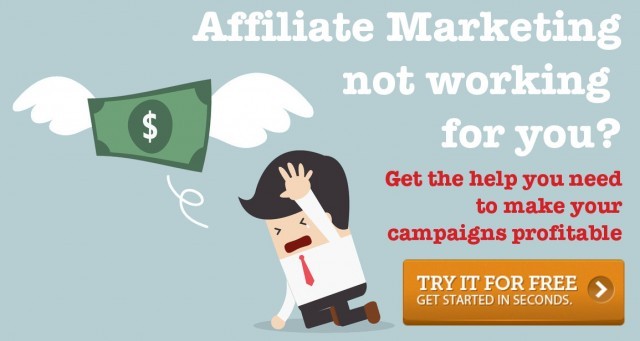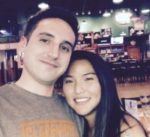 Nathaniell
What's up ladies and dudes! Great to finally meet you, and I hope you enjoyed this post. My name is Nathaniell and I'm the owner of One More Cup of Coffee. I started my first online business in 2010 promoting computer software and now I help newbies start their own businesses. Sign up for my #1 recommended training course and learn how to start your business for FREE!