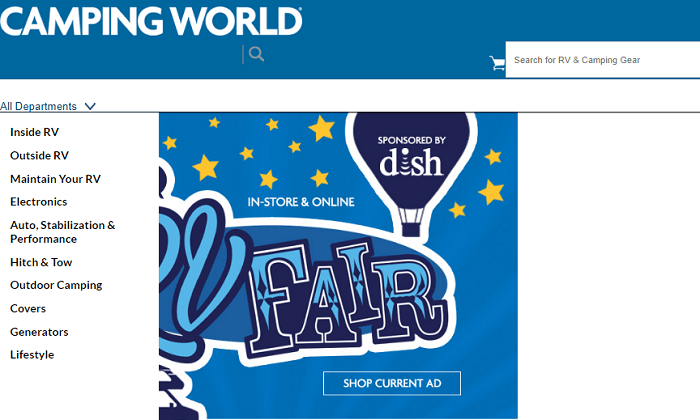 I decided to branch out a little and give you a taste of an awesome niche affiliate program that America loves! Camping!
Everyone loves camping, whether you're doing it in a tent, you have an RV, or a pop up tow camper. There is so much to know and learn about the camping world from products protect you during camping, generators to give you electricity, sofas to make your camper that much more posh, and much more!
It was to my surprise that Camping World had it's own affiliate program which is why I jumped right on getting signed up so I could see if it was worth it – and my conclusion is that it's way worth it.
If you're not familiar with Camping World, i'll go through a bit of what products they offer and their affiliate program terms and tools.
Not familiar with affiliate programs?
For those not familiar with affiliate programs, the concept is similar to those door-to-door catalog programs where you advertise products to someone and in return you get a commission. The difference is that affiliate programs are online and they don't require you to leave the comfort of your home.
Simply help to advertise the companies products and any sales that happen because of your advertising you'll earn commission. Here's a list of more great camping affiliate programs you could potentially promote.

What Type Of Products Are Featured?
Camping World offers a wide variety of products within the camping and outdoor world. They work in partnership with Nascar, Major League Baseball and the camping World Stadium to give the brand more notice on the national market.
RV Sales/Maintenance
One of the primary offerings that Camping world has is their sale of RVs whether that be trailer RVs, pop-up RVs, or drive-able RVs. They have over 130 stores all over the US and other countries which offer you many locations within a reasonable distance. On their RV camper section you can both purchase or sell your RV as well as get it with financing if necessary.
On top of selling RVs, Camping World offers you all of the resources you need for RV maintenance and repair in case anything goes wrong (which over time, it will). This way you know exactly how to contact someone to get it back in operating condition quickly.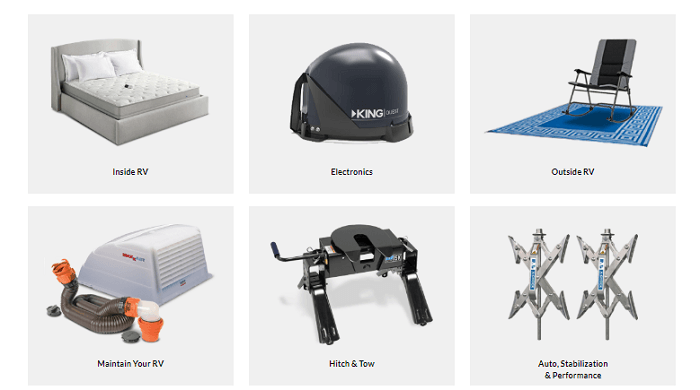 RV and Outdoor Gear
While some companies offer just RV sales, Camping World offers you the whole package including some of the following:
Inside RV: RV furniture, A/C and heaters, appliances, RV bath, kitchen/dining, bedroom, lights, window treatment, decor, and more.
Outside RV: Chairs/benches, rugs/mats, canopies and shades, grills, tables, fire pits, outdoor lights and more.
RV Maintenance: Sewer, fresh water, RV hardware/repair equipment, propane, tools, batteries and parts.
Electronics: Satellites, GPS, wifi and cell boosters, antennas, alarms, and audio.
Auto/Performance: Jacks, shocks, wheels, automotive parts/fluids, etc.
Hitch & Tow: Trailer tow, hitches, backup systems, and tow mirrors.
Outdoor Camping: Outdoor camping equipment including tents, canopies, cooking equipment, flashlights, carts, coolers, insect control, sleeping bags, etc.
Covers: RV Covers, generator covers, window covers, motorcycle covers, etc.
Generators: Portable generators, generator parts and accessories.
What Is The Commission Rate?
If you become a Camping World affiliate partner, you earn commission when customers make purchases. The way this works is you're provided with specific links to Camping Worlds website/sales/products and those links are embedded with your personal affiliate code.
Every affiliate company is different, but through Camping World you get 6% commission on everything a customer purchases. This is actually really big because camping gear isn't $5 equipment. Products often cost hundreds and you typically want to go big when it comes to camping so you'll buy all sorts of awesome stuff to go with your setup.
There is a catch, and that is that customers have to make purchases within 10 days from clicking your affiliate links. After 10 days if they return to Camping World then you no longer receive the commission unless they click your affiliate link again.
While there aren't many other camping specific companies, the sporting related companies that have affiliate programs have an average commission much lower than this. Theirs run around 3-4% as compared to the 6% that Camping World offers.

Alternative Affiliate Programs
There is only one other camping specific affiliate program that i've been able to locate which is Backcountry. Backcountry's focus is more on tent type camping. Their affiliate program has the potential to earn alot, but you start out at 4% commission on all products. As you increase in volume of products sold monthly, you have the potential to earn up to 12%.
Cabela's is another great outdoor store with a focus on many different products both sports related and outdoor living whether that be outdoor home equipment, hunting, camping, etc. They offer their affiliate partners a 3% commission on most products except guns/ammo which is at 1%/2% respectively.
In both cases, I felt Camping World offered a better commission, however, Cabela's is definitely going to be the more popular/well-known name on the market.
Website Ideas
If you're looking to get involved in the Camping World affiliate program, having a good knowledge is definitely beneficial. If you're new to camping and RVs it really isn't a problem, but to sell Camping World products you'll need to have great content and gain your reader's trust.
No matter your knowledge level, learn as much as you can about RV and camping details so you can help others learn about it. Creating a website about adventures in camping is one of the best ways to attract attention. As soon as you have your site created you have the opportunity to write about so many different topics including some of the following:
Best camping sites across the US
Best camping sites per state
How to properly cook in an RV
How to cook using a campfire
Whats the best way to detract mosquitoes
RV maintenance and repair
How to put a hitch on your truck
How to backup an RV effectively
How to make the best campfire – does it matter how it's stacked?
No matter what you choose to talk about, the goal is to make everything in your content engaging and correct. You have to gain your readers trust and hope they follow you. The more you have great followers it will turnover sales in the long run as well.
Can You Make Money With The Camping World Affiliate Program?
No matter what affiliate program you get involved with there is the potential to make alot from it if you can create good/viral content and establish your social network/following.
But the one last step is getting equipped with the tools to use the Camping World affiliate program.
Camping World has utilized a 3rd party company called Rakuten Marketing who manages their affiliate program. If you want to get signed up, you'll need to sign up with Rakuten here: https://rakutenmarketing.com/affiliate.
Rakuten is also known as Linkshare which is synonymous for the company. Once you're signed up with Rakuten, just search for Camping World in the search bar and sign up. You will be required to be approved by the Camping World team so if your site is about beauty products, you probably wont get approved 🙂
Upon sign up they will now be listed in your advertisers list. Click on the program from there or search them again and this will take you to the program information like below:

From here you'll see the commission rate, how many days you have to achieve a sale from the time they clicked your links, and most importantly you'll see the "Links" tab which is where you'll get access to your affiliate links.
Here are the different types of affiliate tools Camping World has in the Rakuten portal:
Text/Email: This is where you'll see all of the HTML links which you can use to either hyperlink into text or embed into an image. These links mean that when a customer clicks any of them and are taken to Camping World's site your affiliate code will be counted that you referred them. That means you get credit for their purchases!
Search Box: There are multiple search boxes which can be added to your site which gives your readers a quick search box to look for anything they might want – Generators, RV covers, tents, etc. You can click the "Get Link" button on the right side to get the HTML code to be added to your site.
Product Links: There are over 13,000 products available in Rakuten from Camping world which means if you want to advertise a specific product just search it and you'll have a direct link for it. It's great when advertisers keep these updated like Camping World does.
Banners: Sadly Camping World only has 1 affiliate banner which is ok since they do have many search boxes. Likely you'll want to use their search boxes to advertise on your site instead of the banners as I felt they were lacking.
As a reminder, dont use your own links to Camping World from their website. Ensure you always get the links directly from the affiliate portal so you ensure your affiliate ID is included and you get credit.
Pros/Cons of Working With Camping World
If you find camping interesting and enjoy it yourself think about if you can write content that the internet will like. Here are a few points which might help you decide based on my view of the program.
Pros:
Awesome affiliate commission of 6% which is higher than any of the competitors.
High-quality products.
High quantity of potential articles and content available to write about.
So many great affiliate tools including links, discounts, search bars, and a full list of products.
Cons:
Camping is a small niche to get into, but it's also not highly penetrated yet as an affiliate program space. So getting in is really all about making you the most well known site.
Their focus is only on camping products, whereas companies like Cabela's offers non-camping products as well.
Lacking a variety of banners on the affiliate portal.
Let me know if you found another RV camping related affiliate program that may be a great pair to Camping Worlds in the comments below. Also, check out my post on traditional camping that can help you expand your current idea, start a new one.
The Internet's #1 Affiliate Training
It sounds like you're pretty familiar with the basics of how affiliate marketing works. Awesome! But is your website profitable yet? Are you stuck spending hours wondering why you aren't seeing results yet?
You aren't alone. Most newbie affiliate marketers are a little lost, jumping from one "how to" guide to the next, hoping to learn the secret sauce of how to make money with affiliate marketing
I was able to turn my basic niche blog into a six-figure earner in 18 months following the training from this company. They focus on building a sustainable business that will earn for years, not just a website that will "game" search engines for temporary rankings. That's why 8 years later my websites are still earning and still growing.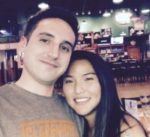 Nathaniell
What's up ladies and dudes! Great to finally meet you, and I hope you enjoyed this post. My name is Nathaniell and I'm the owner of One More Cup of Coffee. I started my first online business in 2010 promoting computer software and now I help newbies start their own businesses. Sign up for my #1 recommended training course and learn how to start your business for FREE!