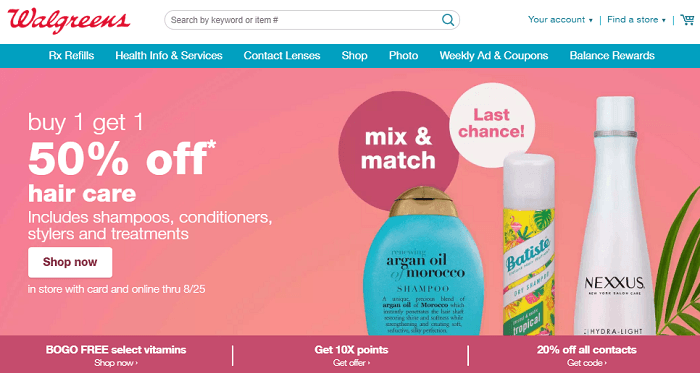 Everyone uses Walgreens for filling their prescription but slowly year over year this store has evolved into somewhere that we often get all of our home goods including groceries, beauty supplies, and all those other odds'n ends that we forgot.
With Walgreens moving into the digital world, you can now do almost everything through their online store including sending in your prescriptions or purchasing any of the products they have in-store.
So, if you're trying to think of what next great affiliate program you should get into, give Walgreens a try! With their new FREE shipping option for orders over $35 or FREE shipping right to the store for easy pick up, people can really save alot of time having to rush out to get things. They can order it in advance. Order it while on the commute to work or in an Uber.
While it can be slightly gratifying to select things in a store, there are some work weeks where we simply dont have any time to do that. Hence the joy of online shopping 🙂
Here's all the great things Walgreens has to offer online and why their affiliate program is worth it to dabble in.
What Type Of Products Are Featured?
The Walgreens site is huge and while most people will go right to the "shop" section to make their purchases, there is a wealth of information on health services. Walgreens doesn't just supply their customers with products, but they also make available so much information on where to find a physician that can help them, information on their medicare, immunizations and flu shots, and much more.
But lets be honest – you cant make money on Walgreens' information section. So lets go back to the shop!

Below are the different products you can get online via the Walgreens store:
Cosmetics: Including makeup, eye liners, lipsticks, and more.
Hair Care: Shampoo, conditioner, styling products, etc.
Skin Care: Moisturizers, treatments, and cleansers.
Fragrances: Men cologne, women perfume, and fragrance gift sets.
Bath: Hand and body moisturizers.
Sun Care: Sunscreen for both body, face, and children.
Eye Care: Contact Lenses, contact solution, eye drops, and eye supplements
Photo: Photo paper, photo processing, etc.
Vitamins/Supplements: Multivitamins, herbs, lettered vitamins, etc.
Medicines: Cold, cough, and flu medicines, pain releif, alergy, digestive, and nausea medicines
Baby/Kids: Baby food, formula, essentials, toys, diapers, etc.
Grocery: Candy, Gum, Snacks, Beverages
Household: Candles, pet supplies, candles, air fresheners
Fitness/Nutrition: Exercise equipment, weight management, protein bars, etc
Prescription Medications
There are many other random products as well in store like cards, batteries, and all sorts of things that may not be available online.
What Is The Commission Rate?
With every affiliate program there is a commission so that you as the affiliate partner has an added benefit to promote their products. With Walgreens the commission is dependent on each product grouping.
Here is the commission rate for Walgreens products broken by commission percentage:
8% Commission on Photo and Contact Lenses
4% Commission on Baby, Beauty/Personal Care, Health Care, Home Medical, Vitamins, Nutritional Care
What is
not applicable

for commission?

Most of the products inside Walgreens are available for commission, however, there is a list of unavailable products specifically the prescriptions are not available for commission which is not a surprise. Below are all of the product categories which are not available:
Prescriptions
Gift Cards
Walgreens Membership Cards
Diet & Fitness
Electronics
Food Products
Household goods
I was a bit let down with the list of unavailable products because I felt most of these products other competing companies have the same products with commission still. I understand prescriptions and gift cards but the rest should have at least a small percentage. Dont let it get you down though, there's still plenty of products available to utilize.
As an additional selling point when advertising their products to customers, Walgreens offers free shipping on all online orders over $35 USD.

Alternative Affiliate Programs
The biggest competitor to Walgreens is without a doubt CVS Pharmacy and they have an afifliate program as well. They also work on a per product basis but their average commission is 4% which is fairly comparable to Walgreens products too.
Since you cant make money on the prescription products, Walgreens' offerings are quite comparable to other department stores. While I still suggest you keep Walgreens in your arsenal because it's a truly huge and trusted name in every community, it's good to diversify and add a few other companies to your arsenal of affiliate companies.
Here are a couple alternatives you can compliment with Walgreens:
Target: Another very popular and trusted brand with a great affiliate program is Target. Most of the products Walgreens offers is on Target, with many more to compliment it as well. Their affiliate program also pays more than most programs with an average of 5-7% commission rate.
Amazon: Without a doubt one of the best and most popular affiliate programs on the market is Amazon and there's no reason it shouldn't be in your list of used programs. They have millions of products available in no matter what niche/topic you want to use them for. Their commission rates depend on the product type ranging from 1-10%.
Website Ideas
If you're just getting started in the online world and you need a few ideas that you could use the Walgreens affiliate program with, here are 2 you can start with.
If you're passionate about health and wellness, Walgreens is the perfect partner to have. Everyone wants to be healthy and live a long time, so do your research and find the best products which promote that. Whether that be the best daily multivitamin to take, why multivitamins are so important, what multivitamins are not helping your body, etc. You could make plenty of content just related to multivitamins and thats only one product that they sell. Vitamins alone could keep you writing for a year. But there are many other wellness products you can use that Walgreens sells. The sky is the limit!
If you are a girl, and beauty is important to you then maybe a better avenue to lean into is on the beauty products that Walgreens has. Walgreens is right down the road from you so you could always visit the store and checkout all the items. You can even take photos of the products since there's a Walgreens in almost every major city so you have your own personal content. Use that then to show your viewers how you use them, why you use them, what types of beauty products work best. Don't just stop at makeup, but think about all the great cleansers, bubble bath items, etc. If you use them yourself it's an even better trade off!
Can You Make Money With The Walgreens Affiliate Program?
Lets dig in to how it works so you have an idea of how you can actually use the program. Just above we discussed some ideas you could have for a website and content, but the next step is adding your affiliate mark to that content.
To get started with the affiliate program with Walgreens you'll need to sign up with the CJ Affiliate portal here at www.cj.com. Once signed up with CJ, you'll search for Walgreens in the "Advertisers" list. Signing up with Walgreens does require them to approve you prior to using the program so after you click "Join" with Walgreens you'll have to wait for the approval before you get started.
APPROVED!
Once you're approved Walgreens will show in your advertisers list just like below. Here you will see an overview of the program and a link to the program terms.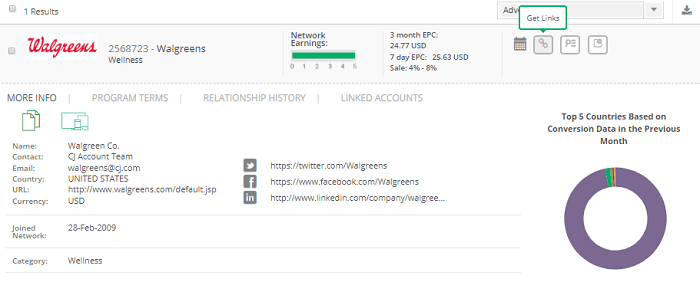 To use the affiliate tools, click the "Get Links" which I have highlighted in the image above. This takes you to all of the different tools you can use including the following:
Banners: There are almost 200 different banners that Walgreens has for you to use. Some of these are generic banners for the different products that Walgreens has. Other banners are promotional for "buy one get one" or discounts on products which are for limited time-frames.
Text Links: Using the text links is for when you want to use your own images to hyperlink with Walgreens site or if you want to hyperlink a specific text in your content.
Each of these two different tools are the primary way you get a customer to Walgreens site. The reason you wont just use the normal links of www.walgreens.com is because Walgreens wont have any idea it was sent from you. The links in the affiliate portal have a specific code added which links that customer to YOU so you get credit for the sales made.
Pros/Cons of Working With Walgreens
Pros
Locally known and trusted brand
Quality products
Free shipping to home or store locations
Good affiliate commission of either 4% or 8% on products
Cons
Limited amount of products available due to products restricted.
High competition with other affiliate companies (CVS, Walmart, Target, etc).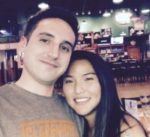 Nathaniell
What's up ladies and dudes! Great to finally meet you, and I hope you enjoyed this post. My name is Nathaniell and I'm the owner of One More Cup of Coffee. I started my first online business in 2010 promoting computer software and now I help newbies start their own businesses. Sign up for my #1 recommended training course and learn how to start your business for FREE!