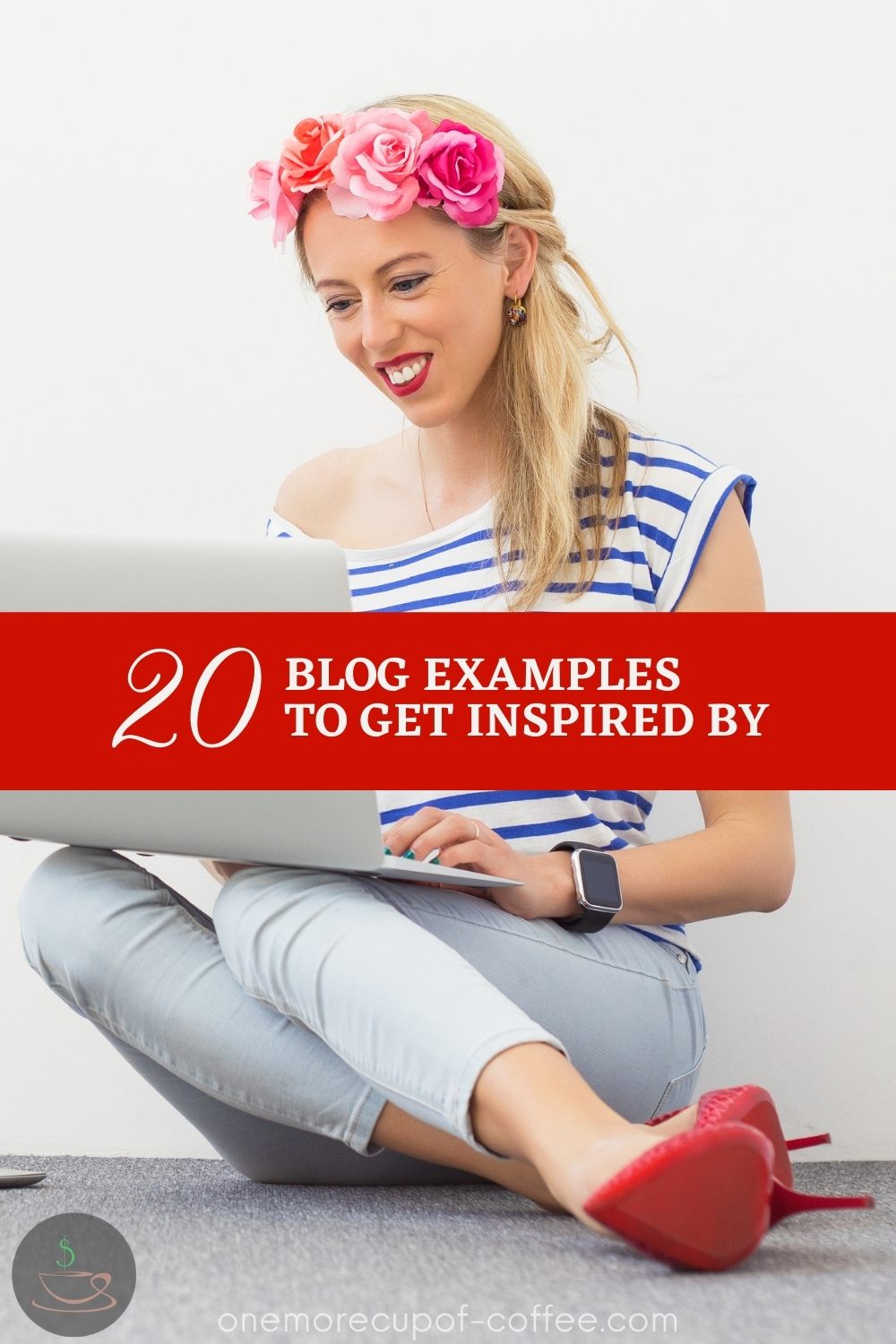 Wanting to start your own blog and looking for the best blog examples to get inspired by?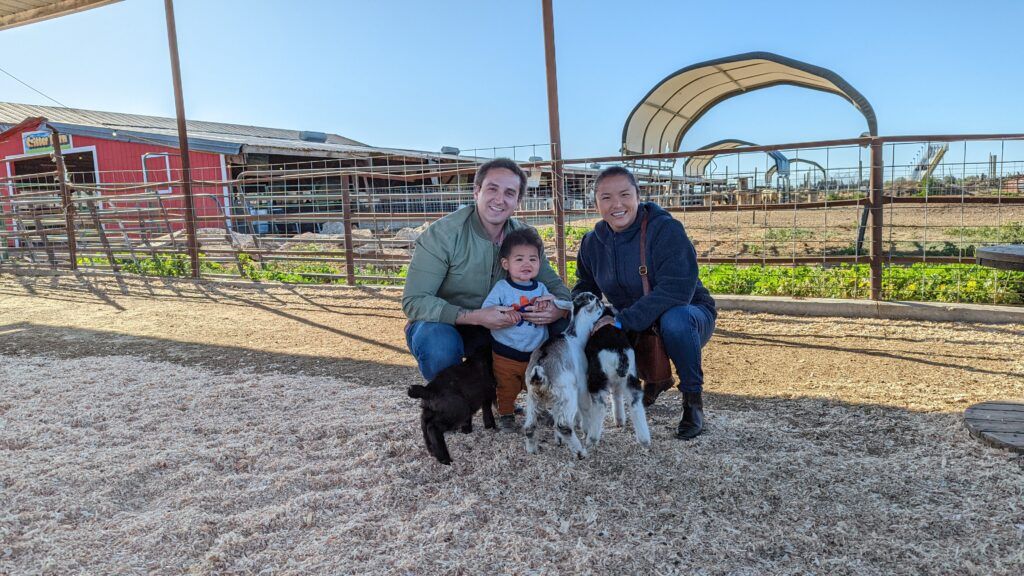 Are You Ready To Work Your Ass Off to Earn Your Lifestyle?
Are you tired of the daily grind? With a laptop and an internet connection I built a small website to generate income, and my life completely changed. Let me show you exactly how I've been doing it for more than 13 years.
Blogs aren't far and few in between. Every day, thousands of new blogs get started. When wanting to create your own, it can get a little overwhelming to have to decide what topic you want to blog in and what design you want your blog to have.
There are literally millions of blogs you could spend your life sorting through for inspiration. But to save you lots of time, here are twenty successful blog examples, divided into diverse blogging topics, to pull your inspiration from.
20 Successful Blog Examples (Various Topics)
Personal Finance Blog Examples
Are you good with your money and want to start a blog? Here are a few examples showcasing personal finance blog examples with green colors and professional designs, ideal for brands in the personal finance niche.
1. Broke Millennial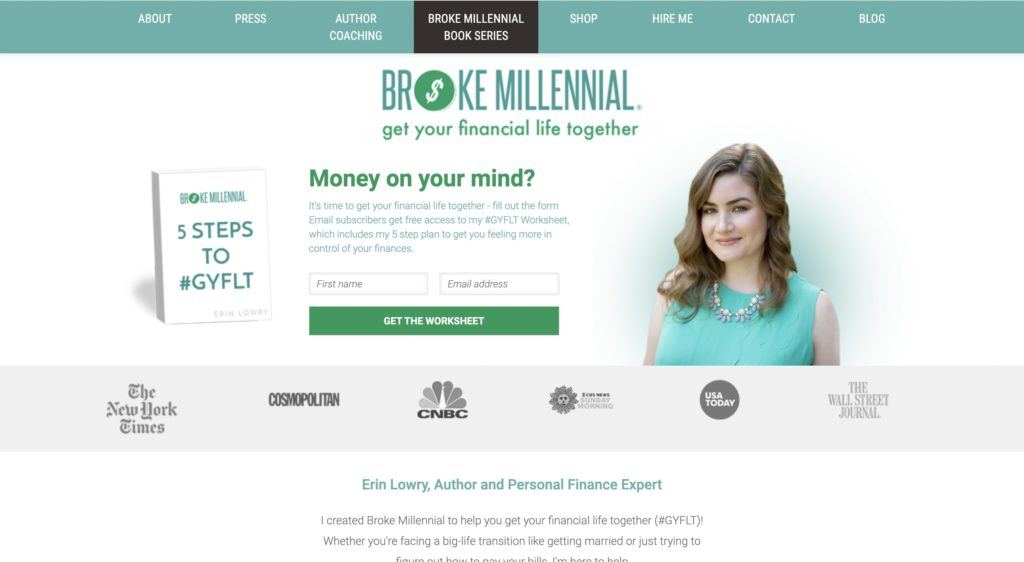 Erin Lowry of Broke Millennial is a published author and blogger about personal finance. As her blog name indicates, she helps young millennials take charge of their money – #GYFLT (Get Your Financial Life Together) is her signature! She has become a leading expert in all things finance by giving you practical advice and tools such as worksheets, courses, and books, to help you navigate the green in your younger years.
2. Clever Girl Finance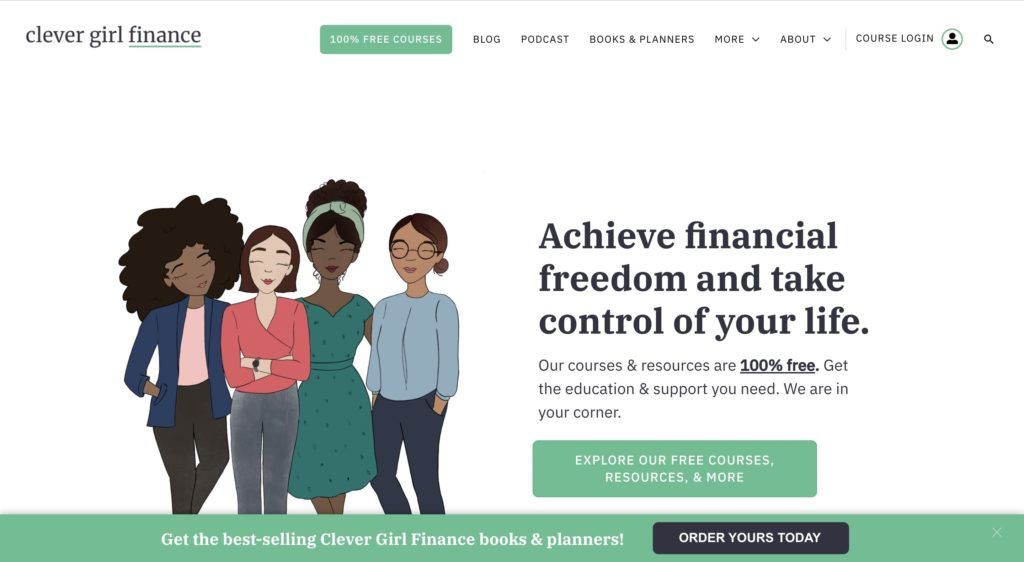 Clever Girl Finance, founded by Bola Sokunbi, was voted one of the best personal finance blogs for women in the United States. Her blog has a wide range of helpful tools to explore including a podcast, books, planners, and a financial roadmap. When you land on her blog, professionalism stands out. You can take away a lot of value from a blog like Sokunbi's.
Food Blog Examples
Food bloggers are some of the top-earning bloggers in the world. If you love getting creative in the kitchen, here are a couple of food blog examples to get inspired by.
3. hot for food
Lauren Toyota is the girl that's hot for food on her blog featuring tasty, irresistible vegan food. She has a knack for turning mouth-watering comfort foods into scrumptious vegan dishes, so your belly can feel satisfied and your conscious guilt-free! Her blog has a unique and clean design with touches of green – just what you'd expect from a plant-based blog.
4. Food52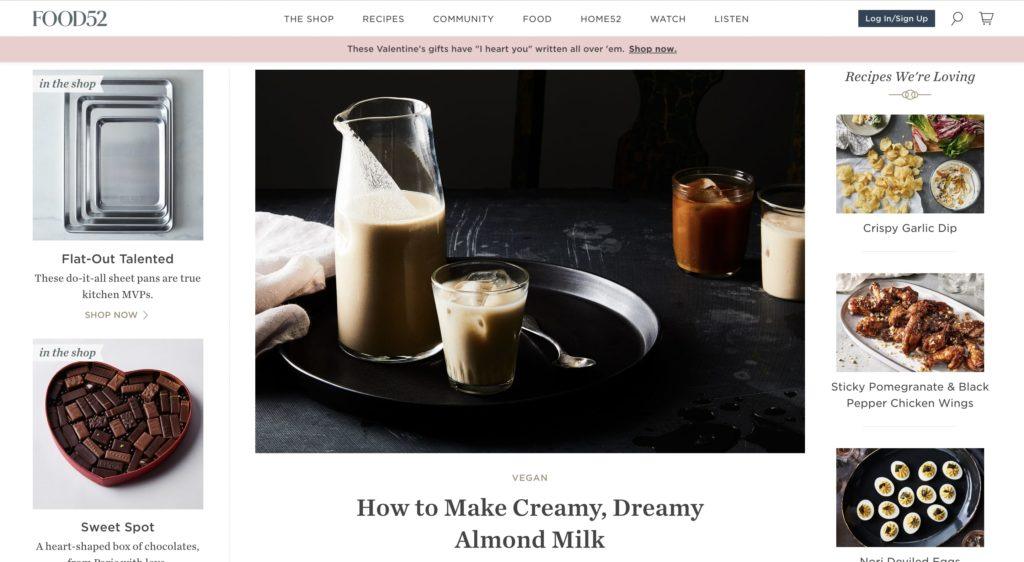 Food52 is an amazing example of what a successful food blog could be. This blog has its own huge community and the website alone is stuffed with a hearty menu featuring recipes, contests, kitchen tips, and a full-blown shop complete with all your cookware and gifting needs. Make sure to take a peep at the blog to get design inspiration! This is how food marketing should be.
Travel Blog Examples
Travel blogs are one of the fastest-growing blog topics (pre the global health crisis, of course). If you are wanting to start a travel blog, now or in the future, here are two blogs to look up to.
5. The Blonde Abroad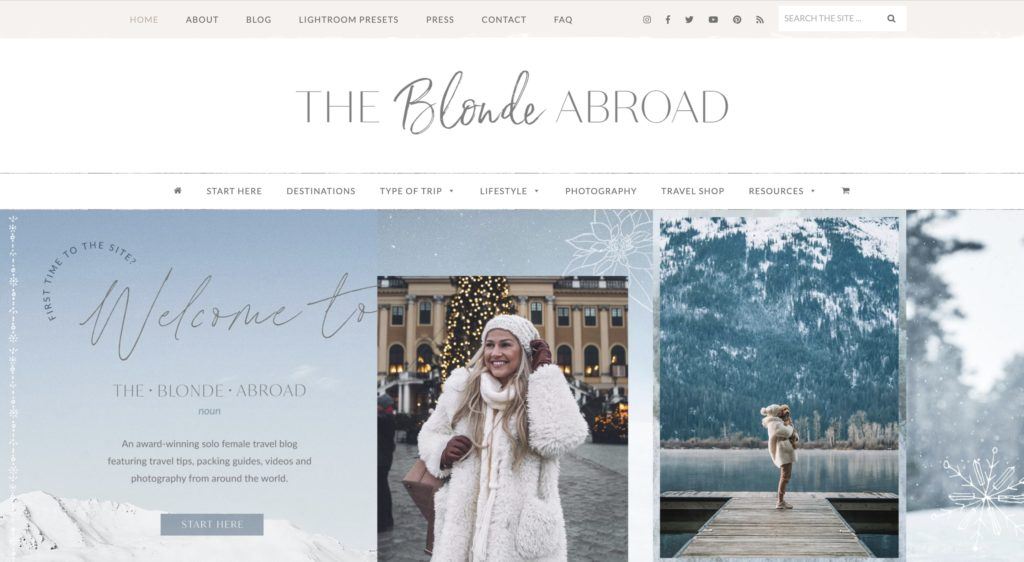 The Blonde Abroad, owned by Kiersten "Kiki" Rich, is an award-winning solo female travel blog featuring tips, packing guides, photography, and travel itineraries from her favorite destinations in the world. She is an icon in the travel blogging community thanks to her curated trip advice and unique blog design which adapts to each season.
6. Against The Compass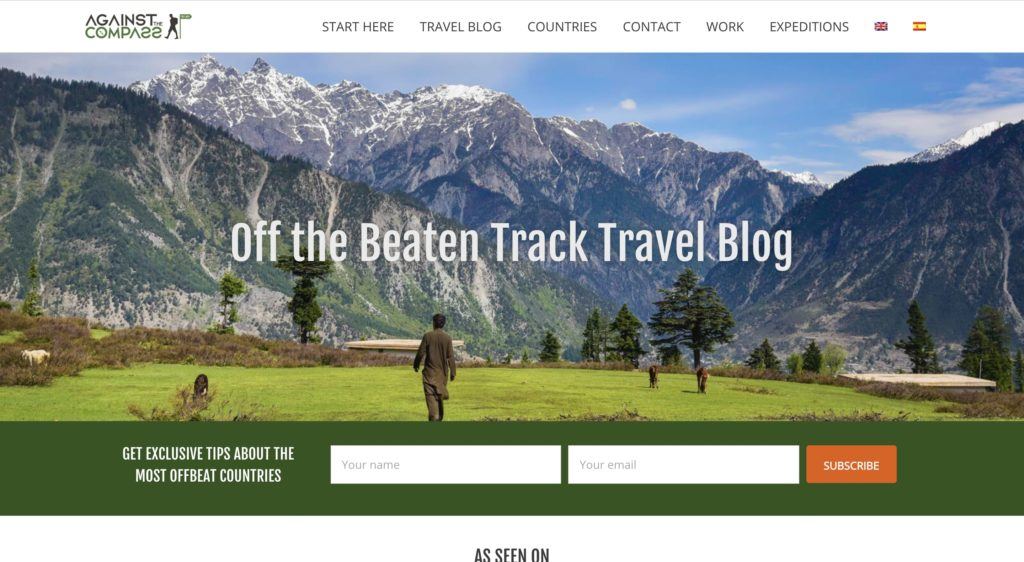 Against the Compass is an off-the-beaten-track travel blog owned by the adventurous Joan Torres, who travels the world in seek of the "less-visited" destinations. His blog explores his travel itineraries and unforgettable experiences traveling to places like the Middle East and Central Asia. If you're wanting to start a travel blog and stand out, going to remarkable countries beyond the typical Europe route is one way to do it.
Pet Blog Examples
Pet blogging is a highly lucrative blogging niche and rewarding one too! Who doesn't love to chat about their beloved pets? Here are two fun pet blog examples.
7. HerePup!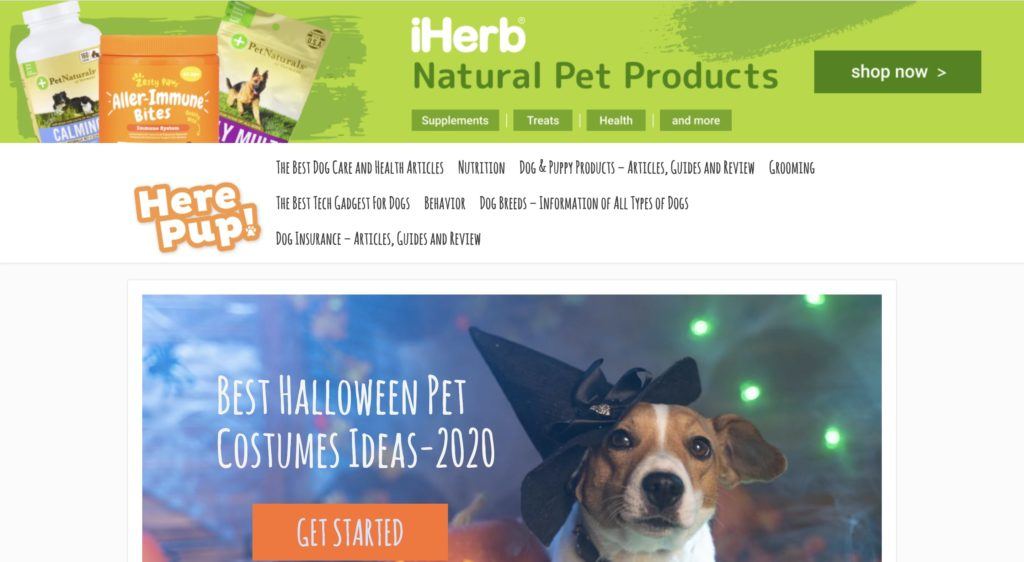 HerePup! is one of the OG dog blogs to become well-known in the pet blogging niche. It has cute graphics to capture your attention while offering top-notch advice on dog nutrition, health, behavior, insurance, product reviews, and more! Of course, there's a place on the blog as well for puppy care and irresistible dog costumes.
8. The Bunny Lady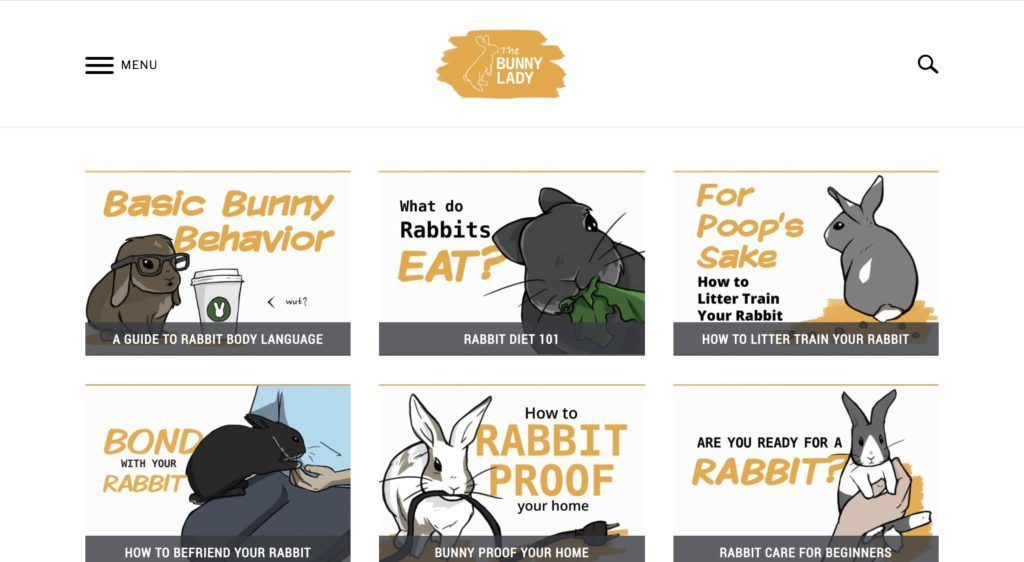 The Bunny Lady is a blog all about bunnies! Turns out, Amy Pratt, the blogger, and owner of Bunny Lady, is just a huge fan of taking care of fluffy pet bunny rabbits and wants to help out other rabbit owners through her experience. Her blog helps you navigate your relationship with your bunny while offering tips and guides on feeding and training your bunbun. Her blog is a simple yet fantastic example of a successful affiliate blog in the pet niche.
Fashion Blog Examples
If I told you how much fashion bloggers make, you'd be quite shocked! Fashion blogs are growing each day as they are incredibly unique and personalized to the fashion blogger. Here are two fashion blog examples to mirror.
9. Sustainably Chic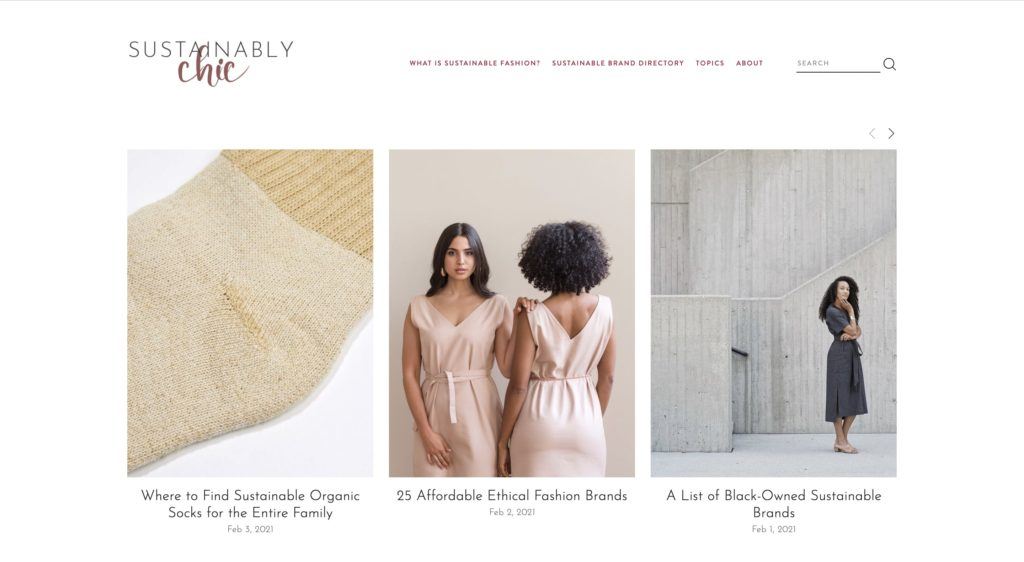 Sustainably Chic, owned by creator Natalie Kay, is all about how to be fashionable AND responsible. Her blog is extremely chic and minimal – just like her niche – and as such, you will find a small menu but with a big brand directory for sustainable fashion brands in the clothing, home, and beauty departments.
10. Sandy A La Mode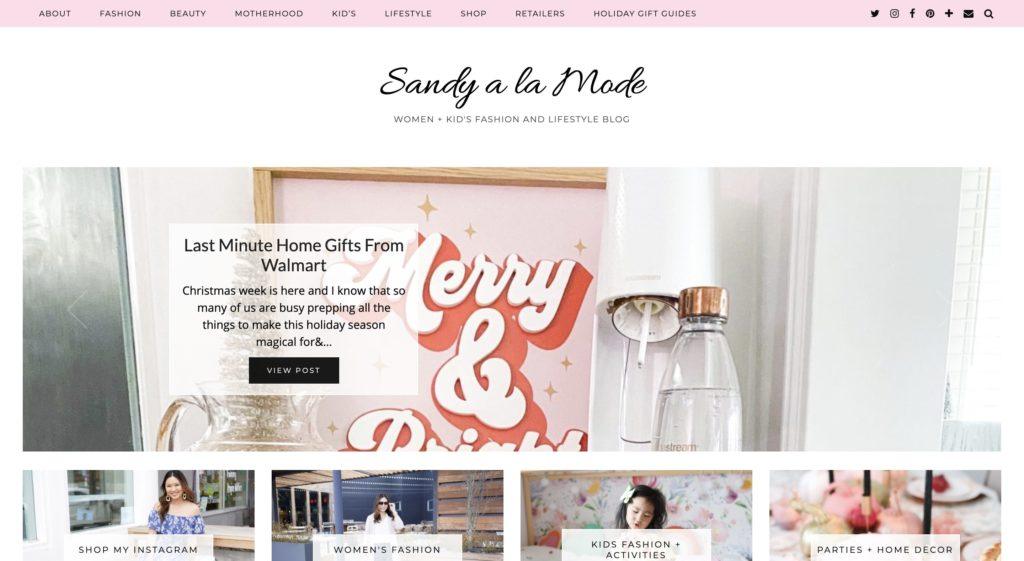 Sandy A La Mode is a fashion blogger focusing on women and kid's fashion. Her blog mirrors her daily life – constantly on the go and full of life. She documents her best fashion finds as well as her experience (and advice) from motherhood. What Sandy has created is a beautiful and timeless example of a small yet successful fashion affiliate blog.
Lifestyle Blog Examples
Lifestyle blogs can be anything and everything you want them to be. There are literally thousands of lifestyle bloggers, each with their own unique touch. Here are two examples that are inspiring the way for future lifestyle bloggers.
11. By Sophia Lee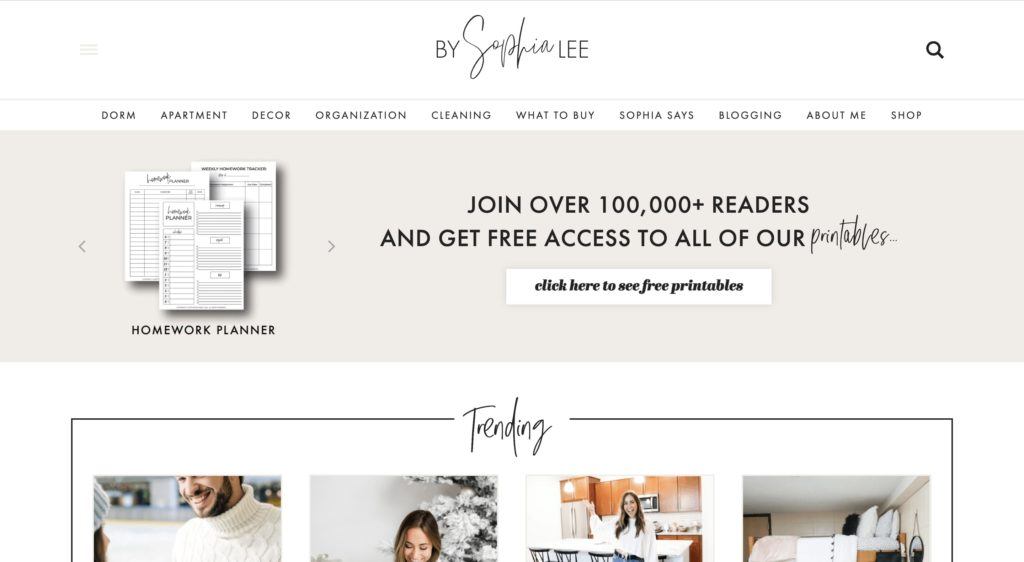 By Sophia Lee is a lifestyle blog created by a girl with the same name! Sophia's lifestyle blogging journey was a happy accident when she began to write and publish during college. She quickly grew it into her full-time biz and now she gives practical tips and advice in categories like fashion, college, organization, blogging, and more.
12. Katie Did What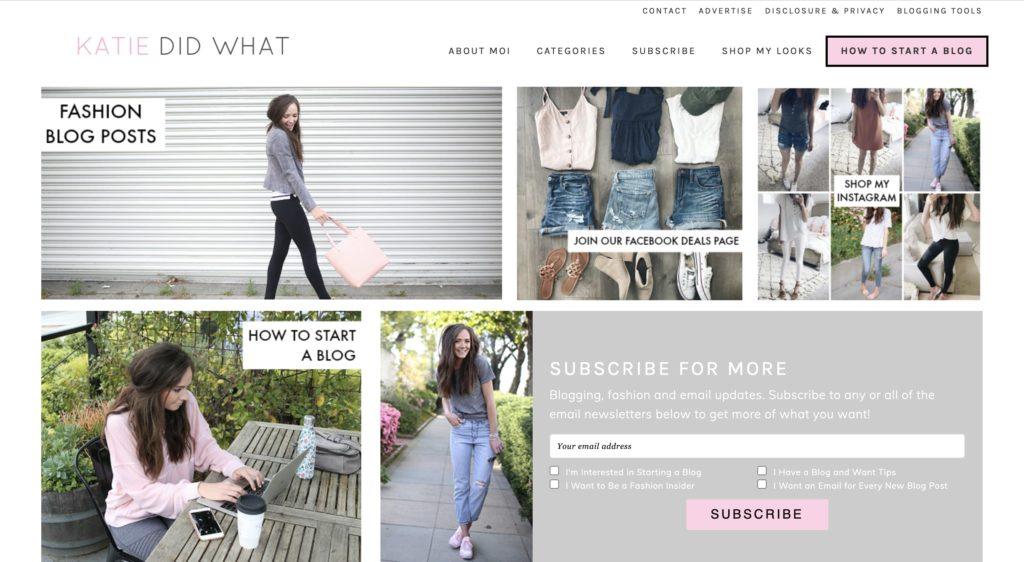 Katie Did What is an honest and whimsical lifestyle blog by Katie Michelle, a mother of three, who writes about various topics on her blog such as fashion, baby, motherhood, blogging, and life in general! Katie's blog and brand are personalized to suit her life which is exactly what a lifestyle blog is all about.
Sports Blog Examples
Sports blogs are in constant demand – there's no shortage of major sports blogs but here are two examples that are a little more homegrown.
13. Belly Up Sports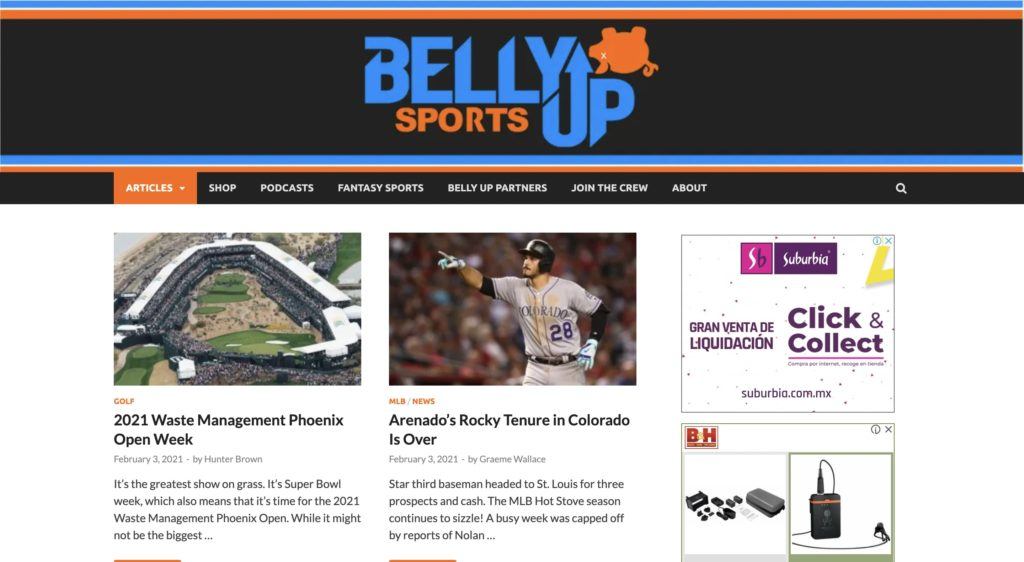 Belly Up Sports is a simple friend-owned WordPress sports blog. The story of how they got their blog name is comical. Essentially, everyone told them their sports affiliate blog would go "belly up" so they decided to use the name and just go for it. On their blog, you can dive into sports news in virtually any category – from baseball, football, racing, golf, and league sports.
14. Can't Lose Hughes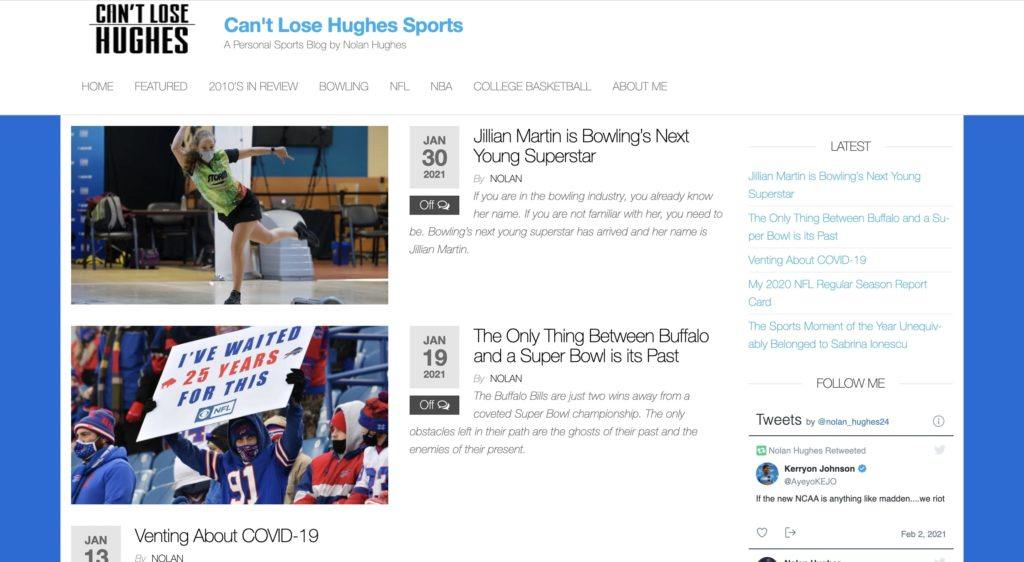 Can't Lose Hughes is a prime example of a personal sports blog, created and owned by college senior Nolan Hughes – a huge sports fanatic. On Nolan's blog, you'll find sports updates about bowling, college basketball, and general sports news.
Mommy Blog Examples
Mommy blogs are one of the most raw and honest blog examples out there. They showcase the nitty-gritty of what it takes to be a mom while juggling side hustles, full-time jobs, and social life. Here are two bad-a mommy blog examples.
15. What Mommy Does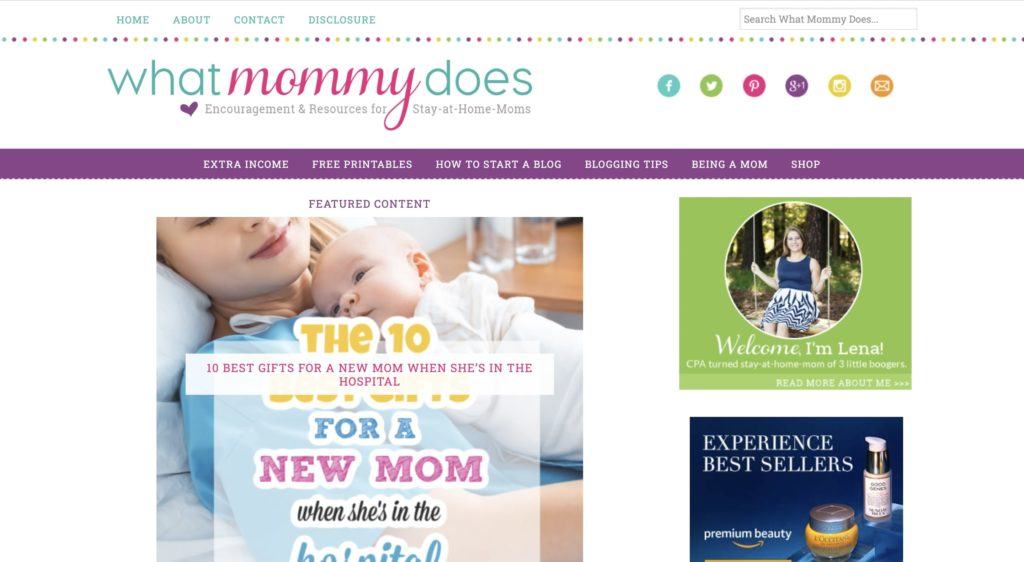 What Mommy Does is a successful example of a mommy blog. Lena, the blogger, and creator grew her blog and focused it to help other mothers take back their independence as stay-at-home moms. On her blog you can find guides for baby, being a mom, DIY crafts, making money online, and blogging! Her blog colors are vibrant and playful which ties in nicely to her branding.
16. Twins Mommy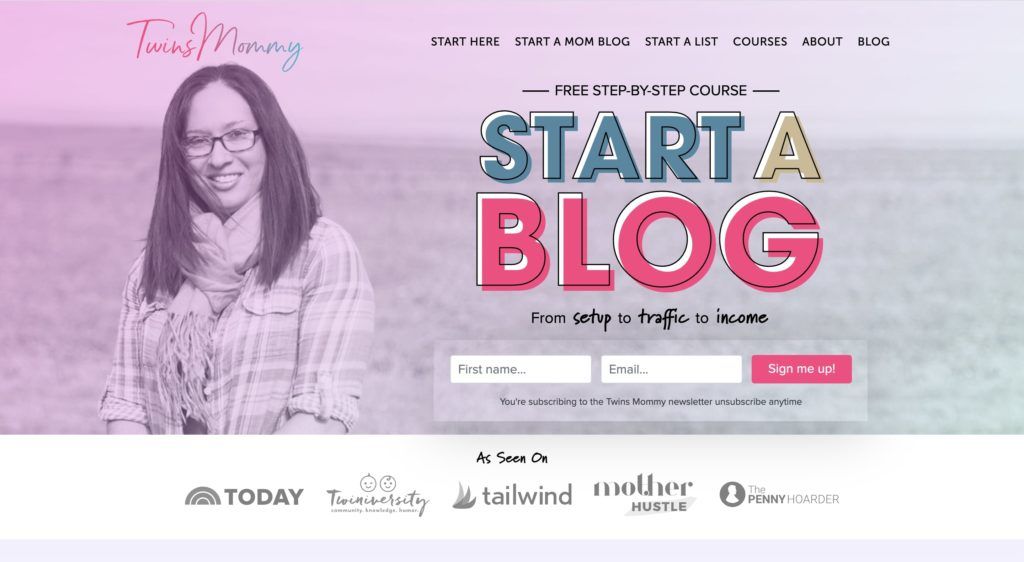 Twins Mommy is owned by Elna, who has been featured in several publications and websites such as Tailwind, The Penny Hoarder, and the Today Show, for her blog that aims to help new moms make money online. Elna guides you through the mommy blogging process and teaches you how to become the ultimate mompreneur.
Fitness Blog Examples
One of the largest and most popular blog topics is none other than fitness blogs. Everyone wants to look and feel better, right? Here are two unique fitness blogs to take notes from.
17. Nerd Fitness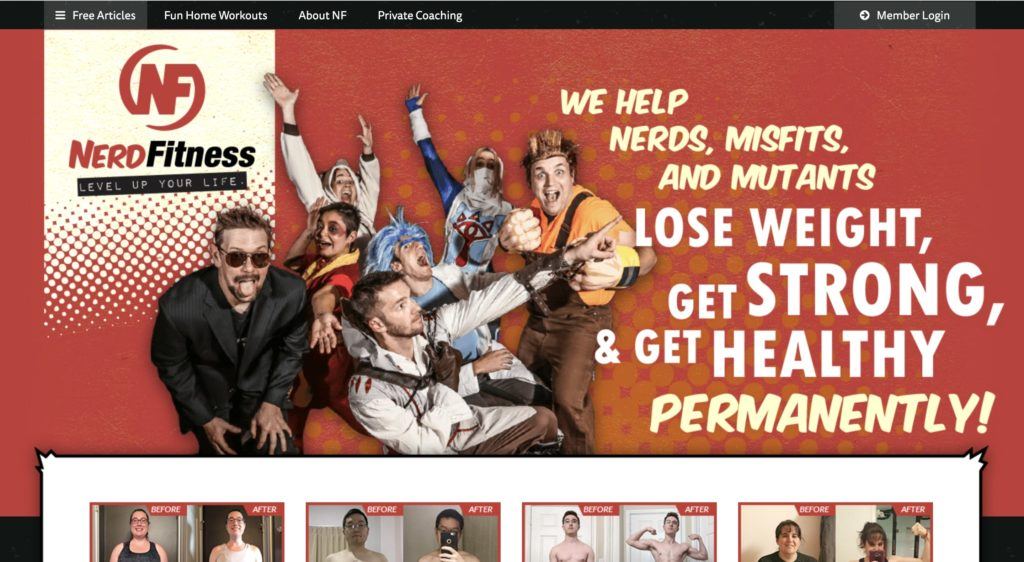 Nerd Fitness, owned and created by Steve Kamb, started his fitness blog in 2009 as a simple blog but has since grown it into a 25-person team and worldwide community. His blog is all about helping the "nerds, misfits, and mutants" who are keen to getting in shape and leveling up their life. His blog hosts thousands of articles featuring everything you could possibly know about dieting and fitness.
18. Avocadu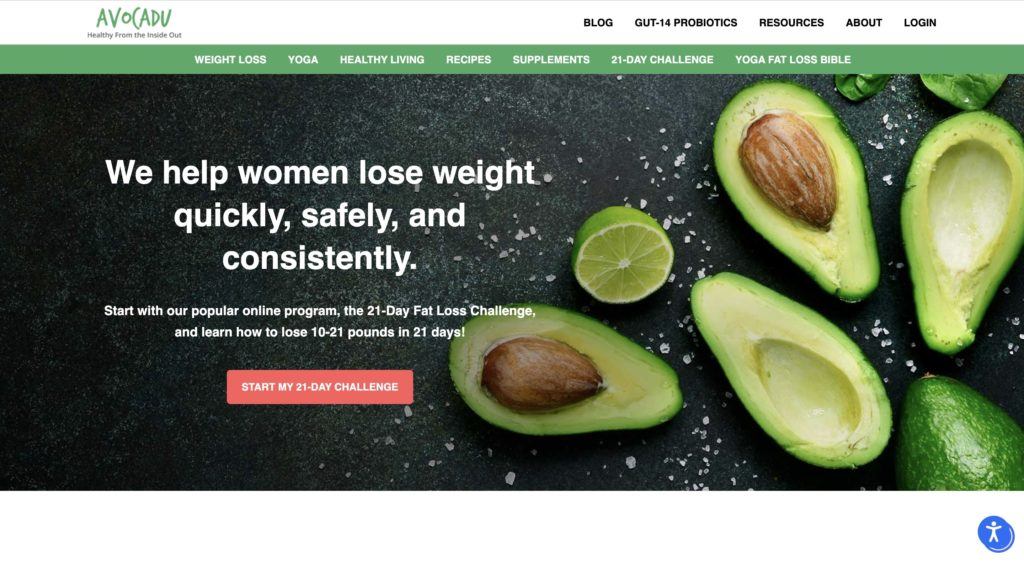 Avocadu is a wildly successful fitness and dieting blog co-founded by Alex Nerney and Lauren McManus (and currently run by Cathy!). What began as just a blog to share simple and healthy living tips turned into a full-blown business focusing on how food is medicine. Today, the Avocadu blog focuses its attention on helping women lose weight safely and consistently.
Blogging/Marketing Blog Examples
There are blogs stuff, and then there are blogs about blogging. Funny, huh? Blogging and the MMO (make money online) niche are very competitive, but also very lucrative! If you want to share your expertise about blogging or digital marketing, check out these two blog examples below.
19. Simply Hatch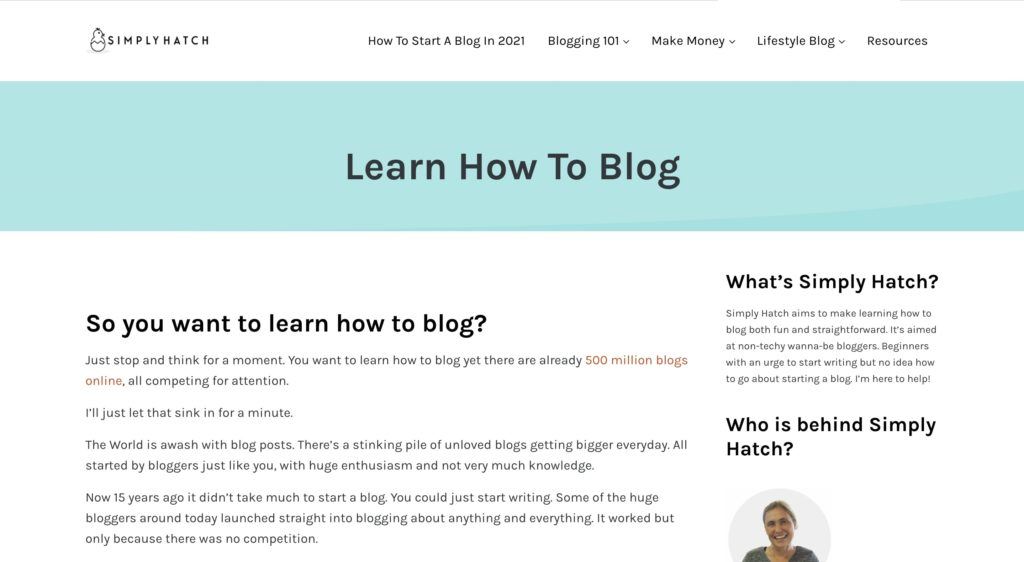 Simply Hatch is a successful MMO (Make Money Online) blog owned by ex-engineer Alison Wright. On her blog, Alison provides practice tips and guides for the "non-techy wanna-be bloggers" out there who want to start blogging but are slightly intimidated by the technical to-do list. She will teach you her best tips from her experience creating two successful blogs with over 120k/UMV from scratch.
20. The Moz Blog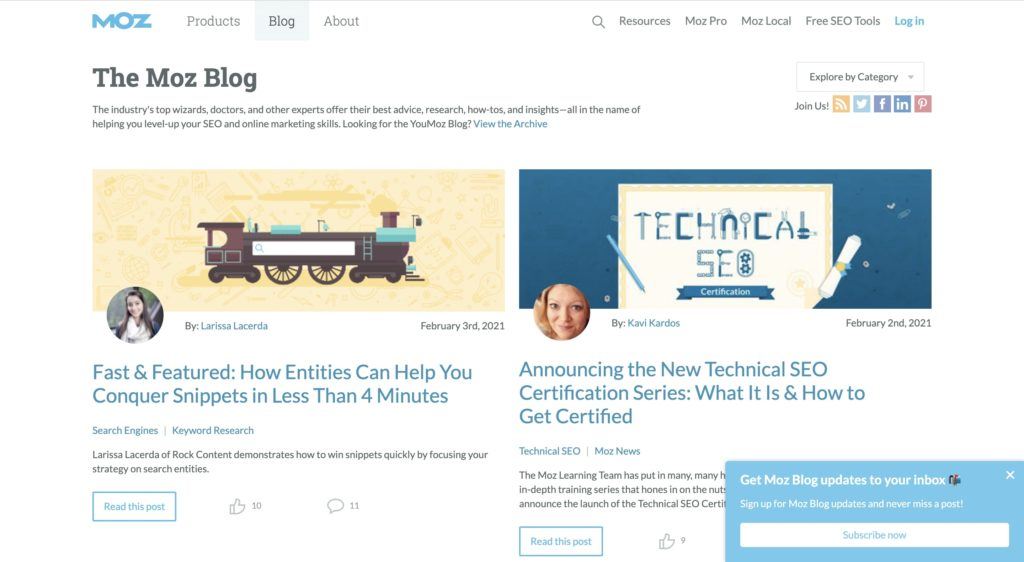 The Moz Blog, created and co-founded by marketers Rand Fishkin and Gillian Muessig, is one of the top expert blogs on everything related to SEO and digital marketing. They also sell one of their leading SEO keyword research tools, the Keyword Explorer.
Moz is actually a Saas company selling software, but I think it's a cool example of how you can leverage a blog to promote your own products and services. I always show people affiliate stuff because that's what I know how to do, but if you have a product or service you sell (IRL or online), you can leverage your website's blog to drive traffic & sales.
Final Thoughts
And of course, don't forget about the best blog example in the MMO niche – One More Cup of Coffee!
Jokes aside, as you can see above, there are so many different types of blog examples out there and each has its own unique style, design, branding, and content. Even blogs within the same niche can vary enormously from one to the other.
That said, if you are wanting to start an affiliate blog, there's no better time just to start than right now. Who knows – maybe your blog will one day get included as a feature for successful blog examples!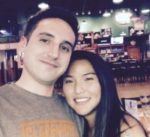 Nathaniell
What's up ladies and dudes! Great to finally meet you, and I hope you enjoyed this post. My name is Nathaniell and I'm the owner of One More Cup of Coffee. I started my first online business in 2010 promoting computer software and now I help newbies start their own businesses. Sign up for my #1 recommended training course and learn how to start your business for FREE!