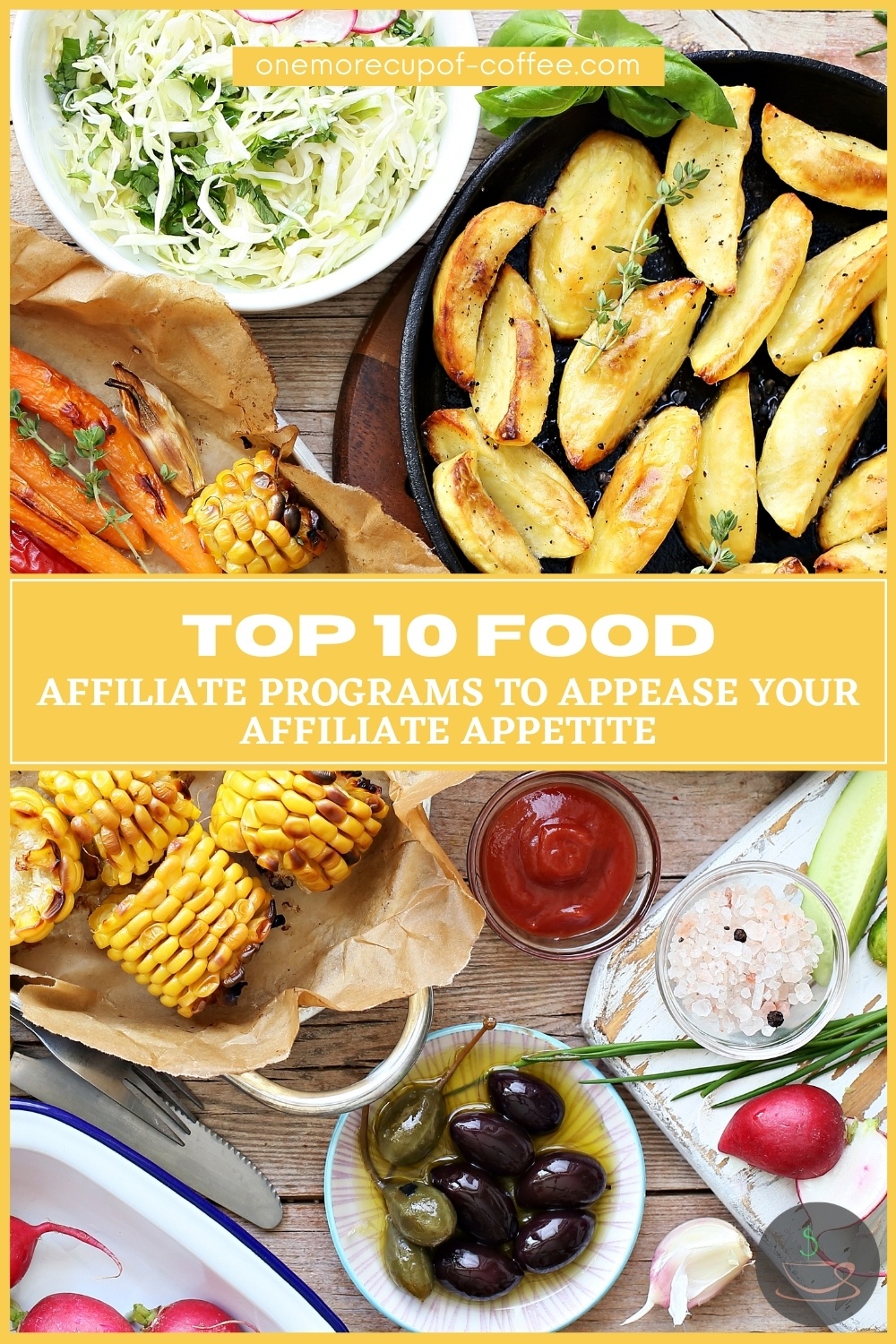 We all have one thing in common: we need to eat. Covering both sides of the spectrum, the fast-food industry brings in around $110 billion a year, and organic food sales bring in more than $65 billion.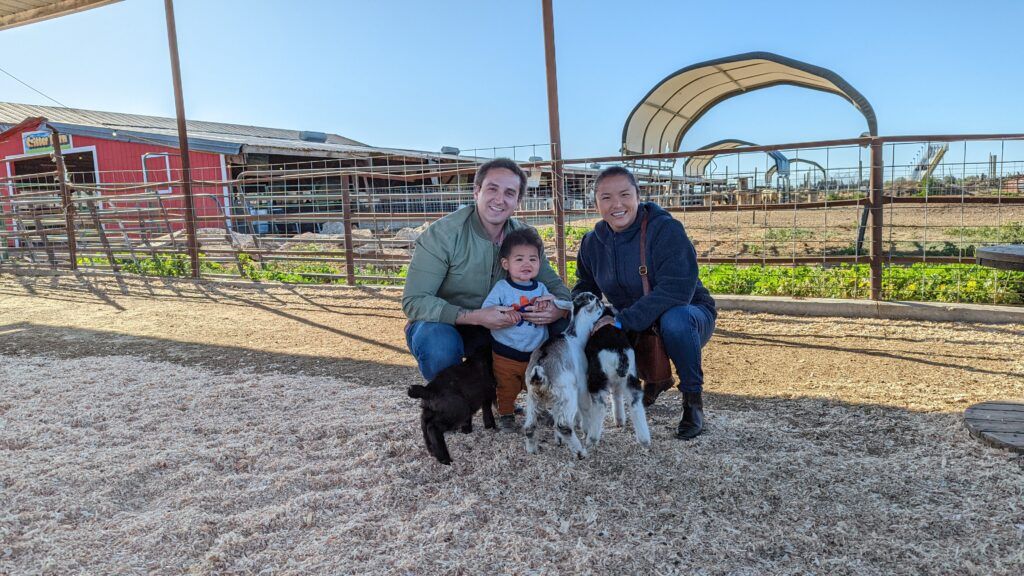 Are You Ready To Work Your Ass Off to Earn Your Lifestyle?
Are you tired of the daily grind? With a laptop and an internet connection I built a small website to generate income, and my life completely changed. Let me show you exactly how I've been doing it for more than 13 years.
We have a wide variety of foods available to us, from pre-packaged options and meal kit delivery services to candy counters, farmer's markets, and local grocery stores. Different tastes and lifestyle preferences create areas for experimenting with different foods, so some segments of the food industry, such as specialty foods, are growing at more than 13%.
This large industry leaves a lot of room for affiliate marketing. In fact, although I've listed some food affiliate programs below, there are actually way more opportunities available than I could even list. Here is a much more extensive look at food affiliate programs available to promote on your blog, and that's still just scratching the surface.
Of course, promoting affiliate programs comes after you have established some rankings in Google, which means you need to have a website online and a content publishing schedule. Are you there yet? If you haven't started your food blog yet, you need to choose a niche, decide on a blog name, and get your site online ASAP. This opportunity isn't exactly going away any time soon, but the sooner you start, the sooner you'll start to see results. Nobody likes to look back and think to themselves, "Wow, I really should have started this thing a couple years ago"! Start now, and you'll thank yourself later.
If you have a particular type of food you love, combining your passions into a niche website could be both fun and profitable. For example, I love been and gardening, so I could start an organic homebrewing website. A busy mom could start a blog about making quick meals for big families. This list of the top 10 food affiliate programs will help you get a feel for what's out there and how you could use programs like these to start earning some affiliate commissions.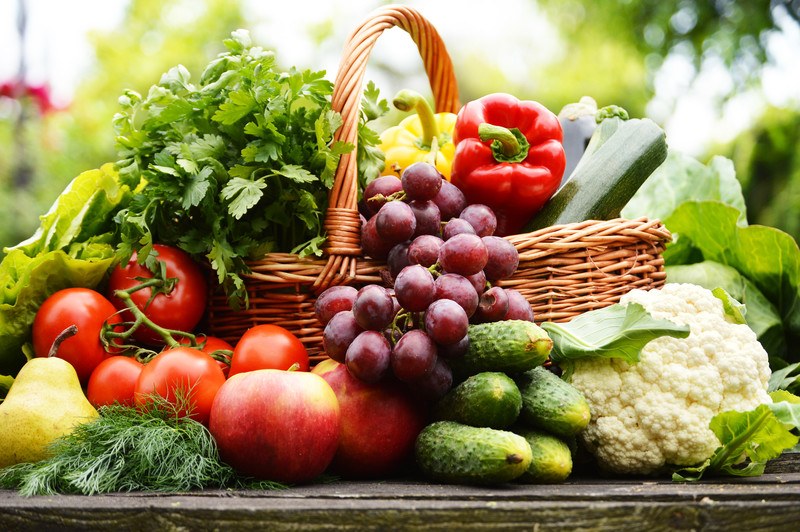 Food Affiliate Programs
Thrive Market
Snake River Farms
Organic Baby Food Shop
Sunfood
Nuts.com
Home Chef
Gourmet Chocolate Of The Month Club
Pinch of Yum
Food Blogger Pro
Farm Foods
1. Thrive Market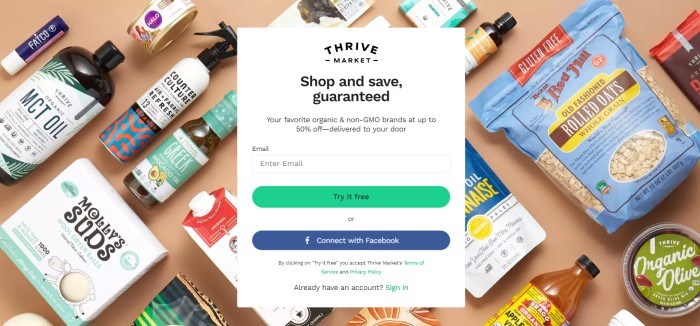 Thrive Market is an online marketplace that sells non-GMO, organic, gluten-free, and vegan foods. The mission of this store is to make healthy lifestyles both accessible and affordable for as many people as possible. Many of the products in the online store are listed at 20-50% below retail price. The store carries more than 6,000 products.
Thrive Market has a 30-day free trial period with a normal subscription fee of $5 per month ($60 per year). On average, members save $30 on their grocery orders using Thrive Market.
One of the best things about this company is that for every new subscription, Thrive Market donates a free membership to someone in need.
Why Should You Promote Thrive Market: Even though the commission fee is flat, it equals more than 30% of the cost for a yearly membership. Thrive Market's membership donation makes this company stand out, too, and the company has more than 6,000 products to choose from.
2. Snake River Farms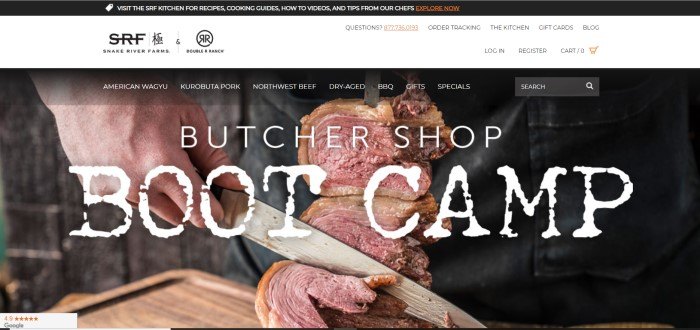 Along with Double R Ranch, Snake River Farms provides quality meats for American Wagyu beef, Kurobuta pork, and Northwest source-certified pork, as well as dry-aged beef cuts. The meats raised on Snake River Farms are featured on the menus of some of the best restaurants in the world.
Customers can place their own meat orders online with Snake River Farms. One of the most unique items this company sells is its Chef's Gold, which is dry-aged beef fat that can be used to bring out the flavor or add a dry-aged flavor to cuts of beef.
This company uses ShareASale to administer its affiliate program. The average commission is $13, and the average order value is $191.
Why You Should Promote Snake River Farms: This company offers monthly affiliate promotions.
3. Organic Baby Food Shop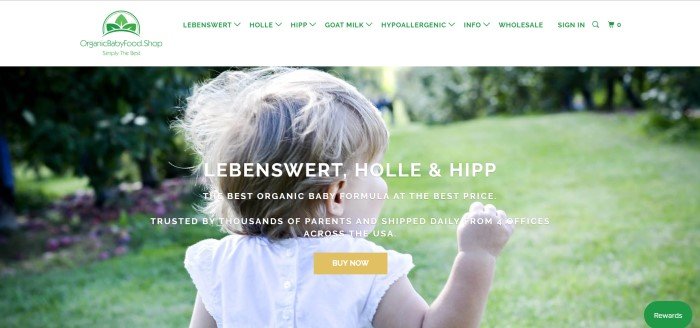 Organic Baby Food is an organic formula company that offers five different types of formulas, including one made from goat milk. Most of the formulas have three or more stages so that parents can give their children exactly what they need as they grow.
The company has strict guidelines for how the formulas are produced. For the Lebenswert line, the formula is made from grass-fed cows in Germany and Austria who are raised according to Bioland Association guidelines. The Holle line is made from raw ingredients that are free from added chemicals and preservatives, and the HiPP line contains some probiotics.
The price for each box of formula ranges from around $22-$39.
Why You Should Promote Organic Baby Food: This company's formula lines are specifically targeted to provide health benefits for when mothers who can't breastfeed their babies. The commission is decent, too.
4. Sunfood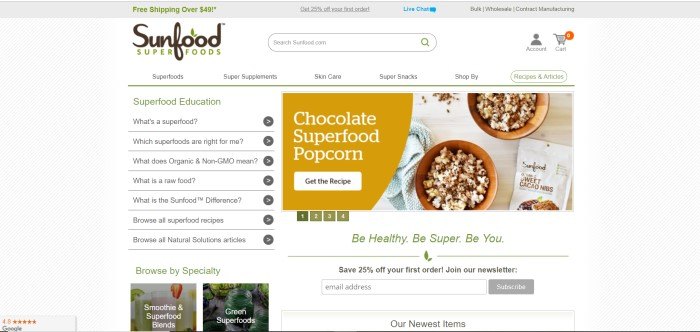 Sunfood sells raw, organic, and non-GMO superfoods such as cacao and maca, as well as supplements, smoothie blends, and detox products. The website also includes information about various health issues, such as sleep and longevity, as well as stocked product lines with unique products.
The average order size is $120. Some individual orders range from $250-$500, and the commissions are tiered. Affiliates make at least 10% on each sale and can make up 20%. Affiliate payments go out when affiliate marketers earn $50 or more.
Sunfood administers its affiliate program through FlexOffers. The company has a nice set of marketing materials for affiliates to use.
Why You Should Promote Sunfood: The average order size is relatively high, and the tiered commission rates give affiliates the opportunity to earn more money per sale.
5. Nuts.com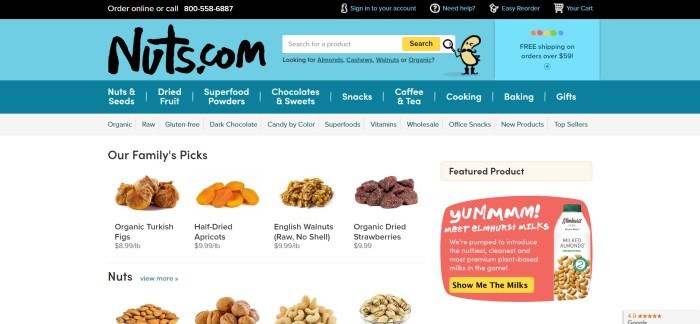 Nuts.com Family started out as a small family business in 1929 and has grown to an online specialty foods business with more than 3,000 products to sell and 40,000 plus testimonials from satisfied customers.
Products include items for baking, including coconut, gluten-free flours, and cocoa powder. That's just one of the categories, though. Nuts.com also sells dried fruits, nuts, and seeds, superfood powders, a variety of snacks such as popcorn and pretzels, coffee, and teas.
It's affiliate program is administered by ShareASale.
Why You Should Promote Nuts.com: The monthly newsletter for affiliates contains blog post ideas as well as affiliate incentives. Another plus is that affiliates get a 2% commission for repeat customers.
6. Home Chef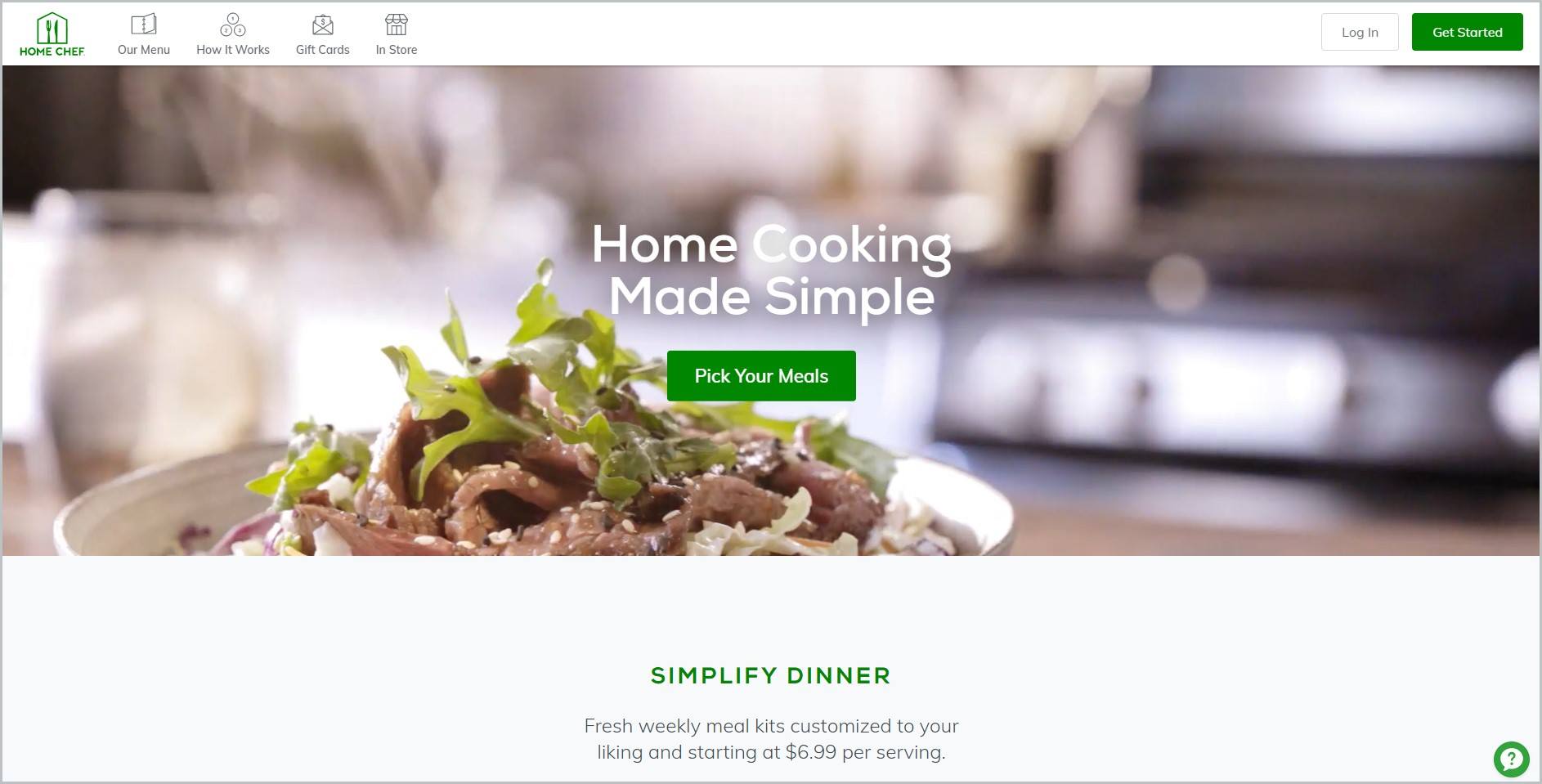 Home Chef offers fresh, pre-portioned ingredients delivered right to your door so you can create and plate delicious dishes with the help of their easy-to-follow step-by-step recipe cards. You can choose from their menu of 15+ recipes each week.
Aside from their Meal Kits, they also have their 15 Minute Meal Kits which cooks in just 15 minutes, their Culinary Collection which is perfect for special occasions, Fast and Fresh meals that require no prep and can be cooked in the microwave in under 5 minutes, and more.
Meals start at $8.99 per serving, it basically depends on the current available menu and options. The minimum weekly order value is $49.95. With their Customize It feature, you can easily upgrade, swap, or double up proteins on selected meals.
Interested affiliates can signup via CJ Affiliate or FlexOffers.
Why You Should Promote Home Chef: They reward top performers with awesome bonuses, provide extra logos, marketing artwork, and banner ads, and impressive reputation – a 4M+ 5-star rating review.
7. Gourmet Chocolate Of The Month Club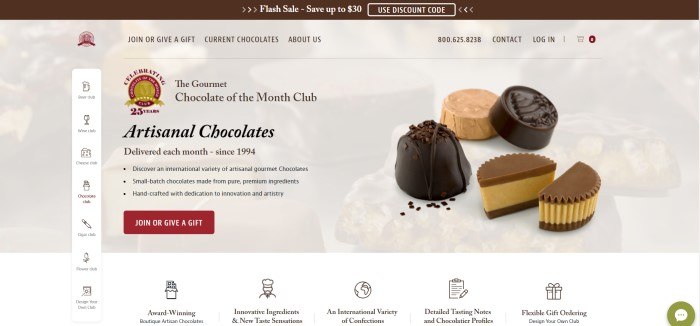 The Gourmet Chocolate Of The Month Club is an affiliate program sponsored by MonthlyClubs.com, which got its start in 1994 with a subscription service for micro-brewed beers. MonthlyClubs.com now has subscription services for beer, wine, cheese, cigars, and flowers, besides the chocolate club.
The chocolate program features new chocolates to try every month from top chocolatiers like Jean-Marie Auboine Chocolatier, Droga Chocolates, Torn Ranch, and Mayana Chocolates. For example, one recent monthly box contained truffles made from Four Brothers Chocolates using ingredients that included Himalayan sea salt, coffee, honey, and Earl Grey tea.
The subscription service costs around $41 per month, along with a $14 shipping fee, and includes approximately one pound of fine handcrafted chocolates.
Why You Should Promote The Gourmet Chocolate Of The Month Club: The flat-rate commission amounts to about a 29% commission rate. This company also allows customers to choose between sending one-time gifts or joining the club with a subscription.
8. Pinch of Yum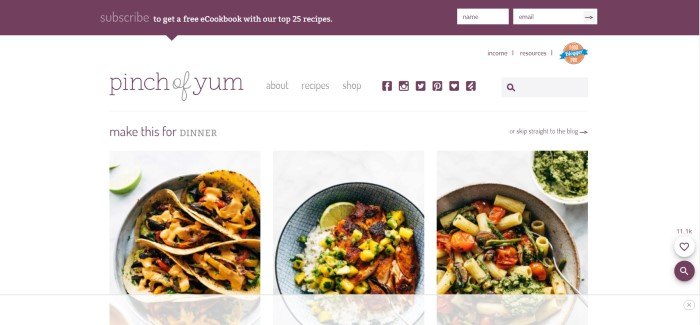 Pinch of Yum is an online recipe source with a blog and information sections for freezer meals and going sugar-free in January. There's also a shop for items the blogger uses, such as an Instapot and red curry paste.
The affiliate program is set up for an e-book called Tasty Food Photography. Affiliates who refer buyers to this program get 50% of the cost of the e-book, which is currently priced at $29.
This company also has an affiliate program through Food Blogger Pro. Both affiliate programs are run through ShareASale.
Why You Should Promote Pinch of Yum: The 50% commission rate and 6-month cookie are both great.
9. Food Blogger Pro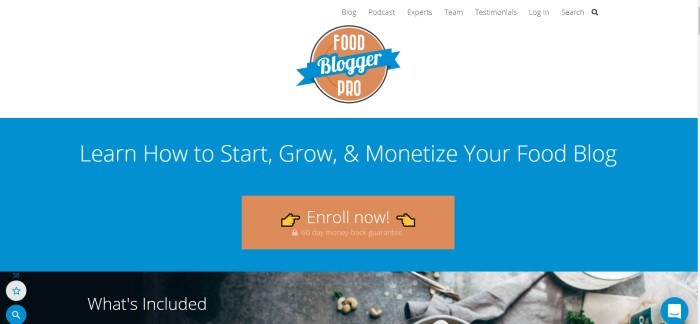 Food Blogger Pro is a membership affiliate program, especially for food bloggers. This program has recurring commissions, so as long as your referrals are enrolled, you get affiliate income. Affiliates also have access to promotional materials.
Membership for Food Blogger Pro includes more than 350 videos to help food bloggers be successful, as well as a community forum and an industry-expert panel. Food bloggers can post questions at live monthly events, and they get discounts on kitchen gadgets and other items specifically for food bloggers.
Enrollment costs $279 a year or $29 a month, and there's a 60-day money-back guarantee. The affiliate program is managed by ShareASale.
Why You Should Promote Food Blogger Pro: The long cookie length and the high recurring commissions are nice. This program also expands beyond the food itself to the blogs that discuss it.
10. Farm Foods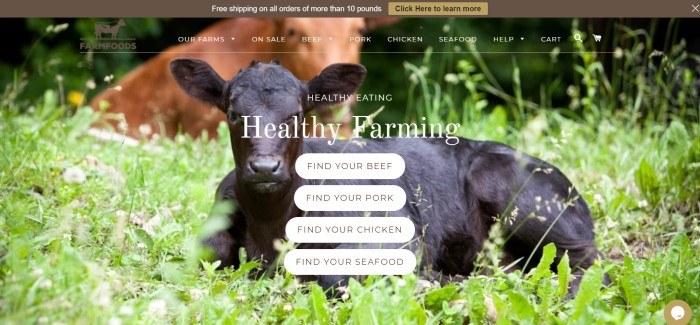 Farm Foods is a beef company similar to Snake River Farms. The beef is 100% grass-fed and comes from local family farms. This company ships across the United States, and any order of 10 pounds or more ships for free.
An average order value is around $120, which provides about $16 in commission. The average conversion rate is 4%, although customers who already know about the benefits of eating grass-fed beef, healthy eating, and buying from local farms convert at a rate of about 10%.
Rather than buying beef with a subscription service or in boxes containing cuts of meat that customers might not want, customers can choose to create their own orders. Customers can also find out exactly which farm their beef is coming from.
Farm Foods's affiliate program is administered by ShareASale.
Why You Should Promote Farm Foods: The relatively high conversion ratio and average order value can help boost affiliate earnings. The ability to choose cuts of meat and find out more about the farms they're ordering from can be nice for the customers, too.
Affiliate Website Ideas
Now that you've read about the top 10 food affiliate programs, do you have an idea of how you'd like to use them in your affiliate marketing efforts?
Trying a niche market website that targets grilling could be fun. Besides promoting companies like Farm Foods or Snake River Farms, affiliates could feature indoor and outdoor grills, smokers, barbecue sauces and spices, and even outdoor patio furniture.
Another affiliate website idea could focus on providing nutrition to the elderly. A niche site like this could feature companies like Sun Food. It could also promote meal kit delivery services, supplement companies, and at-home medical supplies and equipment.
A website focusing on an on-the-go lifestyle might work, too. On a website like this one, healthy snack options from companies like Nuts.com or Live Superfoods could be promoted. The website could also feature sneakers and activewear, travel options, and camping gear.
Personally, I see a ton of opportunity in promoting meal kits and other food delivery options, since this is pretty common for modern families and working adults, and I expect this market to continue to grow in the future.
Boost Your Affiliate Earnings
These 10 affiliate programs are just the beginning of what's possible. There are hundreds of ways to earn affiliate commissions with your website, including product reviews, top 10 lists, how-to guides, and more
But what about traffic and conversions? How do you make sure your affiliate links get clicked?
I used the affiliate training here to turn my brand new website into a six-figure income generator in less than two years. Build a business, not just a pocket-money side project!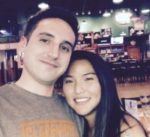 Nathaniell
What's up ladies and dudes! Great to finally meet you, and I hope you enjoyed this post. My name is Nathaniell and I'm the owner of One More Cup of Coffee. I started my first online business in 2010 promoting computer software and now I help newbies start their own businesses. Sign up for my #1 recommended training course and learn how to start your business for FREE!