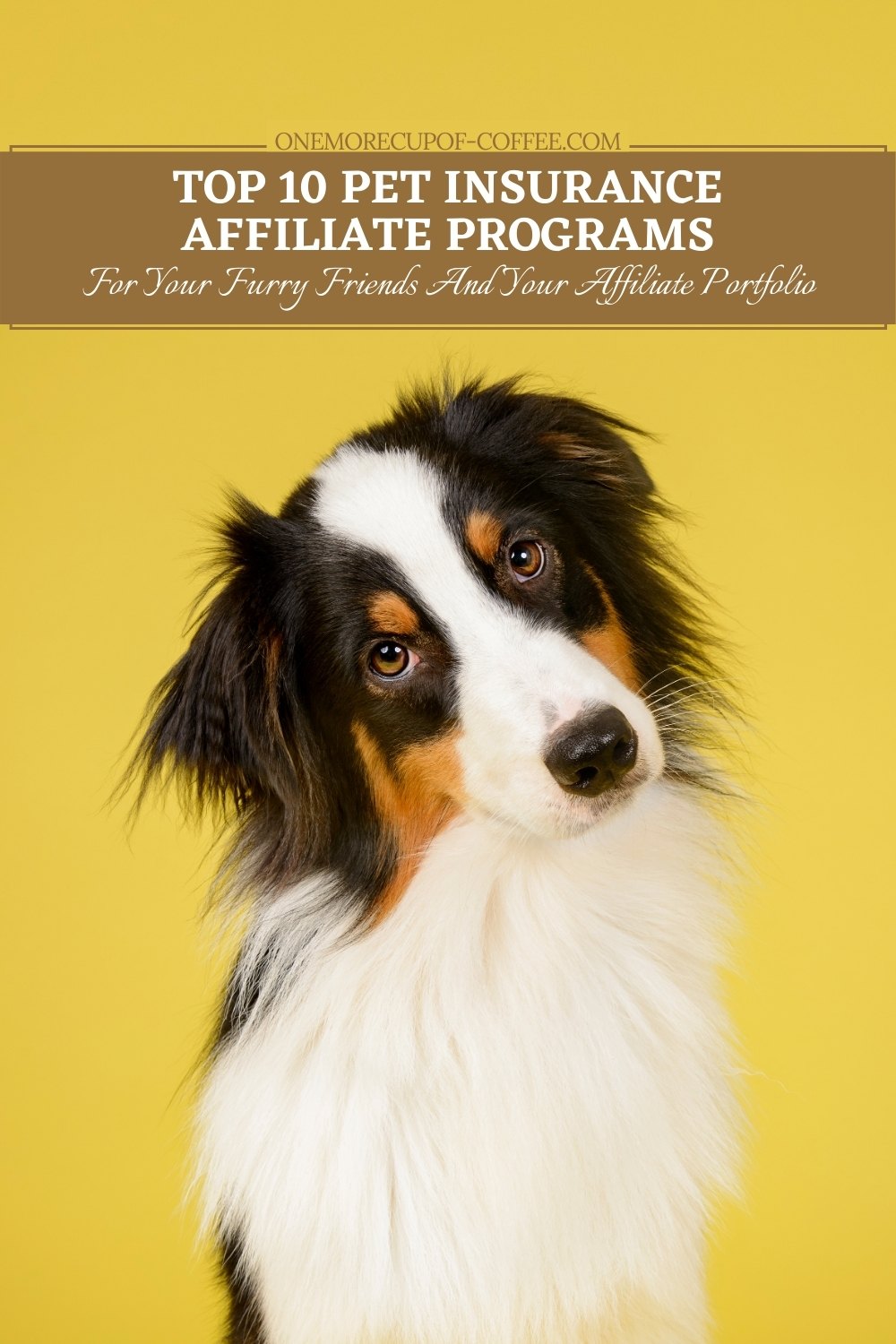 A family I know recently adopted a puppy from an animal shelter. The $400 fee they paid to have him neutered, get his shots, and get all his paperwork in order is normal in their area.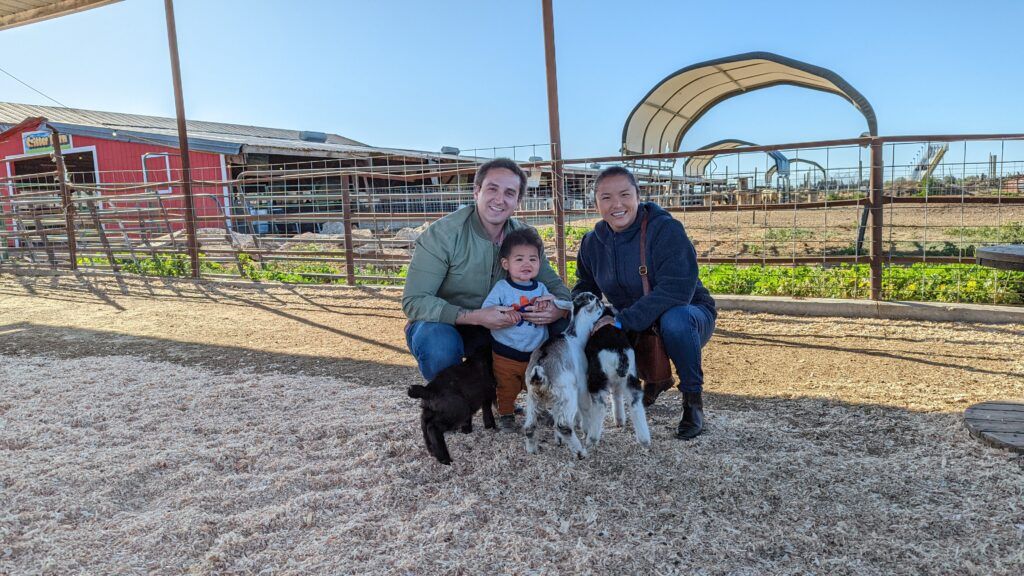 Are You Ready To Work Your Ass Off to Earn Your Lifestyle?
Are you tired of the daily grind? With a laptop and an internet connection I built a small website to generate income, and my life completely changed. Let me show you exactly how I've been doing it for more than 13 years.
This family understands that the fee to bring the puppy home is just the beginning of vet bills. They have another dog with a medical condition that requires regular vet visits. Two previous pets were put to sleep because of hip and back problems that progressed to the point that they couldn't move anymore. The cost to give these dogs surgery was more than they could afford.
Pet insurance policies can help families like this, who love their dogs and other pets but don't have the means to pay for large vet bills. In some cases, pet insurances reimburse up to 90% of vet bills. There's no preferred provider network, either, so pet owners can choose the vet they want to take their animals to. However, only a small percentage of pet owners have purchased pet insurance, and many have never heard of it at all.
It's a market with a lot of potential for growth, and that means there's room for affiliate earnings. Connecting people who don't know about pet insurance with a pet insurance company that can help keep their pets healthy feels good, too. If you're interested in this market, read through this list of the top 10 pet insurance affiliate programs.
There's a lot more to promote in the world of pet affiliate programs, but these companies below are a great way to carve out a targeted niche in a competitive industry.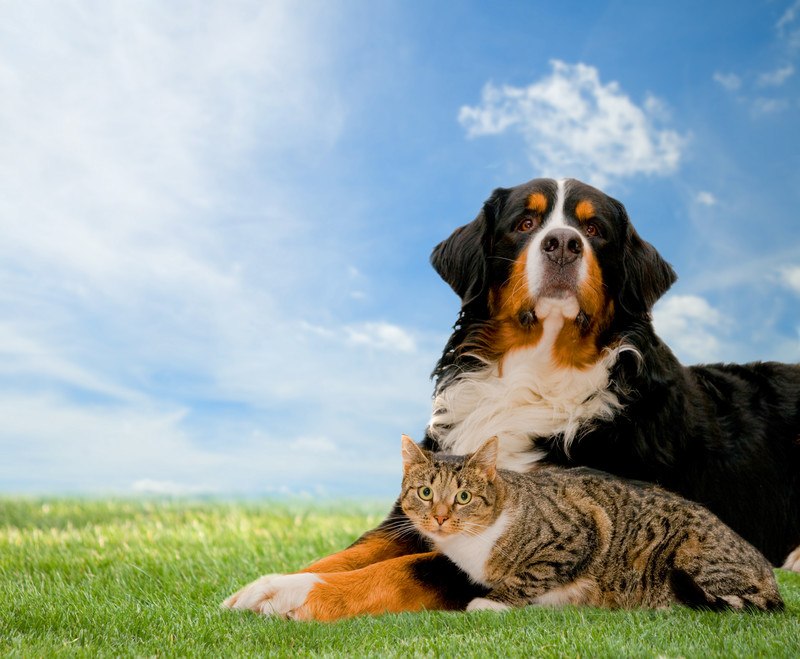 Pet Insurance Affiliate Programs
Embrace Pet Insurance
Petplan
Trupanion
Pet Insurer
Pets Best
Healthy Paws
PetFirst
Petco
Protectapet
Agria Pet Insurance
1. Embrace Pet Insurance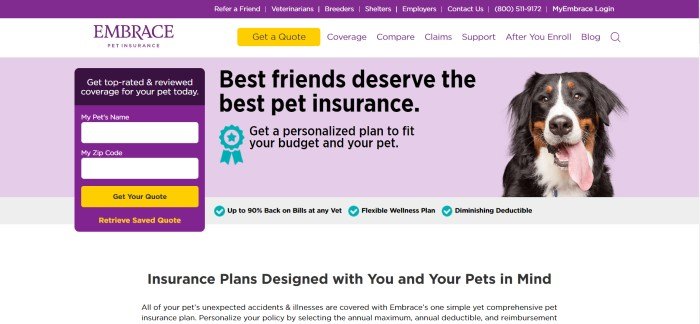 Embrace Pet Insurance is based in Cleveland, Ohio. This online insurance company provides up to 90% back on vet bills for dogs and cats. Customers can use any vet they choose. The company offers personalized plans with dependable claims payments.
The insurance covers both accidents and illnesses, and there's a rewards program to help promote routine care, too.
When it comes to pre-existing conditions, Embrace looks at whether or not the condition is curable. If the pet has been symptom-free and treatment-free for twelve months, curable conditions could be covered going forward.
Why You Should Promote Embrace Pet Insurance: This flat-rate commission means affiliate marketers always know what they'll make per successful referral. For pet owners, the ability to get curable preexisting treatments covered is a plus, and the ongoing wellness support is nice, too.
2. Petplan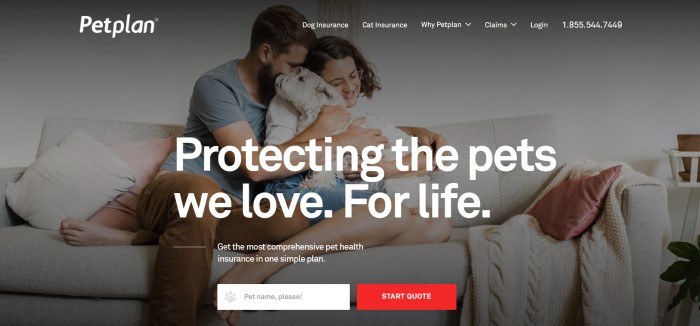 Petplan accepts all pets that are six weeks and older for its insurance policies, even if the pets are nearing the end of life. All new conditions for all breeds are covered with a Petplan policy.
With Petplan, some policy options may change, such as annual coverage amount, the copay, deductible, and premium amounts, but the company won't cancel insurance policies due to a pet's old age or poor health. This company also covers emergency vet visits for illnesses and injuries, which generally cost $50-250 each.
One other perk of Petplan is that it covers holistic care for pets. The holistic care must be provided by a licensed veterinarian, but it includes treatments such as hydrotherapy, acupuncture, homeopathy, chiropractic care, and laser therapy.
Petplan's affiliate program is administered by Pepperjam.
Why You Should Promote Petplan: The ability to treat a pet holistically could be a converting factor for some pet owners, and the ability to insure older pets is a plus, too.
3. Trupanion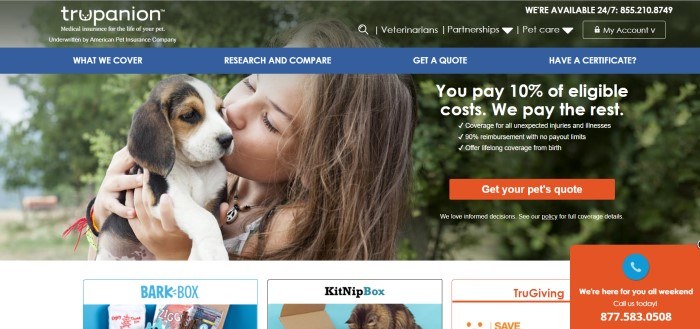 Trupanion offers pet insurance for dogs and cats. This company has a unique perspective on deductibles. Deductibles are only charged once, when a condition is first diagnosed, rather than annually. Once the deductible is met, Trupanion kicks in to pay 90% of the remaining vet bills. That will continue for the lifetime of your pet for any treatment related to that condition.
Besides covering injuries, Trupanion covers congenital defects, unknown illnesses, and genetic conditions such as diabetes or hip dysplasia. This includes paying for diagnostic tests, surgeries, medications, supplements, and herbal therapies, hospital stays, and prosthetics.
Why You Should Promote Trupanion: The high payout rate and the one-time-only deductibles could convert some customers. However, like many of the best pet insurance affiliate programs, the commission rate and cookie length aren't known, so it's difficult to tell how much an affiliate marketer could make with this program.
4. Pet Insurer
Pet Insurer is a white label company, which means it works with a lot of different pet insurances to offer customers the best variety in policies that they can get. With this white label program, Pet Insurer works with well-known pet insurance providers such as Petplan, Nationwide, Trupanion, Petfirst, and ASPCA pet insurance.
Pet Insurer strives to provide the lowest prices on insurance for cats and dogs, and so it has a price guarantee for the lowest quotes. If a customer finds a lower quote on a particular insurance policy, Pet Insurer will repay the difference.
Why You Should Promote Pet Insurer: The 90-day cookie length is a plus for affiliate marketers. The price guarantee is nice for customers, too.
5. Pets Best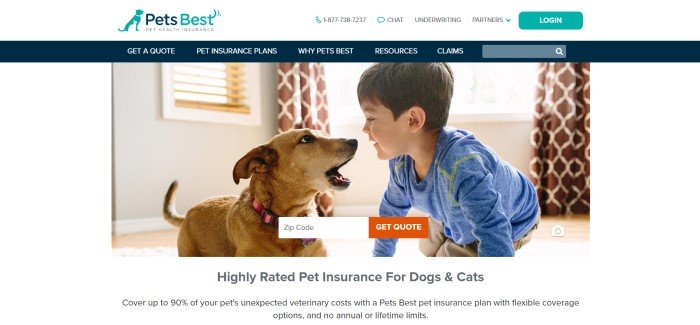 On the Pets Best website, customers who are unfamiliar with pet insurances can read about what pet insurance is, how it works, what it costs, and the difference between dog and cat insurance. Customers can also get a quote, read through extra resources, and browse through reviews before they make a choice.
Pets Best offers a wellness package for dogs and cats that covers procedures like deworming, microchipping, and vaccinations. Other insurance coverage includes cancer, accidents, illnesses, surgeries, and specialized coverage.
Why You Should Promote Pets Best: This company supports a variety of charitable organizations, including the Idaho Humane Society, Dogs On Deployment, and P.L.A.Y. (Pet Lifestyle And You). Pets Best also sponsors an annual 'My Vet's The Best' contest.
6. Healthy Paws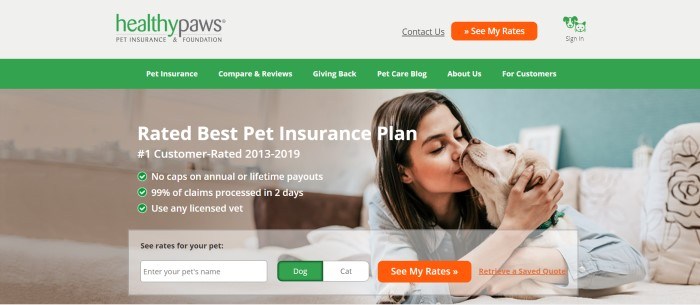 Rather than requiring a deductible for every incident that a pet needs to see a vet for, Healthy Paws has one yearly deductible. This company also covers expensive hereditary and congenital conditions and has no limit on claims. This company is careful to extend its coverage beyond the 'usual and customary' reimbursements that can limit payouts for pets in need.
Affiliates have access to promotional materials such as banners to help with marketing efforts.
Why You Should Promote Healthy Paws: One plus about this company is that referrals from affiliates receive a lifetime discount on their Healthy Paws policies. However, this company doesn't offer a wellness plan for expected vet visits for things like vaccinations.
7. PetFirst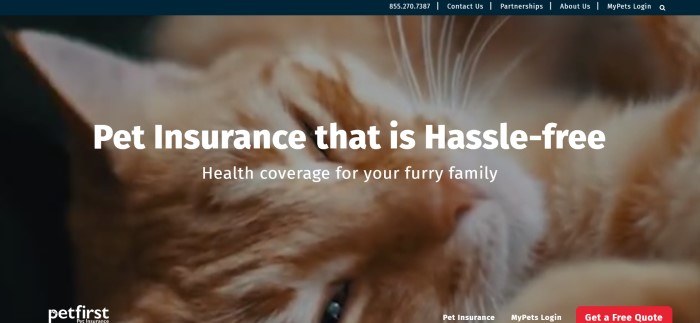 PetFirst pet insurance provides insurance that covers cats and dogs. Customers can customize deductibles and reimbursement rates to fit their budgets and the needs of their pets. This company has short wait periods for illness and accident coverage, with claims processed within two weeks.
While routine care isn't included in the cost of the basic policies, customers can add it for an additional cost. General coverage includes exams, hospitalizations, surgeries, illnesses, accidents, X-rays and diagnostic tests, and holistic care.
The affiliate program is run through FlexOffers.
Why Should You Promote PetFirst: PetFirst sponsors annual adoption events and partners with animal shelters across the United States.
8. Petco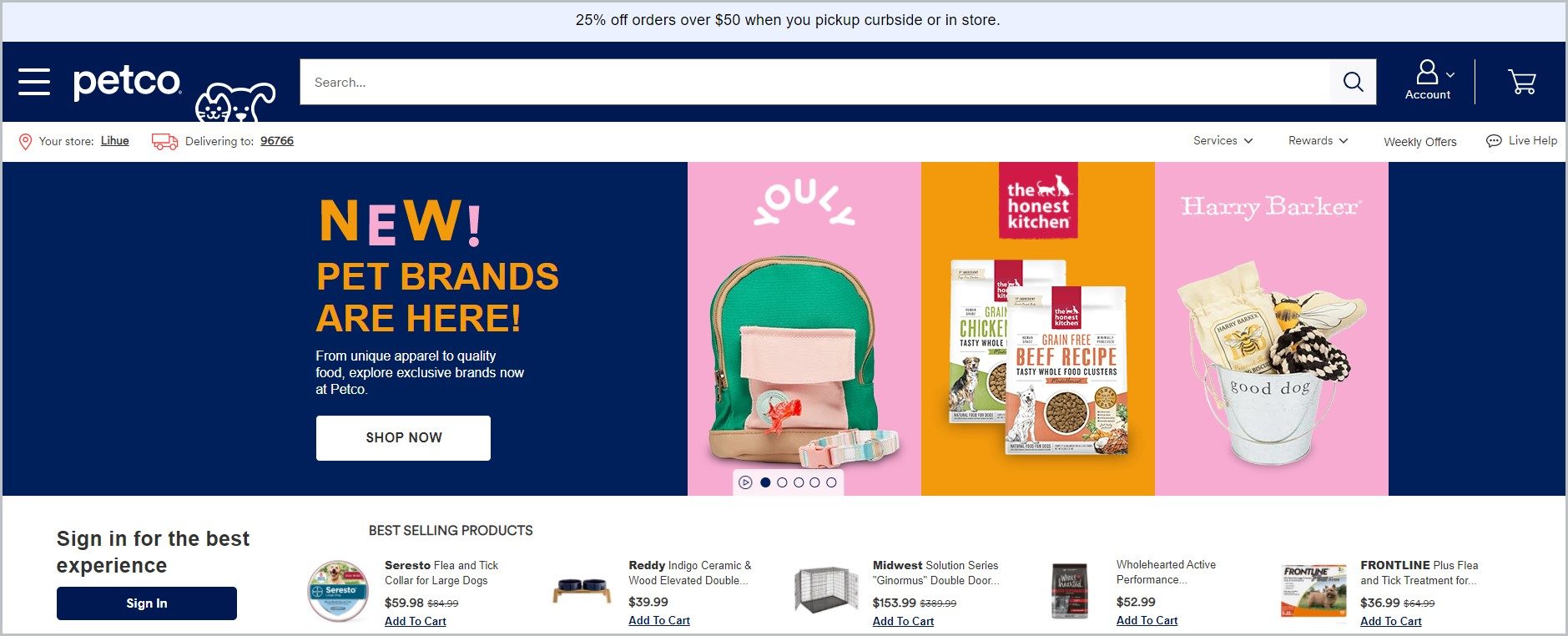 Petco is a wellness company focused on improving the lives of pets and pet parents by providing products and services that range from pet foods and supplies to pet grooming and insurance. They have been in the business since 1965 and operate more than 1,500 Petco locations across the U.S., Mexico, and Puerto Rico.
Petco Insurance covers a variety of health needs – veterinary treatment, diagnostic testing, accidents, surgery and hospitalization, behavioral issues, and more. They also offer affordable plans, and also allows customization of the plan's price by choosing from the options for Annual Limit, Reimbursement Percentage, and Annual Deductible Amount.
Petco's affiliate program is being administered by Impact Radius. Affiliates will get a 2% commission and access to their tracking links to promote all of their products and available promotions. Petco will also send regular newsletters to keep affiliates informed of any promotions and new ways to increase their sales.
Why Should You Promote Petco: The 30-day money-back guarantee on pet insurance is a good selling point plus of course their years of experience in the pet industry.
9. Protectapet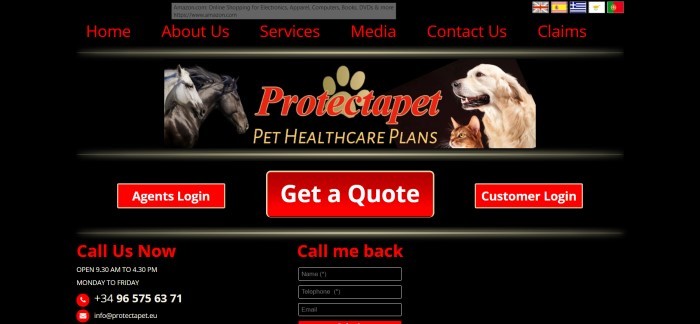 Protectapet offers pet insurance for dogs, cats, and horses. This company is based in Spain and specializes in pet insurance in Spain and Europe, so it's a good choice for expatriates, but it covers pets no matter where you live.
This company has fixed premiums for life, easy payment plans, and the ability for customers to take their pets to the vets of their choice. For affiliates, Protectapet provides optimized banners and other promotional materials to help draw in customers.
Why You Should Promote Protectapet: Protectapet expands pet insurance beyond the United States, which sets it apart.
10. Agria Pet Insurance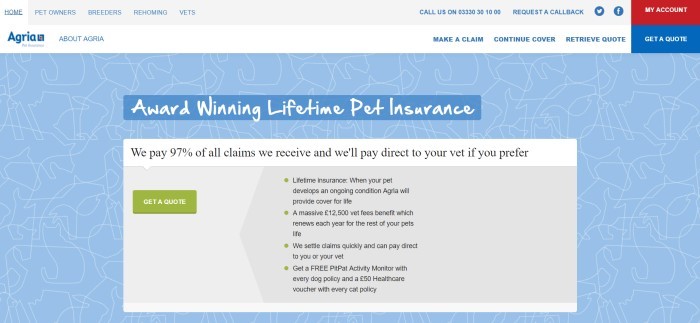 Agria is a UK-based pet insurance company with an active Facebook community and Twitter group. The company offers pet insurance for dogs, cats, and rabbits across the UK. Coverage extends for the lifetime of the pet.
Agria policies are customizable so that pet owners only pay for what their pets need. The company works with vets and re-homing organizations to build the best pet insurance policies. Agria also has an in-house team of pet healthcare specialists to help answer customer questions.
Why You Should Promote Agria: This company has a pet healthcare helpline and annual health rewards such as vouchers that pet owners can spend on vet services.
Affiliate Website Ideas
This list of the top 10 pet insurance affiliate programs is just a place to start. Did it spark any ideas for your niche market websites? I have a few ideas I can share to get you going.
For example, a website that focuses on service dogs and helper dogs could promote pet insurance. It could also offer life and health insurance for pet owners, pet products, and dog training programs.
A website focusing on horses as pets could feature Protectapet or other pet insurance companies that also cover horses. It could also feature equestrian equipment, western lifestyle clothes and accessories, and custom-made saddles.
What about a website that focuses on traveling with pets? Besides pet insurance, affiliate marketers could promote kennels and pet carriers, travel agencies, pet-friendly hotels, and equipment such as collars, leashes, and harnesses.
Boost Your Affiliate Earnings
These 10 affiliate programs are just the beginning of what's possible. There are hundreds of ways to earn affiliate commissions with your website, including product reviews, top 10 lists, how-to guides, and more
But what about traffic and conversions? How do you make sure your affiliate links get clicked?
I used the affiliate training here to turn my brand new website into a six-figure income generator in less than two years. Build a business, not just a pocket-money side project!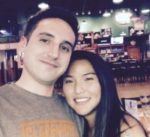 Nathaniell
What's up ladies and dudes! Great to finally meet you, and I hope you enjoyed this post. My name is Nathaniell and I'm the owner of One More Cup of Coffee. I started my first online business in 2010 promoting computer software and now I help newbies start their own businesses. Sign up for my #1 recommended training course and learn how to start your business for FREE!