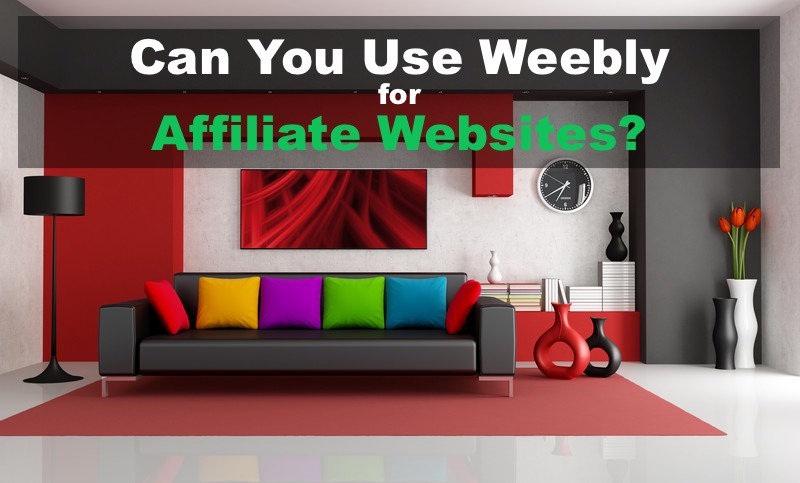 If you want to build a website, there are tons of choices available. If you want to build a profitable website, then your options shrink down to just a few.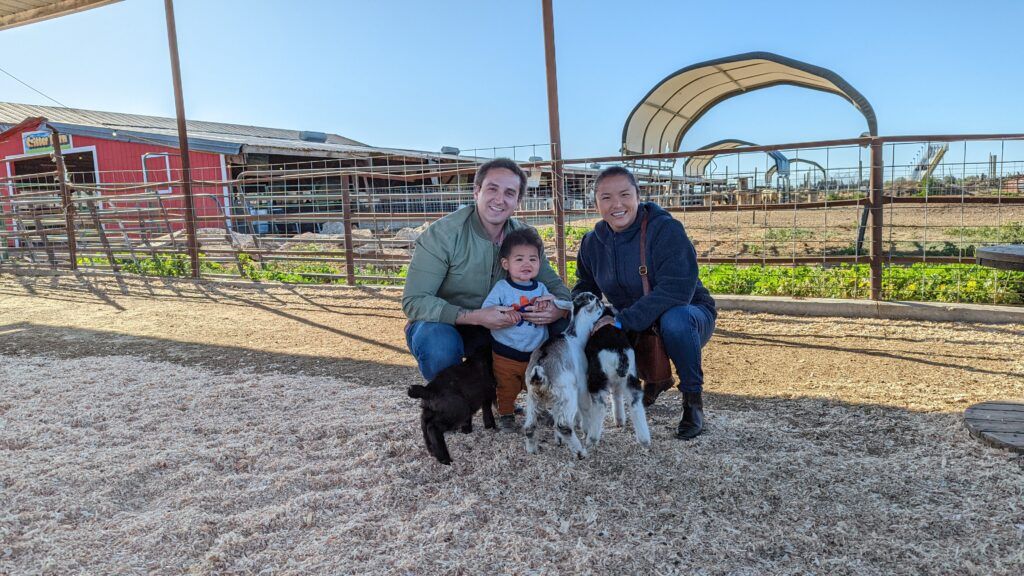 Are You Ready To Work Your Ass Off to Earn Your Lifestyle?
Are you tired of the daily grind? With a laptop and an internet connection I built a small website to generate income, and my life completely changed. Let me show you exactly how I've been doing it for more than 13 years.
For those that want to build a profitable affiliate website, there are really just one or two worth considering. One of those options is Weebly.
Personally, I always use WordPress to build my affiliate websites, but some people do not like it because it's not "drag and drop" like many other website builders you hear advertised on the radio and podcasts. Weebly is one of those drag and drop editors you hear about, so I wanted to find out if you can use Weebly for affiliate websites, and actually build a profitable business online.
Yes, You Could Use Weebly For Affiliate Websites (But I Don't Recommend It)
To my surprise, after playing around with the editor and building a website for about a week, my opinion is that yes, you could potentially use Weebly for an affiliate website.
That being said, I'm very confident in tell you that I would NOT choose to use their platform to build my own sites. I'll get into the details of those reasons below, but the main reason is that no matter how you slice it, WordPress has more options. Even though you are afraid of the editor right now, in 10 years you won't be.
Do you want to build a business based on what you can do now, or what you'll be able to do in the future? I think you'll agree with me that it's a silly idea to set limitations on your growth as an entrepreneur that are based on your current skillset. Plan to learn, improve, and grow, and you'll quickly get over this whole, "I gotta have a drag and drop editor" thing.
Is Weebly Hosting Any Good?
I'm not a technical guy, so I won't get into specific aspects of Weebly hosting, but just based on anecdotal evidence, Weebly hosting is fast. I was not running a resource heavy website, so I didn't test the limits of their hosting, but I'm confident that Weebly will be fine for small, niche affiliate website that focus on written content.
In other words, for your first website, Weebly hosting is great.
One huge problem you should consider though, is that almost no other hosting companies can host your website. If you are unhappy with Weebly speed at this time, or at any point in the future, there's nowhere to go.
Weebly is a private company with a unique CMS (content management software), so it's not supported by other companies, with the exception of Blue Host. Additionally, Blue Host admits that they are not running the most current version of Weebly, and you will not have access to the newest apps.
What that means is that if you want to move your website because it's performing well and Weebly hosting can't catch up, then you simply have no other home to go to.
At that point, it's going to be an expensive, time-consuming process to switch your CMS over to WordPress. It's possible – and many people do it – but it's still a pain in the butt.

Building A Basic Weebly Website
How Much Does Weebly Cost?
You can actually make your Weebly webiste for free! However, like many free site builders, if you are serious about building traffic to your site, you will run out of storage and bandwidth very quickly. That means you're going to have to pay.
I signed up for the basic package, but if you start getting any kind of traffic I suspect you'll need to upgrade to a medium-tier plan fast.
Plus, I figured out that even on the basic plans you still have things like Weebly branding in your footer. Just removing the brand is gonna cost you. Want a custom favicon? You have to upgrade! All these things are free (and expected) in WordPress.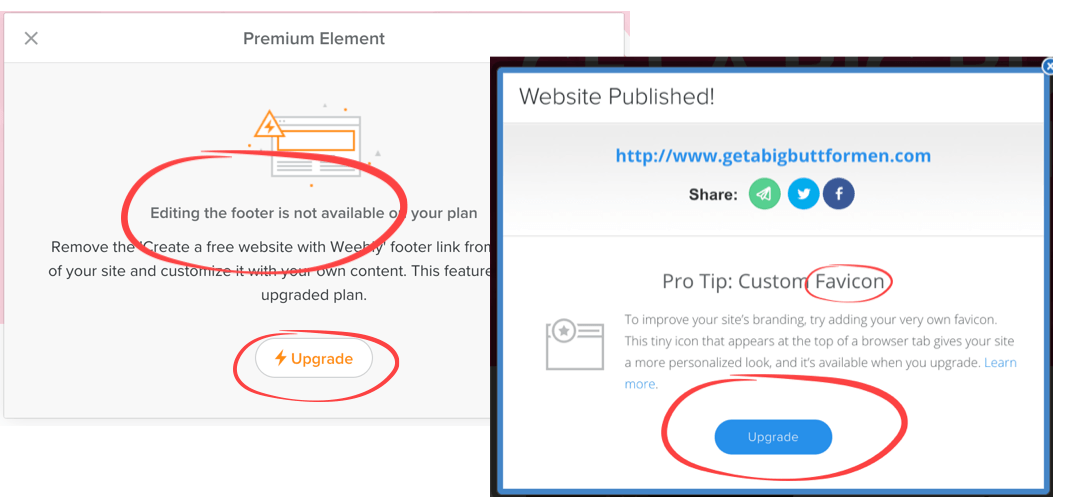 So although they advertise as costing just $5/month for your own domain name, in reality, you're going to need to pay $18-$38 per month. Twenty or thirty dollars a month isn't too crazy, but you can get very fast, VPS hosting for WordPress websites, which would include hosting for at least 5-10 domains. With Weebly you get just one.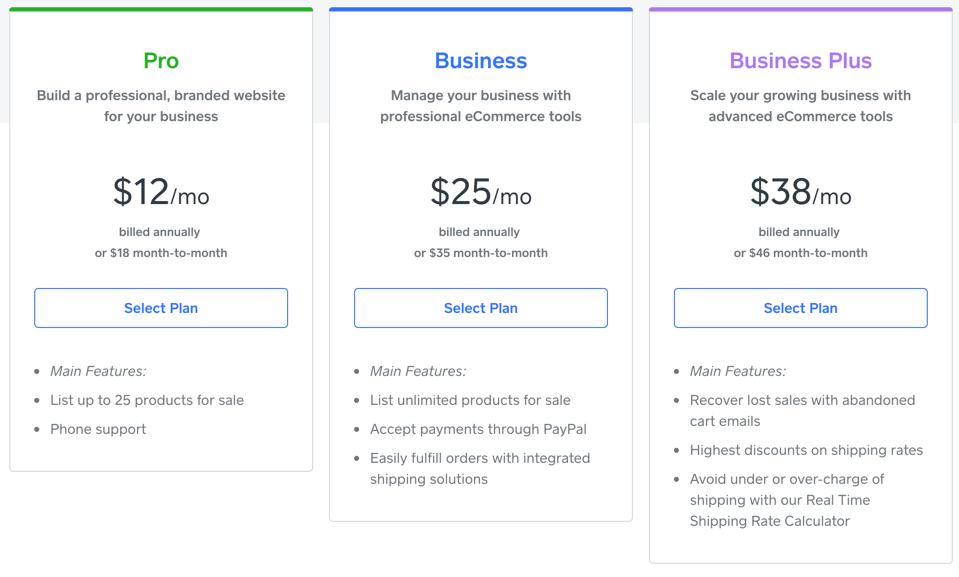 Let's not forget as well, email at Weebly is going to cost you $70/year. Most registrars will at the very least, give you a free email forwarding option so you can set up a "catch all" email, then forward it to your email provider like Gmail.
If you are making a hundred grand a year (completely possible with affiliate marketing), then $70/year isn't a big deal. My point with a lot of this stuff is that I feel like Weebly is nickel and diming us though this process.
Weebly Domains
If you start out on a free Weebly website, you'll get the URL structure mywebistename.weebly.com. This is not a bad way to start, and preferable to other site builder structures I've seen. At least you get your brand name or keyword listed near the front of the domain URL.
However, if you are serious about building out your affiliate website, you definitely need to get a .com domain name. Weebly makes the transition process from subdomain to "top level domain" (TLD) very simple and fast. In fact, if you pay for a year in advance, you get a free domain.
My only issue here is that if you are monthly and purchase a domain from them, it's $20/year, which is a bit more expensive than many other domain registrars. For example, I can get a domain for $10-$15, without any discount codes, at popular registrars like Namecheap or Godaddy.
Designing Your Weebly Website
One of the main reasons people choose to build their site on Weebly is the drag and drop editor. People, especially those over 40, have an instinctive fear of coding.

What they don't realize, is that you can create a beautiful WordPress website without knowing any coding at all. Themes and plugins can help you create an awesome website, even if it doesn't sound as simple as "drag and drop".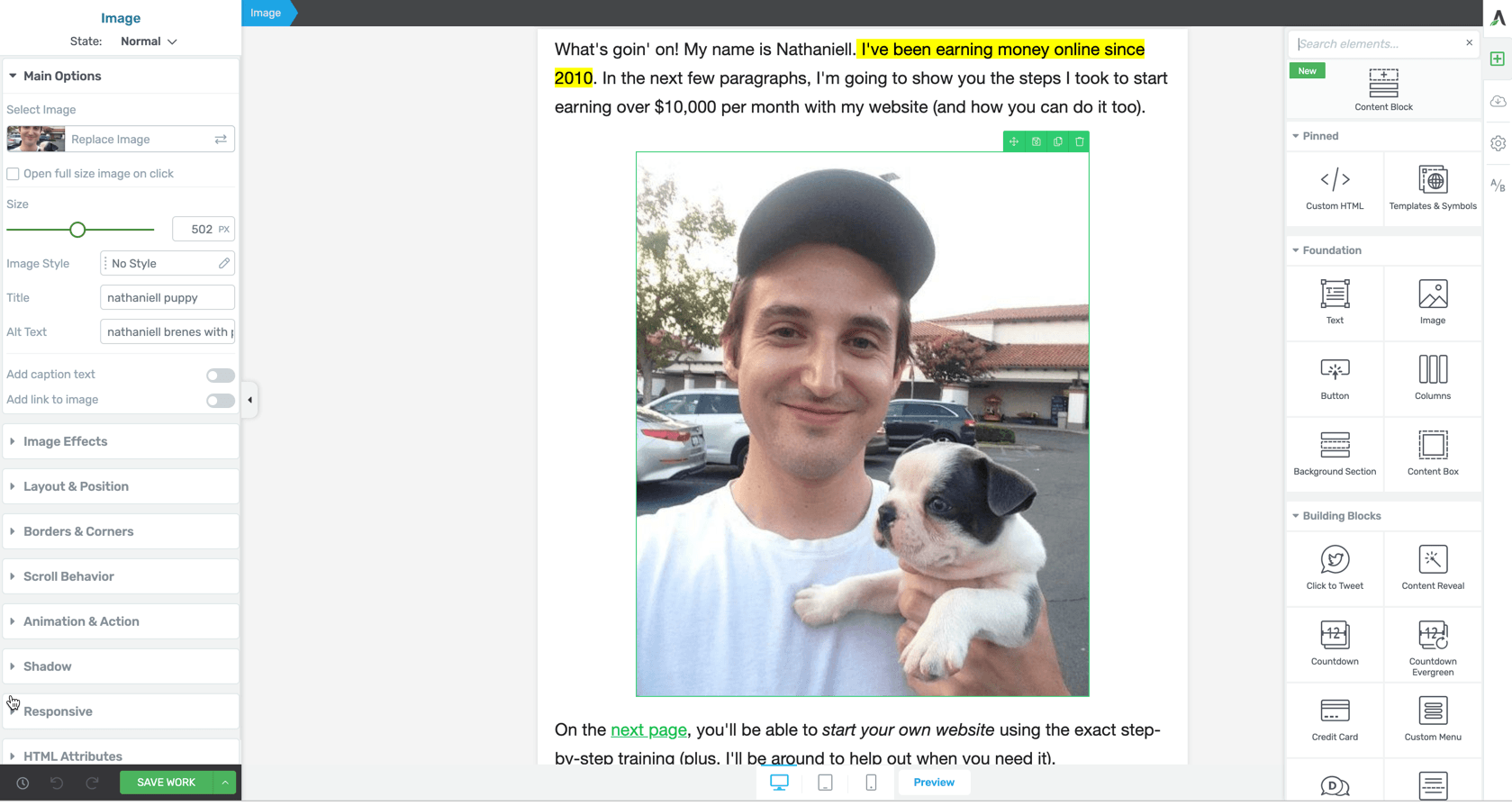 Another truth-bomb to lay on you is that designing your website with drag and drop isn't as easy as you might think. The simple design elements means that getting pretty stuff on the page is easy, but it also means that all the more precise customization elements you'll need to run a successful affiliate website are hidden.
That means extra steps to get done what needs to get done.
A great example is that Weebly doesn't give you access to FTP. FTP is used to upload stuff to your website's "back end". An example could be a verification file or some custom designs. If you hire a web designer to create a special page for you, they will have to figure out a workaround, and the final product may not be exactly what you wanted.
What happens down the road when you have a bigger budget want a custom website? You can't design custom Weebly templates, so you'll be stuck with a design that thousands of other people are using too.
All that said, it was, exactly as promised, super easy to make my initial website. I can see why new website creators dig the Weebly CMS. I picked out a "fitness" theme, so decided to build the website Get A Big Butt For Men (https://www.getabigbuttformen.com/).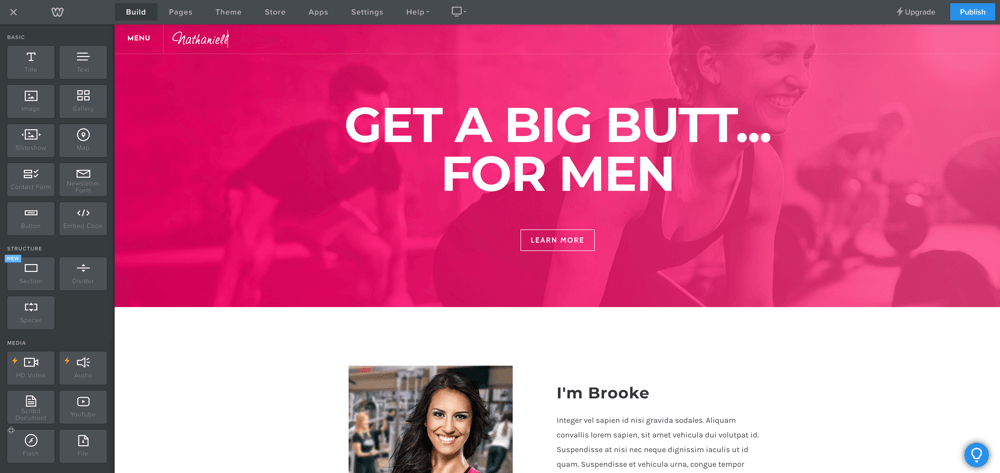 Much like many of the other drag and drop editors out there like Wix and Squarespace, there's a strong focus on designing a beautiful home page. In my experience, the home page is one of the more useless elements of a website. I've always built traffic by creating content and getting ranked in Google. The page people land on is relevant to their search query, but my home page is not always relevant.
I don't hand out business cards with my website address on them, nor do I get clients by sending them to my site. As an affiliate marketer, I want to drive traffic to individual topics, and I do this by writing articles about those topics.
This is why I think that Weebly is mostly intended for small business owners and personal brands. For example, if you do drone wedding photographer, the main element of your business is going to be showcasing your photos and collecting leads. You'd need a simple 4-5 page website with:
home page
sign up form
gallery
pricing sheet
You might occasionally blog about a recent event you photographed, but your main job is not going to be writing content.
Another good example could be a local restaurant owner who wants to build a website to show menu items, send out emails for special events, and get feedback from patrons. They would be a great Weebly customer since they could design the website themselves and not have to hire an expensive developer.
For affiliate marketers? Weebly will do in a pinch, but I still think WordPress is better.

Search Engine Optimization
Surprisingly, Weebly does a decent job with SEO options. In fact, they pretty much checked all the boxes I had in mind for how I optimize my website for search engines. The only issue I really have is that these options are usually buried behind 3-4 clicks and an "advanced" tab.
Being able to properly optimize your pages for search engines can make the difference between spot #3 and spot #10 on page 1 of Google, and a 70%+ difference in clicks through search engines.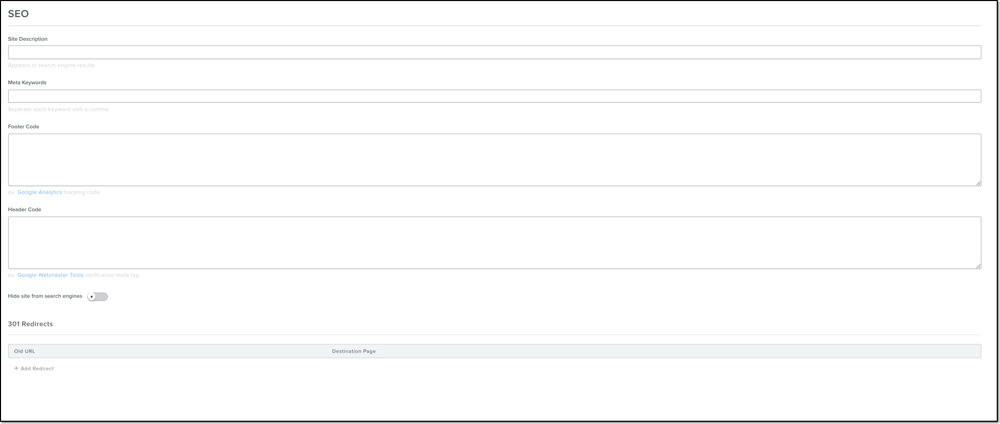 Aside from the home page settings, here are the on-page SEO features I was looking for, and found!
change URL to remove stop words
add alt text to images
h2-h6 heading tags
category pages
internal link search
easy access to 301 redirects
easy addition of header + footer codes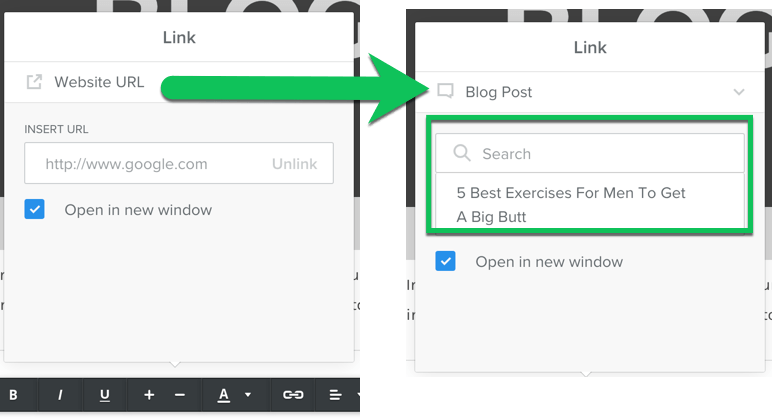 Not everything was perfect though!
For example, I really don't like their URL structure. The full URL of any page begins with WWW, which is completely unnecessary. Then, any page will end with .html, and blog posts will all have /blog/ in the URL. This seems like a lot of wasted space, since none of those things express what the page is about.
It's much more efficient to have a simple URL like https://getabigbuttformen.com/best-exercises-men-big-butt, instead of URLs like https://www.getabigbuttformen.com/blog/best-exercises-men-big-butt or https://www.getabigbuttformen.com/new-page.html
I also don't get why we need to add our own canonical tags. Wouldn't it make sense to just have a post automatically add the tag, and have you disable it manually if you are posting duplicate content?
With regards to headings (h1-h6), I was a bit confused. Firstly, the name of the content post (in the blog) was shown as having a "title" tag, not an h1 tag. I'm not exactly sure if that makes a difference in Google's eyes.
What was obvious was that there was no way to create h2-h6 out of the box. You have to download an app or use custom HTML to code your own headings. This is exactly what I was talking about above, when I mentioned that there are too many settings sitting behind an "advanced" tab.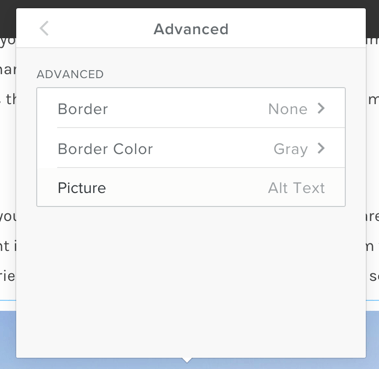 There are many more things that contribute to search engine optimization, but those basic elements are enough to get you ranked and paid as an affiliate. SEO isn't as hard as people make it out to be.

Creating Content On Weebly VS WordPress
The main ways that I drive traffic to my website is by creating content, namely writing articles. I do keyword research, write a search engine optimized article, then hit publish. That's pretty much it.
Considering that content creation is my business model to earn money, it's pretty important to me!
Creating written content on Weebly was very easy, and close enough to what I'm used to that I felt comfortable writing an article and adding images. There were a few clunky elements, like needing to install an app just so I could have proper heading sizes, or not being able to customize the sidebar in the blog on my theme, but overall it was a decent experience.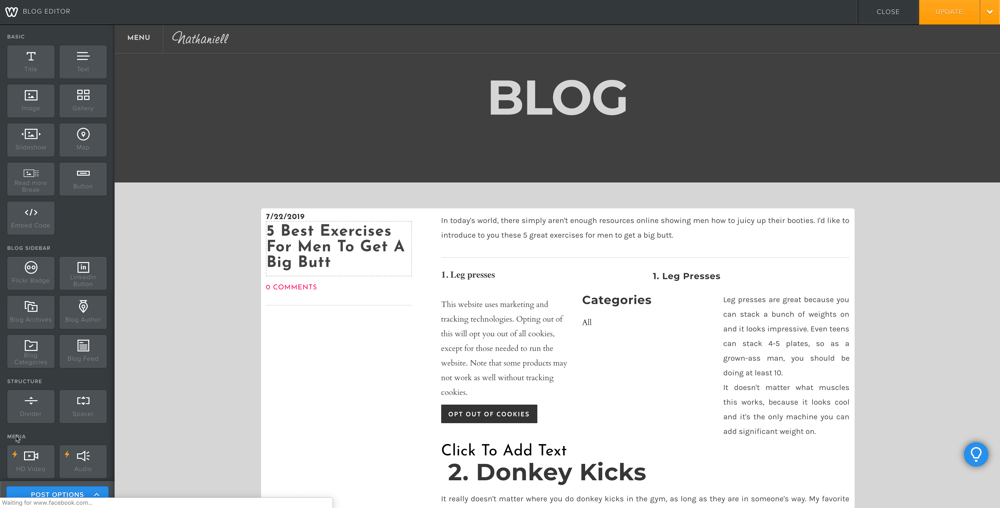 The most annoying aspect of editing on Weebly is that you have to navigate to each article to edit, rather than having one central location. How am I going to edit 1000's of articles after a decade in business?
In WordPress, I see all of my previously published content, drafts, and scheduled articles in one area. I can search, edit, and read in one area. That's much more efficient!
One other thing that rubbed me the wrong way is the way they give users access to an image database, but then warn them that they may be using copyrighted images. What? You're going to allow new website builders to access ton of cool images, but also those images might be copyrighted and Weebly isn't responsible for any consequences (e.g. lawsuits) if we don't do proper image attribution?!

That seems like Weebly is talking out of both sides of its mouth there. Either give us access to images with proper rights, or don't give us images at all.

Is Weebly Support Any Good?
Weebly has multiple routes to get support for building your website, which is great. You can choose from:
FAQ
Community Forum
Live Chat
Phone
Email
There will be advantages and disadvantages to each of these options. For example, if you call the phone, you'll probably have to do so within operating hours, and you may be on hold for a while. If you post in the forum, you may or may not get expert help, or any useful answers at all.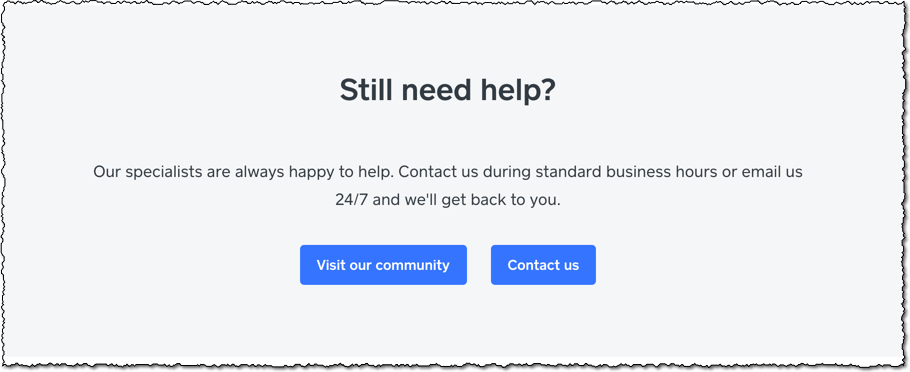 I only tested the live chat feature. My experience with live chat was very good. The person was knowledgeable, and was able to answer my question about customizing the side bar of my blog.
DIY Support For WordPress
WordPress is open source, so there's no single location to get help with your site. You need to identify the problem, then get help from that source. For example, if your website crashed, you need to contact your hosting company.
If you can't figure out how to customize your theme, you need to get support from your theme creator, via forum or email.
Need help creating a business? You're gonna have to pay for that. Here's where I learned.
However, one of the amazing things about WordPress is the vast number or free tutorials you can find online. YouTube is chock full of multiple videos on the same topics like how to customize your themes, how to troubleshoot errors, and how to make money with your website.
Weebly on the other hand, has very little available.
They have their own FAQ pages and tutorials for common questions, but the community behind Weebly is not as large as WordPress. Not by a long shot!

Will I Continue My Weebly Affiliate Site?
Weebly wasn't that bad of a CMS. It was much better than expected, but it's still not something I'd focus on long term. There are many limitations that I, as an affiliate marketer, just can't work around.
For me, it's not worth my time to continue this affiliate site on Weebly. Plus, even though I thought that my "big butts for men" website would be a hilarious case study to develop as a niche website, I'm pretty much over the joke, and ready to ditch this site.
What about for you though? Do I recommend you use Weebly?
No, I do not recommend you build an affiliate site on Weebly. Just because I say things like, "it was better than expected", or, "You could make money from your site if you really tried", doesn't mean I actually want you to build your website there.
I simply mean that if you are adamant about using this editor, that's fine. It's a lot better that Wix. That's for sure.
However, my full recommendation is to start a WordPress website if you are going to go into affiliate marketing. WordPress is where it's at, across all categories.

Final Thoughts
Weebly is a decent website builder, and has enough SEO options that I think you could truly build a website that ranks for keywords and gets you clicks to your affiliate links, and sales for your affiliate accounts. However, there are a three key issues with it that make me still recommend WordPress as my #1 website builder option for affiliate websites.
Being stuck with Weebly hosting is very annoying, and I can't stand any CMS that's going to lock you in for life. You have thousands of options to host your WordPress sites, and with options, comes competition and quality service to retain your subscription.
Secondly, support and training is going to be vital to you learning how to build your affiliate website business. Whether you leverage free resources like YouTube and blogs, join a community, or purchase PDF and video guides – they are all going to be WordPress-focused. Weebly training modules are sparse.
Lastly, long term, you are going to want the full customizability of WordPress. While it might seem nice to have a drag and drop interface as a beginner, you'll quickly outgrow that. Think about the long term of your business, not just what your limited abilities are right now.
WordPress is not perfect, but if you want to build a profitable affiliate website, WordPress is the way to go.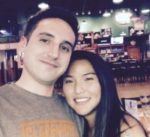 Nathaniell
What's up ladies and dudes! Great to finally meet you, and I hope you enjoyed this post. My name is Nathaniell and I'm the owner of One More Cup of Coffee. I started my first online business in 2010 promoting computer software and now I help newbies start their own businesses. Sign up for my #1 recommended training course and learn how to start your business for FREE!