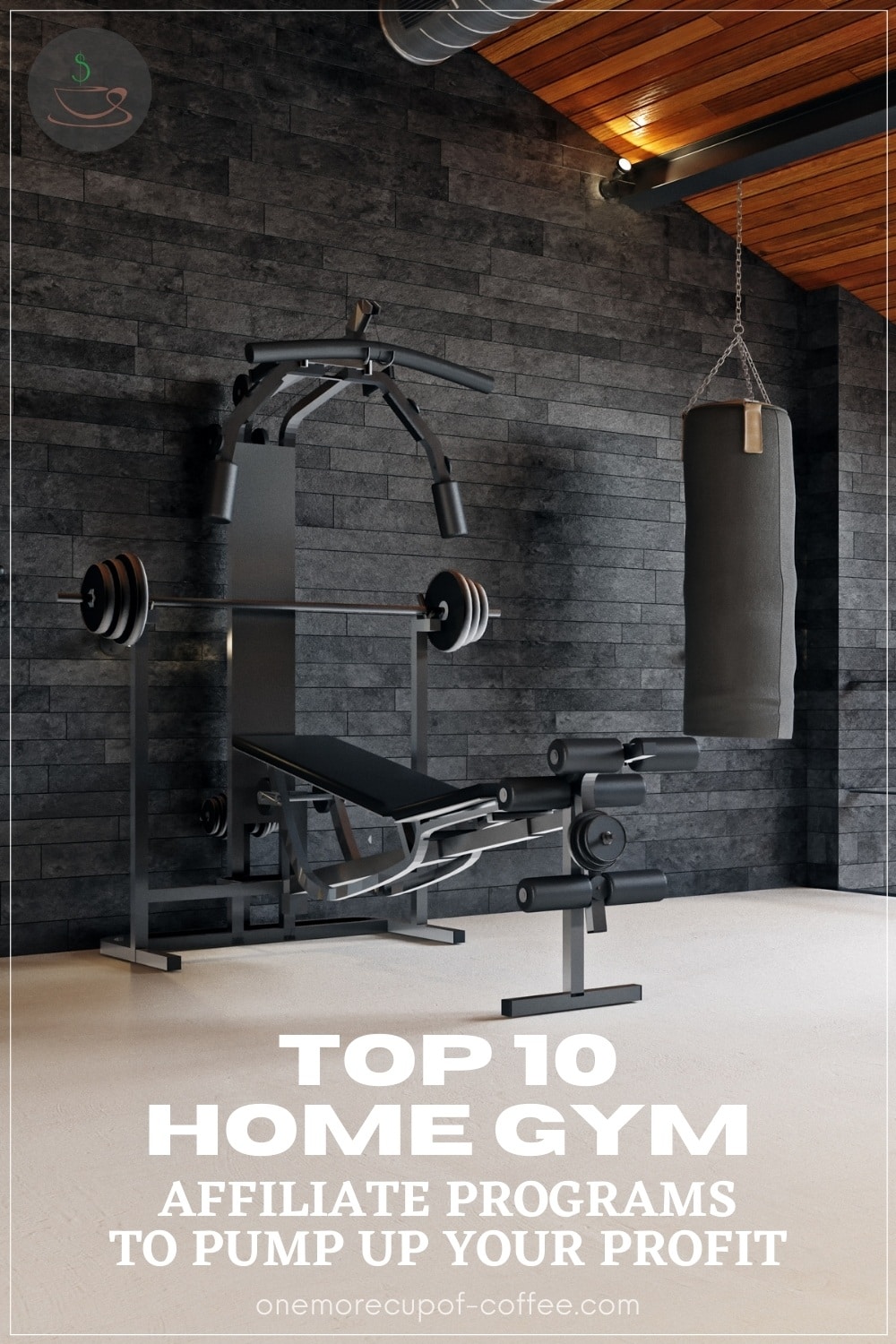 One of my friends has a treadmill in her bedroom. Another friend keeps a stationary bicycle in front of the television, and another has completely revamped her basement with a punching bag, weight-lifting equipment, and cardio exercise machines.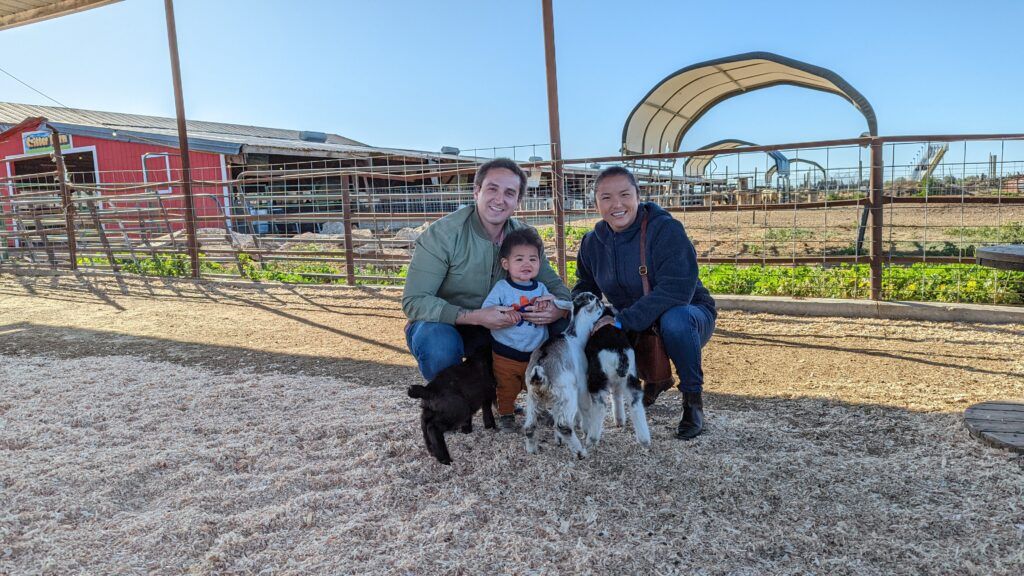 Are You Ready To Work Your Ass Off to Earn Your Lifestyle?
Are you tired of the daily grind? With a laptop and an internet connection I built a small website to generate income, and my life completely changed. Let me show you exactly how I've been doing it for more than 13 years.
Me? I absolutely hate the parking situation at my local In-Shape City. I can't wait to buy my own gym equipment.
For many people, building their own gym at home or in the garage is a reasonable alternative to joining a gym. It's convenient, and if it's something they enjoy and use a lot, it can be more cost-effective than a gym membership over time.
It's also a lucrative business. In 2018, the sales of fitness equipment in the United States for home use reached 3.86 billion dollars. Many of the companies that sell home gym equipment have affiliate programs, too, so it can be a nice industry for niche marketers to tap into.
If you're interested, read on! I'm about to share my list of the top 10 home gym affiliate programs that you could use to bring in extra income. The good news is that if you get into this niche, you have lots of verticals to get into like supplements, weight loss, or even home improvement.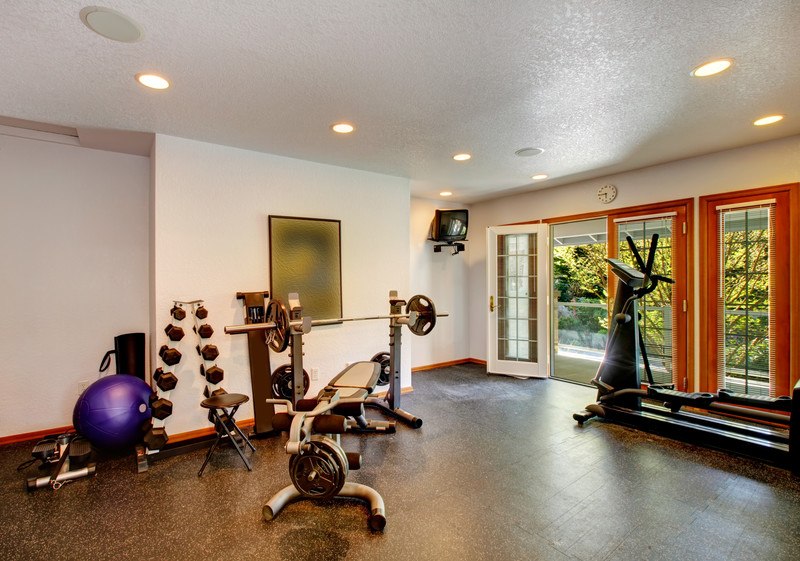 Home Gym Affiliate Programs
Life Fitness
BowFlex
Workout Warehouse
Total Gym
REP Fitness
Lifeline Fitness
Garage Fit
BodyBoss
Archon
TRX
1. Life Fitness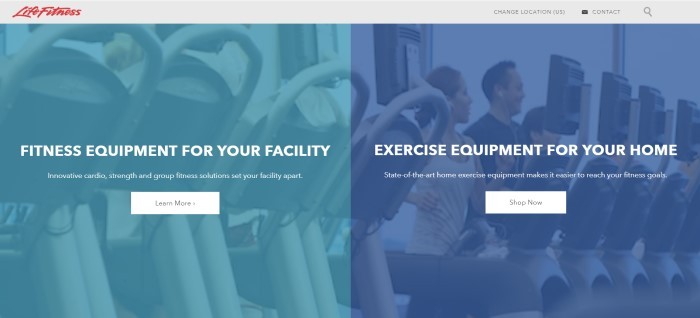 Life Fitness has been in business for more than 45 years. This company sells exercise equipment for both commercial use and home use.
The online store for home gyms with Life Fitness includes separate sections for cardio equipment, strength training equipment, and accessories, as well as the ability to shop by brands or by what's on sale. Shoppers can also filter their searches by price.
The least expensive pieces of equipment start around $1775, and the most expensive prices currently top out around $9,000. The average order value is $3,000.
The affiliate program is administered through AvantLink or FlexOffers.
Why You Should Promote Life Fitness: At the average order value, affiliate earnings are right around $240 per sale. Affiliates can also get bonuses and other incentives based on performance.
2. Bowflex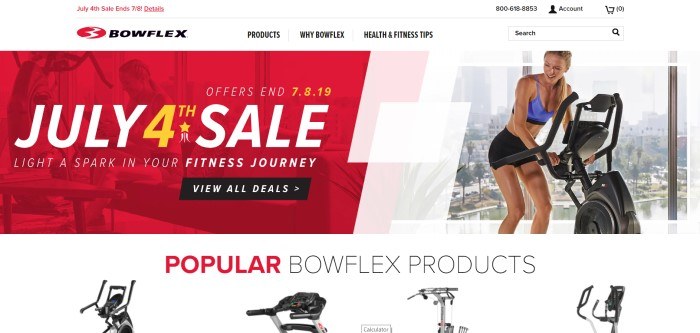 Bowflex sells a variety of different gym equipment, including all-in-one home gym machines. The featured products include the Max Trainer and the Bowflex Treadclimber machines.
The Max Trainer machines are sophisticated pieces of equipment that use special software. It tracks capabilities for users and helps them slowly increase what they can do, such as increasing resistance on a workout. The prices for Max Trainer equipment range from $999-2,599.
The Treadclimber series of equipment combines the ideas of treadmills and stair climbers for a walking experience that burns around 25 times more calories than on a treadmill alone. The Treadclimber machines range from $1,799-2,399.
Bowflex runs its affiliate program through Impact Radius.
Why You Should Promote BowFlex: These pieces of equipment are sophisticated but less costly than home gym equipment from some other companies, so they could be an easier sell.
3. Workout Warehouse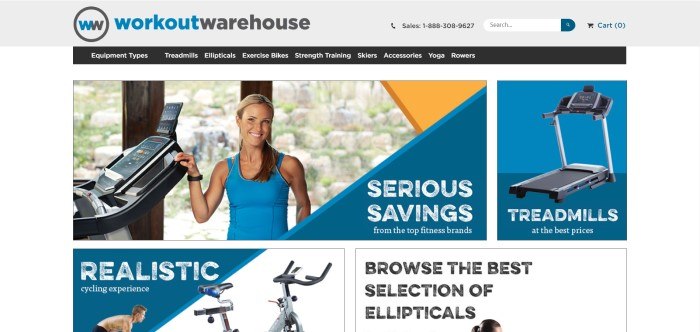 Workout Warehouse sells home gym equipment such as treadmills, ellipticals, exercise bikes, strength training equipment, skiers, rowers, yoga equipment, and accessories. Treadmills are some of the most popular items. They cost up to $2,000, but some of the less expensive models can be purchased for around $599.
This company carries some well-known brands, including NordicTrack and ProForm. The affiliate program is run through Commission Junction.
Why You Should Promote Workout Warehouse: The tiered commission levels are a great deal for affiliate marketers. The 8% rate is in effect for sales up to $10,000, and it goes up by 1% for every $10,000 in sales. The commission rate tops out at 11% on sales of $30,000 or more.
4. Total Gym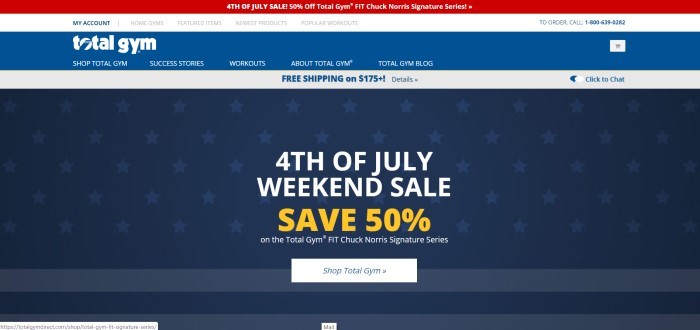 Total Gym sells all-in-one pieces of equipment that weigh less than 100 lbs. The company has been endorsed by Christie Brinkley and Chuck Norris for 15 years. The gyms range in price from around $530 to $3,795.
Consumers get free shipping on all orders over $175. There's also a 30-day risk-free trial period, and customers can pay in installments without interest. Affiliates get 3% commission on DVD sales, 5% commission on the core trainer, and 7.5% commission on all full units. The affiliate program is run through CJ.
Why You Should Promote Total Gym: The consumer benefits could be a conversion factor for some shoppers. The endorsements by Chuck Norris and Christy Brinkley might be enough to sway some shoppers, too.
5. REP Fitness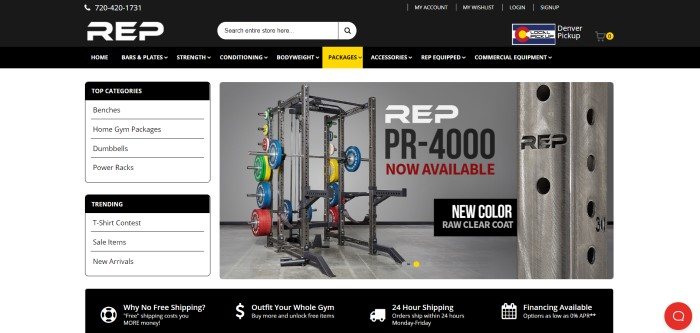 REP fitness is interesting because it offers a wider range of strength training and conditioning equipment than some of the other home gym companies I've looked at. Besides rowers, ellipticals, treadmills, and weight benches, REP sells squat racks, kettlebells, and some unique items like battle ropes and balance trainers.
Customers can buy home gym packages ranging from $239-$3,862, depending on what they want and how they customize their order. These packages generally include a weight bar and weights.
The affiliate program is run through Post Affiliate Pro. However, the commission rate isn't listed, and you have to send an email to the company to find out more information.
Why You Should Promote REP Fitness: The exercise equipment can be considered high-ticket items, but without knowing the commission rate, it's difficult to say whether an affiliate could make money with this company or not.
The upside is that there's a lot of equipment to choose from and a strong focus on conditioning, which could fit well with a niche website.
6. Lifeline Fitness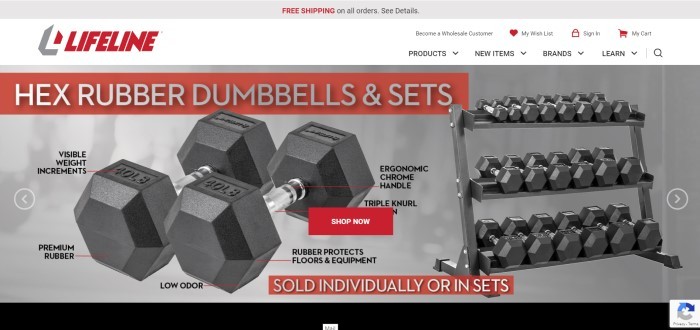 Unlike some companies that sell home gyms as all-in-one pieces or packages, Lifeline Fitness sells smaller pieces of home exercise equipment that can be worked into a full gym routine.
Products include items like training ropes, speed ladders, weights with benches and racks, pull-up bars, weighted vests, and power wheels. Some items, like the racks and benches, can cost close to $3,000, but the average order value is $100.
One of the unique things about Lifeline Fitness is its line of mobility and recovery equipment. Items like shoulder pulleys, massage bars, stretching straps, training mats, and core balls are available to help people recover from accidents or work gently into a fitness routine after years of inactivity.
The company offers free shipping on all orders. The affiliate program is administered through ShareASale.
Why You Should Promote Lifeline Fitness: The lower prices and smaller space requirements could be a selling point for some customers who want to try a home gym experience but are scared to invest too much at one time. The increased mobility could be a big selling point, especially with a niche market website, and the free shipping helps, too.
7. Garage Fit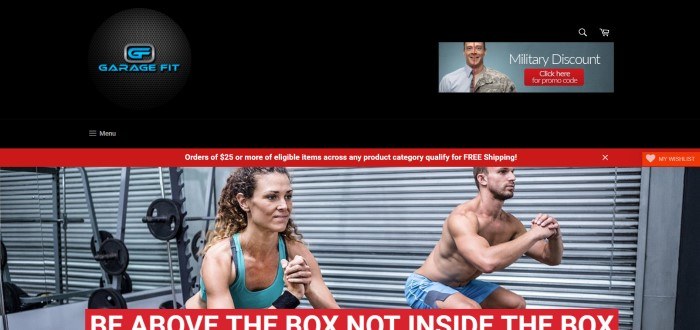 Garage Fit is another company where customers can build their home gym using smaller pieces of unique equipment. Many of the products that Garage Fit sells are great to use for bodyweight resistance, such as pull-up bars, training vests, and stretch bands.
This company also has a nice focus on agility and speed. Some of the most unique items this store sells are the agility dots and rings, the high jump speed ladder, the steel maces, the plyo boxes, and the thunder balls. There's also a pop-up soccer goal target that can help improve kicking aim.
Overall, there's a nice range of products here to build a home gym with, but not large pieces of equipment or all-in-one gyms like some companies offer.
Why You Should Promote Garage Fit: The focus on speed and agility could be a good fit for some niche markets. The smaller size of the products could appeal to people who don't have a lot of space, too, and there's free shipping on all orders of $25 or more.
8. BodyBoss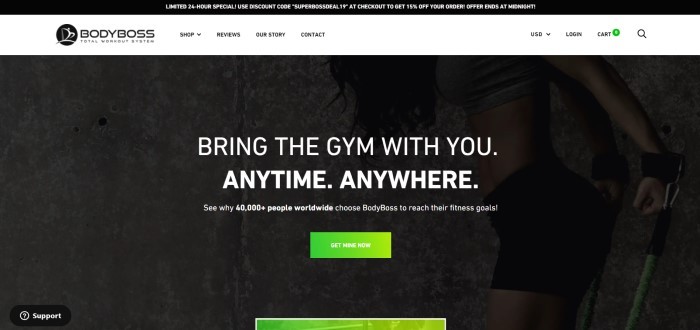 Body Boss sells individual pieces of exercise equipment that are meant to provide resistance using your own body weight. These products include door anchors and handle with special stretch bands, a workout bar, and an ab wheel.
This company also has a package deal that costs around $179. All of the products are included, as well as for instructions, a solid workout base, and a carrying bag. The nice thing about this full home gym set is that it's completely portable.
Why You Should Promote BodyBoss: It's less expensive and less space-invasive than most full gyms, and it can be used for both resistance training and cardio training. There's also a 1-year warranty, hassle-free returns, and trainer support, which could be a converting factor for some shoppers.
9. Archon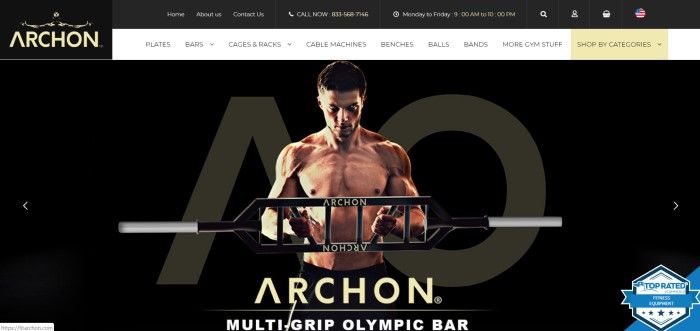 Archon carries a good mix of small and large equipment that it promotes as commercial-quality with reasonable prices. The main focuses are how functional and durable the equipment is and how it will be used.
Products include full pulley-system gyms and specialized weight plates. There are also Olympic bars, slam balls (in sets or sold individually), specialty bars, cages and racks, benches, cable machines, and other gym equipment.
The company also has a blog site that provides customers with workouts, nutrition ideas, and how to use the equipment to get various results.
Why You Should Promote Archon: Although the website has a slightly exclusive feel, the ideas behind it are warm and friendly, and that could convert shoppers. The downside for affiliate marketers is that the commission rate isn't listed on this site. You have to send an email to the company to request more information or sign up as an affiliate.
10. TRX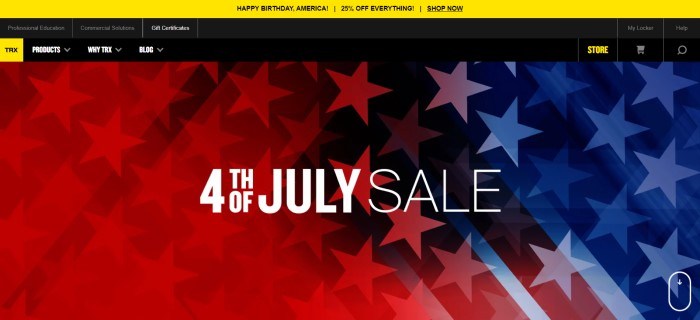 TRX Training focuses on suspension systems. The signature product, the TRX Home 2, is combined with training apps with full workouts and tracking capabilities, for around$150. There's also the TRX Tactical, which is used by the military, The TRX Pro4, and the TRX rip trainer.
The company offers a five-year warranty, free access to the app for one year, and hassle-free returns.
Why You Should Promote TRX: The price is reasonable for a complete home gym system, it's space-friendly, and it's effective enough to use in the military. The warranty and cool app could help convert shoppers, too.
Affiliate Website Ideas
Now that you've read about the top 10 home gym affiliate programs, what kinds of fitness niche market websites are you thinking about? I've got a few ideas to share with you here.
How about a home gym website for people who live in small apartments? On a website like this one, you could promote space-saving home gym products, such as the TRX suspension kits. You could also promote storage solutions, inventory control apps, and weight loss systems.
A website that focuses on how to stay fit during business travel could promote portable home gyms like Body Boss, as well as comfortable sports apparel, luggage, and fitness and nutrition apps. If your audience is wealthy, you could also talk about luxury resorts and rate their gyms.
You could also create a niche website that focuses on building speed and agility. Rather than zeroing in on heavyweight sets, you could promote Garage Fit and other home gym sets that include items like speed ladders and agility rings. You could also promote sports hoes, archery and knife-throwing products, and VR hardware and software that require good coordination and speed.
Here's one more idea: how about a website that helps people recover from injuries? Any website that helps people is going to be a big moneymaker.
Various home gyms could be promoted here to help regain mobility. Motivational videos and books could also be promoted here, as well as health and auto insurance or investment programs to help manage the financial side of crises.
Boost Your Affiliate Earnings
These 10 affiliate programs are just the beginning of what's possible. There are hundreds of ways to earn affiliate commissions with your website, including product reviews, top 10 lists, how-to guides, and more
But what about traffic and conversions? How do you make sure your affiliate links get clicked?
I used the affiliate training here to turn my brand new website into a six-figure income generator in less than two years. Build a business, not just a pocket-money side project!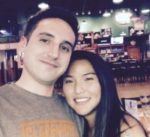 Nathaniell
What's up ladies and dudes! Great to finally meet you, and I hope you enjoyed this post. My name is Nathaniell and I'm the owner of One More Cup of Coffee. I started my first online business in 2010 promoting computer software and now I help newbies start their own businesses. Sign up for my #1 recommended training course and learn how to start your business for FREE!