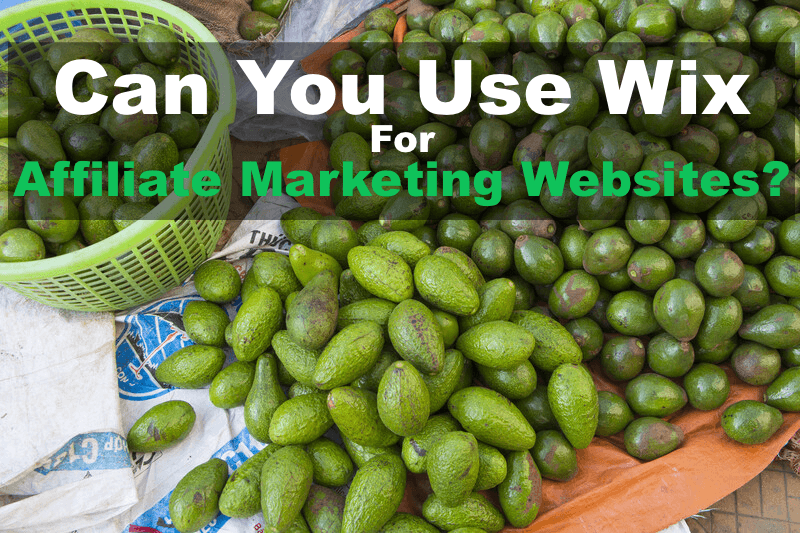 There are many types of website builders out there, and Wix is one of the most popular ones. In fact, Wix is a publically traded company that has been rising in share price for many years now.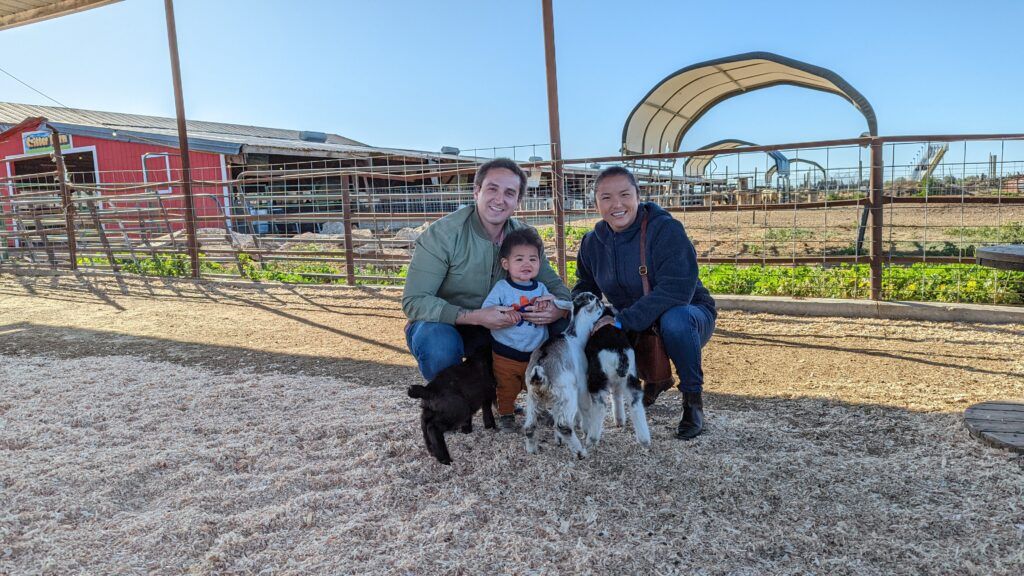 Are You Ready To Work Your Ass Off to Earn Your Lifestyle?
Are you tired of the daily grind? With a laptop and an internet connection I built a small website to generate income, and my life completely changed. Let me show you exactly how I've been doing it for more than 13 years.
They are making money, which means lots of people are using Wix to build websites, but can you use Wix for affiliate marketing websites?
After saying, "no" for many years, I decided to actually build a Wix website with affiliate marketing in mind.
There are a few people out there that truly dislike WordPress, so let's find out if Wix a good option for building your affiliate site.
Do NOT Use Wix For Affiliate Marketing Websites
I'll just save you some time and let you know that my final conclusion is that Wix is not a good option if you want to build affiliate websites as the core part of your online business. I'll get into the details below, but the main reasons I came to this conclusion are:
WordPress is much more customizable, giving you more options in the long run
Once you build your Wix website, you are locked into their hosting. No one else hosts Wix websites.
Search Engine Optimization is inferior on Wix.
Basically, the only possible reason anyone want to build a Wix affiliate website is that the editor is less intimidating to a complete newbie. The allure of drag and drop is strong for those who fear that they need to understand "web design" in order to make a good website.
First off, you don't need to know web design to make money with your website. Simple blogs that deliver effective information can make $10,000/month no problem. Stick with simple. Ignore all those fancy image sliders and moving menus.
Secondly, the Wix Editor is easier to learn for newbies, harder to customize for pros. Think about where you are headed, not where you are right now. Are you still going to be a newbie in 5 – 10 – or 15 years? No. You're going to want options.
So What Is Wix Good For?
In my opinion, Wix is designed for people who want to build a website for a personal brand, or even a simple local business website. It's best for someone who wants to make a site, finish it, then, with the exception of minor updates, not do much else with it after that.
A good example would be a local comedian who wants to post tour dates and sell tickets and merch. Another good example would be a photographer who wants to showcase their work online and provide a contact form for people who want to hire their services.
If you want to build a blog-style website and earn money from affiliate commissions, I think WordPress is the way to go. I'll even show you how to do it.
All that being said, let's start at the beginning…
My Problem Wix Deceptive Pricing
Getting your website started with Wix is very easy, but they way they price their product pisses me off.
First off, the prices you see on the home page are yearly prices shown with monthly costs. The package you see for $17/month is actually $204 per year paid up front. If you want that same package paid monthly, it's going to cost you $22/month.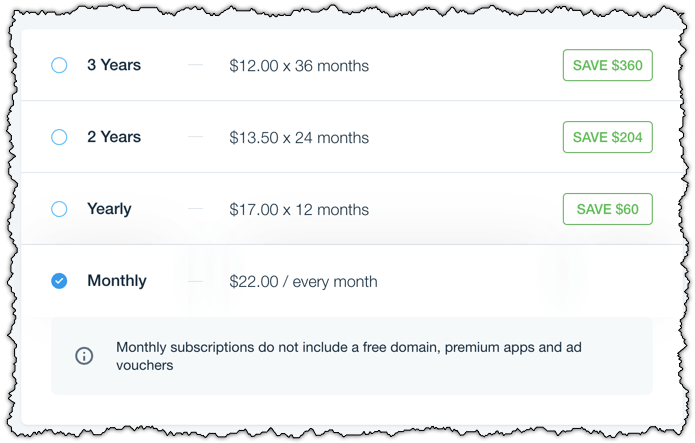 This would maybe be forgivable if there was a toggle to view both options on the home page, however, they make you create an account and start building your website before this pricing structure is clear.
Furthermore, "downgrading" to monthly means you won't get access to all the services they advertised!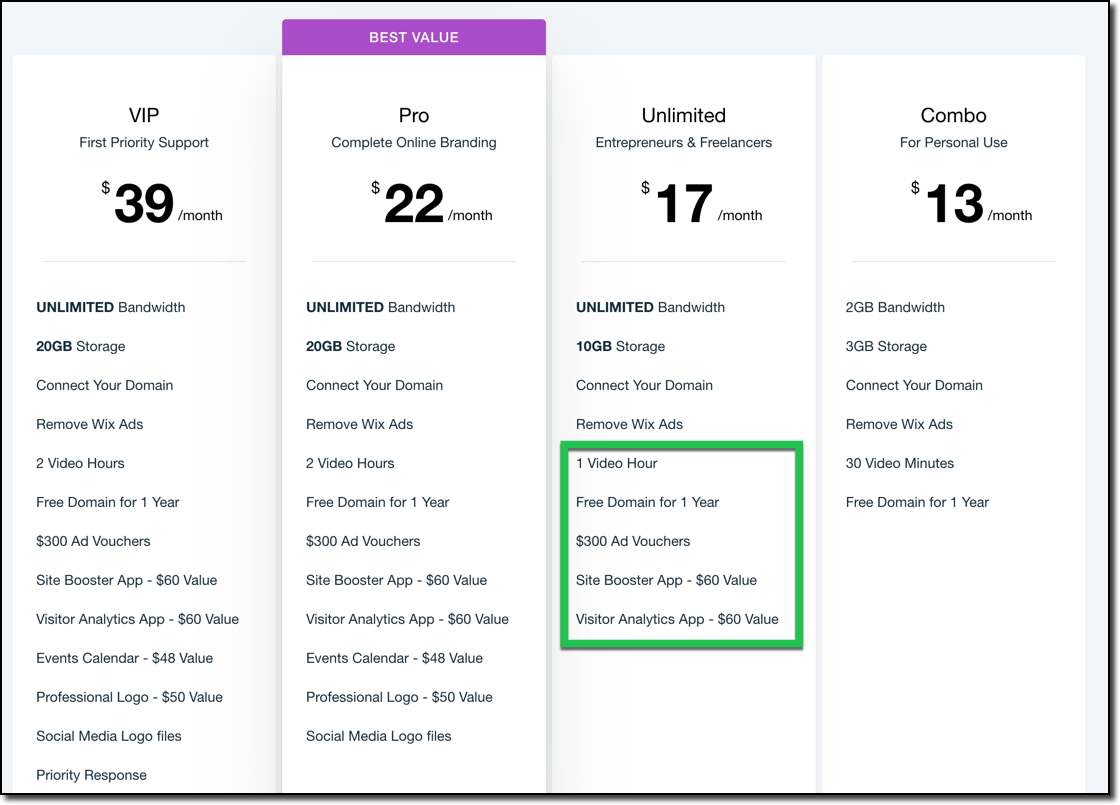 Another frustrating thing for me was that some of their "upgrades" are things you get for free with WordPress.
For example, receiving visitor analytics to your website is quoted as having a $60 value. This is totally free in WordPress using plugins or Google Analytics, one of the most advanced an insightful traffic analytics services available.
Want to put video on your website? That's counted as extra too.
As you might have suspected, including video on your website free with WordPress. You can just use a video plugin, or embed videos directly from YouTube. Since you can embed your own videos from your own YouTube channel, or the videos from other YouTube channels, I don't see why you would pay money to host videos on your Wix website.
Lastly, they charge for email. Many registrars charge extra for email as well, but most will give you one free email address and you can forward the emails to your free Gmail account, which comes with an "alias" feature, allowing you to send/receive emails from a variety of email addresses.
All of these annoyances will not actually affect how your website operates, so that's pretty much all I had to say. They're going to run their company how they want to run it, and some people may not be bothered by this type of advertising.
My main agenda here is evaluating how good Wix websites are for affiliate marketing.
Is Wix Hosting Any Good?
Fast and reliable hosting is very important to keeping your business running smoothly. A slow-loading website will cost you conversions.
While there are many things that can slow down a website, the foundation of where your website files are stored (your host), is a big factor!
Just based on my own anecdotal evidence after working on my site for about a week, Wix hosting is pretty fast. The also lived up the their claim that your site will be indexed in 30 seconds. I found this to be true, even for subsequent pages, whether they were on the Wix subdomain or my own TLD.
My main issue with building your website on Wix hosting is that you are locked into Wix hosting for life. No other hosts can support the Wix website builder, so you're stuck in their ecosystem unless you want to go through the cumbersome, expensive process of completely remaking everything a some point in the future.
Building A Basic Wix Website Is Easy, But…
Getting my site done at Wix was almost instantaneous. Right when I started exploring however, I noticed that a lot of the "cool features" were pretty useless for affiliate blogs. That includes:
live chat
paid subscription services
online store
booking app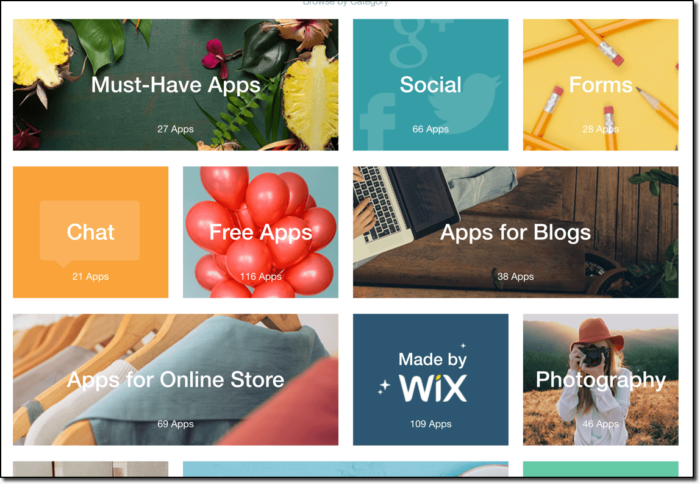 Before you get to that point, signing up involves making some decisions what what "type" of website you want to build, and what the topic of your website is. I'm not really sure why they ask this question, since there is on one, single way to make a fashion website or music website.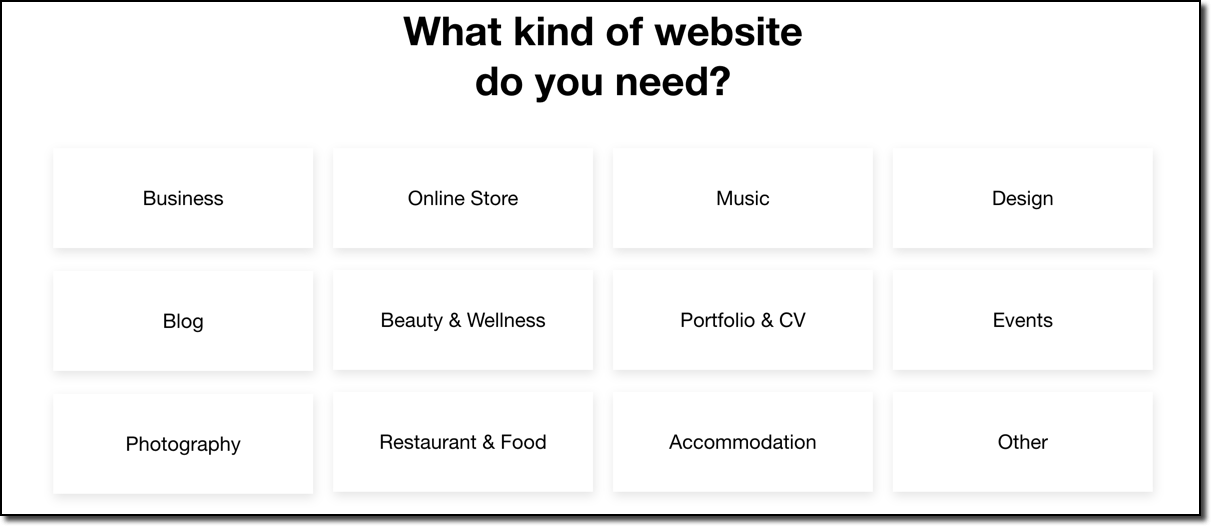 Next, they want me to narrow down my topic even more. I'm a bit confused about why they ask these questions. How exactly are they going to make a Beauty website different from a Business website? Why is "Blog" an option, when there's also a "Blog" app that I can add to any website?
It's not really clear what an affiliate marketer should choose. We're not creating an "online store". We need to create content to attract visitors from search engines. I ended up choosing the Blog option…but I still had to add the Blog app after the site was built.
But WordPress Is Hard To Learn!
People complain about WordPress having a tough learning curve, but Wix isn't always more intuitive. I had to contact support multiple times (more on this later) to figure out how to do things with my website.
Here's one major difference between WordPress and Wix – support for DIY customizations.
Because WordPress is the most widely used CMS in the world, there are tens of thousands of tutorials on how to use it. There are multiple duplicates (many people talking about the same thing) for most WordPress related topics, and you can see many of those tutorials updated and improved yearly.
By contrast, most Wix customization tutorials were created by Wix. When those didn't solve my problem, I was out of luck.
There's a learning curve to everything. Everything is though in the beginning. So do you want to learn how to play the banjo (Wix) or learn how to play the guitar (WordPress).
Designing Your Wix Website
True to expectations, the designing my Website was easy, once I figured out that I should be using the "Wix Editor" instead of the "Wix ADI".
At this time, it seems there's two ways to make your website at Wix. One is ADI (Artificial Design Intelligence), and one is a regular editor. I think because I selected "my first time" on the question about whether I designed a website before, I was funneled into the ADI platform despite the fact that they are moving everyone over to the editor (according to my phone support conversation). Weird.
In my opinion, the ADI sucks. I saw very few manual customization options, and was advised by a rep to use the Wix Editor instead.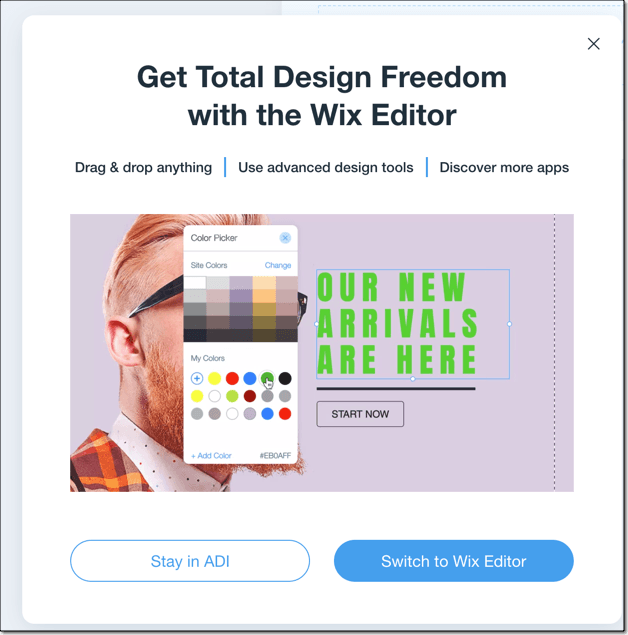 Design & layout changes are really easy on both the ADI and Editor. I was surprised that it truly was "Drag and Drop". I could basically move any element to any spot on the page. Complete freedom!
However, I think this complete freedom will get a lot of older folks in trouble. Working within some limitations is a good idea for newbies, otherwise you end up with a lot of fancy looking moving parts that don't do much and may even hinder your website performance.
One annoying thing about designing my site on Wix was that I always felt just one step away from crap I didn't need. I already decided that I don't need a live chat button or a forum on my website. Why is that still an option in the App Menu every time I work on my website?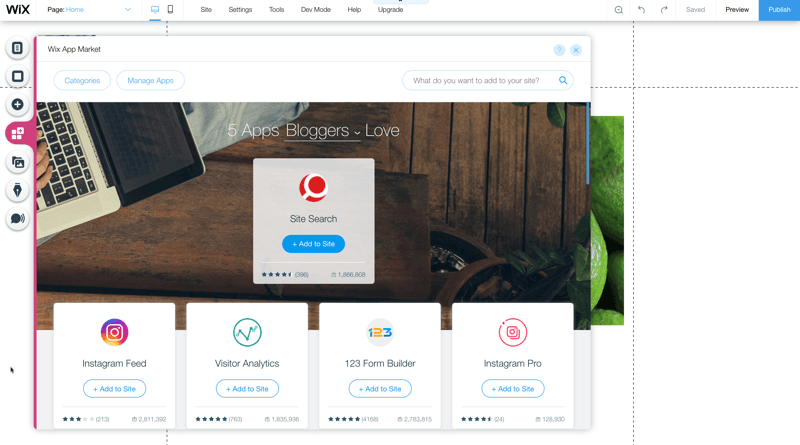 Buying Your Domain Name From Wix
Just on a whim I decided to make my Wix affiliate website about growing avocados. Since my username was onemorecupofcoffee, Wix gave me the free domain https://onemorecupofcoffee.wixsite.com/website. That's kind of a bummer, since I had already named my site The Avocado Blog.
I'm pretty sure they could have helped me created https://avocadoblog.wixsite.com like most other free website builders, no?
I wanted to get the full experience here, so I upgraded to a full domain name, and purchased whatavocado.com. Buying a domain here was fairly priced, in the range of other domain registrars.
Moving my free subdomain to the full .com was fast and easy. Everything was done automatically, and everything worked the first time around.
Search Engine Optimization
My main gripe with Wix is the lack of search engine optimization options, or at least clarity on how to use them.
True, Wix does have your main SEO covered. If you really did make an affiliate site at Wix, search engines could find your website for the right search terms, and you could rank.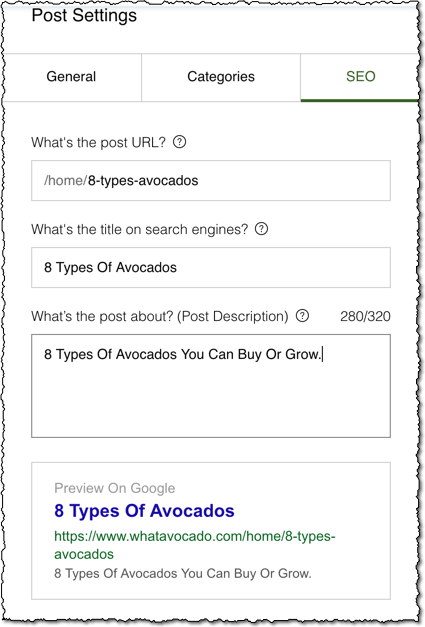 However, there are way more options within WordPress, and as I said with design – you're going to want those options later on.
For example, let's look at the URL structure.
With blog posts the URL looks like this: https://www.whatavocado.com/post/types-avocados. As far as I could tell, there's no way to change that a more optimized URL. What would be a better URL structure? https://whatavocado.com/types-avocados would be better because you cut all the "fat" out. It's optimized for search engines that way, plus readers can see a clean, short URL.
Wix does have image SEO, including alt text and captions, but I'm not quite sure what their deal is with video. They are limiting us to "video hours" in each plan. Are they recommending we upload videos directly into Wix instead of embedding YouTube videos?
Some Bad SEO Advice?
What's worse, is that in some instances, Wix is actually giving you bad advice on how to do SEO for your website. For example, in their official SEO guide, they recommend 300-700 words per blog post. Modern SEO advice says that minimum length for a piece of content should be 1200-2500 words, with most page 1 rankings reaching about 1900 words. 300 is way too short.
Their recommendation for forum posting and guest posting to build links could lead to trouble (for you).
Not all of their advice is bad though. General advice on their SEO resource page about writing for human readers, or targeting keywords with intent in mind was spot on.
SEO For Blog Posts?
In the Wix world, a "blog" is different from a "website". The blog post editing tools are different from the Website editing tools. For example, you cannot add headings (h2, h3, h4) to your blog posts. In my opinion, this hurts your SEO because you cannot use the cascading headings (big to small) to identify topics and subtopics of the post. It also hurts readers who want to skim the page!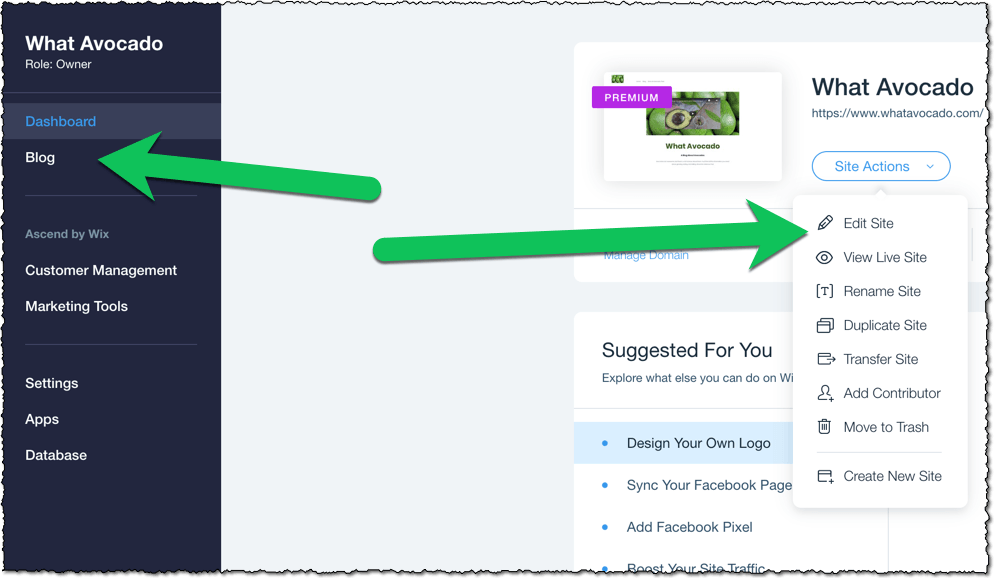 Because of the lack of functionality of the blog posts (see below), I think it's strange they have categories for blog posts. The way Wix is currently set up, I'd rather write on the "Website" portion rather than the blog, but then I'm not able to categorize my pages. If I work on the blog section, then I cannot add app functionality to the content.
Confusing SEO Settings
Granted, this is just my first week using Wix, but I was confused about some of the SEO settings. For example, it looks like "SEO ON", just means that search engines can index my site. That's pretty standard no? I don't think it takes any optimization process!
Under the "Advanced SEO" settings, it appears like it's just a way to make 301 redirects. I'm not really sure what that has to do with SEO.
Also, why is there Schema for my logo? Listing a logo in SERPs wouldn't really be an optimization in my opinion. It's one tiny fraction of what you're able to do to optimize your website.

Someone in the comments can explain this to me if they know what's happening with Wix's SEO settings.
What's Going On With Site Structure?
Granted, I'm used to working in WordPress, but I don't really get how we are supposed to create weekly content in Wix. They have pages and posts like WordPress, but Pages seem to be the main method of "enhanced" content delivery.
So if I want to write a few articles each week, should I publish them as posts, or pages?
Considering the limitations of creating content in posts, I want to use pages. However, there's no way to categorize pages, or even list then in an effective way unless I manually create a "blog page", then list each of my published pages.
Additionally, are added to the menu automatically, so I have to remove them manually each time I publish. This doesn't seem like an efficient way to publish content, which makes me think that Wix does want us to use the blog to publish weekly content.
It's still not clear to me what the content publishing strategy should be for an affiliate website on Wix.
Last, creating internal links lacks efficiency as well. To link to a previous post or page, I have to manually search the link instead of using a system like WordPress has, where I can choose from a list of previously published articles from a dropdown menu.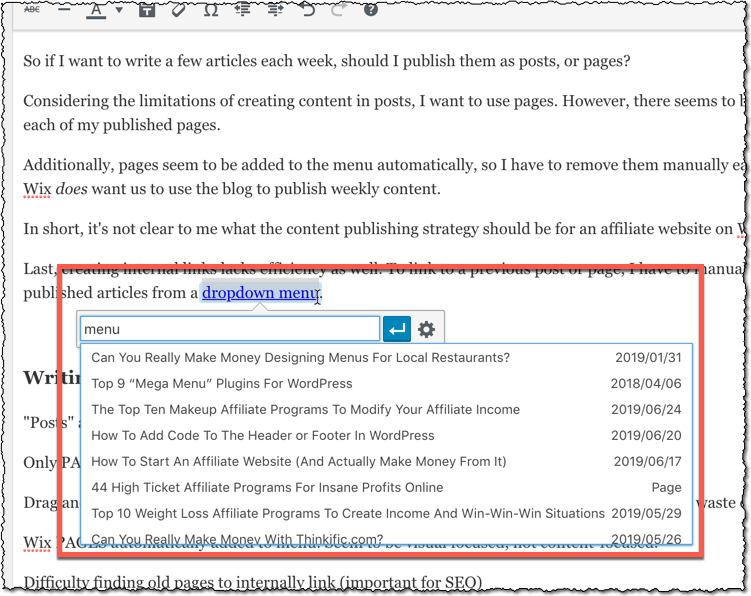 Creating Content On Wix VS WordPress
One of the Amazing things about WordPress is that there are hundreds of thousands of resources available to customize your WordPress website. Many of those resources can help you get more traffic, increase your conversions, and interact with your audience in different ways.
For example, I like to make pricing comparison charts on my niche websites with comparison chart plugins. You can install plugins to display recipes and the meta data will allow your recipe images to be displayed in Google. There are probably 20-50 different social share plugins that can display your profile links in different ways, or create incentives to share your content.
Plus, what about A/B testing for popup forms, landing page builders, and buttons?
All that can be done in WordPress.
Wix app seem to be geared towards ecommerce. There are multiple live chat apps, store builders, and form creators to have people fill out information cards (so your business can collect data). These apps are probably useful for those types of businesses, but they won't be as useful for affiliate websites.
Restaurant Menu and Hit Counter are two more apps billed as "amazing", but won't really help you out very much.
Is Wix Support Any Good?
In my experience, Wix support is not very good. Not only were the representatives not able to help me with the problems I faced setting up my Wix website, I'm confident that they will not be able to direct you on how to create a successful business.
Wix support seem to be more a technical support line, or where you can ask very basic questions like how to add a video or how to change the font size.
The first time I needed help, I called the phone number listed on their site. After two attempts, I got no answer.
Then I called an alternative number and was able to get someone on the line. My first issue was with the ADI. I didn't even realize Wix Editor was an option at that point. In this phone call, I was trying to figure out how to make an h3 heading for my article. The person on the phone spoke with an accent and could not provide any support with the ADI. He only advised me to switch to the new editor.
My second question was also related to content creation, and it took two periods on hold for him to figure out what needed to be done. In other words, he didn't seem super familiar with the Wix platform, despite him being the "expert" the hired for customer assistance.
Will I Continue My Wix Affiliate Site?
Originally I wanted to actually follow through and create some content for this site to see how well it ranked. I was under the assumption that Wix was just an alternative CMS where people could create any type of website they want.
However, after testing out the platform for a full week, I just don't think it's worth my time.
Some naysayers will come back in the comments and say, "Well, you didn't try it! Wix sites are great for ranking", or something like that.
Fine. Go for it. Knock yourself out. Build your affiliate site on Wix! I'd bet that Wix websites can rank and earn money, even in affiliate marketing if you try hard enough. In fact, this guy will show you how to do it.
Build A Wix Affiliate Website (58 min)
I'm not gonna do it though. I've got better stuff to do with my time.
Final Thoughts
Part of my daily routine is helping people build affiliate marketing websites on the WordPress platform. WordPress is what I used when I got started, and it's what I still recommend for anyone looking to build an affiliate website.
Wix is a popular website building company, and is appropriate for some types of business owners. I think the main audience for Wix is the group of people who want a website to represent their personal brand or local business, with an easy to use interface to publish minimal amounts of content.
It's a great way to graduate from a Facebook page for your band.
For someone who wants to build an affiliate website that ranks well in Google and earns tens of thousands of dollars, then Wix is not the way to go. Though you may be intimidated by the WordPress builder at first, it is a great investment of your time to learn how the basics of that platform work.
If you choose to go with Wix simply because you "can't handle" the design element of WordPress, just prepare yourself for an uphill battle in other areas.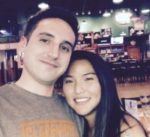 Nathaniell
What's up ladies and dudes! Great to finally meet you, and I hope you enjoyed this post. My name is Nathaniell and I'm the owner of One More Cup of Coffee. I started my first online business in 2010 promoting computer software and now I help newbies start their own businesses. Sign up for my #1 recommended training course and learn how to start your business for FREE!