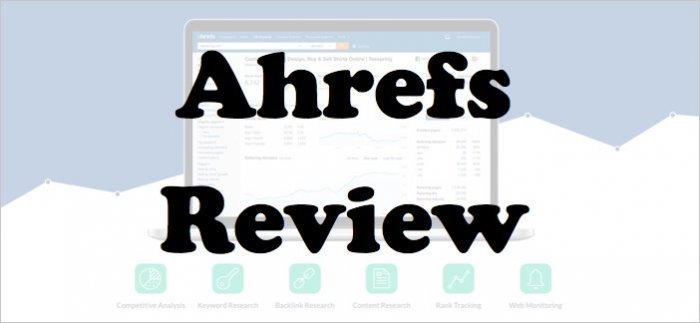 Ahrefs is a very widely-used SEO research and keyword tool in the internet marketing space. But is Ahrefs worth your money? The simple answer is that yes, it is. The complicated answer is that there's also a lot of other good research tools out there. Should you buy an Ahrefs subscription instead of "the other guys"?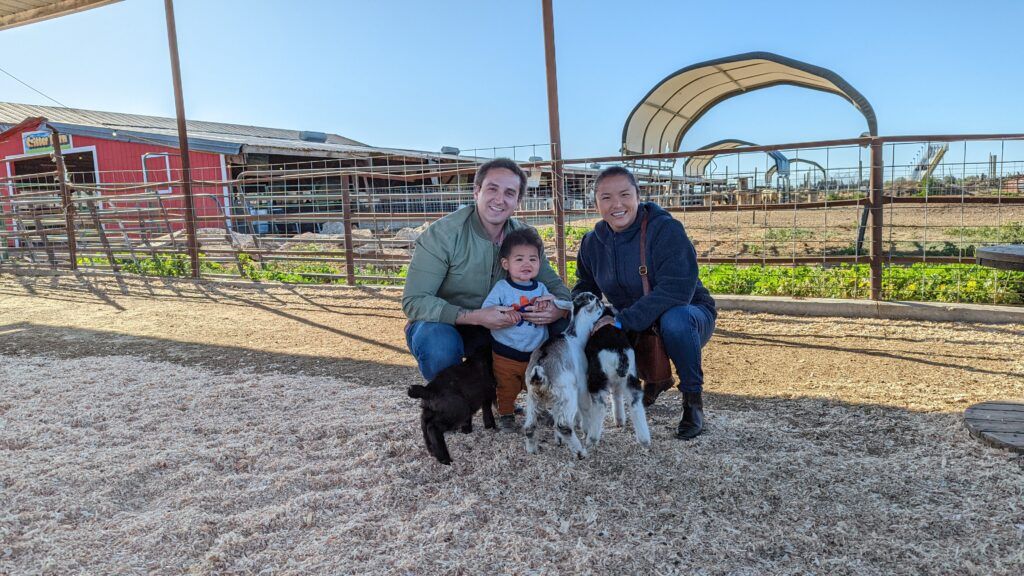 Are You Ready To Work Your Ass Off to Earn Your Lifestyle?
Are you tired of the daily grind? With a laptop and an internet connection I built a small website to generate income, and my life completely changed. Let me show you exactly how I've been doing it for more than 13 years.
In my review of Ahrefs, I hope to help you decide if this is the tool for you. If not, then I'll have a couple of recommendations that will fulfill your needs better. Here's what we're going to cover in the review. UPDATE 2020. I wrote this review in 2017 when I had just a few weeks experience with Ahrefs. After a bit of a learning curve, it's actually now the main suite I use for finding keywords, researching competitiors, and tracking my main affiliate blogs.
Quick Review
Ahrefs is an all around great tool that is worth the price. It provides a lot of unique data about your, or other websites that can be used to grow your business effectively, and with precision. However, it's user interface isn't very easy to understand right away, and the value of the data isn't very applicable for newbie online business owners. The price of Ahrefs is pretty hefty as well, so I'd only recommend it to an experienced webmaster with a very precise plan of how you plan to use the tool to grow your business.
Ahrefs Pricing & Value
The frustrating thing about Ahrefs to me is that they do not have a smaller pricing tier. $99 for the "lite" is a cheap as it goes. For any new SEO or web business owner it just isn't worth the cost. I started an survived in my online business for 3 years without ever paying for a keyword tool and did just fine. I can't recommend that someone invest a hundred bucks a month when there are similar tools that cost 60% less and give pretty similar data.
The one aspect you cannot get from other tools is backlink data. Ahrefs shines in finding and analyzing of link data (more on that bel0w). But for a new site, I don't really think that stuff is useful. You'll have zero links because you have zero content. Even at the intermediate stages you can get your own link data from Search Console.

In a nutshell, Ahrefs is totally worth the hundred or two hundred dollars per month you spend on it…as long as you have a use for the data.
Learning To Use Ahrefs
Personally, I thought Ahrefs was difficult to learn. Some of the stuff was self explanatory, like looking at backlinks lost/gained over time. The keyword explorer is also pretty easy to use, and maybe the most useful part of Ahrefs, especially compared to the other keyword tools I've tested.
Ahrefs doesn't make it easy to learn these things either. In fact, I paid for 4 different products in early November as part of a push to force myself to branch out beyond my favorite research tools. By December, I had only volunteered to use Ahrefs one or two time. I just found the others like KWFinder more attractive and digestible. Of course, me being dumb isn't a good reason to not use Ahrefs! It is just an interesting anecdote.
Now I'm sitting down trying to finish my review using the free features of Ahrefs to take screenshots because my trial is expired and I'm not I really want to pay another $99 to get into Ahrefs Lite for another month.
Feature Breakdown
Site Explorer
The Ahrefs Site Explorer is the main attraction here. On the landing page for this tool you'll read the tagline "Get an in-depth look at the backlink profile and search traffic of any website or URL."
Overview
The claims made by Ahrefs are somewhat true, but not exactly. One thing that's immediately obvious from reading Ahrefs data is that it's not very accurate. If you are using it for "spying", just be aware that there are limits to what you can spy, and traffic for Site A should only be measured against Site B within the context of this tool.
Looking at my own Google Analytics and comparing it to Ahrefs data, pretty much everything is incorrect. For example, it states that my monthly organic traffic for one more cup of coffee is 50,000 per month. WRONG!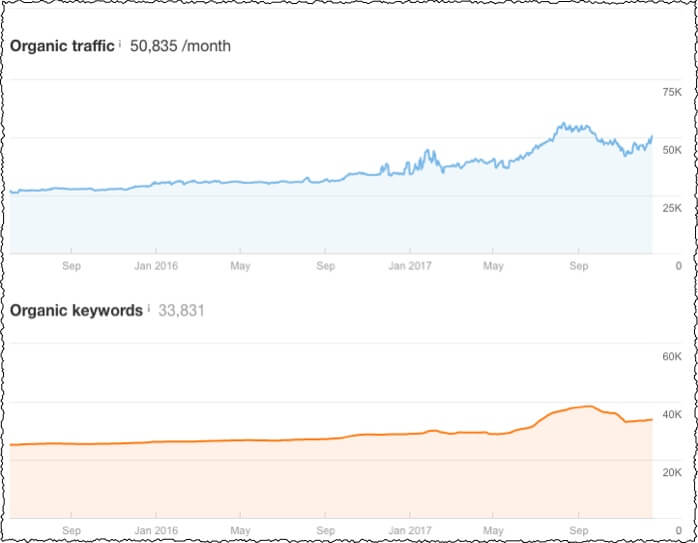 The same goes for things like "top keyword", or "most popular pages". Yes, some are close, but most are inaccurate in one way or another. You can use the Site Explorer to get ideas for your website, or use the data as a jumping off point, but it won't allow you replicate someone else's results.
No site analyzer is going to give you perfect inside-information about a competitors website. Ahrefs Site Explorer will leave a lot of mysteries to be solved by you, the business owner. What a visitor does after they land on a page and how a website makes money from that point on is still the missing part of the equation. After analyzing my own site with this tool I kind of chuckle to myself at what others may try to replicate just by looking at Ahrefs data.
Traffic Value: See value of traffic based on CPC, i.e. what you'd pay for that traffic if you can't rank.
Top Pages: See the top pages for a website. Not accurate based on traffic stats, but gives some insight into popular keywords a website ranks for.
Content Gap: This is a very interesting feature that's also available in SEMRush. You can compare your website to other webistes. See what they rank for and you don't. This is a great way to make yourself jealous of other websites doing well. Haha!
Even with a Lite membership I could only view 10 results though. You'd have to upgrade to the next tier to see everything. Is this feature worth $200 per mont? Not really.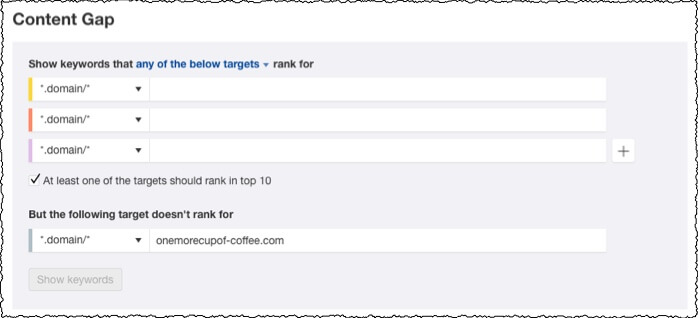 Referring Domains: Get insight into who's linking to your competitors. Get backlinks from the same websites to make your website competitive for ranking for similar terms.
Content Explorer
Content explorer is an interesting feature for doing keyword research for a niche, in that it doesn't feed you exact phrases. It feeds you ideas. Some of these are relevant to your niche website, others are not. That's just part of the research process.
I'm torn on whether or not I like this tool. On the one hand, it's convenient, and I was able to generate a bunch of ideas in just a few minutes on the topic of buying gold. However, I could also just go to Google, Facebook, and Twitter to generate ideas as well. Is AHREFs content explorer a must-have feature? Not really. I'd use it if I had an AHREFs membership though.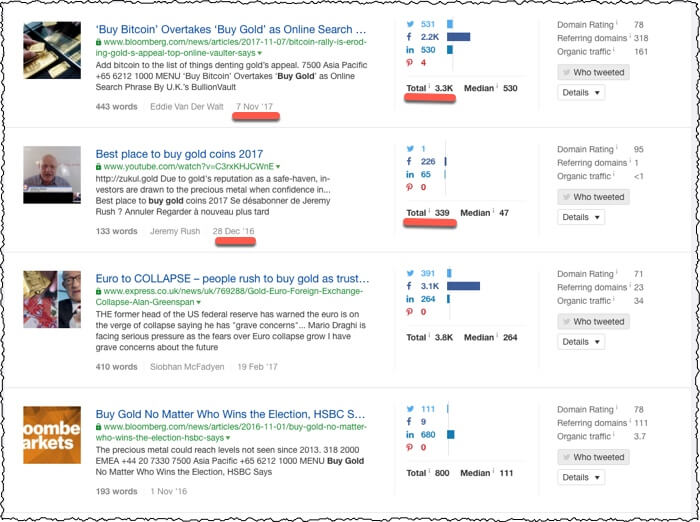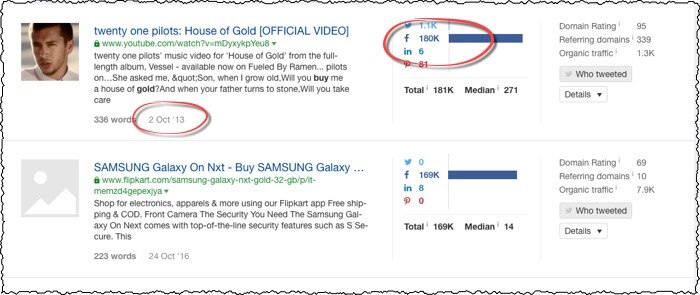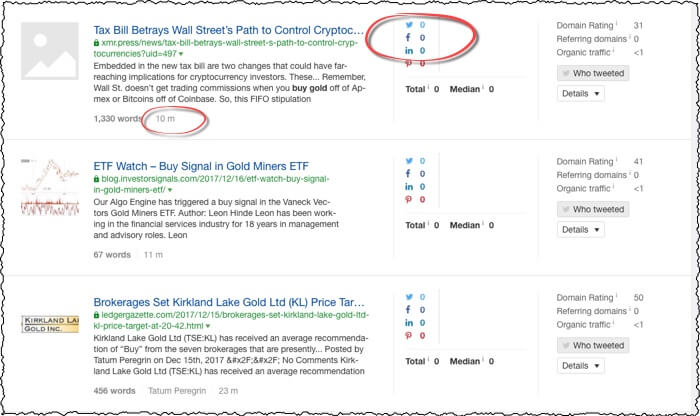 Keyword Explorer
Ahrefs Keyword Explorer is another very strong point of this tool. I feel that Ahrefs turns up more keywords, and more diverse keywords, than any other keyword research tool out there. The trouble is that they don't do a great job of breaking down the information for you. This is another example of how Ahrefs a perfect tool for experienced SEOs that know what they're looking for, but a newbie would have some trouble using it.

With filters, you can really break down what type of phrase turns up. Filters like search volume, CPC, and number of words are obvious ways to filter out non-essential results. But a newbie isn't going to know how to use these efficiently. Just last year while exploring Ahrefs for the first time, I wrote down 50 different high CPC keywords, thinking I was a genius for targeting them. I paid someone to write some articles, and one year later, though ranked, they aren't doing anything for my website.
It turns out, they were just low quality phrases that were turning up high CPC for whatever reason. They weren't even "buy" related words. Anyway, it was a waste of my time and money, and a good example of how data in the wrong hands can spell trouble!
But the great thing about the keyword explorer is the sheer volume of data you can get. I love the Newly Discovered category. I also like that they separate out Having same terms and Search suggestions so you can sort out the type of phrase you're looking for (in relation to your seed)
There are a lot of different "categories" for keywords. I'm not exactly sure how they decide to put which phrases in which categories, but I feel like they have the bases covered pretty well in terms of catching all kinds of ideas from different sources. For example, I looked up "buy gold", and here's an overview of what turned up.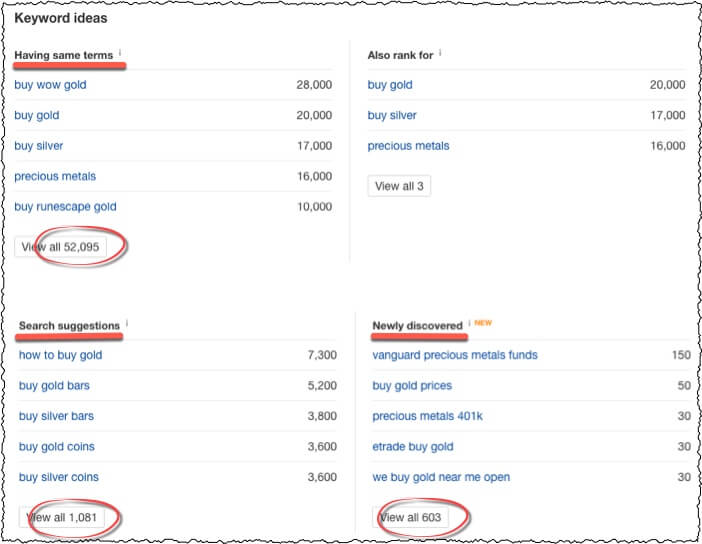 As you dig further into each category of results, you can then optimize your search results based on criteria like traffic, cost per click, and number of words. You can even choose to include or exclude results with specific words. For example, my search for buy gold turned up a bunch of results for video game gold. That's not relevant to my niche, so I removed those phrases. There's still some video game junk in there, but I can tweak the filters more and more until I only see the best of the best keywords relevant to my niche.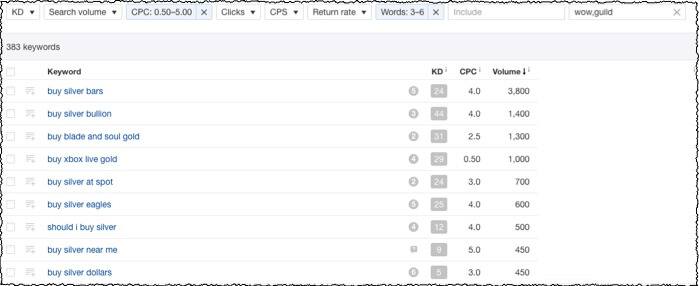 I could even use filters to create a "high priority" list and a "low priority" list, then divide the results among my writers, giving my best writers the most important keywords. If I was building a niche website for someone, I could also divide the keywords into packages, selling them at different costs! Since the Ahrefs subscription is pretty expensive, not everyone will have access to this data, or know how to sort it. Things like high traffic, low competition keywords or secret niches could be valuable on the marketplace!
Rank Tracker & Site Audit
I didn't get the chance to try these features during my trial period, or they were not available in the Lite package.
Newbies vs Experienced Users With Ahrefs
If you've read until here, you'll already know what I'm going to say. Ahrefs is not a great tool for newbies. As with any tool that will appeal to professionals in the space, utility trumps UX. This tool is a treasure trove of data, but I think it's just too overwhelming and too expensive to recommend for newbies.
At least with SEMRush you can try a lot of the features for free, and they reset every day. I used SEMRush for free for 3 years before upgrading for several months this year. It's hard to make a convincing argument for a new website owner, AKA my typical audience for One More Cup of Coffee, to spend $99 or more here. There are cheaper, equally effective, and more user friendly tools out there.
Alternatives To Ahrefs
Since Ahrefs fills a variety of roles, there are a variety of things to recommend in place of this tool. If you are looking strictly for keywords or ideas of what to write about on your website, then I think both Jaaxy and KWFinder are good options. If you are looking for SEO research and spying capabilities, then SEMRush is my favorite option so far, although I have a few other spy tools I'm going to test in the coming weeks. I'll update with links here when those reviews are published.
One of the most popular keyword tools out there is Longtail Pro, especially since the update, but I'd rank it my 3rd favorite, behind Jaaxy and KWFinder.
Is
Ahrefs Worth Your Money?

If you are starting a new website and knowledgable enough about SEO to sort through the data, then Ahrefs could really save you tons of time in the future. My #1 time waster as a blogger is writing content that gets published into a black hole and no one ever sees it again. Using precise measurement to write only high quality content for specific key phrases you know that you can rank for would be a time saver, and get your business profitable faster.

The trouble is that sorting through all the data takes patience and expertise to make decisions on what's a useful keyword and what isn't. If you're a newbie business owner, this isn't a tool I'd recommend. Plus, at $99 per month for the basic package, it you'd be throwing away time and money on this tool.

If you are already making money from your business and content ideas is a major hurdle holding you back, then the Keyword Explorer could fix that problem.

It's also really fun to snoop on other websites in your name niche, so if you're making money and curious how your competitors are doing, then Ahrefs Site Explorer is very interesting utilize.

One last thing I'll say about who could benefit from an Ahrefs membership! I glossed over a lot of the backlink information because I don't actively seek out links for my site and recommend people do the same. Ahrefs does have a very powerful backlink finder though, and from what I can see is very close to Google Search Console level of insights. If you want to make a backlink strategy for your website, Ahrefs is a great way to get started on that.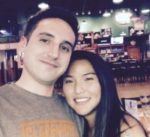 Nathaniell
What's up ladies and dudes! Great to finally meet you, and I hope you enjoyed this post. My name is Nathaniell and I'm the owner of One More Cup of Coffee. I started my first online business in 2010 promoting computer software and now I help newbies start their own businesses. Sign up for my #1 recommended training course and learn how to start your business for FREE!