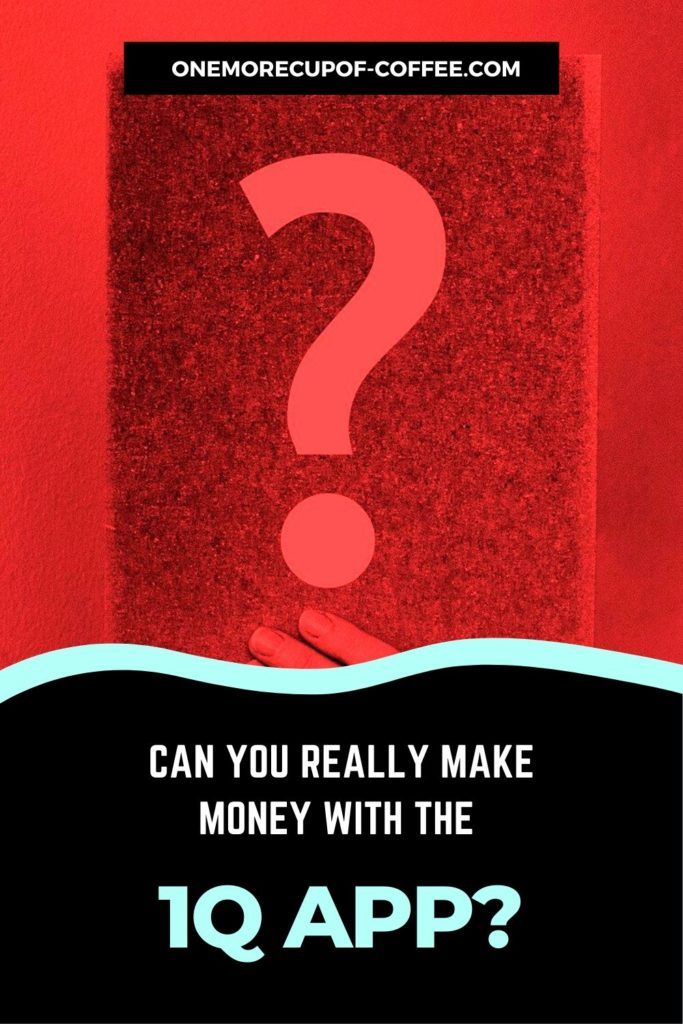 I found this app as I was continuing my ever-present quest to find apps that could help me to earn plenty of extra side-cash. But can you really make money with the 1Q App?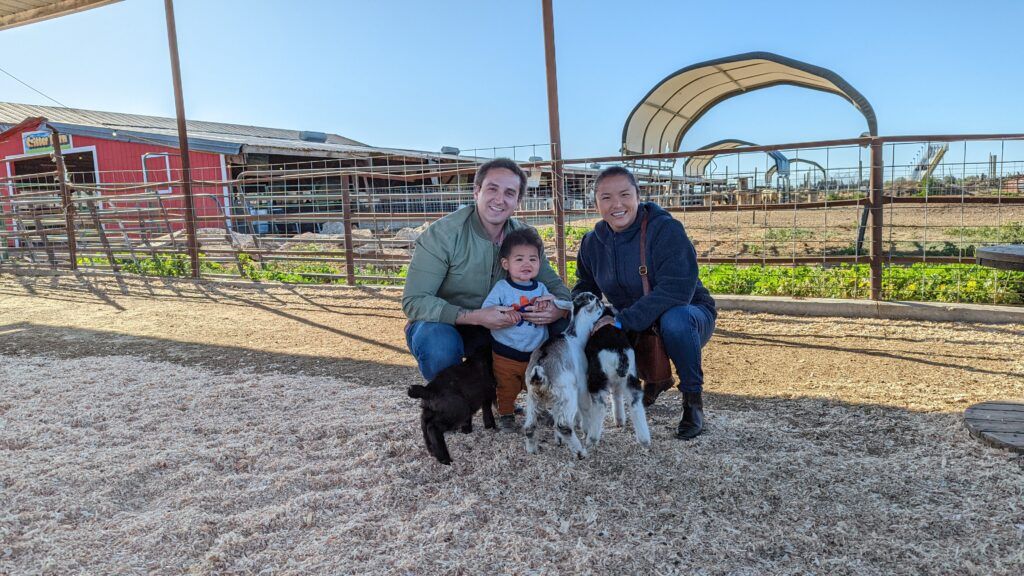 Are You Ready To Work Your Ass Off to Earn Your Lifestyle?
Are you tired of the daily grind? With a laptop and an internet connection I built a small website to generate income, and my life completely changed. Let me show you exactly how I've been doing it for more than 13 years.
I'll be really honest, right from the get-go. I am not usually super crazy about survey apps or apps that ask you to answer questions. I have had some pretty lousy experiences with them, unfortunately (there are some decent ones, like Survey Junkie, Swagbucks and Palm Research, but even they aren't amazing).
But, I will also say that this app really looked different to me.
The stats weren't too bad either. It has 100,000 downloads, and 4.0 stars in the Google Play store.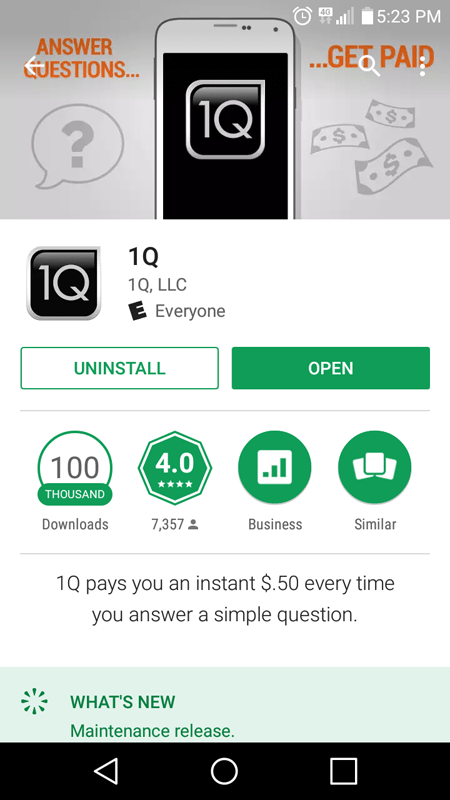 Also, as you can likely see, the tagline for the app reads as follows.
"1Q pays you an instant $0.50 every time you answer a simple question."
I have used a lot of survey apps that offer you $0.50 for completing an entire survey. But I have never run into an app that offered to pay me this much just for answering one question. So this certainly intrigued me.
I always do my best to give fair, honest reviews of the apps that I try… but make no mistake. The entire point of all of this is to find a way to earn extra cash. I'm all about the side-hustle mentality, and that is what I look for in apps like this.
So that is the number-one criteria I use to find new, awesome apps. Can they make me extra cash, and do so without frustrating me or eating up needless amounts of time?
These are the questions that I was asking myself, and this is what I was determined to find out as I got started.
Here is what I found.
Making Money With The 1Q App
To get a good feel for the app, I downloaded it for myself and stepped through the process of using it.
Getting Started: Opening Up 1Q For The First Time
Opening up 1Q on my phone for the first time brought up this introductory screen.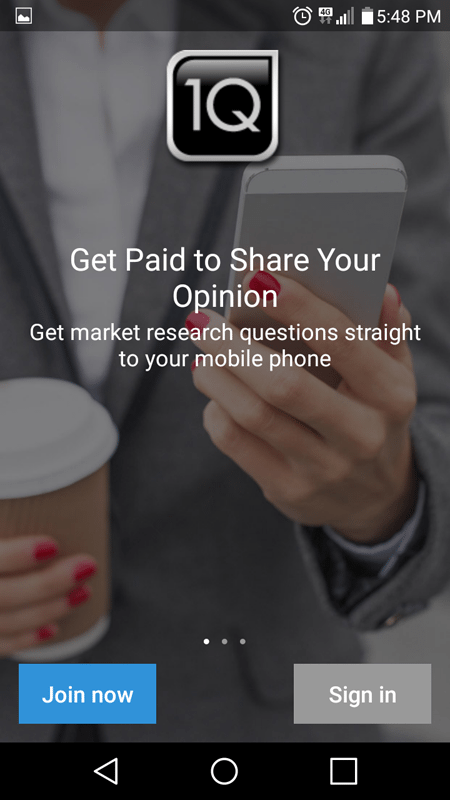 This was the first in a series of screens that gave me some pretty awesome information about the app to start with. Here are the main points of what I learned on these screens.
Get paid to share your opinion
Your time is valuable (answer the questions quickly and easily)
Get paid instantly (get paid for each answer instantly and directly into your secured PayPal account)
Ok, so this gave me some pretty good information about exactly what I was getting into with this app. After checking all of this out, I clicked 'Join now,' and was taken to the next screen.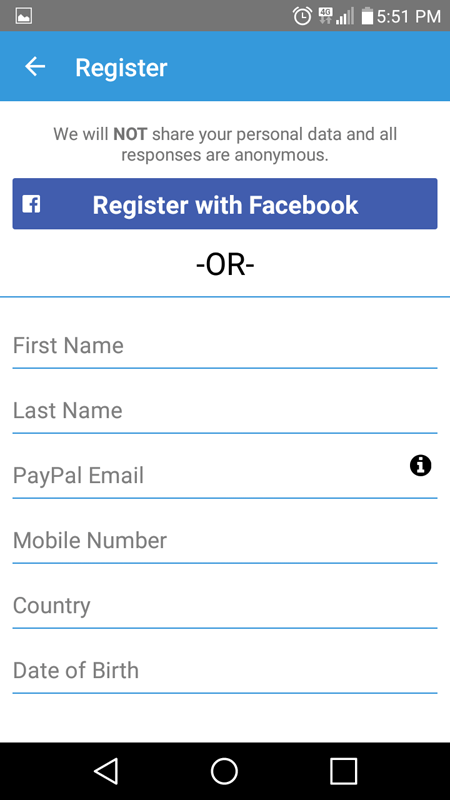 As you can see, there were a lot of fields to fill in here (and even more when I scrolled down) if I wanted to sign in to the app manually. So rather than fill all of this out, I opted, instead, to register with Facebook.
That's what I did, and it ended up being a bit easier… but I still had to fill in a lot of fields with information that Facebook didn't provide.
But, this ended up being a lot easier than I thought. Rather than having to type everything in, many of these questions had multiple-choice answers that were quite easy to select and complete.
This made the process way, way better and less difficult than I have experienced with some other apps in the past… so kudos to 1Q for making it so easy!
I was also rather impressed with the fact that I had two payment options. I could choose to stick with the $.50 option, or I could choose to set it to $0.25. If I set it for the latter, the app told me that I might get more questions, but that I would only make half as much per question… so I set it to this, just to see what would happen.
Once I completed all of this, the registration part of the process seemed to be finished… though I also had to verify my phone number by typing in a verification code that they sent me via text message.
At this point, I had reached the interior of the app. So let's talk about that next.
Taking A Look Around The Inside Of The 1Q App
At this point, I had gone past the registration step and made it to what seemed to be the 'main hub' of the app. Here is what I found.
Ok, so the app does a pretty good job here of explaining what I should be on the lookout for. Here is a brief blurb that does an especially good job of describing how to proceed.
"Questions come directly for companies looking for targeted feedback and insights. Please make sure your notifications are properly enabled so you don't miss out on questions targeting you."
I didn't have any questions at this point, but I was already pretty impressed with how it was working.
There was also a drop down menu to check out, so I did that really quick. There wasn't much to see here though, to be honest. Here is a screenshot.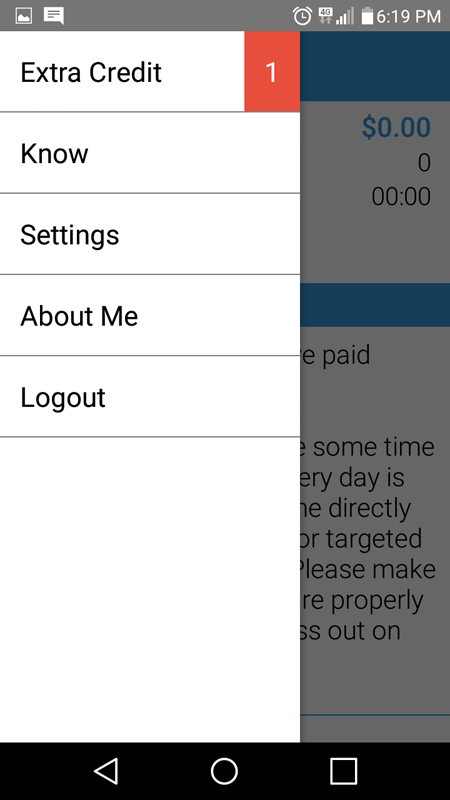 One thing that I did want to check out was this… how do you get your earnings transferred from the app to your PayPal?
I looked into this question by going to Settings >> FAQ in the drop-down menu. This was actually really easy to figure out, as they literally posted this question (and the answer) in the FAQ. Here is a screenshot of the answer.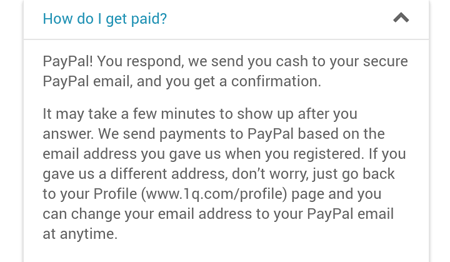 You don't even have to transfer money with this app. You just earn it, and it is sent right to your PayPal securely. No hassles. No extra steps. Nothing like that.
At this point, I was still pretty impressed with it. There were also a few things that I learned about the app as I read through some of this information.
First of all, on the main hub screen, you will notice two icons. One is a location icon, and one is a bell (notification) icon. You want to make sure that you have both of these icons turned on (they will be green when they are on) if you want to make full use of the app, for several reasons.
First of all, you want the location setting turned on because this will give you access to more survey questions. And secondly, you want the notification setting turned on so that the app will let you know as soon as you get a question.
The Good And Bad Points Of The 1Q App
Alright. At this point, I felt like I had isolated what I liked and didn't like about the 1Q app, so let's start with the bad points.
I didn't like that, as of yet, I had not received a question to answer. I also didn't like that I couldn't control how much money I made.
This app would be way better if I could answer as many questions as I wanted in my free time. Even if they limited the number of questions you could answer each hour or day, this would still make the app better.
I also, obviously, would have liked the app to pay more per question…though, to be honest, it was already a bit ahead of the curve in that sense already.
Now, let's talk about the good.
First of all, I love how easy the app was to get set up. It literally took me less than 3 minutes to get the registration process finished, which is amazing. I also love how responsive and technically good the app feels. I didn't experience a single glitch—which is quite rare.
I also love that the app will notify you when questions become available, that it gives you two price point options, and that it pays you so much for answering one simple question.
And now, with all of that being said, I feel like I can finally weigh in on it with my final verdict.
Will I Be Leaving The 1Q App Installed On My Phone?
This was a tough question. But, I think that the answer will be a yes… at least for a trial run, to see how well it does. It doesn't take up that much space, and I am all about getting a few extra dollars added to my PayPal here and there.
Make no mistake… I have no aspirations of getting rich with the 1Q app. If you want to get rich or earn serious side-cash, then there are better ways to do that.
But if you want a bit of extra money and don't mind saving up for a while to be able to afford anything, then this app offers a pretty much hassle-free opportunity to earn an extra quarter or fifty cents every now and then… and hey, that's at least something!
I am not sure how often you will get questions. That depends probably on a number of factors. But this one is worth a try, for sure!
Our Final Thoughts About The 1Q App
Should you download it and use it on your phone?
The 1Q App Review
Honestly, there are tons of various apps that claim to help you "make money", but really there are two facts to consider. 1) Most of them don't actually work. 2) If you can make money, it's not going be very much. If I'm going to spend any amount of time working online, I want to be working for myself by building my own profitable website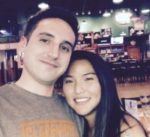 Nathaniell
What's up ladies and dudes! Great to finally meet you, and I hope you enjoyed this post. My name is Nathaniell and I'm the owner of One More Cup of Coffee. I started my first online business in 2010 promoting computer software and now I help newbies start their own businesses. Sign up for my #1 recommended training course and learn how to start your business for FREE!