I've used the same keyword research tool for the past 7 years, and have been happy with it. This year, the question that started to creep into my mind is whether this was actually the best keyword research tool out there. So, in the past months I've sat down with 4-5 different keyword and SEO tools to figure out exactly what the pros and cons are of each. My goal in spending literally thousands of dollars on keyword research product is to help you find the best one for your particular needs.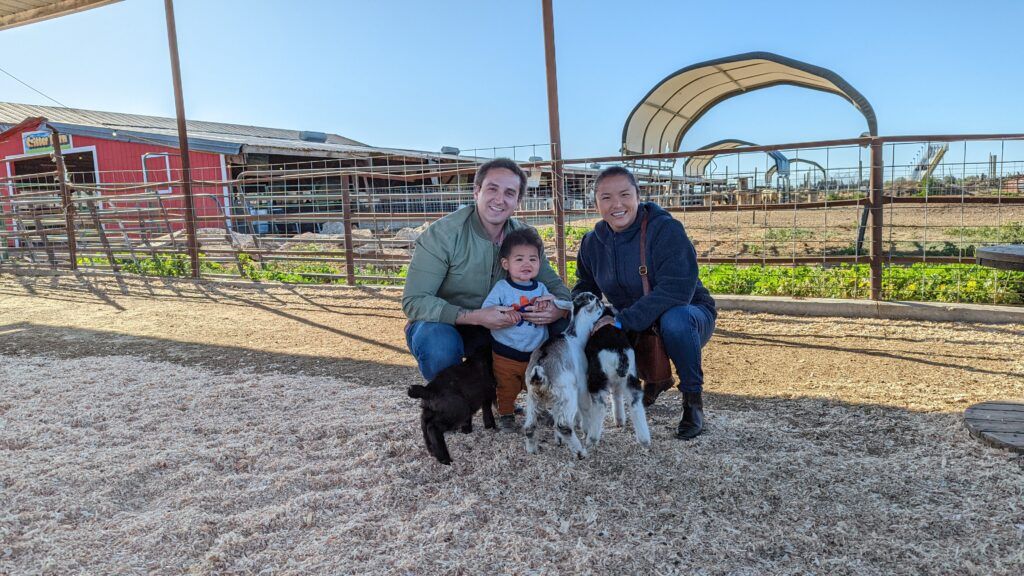 Are You Ready To Work Your Ass Off to Earn Your Lifestyle?
Are you tired of the daily grind? With a laptop and an internet connection I built a small website to generate income, and my life completely changed. Let me show you exactly how I've been doing it for more than 13 years.
Last month I bought a premium subscription to Mangools KWFinder, which is one of the more popular options out there right now. In my KWFinder review you'll find out what my experience was with this tool, the pros and cons to it, and how it compares to other similar services.
Most importantly however, I'll help you figure out if KWFinder is worth your money, or if there's a different product that you would personally gain more value from. Not every online business owner, SEO, or website builder is the same! What I'm finding out is that there are many good products in the space, and each has its own target audience.
So is Mangools KWFinder for you? Let's dig in and find out.
Quick Review
Overall, I found KWFinder to be a very newbie-friendly tool available at a reasonable price. You're also getting access to other valuable tools in the Mangools ecosystem, including SERPWatcher and SERPChecker, which increases the value of what you're paying for!
I'd rate it at a medium-level learning curve. It's a lot easier to learn how to use than some other tools that overload you with data points, but there are some ranking metrics that you need to learn and memorize to be able to understand everything that KWFinder is telling you.
Some features I really loved about the Mangools tool set. Others, I probably won't use that often. The free version is awesome to try, and a great way to test out this tool for yourself.

KWFinder Pricing & Value
KWFinder is a reasonably priced tool – at least on part with similar products in the space. Most products will offer a lower tier for $10-$30, a medium tier for $40-100, and a top tier for $100+. The Mangools subscription seems very much geared towards getting you into the yearly payment for PREMIUM. Why? It's really a great deal.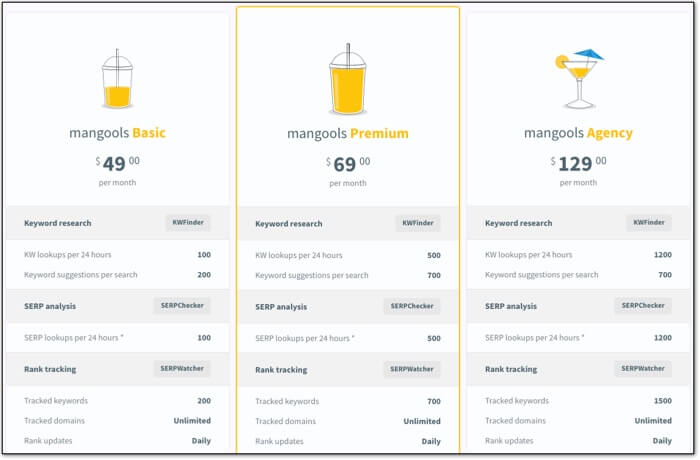 $69 seems a lot for keyword research, but if you sign up to the yearly program, it's just $39/month ($469 paid in full). $39/month for KWFinder really is a great deal for all the features you get. That's a 45% discount when you go yearly.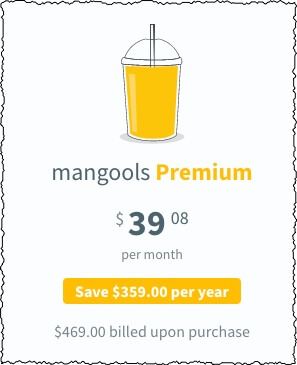 $49-$69 is hard to stomach on a monthly basis if your website isn't earning money yet. I get it. My recommendation is to use their free tool until you find yourself running into restrictions becacause of the volume of searches you're doing. At that point, it's worth investing in your business. Try Basic for a month or two, and if you like it, spring for Premium Yearly. I just don't think the Basic provides enough searches and SERPs analysis for an average user building a big authority website.

Feature Breakdown For Mangools
Keyword research can be as simple or as complicated as you want. At the very basic level, it's just about finding phrases that people are searching in search engines. But the deeper you get into website and online business building, more and more data becomes relevant.
Is this a keyword I can rank for?
Is this a keyword I want to try to rank for?
Can I rank with a simple blog post?
Do I need to link build afterward?
If it's difficult to rank, what steps can I take to have a better chance at ranking?
What similar phrases could I rank for instead?
What pages on my site can I leverage to boost my current rank?
These are all questions that I ask myself during the keyword research process. Mangools has developed several tools to help you gather all the data you need to effectively research and build niche websites. Of course, these tools can be used in many contexts such as local businesses, ecommerce sites, and even on YouTube/Amazon search engines with a bit of creativity. For this review however, I'll be talking from the perspective of a niche affiliate website builder.

Keyword Finder
For me, the main reason I wanted to review KWFinder was the…wait for it…keyword finder!
Overall, I really like the user experience of the Mangools ecosystem. The colors are bright, the data is easy to digest, and the tools themselves are easy to figure out without watching a bunch of tutorial videos. I really like that CPC data is included in the main research results, because I've been finding that to be a very useful piece of data for building large authority websites. Since there are literally thousands upon thousands of possible articles for any given website, having CPC data can tell you which articles to focus on more since they could yield higher purchase rates, or at least a higher paid ads through display ads.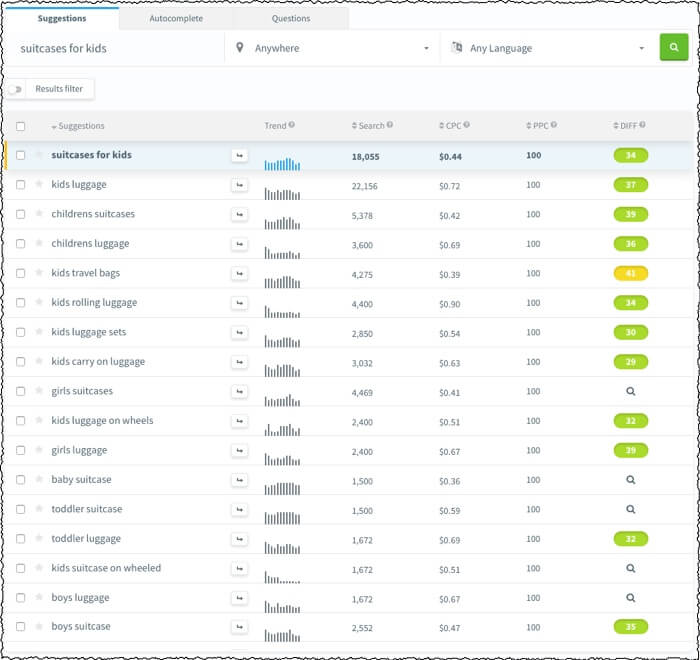 Two other awesome features of KW Finder are the filtering options and the difficulty score. I found that I relied on both of these a lot while I was reviewing KW finder over the past month. I'll talk more about the difficulty score in a bit, because I found that to be such a unique and useful feature that no other tool currently has!
Filters is a common feature for many other keyword research tools, but it's worth mentioning that Mangools included it in their product as well. What makes a filter so important? Well, it filters out the fluff.
As an experienced online marketer, I've begun to get more and more particular about which keywords I do and do not want to target. For example, a two-word phrase is something that I would rarely target with a brand new website, since it's going to be high competition, and very hard to be specific about anything. So I'll set my filter to a 3-word minimum.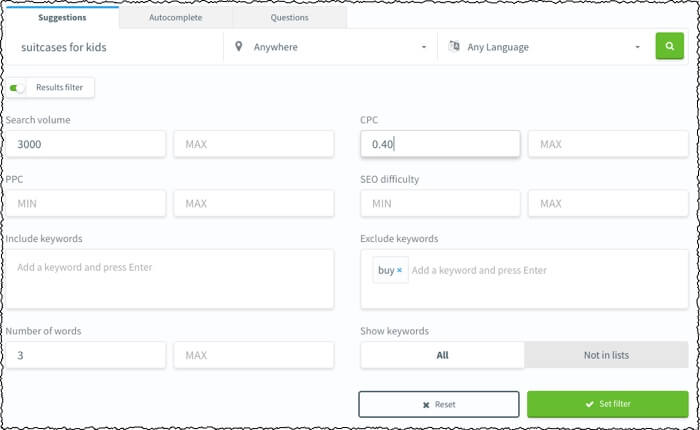 Another filter I might make would be to remove any keywords with "buy" in them. It's going to be very hard to outrank sites like Amazon or Best Buy for "buy big screen tv", unless you have some other qualifiers on the keyword like "fake auction you should never buy a big screen tv from".
There are many exceptions to this rule, but this is just one possible example.

Multiple Ways To Research One Seed Keyword
When doing a search, you can choose between suggestions, autocomplete, and questions. This gives you a variety of angles on one phrase, giving you lots of ideas for topics to write about, potential post titles, and more seed keywords related to your niche.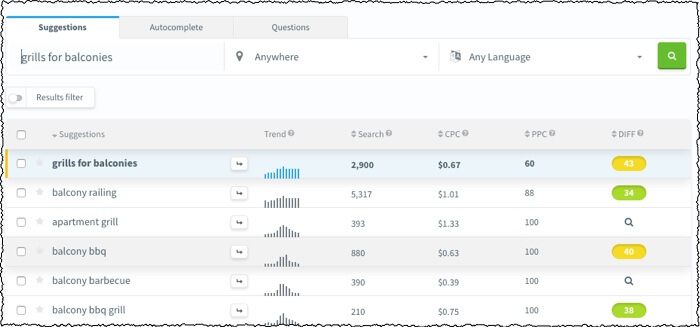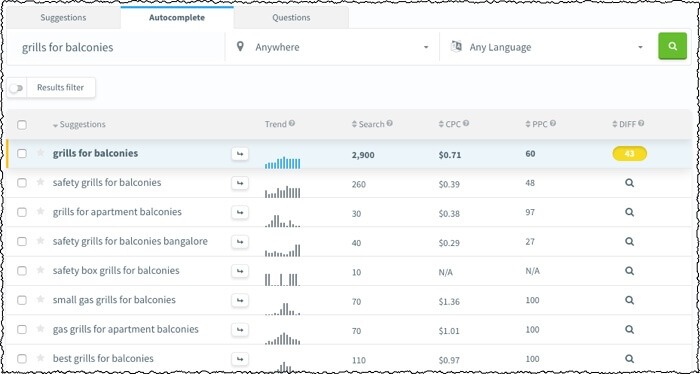 The difference between suggestions and autocomplete isn't clear, but I suspect that suggestions is just similar phrases related to your seed keyword. Autocomplete is probably a result of Google Autocomplete, returning keywords with your exact seed keyword. Google autocomplete is one of my most used tools when doing extensive keyword research, so this is a very nice feature to have access to.
I'd show you the results of the questions for "grills for balconies, but the tool is being finicky right now and showing that my connection is dropped. 24 hours later, it's still showing no results. This highlights one problem with KW finder. It can be unreliable at times. At least 10-20 times over the course of a month I got some kind of error showing that there were no keyword suggestions. Annoying! You mean to say there are no questions related to grills for balconies?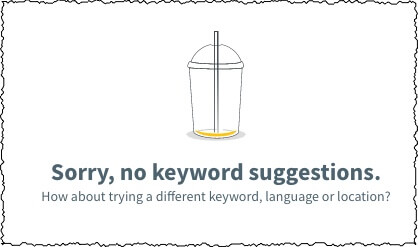 How about:
are grills for balconies safe?
can I have a gas grill on a balcony?
do HOAs allow for grills on balconies?
can grills for balconies catch fire?

Google SERP Difficulty Snapshot
One of the potoentially most useful aspects of KWFInder is the SERP snapshot. This gives you a quick look at the difficult of the pages you are competing against on page 1 of Google, plus an overall score of whether or not a keyword is difficult to rank for.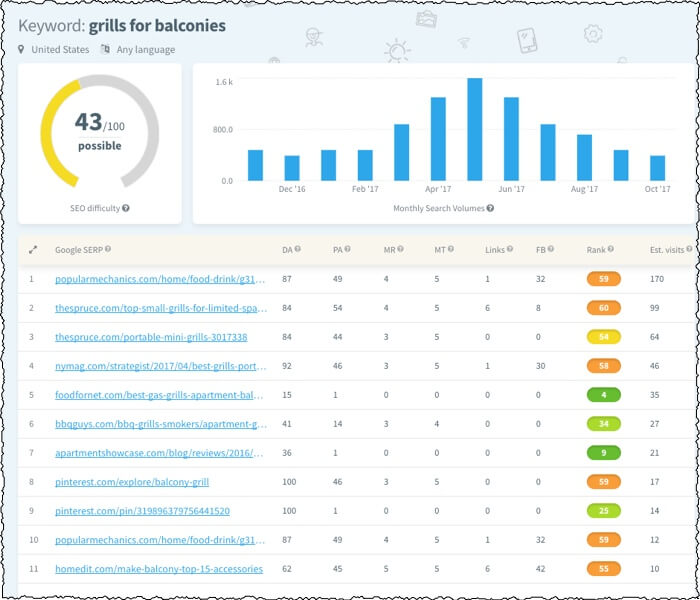 This is a great feature because you can get a colored representation of what your competition looks like on page one. As you can see in the screenshot above, the keyword grills for balconies is "possible". The mix of orange and green on the graph shows that some sites will be difficult to outrank, while others will be easy. At the very least, it shows low-authority websites ranking on page one, which is a good sign for your brand new website!
In the example above, articles from The Spruce and NY Mag might be difficult to outrank due to their authority. But if you dig deeper into the results, you can see that they are not targeting the exact phrase we're looking at. They wrote articles about portable grills, and Google is interpreting these results as relevant. The BBQ Guys page and Apartment Showcase website are both low-authority websites using the exact phrase.
Long story short, your niche website writing about apartments, or grills, or both could probably rank on page one for this keyword!
I really like the color coded representation because it gives you a quick snapshot of a keyword, so you can do your research more efficiently. See a wall of red? Move on! See a bunch of green and yellow? Time to investigate!
Of course, this is just one metric to look at and it can't always be trusted. As you'll see in my review of the SERP Checker below, this data isn't always reliable in terms of 100% guaranteeing or denying a spot on page 1 of Google. Still, even today I find myself going back to Mangools KWFinder to check out the SERP stats of keywords (I'm thinking of starting a new site next year).

SERP Checker
SERP Checker is an interesting tool included with your subscription to KWFinder. Personally, I haven't found a ton of use for this, but it is interesting to look at, especially if you are going hard for a specific set of keywords for a niche website. Personally, I found the data to be too granular to be useful, and even the data that I understood wasn't always information that I would take action on.
What is the SERP checker? It's basically a color coded graph of MOZ data. It tells you things like how powerful a website is, how powerful a specific page on a website is, as well as other data on backlinks and other ranking metrics.

SERP Checker doesn't actually explain what each of these mean in the hover-over info bubble, so you'll have to look them up individually if you aren't familiar. That's frustrating!
DA: Domain Authority

PA: Page Authority

CF: Citations Flow

TF: Trust Flow

MR: MOZ Rank

MT: MOZ Trust
With all of these data points, many time conflicting with each other, how you can you know what's useful or not? Perhaps for a professional SEO agency, this type of information is useful for building laser-focused sites. However, I'm in the business of building authority website and hobby niche websites. My process is much less precise. I'm not going to spend six months mining data to find the perfect niche and planning out each article one keyword at a time.
Some people work like that, but I don't!
Also, I have found MOZ data to be misleading at times. Notice that the screenshot up top has all strong domains with weak pages. Does that mean it's easy or hard to outrank these pages? In this case, it probably means it's difficult because the phrase is "suitcases for kids". If the phrase was something like "carry-on suitcases for kids with roller wheels", then I would think I would have a better chance at ranking.
Of course, SERP Checker is just one piece of data to look at, and it should be taken in context with all the other information you're taking in when researching building out a niche site. For me, this spread of MOZ data is something I'd glance at from time to time if I was really gunning for some particular phrases, but it's not something I'd focus on weekly.

SERP Watcher
The quality of rank trackers vary wildly, and I think Mangools has a good one with their SERP watcher. Even with the basic package, you get 200 keywords tracked per month. For one person, running one website, that's usually plenty. You'd need a website with over 200 articles to track 200 keywords, and it'll take you at least a year to produce that much content by yourself.
If you're running enough websites that you need over 700 keywords tracked (Premium package), then you are very likely making enough money to cover the price difference in packages. In my opinion, if you're building a website…even a few websites, I only track between 20-40 keywords at a time. After a page ranks, it pretty much stays that way.
My main issue with the rank tracker is that it's not instant. It takes up to 30 minutes to find your rank, and in that time I could simply go check in Google and make a mental note of it. Jaaxy finds your rank instantly, and also automatically tracks it over time, daily/weekly/monthly depending on your settings. As I write this now, I'm waiting for SERP Watcher to update so I can screenshot my rank to display in the review. It's taking forever (Update: As of day 2, it still hasn't propagated my actual rank)
One sweet feature is that you can track mobile and desktop rankings separately. This is pretty badass! Very often results are similar, but not always. Knowing how your site is doing on mobile can be a powerful way to outsmart your competitors, or at the very least improve your mobile marketing efforts.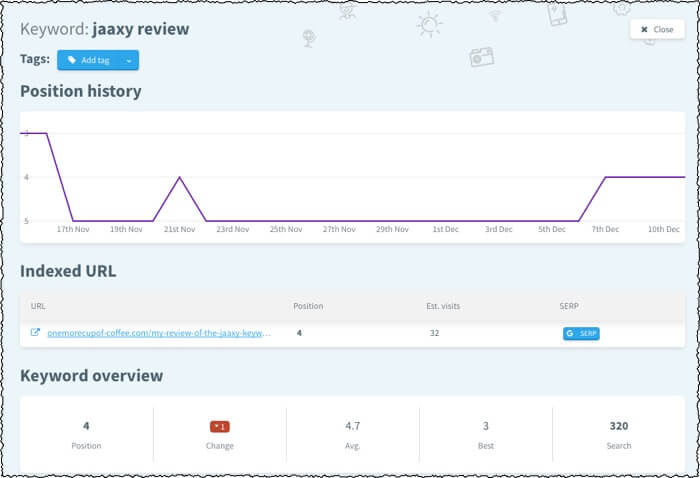 Newbies vs Experienced Users With KWFinder
KWFinder & Mangools has a good mix of simple and advanced data for both newbies and experienced users to worth with. This is in contrast to keyword tools like SECockpit, which have too many advanced settings and granular data for newbies to figure out quickly, or something like Ubersuggest, which is super simple to use (and free), but is nothing more than a random title generator based on a seed keyword.
With KWFinder you can be as basic as looking up suggested terms to brainstorm ideas for your blog posts and checking out basic difficulty scores with the top 10 snapshot. For many users, that will be enough to create an effective niche website.
But with rank tracking, MOZ stats, SERPChecker, and keyword filters, you really can dig in and create a rock solid business plan, or strategy to grow your site from a mini-niche property to a monster authority in the space.
Alternatives To KWFinder
One obvious alternative to KWFinder is Jaaxy. The keyword finder portion displays results in a similar way, and there are a couple similarities in the additional tools you get as part of your membership. Even pricing is similar. There are some big differences though!
Jaaxy doesn't display the CPC numbers, while KWFinder does. I like this metric because it can show you where the money is flowing into paid ads, thus where you should focus your attention on writing content. However, KWFinder only the search volume, and not actual expected traffic.
Plus, Jaaxy's competition numbers are calculated differently, showing the "quoted search results", i.e. number of web pages using the exact phrase you're targeting. I prefer to look at Jaaxy's competition stats, but they don't have a keyword filter setting that I really liked about Mangools keyword tool.
Another popular keyword tool worth looking at is Longtail Pro. They've made a lot of big improvements recently, including going to a web based tool instead of the software they use to run. Great! However, I feel like this is one of those tools that falls under that "too complicated for newbies" category. There's lots of training available since it's a widely used tool, but I certainly didn't like it as much as either KWFinder or Jaaxy.
If you're looking for more of an SEO Spy tool with some keyword finding abilities, SEMRush is my personal favorite. A great way to find hundreds of great keywords is to simply look up what your competitors are ranking for and then create better content than them. SEMRush is a little expensive though, and the keyword research portion is not as user friendly as Mangools. Ahrefs is another one to look at, but it doesn't rank within my favorites for finding keywords or for SEO/spying features.
Is KWFinder Worth Your Money?
Simply said, yes. I think this is a powerful keyword research tool that can help you grow your business. It would be useful for both the complete newbie looking to start a website, as well as the experienced internet marketer trying to expand their current business.
The best value will be from the Premium Yearly package, but they have a very nice setup to allow you to start using their products slowly and gauge the value for yourself. You can use any tool for free, with some limitations. You then have the option to pay for the monthly subscription, and upgrade from there.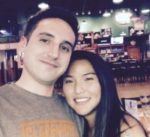 Nathaniell
What's up ladies and dudes! Great to finally meet you, and I hope you enjoyed this post. My name is Nathaniell and I'm the owner of One More Cup of Coffee. I started my first online business in 2010 promoting computer software and now I help newbies start their own businesses. Sign up for my #1 recommended training course and learn how to start your business for FREE!