SECockpit is one of many keyword research and website planning tools with which you could potentially use to build an online business. After trying out SECockpit for a month, I found that the clunky user interface and lack of amazing features offered by competitors meant that it wasn't worth monthly membership cost for me.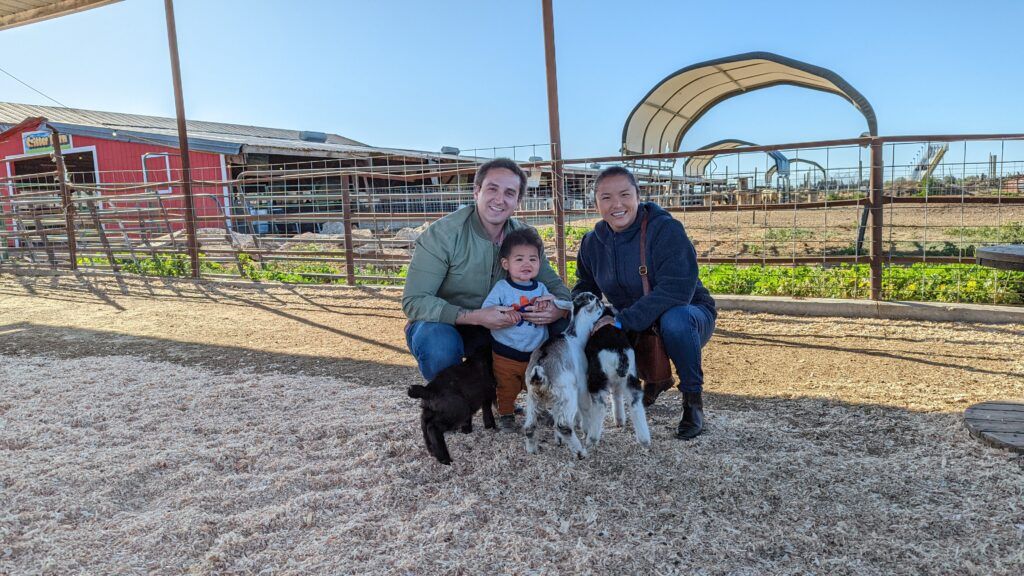 Are You Ready To Work Your Ass Off to Earn Your Lifestyle?
Are you tired of the daily grind? With a laptop and an internet connection I built a small website to generate income, and my life completely changed. Let me show you exactly how I've been doing it for more than 13 years.
However, I'm not going to spend this entire review of SECockpit complaining about it! There are definitely some interesting things about it I liked, and some unique things that you won't find with other keyword research tools. If you are thinking about buying it, keep reading to see if this is a product that can help your business grow traffic and revenue, or what other products would be a better value for your money.
SECockpit & Swiss Made Marketing
First off, there was a bit of confusion while I was purchasing SECockpit. I ran across the website Swiss Made Marketing, and I didn't really understand the connection. I guess Swiss Made Marketing sells several products.
One of them is called YTCockpit, which is basically a YouTube version of SECockpit. There are also other products like a backlink spy tool, and a tool to reveal rankings not shown in Google Analytics. The RankTracker product was included in my membership to SEC, but it also seems to be available as a standalone product.
Altogether, there's hundreds of dollars per month worth of tools available on their website, so I'd expect some upsell emails along the way after you purchase one of them.
SECockpit Pricing & Value
The most basic membership will cost you $40/month, which is pretty average for keyword tools. The lowest price you'll find is around $20, and the highest cost for a "basic" tool will be between $100-$300 per month. For agency level tools, they can range between $500-$1000 per month! Of course, you save if you go yearly, but I'd recommend getting a basic account for a few months first to test the waters before you commit.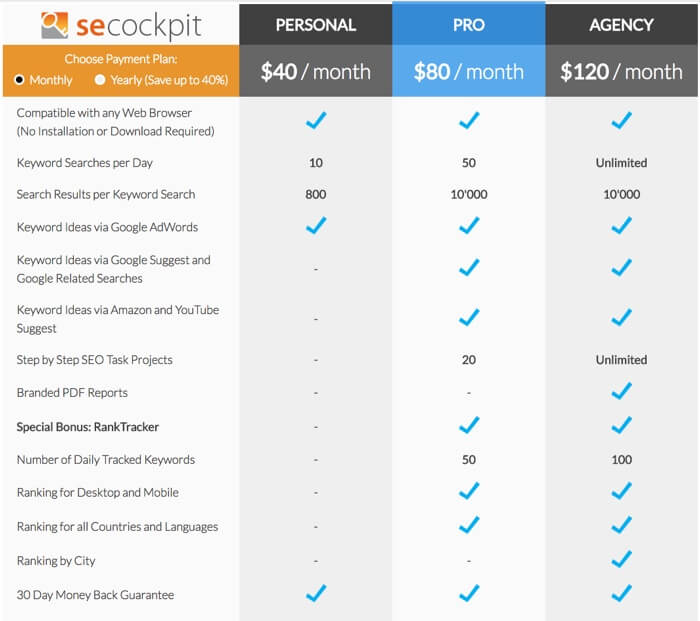 Most people will opt for having the Pro tier as opposed to the Personal. In my opinion, I think they crippled thePersonal tier just to make the Pro look more attractive. 10 keyword searches per day? You gotta be kidding me.
If you are running a local SEO company and building websites for local businesses, you would benefit from having city-level ranking stats. For non-US SEOs, you could benefit from the Agency tier by getting access to non-English, world-wide ranking stats.
In my opinion, 50 daily tracked rankings seems a little stingy. I also like the idea from Jaaxy that you can update your tracking weekly/monthly instead of daily. Rankings rarely changing significantly on a daily basis, and even if they did, I don't think it would be a reliable source of data.
Even for the Pro level of access, just 50 searches per day seems pretty ridiculous. I do searches in bursts, and may do 100-200 searches in a day for 3 days in a row, then not use the tool for 2 weeks. Limiting to 50 searches per day is very annoying, and one of the main reasons I won't keep my subscription to SECockpit.
Learning To Use SECockpit
This was by far the hardest product to learn how to use. I actually bought about four keyword research tools in November, hoping to knock out a bunch of reviews of the next month. As I logged into each one, I caught myself skipping SECockpit day after day. The other ones I pretty much figured out how to use the basic after 20 minutes or so. 28 days later, I still hadn't figured out how to use this thing, so I finally watched the training videos.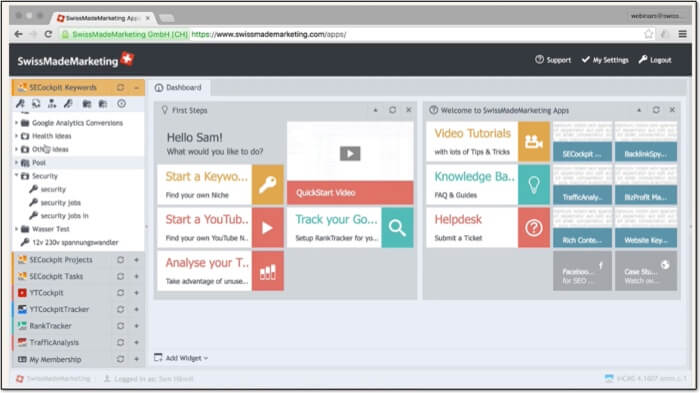 It turns out, it's easy enough to use the basic functions once you watch the training.
However, there's still a lot of stuff I wasn't able to explore simply because I didn't understand what it was used for.
Why is there a Google Doc called Rich Content Optimization?
What is a semantic keyword search
Why does it save all my past keyword searches?
How do I use the task journal…isn't that just a notepad?
Even just doing a keyword search is confusing.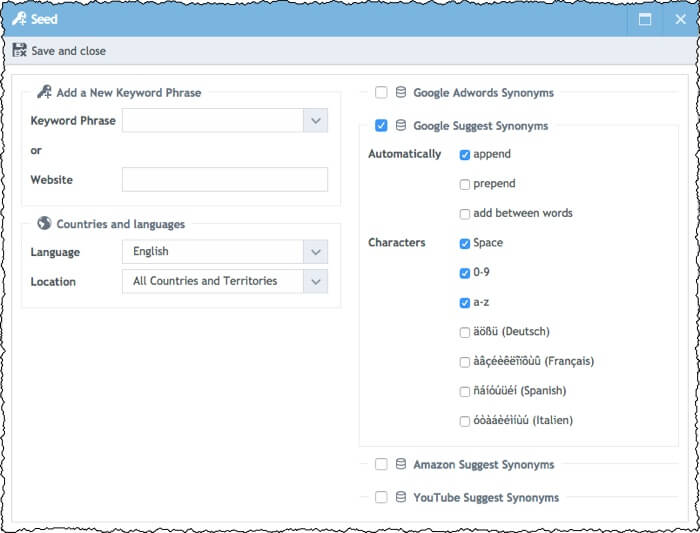 You can do a search for a phrase or analyze a website's keywords, but how does the "website" option work with append/prepend? When you use append/prepend on a phrase does that add your keyword to the front/back of other phrases or vice versa?
Ugh, then the tagging system…how does that work? Why do I have to "save" in order to do the keyword search?
Anyway, I'm starting to rant a bit and get off track here.
No doubt, to an advanced user familiar with the system, I'm sure these various controls can help you refine your search and find they keyword you need. But for a casual user just trying to find high traffic, low competition keywords, all these features are overwhelming.
Feature Breakdown For SECockpit
Keyword Research
Keyword Research is the main attraction with SECockit, but unfortunately I found many aspects of this tool to be disappointing.
First off, it was slow compared to other tools I have been using this month. I don't have exact speeds logged, but after switching back and forth between five different search tools, SECockpit was the slowest.
Second, it's just another MOZ data fetcher. If you've ever used a tool that relies on MOZ, you'll recognize the typical stats of Domain Authority, Page Authority, and various backlink stats like internal linking, total domains linked, and total pages linked. MOZ isn't bad, and it can be useful in some contexts. But there are some limitations, namely that there are a large number of instances where pages with low MOZ stats outrank pages with high MOZ stats.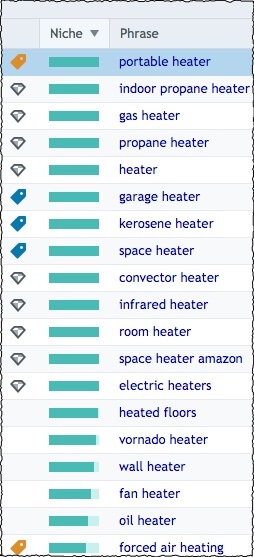 To me, this makes the MOZ data less useful to me. Why would I be scared of the SERPs if I could potentially outrank them with better keywords?
For example, a hypothetical high DA site may look intimidating if it ranks for best apartment balcony grill. But if you look closer, you'll often see that the page never uses the keyword! It just talks about portable grills, and may mention an apartment balcony once in the article. If you were to write a specific post about, targeting the keyword best grills for apartment balconies, there's a good chance you could outrank even high DA sites.
However, there are definitely some good things to say about SECockpit!

Keyword Filters
I like that you can manually add/remove filters after you do your keyword research. Once you do a full search, you can then tweak the results to only show traffic or competition above/below a certain threshold. This makes it easier to narrow down high traffic, low competition keywords without searching through hundreds of results.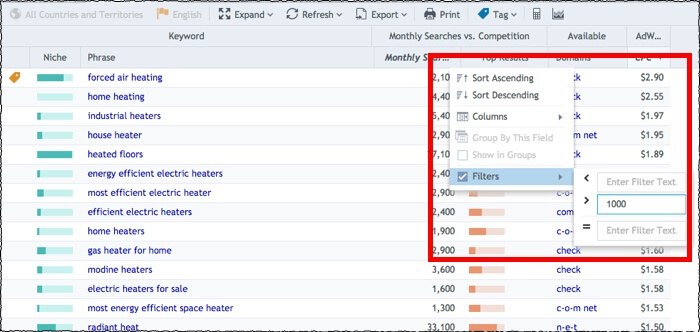 But they don't make using these keyword filters easy!
There's really no way to know that the filter system exists other than to accidentally click the section which brings down the menu. There's no label or link called "filter". Also, there's no indication of what the metrics are unless you hover over the current stats. How should I sort my traffic? 30? 100? 1000? Since traffic and competition is displayed with a bar graph, there's no way to easily tell what value "high" is for this keyword set.
In addition to all that confusion, they've chose to use >< (greater than/less than) symbols, despite having plenty of room to type something more intuitive.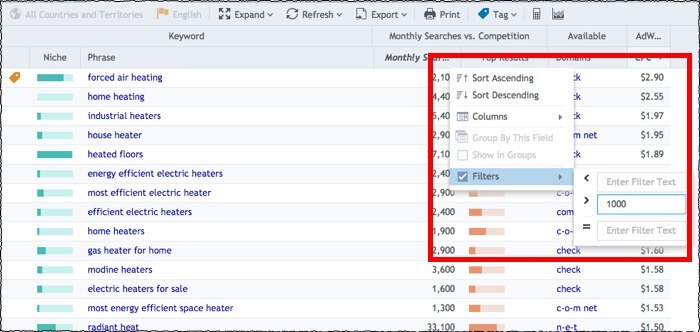 In short, the filter system is useful, but needs some major improvement to be more user friendly.
Visual Traffic VS Competition
Once you sort all that out though, having the visual graph of traffic an competition stats can quickly put keywords into perspective. Looking at 50 colored bars is a lot quicker than looking at 50 numbers!
#1 SECockpit Advantage
The main advantage that SECockpit has over any other keyword tool is that you can tailor your keyword research to include (or exclude) Amazon, YouTube, Adsense, AND Google search terms. As far as I know, no other keyword tool offers these options.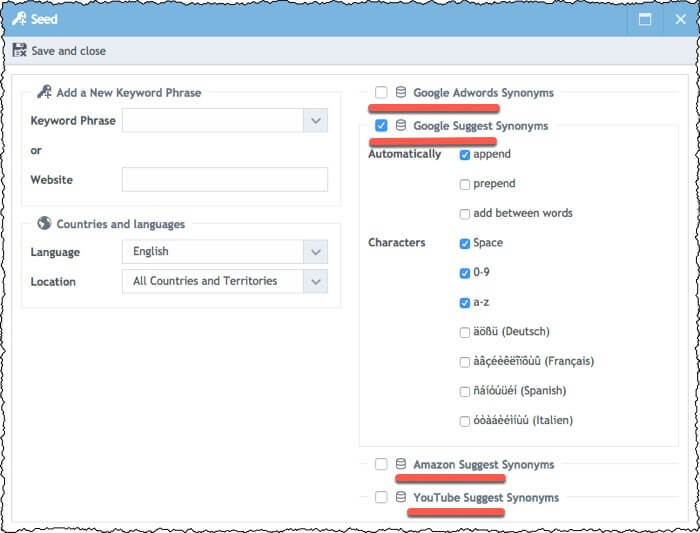 I did try these, but in my experience, they didn't offer that much extra insight into keyword searches. The results were pretty similar in terms of getting ideas of what to write about on your website. After all, there's only so much use you can get out of 1,000 different ways to say "how to lose weight after a wedding". Yeah, I get it. I'm not going to write a different article for how to lose weight wedding, lose weight after wedding, wedding lose weight after, wedding lose weight, etc etc.
Still, if you really are "going hard" on your niche site and want to obsess over stats, you may uncover some undiscovered areas these individual search engines. Maybe Google page 1 is crowded for Keyword X, but on YouTube the competition is thin.
To be honest, I didn't play with these features that much, and mostly stuck with Google results. If someone has found these other search tools useful, leave a comment and let me know your experience.
Domain Finder
A useful addition to this tool is the domain finder! If you're looking for low competition keyword rich domains, this makes it super easy to find them. In my experience, domain flipping isn't as hot as as it used to be, but I'm sure some people are still making money with it. You could potentially use this feature to buy good domains, build mini niche websites, then sell them at a premium.

SERPs Analysis
A feature also seen in other keyword tools like KWFinder from Mangools, is a visual graph of the top 10 results of Google showing where your strong/weak competition lies. What challenges you may face trying to rank can also show you how to overcome thing. For example, seeing that a site with weak Domain Authority, but strong Page Authority due to backlinks means you need to focus on getting some backlinks to outrank them. In fact, Swiss Made Marketing also offers a Backlink Spy tool you can use to copy (and improve upon) their link profile.

One frustrating thing about this tool is that you can't just go to the tool and type in a keyword to check out the SERPs. You need to do a full set of keyword research, then click on an individual keyword. All the meanwhile, the tool is creating new tabs for you within the app. Again, it's just a clunky UI that takes some getting used to.
Keyword Spying
Though not labeled "keyword spying", when you type a domain name into the keyword research section, it'll pull up some keywords from the website. I'm not sure if it's reading the site to determine the most frequently use phases, thus words it should rank for, or if it's actually analyzing Google to see what it currently is ranking for. Either way, I check a couple of my sites and it's pretty accurate as far as finding the correct topics and relevant keywords.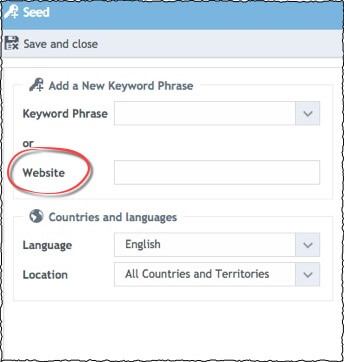 This is not a "true" keyword spy tool though, because you won't see data about which phrases they actually rank for or what rank they have, as well as things like traffic analysis for that particular site and keyword. For details like that, you'll need to go to SEMRush.

Rank Tracker
I suppose the rank tracker is interesting, but it's not something that's really going to improve your business. This would be useful at an enterprise level, if you are creating and selling website, or doing SEO work for someone. For an individual user, it can be fun, for sure, and motivating as well as long as your rank is going up!
They chose a weird way to display dates where the tool didn't run, or where they couldn't find my rank. While my rank was going up and down, there are just huge chunks of the graph missing, which doesn't look visually appealing.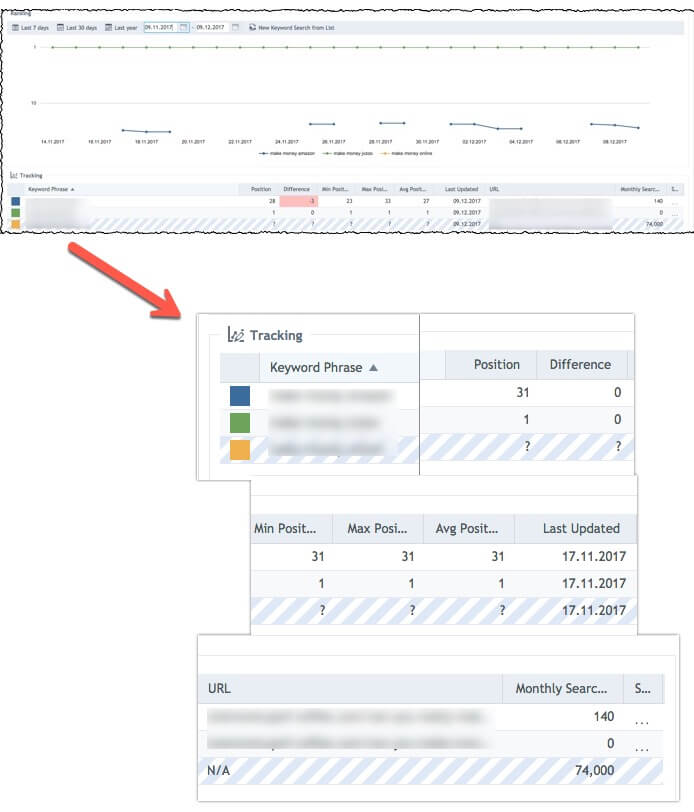 Newbies With SECockpit
In terms of keyword research, keyword spying, rank tracking, and SERPs analysis, I would say this is a very difficult tool for newbies to understand. It's not very intuitive, and the training is not very extensive. There are training tools, and there are webinars that you can watch, so I don't mean to say that there's nothing available. In fact, I relied on these videos to learn how to use the tool, so they are effective!
However, with the complexity of this tool, I feel like there should be a lot more, and it should be more obvious where to find it, as well as which order to do the trainings in.

Is SECockpit Worth Your Money?
Overall, using SECockpit was a little confusing, and definitely frustrating. I felt like I was using a souped up excel doc with all the tabs and lists after a month of testing. Perhaps more time spent with the tool would yield better results, but for the time being, it's not a keyword research tool that I can recommend. For the price you pay, even for the basic membership, I feel like there are more valuable products out there.
However for keyword spying, i.e. looking at which websites rank for which keywords, this is a cheaper alternative than some of the more expensive tools that run $100+ per month. You won't be able to dig deep into traffic numbers and other statistics for "spying" on your competition, but you could certainly leverage the domain research portion of SECockpit to see what types of phrases and topics your competitor ranks for.
Often enough, that's a great starting point for thinking of content ideas, and in my opinion, good content research trumps competition stats research all day long!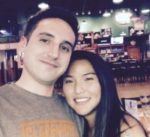 Nathaniell
What's up ladies and dudes! Great to finally meet you, and I hope you enjoyed this post. My name is Nathaniell and I'm the owner of One More Cup of Coffee. I started my first online business in 2010 promoting computer software and now I help newbies start their own businesses. Sign up for my #1 recommended training course and learn how to start your business for FREE!