The truth is that to have a profitable website, you don't need anything except a topic you're passionate about and a couple affiliate links. If you write information that people want to read, you'll get traffic, and no doubt make some sales.
But if you're running a business, it's an imperfect plan to just write for the sake of writing, and hope for sales. Keyword analytics tools are a major weapon in our arsenal for profit. They allow us to write with purpose.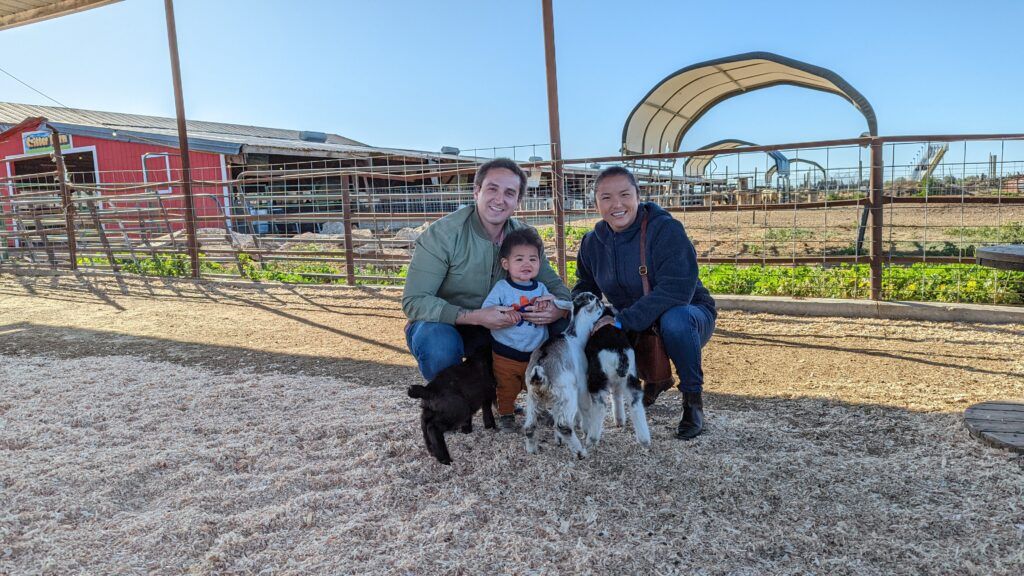 Are You Ready To Work Your Ass Off to Earn Your Lifestyle?
Are you tired of the daily grind? With a laptop and an internet connection I built a small website to generate income, and my life completely changed. Let me show you exactly how I've been doing it for more than 13 years.
SEMRush is a popular option, but is it the right tool for you? I bought SEMRush Premium package and tried it for a few months to help you answer that question. Here's what we'll cover in my SEMRush review:
Quick Review
SEMRush has turned into one of the most interesting, useful, and enjoyable online marketing tools that I've used. There are a lot of aspects to the tool, and most of them are easy to figure out. However, the basic Pro package is a little pricey at $99, so it's not for everyone.

SEMRush Pricing & Value
I used the free version of SEMRush for about 3 years. I just used to snoop on my competitors websites and discover a few more keywords than I could find in my go-to keyword research methods. I was pretty excited to have an excuse to throw down the $99 fee for the Pro package and see what this thing can really do.
I was pretty surprised to find out that their best choice package, called Guru, as $199! Wow, you would need either a lot of niche sites or a huge website to make use of all those reports. I'm not sure I'd ever need to track 1500 keywords. That seems more like an agency! The fact that they included branded PDF reports makes me think that this tier of membership is targeted towards SEO's that rank websites for clients.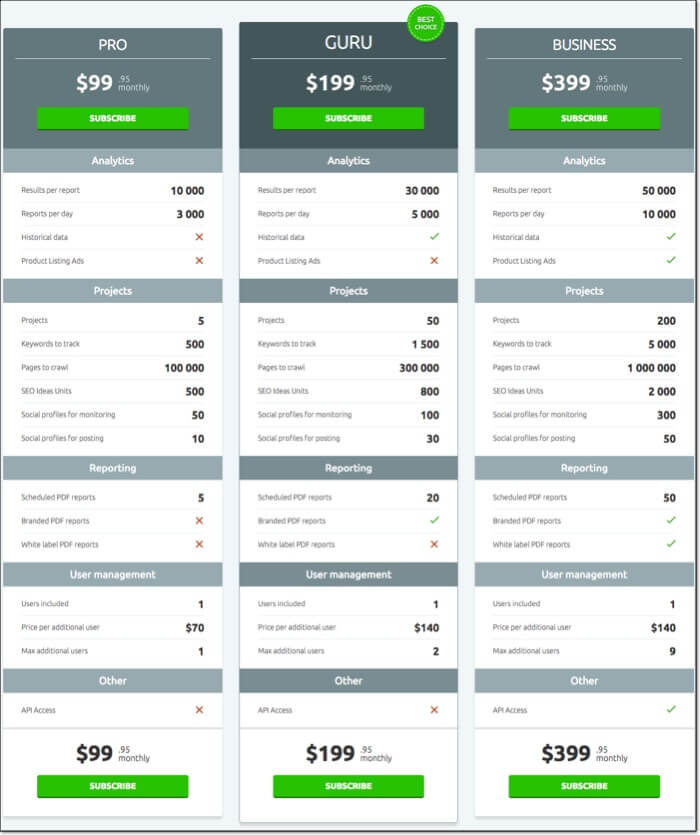 I'm happy staying Pro for now. For me, I'll gladly pay the $99 for periods of time where I need to do extra research for my websites, but I don't think I'll keep an active SEMRush membership month to month. I tend to go through phases where I do a bunch of research, then hunker down and do the work.

Learning To Use SEMRush
Learning to use SEMRush is turning out to be somewhat of an enjoyable challenge. There's a lot to digest. For the last month and a half, I've just been using it as I normally would any other keyword research tool….to try and make more money from my business. I've only been using the aspects I immediately found interesting. Even then, I haven't really dug into the data more than looking at traffic, competition, and potential blog post ideas.
I do plan to expand beyond this very limited scope, but it's going to take a concerted effort to learn how to use everything else in the dashboard sidebar. Being the holiday season, this may take a couple more weeks to really get enough information so that I can break it down for the review here. So yeah, my SEMRush review isn't 100% complete yet.
What's the takeaway?
Even just using the basics, I found a lot of value in SEMRush. I'm very curious to see what else it offers and whether or not it's relevant to my business.
As a newbie, don't be scared! It's pretty simple to learn, but it's just not as visually appealing as something like KWFinder.

Feature Breakdown For SEMRush
For now, I'm mainly going to focus on two aspects of SEMRush: Domain Analytics and Keyword Analytics. Even under these two headings, there are several subcategories, so if you have a short attention span, you might be feeling a bit of exhaustion at this point in the review. Sorry! I've tried include a table of contents at the beginning so you can skip to the most relevant parts of the review.
At this point, I think the Domain and Keyword analytics are the most interesting and relevant to doing research, which is my main point of reviewing SEMRush. Other stuff like reports and projects may not be super exciting to go through, but I'll check them out in the coming weeks.

Domain Analytics
Organic Research: I use this this all the time. This is my go-to for checking out if a website is worth following and analyzing. Right off the bat I can see their most popular keywords, where they get their main traffic volume, and an overview of their traffic stats. Keep in mind, none of this information is 100% accurate. In fact, sometimes it's very misleading. After analyzing my own site I see that the keywords that bring me the most traffic are not listed at the top, and some phrases which seem to account for a large portion of my traffic are actually not that important to me.
It also doesn't say which keywords are actually worth pursuing. I rank #1 for a lot of things. Very few of those actually bring in strong revenue.
So why do I enjoy this so much? Well, it's a starting point. Although not completely accurate, it does give you some insight into a website's strengths.
For example, it shows my xbrewx.com website as ranking #7 for "tavour" and #9 for "how to keg homebew". I'm actually ranked #4 and #8 respectively.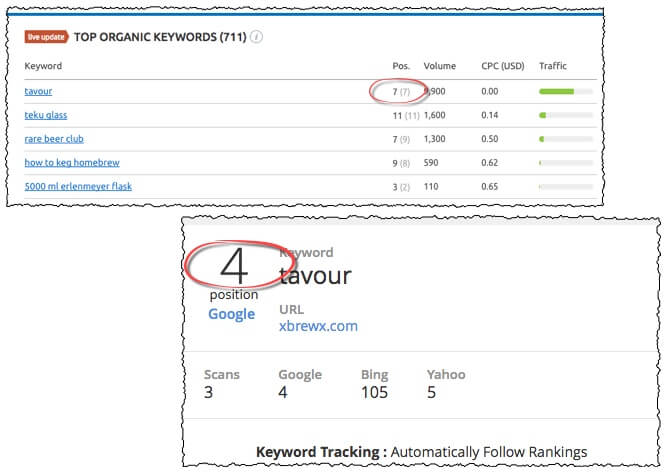 It also says that over 50% of my traffic comes from this keyword. That's far from the truth. I get some, but not that much! The other keywords shown here also get traffic. My page about kegging homebrew gets the most of what you can see on that list. So although this is my favorite SEMRush feature, there are some limitations!
You can further dig into the granular data with the submenu.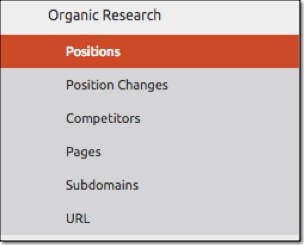 Backlinks: Though I don't do any active linkbuilding, I know a lot of SEOs that do. Looking at a site's link profile can tell you a lot about how and why their ranking. Even analyzing your own site, you can figure out who is liking your content enough to link to you, and that could serve as an idea to further entice similar websites to link out to you.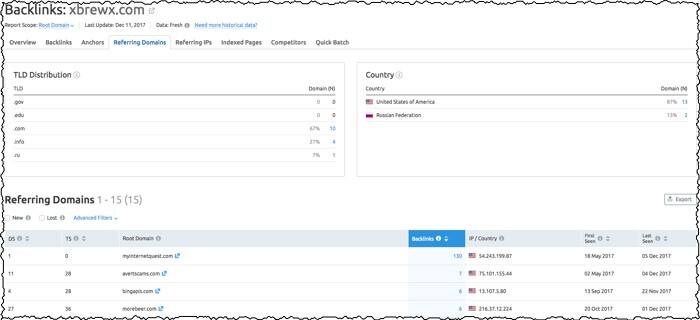 Advertising Research: See what websites are placing paid ads for.
PLA Research: Analyze product listings for this domain
Display Advertising: Analyze display ads that link to this domain
Traffic Analytics: Get insight into traffic stats for a domain (similar to Google Analytics). See bounce rate, source of traffic, average time on page, etc. From what I saw, this is not very accurate. I analyzed one of more more heavily trafficked sites. The bounce rate was 20 points off and time on site showed an entire minute less than actual time on page.
Ranks: A list of the most popular websites online. I'm not sure why this is included. Perhaps it's to give you ideas of where to get links from? It includes three categories: most traffic, biggest changes in keywords gained/lost,
Keyword Analytics
The keyword analytics section is the most useful for someone looking for a keyword research tool. While it does provide a lot of great data for discovering and analyzing keywords, the user interface is pretty clunky. It's pretty slow at times, and each time you organize the data statistics to be low > high or high > low, the entire page refreshes. When are doing research for a new websites and doing hundreds of searches per day, this gets annoying real fast.
Aside from that, the data it feeds you is pretty standard. I'm not sure if they get the keyword suggestions from Google or their own algorithm, but I didn't see anything too surprising in terms of discovering high traffic, low competition keywords. That's not to say it was a bad tool, but it just seemed pretty similar to everything else I've tested.
You can organize your keyword data by any of the columns, which include:
Volume
Keyword Difficulty
CPC
Competition
Results
This is a good way to what low competition, high traffic keywords are out there. You know what's better though? Keyword filters! This is an even better way to get rid of keywords you don't want to show up in the results. I usually exclude "buy", and make sure phrases with at least 3 words show up (long tail keywords).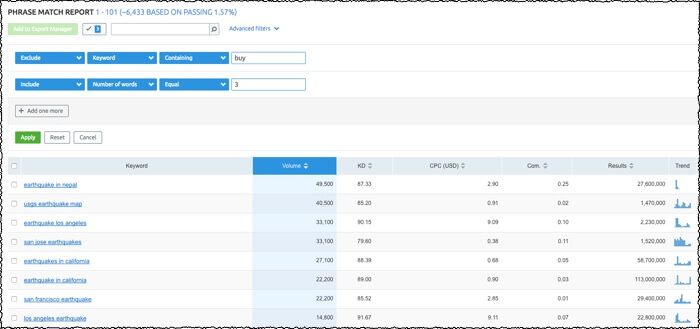 Both "phrase match" and "related keywords" are useful for digging up ideas of what to write about.
Phrase Match: Find keywords with your exact phrase in them
Related Keywords: Find keywords that are not exactly like your phrase, but related
Ads History: Look at what companies are placing ads related to your keyword phrase.

Keyword Difficulty: Get a sneak peak into the SERPs rankings. See not only how difficult it is to rank for a keyword, but also see what Google is serving up on page one. See if they are running News Stories, Site Links, Carousel, Instant Answer, or other unique Google search engine features.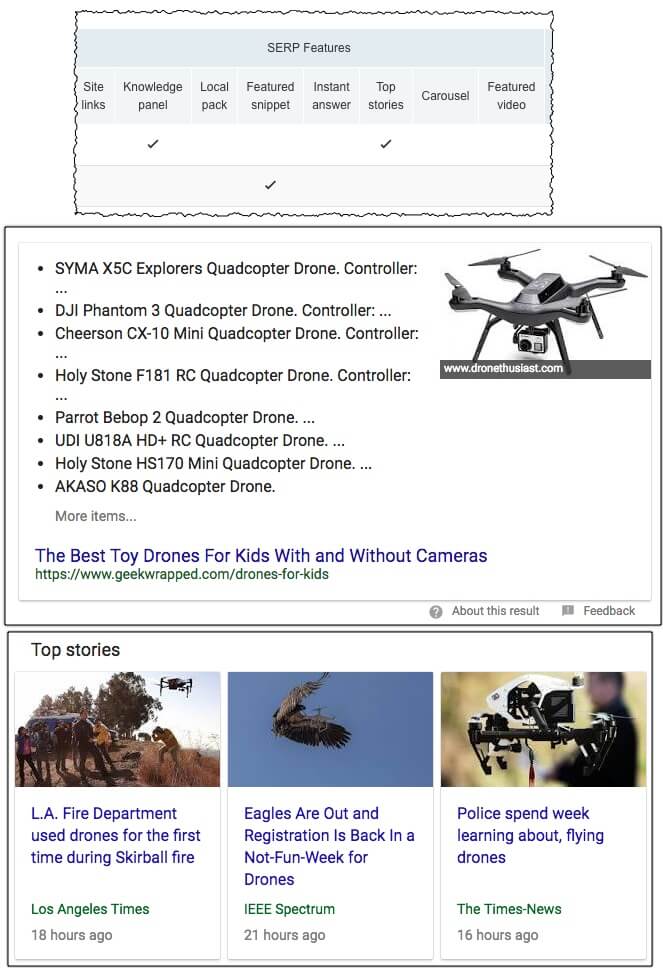 Keyword Magic Tool: This is just a beta testing area for a more advanced keyword tool they are working on. It looks nice, and is fun to play around with, but they will charge for access to it in the future. This tool is looking more like a standalone keyword research tool in the same vein as Jaaxy or KWFinder.

Gap Analytics (Keyword/Backlink)
This is a really fun feature to play with. The concept is that you can compare your website with other websites in the space, and see where you are lacking compared to them. You can compare your backlink profile or keyword ranking profile.
Looking at what type of links your competitor has can tell you a lot. If you are competing for the same phrase and he's outranking you, a look at his backlink profile could give you insight into why he's still ahead. If you are confident that your content is much better, then perhaps it's time to seek out some backlinks to your pages from similar, or even the same sources. On the other hand, if he's outranking you and currently has a similar link profile, then maybe your content isn't as good as you think, or you just need to be patient and add some social engagement on the page to pass him up in the SERPs.


The Backlink Gap analyzer also shows you the "Trust Score" and "Domain Score", so you can see which website would do you the most good to investigate. You could then cross-references these sites to see what topics they cover that are most related to your business. The potential opportunities for linking or even working together are endless. I'll leave that type of brainstorming up to you!
The Keyword Gap works in a similar way, but compares your ranking keywords with other domains.

Then, if you sort rankings from top to bottom, you can see what the other websites are ranking for, and how you compare. This is a great way to discover new keywords, and look for ways to improve your website. Just looking at this initial list, I see that I could try to rank for something like "home brew temperature control" or "winter homebrew recipes" or "harvesting yeast from primary". I already have a blog post about reusing yeast for multiple brews, so I could leverage that post to link to my new article on a similar concept, but different phrasing.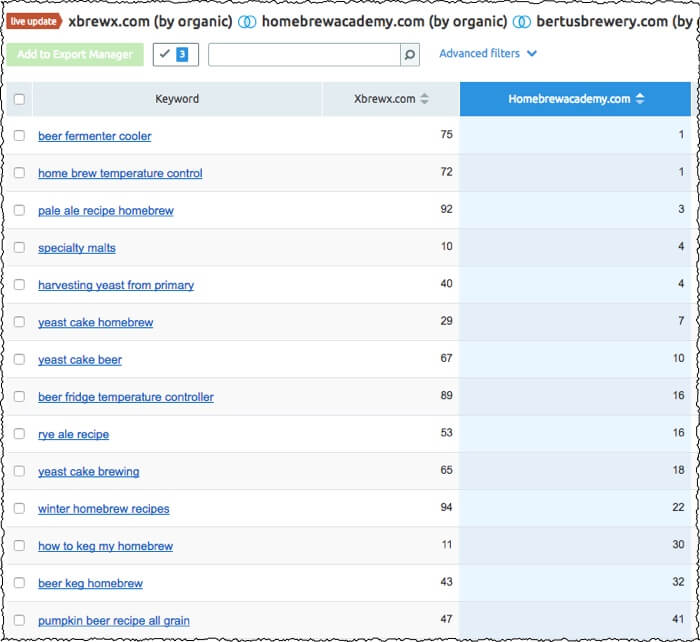 Other Aspects Of SEMRush I Haven't Tried Yet
Honestly, SEMRush is a massive tool, with way too many features to test in just a month. In fact, I've kept my membership into a second month because I want to continue playing with it. I'm thinking of starting a new site in 2018, PLUS I'm turning one of my other websites on autopilot, so have been digging deep into keyword and competition research. In other words, I'm using SEMRush a lot right now, so it's worth the $100 per month cost.
It's it crazy how just one year ago I thought it was insane to pay that much a keyword tool? Right now, the $99 per month cost is a great value for what I get. I have no doubt that the research I'm doing right now will make back the cost several fold.
Anyway, here's the list of stuff I haven't even dug into yet. I'll update this review as I explore more of these features.
Projects
Gap Analytics

Keyword Gap + Backlink Gap
note: this is cool. It basically analyzes your site compared to your competitors. In other words, why are they outranking you? Where's the "gap"?

Topic Research

analyze your rivals' content and give you ideas

SEO Content Template
Lead Generation Tool
My Templates
Using SEMRush For Competition Spying
Personally, this is one of the most useful aspects of SEMRush, and something that separates it from other keyword tools I've used. I don't like to "copy" people's websites, but I do like to crowdsource my online marketing efforts. I'm only one person, and have a particular set of ideas, experience, and manners of thinking. It's very easy to start thinking inside the box. Suddenly, your content strategy starts looking pretty mundane.
A great way to prime your idea engine is to see what other people are doing, and look to your peers for inspiration. As I said above, I'm not going to just strip a website of their keywords, then reword all their titles and try to outrank them. Some people do that, and I guess there's no law against it, but it's just not how I like to run my business.
However, there's nothing wrong with using data from other websites to spark your own ideas!
For example, one time I looked at a "how to make money" website and realized that a large portion of their traffic was coming from an app that purported to help you make money. That single ranking was bringing in 10% of their traffic! My idea was that if there's one app claiming to help you make money, there were probably a bunch of other money making apps out there that I could review. Wow, there's 50 article ideas right there!
I also like to see how other websites are doing in terms of increases or decreases in traffic. There are many instances where this could be useful for you as an online business owner. For example, if you see a sudden drop in traffic, you can check out other sites are doing. Are they seeing the same drop? Maybe it's seasonal. Or maybe the trend is dying as a whole.
But you can also check out whether or not strategies are working. For example, I was following one website case study which was producing some Top 10 Amazon review style blog posts. For a year, they were surging with traffic!

I thought to myself, "Wow, they really have something here!". So I started to plan out how I could use their strategy for my own niche website.

After a few more months though, their traffic started to wane, so now I have to question whether or not this is actually a good strategy. Of course, it could have been a bunch of other things, but the loss of traffic due to algorithmic penalty is a real possibility! Should I continue with the posts I planned? Should I rethink using this strategy? I'm not sure what to do yet, but at least I have more data points to help me make a good decision!

Newbies vs Experienced Users With SEMRush
Experienced online marketers with a solid plan of what they are trying to accomplish with their website will get the most out of a SEMRush membership. There's a lot of different tools included in SEMRush, and a lot of different data to look at. It's not as bad as SECockpit or AHREFs in terms of being confusing, but there's just a lot to consume within the tool suite. I think it's all fascinating, but I also have 7 years of affiliate marketing under my belt (still learning new things every day though!).
As mentioned elsewhere in this review, I have known about SEMRush for several years now. It's just been this most recent year that I started using it seriously and was able to figure out what everything meant.
That being said, even as a newbie, you can do a lot of awesome research here. If you have the cash to spend on your business and want to be a maniac with research and creating content, then you can also get a lot of value out of a basic SEMRush membership. I know most people are starting out on a shoestring budget, but there are also many folks that don't mind dropping $100 on a tool if it can help them grow their business faster.
I think that's the key point here: SEMRush will help you grow your business no matter if you're newbie or experienced online marketer.

Alternatives To SEMRush
In SEMRush you have a solid keyword research AND competition spying tool. That being said, it isn't perfect! Sometimes, a company that produces a tool for a specific purpose can create a better product since they are more focused. For example, in terms of spying, SpyFu is a popular, and aptly named tool. I haven't tried it yet, so can't say if it's good or not, but so far I've seen positive information about it.
Another popular website analyzer is AHREFs. I did a month trial of it, and am in the process of writing my review. AHREFs certainly is worth the money! It's a keyword research and website analyzer much like SEMRush, so it will be interesting to dig into the differences as I write out that full review. Overall, I prefer SEMRush. I just found the user experience more pleasing, and the data easier to digest.
For strictly keyword research, there are many options out there. Longtail Pro is a go-to standard that many online SEOs use, but I thought that Mangools KWFinder was miles ahead in terms of usability. They have a very reasonable price for their yearly membership of Pro, PLUS they offer a free forever version that you can start using immediately. Another thing I liked about KWFinder is that they offer a visual graphic of Google Page 1, so you can see the difficulty of ranking for your potential keywords.
The most innovative keyword research tool in my opinion is Jaaxy. Jaaxy doesn't get much love in your standard SEO circles for whatever reason, but it's my go-to research and rank tracker. The main thing it's missing is the CPC metric, which I like to glance at to see what people are paying for ads. You do get CPC with KWFinder and LTP though. One of my favorite things about Jaaxy is the "Alphabet Soup" feature which essentially lists all the potential phrases that Google Instant comes up with, from A to Z.
So I could type in something like "leather wallet", and this tool will show results for "leather wallet + a…", "leather +a… wallet", and "a…+ leather wallet". It will repeat this all the way to the letter z, and show all results. This is a very fast way to see beyond what a keyword algorithm turns up, and give you insight into what real people are searching for in Google. Many times the keyword phrases like that are super low traffic, but also almost zero competition, so they are a perfect way for new websites to think of topics they can easily rank for.
I use Google Instant all the time in my research, and Alphabet Soup cuts those keyword marathon times down by 80%.

Is SEMRush Worth Your Money?
SEMRush is not for someone who's building a business on a budget. The $99 basic fee is pretty steep for newbie online marketers when you can do basic keyword research for free simply by going to Google autocomplete. It's also not for someone that wants to instantly have keywords presented as "good" or "bad". You'll need to dig into the data and make up your own mind about what you're seeing.
If you need ideas for content and have a solid content schedule going, publishing several time a week, then yes, you'll get a lot of value out of a SEMRush membership. You'll have an infinite amount of ideas to work off of – years and years of content right at your fingertips.
If you are an experienced online marketer and struggling to think of where to take your site next, the domain exploration and keyword analysis tools can really help to take your business to the next level. There's so much to say about any given topic! If you are stuck, then you aren't thinking big enough. SEMRush is a great way to get out of your current box.
And for those that are looking to build a website by the numbers, publishing just the articles that get high traffic, high conversions, and are "guaranteed" to rank, then SEMRush can provide you with that type of granular data.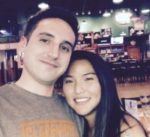 Nathaniell
What's up ladies and dudes! Great to finally meet you, and I hope you enjoyed this post. My name is Nathaniell and I'm the owner of One More Cup of Coffee. I started my first online business in 2010 promoting computer software and now I help newbies start their own businesses. Sign up for my #1 recommended training course and learn how to start your business for FREE!