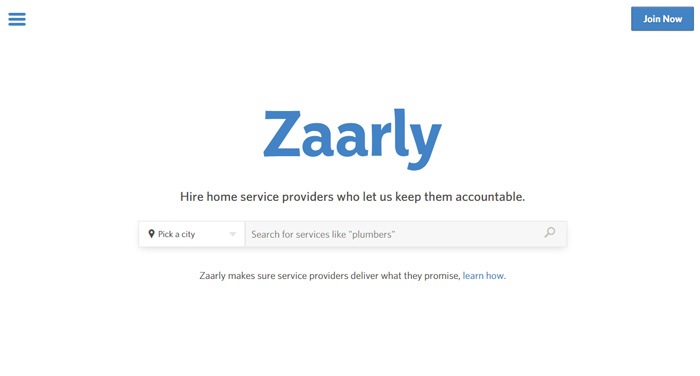 This website really stuck out as interesting to me—which is why I chose to review it. On the homepage, it says that they 'make sure service providers deliver what they promise,' but I have also heard that this is one of the biggest share economy sites out there. Can you really make money with Zaarly.com?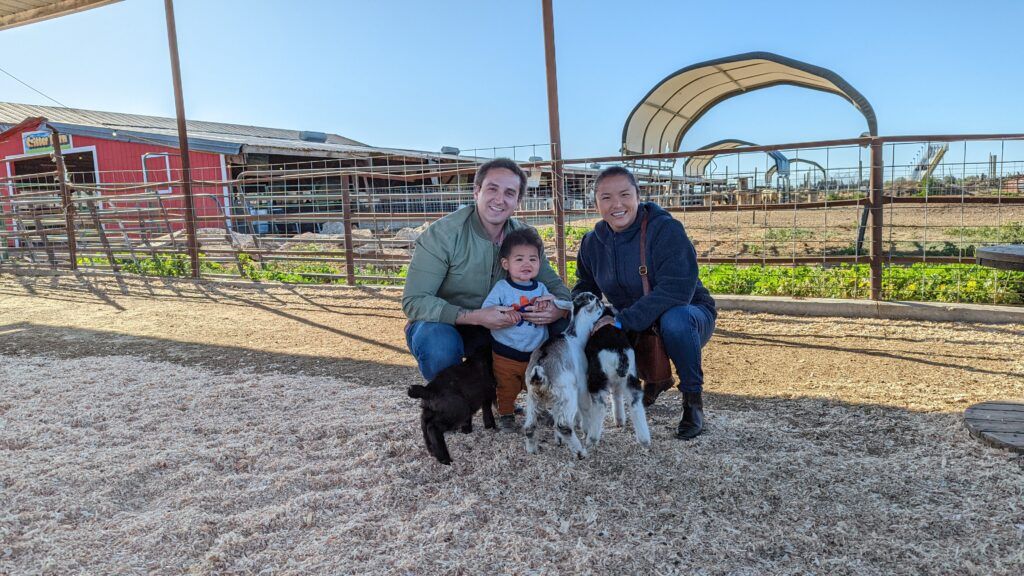 Are You Ready To Work Your Ass Off to Earn Your Lifestyle?
Are you tired of the daily grind? With a laptop and an internet connection I built a small website to generate income, and my life completely changed. Let me show you exactly how I've been doing it for more than 13 years.
This is what I wanted to find out!
Benefits Of Making Money With Zaarly.com
I first heard about Zaarly.com on Forbes.com, as I was researching new and better ways to earn some side hustle cash. Obviously, the sharing economy is a big thing right now. Most of us have heard of websites like Airbnb, but a lot of people don't realize that there are actually far more share economy sites out there than just the most well-known ones.
I have been looking closely at a lot of these websites, because many of them give you the opportunity to monetize areas of your life that you may have never considered monetizing before. There are sites that let you rent out your car, your extra bedroom, your tools… even your backyard as a camping spot!
There are so many cool ways to turn your property into an investment with share economy that it is really turning the side-hustle world upside-down!
So with Zaarly.com, I found myself wondering about home service providers. They say that this is a pretty awesome website to use if you need some kind of home service done, but I am sure that it also boasts the potential to help you earn extra money as well.
If you are a home service provider, it seems to stand to reason that you could use this site to find new clients and increase your business' earning potential at the same time.
That was the theory, at least. Here is what I discovered as I looked closer.
What Exactly Is Zaarly.com?
First of all, I found out right away that, from the looks of it, Zaarly is not active everywhere. Take a look at this.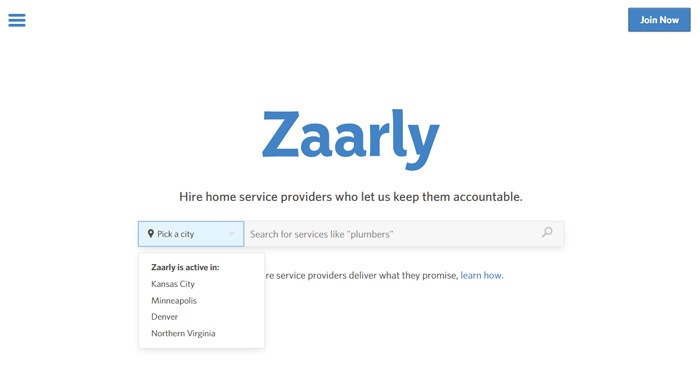 When I went to pick a city, I planned on just filling in my own city or zip code and running with it. But it seems that this was not an option.
As far as I can tell, these four options are the only options available: Kansas City, Minneapolis, Denver, and Northern Virginia. I will be the first to say that this seemed like an odd array of active zones. I would expect something like 'LA and New York,' not 'Kansas City and Denver.'
But, I decided to do a bit more looking around to see if I found anything to add to this. I clicked on the drop-down menu at the top left… and found that there was actually a lot to learn here.
First, here is a small blurb about how Zaarly works.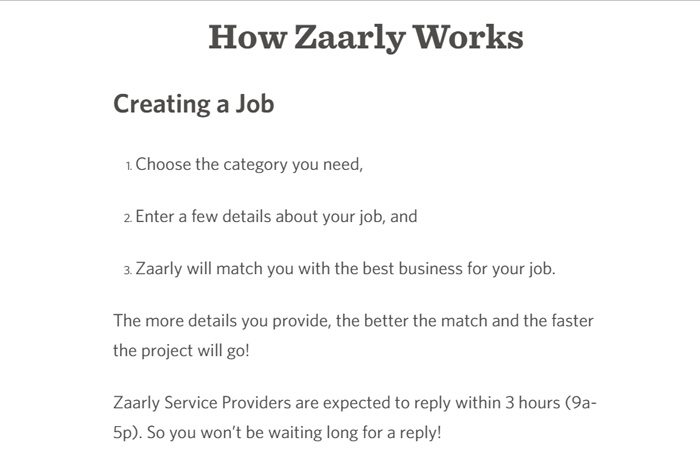 It almost sounds like Zaarly is an online marketplace where you can link up with businesses that do the kind of work you need. It also sounds like the company has a mission to make the experience prompt and painless for both parties by holding businesses accountable.
This all sounded pretty awesome so far!
How Do You Join Zaarly?
As it turns out, becoming a business on Zaarly is not a super-simple process. You must be vetted before you can join. This is a 9-step process. The steps include…
A phone interview
A criminal background check
Insurance verification
Customer reference checks, in which Zaarly contacts former customers to ensure the quality of your service
A face to face interview with the Zaarly team
And a few more steps.
As it stands, one of the great things about Zaarly is that you cannot 'pay your way' to the top, as most businesses do on most platforms. You cannot pay to join, pay to change a review, or pay for good placement.
To remain on Zaarly, you have to hold your business to a higher standard and commit to excellence… which I think is pretty awesome.
It almost feels like Zaarly is trying to create a marketplace for businesses that want to do the best job possible… and that is actually a pretty awesome thing!
What Types Of Businesses Are On Zaarly?
It seems like most of the businesses on Zaarly.com are service-oriented businesses. You may find options like: Capet cleaners, appliance repair, handymen, home inspectors, HVAC technicians, A/V wiring and installation, home organizers, junk removal, house cleaners, fence installers, landscapers, etc.
Pretty much any service-oriented company in one of the service areas could attempt to become a part of Zaarly.
What Kind Of Person Could Make Money On This Site?
This site is obviously not for everyone. The most obvious candidates would be people who own and/or operate service-oriented businesses in one of the service areas.
This means that only a small percentage of people will actually qualify to get their business onto Zaarly. But even if you manage to fit into this criteria (you run a service business in an area where the website is active), you must also get through the vetting process… which means that you must already be running a profitable business that is also seen as being run with integrity and respectability.
I love how Zaarly helps to ensure that businesses will be held more accountable to good business practices through the site. But I can also see how this site could be very beneficial to the businesses that make it through the vetting process.
It seems that businesses that make it all the way through would probably end up scoring a lot more business as a result—and that is definitely a benefit.
This is not a typical share economy website, though. This is more of a business networking website that helps businesses and customers to connect in a more meaningful and respectable way. It helps to build trust and fosters a positive community.
For business owners and customers, it's awesome. But I'm afraid that a lot of individuals will find that they do not fit into this mold, either because they do not own and run a service business, or because they do not live in one of the four serviced geographic areas.
How Much Money Could You Make On Zaarly.com?
Zaarly.com is one of those websites where you can really make as much as you want. Your only real cap on earning through the site is the cap on how much work you can get.
Zaarly is more of a networking platform where you can be matched up with customers. I am not sure that I would depend on Zaarly to provide you with a full time list of clients right from the beginning… but it is certainly a great way to supplement the method you are currently using to obtain customers.
I love the idea of using Zaarly.com to build on top of what you are already doing. But it also seems evident that you already need to have your feet set firmly beneath you if you want to make this site work for you.
Zaarly even makes it a point to check in with references to make sure that you are doing quality work… so if you want to go as far as possible on Zaarly, it would be in your best interest to focus on conducting your business the right way before you even consider moving on to joining something like this.
My Personal Feelings About Zaarly.com
Personally, I love what Zaarly.com stands for. Their mission statement is, purely and simply, an awesome idea to take seriously.
"Zaarly is a place to hire home service providers who are proud to be held accountable for their work."
I think that a lot of people forget that the entire idea of earning money comes down to excellence. Value, honesty, integrity, professionalism… these ideas are sometimes lost when people are just out to make a few quick dollars… and this is probably what I love the most about Zaarly.
Granted, this is not a traditional share economy site, in the basic sense of the term. It is more like a business networking website that operates in very specific geographic locations, that also just so happens to share a few similarities with share economy-type websites.
But, it is still a very cool idea… and if you fit into the right mold, you could make some great money through Zaarly. You will likely not get rich, and I would not rely on this site to come up with 100% of my client base.
But if you are dedicated to bringing real value and quality, and are interested in trying to bring on some new clients, then Zaarly can be an awesome way to get some positive marketing started!
Our Final Opinion Of Zaarly.com
Should you try to get your business established on Zaarly to find new clients and make more money?
There are a lot of ways to make money online. Some are good, some not, but ALL of them are still just trading hours for dollars.
Starting your own affiliate website really is the best way to build passive income and "make money while you sleep". Affiliate websites earn income in every timezone, and can be instantly accessed by billions of smartphones across the globe!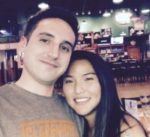 Nathaniell
What's up ladies and dudes! Great to finally meet you, and I hope you enjoyed this post. My name is Nathaniell and I'm the owner of One More Cup of Coffee. I started my first online business in 2010 promoting computer software and now I help newbies start their own businesses. Sign up for my #1 recommended training course and learn how to start your business for FREE!