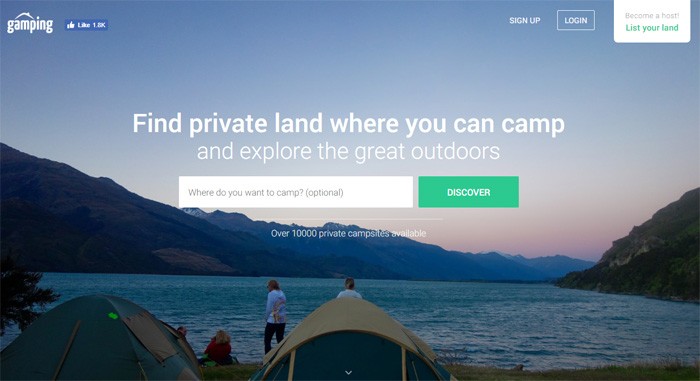 Of all of the different share economy sites I have looked at, I was probably the most excited to find out about this one.
It offers you the opportunity to camp on other people's property for cheap… but also gives you the opportunity to rent out your own camping space to travelers. But can you really make money with Gamping.com?
That is what I wanted to find out.
Why Make Money With Gamping.com?
Share economy is growing as a concept… not just in the United States, but also all around the world. And consequently, Gamping.com is available all around the world as well.
But the thing that I love most about share economy websites is that they operate on a peer-to-peer basis. The companies that facilitate the transactions are really just middlemen.
Take Gamping.com. This website lets you list your own camping site (backyard, garden, ranch, etc.) for rent. Campers can then rent out your camping space for a trip, a weekend getaway, an extended stay, etc.
There are a few requirements, but we will talk about that in a moment. My biggest question was this.
Can you actually earn some extra money by using Gamping.com to rent out your own campsite?
Let's discuss it!
What Exactly Is Gamping.com?
Gamping.com is pretty much, plain and simple, a place where you can rent out a private camping space (or list your own camping space for rent).
It is a share-economy site not so unlike Airbnb, except that instead of rooms or suites, you are renting out backyards, private riverside campsites, or some other privately owned location for travelers to use as a campsite.
Sometimes, public campsites can be a pain to deal with. You may need to get permits, pay expensive fees, and also be forced to deal with other annoying campers in the same vicinity. So Gamping.com offers an alternative.
How Does It Work?
Gamping.com is actually really easy to use. You simply log on and create an account. You can then either browse and rent any campsite in a number of different regions, or you can list your own private site in the hopes that other travelers will rent it from you.
Little-known fact… gamping is actually a play on words that means 'garden' and 'camping.' So, it is basically garden-camping, but for anyone with access to the internet who can use Gamping.com to book themselves a private camping site!
The only thing you really have to do to post a listing on Gamping.com is to describe your land, location, and what you have to offer (obviously the more you have the offer, the broader your potential customer-pool would be).
You also get to choose when you want to rent your location out, and get the final say in 'who' you rent to. Once you welcome your guests, you receive your payment (through Gamping.com) a few days later.
It is a system that benefits everyone! It gives campers a better deal on a private camp-site, and it helps people like you and I to earn extra cash for that extra space we have!
Another great thing about listing on Gamping.com is that you don't have to pay anything to list your campsite. You can simply put it up and forget about it until you get a booking.
How Much Does It Cost To Use Gamping.com?
Posting a listing is free until someone rents your space. Of course, you get to set the price for the listing as the property owner—but once the campsite is rented, Gamping.com charges a service fee to both the lister and the renter. The renter must pay a service fee of 15%, and the lister must pay a fee of 7%.
This is all pretty fair and inexpensive! It is certainly better than some of the high costs associated with renting land from a commercial camping area!
How Much Can You Earn With Gamping.com?
I have seen campsites listed on this site that rent out for $15 a night, and I have seen campsites rent out for hundreds! So, the amount of money that you can make really depends upon a few different factors.
Do you have a nice camping spot that would attract campers?
Are you near the ocean, or some other kind of high-traffic area where campers would likely be looking for a good deal?
How close is your campsite to tourist attractions, parks, and other spectacles that visitors may want to visit?
How much do you charge?
Is there a lot of competition in your area and price-range?
Of course, you will probably see some slower months and some busier months if you choose to list a campsite on Gamping.com.
But another thing I loved about this site was that it offers a way to make traveling even cheaper, mostly because it gives you off-the-path camping sites to rent for much lower rates than it usually costs to procure one.
Camping can be surprisingly expensive in some areas! So websites like this, that give you access to camping areas that are off the beaten path, are awesome. I have actually seen a couple of 'garden camping' share economy sites online, but Gamping.com seems to be the biggest one.
They were also one of the few I found that would let you list a campsite in the United States. They also, however, let you list campsites in a variety of other countries… which is pretty awesome!
I've seen other share economy sites that touch on the camping idea too. For example, Outdoorsy allows you to rent out RVs, campervans and related vehicles. You might also consider Spinlister. This service focuses on bikes, surfboards and similar items, which are all things that campers might be interested in (especially if they are tourists).
Other Features That I Liked
Another really cool feature of the site is that you could search based on what type of site you were looking for. For example, you can search in categories like oceanfront, unique hideaways, wide open spaces, mountains, motorhomes, etc.
Granted, these kinds of categories take you to listings all over the world, but they are still pretty awesome!
In any search, however, you can edit the map to fit your geographic profile. This is a really cool feature. You can zoom in, zoom out, and alter filters until you find what you are looking for in the exact same area you plan to be staying in.
This actually makes it incredibly easy to search geographically for what you are looking for, and I loved it.
I also found out that Gamping officially launched in 2013. So even though I didn't hear about them before now, I was surprised to learn that they have been in business for so long. It does show, though… because their website is very well done. They also boast quite a few (thousands) listings, which I was a big fan of!
And finally, I was quite impressed to learn that they also give you the ability to view their website in a number of different languages. I viewed it in English, but they also give you the ability to browse the site in Spanish and French.
My Personal Feelings About Gamping.com
Personally, I was a pretty big fan of this website. The main reason for this is because I LOVE to travel. But I also love to do it in unorthodox ways.
For example, I once made a road-trip all the way to the coast of Florida and back, sleeping mostly at truck stops in my Subaru Outback, in a bed I built in the back of it (I stayed a couple nights near the beach in a nice hotel, but I do love alternative travel just the same).
This is why I love websites like Airbnb, VRBO … and now, Gamping.com. I love how websites like this give you alternative travel options to regular hotels. But even more than this, I love how websites like gamping.com give you the option to utilize your own assets as a side-hustle.
This website would allow you to list your own farmland, back-yard, or riverfront lot as a private camp site and earn money while doing so… and that is awesome!
I do not currently live in the kind of situation where I could rent my yard out as a camping ground. And even if I did, I will admit that my area isn't much of a tourist attraction.
But I really do love the idea behind it, and I know a lot of people who live in more tourist-centric areas who could actually make bank using websites like this.
So yeah. As a website, Gamping.com is awesome. But as a concept, I love it even more. This may not be your cup of tea as a side-hustle if you don't have some camping ground that you would consider renting out—but if you have the room and are down to let people camp on your property, you could actually make some pretty good extra money through this share-economy site!
Our Final Opinion About Gamping.com
Should you log on and list your backyard or lot as a rentable camping site?
There are a lot of ways to make money online. Some are good, some not, but ALL of them are still just trading hours for dollars.
Starting your own affiliate website really is the best way to build passive income and "make money while you sleep". Affiliate websites earn income in every timezone, and can be instantly accessed by billions of smartphones across the globe!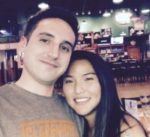 Nathaniell
What's up ladies and dudes! Great to finally meet you, and I hope you enjoyed this post. My name is Nathaniell and I'm the owner of One More Cup of Coffee. I started my first online business in 2010 promoting computer software and now I help newbies start their own businesses. Sign up for my #1 recommended training course and learn how to start your business for FREE!