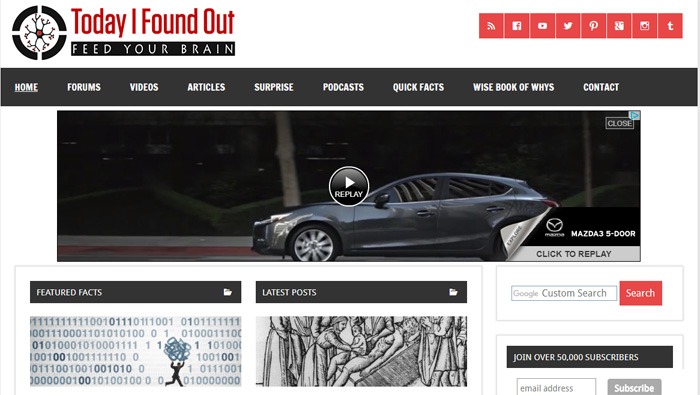 This website is said to pay writers for informative and accurate articles about facts, stories, and historical occurrences.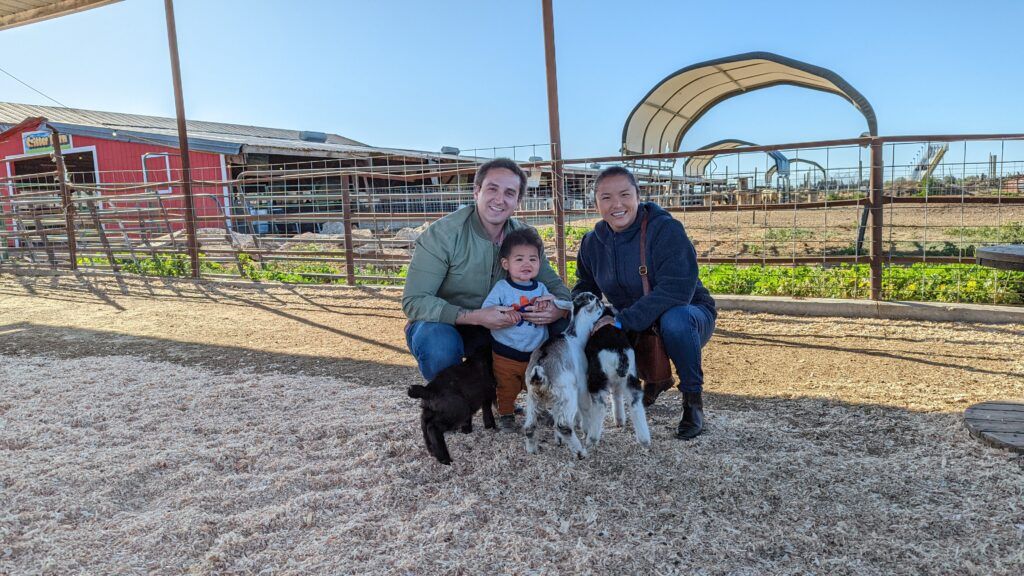 Are You Ready To Work Your Ass Off to Earn Your Lifestyle?
Are you tired of the daily grind? With a laptop and an internet connection I built a small website to generate income, and my life completely changed. Let me show you exactly how I've been doing it for more than 13 years.
I found out about this company by reviewing a list of websites that supposedly pay you to write content, and was interested in it from the very first moment. But can you really make money with the Today I Found Out website?
That is the important question. And in this review, we are going to discuss it.
Making Money With The Today I Found Out Website
But first, we're going to talk about the idea of side hustles.
There are a lot of good reasons to try to make some extra money nowadays. Side hustles are important because you kind of need to have at least a couple of different revenue streams going on if you really want to get ahead financially (unless you are already rich, I guess… which I am not).
And for me, writing as a side hustle is quite within the realm of the possible… as I do have quite a bit of writing experience and can do it pretty easily.
But with that being said, is the Today I Found Out website (found at www.todayifoundout.com) really worth the time? Do they really pay for content? And if so, do they pay enough to make it worth your time?
I decided to give it a try so that I could report back on my findings. Here is what you need to know.
My First Impression Of The Today I Found Out Website
My first impression of this website was pretty positive. It didn't really look like anything but an article website. It had kind of a cluttered feel to it, but I almost didn't even care, because it really is pretty well organized.
There are a number of menu options at the top bar, including…
Home
Forums
Videos
Articles
Surprise
Podcasts
Quick Facts
Wise Book Of Whys
Contact
The more that I got into this site, the more I realized that pretty much stuck to a basic blog-layout/feel, which I had no problem with. It was also kind of quirky, which I found entertaining.
Scrolling down, I realized that they seem to publish quite a few articles on a consistent basis. The subject-matter of the articles was also pretty awesome. Here are some examples…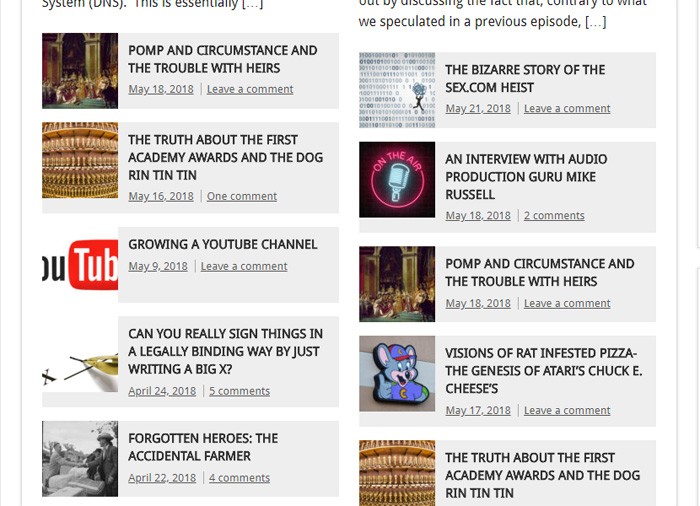 So yeah. Thus far, this seemed like a pretty interesting site with a lot of pretty interesting content on it.
But my next question was this. What is the level of quality like? Are the articles well-written, or not so much?
This is important to look at, because it will give you not only an idea about how much traffic they might have (and get in the future), but it also tells you what you need to shoot for if you ever feel like pitching an article.
So that's what I decided to look into next.
Is The Content On Todayifoundout.com High In Quality?
I chose one of the articles hosted on the website and read through it. It was actually very well done. I was entertained, found the information interesting, and found myself feeling pretty trusting that the information was accurate. It certainly seemed to be that way, anyway.
The grammar and structure of the article was quite good. I had no complaints. This is certainly a professional blog where anyone interesting in submitting content would have to be able to write pretty well… on a professional level, even.
I can imagine that they probably get a lot of traffic as well.
At one point I was interrupted by a pop-up advertisement. This was pretty easy to get rid of, but I made note of it because this is probably one of the methods that the website uses to generate revenue.
So with that in mind, I didn't really mind it. Plus, I have endured far worse pop-ups on sites that were supposed to be a lot more popular. So all in all, I felt like there was a good balance here.
There were also banner ads on the site, which was not something that surprised me… as banner ads can also do quite a lot to help generate revenue.
And websites need to pay the bills as well, right?
But my next question was a query from the writer's perspective.
How difficult was it to get content published on Today I Found Out? And if you did manage to get something published, how much did it pay?
Well I decided to look into this next, as the entire point of me even researching this was to see if this site could potentially help me to build a few writing-oriented side-hustles. So let's talk about that.
Researching Submissions On Today I Found Out
At the bottom of the page, along the footer, I found the 'Write For Us' button, and clicked on it. Here is what I found.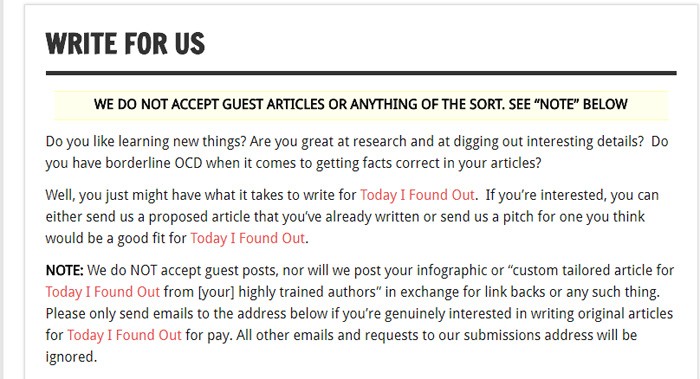 This page was pretty informative, to be honest. They do not accept guest articles, but they do accept submissions for ideas in the form of pitches, which you can submit via email.
They also have quite a few guidelines. In general, they want any potential articles to be…
Accurate and factual
Entertaining and educational
Written by you (the writer), with no plagiarizing
Published nowhere else on the internet, including your own blog
As for a pitch, they require you to submit…
The interesting fact that you will be covering
They also want you to describe the angle that you plan to take in talking about the fact
A working potential title
An estimate of how long you think the article might be
Any relevant information about yourself that may indicate your experience level or professionalism
You may also send links to articles that you have had published on other sites, as references
They say that they get a ton of submissions, and that they sometimes just stop accepting new articles. So, in other words, it may be a while before they will be able to get back with you if you do choose to submit a pitch.
Unfortunately, there was no mention of how much they pay writers for their article submissions. This information may be located somewhere on the site… but if it is, it must be in a pretty obscure location. I even read through the FAQ page, and still didn't find anything.
But that's really ok… because this is kind of a long-term gig anyway. In other words, if you are hoping to make some quick, fast cash, this website is probably not for you.
This site publishes a lot of articles from different writers, and covers a wide range of different subjects. Their content is also quite high in quality.
If you want to pitch an article to them in the hopes that it will get accepted, published, and paid for, then you will need to start the process soon and get ready to wait while the behind-the-scenes people do their thing.
This site apparently gets a lot of different submissions every month—so do not be surprised if it takes quite a while to get a response. Also, do not feel too bad if your article does not get published.
This site not only has high quality standards, but they also have a pretty competitive gig going on here for writers, because they are quite popular and do pay. So again, if you want something quick and fast, this may not be the site for you.
My Personal Feelings About The Today I Found Out Website
Personally, I liked the looks of this site. I feel like the Today I Found Out website has a lot of value and quality to offer its readers, and I even feel like I will likely be subscribing to it from now on—most of all because of the super-interesting stories that they publish.
But do you stand to make much money with this site if you pitch articles to them in the hopes of earning some side-hustle cash later on down the road?
It is possible. But as with most things like this, it kind of depends on how dedicated you are. If you commit yourself to it and you put in the time to pitch articles and write them (and do so with a healthy measure of quality), then yes… you could potentially earn some extra money.
But it will not likely be a fast process, and it will not likely earn you an incredible amount.
I feel like you would have to actually go through the process to try and figure it out for sure… but if you are interested in pitching articles to more than one publication, then it is absolutely possible that you could add this site to your list as a site that you can pitch to in addition to the other sites you are using.
Some other sites include A List Apart, 5 Best Things, Wide Open Country and Metro Parent.
If you pitched to enough different websites like this, you could, in theory, stay pretty busy… so that is a pretty cool idea that The Today I Found Out website could certainly fit into.
But yeah. All things considered, I did like this site, and will most definitely be returning to check it out further.
Our Final Opinion About Todayifoundout.com
Should you pitch them an article to try to earn some extra money?
There are a lot of ways to make money online. Some are good, some not, but ALL of them are still just trading hours for dollars.
Starting your own affiliate website really is the best way to build passive income and "make money while you sleep". Affiliate websites earn income in every timezone, and can be instantly accessed by billions of smartphones across the globe!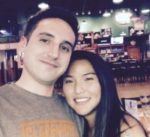 Nathaniell
What's up ladies and dudes! Great to finally meet you, and I hope you enjoyed this post. My name is Nathaniell and I'm the owner of One More Cup of Coffee. I started my first online business in 2010 promoting computer software and now I help newbies start their own businesses. Sign up for my #1 recommended training course and learn how to start your business for FREE!