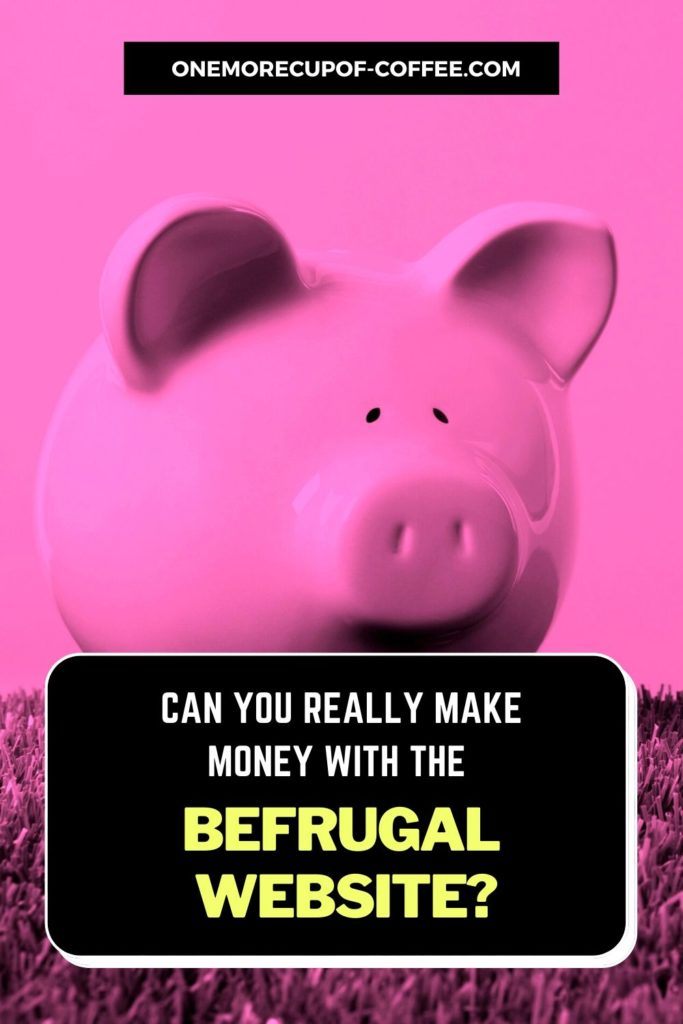 I discovered this site in researching ways to make (and save) some extra cash. I'm all about extra side-hustles… so this site promised me a potential way to help make a bit more.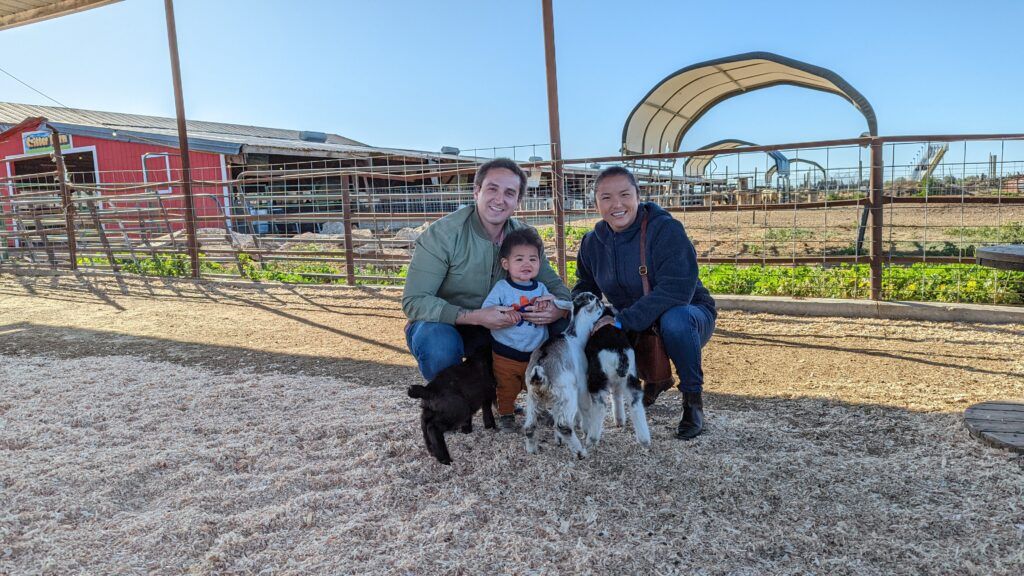 Are You Ready To Work Your Ass Off to Earn Your Lifestyle?
Are you tired of the daily grind? With a laptop and an internet connection I built a small website to generate income, and my life completely changed. Let me show you exactly how I've been doing it for more than 13 years.
But can you really make money with the BeFrugal website?
Making Money With The BeFrugal Website
First things first, let's take a look at the site itself.
At the top of the site landing page, I found quite a bit of information about what it was designed to do. Here are the main points.
You get cash back on purchases
You get exclusive coupons and hand-picked deals
The site is 100% free to use
The site offers deals on products from over 5,000 different stores, including huge names like Best Buy, Ebay, Macy's, Amazon, Walmart, etc.
I was also pretty impressed with the overall look of this site. The colors were bright, the graphics were nice, etc. And while I was not super pumped about the pig graphic, it still fit. Overall, I was not disappointed yet!
The site also offered three different guarantees. I was pretty impressed by these. Here is a screenshot of the guarantees page.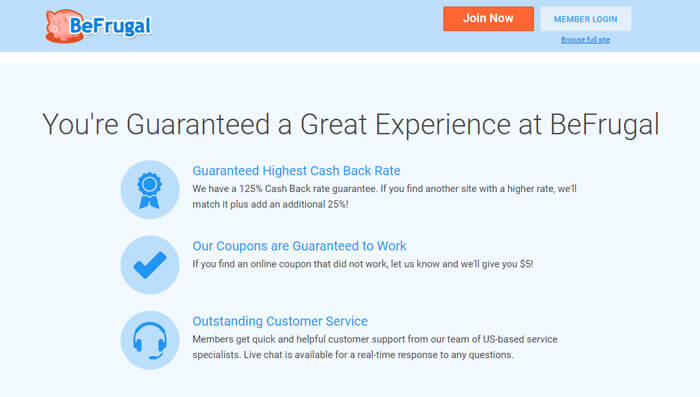 I liked what I was seeing here. At this point, I was beginning to get a feel for what kind of a site Befrugal.com was. It was a cash-back/shopping site. I've tested and reviewed a lot of these types of sites before, and this one was not looking a lot different.
I do have a few things to say on this subject before moving forward.
My Thoughts On Shopping/Cash-Back Websites
First off, I will say that what I am looking for is something that will be able to earn me some pretty serious cash. I mean, a dollar here and a dollar there does add up, but I am looking for a true side hustle that I can really invest some time into.
Shopping sites offer a unique spin on the side-hustle idea because they can allow you to buy products at a pretty big discount. That, or they give you cash back… and some of them give you quite a bit of it!
There are plenty of them to choose from too, like Checkout 51, Ebates, Ibotta and ShopKick.
But this is also a part that is challenging for me. Cash back sites can certainly build up some value for the user over time… but at the same time, you need to spend money to make money. And that is the inherent weakness behind this concept.
Now, with that being said, I am not saying that sites like BeFrugal are not worth the time. In fact, some of these shopping sites are way more worthwhile than a lot of survey sites that I look into.
A lot of it depends on how many products the site will give you access to.
So let's see if BeFrugal is one of them.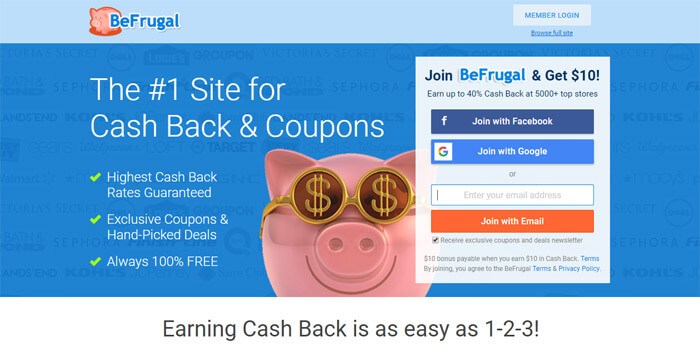 Getting Started With BeFrugal.com
You could join BeFrugal with either your Facebook, your Google account, or by simply filling in your email address. So I opted to join with my email address.
After that, I had to create a password, which was very easy. Then, I was taken to a page where I was asked to choose which retailers I was most likely to shop with online.
There were literally a TON of different options. So I chose a few of my favorites and moved on from this. But really… in all honesty… I feel like it would be a stretch to not find your favorite stores in this list. This site really offers a lot of options in this sense.
After I got done with these parts, I was taken to what appeared to be the 'main hub' of the website. Here is what it looked like.
As you can see, the simple 3-step guide to earning money with BeFrugal was advertised at the top of the page.
Shop through BeFrugal
Earn Cash Back
Get paid
So yeah. It doesn't get much simpler than this.
Below this, I could see that there were stores that you could shop with, along with a cash back percentage printed below. These ranged from around 5% cash back up to 50% cash back for some companies! So there was a ride range, but some very good cash-back deals.
This site really bragged about how much cash back they could earn their users on the landing page… and they apparently weren't kidding!
I saw that I could get 16% cash back at JCPenney, and while I do not usually shop at this store, I was interested in seeing what would happen if I clicked on the link. So I did.
Here is what I found.
Shopping With BeFrugal
When I clicked on the link, I was taken to this page… which seemed to be the 'hub' of the JCPenney shopping portal on BeFrugal.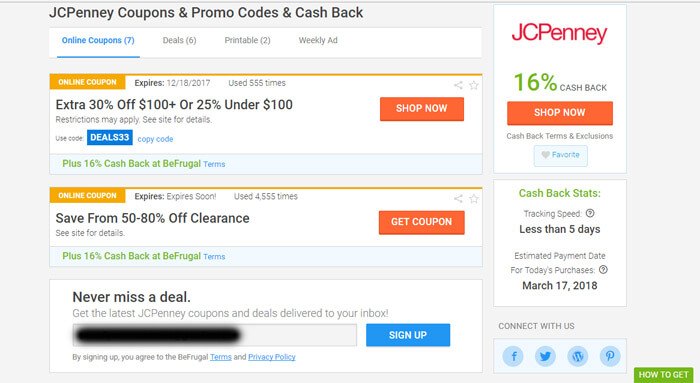 I saw that I basically had two different options here.
Get an extra 30% off $100, or 25% off orders of less than $100.
Or, save from 50-80% off clearance.
There was also a 'Shop Now' button located to the left that just said '16% cash back'
I was not sure if these were all different or if they were all going to lead me to the same place, so I decided to just go to the 16% cash back button and press it.
I was then taken to a portal that told me that I would be taken to JCPenney.com… and sure enough, it happened. Within 20 seconds, I was shopping on JCPenney… and I assumed that I was now eligible for earning 16% cash back.
So, I learned a few things from this experience.
You may have more than one option for how you would like to shop with each business
BeFrugal does a really good job of explaining your options to you
Generally, it seems that you get a shopping option for exactly what was stated in the description… plus a few more to choose from
So yeah. All in all, thus far, this was proving to be a pretty awesome experience.
But how do you get your cash back? That's what I wanted to look into next.
How Do You Get Paid On BeFrugal.com?
To figure this out, I went to the 'My Account' tab located at the top of the screen, and scrolled down to 'Payments.' After clicking on this, I was shown this page.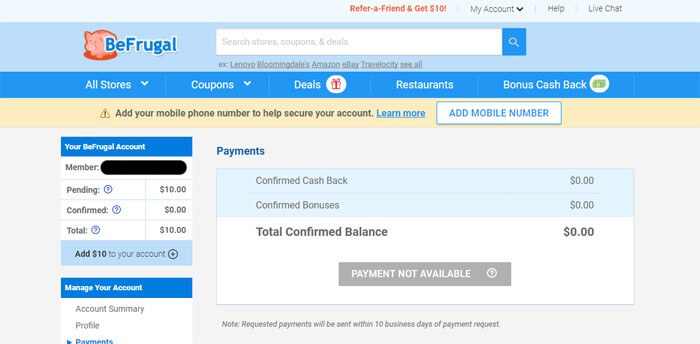 As you can see, this page makes it easy to see your payment numbers and account balance. It also makes it easy to get your payment… though you need to fill out your address first.
As far as payment options go, you have a few different options. You can get a direct deposit to your bank account, with a minimum of $25. This is also only available in the US.
Or, you can get a check sent to you. This is another US-only option, and also has a $25 minimum.
Or, you can get a PayPal withdrawal. This has a minimum of just $0.01.
Or, you can get an Amazon.com Gift Card. The minimum for this one is $25. Plus, a bonus of 1% is automatically added to all payments that are paid out this way… seemingly as an extra incentive.
So yeah. These were the payout methods, and I have to say that I liked them.
My Personal Feelings About BeFrugal.com
Would I use BeFrugal.com? This is a good question, but my honest and up-front answer is actually a yes.
Will this site earn you a ton of money and serve you as a profitable side-hustle? No. It is not that sort of site though.
Will this site earn you some pretty cool cash back for a minimum amount of work?
Actually yes. And the cash back rates on this site are really good. You can actually earn quite a bit just by doing your regular shopping through BeFrugal.com.
If, for example, you did all of your shopping online and just ordered your stuff from retailers like Walmart and Target through this site, then you could stand to earn some pretty serious cash back—because you can literally earn your cash back on any items, as long as you do so through the BeFrugal portal (or so it seems for most websites).
Plus, the site seems to work rather well. I was impressed.
The downsides? This site will not pay your bills or earn you any sort of really awesome income. Plus, you will have to spend money to make money.
But is it worth it if you are going to be spending the money in the first place?
Actually, it is. It really is.
This site will not solve your side-hustle needs. But it is definitely the best cash-back site that I have ever reviewed.
So if you are into that sort of thing, then I would definitely recommend that you look into BeFrugal.com to see what it could do for you. Signing up is super easy, and also free.
I am not generally very 'easy' on sites like this. But this one impressed me. Well done, BeFrugal!
Our Final Thoughts About The BeFrugal Website
Should you register and use it to earn some cash back through your online shopping trips?
The BeFrugal Website Review
Honestly, there are tons of various apps that claim to help you "make money", but really there are two facts to consider. 1) Most of them don't actually work. 2) If you can make money, it's not going be very much. If I'm going to spend any amount of time working online, I want to be working for myself by building my own profitable website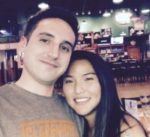 Nathaniell
What's up ladies and dudes! Great to finally meet you, and I hope you enjoyed this post. My name is Nathaniell and I'm the owner of One More Cup of Coffee. I started my first online business in 2010 promoting computer software and now I help newbies start their own businesses. Sign up for my #1 recommended training course and learn how to start your business for FREE!