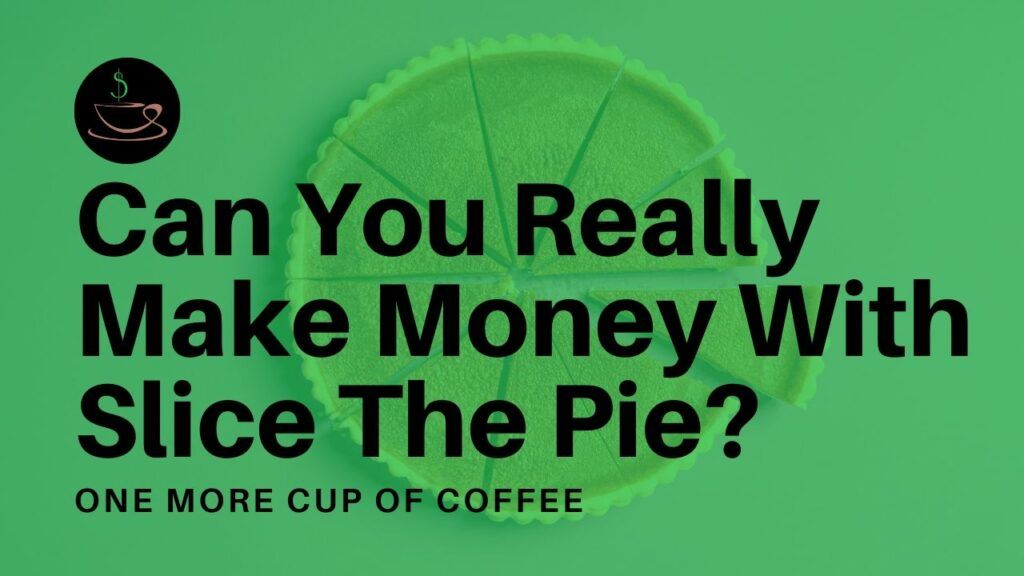 The service that we're talking about today appeals to the music critic in all of us, and claims to pay us for our opinions. But can you really make money with Slice The Pie?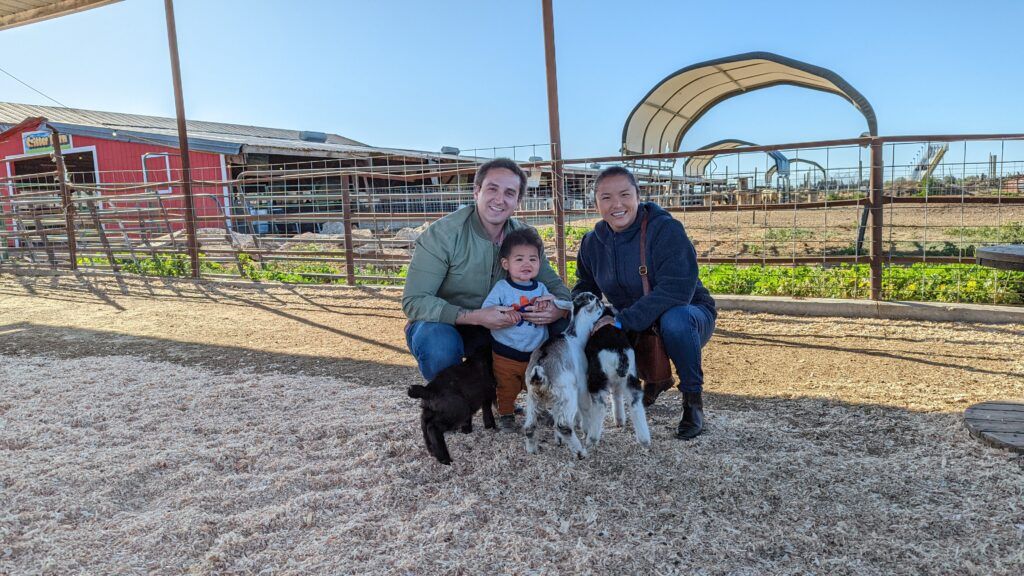 Are You Ready To Work Your Ass Off to Earn Your Lifestyle?
Are you tired of the daily grind? With a laptop and an internet connection I built a small website to generate income, and my life completely changed. Let me show you exactly how I've been doing it for more than 13 years.
The music industry usually doesn't care what we have to say. As long as the album gets continuous play on the radio it will sell and make the record companies untold amounts of money.
Despite all that, we all now have a way to voice our opinions and free our inner music critics on new, up and coming recording artists, in a way that actually matters.
Thanks to the website called Slice the Pie, you can listen to new tracks, share your opinion on them and get paid for doing it. Let's find out how much, and how.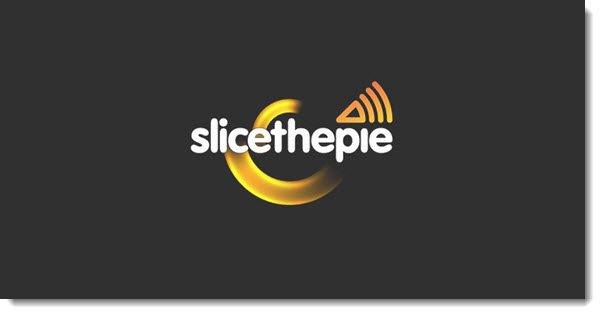 Making Money With Slice The Pie
Let's start with the basics, the way that Slice the Pie works. Put simply, Slice the Pie is a service that matches independent recording artists with reviewers (aka "scouts").
Scouts will listen to at least 90 seconds of a track, give it a rating from 1 to 10, then leave a written review of at least 60 words. Scouts can listen to tracks for longer than 90 seconds and they can also leave longer reviews.
You earn a few cents for each review you write.
The amount you earn depends on the length of your review. For example, I wrote a review of about 60 words and received 4 cents. Then I wrote a review of 100 words and received 5 cents.
There's also a 'star rating' for scouts, which determines how much you can earn per review. New scouts are given a star rating of one.
The longer you stick around, the more reviews you can do, the higher your star rating will be. Five is the highest star rating.
Slice the Pie says they also ask reviewers for their opinion on commercials and fashion items. However, most scouts claim they almost never review anything but music.
What About The Musicians? Can They Earn Too?
As a musician, unfortunately, you'll be paying for the Slice The Pie service. You can sign up at SoundOut.com and submit your music to get reviewed. Actually, SoundOut is a general "brand development" company, which crowdsourced feedback from consumers.
It's got a very corporate vibe to it, since they help both retail companies and brands in addition to musicians.
The feedback for musicians is more based on "audio branding" and feedback from listeners, as opposed to getting music reviews, more listens, and musician listener based growth.
Can You Really Make Money with Slice the Pie?
Before starting this article I did a bit of digging into what others were saying about earning money from Slice the Pie. A lot of what I found was disheartening. It seems that there aren't many people making money from the system at all.
But reading what others have to say will only get you so far. The web is full of contrasting and contradicting information. So I decided to open my own account at Slice the Pie and see for myself what was possible.
Sign up Process
When you sign up you are asked to choose what types of music you like to listen to. Slice the Pie has a long list of genres so you are sure to find the one(s) that you like best.
I chose three genres, then was asked to rate those genres on a scale from 1 to 5.
That's pretty much it for the sign up process. Once you do that you are ready to start listening and reviewing.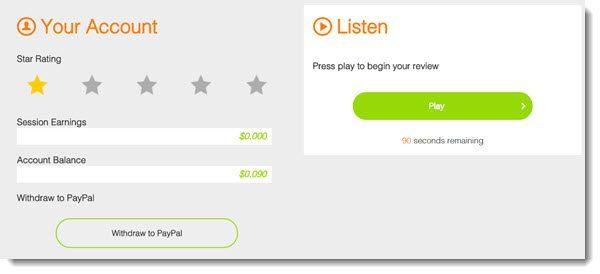 How Much Does Slice The Pie Pay?
After completing two reviews my Slice The Pie earnings were a total of 9 cents. That's 9 cents for two tracks, and about three minutes of listening. Right away I noticed the limitations.
You are forced to listen to the tracks for at least 90 seconds. That means you are limited in how many reviews you can write. There's only so much time in the day, and as a new scout with a star rating of 1, you can only possibly make about $1.80 per hour.
To do that though, you have to maximize your time by writing the review and having it finished by the time the 90 seconds is up. You really have to be on the ball to do this though.
There's just no way to complete reviews any faster, as the system only allows you to move on after 90 seconds of listening.
Refer a Friend For An Extra Slice of Profits
Slice the Pie also offers a bit of extra money for scouts who refer friends.
You can refer friends and earn 10% of all their earnings. Refer enough friends and you might be able to earn yourself a decent side income when coupled with your own review earnings. This type of 2-tier earnings is very effective if you can actually refer people who are active and earn money. Do you know a lot of people who want to review music for $2/hour? Me neither.
Unfortunately, that's the extent of money-making possibilities with Slice the Pie. Although it is fun and unique, especially for music lovers, there's just not anymore potential to increase profit through the system.
Without actually getting consistent referrals and having them participate in the reviewing process, you're making far less than minimum wage.
If you do want to start referring people, you either need a large network of friends, or a business plan in place on how to get people to sign up.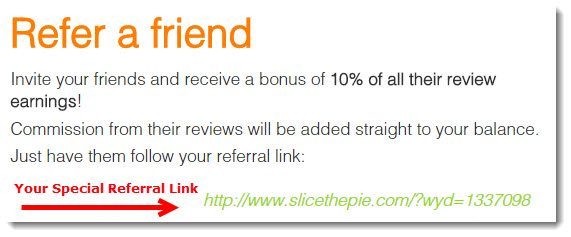 At first it may seem like fun to listen to music and get paid for writing, but the limitations make it a losing proposition, and if you think of it from a purely hourly, or even word-based income, the profits are very low compared to other forms of review writing.
What Slice the Pie pays for one review (60-word minimum) is less than most freelance writers make per word (Yes, I have writers for my websites that I pay between $0.05 -$0.10 per word). That puts Slice the Pie scouts making sixty times less than the average freelance writer who is just getting started. Not good.
Slice the Pie isn't the only company that pays you to listen to music. Music Xray is another option that works in a similar way. There's also HitPredictor, although that site has a different approach. Regardless, you're never earning very much by listening to music.
Is Slice The Pie Legit?
Yes, Slice The Pie is a legitimate website where you can actually earn real money online. However, although I like the idea behind Slice the Pie, the money just isn't there. You would be much better off starting your own website and reviewing the music you love.
All it takes is $11, and a few minutes to build your own website. You can literally start your own web-based business in minutes for the price of a new album.
If you like listening to music and you want to tell others what you think about your favorite artists, songs and albums, there is no better way to do that than with your own website.
The best part is, review sites get a lot of traffic from search engines because they answer specific questions at the perfect time. What I mean by that is this: When someone is thinking of buying something they almost always go to Google and type in whatever there are looking for plus "review" (you have probably done the same thing).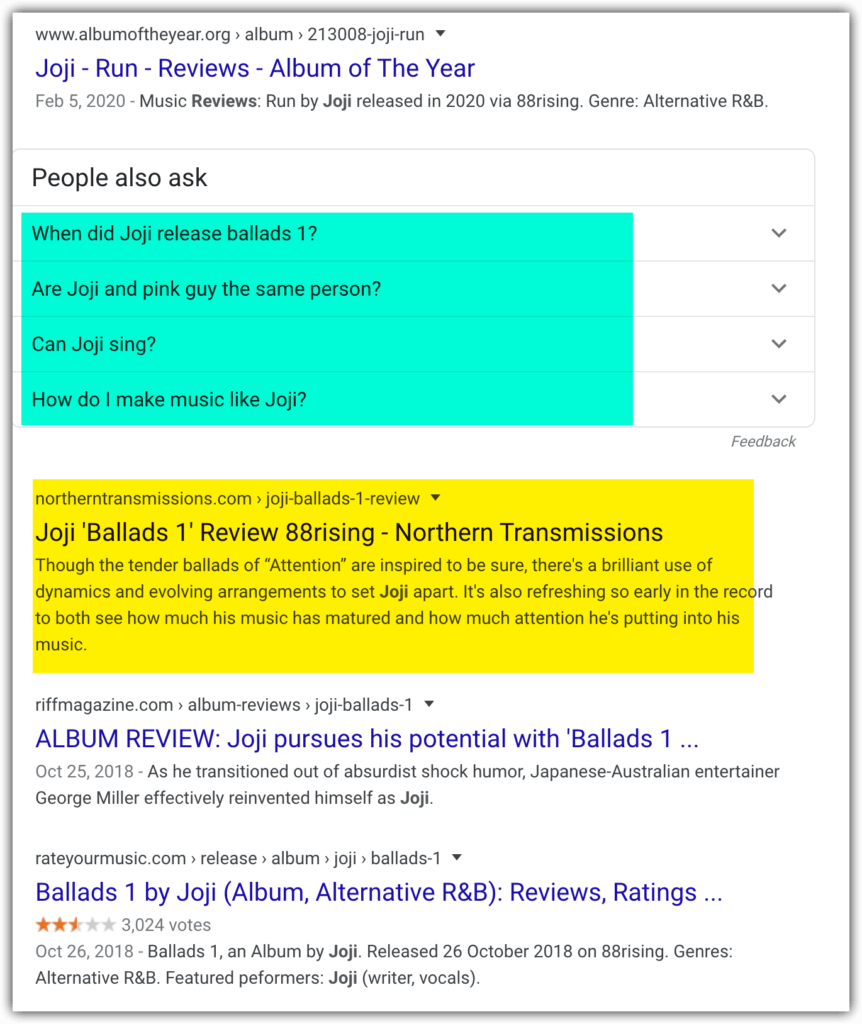 On top of that, as a blog owner, you can also write information about the artists. You can look up things like when they were born, how much money they make, and what are rumors or speculations about their next album. You can discuss the meanings of lyrics in their songs, embed video interviews in your blog posts, and even interact with your favorite artists in social media.
There's a lot you can do with a website! Plus, you can monetize it with music affiliate programs. Need some ideas? Here's some great music blog name ideas to get you started. Once your blog is started, you can You can tap into affiliate programs through iTunes, Amazon, and many others.
The reason reviews are so popular online is because they want to know what experiences everyone else is having with the products they are thinking of buying. This makes review sites especially valuable and easy to get started with. And since music is a such a big topic with tons of passionate buyers, a review site has the potential to earn lots of money quickly.
Blogging and writing reviews is how I earn money online, and it's a great gig. It's why I always steer people in the direction of doing what I do instead of trying to earn a couple simple dollars from apps like Slice The Pie. Short term, maybe you can make a couple dollars, but long term, most people won't stick with it and you'd be much better off building the foundation of an income generating business!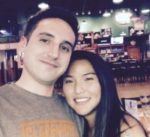 Nathaniell
What's up ladies and dudes! Great to finally meet you, and I hope you enjoyed this post. My name is Nathaniell and I'm the owner of One More Cup of Coffee. I started my first online business in 2010 promoting computer software and now I help newbies start their own businesses. Sign up for my #1 recommended training course and learn how to start your business for FREE!