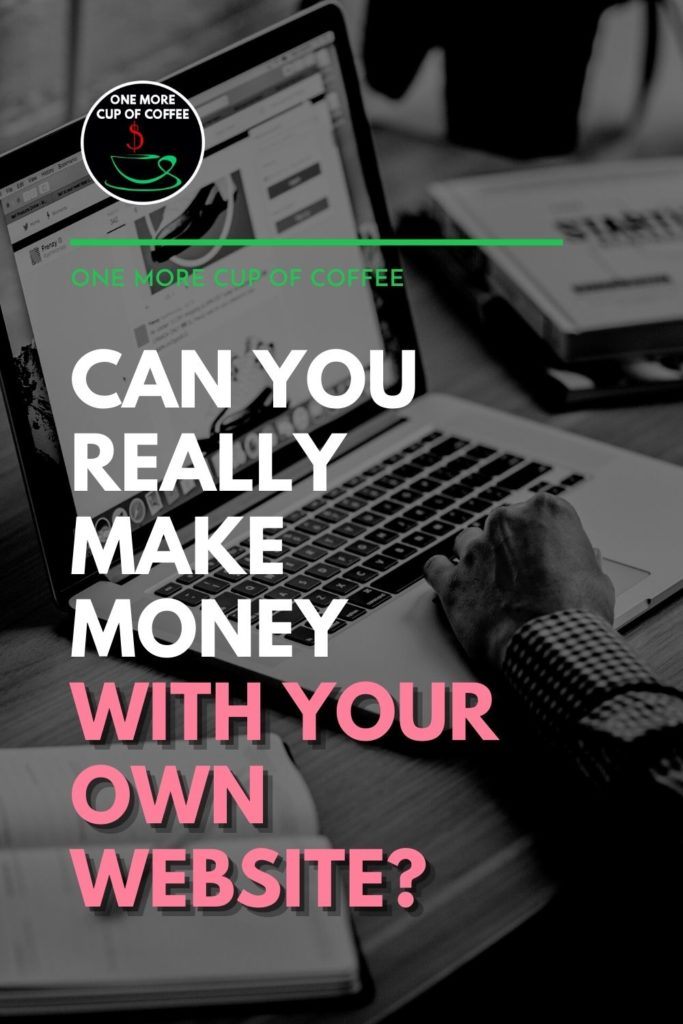 The online world has really taken off, with so many people turning to the internet for information about every topic under the sun. At the same time, the internet has opened up new ways for people to make money. In some cases, people have even been able to create entire careers online through a website, simply through learning what they need to do and persevering.
But, what does this mean for the average person? After all, there is a big difference between it, being possible to make money with your own website and this being something that you can actually achieve.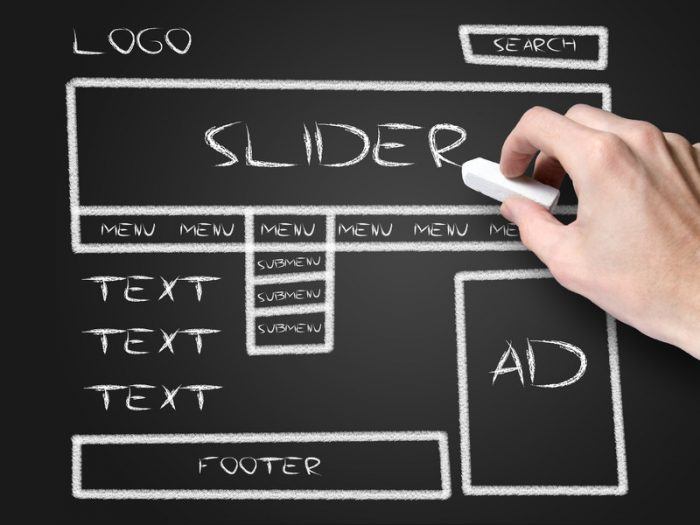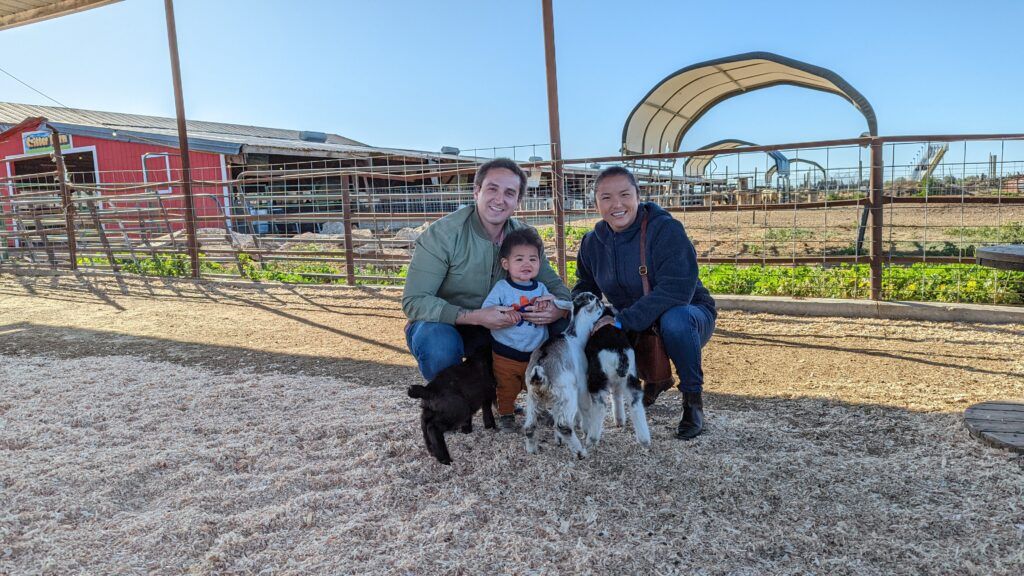 Are You Ready To Work Your Ass Off to Earn Your Lifestyle?
Are you tired of the daily grind? With a laptop and an internet connection I built a small website to generate income, and my life completely changed. Let me show you exactly how I've been doing it for more than 13 years.
Making Money With Your Own Site
Realistically, making money online is rarely something that you can achieve overnight. Instead, this is a field that takes hard work and dedication.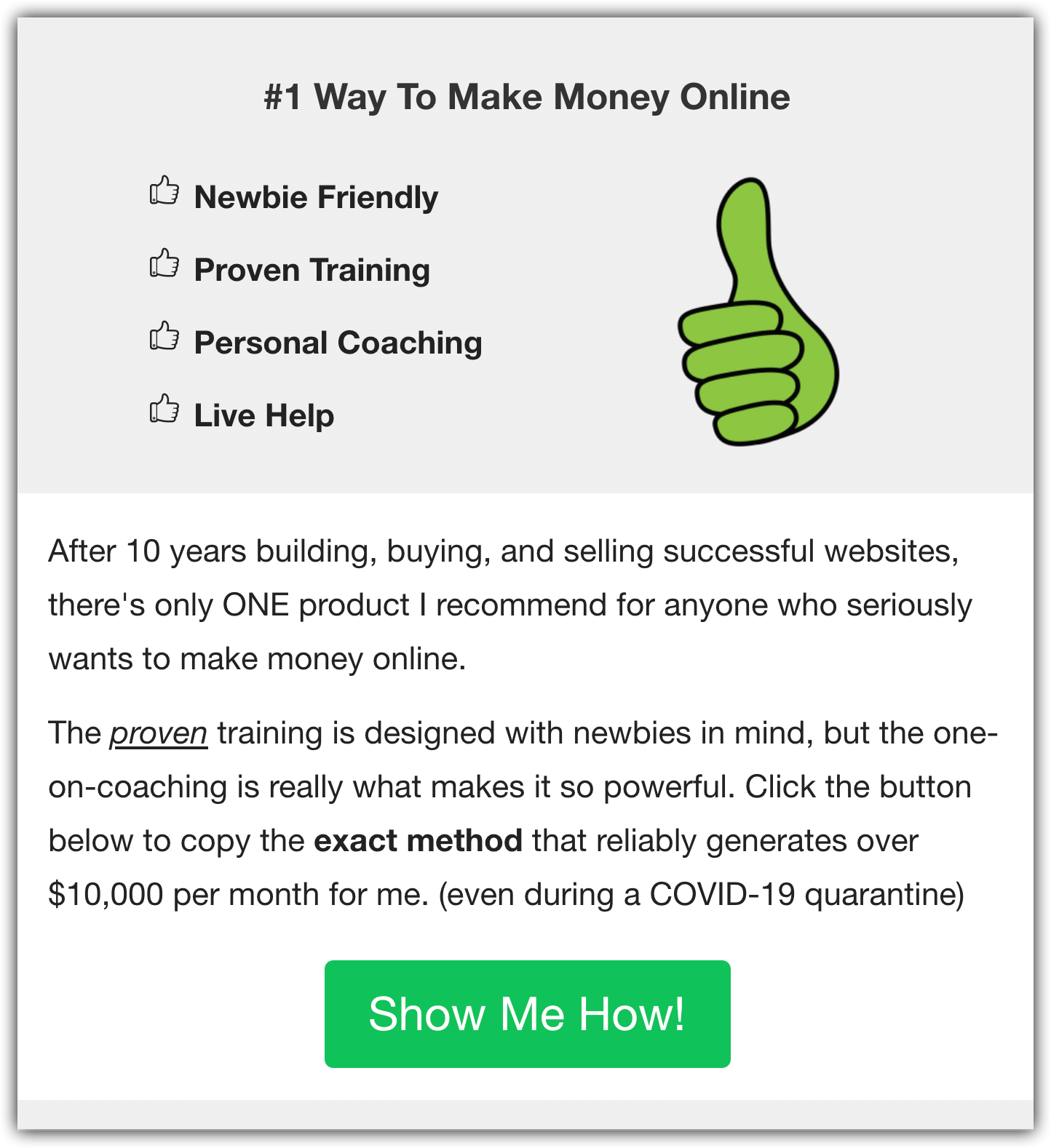 Nevertheless, it truly is possible and can mean that you end up with your own career, doing something that you love. With this post, I'm going to show you the various ways of doing just that.
Creating A Website That Can Make Money
It kind of goes without saying but if you want to make money through a website, then you need to have a decent website. You want to be creating something that people are going to be interested in visiting and that they will keep coming back to.
At the same time, you want to be making something that is at least a little bit unusual. After all, there are countless websites out there already and no matter what topic you choose, you're going to be facing some competition.
Thankfully though, there is no shortage of options.
For example, some people focus on creating informative sites, where they aim to educate about a given topic, such as teaching people how to make beer from home or how to get the most out of being outdoors. Others may create a site that appeals to a specific group of people, like a vegan food blog or a blog on a particular TV show.
One of the first steps in creating a site is to simply figure out what you want to focus on. Likewise, you may want to think about who would want to read the site.
I've often noticed that people gravitate towards creating a site about themselves, like a typical blog. It is possible to make money from that type of blog but honestly, it's pretty difficult. In most cases, your personal blog won't lend itself well to products and it would be hard to make money without seeming to sell yourself out.
At the same time, most people aren't going to be that interested in your personal life or in what you have to say. As such, you may end up creating a website that doesn't actually offer any value.
Instead, think about the types of sites that you would find useful. This can often be a good first step in figuring out a decent topic area and can be the first step in designing a site with money-making potential.
Micro Sites, Authority Sites And Everything in Between
When it comes to websites, there are so many different options, and one area to consider is size. Sometimes authors attempt to create large and detailed sites, where they may have hundreds of different articles, covering a wide range of topics. Often, this type of site will be called an authority site.
One example of an authority site would be in the health and wellness field, where content might include recipes and reviews, along with discussions on additives, supplements, weight loss, exercise, and nutrition.
In contrast, you can also create an extremely narrow site, often around a fairly specific type of product. Examples may be a site on men's shaving products or one on garden sprinklers.
This second type of site tends to have less content overall and often has a lower potential for traffic. However, the site also appeals to a targeted audience, one that is likely to want to spend money. As such, smaller sites can sometimes be an effective way to balance work and income.
You may sometimes see this type of site called a micro site and people sometimes maximize their income by creating a number of them, each on a fairly narrow topic. In contrast, others may start off with a micro site and expand that to cover other topics and other subject areas.
Micro sites and authority sites tend to be the two extremes and many other sites fall somewhere in the middle.
Which type of site works best for you will depend on a range of factors, including the topic area that you're focusing on and precisely how you want to make money. However, this isn't something that you have to decide immediately. In fact, many people tend to figure this out along the way as they plan out other aspects of their site.
The Processes Of Making Money
It's easy to see that there are lots of different choices for building a website, including your subject matter, how you approach the site, and precisely what you choose to put on it. But, none of that addresses the most important topic – actually making money.
In fact, how you're going to make money is really the first thing you should address in planning. This is because the precise mechanism you choose may affect every other aspect of your website.
Generally speaking, we can break the techniques for making money down into three categories:
Using Ads
Selling Actual Products
Affiliate Marketing
There are many individual variations in these areas, so you do have the ability to tailor them to your own needs. Likewise, some websites make use of multiple techniques because that is what works best for them.
So, let's take a look at the processes of making money, shall we?
Using Ads
In many ways, ads seem like an easy way to earn money on a site because you don't have to actually sell anything. Often, you can even mostly ignore the ads and you certainly don't have to write content that targets them.
Because of this, ads can be powerful on websites that don't lend themselves well to product sales. For example, most webcomics rely heavily on ads for income. This tends to work well because they have many people that visit the site daily but those visitors typically aren't interested in buying anything.
However, ads don't tend to work as well as you might expect, because you don't earn a lot from them.
For the most part, ads can be broken down into two types. One of these is cases where you get paid based on how many people see the ad, while the other is where you get paid based on what people do (like clicking the ad).
The first of these types tend to pay less, which isn't surprising, as it can be difficult to actually get people to interact with ads.
In both cases, you need a fairly high amount of traffic to make the ads worthwhile. Even then, the amount you earn may be fairly low.
Precisely how much you get would depend on a range of things, including your niche and traffic quality. But, regardless, that's a lot of traffic that you need to find. Now, for some blogs, that may not be an issue but many people would find figures like that to be extremely hard to get, especially early on.
There are other factors to consider too, such as the placement of ads and precisely how many ads you have. But, the end result is that you can make money this way – it's just that you typically need good traffic to do so.
Selling Actual Products
Honestly, making money by selling actual products is a topic worthy of all on its own, but I'll try to be brief here. The concept here is what you might expect, where you're actually selling products yourself. This could include physical or digital products, and some sites even sell a combination of the two.
At the same time, you might be selling products that you have created yourself or things that somebody else has made.
For example, many food blogs end up selling their own cookbooks once they start to get popular, often using Amazon as a way of doing this. Alternatively, there is a range of blogs out there that sell their own handicrafts, such as jewelry or soap, as in the example below.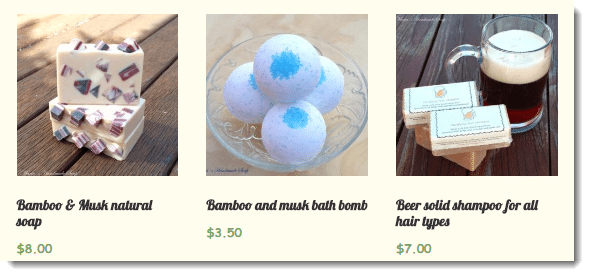 Alternatively, some sites buy products from wholesalers and resell them at a markup. Taking that route means that you get around having to actually make the product but buying low and selling high tends to be more difficult than it first appears. In many cases, you'll also face competition from other people selling the same products.
The biggest advantage of selling products is that you typically make a decent amount per sale. For example, if the product is something you created, then you get all the profit. This is particularly appealing in the case of digital products, like eBooks, as you don't have to make new versions for each customer.
Nevertheless, creating or finding a product that will actually sell involves a lot of work. You may also end up with significant costs, especially if you're buying products wholesale or making handicrafts,
As such, making money selling products on a website can easily end up requiring considerable initial investment and a lot of work as you go along.
This is still a viable way to make money from a website but it's important to be aware of exactly what is involved before you start investing.
Affiliate Marketing
I tend to save affiliate marketing for last on any list, simply because it tends to be the most powerful technique. Its power comes from the fact that it offers a great balance of income versus effort. Additionally, affiliate marketing is a perfect complement to just about any type of website.
The best way to explain affiliate marketing is that you are selling products, without actually having to sell them. Instead, you promote the item and then link people to a website where they can make the purchase themselves.
That structure means that you don't have to deal with shipping, customer service, or returns. In fact, you don't even need to directly interact with the customer. But, you still earn money. Specifically, you earn a commission with each sale.
Precisely how much that commission is will vary, depending on the actual product and the company that sells it. However, in most cases, it will be a percentage of the sales price. Sometimes that may be as low as 4% or 8%, while other programs will offer higher amounts, like 30% or even above.
These commission rates might not sound like much but even the low ones can add up quickly. You can even build a profitable business just on products with low commission rates, partly because those products are often the more popular ones with an established reputation.
It's true that you would get more per sale with actual products but you would have more workload at the same time. This might not sound like a big deal but not having to deal with sales or products directly makes it much easier to scale affiliate marketing.
As such, it's possible to develop highly successful and profitable affiliate marketing sites without ever having to create or sell a product of your own.
There is one other reason that affiliate marketing stands out. This is the fact that it's an entry-level technique. So, you don't need special skills to be an affiliate marketer. Likewise, you don't need a product or a reputation. You can even be successful if you've never created a website before.
Make Money With Your Own Website
There are thousands of different side hustles you could do to earn some extra money on the side, and which one "clicks" for you depends on your personality and goals. However, there's one side hustle that makes an insane amount of money and works for anyone.
Starting an affiliate website is an incredible way to earn extra money because you can do it from your home on a laptop, and work on your business in the evenings and on weekends. The income potential is huge, and it's easy to scale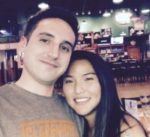 Nathaniell
What's up ladies and dudes! Great to finally meet you, and I hope you enjoyed this post. My name is Nathaniell and I'm the owner of One More Cup of Coffee. I started my first online business in 2010 promoting computer software and now I help newbies start their own businesses. Sign up for my #1 recommended training course and learn how to start your business for FREE!