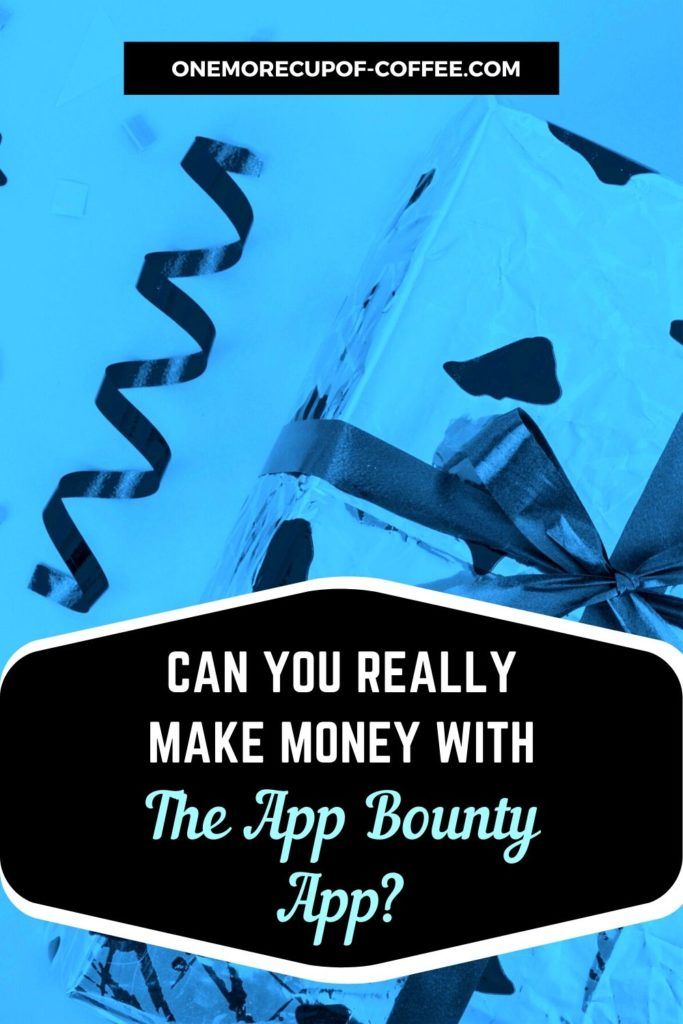 This app promises to deliver cash rewards, while also helping you to discover awesome new apps. But can you really make money with the App Bounty App?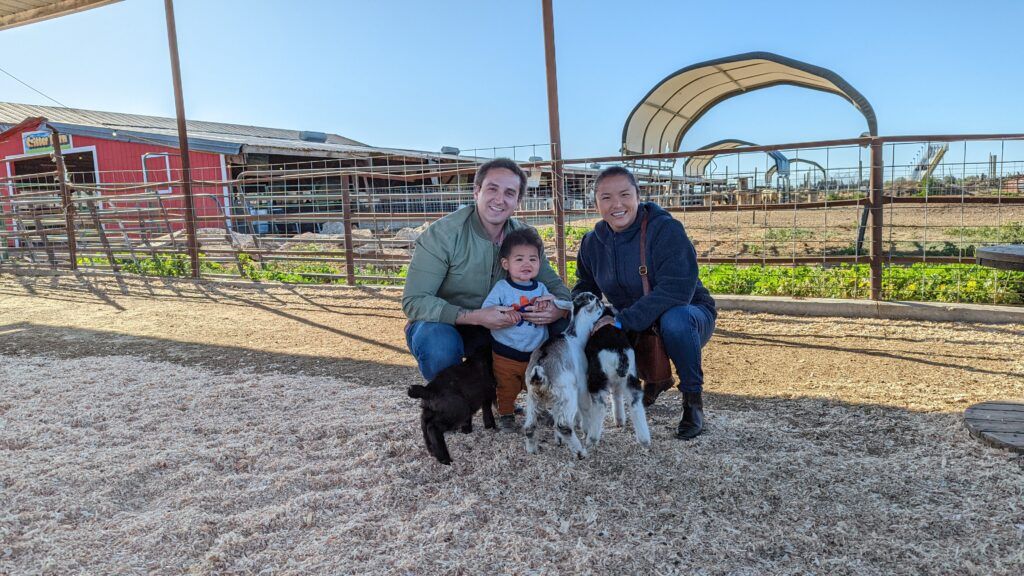 Are You Ready To Work Your Ass Off to Earn Your Lifestyle?
Are you tired of the daily grind? With a laptop and an internet connection I built a small website to generate income, and my life completely changed. Let me show you exactly how I've been doing it for more than 13 years.
This category (where you are earning by downloading and using apps) is actually pretty common among extra-cash apps.
Making Money With The App Bounty App
So then, let's start by talking about the underlying idea.
The concept of downloading and trying new apps in exchange for rewards is not a new one—but it is a concept that I have not had a ton of luck with as of yet.
I have tried a lot of apps that were supposed to operate according to this principle, but have yet to see more than a handful that did it well. AppKarma and GrabPoints are some of the better examples, but they're still not amazing.
They tend to be glitchy, they often don't pay enough to make it worth your time, and they are usually pretty inefficient. Problematic examples include AppMan, GetGiftz and Free App Dollars.
But… with that being said, App Bounty does have some really good stats. Here's a look at what the basic info on Google Play has to say about it…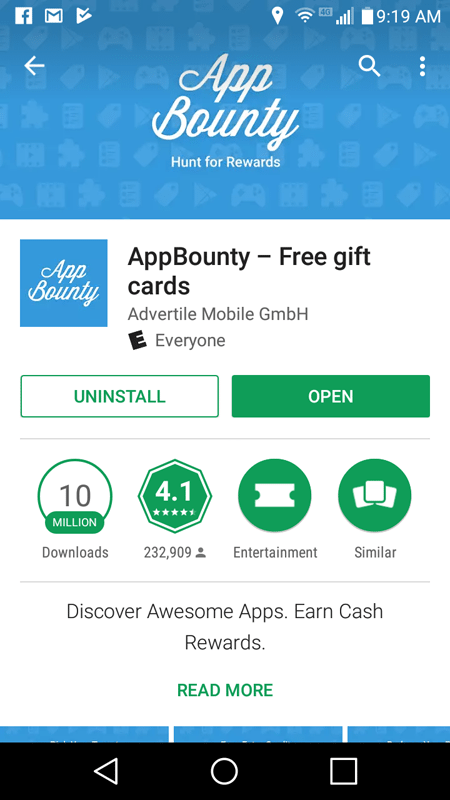 As you can see, the app has over 10 million downloads—which is pretty impressive! It also has a Google Play rating of 4.1 stars, and has been reviewed by over 230,000 people!
This tells me two things about the app right from the get-go. First of all, it tells me that it has a pretty large user base. And secondly, it tells me that it is pretty well-liked by users!
So I was pretty optimistic about it at this point. But obviously, I wasn't going to judge it simply based on these stats. I needed to open it up to see what was really going on… so that's what I did.
Downloading And Opening The App Bounty App
The first thing I saw upon opening up App Bounty was the log-in screen. I had two options here. Either I could log in with Facebook, or get started and log in later.
But I chose to go ahead and just get started. I could always log in later if I needed to.
The next screen I came to looked like this.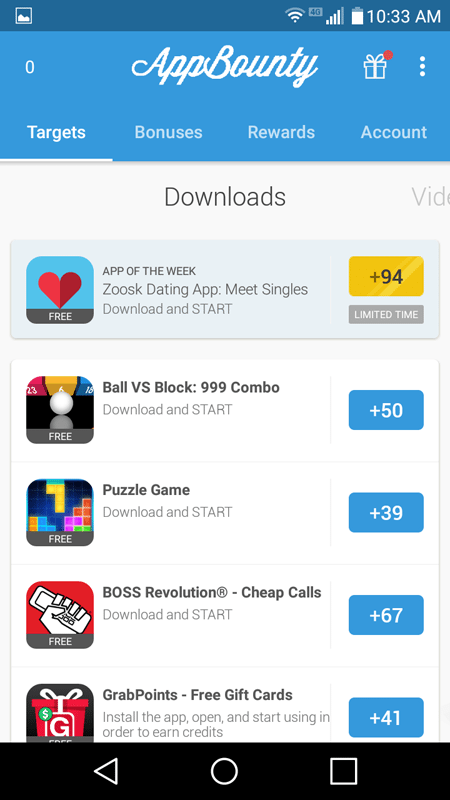 This seemed to be the 'main hub' of the app. I saw that I had four major menu options to choose from. I could choose from the 'Targets' screen, the 'Bonuses' screen, the 'Rewards' screen, and the 'Account' screen.
I also saw what seemed to be apps that you can download for points.
These ranged in value from about 22 points up to 94… though there didn't seem to be very many offerings here on the Target screen.
So I took a little look around.
Taking A Look At The Rest Of The App Bounty App
After doing a bit of clicking around, I realized that the Targets page has what seems to be several sub-pages beneath it that you can scroll to. The first of these (the one that I was originally on) is called Downloads, but there are also screens for Videos, Games, Registration, and Deals.
All of these sub-pages give you offerings that can earn you points… so all in all, it looks like the app offers a lot more to the average user than I first realized.
The Bonus page also contains some cool games that will allow you to earn points. The more you play these games, the more points you earn—so here, you have the potential to earn a virtually unlimited number of points… which is pretty awesome!
There is a tiny drop-down menu in the upper right-hand corner of the app, where you can access a FAQ, rate the app, and view the terms of service.
There was also a little 'present' icon at the top of the screen, which I clicked on because I was pretty sure that it was going to be the rewards section—but as it turns out, it was a spot where you claim your free daily gift, though you have to earn at least one reward before you are eligible for this.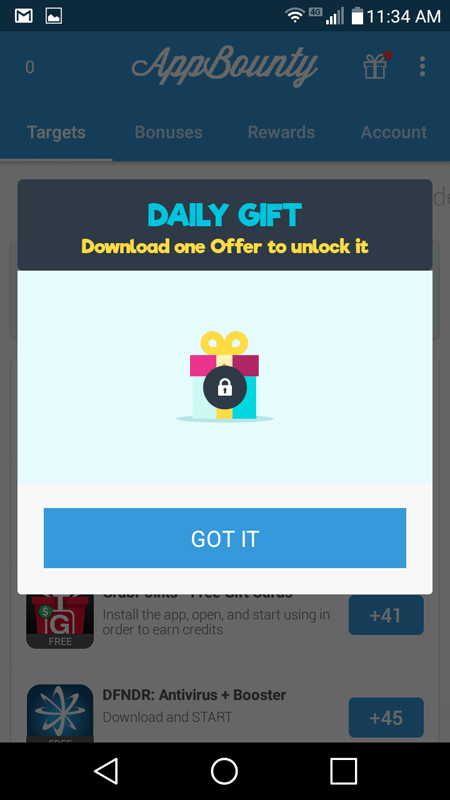 The next thing I wondered was this… how many points do you need to earn before you can order a gift card or withdraw money?
Actually, at this point, I hadn't even thought about how the app allows you to withdraw your money, so I was pretty excited to get into this and figure out what was going on with the reward side of things.
How Do You Redeem Rewards In The App Bounty App?
Here is a quick screen-shot of the Rewards page, which does a pretty good job of telling you how much points are worth in real-world currency.
According to this page, it takes 5,000 points to equal a $10 Amazon Gift Card. That means that 500 points equal $1… which isn't very much, actually, when you take into account how much you can earn.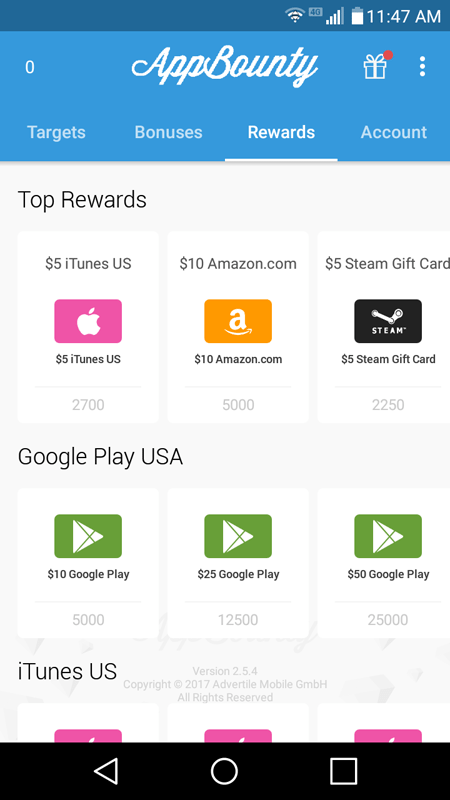 Most of the apps on the Target screen that you could download paid about 50 points. It is true that you just have to download them and open them up (for the most part) to earn points…. But is that really worth the money?
If we crunch the numbers, we quickly realize that it takes about 5 points to equal 1 penny. So if you get paid 50 points to download and open up an app, that's sort of like getting paid 10 cents for the work… which, to me, doesn't seem like much.
I should say, however, that this rate seems pretty typical of apps like this… but that doesn't necessarily make the rate a good one either, though.
At this point, I decided to take a quick look at the Google Play Reviews… just to see if there was something going on that I was missing. So that's what I did next.
Taking A Look At The App Bounty Google Play Reviews
Right out of the gate, I realized that this app had a few mixed reviews. But overall, the reviews were overwhelmingly positive in number—so the complaints were certainly not as common as the praises.
One of the most common complaints of the app was that it took too long to earn points. I saw another review where the user said that one of the apps that App Bounty supported gave his phone a virus, etc.
But, a lot more people said that the app was well worth the time. Some even said that, despite some simple glitches, the app was more than worth using, because figuring out problems like this is apparently not a super-big deal.
All in all, I was surprised by the overwhelmingly positive feedback, and I got the indication that you could easily earn $5-$10 every one or two months, depending on how often you use it and on how well it happens to work for you.
This made it pretty easy to determine my overall thoughts on the app, and here is what they were.
What Did I Think Of App Bounty? Will I Be Using It Long-Term?
This app had a lot of positive feedback, and I see why. It works really well.
It pays out when it says it will, it gives you your points without a hassle, and it gives you the opportunity to make money on your own terms, on your own time, whenever you want to.
But there are also some downsides to it. First of all, it doesn't pay out a ton of money. Secondly, at about 50 cents per app download, the app isn't paying very much on a per-hour basis either.
Granted, you can download and open up several apps in the span of an hour, if you have good internet and everything is going right—but don't forget that there are also a limited number of apps available here.
There are quite a few offers that you can take advantage of, but some of the struggle will be to wait for new apps to become available. You can also play the games, but games often prove to be a bit 'grindy'… so it's difficult to tell if these will make you big points in the long run.
All in all, this app was worth the positive Google Play Rating. It did exactly what it was supposed to do, and it performed very well, in my opinion.
But… I still feel like my time could be better spent on other projects, unfortunately. I just don't feel like this app gives me the kind of per-hour money-making potential that I would need in order to get behind it.
People who don't care so much about the low per-hour payout could certainly do well using App Bounty, and they could certainly expect to earn some awesome gift cards… but their income is going to be capped by how long it takes to do everything.
The developers did a good job on this one, but I'm afraid that App Bounty just didn't live completely up to the hype for me.
Our Final Thoughts On The App Bounty App
Should you download it and use it on your phone?
The App Bounty App Review
Honestly, there are tons of various apps that claim to help you "make money", but really there are two facts to consider. 1) Most of them don't actually work. 2) If you can make money, it's not going be very much. If I'm going to spend any amount of time working online, I want to be working for myself by building my own profitable website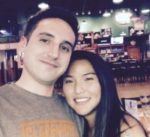 Nathaniell
What's up ladies and dudes! Great to finally meet you, and I hope you enjoyed this post. My name is Nathaniell and I'm the owner of One More Cup of Coffee. I started my first online business in 2010 promoting computer software and now I help newbies start their own businesses. Sign up for my #1 recommended training course and learn how to start your business for FREE!