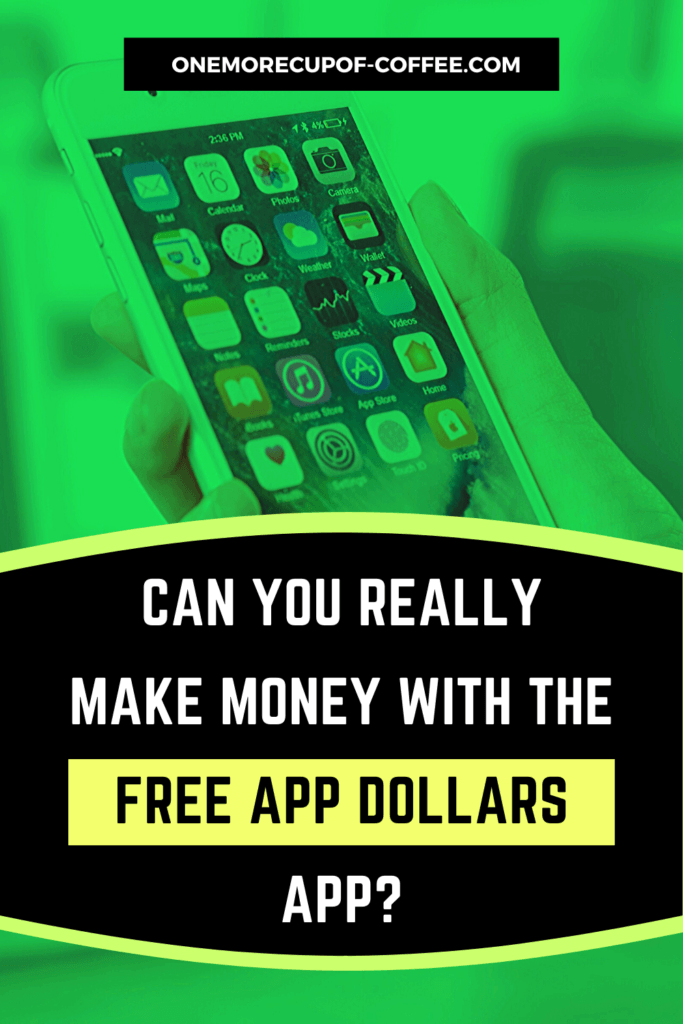 This was a cool offering that we found on Google Play, so we decided to look it over. Apparently, it's an app that will let you play games and try out other apps in exchange for rewards. But can you really make money with the Free App Dollars app?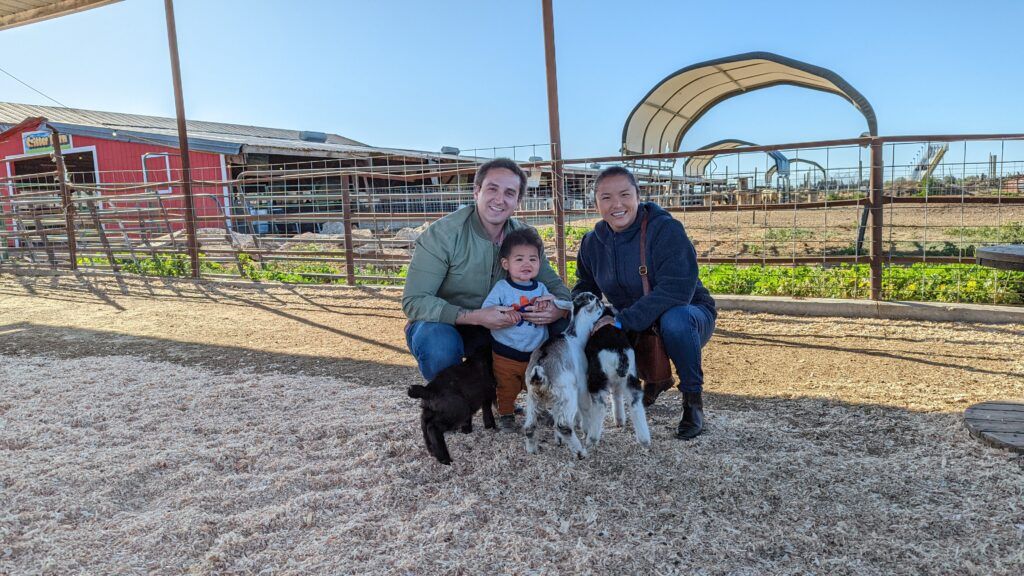 Are You Ready To Work Your Ass Off to Earn Your Lifestyle?
Are you tired of the daily grind? With a laptop and an internet connection I built a small website to generate income, and my life completely changed. Let me show you exactly how I've been doing it for more than 13 years.
This is what we were determined to figure out as we downloaded it and tried it for the first time. Keep in mind that, prior to opening up the app for the purposes of this review, I had never heard of it before—so this was a completely new experience for me, and you can expect a real, unbiased account of my experiences with it.
Before you do that though, keep in mind that "apps" will never really make as much money as an actual job. The good news is that you can find some awesome online work with Flexjobs, an online marketplace for finding online work that actually pays out.
Flexjobs is great because you don't have to commit to a full time job, but can find flexible online work to add to your current income whenever you need a bit of a boost.
Making Money With The Free App Dollars App
Here's what I found out about the app over the course of my research.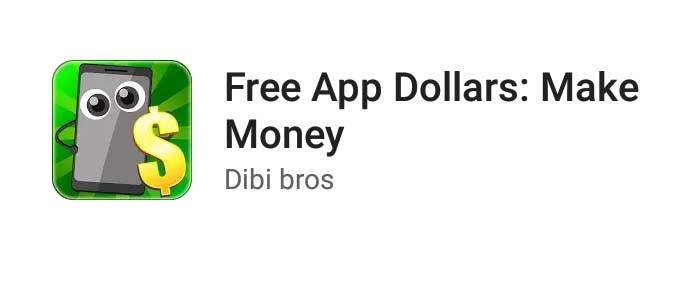 Free App Dollars: What Is It?
Free App Dollars is basically an app that will, supposedly, reward you for trying out other apps. It hasn't been downloaded very many times on Google Play, and it has a slightly sad 3.5 star rating… but this didn't deter us.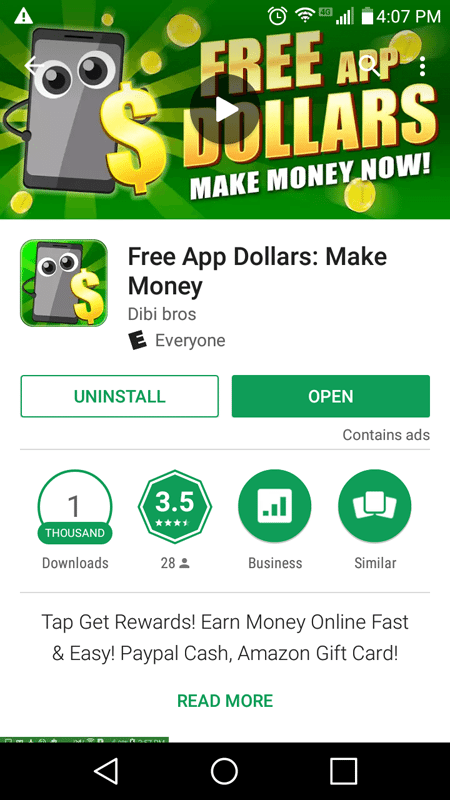 It's very possible that this is just a new app that hasn't really gotten off of the ground yet. So, hoping for the best, we opened it up and proceeded to log-in (which was easy, using our Facebook account).
I had to select which country I lived in, and was taken to this screen… which seemed to be the 'hub' or 'home screen' for the app.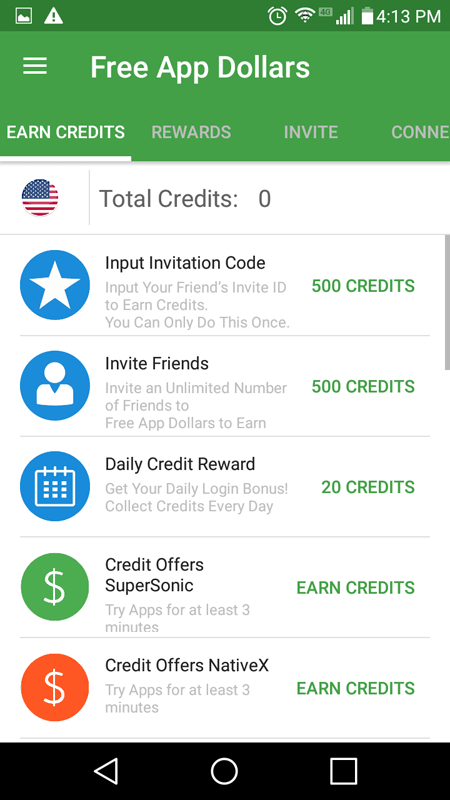 Right away, I saw a lot of offers that I could take part in to earn credits. These ranged, in value, from 20 to 500 credits… but there was also an 'Earn Credits' option on some of these, which I wasn't sure about.
So I did a little bit more digging around. I wanted to learn more about the app.
Navigating Free App Dollars On My Mobile Phone
Before I had even spent five minutes on the app, I realized that it worked extremely well. The screens load quickly, the information scrolls without a glitch, and the buttons all seem to work like they are supposed to.
From a technical standpoint, this app was fairly impressive to me, right from the beginning.
But… I wasn't quite as impressed with the options for apps that I could use to 'Earn Credits…' at least not yet.
I clicked on one offer, and was immediately taken to a page with a bunch of other offers that I could, apparently, choose from to earn more specific amounts of credits. Here's a picture of the types of games that I was presented with.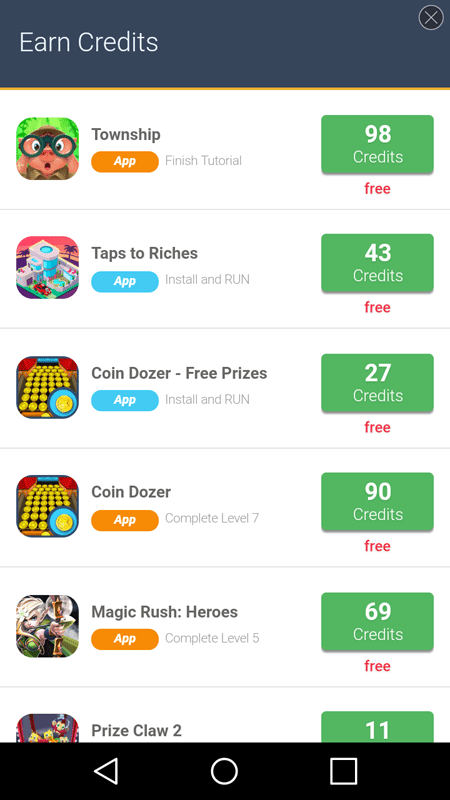 So, the 'Earn Credits' offers, as it turns out, are just links to lists of offers that all have more specific credit rewards. I went ahead and chose one of these apps to try out, in the hopes that I would earn some credits and get something into my zero-balance account!
Here's how it went.
Playing A Game To Earn Credits On Free App Dollars
As I viewed the list of apps, I realized that each app had a credit amount, which I would be rewarded with when I met the criteria. But the criteria for meeting each app was also listed, and was sometimes different from app to app. For one game, I had to play until level 5 to get rewarded. For others, I just had to install the app and run it.
I chose one of these games (the install and run to get paid games) first, just to see if I could actually get credits into my account balance.
I chose a game called Coin Dozer from the list. Here's what the Google Play page looked like as I downloaded it.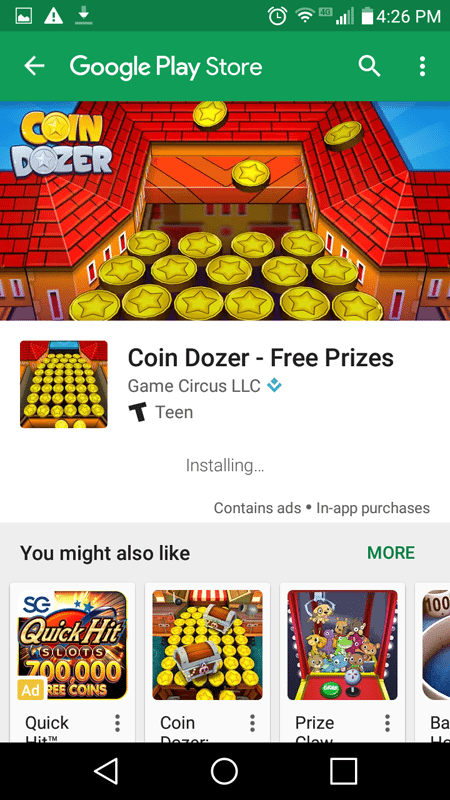 I played the game until I got to level 3. Actually, it was a fun little game—and I found myself enjoying it, which I wasn't expecting! But anyway, after playing it for a bit, I went back to Free App Dollars to find out if I had earned the 27 credits that I was supposed to have earned for downloading and running the app.
But when I checked the app, I found that I still didn't have any credits.
I read through the frequently asked questions, and found that, sometimes, it takes a bit for the credits to show up… which is understandable.
I did a little 'check in' thing that you can do to earn 20 credits, and those showed up in my account instantly… so I was pretty sure that it was just a delay on the app-download thing.
So far, so good.
I now had 20 credits in my account.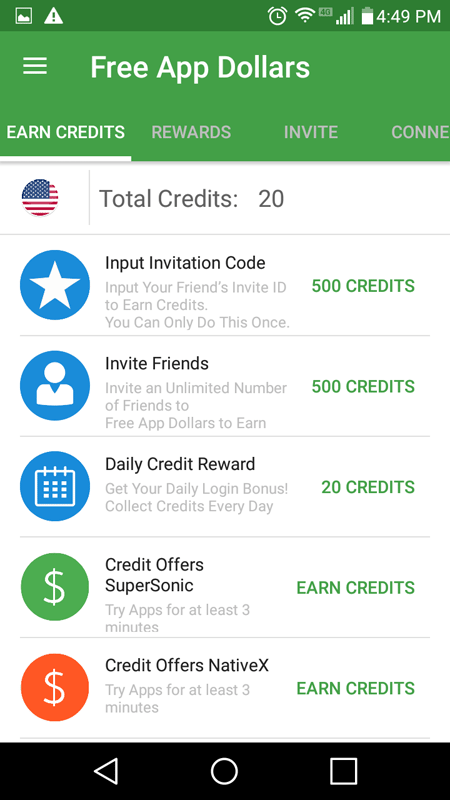 So, now that I had a pretty good idea of how long it was going to take me to earn credits, I had to figure out how much real-world money I could actually make with the app. Thus far, it had performed rather well… but I wasn't sure how much I would actually be able to make with it.
This problem was easily solved, however, by scrolling over to the Rewards section within Free App Dollars.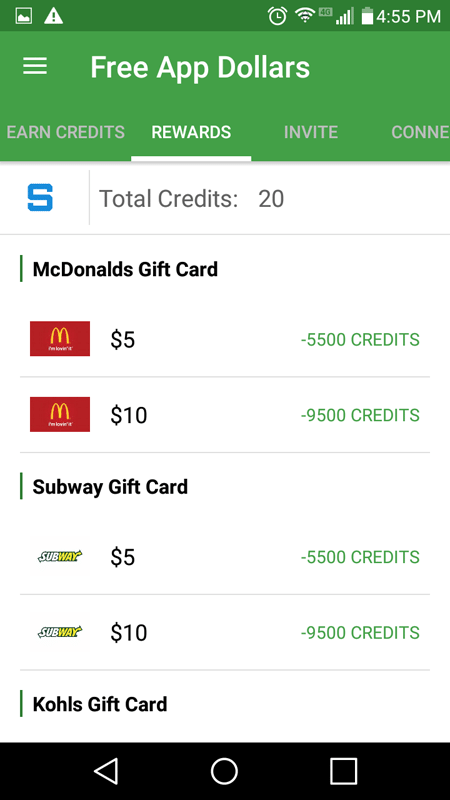 How Much Can You Actually Make With Free App Dollars?
The conversion rate for credits earned from Free App Dollars was about 1,000 credits to $1. A McDonalds Gift Card for $5, for example, would cost me 5,500 Free App Dollar Credits. This wasn't an unreasonable conversion rate, but I needed to figure out exactly how much work it was going to take to actually earn this much.
So I went back to the game that I had played, and figured up how much effort it would take me to earn credits at the rate that it took me to complete that challenge.
Downloading the app, and playing it, took me about 8-10 minutes, by the time it was all said and done. And it would end up earning me 27 credits, once they showed up in my account. This equaled out to be roughly 3 credits a minute.
If I played like 3 games a night, and the credit rewards averaged out to about 40 credits per game (many of the games had higher rewards than 27 credits), then I could expect to earn about 120 credits per day.
This would add up to 600 credits per week if I kept up the pace 5 out of 7 days. This would end up earning me about 2,400 credits per month.
This would mean that, for about 20 to 30 minutes of messing around on the app, for 5 days a week, I could end up earning about $5 every two months.
Apps of this type never pay particularly well, but the rate for Free App Dollars is lower than most. For example, you might be able to make $3.50 or so a week with Tapporo and the app CashKarma has a higher than average payout.
Is Free App Dollars A Waste Of Time?
Here are my thoughts about Free App Dollars after downloading it, trying it, and calculating exactly what I would be able to earn.
I will say that, first off, this app seems like a bit of a waste of time for me when you consider how little you actually make. I would need to invest quite a bit of time into it, doing things that I would not normally do, to earn enough in credits to really make it worth doing in the first place.
I don't really play app games all that often (I know… I'm no fun). So for me, this app would be a bit counterproductive. If I'm going to spend my time playing a video game, I want to spend it playing a game I love (probably a game that I bought and paid for because I love it so much), so this app just wouldn't appeal to someone like me.
But… the app does work really well, and makes it pretty easy to earn as many points as you are willing to work (or play) for. And with that being said, I do feel that some people out there might benefit from it.
People who ride along for long commutes, for example, who also enjoy trying out new app games, might really find the Free App Dollars app a worthwhile use of their time.
And for good reason. This app would actually make finding new app games a bit easier, because it combines a lot of them in one place. And from what I can tell, the games that you have to choose from seem pretty good. So that's a definite plus.
Will I be leaving the app installed on my phone? Probably not. It wouldn't be worthwhile to me.
But I do know some people who would probably use it, who could easily earn $5 a month or more. And in these cases, I don't see it as a bad choice of an app to earn rewards with.
Our Final Thoughts On The Free App Dollars App
Should you download this app and use it on your phone?
The Free App Dollars App Review
Honestly, there are tons of various apps that claim to help you "make money", but really there are two facts to consider. 1) Most of them don't actually work. 2) If you can make money, it's not going be very much. If I'm going to spend any amount of time working online, I want to be working for myself by building my own profitable website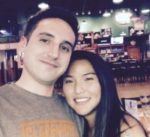 Nathaniell
What's up ladies and dudes! Great to finally meet you, and I hope you enjoyed this post. My name is Nathaniell and I'm the owner of One More Cup of Coffee. I started my first online business in 2010 promoting computer software and now I help newbies start their own businesses. Sign up for my #1 recommended training course and learn how to start your business for FREE!