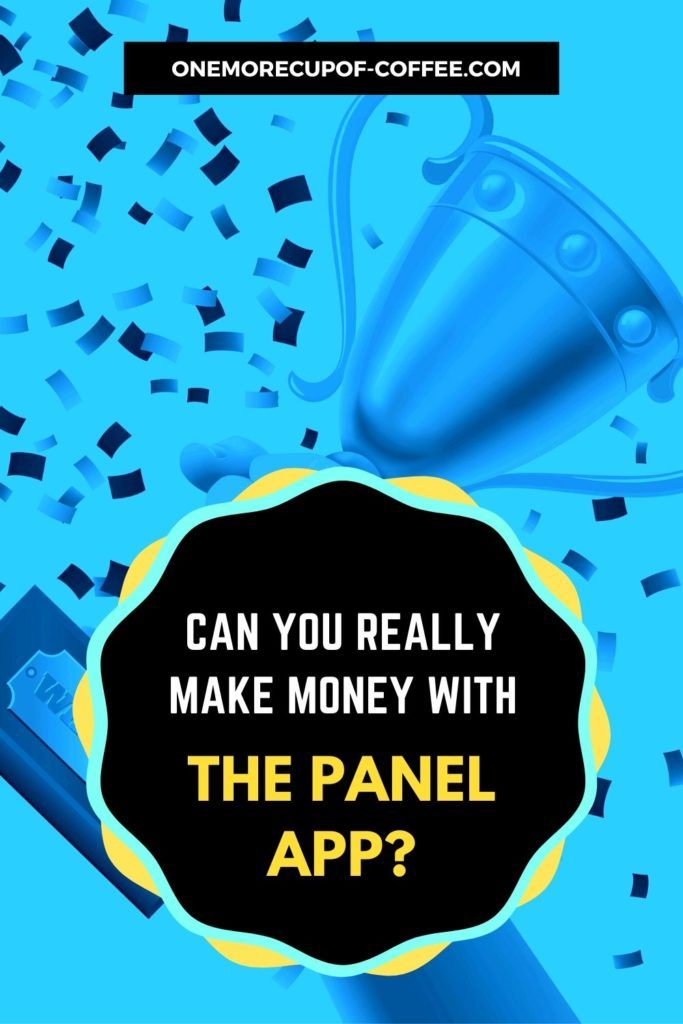 This app claims to offer rewards, gift cards, and sweepstakes that you can enter to win great prizes. But can you really make money with the Panel App?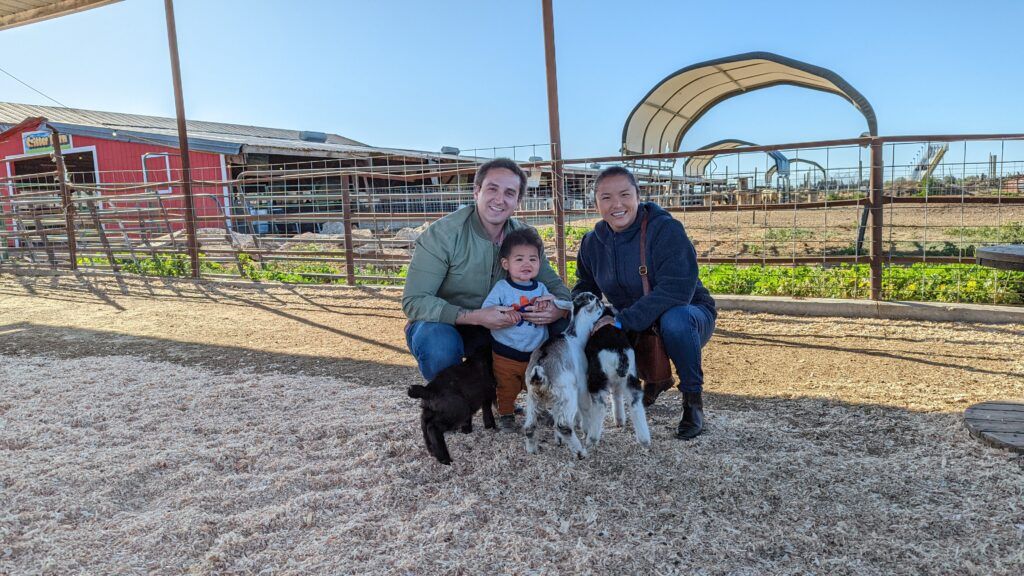 Are You Ready To Work Your Ass Off to Earn Your Lifestyle?
Are you tired of the daily grind? With a laptop and an internet connection I built a small website to generate income, and my life completely changed. Let me show you exactly how I've been doing it for more than 13 years.
Survey apps tend to be hit or miss with me (usually a miss), but I never like to assume anything about an app until I have had a chance to look it over… so that's what I did with The Panel App.
I found this app while looking over some apps that claim to allow you to make some extra cash online, and was surprised to find that it had over a million downloads and a rather awesome 4.1 star Google Play Rating.
The app had also been reviewed by over 23,000 users, which is pretty awesome.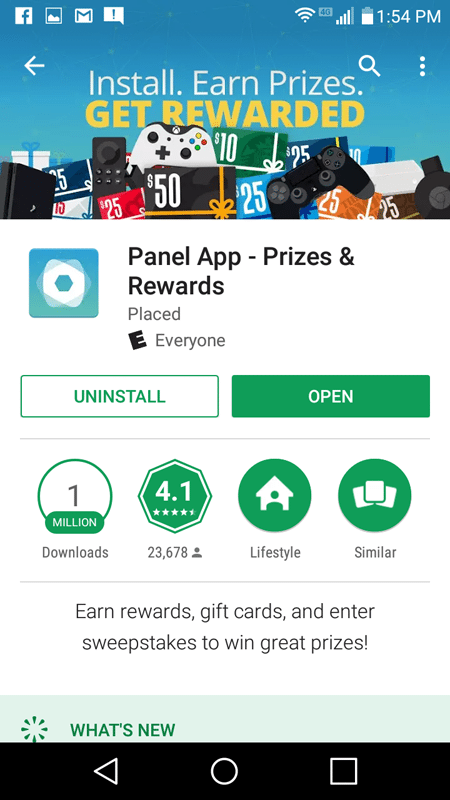 A 4.1 star rating is pretty good, but that doesn't always mean that I'm going to like the app. I've reviewed a lot of apps with a rating of over 3.5 stars that I haven't liked. Though, on the flipside, apps with a rating below that almost never make the cut.
So even from the very beginning, the Panel App had that going for it!
The app seemed pretty straightforward from the outside, so I wasted no time in downloading it and firing it up.
Making Money With The Panel App
Here's what I found out, starting with the first time that I opened up the app.
Opening Up Panel App For The First Time
Opening up Panel App for the first time brought me to this screen first.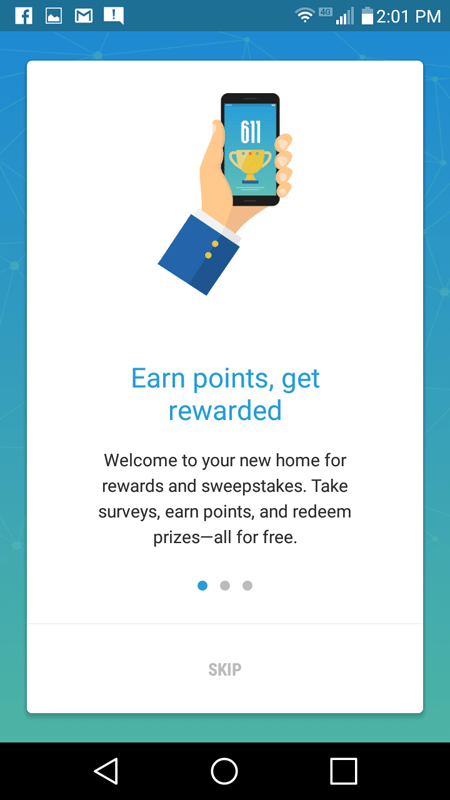 There were a few different screens here that gave me some introductory information about the app. Here is what they said, for the most part…
Earn points, get rewarded
Boost your earning potential! Refer a friend to Panel App and receive 10% of everything they earn (This was a cool feature. I haven't seen this sort of thing offered in very many apps.)
Your privacy is important. This app measures your device data, including location, while you go about your day.
That was pretty much what I learned from these screens, which seemed pretty normal to me. A lot of apps have instruction-like screens like this as soon as you open them up, and they tend to be quite helpful for giving you a basic overview of how the app works.
This example was no exception.
Next, I came to a 'create an account' screen, which is what I did next.
To do this, I pretty much just had to supply an email address and create a password for my account. After I did this, I was taken to a screen where I was asked if I wanted to earn 100 bonus points for filling out some more info.
This info basically consisted of information about me… my age, my marital status, how many children I had, how much I made per year, etc.
Once I got done with this, I was taken to what seemed to be the main hub of the app.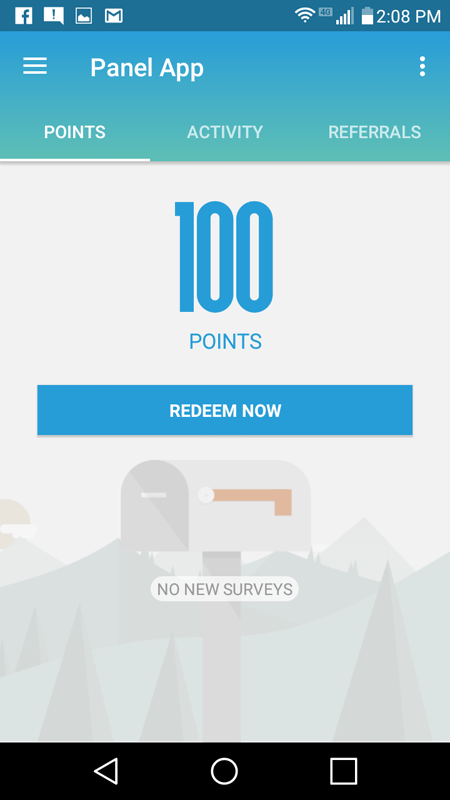 I saw that there was a 'redeem now' button right below the big '100 points' banner, so I clicked on it, just to see what would happen.
I did, and was taken to the rewards screen. I realized that the only prizes I could actually afford with 100 points were entries into sweepstakes. But after scrolling down, I realized how many points I would actually need to be able to purchase a $2 Amazon Gift card.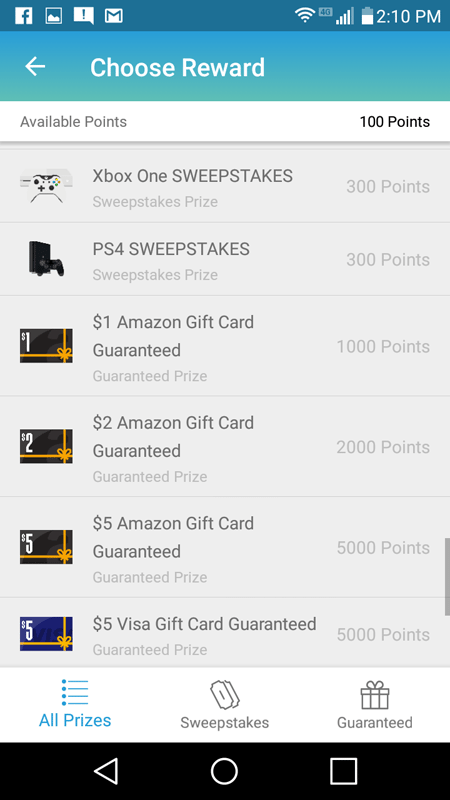 I need 2000 points to get just one $2 Amazon Gift Card, which certainly seems like a lot.
But I was determined to figure out how difficult it would be to earn these points, so that's what I got started on next.
How Easy Is It To Earn Points In The Panel App?
I saw that there were no surveys available to me at the moment, so I was unable to figure out how much you can earn by actually completing surveys at the present time.
So I did the only other thing I could really do in such a situation—visited the Google Play Reviews to find out what other people were saying about the Panel App.
I wanted to find out exactly how much money I could expect to make, and I figured that I would find some pretty good information in the reviews (I usually do).
The first thing I discovered was that most people who did get surveys with the app reported getting, on average, about one survey a day. This survey was said to have pretty basic questions and didn't take a long time.
But, at the same time, there were a lot of people who reported getting no surveys at all—so this obviously kind of worked against the reviews where people claimed to get them.
There were also some technical glitches reported with the app.
I didn't read through every single review, because there were quite a few—but I didn't really find any references to how much you could earn in the Panel App.
I did read one review from someone who had won a $50 gift card through sweepstakes, but I also found that the general consensus seemed to be that it took quite a while to earn enough to cash out.
Looking Around A Little Bit More In The Panel App
There seem to be three main pages in The Panel App… the Points page, the Activity page, and the Referrals page. The Points page seems to be where you find new surveys, while the activity page seems to be where you would go to view a summary of your account activity.
And, of course, the referrals page is where you see how the people you have referred are doing, as you can also earn money that way.
The only other section of the app that seems worth a visit is the drop-down menu, located in the upper left hand corner of the app.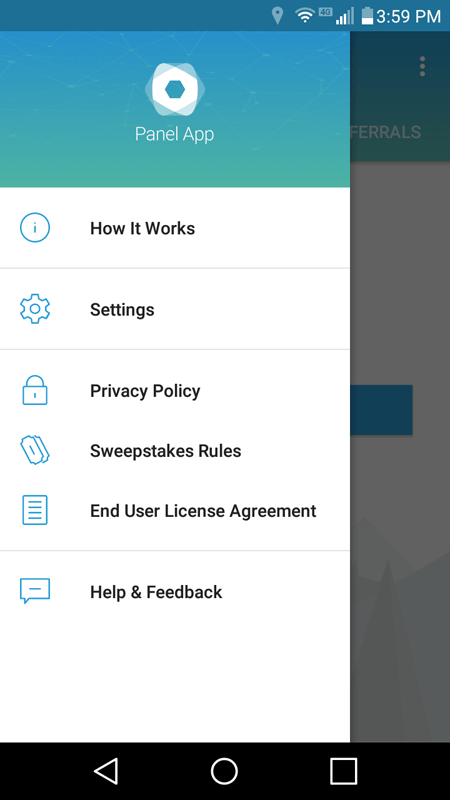 This gives you access to a how-it-works tutorial (which is very brief), the settings, the privacy policy, the Sweepstakes and Rules, and an End User License Agreement. There is also a Help and Feedback section here.
Aside from this, there really wasn't much else to see in The Panel App.
To be super honest, this seemed like a pretty basic survey app to me. It sends you surveys, rewards you for them, and allows you to cash out your points for prizes, like Amazon Gift Cards and the like.
But is the app worth keeping on your phone?
This was the final question that I had to answer for myself… and here is what I had to say about it.
Do I Feel Like The Panel App Is Worth It?
This app was plagued with the usual types of problems I tend to encounter with survey apps. Here is a short list of them…
You don't get many surveys
The surveys that you do get don't sound like they are worth a ton of money
You need a lot of points to cash out
Users have reported some glitches in the app that sound a bit problematic
To be really honest, there was nothing unusually bad about Panel App. But with that being said, there was nothing unusually good about it either. It worked fine for me.
I didn't experience any glitches, at least that I noticed. But I didn't get any app offers within the first few hours of downloading it, which caused me to feel like it will probably end up not doing much for me.
Survey apps can sometimes provide you with a cool way to earn extra money… but all too often, they are more trouble than they are worth.
I am afraid that The Panel App may be one of these.
If you have a ton of storage space on your phone and you don't mind keeping it around, just to see what you get, then you might find yourself earning some extra cash with it.
Eventually, you will probably get enough to order a gift card… which is awesome.
The downsides here for me, however, are as follows…
It may take a long, long time
There is no guarantee that I am even ever going to see a survey on the app.
I really do love the idea of survey apps, but I felt like The Panel App just failed to stand out. My phone does not have a ton of space, so I won't be leaving this one on it when there are other apps out there that seem like they could do a lot more to help me earn.
I don't wish to sound like a pessimist, and I don't believe that I am one—but I also feel like I know when something might be a waste of time, and that is kind of what I started to feel like as I researched and used The Panel App.
Our Final Thoughts About The Panel App
Should you download it and use it on your phone?
The Panel App Review
Honestly, there are tons of various apps that claim to help you "make money", but really there are two facts to consider. 1) Most of them don't actually work. 2) If you can make money, it's not going be very much. If I'm going to spend any amount of time working online, I want to be working for myself by building my own profitable website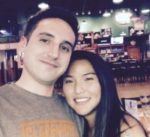 Nathaniell
What's up ladies and dudes! Great to finally meet you, and I hope you enjoyed this post. My name is Nathaniell and I'm the owner of One More Cup of Coffee. I started my first online business in 2010 promoting computer software and now I help newbies start their own businesses. Sign up for my #1 recommended training course and learn how to start your business for FREE!