This is an app that claims to 'convert your free time to earn extra pocket money.' But can you really earn money with the Watch & Earn App?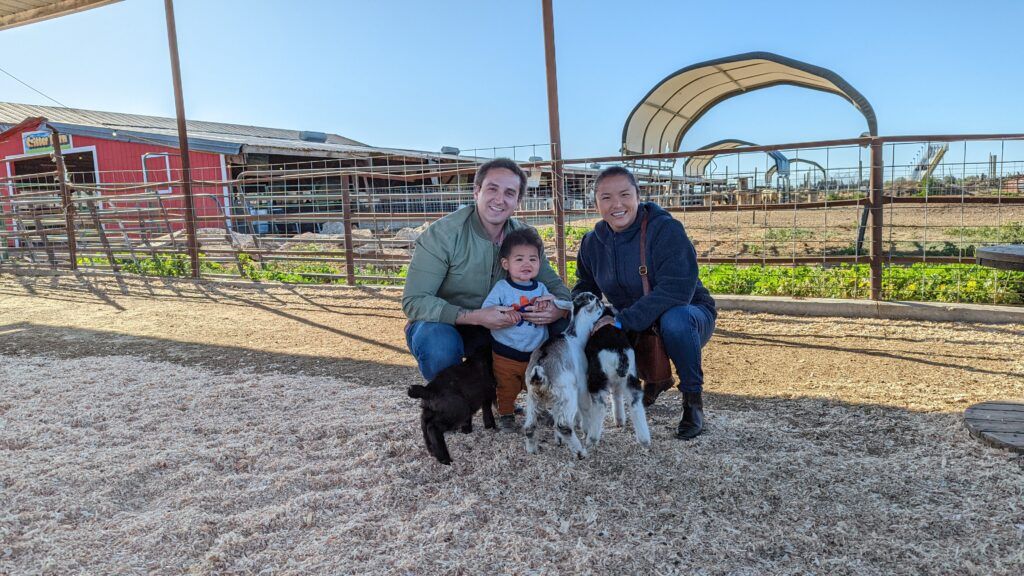 Are You Ready To Work Your Ass Off to Earn Your Lifestyle?
Are you tired of the daily grind? With a laptop and an internet connection I built a small website to generate income, and my life completely changed. Let me show you exactly how I've been doing it for more than 13 years.
The app has some pretty decent Google Play stats. It has over 500,000 downloads, and a rating of 4.4 stars. Despite it's good rating, I didn't have much luck with the app. However, I did have really good luck earning from this website.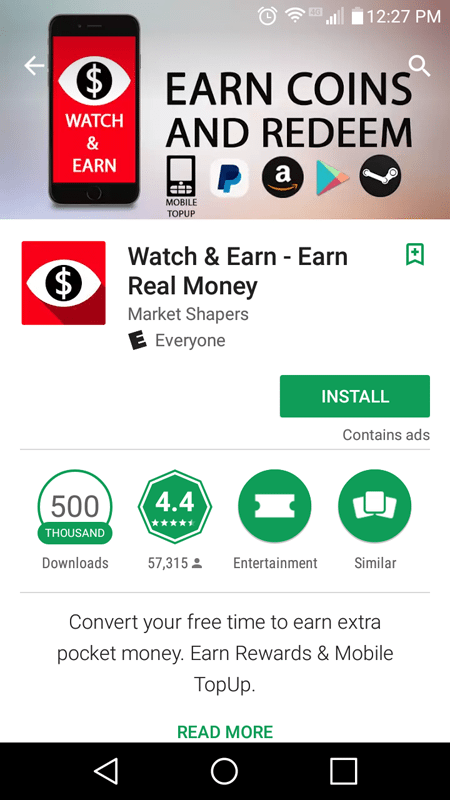 Making Money With The Watch & Earn App
Still, let's take a look at what the app has to offer. Who knows, you might have more luck than me. To begin with, I opened up the Read More description, and found this… which (kind of) helped to describe it a lot better.
"Let's start making some money and enjoying new free advertising videos which is full of new apps, games, movie trailers, brand ads, trying new apps and many more and completing these offers may lead you some coins which interns bring you money."
Ok, this was not very cool. The grammar was really messed up. I promise I didn't write it like that because I made a mistake… that is literally what the description said! Here is a screenshot to prove it…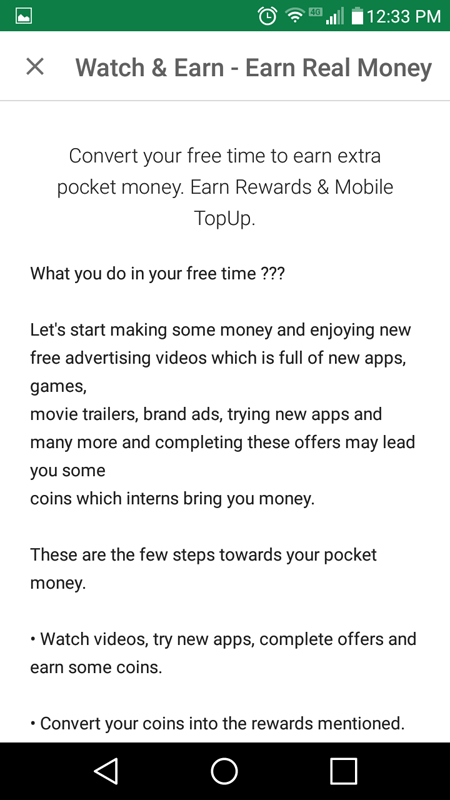 I know. It's bad. It makes me cringe.
So far, not so good. But I decided to give it a try anyway.
I am always interested in finding apps that could possibly help me to earn extra cash… but I will also admit that apps like this usually sound better than they actually are.
But, I don't like to give up until I have exhausted all of my options, and in order to do that, I like to try each and every app out, just to see what happens.
And that is what I decided to do with this one.
But will it prove to be better than the description? Here's what I found.
Getting Started With The Watch And Earn App
I opened up the app and was taken to an introduction page that told me I could sign in either with my Facebook or Google account. So I decided to try to sign in with Facebook… but got some kind of error that kept me from being able to do it.
I almost gave up here, fearing that the app was going to be a no-go. But I tried the Google account login, just in case—and it worked.
This led me to what seemed to be the 'main hub' of the app. Here is a screenshot of what it looked like.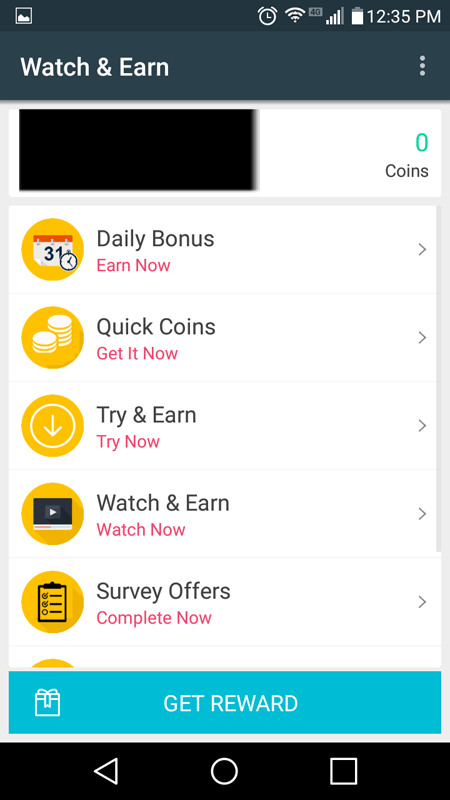 My first impression of the app, thus far, was not very good. So far, the description was very poorly done, and the app had proven glitchy enough to almost cause me to give up.
But here, things started to take a bit of an upward turn. I realized that I could basically fulfill these different offers to earn 'Coins,' so I decided to give it a try.
Since the name of the app was literally the Watch And Earn app, I decided to break the ice with the Watch & Earn Offer category, so that's what I clicked on. Here is what I found.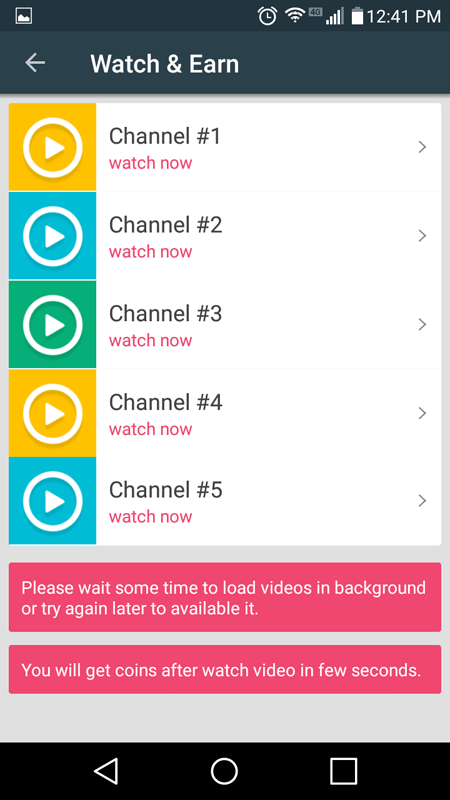 Ok, the bad grammar… it was really starting to get to me. Take a look at that screenshot and read the little text bubbles in red at the bottom.
I know. It's bad.
But, I clicked on one of the channels anyway, and was soon greeted with what seemed to be a pretty clear-cut video advertisement. After watching the video, I earned 1 coin. It popped up on my screen pretty quickly after the video had ended, which was cool!
I did it again, this time with another channel. I watched another video ad, which was about 30 seconds long, if that… and was again promptly rewarded with another coin.
At this point, I was having very mixed feelings about this app. On one hand, watching the videos and earning the coins didn't take very long. Plus, it was almost a little fun… because you literally get rewarded with a coin as soon as the video is over—which gives it a semi-addicting, fun quality.
But I didn't know how much these coins were worth, either, so that's what I decided to work on next. Here are more options for earning while watching videos on your smartphone.
Figuring Out How Much Coins Are Worth In The Watch & Earn App
To figure this out, I went back out to the main hub, and clicked on the big Rewards button located at the bottom of the screen. I found out that you can redeem your rewards in a number of ways. I also saw both of my coins, prominently displayed at the top-right side of the screen.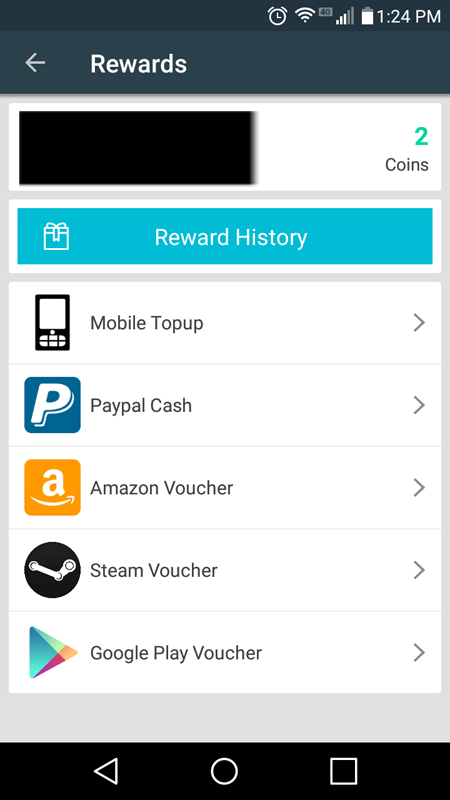 I decided to look at the PayPal cash option, just to see if I could get my coins redeemed that way. So I clicked on it, and was taken to a screen that showed me the redeem options… but weirdly enough, the screen didn't show me how many coins I needed to qualify for them.
It only showed me if I qualified for them now, and obviously I didn't.
So I backed out of here and did a bit more looking around. But try as I might, I could not figure out how to find out how much the coins were worth!
So I decided to go dig around in the reviews a bit, just to see if I could find any helpful information there.
What I Found In The Google Play Reviews
First of all, let me talk about what I didn't find. I did not find a conversion rate hidden somewhere in the reviews. I didn't have time to go through all of them, obviously… but I looked through a lot of them, and didn't come up with anything usable.
But, I did find a lot of other things.
First of all, a lot of the 5 star reviews seemed to be in really broken English, and some of them didn't seem to make any sense. Plus, I saw other reviewers saying things like 'Wow, look at all of the fake 5-star reviews.'
I saw a lot of things that looked 'sketchy' to me in the reviews. I am not saying that there were necessarily sketchy fake reviews… but I am saying that I feel like it could be a possibility. That would account for why this app has such a positive rating when, in fact, there are a lot of issues with it.
And the grammar problems. Everywhere I turned with this app, even in the reviews, there was horrible grammar—for miles and miles.
Needless to say, this experience was once again beginning to take more of a downward turn.
Not only could I not figure out how much coins were worth, but I had also experienced some glitches—plus, I also had people in the reviews saying that at least some of the positive reviews were phony—and that certainly doesn't sit right with me, at all.
At this point, I decided that I had reached a conclusion about The Watch & Earn App.
Would I Personally Keep The Watch And Earn App Installed On My Phone?
In a word, no. And here is why.
First of all, the app just seemed glitchy to me at times.
Second of all, most of the writing in the app just seemed very poorly done. If the development team skipped out on professional proofreading and editing in the written content of the app description (and in the app itself), then what else did they skip out on?
Third, there was some sketchy-type stuff in the Google Play Reviews that caused me to stop and pause.
And finally, I could not, for the life of me, figure out what coins were worth!
I was slowly but steadily able to earn coins, at a rate of one coin per video—but I had no idea how many I would need to cash out, because I couldn't find this information anywhere. Transparency is a huge issue because I don't want to waste my time. That's why I recommend Swagbucks instead.
With all of this being said, the app did do a few things right. It was kind of fun to watch the videos and earn coins, honestly. Also, I kind of like how it was laid out. It was very simple.
In contrast, I've found other apps in this area where the video watching was glitchy or incredibly frustrating. Super Cash Rewards, Perk TV and AppTrailers are all examples of that pattern.
But aside from these things, there wasn't much about the app that I was crazy about.
Personally, I will not be keeping and using this one. It just had too many problems for me. I could definitely see how it could have potential, but right now it is just not living up to it.
If you want to earn some extra cash, there are certainly better ways to go about it than with this app… that is for sure!
Side hustles are almost essential nowadays, with how expensive everything is, but you might be better off picking up aluminum cans or selling old bottles as antiques than you would be if you were to try to use this app.
Our Final Thoughts About The Watch And Earn App
Should you download it and use it on your phone?
The Watch & Earn App Review
Honestly, there are tons of various apps that claim to help you "make money", but really there are two facts to consider. 1) Most of them don't actually work. 2) If you can make money, it's not going be very much. If I'm going to spend any amount of time working online, I want to be working for myself by building my own profitable website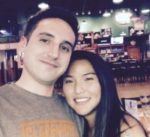 Nathaniell
What's up ladies and dudes! Great to finally meet you, and I hope you enjoyed this post. My name is Nathaniell and I'm the owner of One More Cup of Coffee. I started my first online business in 2010 promoting computer software and now I help newbies start their own businesses. Sign up for my #1 recommended training course and learn how to start your business for FREE!