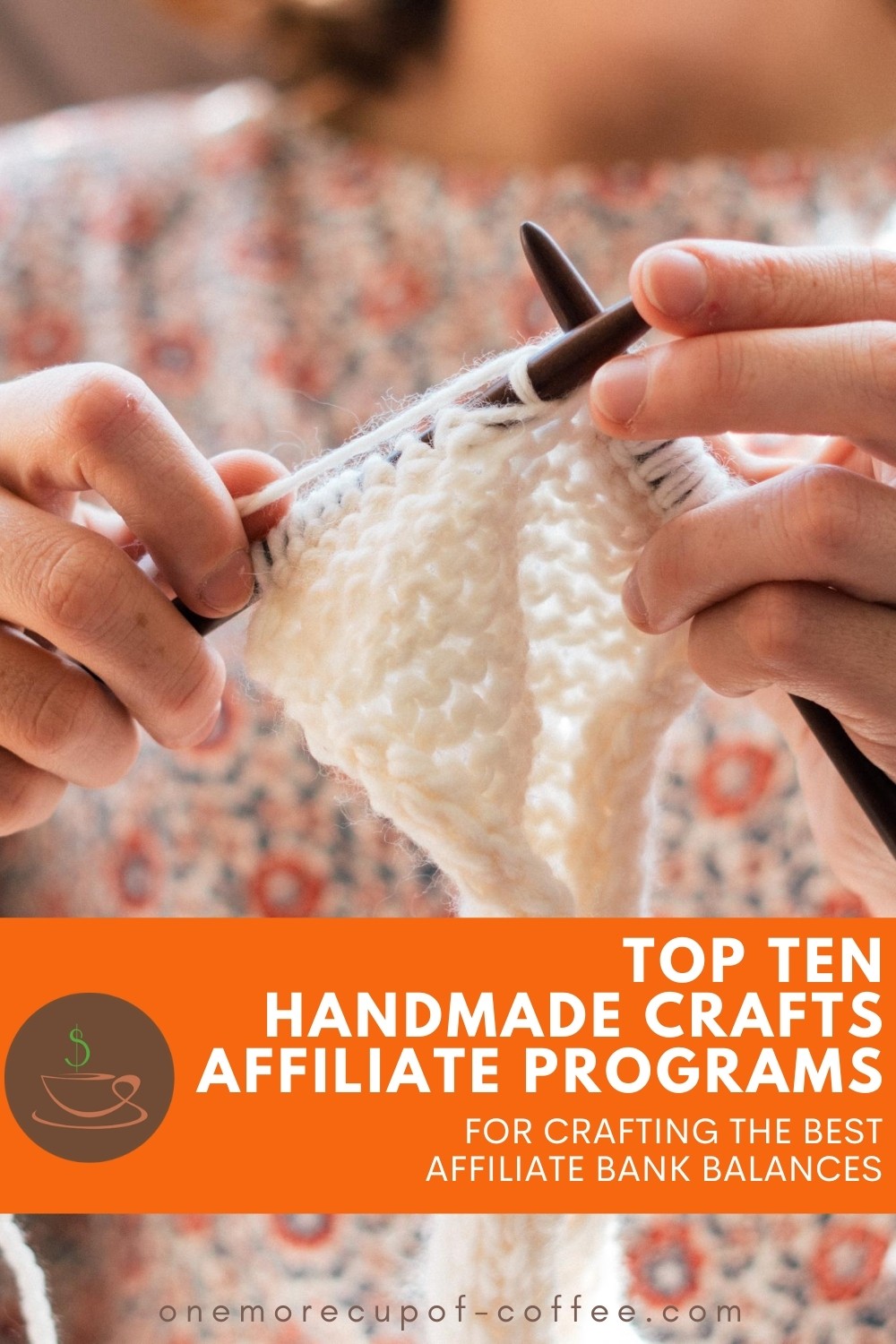 In the United States, people between the ages of 18 and 34 spend an average of $68.68 per month on craft supplies. U.S. crafters spend another $28.12 per month on crafts for kids. The total market size is around $36 billion, with around 75,000 retail outlets selling crafting supplies.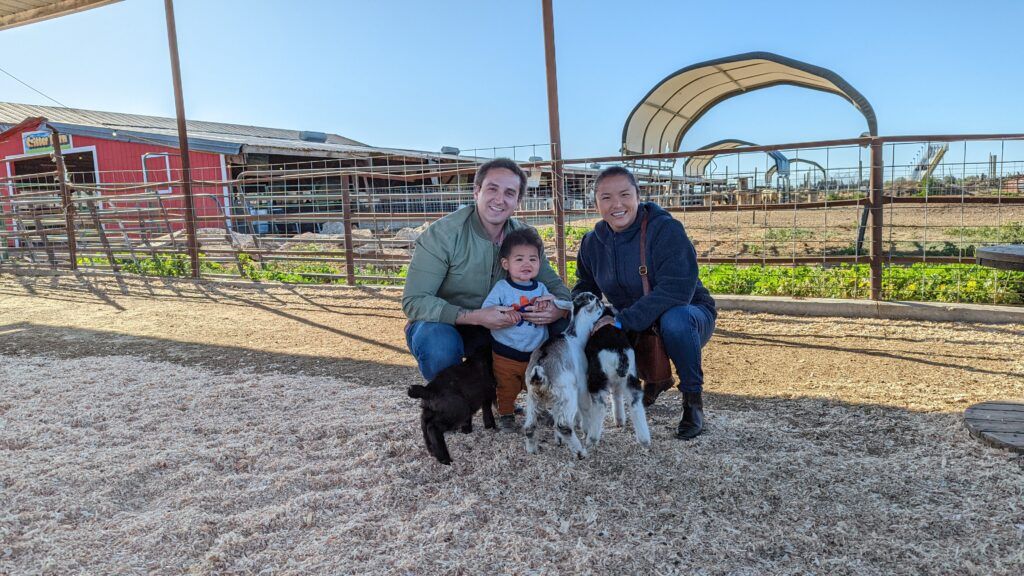 Are You Ready To Work Your Ass Off to Earn Your Lifestyle?
Are you tired of the daily grind? With a laptop and an internet connection I built a small website to generate income, and my life completely changed. Let me show you exactly how I've been doing it for more than 13 years.
With more people quarantined at home because of the coronavirus pandemic, the amount of money spent crafting or buying hand-made crafts could increase, and that means there's room for affiliate involvement. The best handmade crafts affiliate programs include crafting supplies as well as handmade craft outlets and marketplaces where crafters have the chance to sell their creations.
If you're interested, read through this list of the top ten handmade crafts affiliate programs. At the end of this article, I'll share some ideas of ways you can use these programs with your affiliate websites.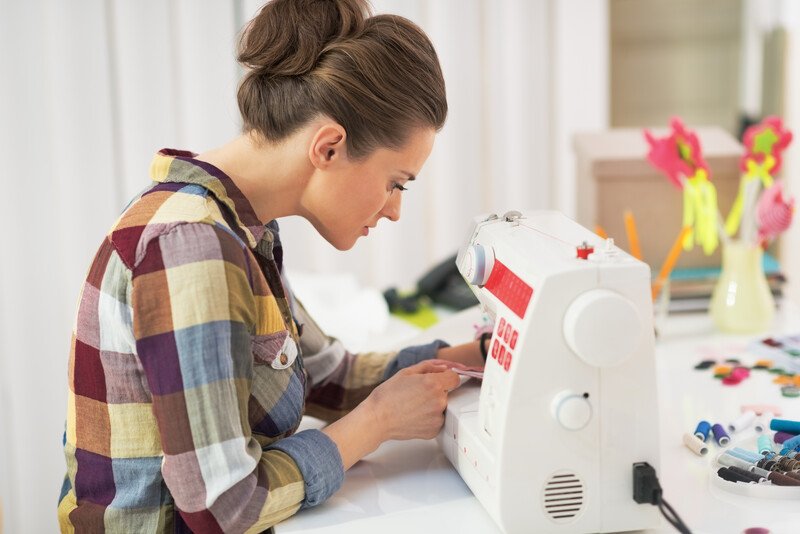 Handmade Crafts Affiliate Programs
Craft Daily
Etsy
Minerva Crafts
Craftybase
CreativiU
Hobby Lobby
Crafters Corner
Sulky
JoAnn Fabrics And Crafts
Earth Divas
1. Craft Daily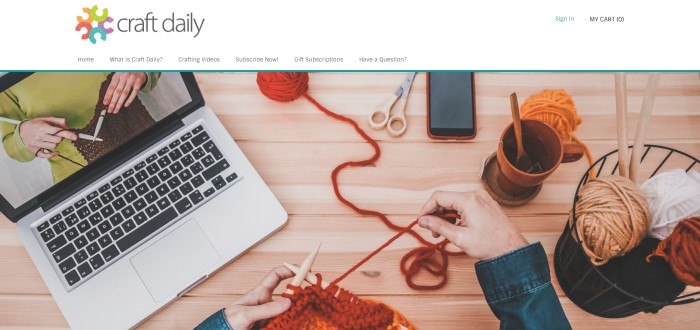 Craft Daily is an online video learning source for people who want to learn how to participate in different crafts. The videos teach crafts such as beading, crochet, knitting, jewelry making, paper crafting, quilting, and sewing. Access to the videos are based on subscriptions, which can be paid monthly or annually.
Affiliates also earn money by selling crafting items from the Interweave store. Both Craft Daily and Interweave are owned by a parent company called Golden Peak Media. Interweave products include items such as books, DVDs, downloads, project patterns, kits, and supplies.
The average order value with Craft Daily is more than $65. Affiliates are given banners, exclusive coupon codes, and other promotional materials to work with. Affiliate commissions are paid monthly. The affiliate program is run through Link Connector.
Why You Should Promote Craft Daily: The commission rate is great, and affiliates can also earn money by promoting items from the Interweave store.
2. Etsy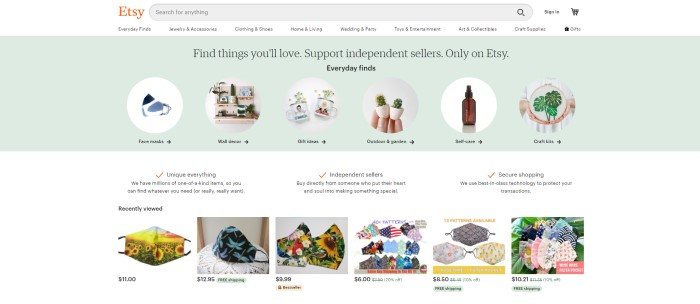 Etsy is an online marketplace where individuals and businesses can sell antiques, handmade items, unique collectibles, and even crafting supplies such as beads. Etsy is a global platform, so the company provides support in English, French, Italian, Spanish, and German languages.
With the affiliate program, marketers can list links to items they've found on Etsy that they particularly like. The categories include weddings, DIY, and handmade items, as well as clothing, jewelry, home, arts, crafts, vintage, and décor. The standard commission is 4%.
Etsy administers its affiliate program through AWIN. Affiliate marketers can link directly to items they like on Etsy, which can be helpful for niche marketing. There are several categories of items sold on Etsy. Customers can find everything from fine artwork such as watercolor paintings to cosplay costumes, face masks, and loose beads.
Why You Should Promote Etsy: Etsy sells both handmade crafts and items like beads that crafters can use themselves. The commission isn't listed, but individual Etsy sites and products can be easily used with a variety of websites.
3. Minerva Crafts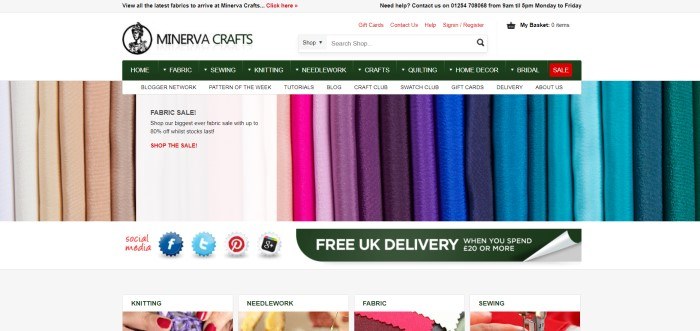 Minerva Crafts is one of the largest craft supply retailers in the United Kingdom, and this company ships products worldwide. New products are added weekly. There are currently more than 50,000 craft projects available through this company.
The affiliate program is administered through Affiliate Window. Affiliates have access to frequent promotions, updated banner ads, and text links, and a full product data feed that's updated daily. Minerva Crafts accepts affiliates from around the world. Affiliates can earn commissions both on crafting supplies and on annual memberships for the craft club.
Why You Should Promote Minerva Crafts: Affiliate marketers can earn commissions both on club memberships and on product sales. The commission rate and cookie length are decent. This company carries an enormous selection of crafting supplies and ships worldwide.
4. Craftybase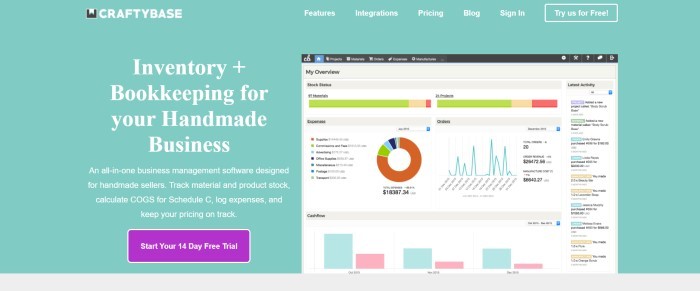 Craftybase is an inventory control and bookkeeping software created specifically for people who want to sell their handmade items. Access to the software is subscription-based. Features include pricing guidance, tracking the cost of goods sold, tracking inventory, managing orders, keeping an eye on expenses, updating materials inventories, staying on top of consignment orders, and more. This software allows crafters to calculate their earnings while taking into account sales fees through sites like Etsy and PayPal, too.
This company offers a free 14-day trial. After that, the cost per month ranges from $9-$25, depending on the features that are purchased. The trial period is set up for the most expensive plan so that customers can try out every feature.
The affiliate program is run through Refersion. Affiliate marketers earn monthly commissions on referred memberships for the first twelve months that a referral is a member.
Why You Should Promote Crafty Base: This company helps crafters build their business by tracking sales and inventory, and it offers a 14-day free trial period that includes every feature. Affiliates can earn residual income for up to one year from one referral.
5. CreativiU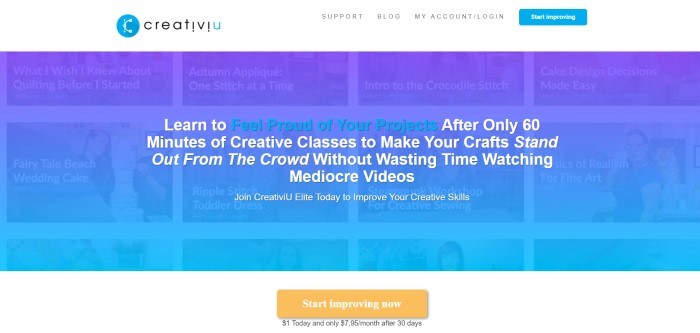 CreativiU sells online crafting courses as well as crafting supplies. Customers can try the program for $1 for the first 30 days and if they like it, they pay $7.95 for every month that they stay with the program. CreativiU offers a money-back guarantee, too.
This company sells courses for crafts in categories like cake decorating, crochet, quilting, sewing, drawing, and painting. The company has been featured in media outlets such as Food Network and the Huffington Post.
The affiliate program is run in-house. Affiliates are provided with links and banner ads, as well as marketing help. It takes two minutes to fill out the affiliate application process.
Why You Should Promote CreativiU: This company offers a $1 trial period, and the commission rate is nice, too.
6. Hobby Lobby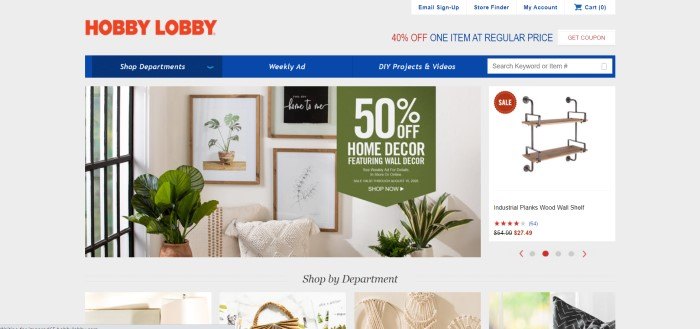 Hobby Lobby is an arts and crafts supply retailer with a strong online presence as well as brick-and-mortar stores. This company carries thousands of items ranging from fine arts supplies, yarn arts, and beading to party supplies, home décor and framing services.
The website includes a weekly ad section and coupons. There's also a DIY section containing videos and information about particular crafts to help customers get going.
The affiliate program is run through FlexOffers, with some additional information available at VigLink.
Why You Should Promote Hobby Lobby: The enormous selection, DIY videos, coupons, and frequent sales could attract and help convert shoppers.
7. Crafters Corner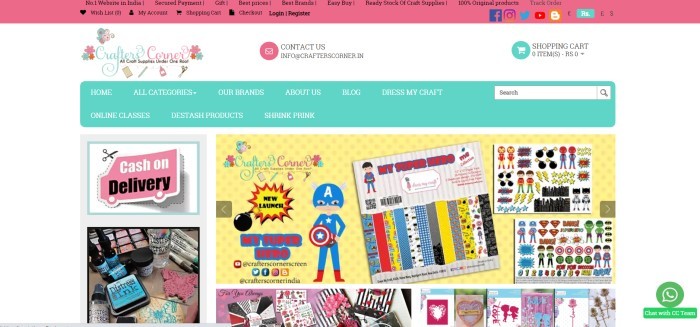 Crafters Corner is a large online craft supply store with one of the top crafting websites in India. It carries more than 375 different brands of crafting supplies and more than 13,700 craft projects. The store's own brand, Dress My Craft, went from no projects to 1,500 projects in two years.
Besides an online outlet, this store has a brick-and-mortar location where crafters often teach workshops. Online classes are available through the website, too.
The affiliate program is run in-house. Affiliates can link to the storefront or to specific products carried by Crafters Corner.
Why You Should Promote Crafters Corner: Crafters Corner provides a large selection of craft supplies to customers in India, including a fast-growing store brand. Online and on-site crafting classes are available. The product prices are affordable and the commission rate is decent.
8. Sulky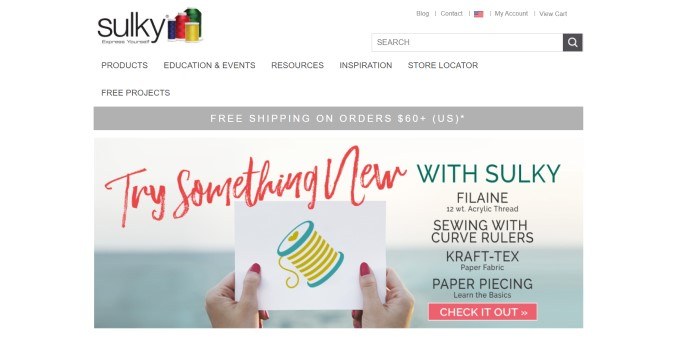 Sulky sells crafting supplies and crafting classes, including an online teacher certification course and an embroidery Zen class. While this company carries a wide variety of crafting supplies, the main focuses seem to be on sewing, quilting, and embroidery.
One of the company's premier products is the Sulky embroidery thread, which is made exclusively at the world-renowned ENKA plant in Germany. Other products for sale in the online store include several types of threads, stabilizers, projects and kits, embroidery designs, tools and supplies, and thread storage solutions. There's also a seasonal shop and a section where customers can browse for gifts for their sewist loved ones.
Customers in the United States get free shipping on orders of $60 or more. The website also provides free projects, thread charts, cross reference resources, and an embroidery club. The affiliate program is run through ShareASale.
Why You Should Promote Sulky: This company is ENKA certified and carries its own line of specialty threads. Customers can get free shipping and free projects, and the company hosts an embroidery club. For affiliate marketers, the commission rate is generous.
9. JoAnn Fabrics And Crafts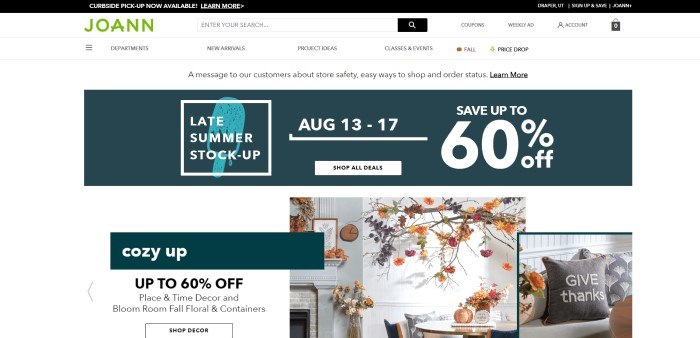 JoAnn Fabrics And Crafts sells craft supplies, fabric, and tools like sewing machines and sergers to help customers create and enjoy their hobbies. The website includes 15 different categories, including a sales page and currently, a page specifically for face masks.
JoAnn is also known for its coupons and weekly ads. Customers can sign up to receive these by mail or email, or they can find them directly on the website.
The affiliate program is run through Linkshare. Besides the affiliate program, JoAnn also has an ambassador program that provides marketers with products, gift cards, and base pay to help create content that features JoAnn products.
Why You Should Promote JoAnn Fabrics And Crafts: Although the commission rate and cookie length aren't listed, this company has a great reputation. The coupons and sales could attract and convert shoppers, and affiliate marketers can participate in both the affiliate program and the ambassador program.
10. Earth Divas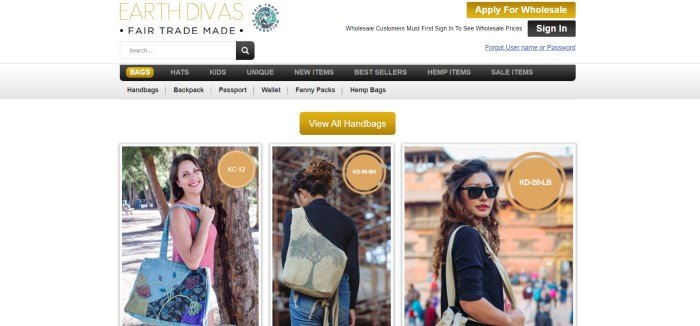 Earth Divas sells signature hand-made natural fiber products, including handbags, hats, wallets, scarves, and more. All of the products are made with Fair Trade in mind, and they are all made by women. All of the profits are paid back to Earth Divas artisans. Customers get free shipping on orders of $50 or more.
The affiliate program is run through ShareASale. Affiliate marketers make 15% on referred sales, and if they sell more, they can get higher commission rates. They can also earn 5% on second-tier sales. Affiliates have access to a regularly updated product data feed, exclusive affiliate-only promo discounts, and the ability to deep-link to any Earth Divas product.
Why You Should Promote Earth Divas: The products are eco-friendly, Fair Trade made, and handmade by women around the world. The commission rate and cookie length are both generous, too.
Affiliate Website Ideas
Now that you've read through this list of the top ten handmade crafts affiliate programs, how do you want to put them to use? I have several ideas of ways you can weave these programs into your affiliate websites, and I'll share some of them with you now.
One idea is a website dedicated to embroidery. Besides the programs listed above, a website like this could promote embroidery machines, vintage embroidered clothing, specialty embroidery tutorials, and fine home décor made with special embroidery techniques such as the Italian punto tagliato.
Another idea is to pull some of these programs, such as Earth Divas from the list above, into a website that honors womanhood. Besides woman-crafted products, a website like this could promote women's healthcare, organic skincare products, and platforms like Udemy or Etsy where they can sell their own handmade crafts or teach others how to craft, too.
A final idea is a website for geology enthusiasts. A website like this could promote semi-precious gemstone beads from any of the programs listed above, but it could also promote books, online courses, and geological tours.
Boost Your Affiliate Earnings
These 10 affiliate programs are just the beginning of what's possible. There are hundreds of ways to earn affiliate commissions with your website, including product reviews, top 10 lists, how-to guides, and more
But what about traffic and conversions? How do you make sure your affiliate links get clicked?
I used the affiliate training here to turn my brand new website into a six-figure income generator in less than two years. Build a business, not just a pocket-money side project!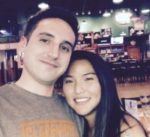 Nathaniell
What's up ladies and dudes! Great to finally meet you, and I hope you enjoyed this post. My name is Nathaniell and I'm the owner of One More Cup of Coffee. I started my first online business in 2010 promoting computer software and now I help newbies start their own businesses. Sign up for my #1 recommended training course and learn how to start your business for FREE!