At the start of a new year, it's easy to say that the coming months will be focused on fitness, nutrition, and general wellness. Products like personal planners, diet pills, and exercise machines are more attractive than ever as people buckle down to try to increase their fitness levels.
In the United States, the fitness industry is booming. The sales of home-based fitness equipment in America reached $3.86 billion in 2018. There's room for affiliate marketers to make their share of income in this industry because many of the companies selling exercise machines also have affiliate programs.
If you're interested in learning more about how you can make money by promoting exercise machines and fitness equipment, read through this list of the top 10 exercise machine affiliate programs. At the end of the list, I'll share some ideas for putting these programs to use in your niche market efforts.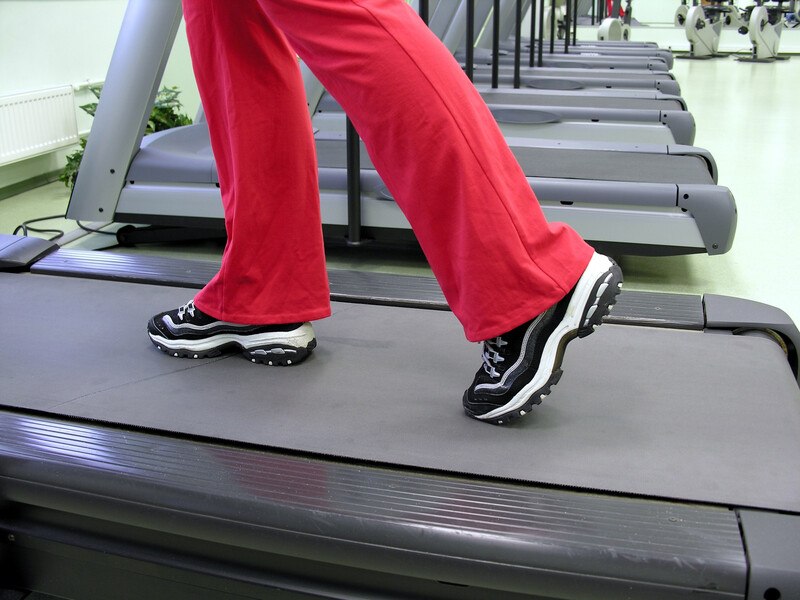 Exercise Machine Affiliate Programs
Total Gym
Lifespan Fitness
Bowflex
Life Fitness
Horizon Fitness
REP Fitness
Diamondback Fitness
Power Systems
NordicTrack
Carol
1. Total Gym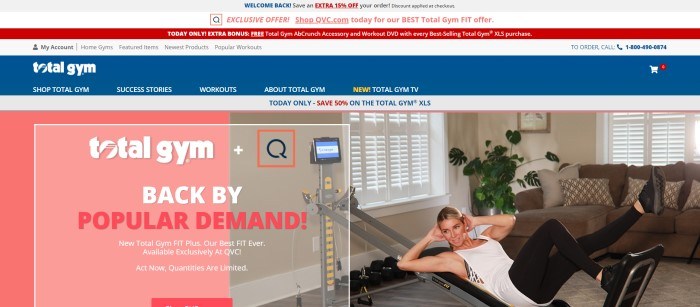 Commission: 3-7.5%
Cookie: 45 days
Total Gym sells four different exercise machines that are designed to be low-impact, light-weight but heavy-duty, and provide a full gym workout from the comfort of home, at the fitness level of the user. The products have been endorsed by celebrities such as Christie Brinkley and Chuck Norris for the past 15 years.
The Total Gym machines range in price from around $530 to $3,795. The company provides free shipping on all orders of $175 or more, which covers any of the full gym machines. Three of the four machines also come with a 30-day risk-free trial period, and customers can pay in interest-free monthly installments, although the price is lower when the products are paid for in full.
Commission rates vary depending on the products. Affiliates earn commissions of 3% on DVDs, 5% on the core trainer, and 7.5% on full Total Gym machines.
Why You Should Promote Total Gym: These systems can be used by people with a wide variety of fitness levels, which could appeal to beginning shoppers who want something that will last as they increase their fitness goals. The commission rates and cookie length are decent, too.
2. Lifespan Fitness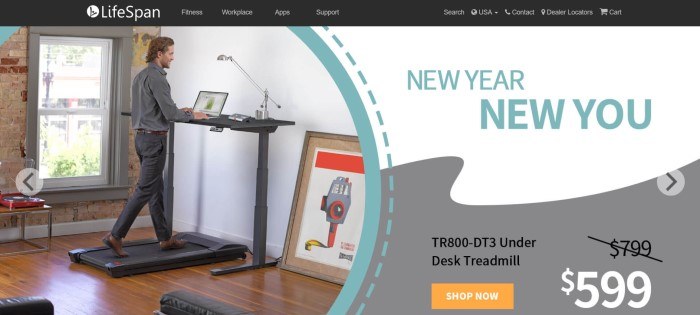 Commission: 6%
Cookie: 90 days
Lifespan Fitness carries a variety of exercise machines for the home and office. These products include rowing machines, stretching machines, ellipticals, treadmills, exercise bikes, and accessories such as standing mats or Bluetooth adapters. Most of the exercise machines come with a full membership to Lifespan Fitness health and fitness software, called Club.
One nice thing about this company is that it carries exercise desks, including bike desks, treadmill desks, and standing desks so that customers can stay fit while they're working in an office or home office environment.
Lifespan Fitness also has a mobile app that's compatible with eight different treadmills, so users can track steps, calories, distance, and the intensity of each workout.
Why You Should Promote Lifespan Fitness: Lifespan Fitness exercise machines are high-end, which could mean nice per-sale affiliate income. The software, mobile app, and workplace-friendly machines are selling points that could convert shoppers, too.
3. Bowflex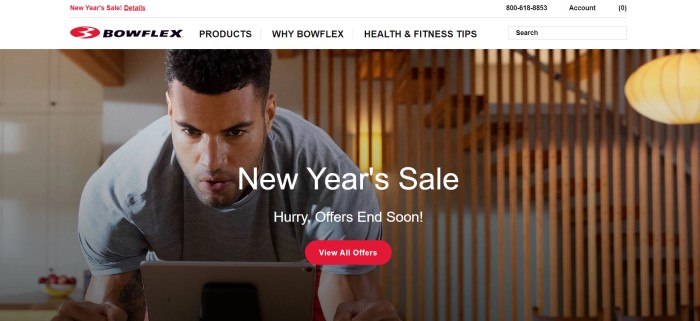 Commission: Unlisted
Cookie: Unknown
Bowflex is an exercise machine company that sells cardio-friendly Treadclimber machines, which combine the benefits of both treadmills and stair-climber machines. The Treadclimber machines are designed to help customers burn 25 times more calories than they would by using a treadmill alone. The prices for Treadclimbers range from around $1,800-2,400.
This company also carries a series of equipment called Max Trainer, which uses software that acts as a personal trainer. Max Trainer machines measure the fitness levels and abilities of users and then help customers to slowly increase their fitness abilities. Prices for Max Trainer machines range from around $1,000-2,600.
Bowflex carries some other gym equipment, as well. The affiliate program is run through FlexOffers.
Why You Should Promote Bowflex: The relatively high price tags could mean some nice affiliate earnings. These machines are also high-tech, which could attract some shoppers.
4. Life Fitness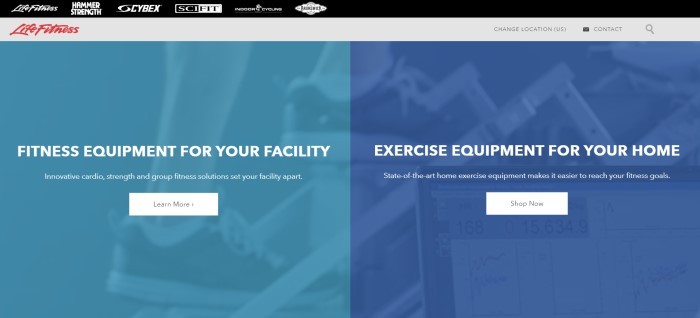 Commission: 8%
Cookie: 30 days
Life Fitness sells exercise machines for use both at home and in commercial locations. The products sold in the online store include strength training equipment, cardio equipment such as cycling machines and treadmills, and fitness accessories, including software and mobile apps.
Shoppers can filter their searches by brands, prices, or the type of exercises they're interested in. Product prices range from around $1775 to $9,000, and the average order value is around $3,000.
Life Fitness runs its affiliate program through AvantLink.
Why You Should Promote Life Fitness: Life Fitness Affiliate marketers can get bonuses and other performance-based incentives.
5. Horizon Fitness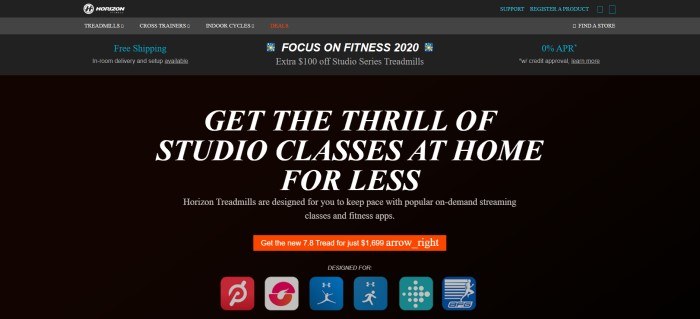 Commission: 8%
Cookie: 30 days
Horizon Fitness sells exercise machines such as treadmills, ellipticals, peak trainers, rowing machines, and indoor cycles. Some of the machines include Bluetooth technology.
The exercise machines range in price from about $450-1300, with an average order value of $800. One nice thing about Horizon Fitness is that the company lists financing options on its product pages, so customers can see what their month-to-month payment options are. This company also provides free shipping for some products.
Horizon Fitness partnered with Impact Radius to administer their affiliate program.
Why You Should Promote Horizon Fitness: The possibility of free shipping and financing options could convert some shoppers. This company also provides a 30-day money-back guarantee on all its products.
6. REP Fitness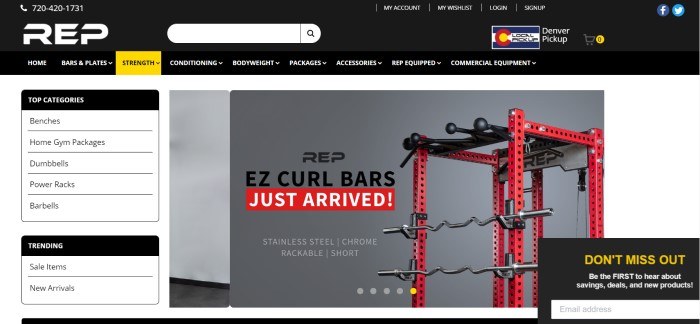 Commission: Unlisted
Cookie: 30 days
REP Fitness carries both exercise machines and individual pieces of exercise equipment. The machines include rowers, ellipticals, treadmills, and weight benches, as well as home gym packages that generally include a weight bar and weights. The company also carries items like squat racks, kettlebells, battle ropes, and balance trainers.
Prices for the home gym packages start around $240 and go up to around $3,860. Cardio machines, including rowers, bikes, ellipticals, and treadmills, range from around $700 to about $2,300.
The REP Fitness affiliate program is administered through Post Affiliate Pro.
Why You Should Promote REP Fitness: Even though the price tags are high-end, REP Fitness doesn't disclose its commission rate on the affiliate webpage. This makes it difficult to tell how much you could actually make with this company.
7. Diamondback Fitness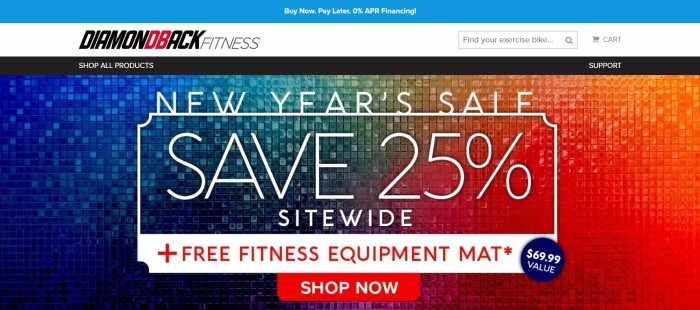 Commission: Up to 10%
Cookie: 365 days
Diamondback Fitness sells several types of exercise bikes ranging in price from around $750-$1425. The company also carries high-end elliptical machines, accessories such as exercise mats, and apparel that promotes the Diamondback Fitness brand.
Both the elliptical machines and cycling machines have won awards and been highly rated by consumer magazines. The company has been featured in several prominent media outlets, including Fitness, Better Homes and Gardens, Women's Health, and Prevention.
Diamondback Fitness provides a 30-day money-back guarantee on its exercise machines and free shipping to several areas in the lower 48 states.
Why You Should Promote Diamondback Fitness: Because Diamondback Fitness is geared toward cycling enthusiasts, it could fit well with some niche market strategies. The cookie length is one of the best I've seen in the fitness market.
8. Power Systems
Commission: 7%-10%
Cookie: Unknown
Power Systems is the leading provider of fitness and performance products both for professional settings and home gyms. They are committed to quality, innovation, and service with the help of their knowledgeable team.
They cater to commercial and private facilities with an inventory of over 2400 SKUs to make sure buying needs are met in one purchase order. Their product selection stretches from bikes, climbers, step mills, and ellipticals to training ropes, body rollers, and gym flooring.
Power Systems partnered with CJ Affiliate to administer their affiliate program. Affiliate traffic to their website typically converts at a rate of 7.1%. Their average order value is $169.
Why You Should Promote Power Systems: They are recognized throughout the sports and fitness industries and known for creating an extraordinary customer experience, complete product selection, and fast delivery. They also typically run promotions offering a discount or free shipping, or both.
9. NordicTrack
Commission: Unlisted
Cookie: Unknown
NordicTrack offers high quality, innovative home exercise equipment to market. Their treadmill, elliptical, exercise bike, or rower are created to let you experience fitness from the feel of the treadmill cushion to tracking apps that sync with the machine.
They're also innovating new home fitness solutions such as cross-training, strength training, treadmill training, endurance running, interactive running, studio cycling, and more. Their iFit programs are guided by expert trainers who will help you in stepping up your game with interactive personal training.
Their affiliate program is being administered by FlexOffers.
Why You Should Promote NordicTrack: They are the world leader in home fitness equipment with more than 25 years of experience. NordicTrack guarantees their products feature the most advanced technology available.
10. Carol
Commission: $150
Cookie: Session-based
Carol is the first AI-powered exercise bike with personalized workouts. It uses the user's biometric and performance data to instantly create and apply personalized resistance. This will help users achieve long-term fitness improvement by exercising for under nine minutes a day.
Their main workout lasts just eight minutes 40 seconds. It's been scientifically proven to deliver double the health and fitness gains of regular exercise by doing it three times a week for just eight weeks.
Carol's affiliate program is run via CJ Affiliates and FlexOffers. Select partners may qualify for a higher commission rate. The program also has a wide supporting media campaign and promotions.
Why You Should Promote Carol: Carol AI-Powered Exercise Bike is based on a type of high-intensity training called REHIT that was designed in a lab and studied by scientists.
Affiliate Website Ideas
Now that you've read through the list of the top 10 exercise machine affiliate programs, how will you start to apply programs like these in your niche market efforts? I've got a few ideas to share with you to help get you started.
For example, you could create a niche website for people who want to stay fit after leaving the military. A website like this one could promote any of the companies listed above, as well as nutrition supplements, nutrition and diet software, and online workout subscriptions. This type of website could also promote wellness through online therapy to deal with PTSD, sleep aids, and self-development products.
Another idea is a website focused on New Year's resolutions or other starting-over-type scenarios. Exercise machines could fit very well on a website like this one, but you could also promote systems for decluttering and organizing a home, garden care equipment, real estate and moving companies, and personal planning systems.
A website focusing on weight loss for post-menopausal women could be interesting, too. Besides the exercise machines described above, this type of website could promote hormone treatments, weight loss spas, nutrition supplements, diet pills, and red-light therapy systems.
Boost Your Affiliate Earnings
These 10 affiliate programs are just the beginning of what's possible. There are hundreds of ways to earn affiliate commissions with your website, including product reviews, top 10 lists, how-to guides, and more
But what about traffic and conversions? How do you make sure your affiliate links get clicked?
I used the affiliate training here to turn my brand new website into a six-figure income generator in less than two years. Build a business, not just a pocket-money side project!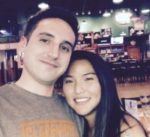 Nathaniell
What's up ladies and dudes! Great to finally meet you, and I hope you enjoyed this post. My name is Nathaniell and I'm the owner of One More Cup of Coffee. I started my first online business in 2010 promoting computer software and now I help newbies start their own businesses. Sign up for my #1 recommended training course and learn how to start your business for FREE!