A few years ago, I spent $2,500 on a set of stacked supplements. A year later, I spent a few hundred dollars more on a different set of supplements from another company. Both were helpful in increasing my strength and helping me get my body into a more efficient balance, and I began to take the world of sports nutrition more seriously.
I like working out, but I'm not a die-hard bodybuilder like some of the people I see in my community. I've wondered, if I'm willing to spend that much on sports supplements, what do other people spend?
Globally, the sports nutrition market, which includes sports supplements, is predicted to reach $44,003 million by 2021. That's a lot of money, and affiliate marketers can earn a share of that by connecting people to the companies that can give them the supplements they need.
Read on to learn about the top 10 sport supplements affiliate programs, and how you can implement them in your affiliate marketing strategies. Considering that the supplement industry is massive, you may want to also look at similar categories like brain supplements, weight loss supplements, and general vitamins & supps.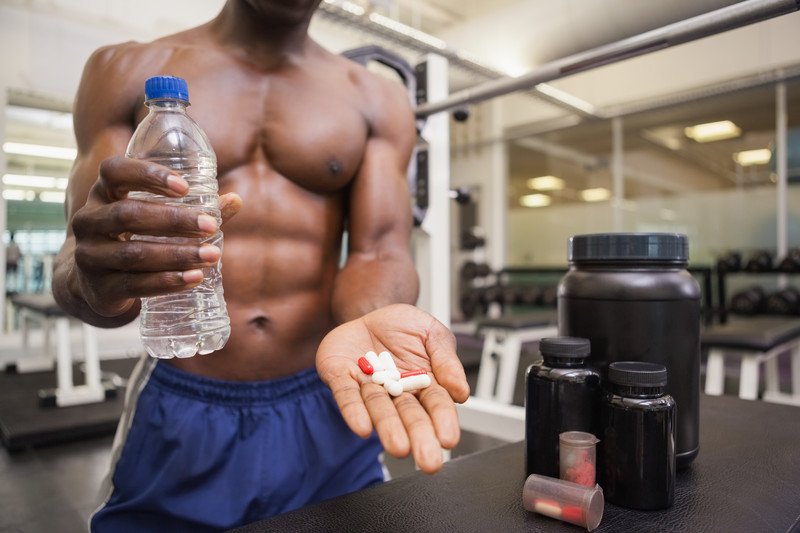 Sports Supplements Affiliate Programs
Stack Labs
A1Supplements
The Vitamin Shoppe
GNC
Crazy Mass
Naked Nutrition
HGH.com
My Supplement Store
Cellucor
The Protein Works
1. Stack Labs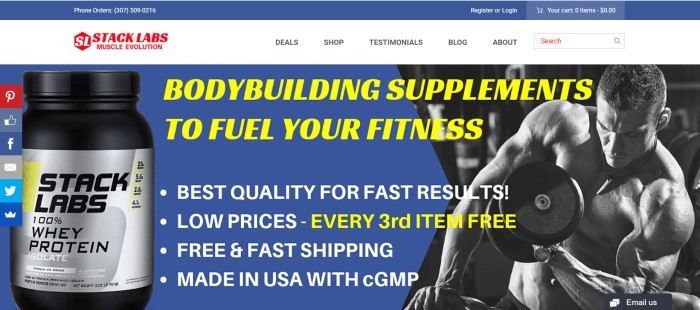 Stack Labs sells a whey protein isolate powder intended to help bodybuilders create the lean body mass they seek. The product is made in the United States, and all orders are shipped quickly. The shipping is also free, which is nice.
The powder is created to help customers burn fat and bulk up in mass and strength. Another perk is that it's sold in stacks of 'buy-two, get the third item free' promotions.
Why You Should Promote Stack Labs: The commission is nice, and the lifetime cookie length means affiliates have extended opportunities to make money.
2. A1Supplements
A1Supplements is an online supplement company that specializes in sports nutrition as well as lifestyle supplements. They offer fast shipping and competitive prices on their large selection of products. They're constantly adding the newest and hottest products in the market as well as information via articles to help customers reach their health and fitness goals.
A1Supplements gives back and supports Boys & Girls Clubs of America and St. Jude Children's Hospital. They were also once featured in MD magazine and were named Sports Supplement Retailer of the Month.
They have three separate affiliate programs – one with CJ, ShareASale, and their in-house program. The commission is 6% for content referrals on any of the thousands of products they sell. They have the highest average order amount in the industry of close to $100. Affiliates will be given complete access to text links, banners, and more to use on your site and social media posts.
Why You Should Promote A1Supplements: With a high average order value the 6% commission is pretty generous. The wide selection of products would likely ensure that potential buyers will find what they need and eventually convert to sales.
3. The Vitamin Shoppe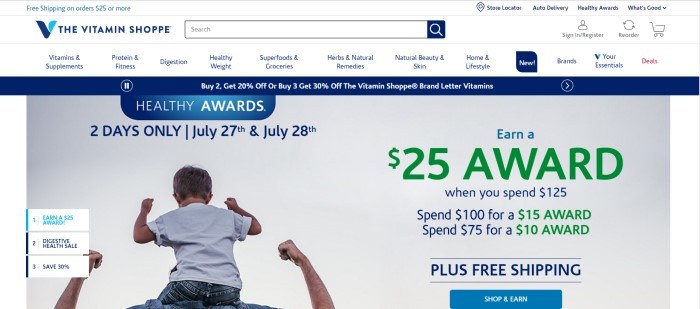 The Vitamin Shoppe carries a wide variety of vitamins and sports supplements to help everybody work at its maximum efficiency and top health level.
Some of the supplements are supportive, such as basic vitamin and mineral pills. Others address specific problems such as weight loss, digestion issues, and natural beauty.
The protein and fitness supplements fall into the latter category. These supplements are designed to help athletes build muscle, energy, and endurance while maintaining a healthy weight. The Vitamin Shoppe carries pre-workout and post-workout supplements as well as vegan choices and some supplements made specifically for runners.
The affiliate program is run through CJ.
Why You Should Promote The Vitamin Shoppe: There are a lot of products to choose from at the Vitamin Shoppe, which can be a converting factor for some shoppers and can also drive up the total sales.
4. GNC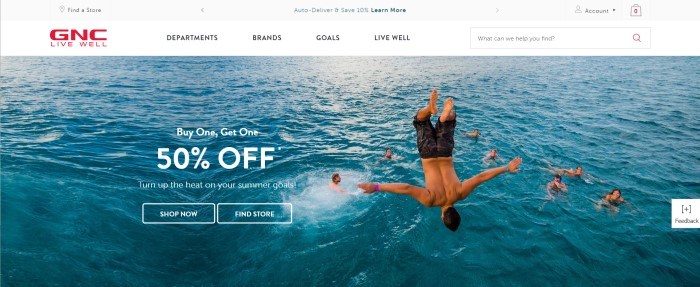 GNC, or General Nutrition Centers, is one of the most well-known sports supplements companies in the United States, with brick-and-mortar stores as well as a strong online presence.
The store carries pre-workout supplements, muscle builders, supplements for energy and endurance, and energy drinks. There are also supplements to help with general body support and preventive medicine, weight loss, digestion, and skincare.
This company has a 30-day money-back guarantee and a price match guarantee. The GNC affiliate program is run through CJ.
Why You Should Promote GNC: Because it's such a well-known company, people will have a higher level of trust when they see your promotions, and the chance that they'll click through and buy something is higher, too.
5. Crazy Mass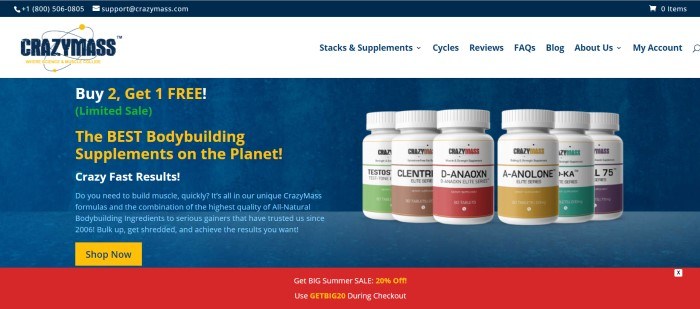 Supplements sold by Crazy Mass are designed for creating lean mass, bulking, and building strength and stamina. These products can be grouped in stacks or bundles of products. Athletes use the supplements in four-week or eight-week cycles to achieve their desired results and then take a 10-day break before starting another cycle.
The average order value is $161. Shipping is free in the United States and Canada, and other international orders are shipped for free if they total $150 or more. If the total is less than $150, those orders ship for a flat rate of $12.50.
Their affiliate program is being administered by ShareASale.
Why You Should Promote Crazy Mass: Affiliates have the opportunity to earn more than the base commission with special promotions and bonuses. The cookie length and commission are both great, too.
6. Naked Nutrition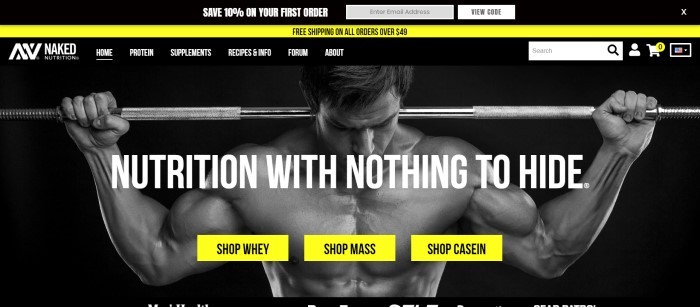 Supplements from Naked Nutrition are made from pure ingredients such as grass-fed whey protein and organic brown rice protein powder. There aren't any additives such as artificial sweeteners or colors.
There are around seven different types of protein powders. These powders are simply made from proteins like peas, peanut butter, or egg whites. Each powder generally contains three ingredients: the protein base, a natural sweetener, and a natural flavor, such as vanilla.
The Naked Nutrition affiliate program is run through ShareASale. Shipping is free for all orders totaling more than $49.
Why You Should Promote Naked Nutrition: Naked Nutrition is completely open about what goes into its supplements, so you always know what you're getting, and you can eat clean while building your body.
7. HGH.com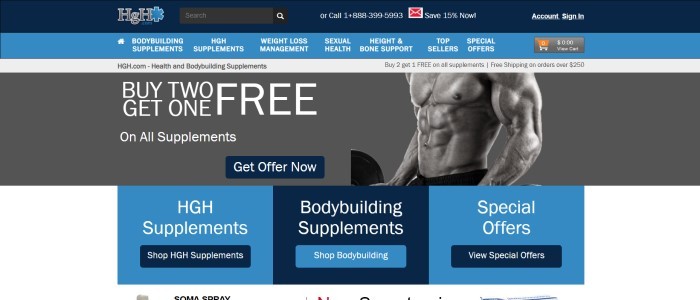 HGH.com is a brand of proprietary HGH supplements that are made and distributed through Purity Select. The company has two affiliate programs. One is run through ShareASale, and the other program is administered through MoreNiche.
The products include supplements for bodybuilding, sexual health, weight loss management, HGH supplements, and bone support. There's a buy-two, get-one-free deal on all supplements, and orders of more than $250 ship for free.
These supplements aren't cheap. They range from about $46 for bottles of individual supplements to around $200 for some bundled options.
Why You Should Promote HGH.com: Both the commission and the cookie length are nice, and the higher product prices could result in more affiliate earnings.
8. My Supplement Store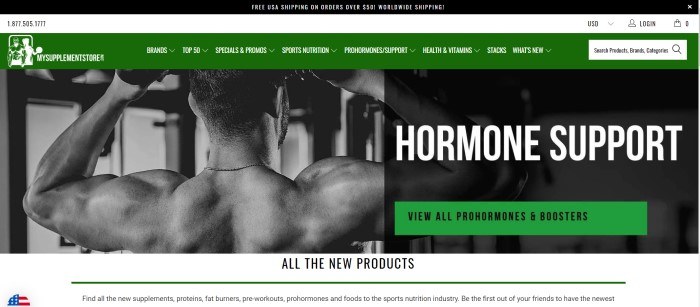 My Supplement Store has more than 5,000 products ranging from basic health and vitamins to prohormones support and sports nutrition. Many products range from around $10-$90 per bottle.
This is one of the only companies I've come across that has a heavy focus on prohormones. These work by increasing testosterone levels and increasing anabolism, or building necessary molecules and tissues from smaller components.
There could be some side effects from taking prohormones, such as decreased natural testosterone production and a feeling of lethargy. My Supplement Store information indicates that these side effects go away once customers end their cycle of using the prohormone supplements.
My Supplement store matches prices and ships orders to 150 different countries around the world.
Why You Should Promote My Supplement Store: The focus on prohormones sets this company apart, and the high number of products that are available for customers to buy could result in increased shopping cart totals.
9. Cellucor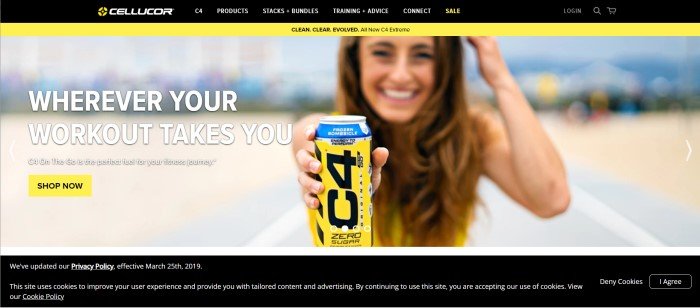 Cellucor sells a brand of pre-workout supplement powders called C4. Besides the powders, which come in canisters, there are carbonated pre-workout drinks and pre-workout capsules. Some of the powders come in pre-measured pouches, too.
This company is a little bit pickier about who it chooses as affiliates than some other companies. In order to be seriously considered, a potential affiliate should have around 10,000 followers. On the affiliate application, you have to list your handles for Twitter, Instagram, and YouTube as well as your Facebook URL and whether or not you are a personal trainer.
Why You Should Promote Cellucor: The heavy focus on pre-workout supplements could fit in very well with a niche website. However, Cellucor doesn't share its commission rate or cookie length, so it's difficult to tell what you could make as an affiliate—and that's if the company accepts you as an affiliate at all.
10. The Protein Works

The Protein Works is a supplement store based in the UK and Europe. The company has good conversion rates and hosts special deals and discounts to support its affiliates.
The products are mostly protein shakes and snacks, along with some creatine and amino acid supplements. There's a lifetime guarantee on the products, so if a customer isn't satisfied, the product can be returned for a refund. The customer has to pay the return shipping fee, though.
The affiliate program is administered by AWIN.
Why You Should Promote The Protein Works: Besides the 12% commission on new customer sales, affiliates can earn a 6% commission on sales from existing customers.
Affiliate Website Ideas
Now that you've read about the top 10 sports supplement affiliate programs, do you have some new ideas for developing niche websites? If not, I have a few ideas to run by you that could jumpstart your creative juices. For those that are just starting in the affiliate game, you can check out my post on fitness blog name ideas to learn how to pick a good brand and domain name for your niche site.
First of all, how about a website that focuses on sports that require speed and agility? Sports supplements that promote fat loss and cutting, or lean muscle mass, could be featured on a website like this one. Other products to promote could include kickboxing gear and Tae Kwon Do gear, running shoes, and agility hoops.
You might also consider a website for new mothers who want to get their pre-baby body back. A website like this one could promote sports supplements, but it could also feature subscription-based workouts to do at home, home gyms, and baby equipment such as strollers or carriers that allow new mothers to be active.
Another website idea is a place where people who are recovering from serious injuries, such as car crashes, can go for recovery support. Besides informational articles, a niche website like this one could include recovery gear such as braces and crutches, workout videos in varying levels of intensity, and sports supplements to help people regain the muscle mass they lose during prolonged hospital stays.
Boost Your Affiliate Earnings
These 10 affiliate programs are just the beginning of what's possible. There are hundreds of ways to earn affiliate commissions with your website, including product reviews, top 10 lists, how-to guides, and more
But what about traffic and conversions? How do you make sure your affiliate links get clicked?
I used the affiliate training here to turn my brand new website into a six-figure income generator in less than two years. Build a business, not just a pocket-money side project!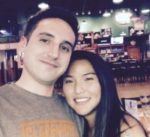 Nathaniell
What's up ladies and dudes! Great to finally meet you, and I hope you enjoyed this post. My name is Nathaniell and I'm the owner of One More Cup of Coffee. I started my first online business in 2010 promoting computer software and now I help newbies start their own businesses. Sign up for my #1 recommended training course and learn how to start your business for FREE!