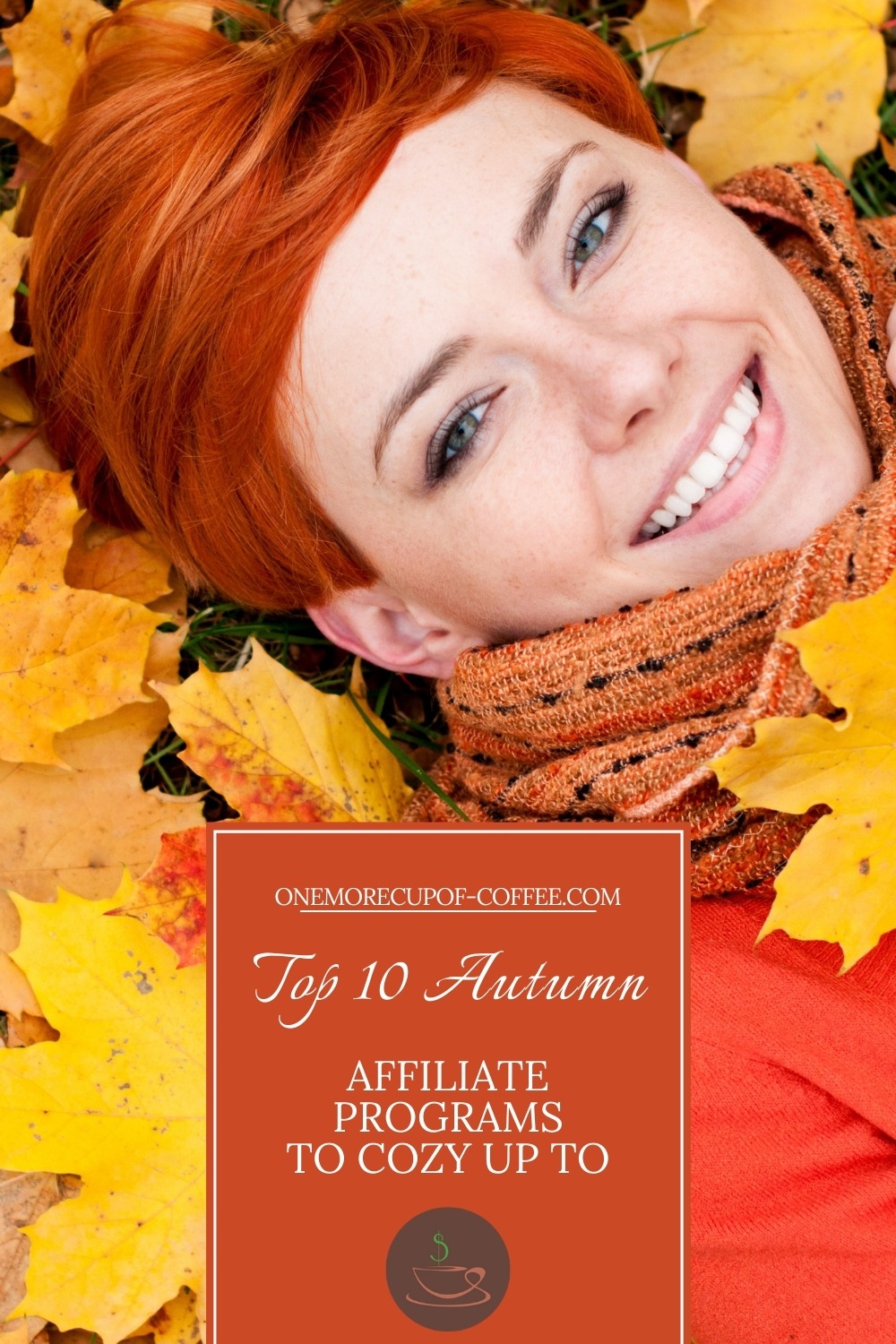 For many people, Autumn begins with the end of summer, when children head back to school with new sneakers and backpacks. School buses and crossing guards re-emerge, and in many places, it's only a matter of weeks before the leaves on the trees turn colors and fall.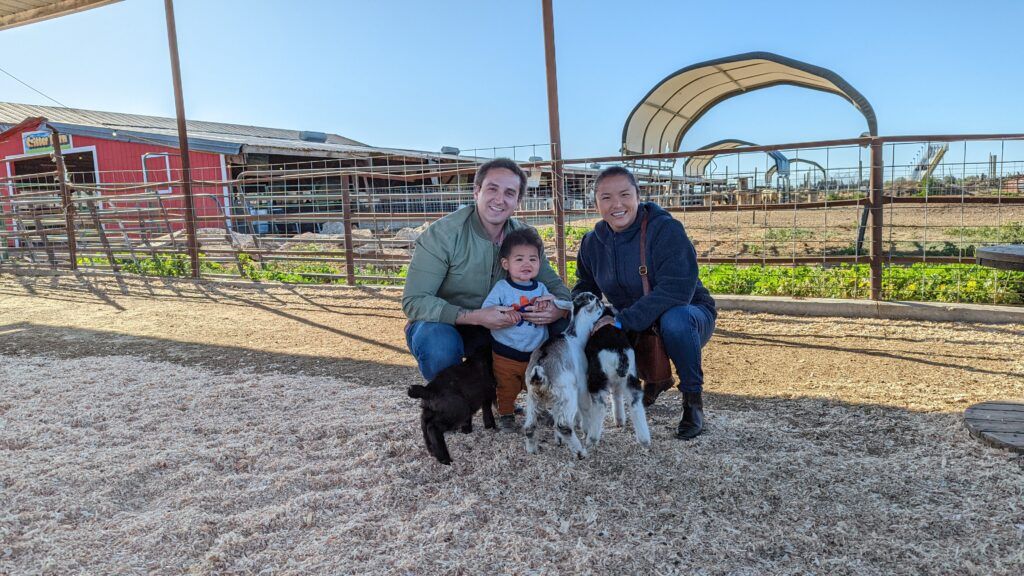 Are You Ready To Work Your Ass Off to Earn Your Lifestyle?
Are you tired of the daily grind? With a laptop and an internet connection I built a small website to generate income, and my life completely changed. Let me show you exactly how I've been doing it for more than 13 years.
This is a busy time of year. Houses and furnaces need to be checked before cold weather sets in. Gardens and yards have to be cleaned up, and Autumn is one of the best times of the year to plant new bulbs or transplant trees.
It's also hunting season, harvest season, and canning season for some people. When cold weather sets in, summer clothes are packed away, and sweaters and wool socks fill closets and dressers.
Because there's so much going on, there's a wide variety of affiliate programs that can help both affiliate marketers and shoppers. The best Autumn affiliate marketing programs will touch on at least one of these topics. Read this list of the top 10 Autumn affiliate programs to get some ideas for what's out there and how you can employ these programs in your niche marketing efforts.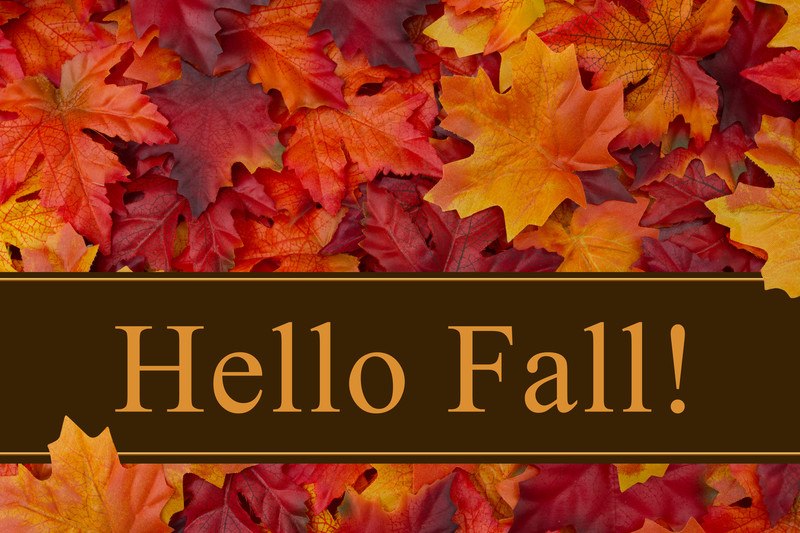 Autumn Affiliate Programs
SeedsNow
Ace Hardware
Excalibur
Mason Jars
WoolOvers
Lehman's
Cabela's
Alpaca Direct
Camofire
MantelsDirect
1. SeedsNow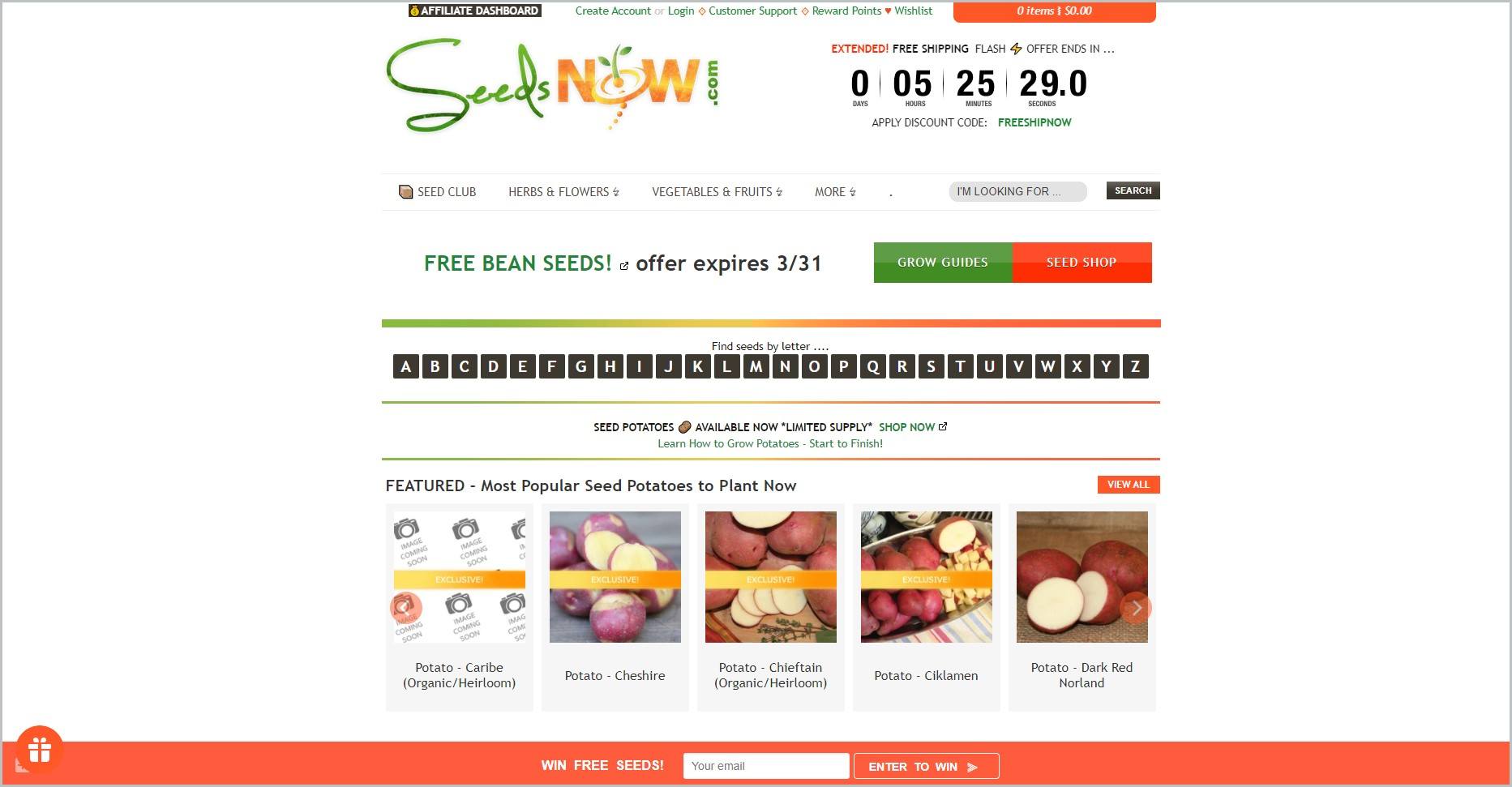 SeedsNow offers quality seeds that are all 100% GMO-free, all-natural, and non-hybrid. They have seeds for a wide selection of herbs, flowers, vegetables, and fruits. They also have gardening supplies, e-books, and gift ideas, and variety packs to get you started.
All of their seeds are packaged in a re-sealable moisture-proof pack. When stored in a cool, dry, and dark environment, these seeds can last for years. SeedsNow also provides guides and step-by-step instructions to easily grow their seeds.
SeedsNow partnered with Refersion to oversee their affiliate program. Affiliates will receive a 25% commission and are paid out weekly via PayPal.
Why You Should Promote SeedsNow: Aside from the generous commission, the all-natural-non-GMO and grow guides will appeal to eco-conscious consumers and would likely inspire them to start growing their own food.
2. Ace Hardware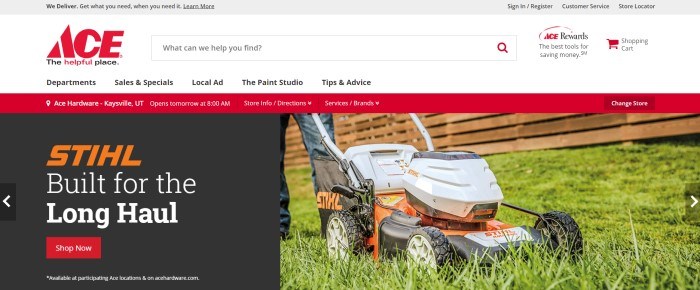 Ace Hardware is a general hardware store that carries many of the things people need to get their homes and yards in order before cold weather sets in. This includes items like leaf blowers and snow removal equipment, outdoor storage sheds for garden equipment, and insulation blankets for grills.
This company also sells indoor items, including insulation, foam wall sealers for outlets that can help cut back on drafts, seam tape, electric heaters, weather stripping, and firewood bundles.
Ace Hardware administers its affiliate program through Impact. The company provides free shipping from local Ace Hardware stores for every qualifying order of $50 or more.
Why You Should Promote Ace Hardware: Some of the items are big-ticket items that could bump up affiliate earnings. The wide range of autumn-related items could bump up shopping cart totals in the fall, as well.
3. Excalibur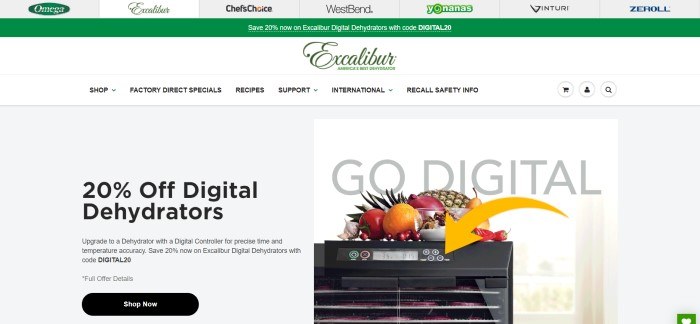 Excalibur sells high-quality dehydrators to help customers preserve harvests from gardens, orchards, and hunting. There are around 25 dehydrators for home use, plus commercial dehydrators and dehydrators that can be shipped internationally.
Prices for the home use dehydrators range from $99 for a small five-tray dehydrator to $999 for a 10-tray stainless steel dehydrator, so the commissions can be significant. Besides dehydrators, Excalibur sells meat slicers, vacuum sealer machines and accessories, meat grinders, sausage stuffers, and support items like trays, sinks, and scales.
Excalibur ships its home-use dehydrators for free.
Why You Should Promote Excalibur: The relatively high price tag for these items can boost affiliate earnings. This is a specialized product that could fit well with a niche market website, too.
4. Mason Jars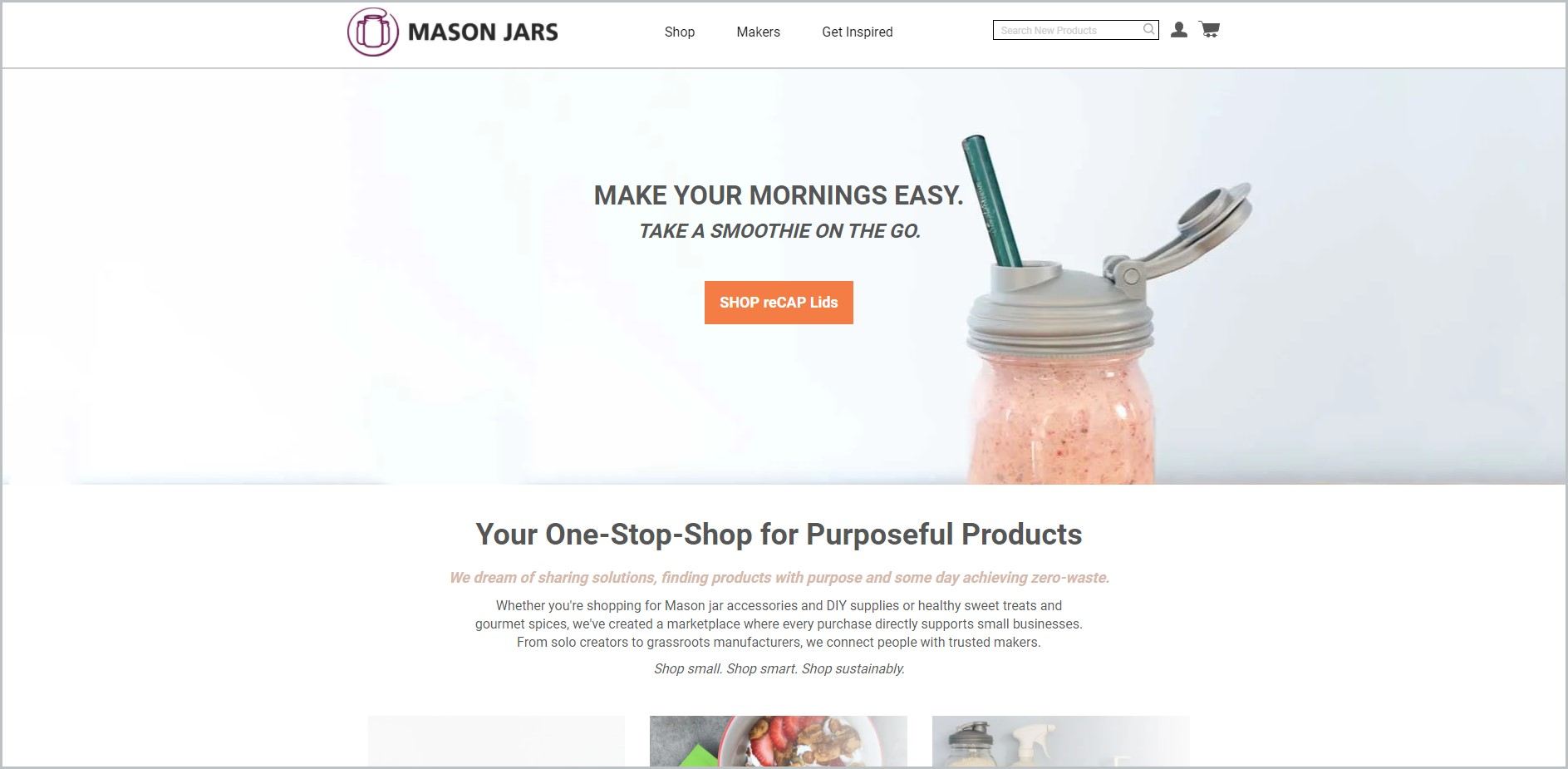 Mason Jars offer quality home products as well as DIY ideas that inspire innovation in people and support sustainable solutions. They are your one-stop-shop for canning supplies – from jars, rings, lids, and more.
By building a growing marketplace filled with purposeful products, they hope to promote responsible shopping, healthier communities, and support small businesses. They are also focused on American-made and eco-friendly merchandise.
Mason Jars's affiliate program is being administered by ShareASale. Affiliates will receive a 5% standard commission and have access to a dedicated in-house affiliate program management.
Why You Should Promote Mason Jars: Handcrafted, DIYed, and grassroots-manufactured products appeal to eco-conscious consumers.
5. WoolOvers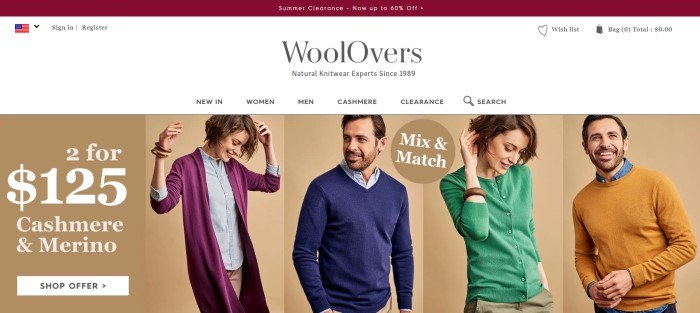 WoolOvers is a specialty knitwear shop that can help customers transition from summer sun to cozy Autumn comfort. This store sells sweaters for both women and men. Shoppers can search for the style they're looking for, such as ponchos, cardigans, or tunics. Besides sweaters and soft jersey knit apparel, the store also sells scarves, hats, socks, gloves, and slippers.
The knits feature several types of specialty yarns, including cashmere, merino, lambswool, cotton, and silk. There are also some sheepskin and leather products such as gloves. WoolOvers has a 28-day no-quibble return policy for most items and a 14-day return policy for sales items. Orders of $125 or more ship for free.
WoolOvers partnered with Awin to administer their affiliate program.
Why You Should Promote WoolOvers: These items are priced so that customers can reach the free shipping total with just a few items. This could drive the shopping cart total and the affiliate earnings up.
6. Lehman's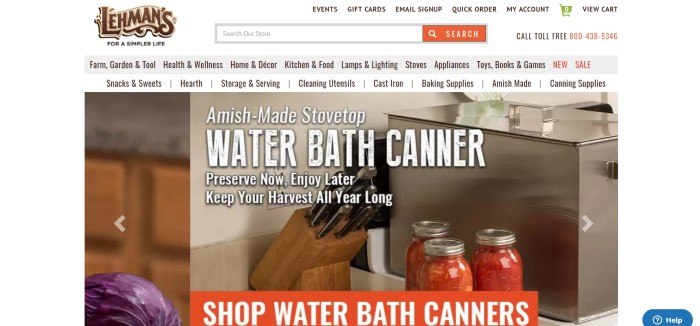 Lehman's is an online store that sells items for simple lifestyles, so it carries a wide variety of items that can help make Autumn easier. There are products for cutting and hauling wood, canning supplies, cast iron cookware, old fashioned stoves and accessories, and orchard tools like presses and rotary apple peelers.
These items are mostly Amish-made and motorless, so they will appeal to niche markets like green living or homesteading. Lehman's administers its affiliate program through Pepperjam.
Why You Should Promote Lehman's: Lehman's products are great for harvest season and preparing for cold weather. Some items, such as the hatches and axes, have relatively high price tags that can boost affiliate earnings, too.
7. Cabela's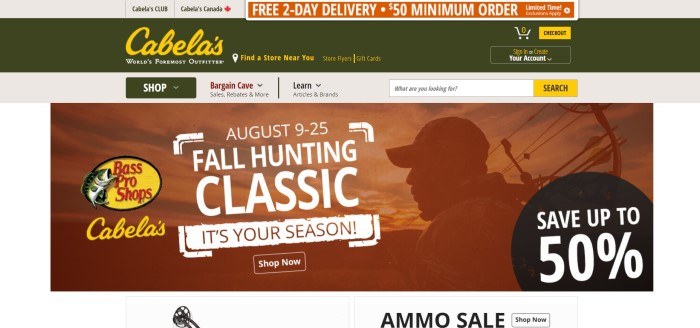 Cabela's is a well-known hunting outfitter. Customers can shop online for items such as decoys, game calls, blinds, scents and scent eliminators, camping supplies, and GPS units. The company also sells bows, arrows, guns, and ammunition, and food processing equipment to help hunters preserve food from their successful hunts.
Besides banners and links, Cabela's gives affiliates the option to use pre-written content in their promotional efforts. Cabela's uses both AvantLink and Impact Radius for its affiliate program.
Why You Should Promote Cabela's: Cabela's is a well-known outfitters store, so customers could feel comfortable ordering products referred through an affiliate link.
8. Alpaca Direct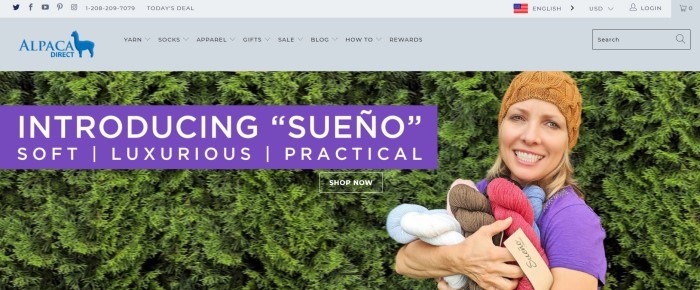 Alpaca Direct carries more than 2,000 unique items, including sweaters, socks, and yarns for people who like to knit. Many of the items are exclusive to Alpaca Direct. The alpaca fiber used in these products is cashmere-soft but stronger than wool.
Customers can shop for men, women, or children, and the items range from slippers and sweaters to stuffed alpaca toys. Women's sweaters are priced mostly between $50-100 each, and socks are priced around $10-20 per pair.
Alpaca Direct ships orders that total $49 or more for free in the United States. AvantLink administers the affiliate program.
Why You Should Promote Alpaca Direct: The specialty yarn made from alpaca fleece will draw in some customers. The website for this company also sells yarn directly and gives tips to people who want to knit or crochet their own sweaters.
9. Camofire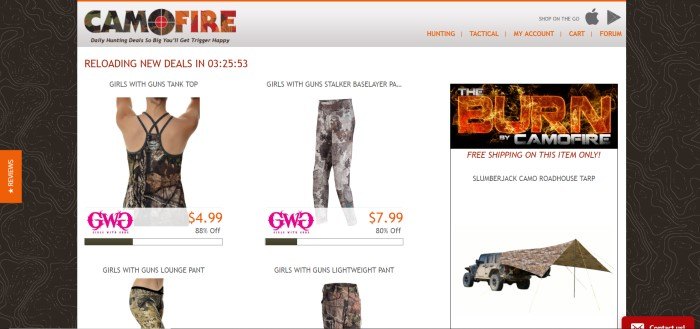 Camofire is a hunting and outdoor gear store.
The hunting gear sells quickly, so the inventory varies, but the store carries items like hunting decoys, skinning knives, and camouflage clothing for colder weather.
Many items are sold at 45-75% discounts. The website experience is fast-paced. New daily deals are loaded at 11 PM Mountain Time. The deals have count-down timers and an inventory bar. When the countdown closes or the inventory is gone, so is the deal.
There are new products daily and a deal-of-the-day. The average order value is $78.
Why You Should Promote Camofire: Camofire sells high-quality gear at steep discounts, which could convert customers. The countdown timers and inventory bars also make shopping at Camofire feel like a game.
10. MantelsDirect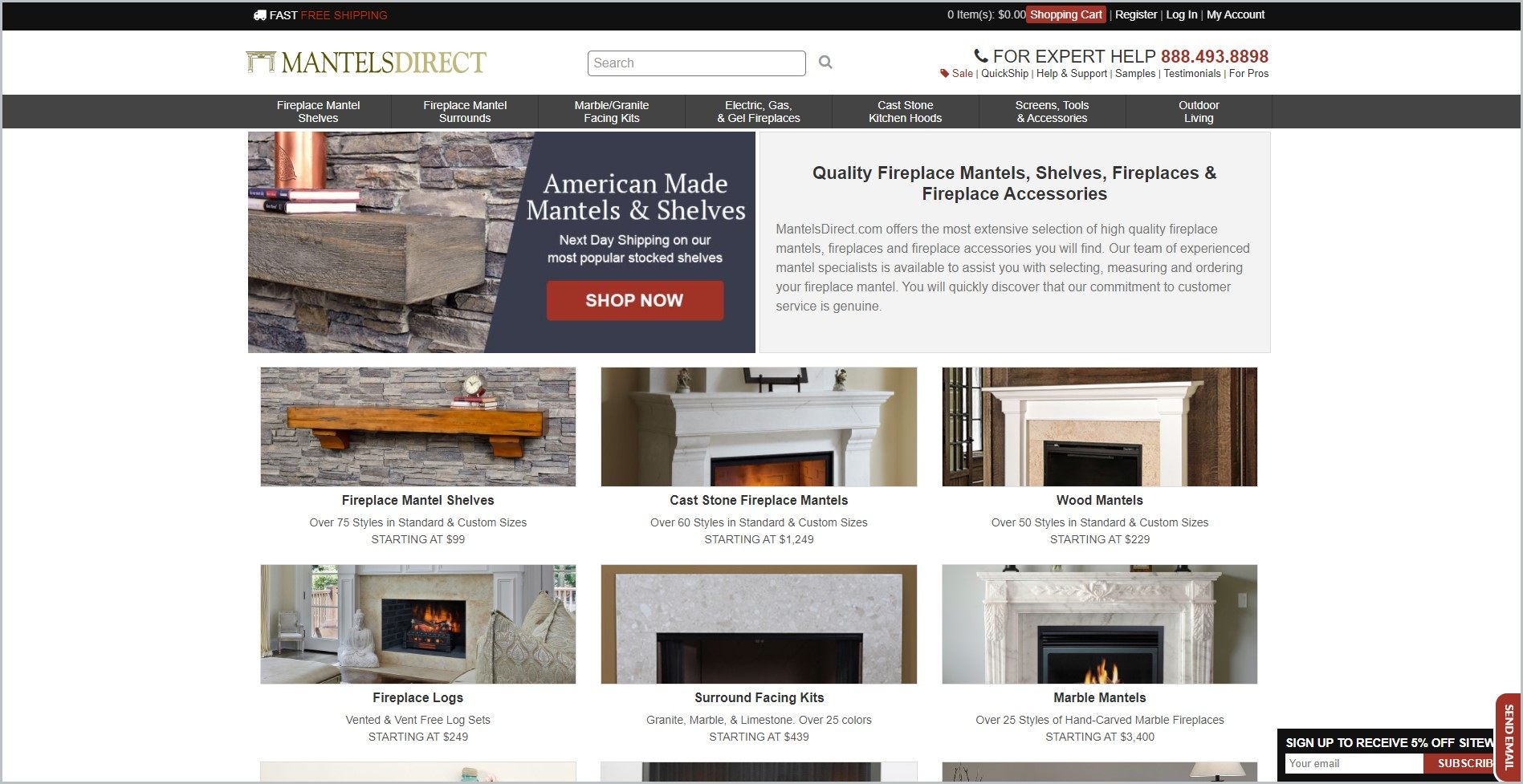 MantelsDirect offers the most extensive selection of high-quality fireplace mantels, fireplaces, and fireplace accessories. They have a team of experienced mantel specialists ready to assist in selecting, measuring, and ordering fireplace mantel.
They have a wide assortment of mantels, heaters, shelves, and outdoor fireplaces. They are more than willing to assist through every step of the process – from selecting, measuring, and to the installation process.
Why You Should Promote MantelsDirect: Aside from the generous commission, they have years of experience in the industry.
Affiliate Website Ideas
Now that you've read about the top 10 autumn affiliate programs, how will you use them in your niche marketing efforts?
One idea is to create a website that focuses on seasonal décor. You could promote seasonal décor items from stores like Ace Hardware, but you could also promote craft stores like Joann Fabrics or Hobby Lobby and home furnishing stores like Sierra Living Concepts.
What about a website focusing on fireplaces and wood heat? You could promote MantelsDirect fireplaces here, as well as old-fashioned wood cutting equipment from Lehman's. You could also feature companies that provide fire and accident insurance or small loans for purchasing fireplace inserts.
A niche website about scarves could feature stores like WoolOvers and Alpaca Direct. It could branch out into designer silk scarves, vintage scarves, or scarf-making equipment such as handlooms or knitting needles. Online courses for scarf-making could be featured here, too.
Boost Your Affiliate Earnings
These 10 affiliate programs are just the beginning of what's possible. There are hundreds of ways to earn affiliate commissions with your website, including product reviews, top 10 lists, how-to guides, and more
But what about traffic and conversions? How do you make sure your affiliate links get clicked?
I used the affiliate training here to turn my brand new website into a six-figure income generator in less than two years. Build a business, not just a pocket-money side project!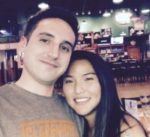 Nathaniell
What's up ladies and dudes! Great to finally meet you, and I hope you enjoyed this post. My name is Nathaniell and I'm the owner of One More Cup of Coffee. I started my first online business in 2010 promoting computer software and now I help newbies start their own businesses. Sign up for my #1 recommended training course and learn how to start your business for FREE!