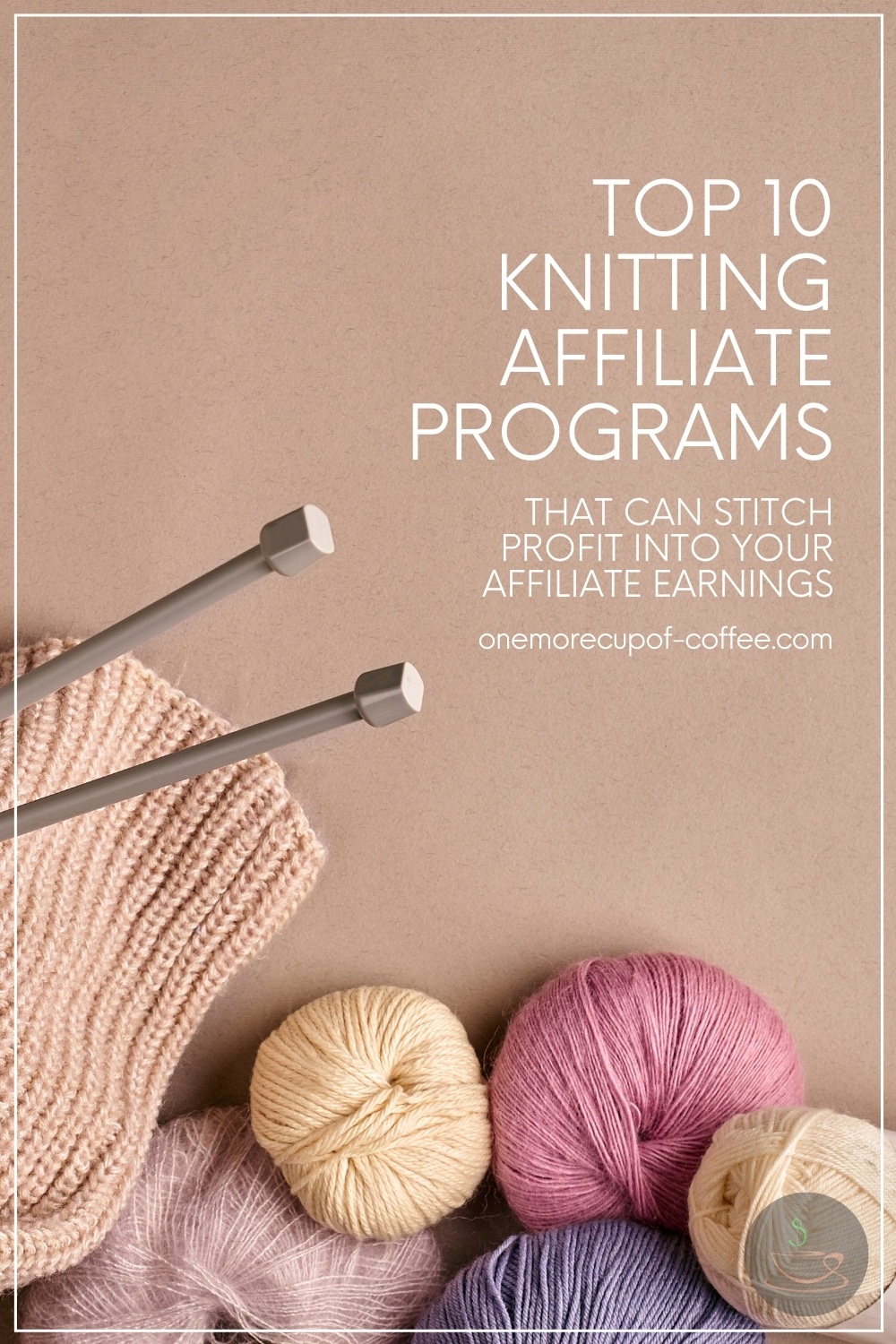 For some people, the idea of knitting can bring up images of grandmotherly figures in rocking chairs or young mothers with baskets full of baby yarn. However, knitting is enjoyed by a wide variety of people. Around 2 million men and boys in the U.S. knit, including retired businessmen and MMA fighters.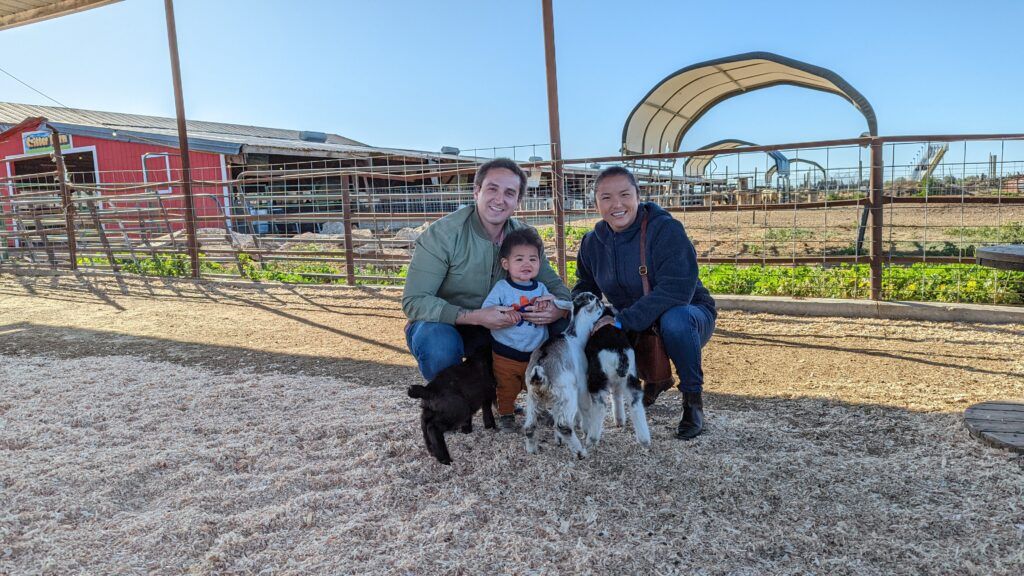 Are You Ready To Work Your Ass Off to Earn Your Lifestyle?
Are you tired of the daily grind? With a laptop and an internet connection I built a small website to generate income, and my life completely changed. Let me show you exactly how I've been doing it for more than 13 years.
In 2018, the knitting market was worth about $2.79 billion in the United States. Suffice to say, knitting has become a cool activity for a lot of people. That's good news for affiliate marketers, who can make money connecting people who love all-things-knitting with those who have goods and services to provide.
If you're interested, read about these top 10 knitting affiliate programs and see what kinds of ideas come up for new niche markets to try.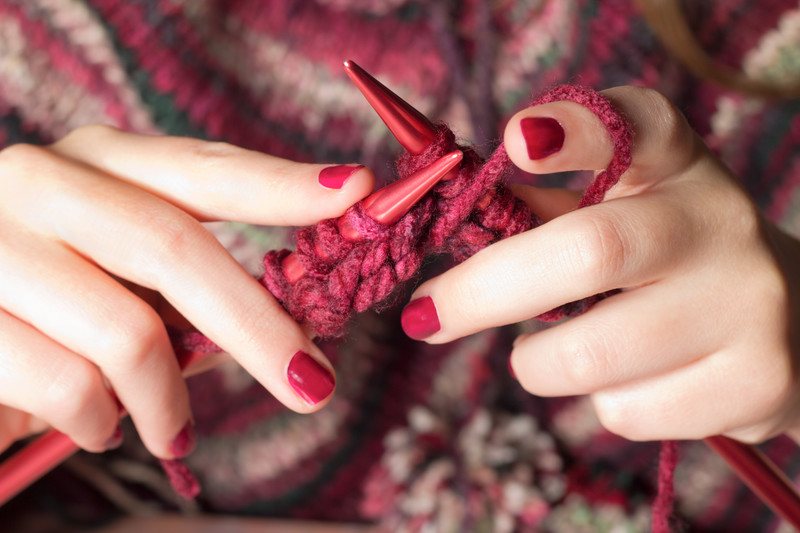 Knitting Affiliate Programs
Ice Yarns
The Woolery
Annie's Craft Store
Alpaca Direct
Wool and the Gang
Leisure Arts
Jo-Ann Fabrics and Crafts
Yarnspirations
Knit Picks
Deramores
1. Ice Yarns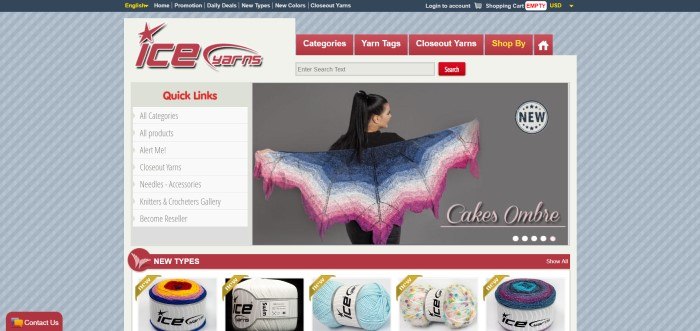 Ice Yarns is a company that sells a wide variety of yarns, knitting needles and accessories, and hand-knitted items. The yarn is sold in lots, or packages of skeins, rather than individual skeins. The prices are very reasonable, but the shipping might seem high. The items ship from Turkey.
This site has quite a few discount choices that could help convert shoppers. The company holds a special promotion every Tuesday that includes a lot of different items. There's also a bargain bin, occasional 'garage sales,' and closeout sales.
The Ice Yarn website includes a gallery of projects for knitters and crochet crafters. This is especially nice because the gallery includes photos of the projects as well as the type of yarn used and the instructions for making each piece.
Why You Should Promote Ice Yarns: Even though the shipping is higher, the price per skein can be less than a dollar each. This could attract knitters who like to buy yarn for more than one project at a time.
2. The Woolery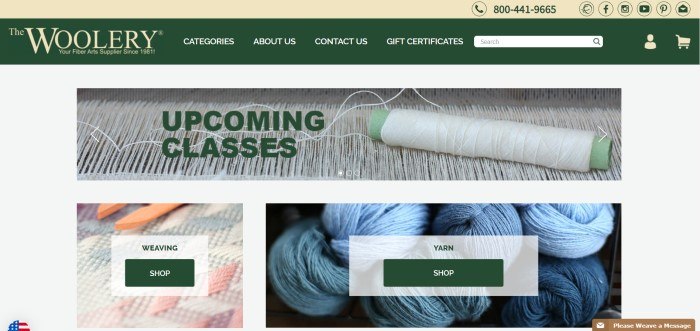 The Woolery supplies yarn, tools, and other fiber art supplies to knitters, spinners, weavers, and rug-makers. The yarn prices are a little more spendy than with some other companies, but there are a lot of different types and colors of yarn to choose from. Many of the yarns are 100% wool or cotton.
Besides yarn and tools, The Woolery offers classes at its in-store locations in Kentucky, and the company sells books, magazines, and video courses on the website.
The Woolery only accepts affiliates who have websites that deal with the fiber arts.
Why You Should Promote The Woolery: Occasionally, the Woolery will have special sales or promotions that can be used to draw in shoppers. There's also a 30-day, money-back guarantee for customers.
3. Annie's Craft Store
Annie's Craft Store carries a nice selection of patterns for knitters and crocheters, as well as books, magazines, and kits. Supplies such as knitting needles and organizers are also sold here.
Annie's Craft Store offers affiliate programs through both ShareASale and CJ. With both programs, affiliates get 30% for online video classes and $20 for every sign-up for Annie's Creative Studio Free Trial. For all other purchases, the commission is 20% for new customers and 5% for returning customers.
Why You Should Promote Annie's Craft Store: The commission structure is nice, and the ability to make commissions on returning customers is a plus.
4. Alpaca Direct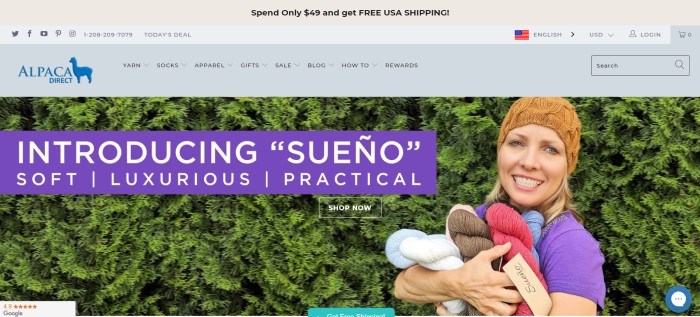 Alpaca Direct sells yarn and knitting needles, ready-made socks and apparel, and fur alpaca toys. Altogether, there are more than 2,000 items, and many of them are sold only on AlpacaDirect.com.
The yarn runs about $9-22 per skein, so it's a little more expensive than what you might find on other websites. It comes from Alpaca fleece, which is warm like wool but without the scratchiness or allergens that sometimes come with wool.
Alpaca Direct runs its affiliate program through AvantLink.
Why You Should Promote Alpaca Direct: Because the yarn comes specifically from alpacas, these products could fit well with niche markets. The higher prices can translate to better commissions, too, although this company doesn't list its commission rate on the affiliate page.
5. Wool And The Gang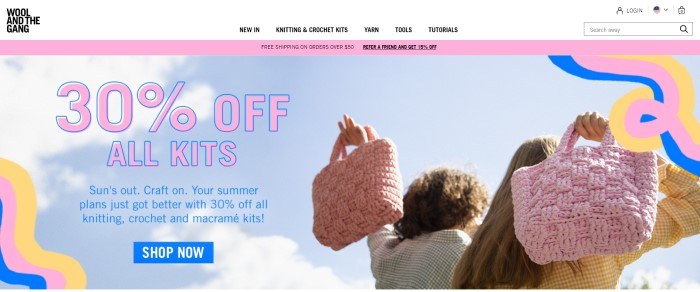 The premise behind Wool And The Gang is that fashion should start in the home with hand-knitted items. The company sells knitting project kits that range from around $20-$225. There are also crochet kits, supplies such as knitting needles, and yarn.
The yarn itself costs around $9-$25 per skein. A lot of the yarn is made from wool, but Wool And The Gang also sells yarn made from recycled plastics mixed with cotton, eucalyptus tree fiber, mohair, and alpaca fleece.
Wool And The Gang administers its affiliate program through Rakuten Linkshare.
Why You Should Promote Wool And The Gang: This company has a strong passion for sustainability, and this could be a draw for some customers.
6. Leisure Arts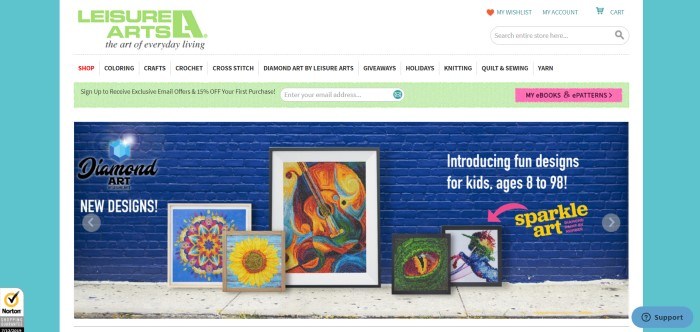 Leisure Arts is an online store that sells craft supplies. Besides knitting needles and yarn, Leisure Arts carries items for crochet, diamond art, cross-stitch, quilting, and coloring books. There are several categories of knitting patterns covering everything from apparel to dishcloths and making knitted lace.
Leisure Arts offers free shipping for orders in the United States that total $35 or more.
Their affiliate program is managed through ShareASale.
Why You Should Promote Leisure Arts: This store has a monthly drawing for free items, such as pattern books. This could be a way to attract new customers. The free shipping is a plus, too, and the cookie length is a decent length.
7. JoAnn Fabrics and Crafts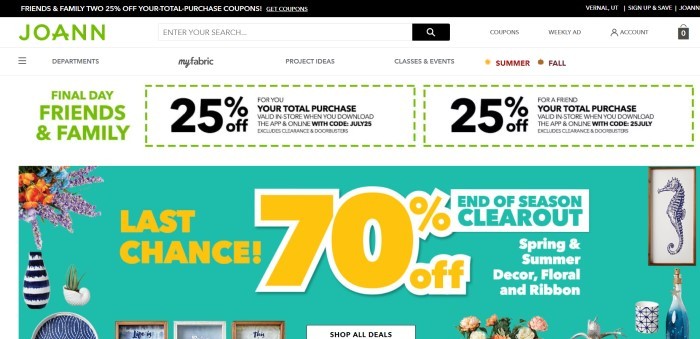 JoAnn Fabrics And Crafts is a well-known store that sells supplies for several types of crafting, including sewing, beading, scrapbooking, painting, and yarn arts such as knitting and crocheting. The store offers coupons for both in-store and online shopping and frequent sales.
As far as knitting supplies go, JoAnn carries yarn, knitting needles and tools, kits, and looms. There are also items like stress gloves, blocking mats, and yarn bowls for customers who knit often.
Why You Should Promote JoAnn Fabrics And Crafts: Because it's a well-known name, people who like to knit could feel confident clicking on an affiliate ad that links there. However, the company doesn't list the affiliate commission rate or cookie length on the affiliate site, so it's difficult for new affiliates to get a feel for how much they can make with this website. One can signup for free at Rakuten to learn more.
8. Yarnspirations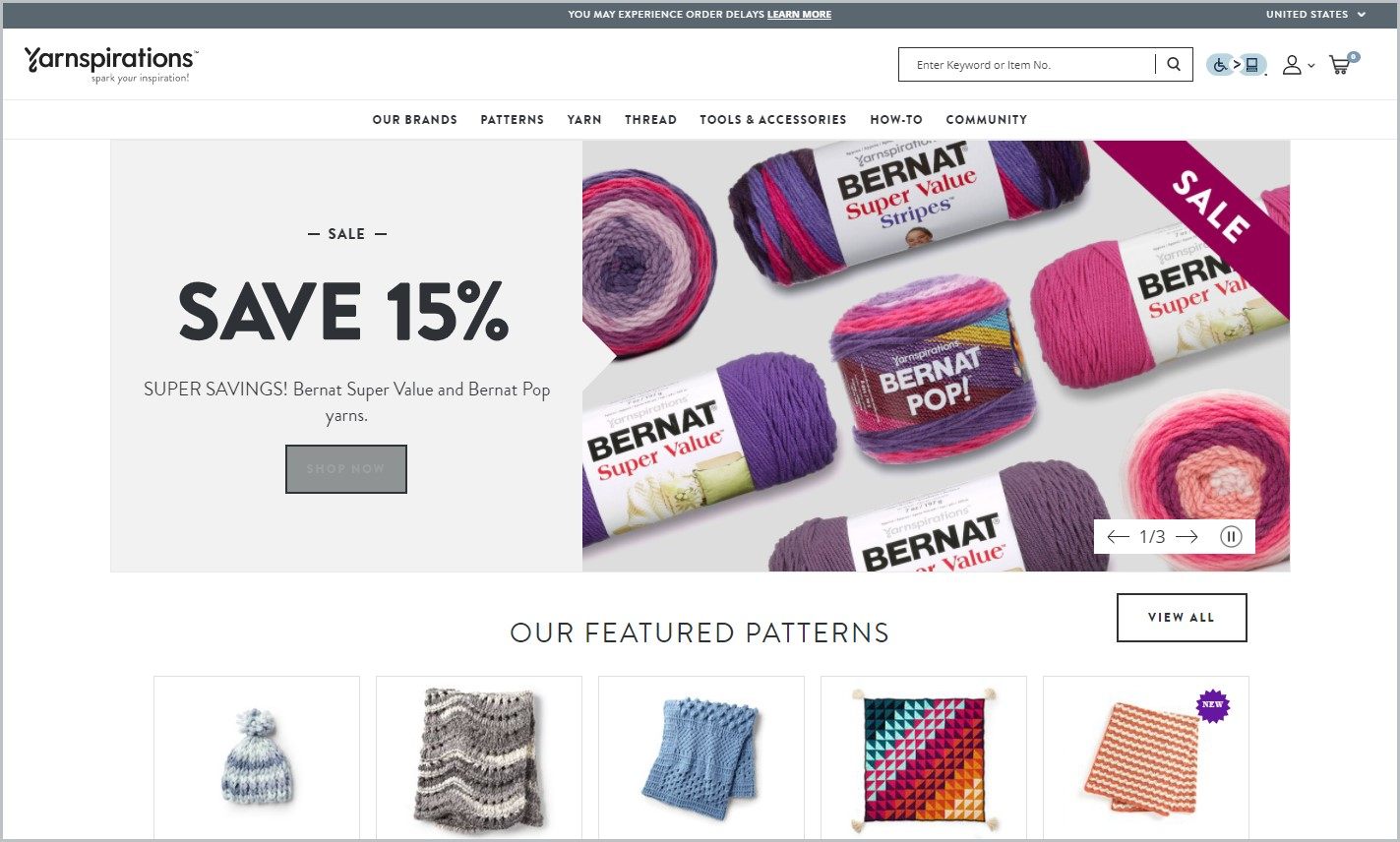 Yarnspirations is America's Favorite Yarn Brand, they got patterns, yarns, thread, tools, and other accessories for your knit, crochet, craft, sewing, quilting, or embroidery project. With Yarnspirations, one can discover new stitches and skills and get tips and tricks from the masters of the trade. You can also browse their catalog of lookbooks or explore their curated collections of patterns that are designed to ignite the joy and spark your inspiration.
Their affiliate program is run through Commission Junction. Affiliates will be earning up to 5% commission. Yarnspirations' average order value is $40, with site-wide promotion available. They maintain 99+% in-stock levels on the widest range of Yarnspirations products available in the market.
Why You Should Promote Yarnspirations: It's great to earn money while showcasing a nationally recognized and trusted brand, carries a great selection of quality trusted yarns with over 100 colors, many of which are made in the USA.
9. Knit Picks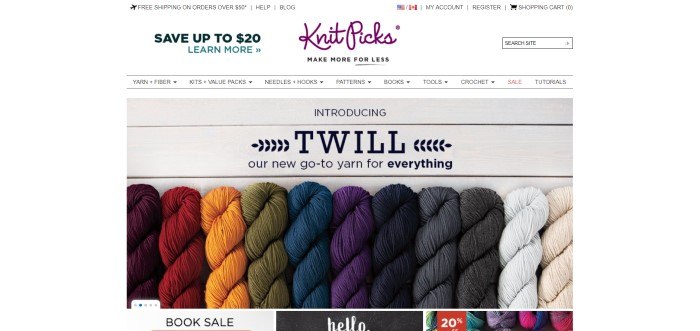 Knit Picks is a one-stop type of shop for knitters. The company sells yarns and fibers, knitting needles, crochet hooks, looms, kits, books, patterns, and value-packs of yarn. Orders of $50 or more get free shipping.
This company also has monthly subscription boxes. For a monthly fee, customers can receive monthly deliveries of items that the company picks in five different categories. There's a subscription box for people who want to expand beyond basic knitting, for those who love sock yarn, one specifically for creating socks, a box for crochet, and a 'fan favorites' box.
Affiliates can sign up via ShareASale.
Why You Should Promote Knit Picks: The idea of subscription boxes is a fun option that could help convert shoppers, and the free shipping is nice, too. Many of the patterns are exclusive to Knit Picks, too, and that could be a draw for people who want something unique.
10. Deramores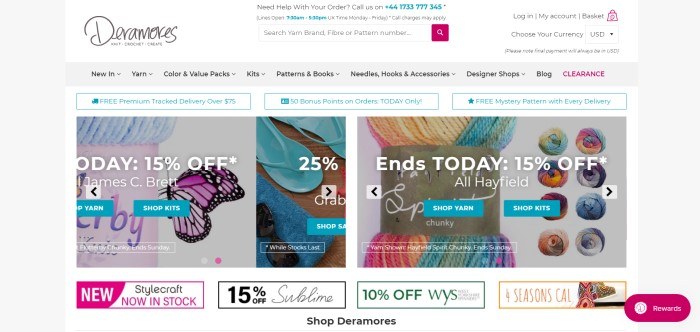 Deramores, which is based in the UK, sells an independent yarn brand, more than 20 other brands of yarn, patterns, ready-to-use kits, and books.
Since 2011, Deramores has consistently won a variety of annual knitting awards, such as the British Knitting Awards for best online store and best independent yarn brand.
In the United States, delivery is free for orders of $75 or more. Every delivery gets a free mystery pattern. Deramores affiliate program is run via Awin. There's also a customer rewards program.
Why You Should Promote Deramores: Some customers might convert because they're curious about the awards and want to try the products out. The free delivery, the free pattern, and the customer-rewards program can help draw customers in, too.
Affiliate Website Ideas
Now that you've read about the top 10 knitting affiliate programs, how will you put them to use in your niche market websites?
What about a website focused on hypoallergenic fiber products? This type of niche market could promote hypoallergenic yarns. Apparel, furniture, skincare products, and baby products could also be featured here, and items like air purifiers might be a good fit, too.
A niche market that focuses on ways to destress could be a fun way to promote knitting (and knitting products) as a hobby. A website like this could also promote life coaches, guided meditation or hypnosis downloads, white noise machines, gym memberships, and supplies for other hobbies, such as painting, music, or writing.
A website that supports something like investing in alpacas could be interesting, too. Knitting with yarns made from alpaca fleece could be promoted, along with investment strategy software and apparel made from alpaca yarn.
Boost Your Affiliate Earnings
These 10 affiliate programs are just the beginning of what's possible. There are hundreds of ways to earn affiliate commissions with your website, including product reviews, top 10 lists, how-to guides, and more
But what about traffic and conversions? How do you make sure your affiliate links get clicked?
I used the affiliate training here to turn my brand new website into a six-figure income generator in less than two years. Build a business, not just a pocket-money side project!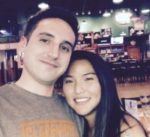 Nathaniell
What's up ladies and dudes! Great to finally meet you, and I hope you enjoyed this post. My name is Nathaniell and I'm the owner of One More Cup of Coffee. I started my first online business in 2010 promoting computer software and now I help newbies start their own businesses. Sign up for my #1 recommended training course and learn how to start your business for FREE!