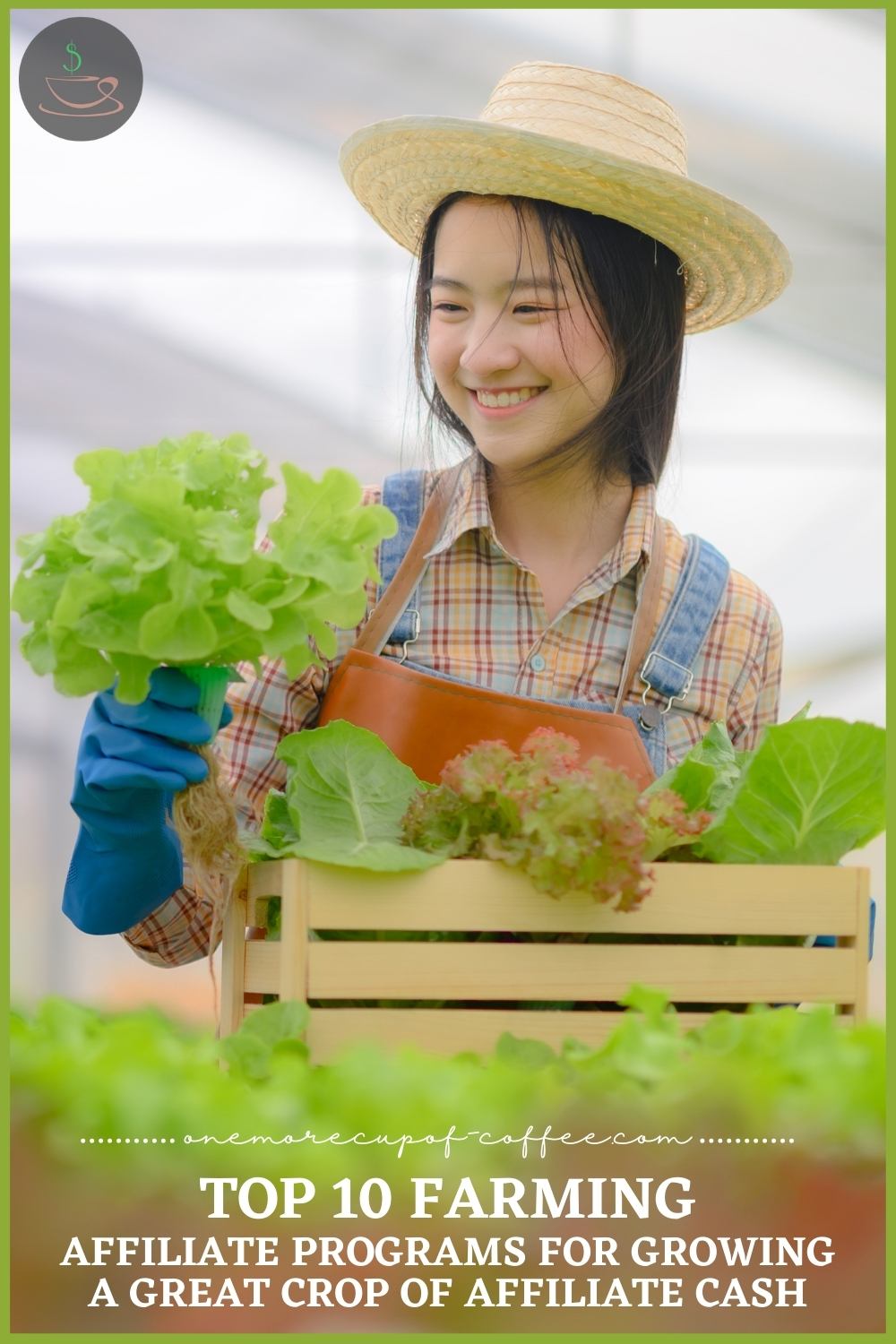 While agriculture and related industries only provide about 11% of the employment in the United States, America's farms provide around $132.8 billion of the gross domestic products.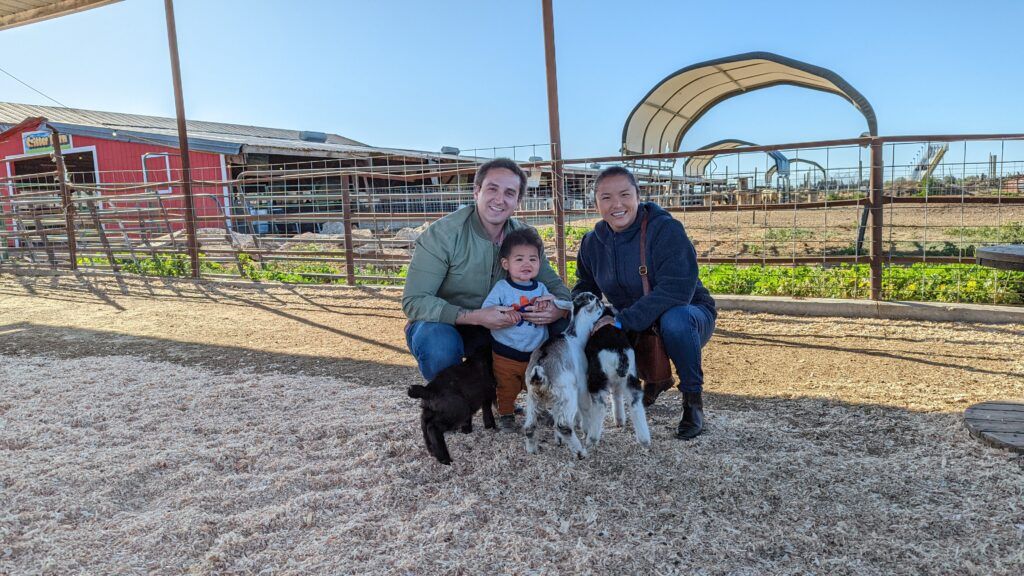 Are You Ready To Work Your Ass Off to Earn Your Lifestyle?
Are you tired of the daily grind? With a laptop and an internet connection I built a small website to generate income, and my life completely changed. Let me show you exactly how I've been doing it for more than 13 years.
Farming can be an expensive industry to participate in. Farm equipment and supplies often cost thousands of dollars, so finding ways to make ends meet can be difficult for small family farms. Affiliate marketers can help by providing them with connections to the supplies they need.
When farmers can enjoy the convenience of shopping from home, they can often find products their local stores don't carry, and they save time, which allows them to get more work done and make more money themselves.
If you're interested in promoting farming-related products, read through this list of the top 10 farming affiliate programs. I'll share some ideas at the end of this article that could help you incorporate some of these ideas into your affiliate websites. If you're farming at home, you might also like these homesteading and hydroponics products to promote as well.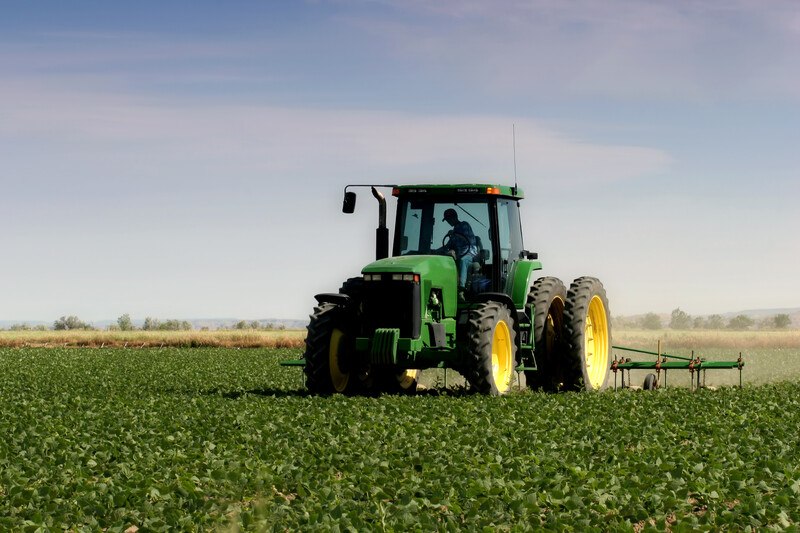 Farming Affiliate Programs
Bootstrap Farmer
Valley Farm Supply
Ace Hardware
PerfectBee
Tractor Supply
Chelsea Green
Arbico Organics
Urban Farm U
Endless Food Systems
Lehman's
1. Bootstrap Farmer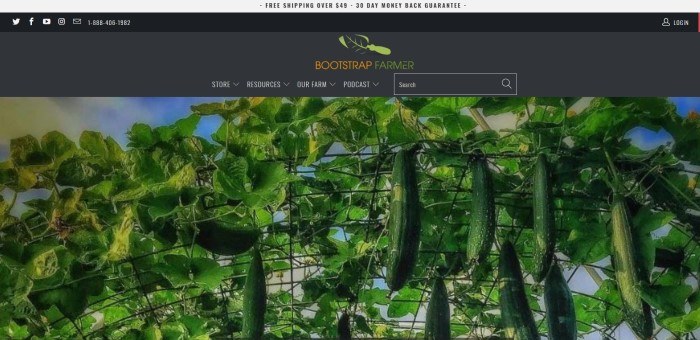 Bootstrap Farmer is a greenhouse store that sells products meant to help urban farmers and others get their crops started and grow food during unfavorable weather. Products include seed trays, greenhouse kits, wiggle wire, grow bags, melon cradles, and greenhouse parts.
The average sale order value is $120 or more. However, the base kits for full greenhouse kits start at around $500 for a six-foot-wide, 20-foot long greenhouse. A 20-foot wide, 100-foot long greenhouse kit is currently priced at $1,840. Customers can build their own DIY kits on the website, and they can also buy tools such as pole benders to help ease the setting-up process.
Bootstrap Farmer runs its affiliate program through ShareASale. All orders of $25 or more are shipped for free.
Why You Should Promote Bootstrap Farmer: Besides the 10% commission rate, this company provides affiliates with bonus commissions.
2. Valley Farm Supply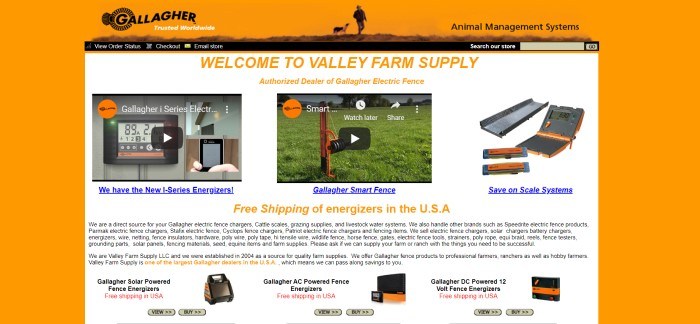 Valley Farm Supply sells animal management systems in the United States for farmers who keep livestock. This company sells items such as electric fences, electric fence energizers, grazing supplies, cattle scales, wildlife fences, horse fences, gates, solar panels, seeds, livestock water systems, and other farming supplies.
Some products receive free shipping in the United States. The prices per product vary, but they can come with high price tags. For example, electric fence chargers can be $1,000 or more, and livestock watering systems start at around $540 each. Customers who spend $1,000 or more get free shipping on the entire order.
Why You Should Promote Valley Farm Supply: For affiliate marketers, the relatively high price tags could mean more affiliate earnings per sale. Customers can enjoy the convenience of online shopping with free shipping options, which gives them more time to invest in actual farming.
3. Ace Hardware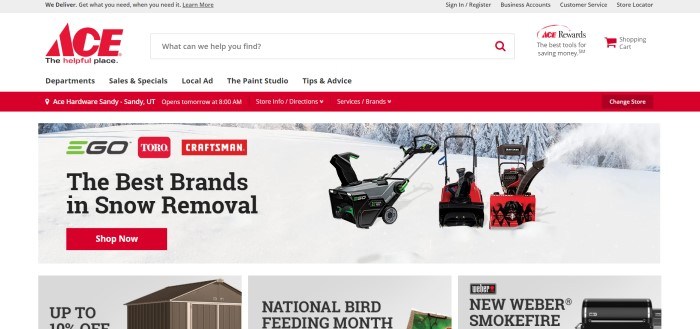 Ace Hardware is a general hardware store with an online store as well as several brick-and-mortar stores across the country. Farmers can browse the website or search for products they need, including items like animal feeders and waterers, beekeeping supplies, fencing, shovels, heaters, chicken coops, animal feed, and more.
This company provides a few different shipping options. Some items can be shipped directly from the warehouse to the customer's home. The customer can also choose to have items delivered from a nearby store. Customers can pick up their orders for free at a local Ace Hardware store or warehouse.
Why You Should Promote Ace Hardware: Although the company doesn't list its commission rate, the great selection of farming supplies and other hardware could convert shoppers and bring up the total order value.
4. PerfectBee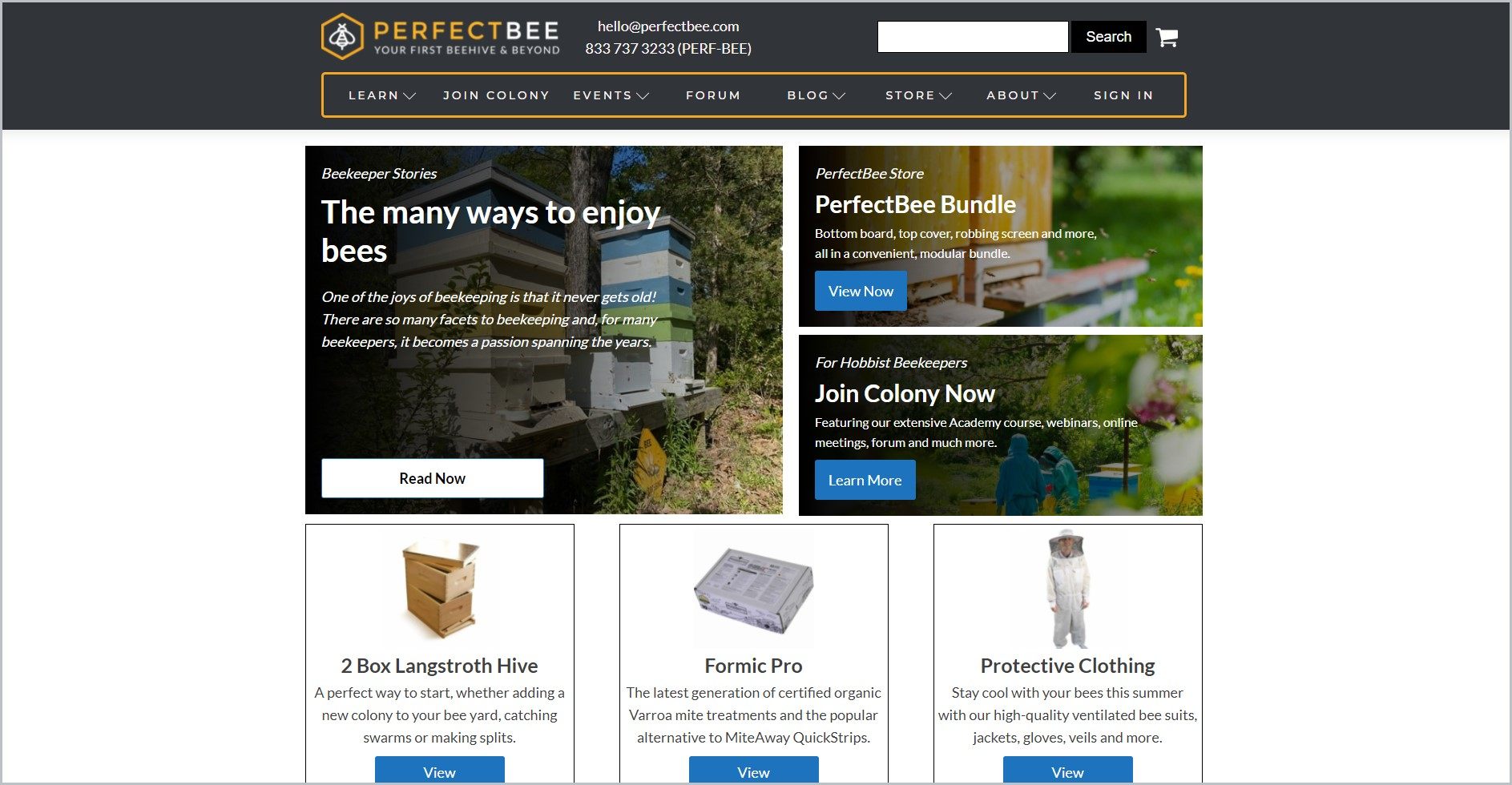 PerfectBee offers unique Colony membership with many benefits to the hobbyist beekeeper. It includes their Academy course, webinars, store discounts, access to the members-only Facebook groups, and more. Colony features benefits to help learn about beekeeping, engage with other beekeepers and save money on beekeeping supplies.
Their wide range of beautiful hives are made in the US, they have cost-effective boxes, frames, quality tools, ventilated and non-ventilated clothing options, extraction products, and more. They also carry colony health and management products that will give you the insight you need and proactive options to keep your bees healthy.
Their affiliate program offers its affiliates a 25% commission for 1-5 active referrals, 30% commission for 6-14 active referrals, and 40% commission for 15 and up active referrals.
Why You Should Promote PerfectBee: Aside from the generous commission, it's a big plus that the Colony members will enjoy access to PerfectBee Ambassadors who are highly experienced beekeepers from across the country.
5. Tractor Supply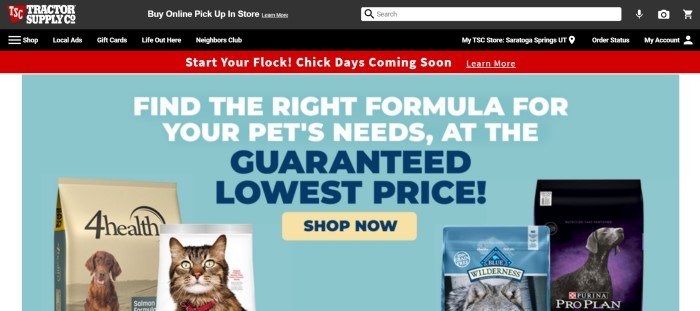 Tractor Supply is the nation's largest farm and ranch supply retailer. This company sells a wide range of farming supplies both online and in local stores, including tractors and attachments, fencing, farming equipment, beekeeping supplies, chicken coops, live poultry, dairy supplies and equipment, and other farming necessities.
The affiliate program is administered through Pepperjam. Affiliates are provided with promotional materials such as ads, as well as marketing strategies, and a monthly newsletter.
Why You Should Promote Tractor Supply: The store is well-known, and that could help convert some shoppers. The enormous product selection could increase shopping cart totals, too.
6. Chelsea Green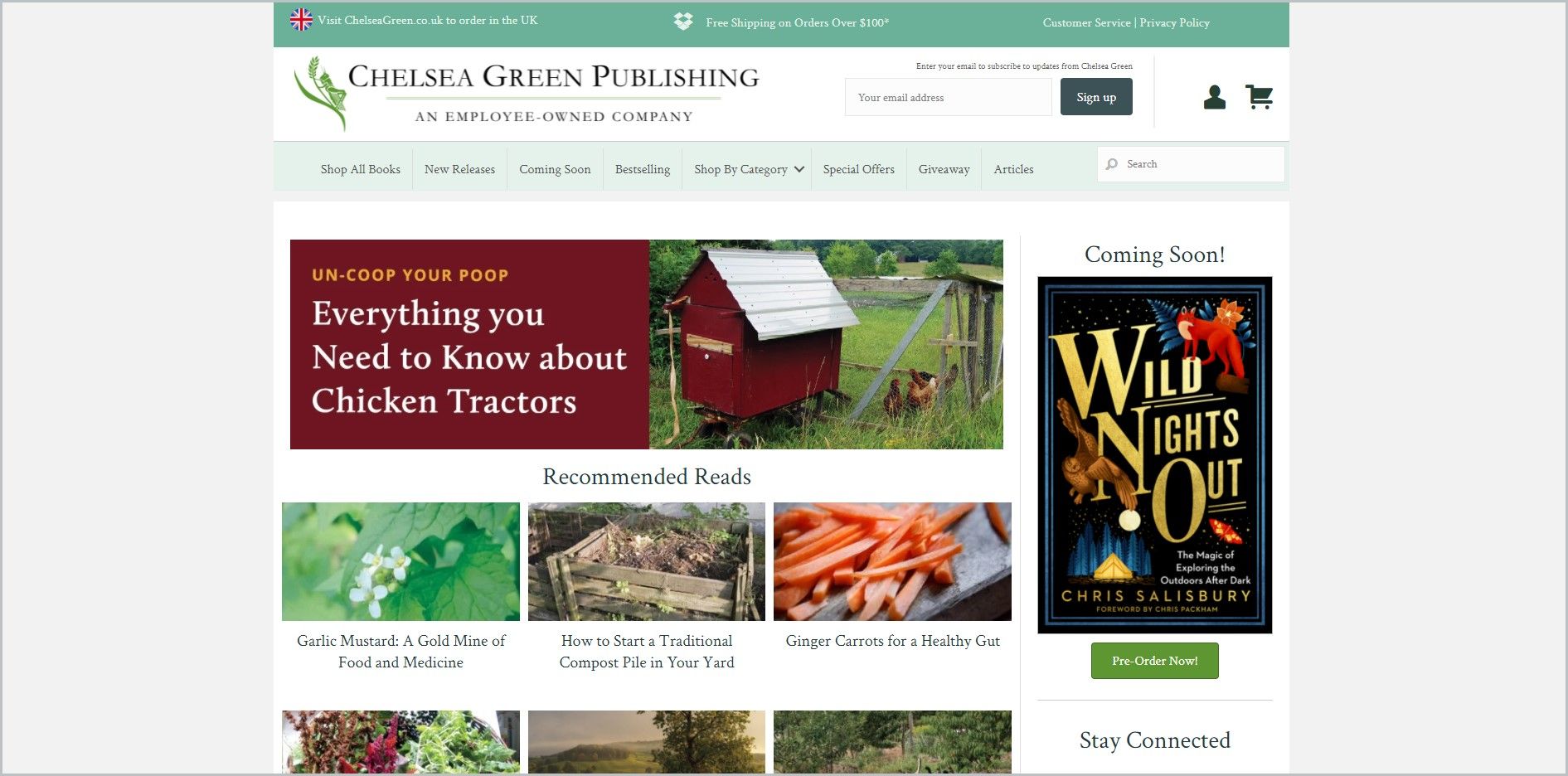 Chelsea Green is founded in 1984 and is recognized as a leading publisher of books on the politics and practice of sustainable living. They publish authors who bring in-depth and practical knowledge to life that will give readers hands-on information about organic farming and gardening, ecology and the environment, and healthy food. They also publish books about sustainable economics, progressive politics, and integrative health and wellness.
Chelsea Green titles have received numerous awards including a New York Times Notable Book of the Year, 800 CEO Read Business Book of the Year Award, a Los Angeles Times Book Prize finalist, ALA and Booklist Notable Books of the Year, and more.
Chelsea Green leads the industry both in terms of content and in terms of environmental practice – they print 95 percent of their books on recycled paper. They also print their books in North America, as opposed to overseas.
Why You Should Promote Chelsea Green: They have more than 30 years of experience carrying award-winning and groundbreaking books. The average order value is $45.
7. Arbico Organics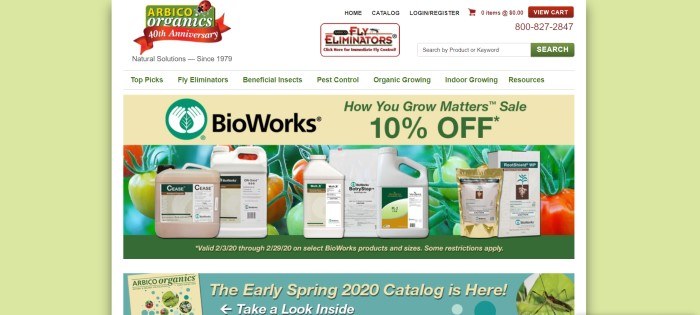 Arbico Organics is an organic pest control company that can help farmers, pet owners, and others take care of insect pest problems such as flies or fleas. This company carries special products for horses and livestock. Besides natural insecticides and insect repellents, Arbico Organics provides beneficial insects that can help control crop-destroying or livestock-annoying pests.
This company also provides naturally sourced fertilizers and promotes holistic growing practices such as indoor growing, organic growing, and chemical-free living.
Why You Should Promote Arbico Organics: Arbico Organics focuses on natural solutions, which could be both effective and socially rewarding. The commission rate is decent, too.
8. Urban Farm U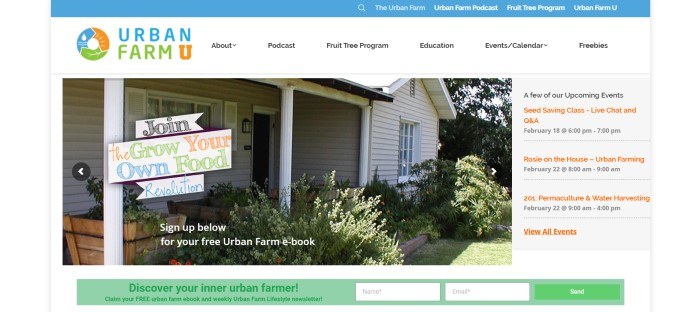 While it's not a traditional farming company, Urban Farm U helps people in urban areas learn gardening and farming techniques they can use to grow their own nutritious food in ways that are sustainable and budget-friendly.
This company is educational in nature, offering several online courses and webinars for urban farming practices such as aquaponics, raising poultry, planting fruit trees, and keeping goats. Courses range from $97-$297 each. They cover a variety of different topics as well as different course lengths, so customers can make purchases based on both time commitments and financial budgets. All courses come with a 30-day, money-back guarantee.
Besides the variety of educational courses, this company offers a fruit tree program that takes customers all the way to buying and planting fruit trees.
Why You Should Promote Urban Farm U: The commission rate isn't listed, so it's difficult to see how much you could make with this company. However, the courses are reasonably priced, and the fruit tree program is intriguing.
9. Endless Food Systems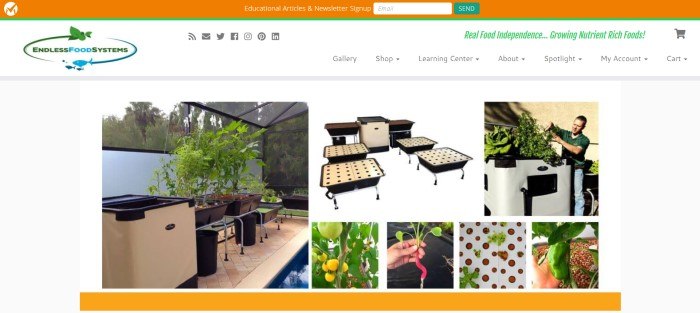 Endless Food Systems focuses on providing information and supplies for eco-friendly growing practices that could benefit small farms as well as backyard gardens. Products include full aquaponics systems, greenhouses, lighting, pumps, accessories, and training materials.
Some of the products are relatively expensive. For example, a full aquaponics system can cost around $7,300. Greenhouses also cost thousands of dollars. Many of the products could help small farms seeking to diversify their crops.
Why You Should Promote Endless Food Systems: Although this company doesn't list its commission rate, the high-ticket items could mean some decent affiliate revenue with each sale.
10. Lehman's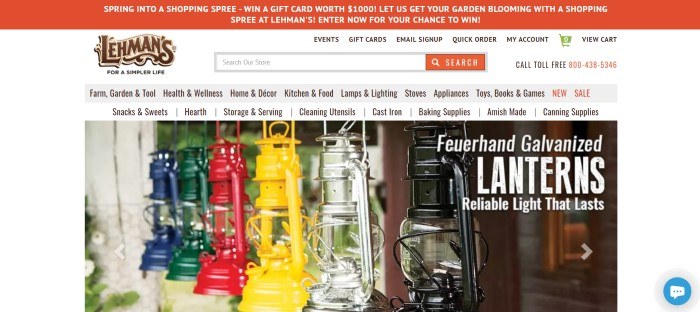 Lehman's sells homesteading equipment such as canning supplies and cast-iron cooking pots, as well as farming supplies and tools. Some of the products that could appeal most to farmers include beekeeping equipment, tools for cutting and hauling wood, pest control, animal feeders, apple harvesting tools, seeds, and supplies for raising chickens.
Lehman's has been in business since 1955. Many of the products it sells are made by the Amish community. Lehman's has a 90-day return policy.
The affiliate program is administered through Pepperjam. Affiliate marketers have access to exclusive offers they can share with potential shoppers.
Why You Should Promote Lehman's: The commission rate is decent, the products are of high quality, and the selection is great.
Affiliate Website Ideas
This list of the top 10 farming affiliate programs has some great ideas that could be incorporated into affiliate websites. Here are some ideas to get you started:
IDEA #1: A website that focuses on green living could promote programs like Arbico Organics or Endless Food Systems from the list above. This type of website could also feature organic essential oils, gardening tools, natural skincare products, and organic clothing for children.
IDEA #2: A website about fine dining and wines could also delve into the ins and outs of winemaking, including the vineyards that produce them. Programs like Farm And Ranching, listed above, could help, as well as tools and supplies from places like Lehman's that customers could use to make their own products. Wines, cheeses, chocolates, and fine gourmet foods could also be featured on this type of website.
IDEA #3: A website to help children love the outdoors could incorporate a lot of these types of programs, as well. Anything relating to homesteading or small family farming could be featured on a website like this one, as well as camping gear, hiking equipment, hunting and fishing supplies, and large-ticket items like kayaks or snowmobiles.
Boost Your Affiliate Earnings
These 10 affiliate programs are just the beginning of what's possible. There are hundreds of ways to earn affiliate commissions with your website, including product reviews, top 10 lists, how-to guides, and more
But what about traffic and conversions? How do you make sure your affiliate links get clicked?
I used the affiliate training here to turn my brand new website into a six-figure income generator in less than two years. Build a business, not just a pocket-money side project!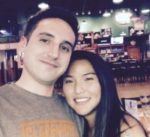 Nathaniell
What's up ladies and dudes! Great to finally meet you, and I hope you enjoyed this post. My name is Nathaniell and I'm the owner of One More Cup of Coffee. I started my first online business in 2010 promoting computer software and now I help newbies start their own businesses. Sign up for my #1 recommended training course and learn how to start your business for FREE!