Growing up, I knew a farmer who would take his calves to auction every autumn. It was a noisy, messy affair, with each calf being shown individually to a crowd of onlookers in a rodeo arena. It took all day long to load the cattle up, haul them to the auction site, and wait for them to be auctioned.
Compare that to the online auctions that are the norm today. The principle is the same because people still bid against each other for the items they want. However, the inventory is much wider, and the process is done almost completely virtually.
There are quite a few types of auction websites, and many of them have affiliate programs. The best auction affiliate programs cover everything from fashion and collectibles to real estate and domain names.
If you're interested, read through this list of the top ten auction affiliate programs. If it looks like something that might interest you, feel free to read my comments below the bottom of the list, where I'll share some ideas of how to get started.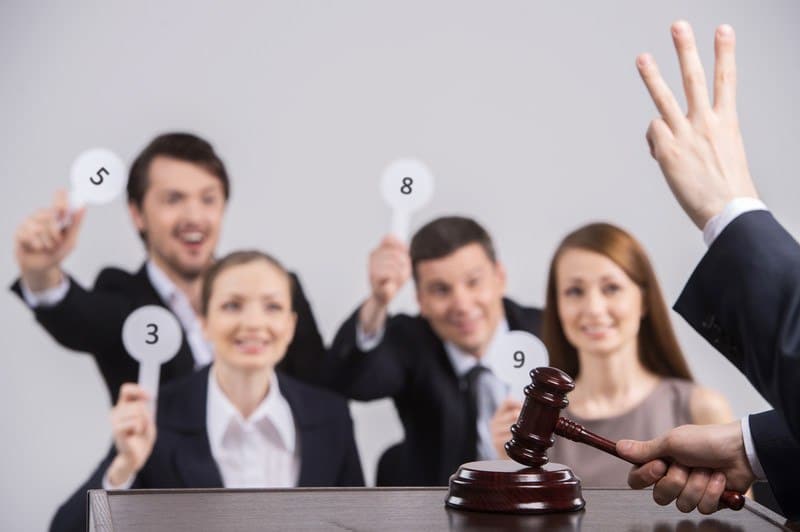 Auction Affiliate Programs
Auction King
GovernmentAuctions.org
Overstock
Dynadot
Auction Auto Bidder
Liquidation.com
Global Listings
Tophatter
Wilson Auction Company
eBay
1. Auction King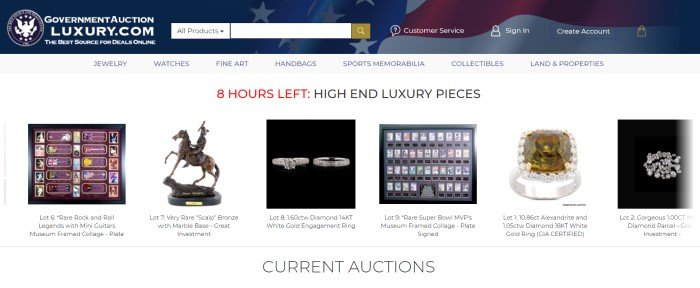 Auction King auctions jewelry, watches, fine art, handbags, sports memorabilia, collectibles, and land or property online. These items are high-end, and they are priced at $100 to $10,000 or more. Auctioned items include Rolex watches, Louis Vuitton purses, and other designer or collectible products. The average sale is $777.31.
Affiliates are provided with banners and links to help them promote the auctions. They're also allowed to post about the auctions on social media. The affiliate program is administered through ShareASale.
Why You Should Promote Auction King: Auction King is one of the fastest-growing online luxury auction websites. It offers designer goods at a discount for buyers, and the high average order value can bring in significant income for affiliate marketers.
2. GovernmentAuctions.org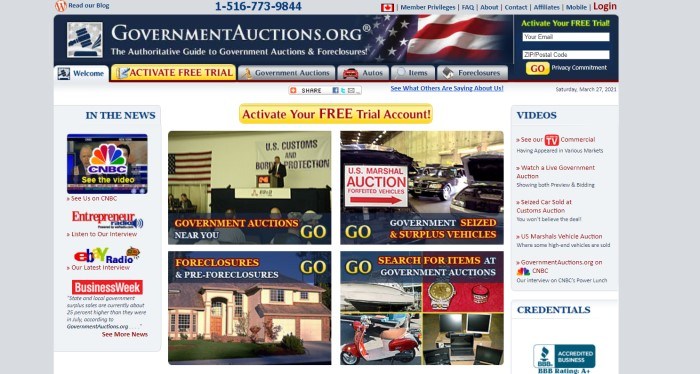 GovernmentAuctions.org is a membership-based auction website that auctions off surplus items or property seized by the government. Auctioned items range from real estate and cars to electronics and jewelry.
The affiliate program is run through both ShareASale and Commission Junction. Affiliates can get paid even if their referrals opt for the free trial period before purchasing a membership. The company also provides a variety of marketing materials, including videos, widgets, banners, and text links. Performance incentives and bonuses are the norms, too.
Why You Should Promote GovernmentAuctions.org: Customers can get items they're looking for at a deep discount, and many of the free trial referrals convert to memberships. Affiliates are paid for leads even if the leads choose the free trial option. The company uses two affiliate networks to administer its affiliate program.
3. Overstock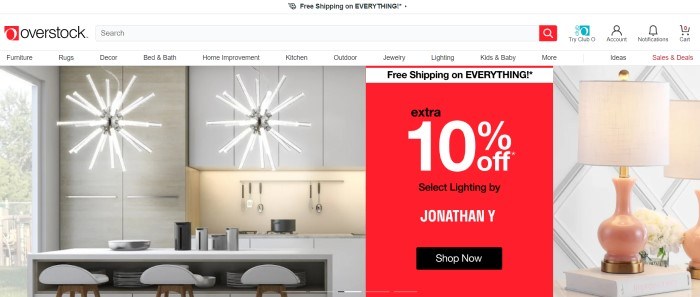 Overstock is an online store that ranks in the top 20 most visited online shopping sites. The website gets around 10 million unique visitors every month. This company recently introduced Overstock Auctions, which is its version of online auctions.
Overstock also offers Club O and Club O Gold, which are customer loyalty programs. Club O costs around $20, but it's free for military personnel, veterans, teachers, students, first responders, and medical providers. This company also guarantees customer satisfaction, free returns, and a price match guarantee.
The affiliate program is run through LinkShare. Affiliates are provided with marketing tools and access to a support team, and they can sign up as shopping affiliates or auction affiliates.
Why You Should Promote Overstock: Overstock has an online auction website, and affiliates can sign up for the shopping website or the auction website. The loyalty program is free for military members. Free returns and a price match guarantee are great for customers, too.
4. Dynadot

Dynadot is an online auction website for domain names that have expired. This company regularly lists domain names that sell for hundreds of dollars and will sometimes have domain names with bids reaching into the thousands.
This company runs its own affiliate program. Affiliates can sign up using the form that the 'join now' button links to, or they can contact the company.
Why You Should Promote Dynadot: Dynadot expired domain names sometimes sell for hundreds to thousands of dollars, and the commission rate is great, too.
5. Auction Auto Bidder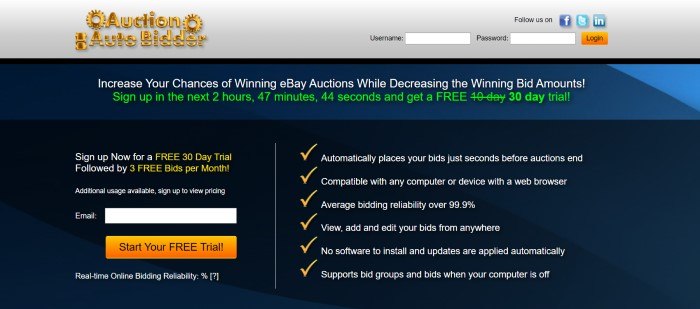 Auction Auto Bidder places bids automatically for customers on eBay. This company can place bids just seconds before a bid closes, so that customers can get the best deal on the items they want. The average bidding reliability is more than 99.9%.
The software is compatible with any device that can use a web browser. Customers can view, add, and edit their bids from anywhere, and this company will continue to watch and place bids even when customers' computers are turned off.
Auction Auto Bidder runs its own affiliate program. Affiliates can make money both on the sale of auctioned items by their referrals and also by referring people who begin using the program to place bids.
Why You Should Promote Auction Auto Bidder: This company places automatic bids on eBay auctions, has a high success rate for winning bids, and offers affiliates a great commission rate with two ways to earn.
6. Liquidation.com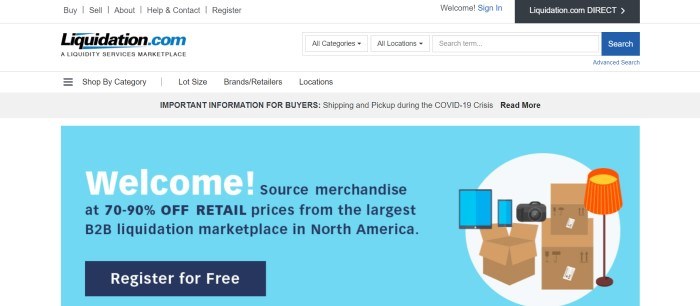 Liquidation.com auctions a variety of goods ranging from clothing and accessories to electronics and housewares. Customers can shop by categories, brands, locations, and lot sizes. The website includes tabs for people interested in selling items as well as people interested in buying them.
Liquidation.com uses FlexOffers to run its affiliate program. Banners and text links are provided, and affiliates have access to statistics and reports to help them tweak their strategies.
Why You Should Promote Liquidation.com: Liquidation.com pays affiliates for bids as well as for final sales. This company auctions several types of goods, so it could be easy for referrals to enjoy bidding in more than one area.
7. Global Listings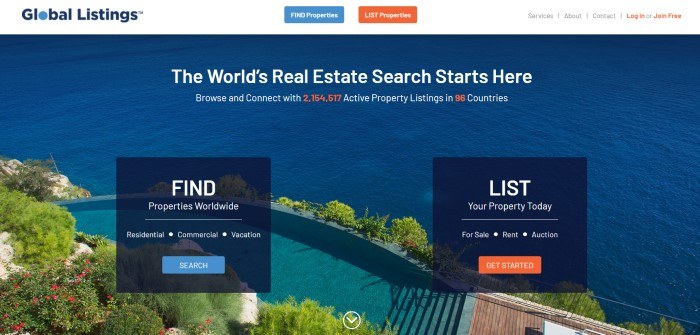 Global Listings is a premium listing service online advertising service that allows people to market their own real estate. They can do this by renting it, selling it, or auctioning it. This company accepts listings for residential, commercial, and vacation properties.
The website has tabs for people who want to buy property as well as for people marketing it.
Global Listings runs its own affiliate program, and interested affiliates can sign up using the form found on the affiliate webpage. When affiliates sign up, they are listed as a sales agent for Global Listings and provided with a widget that customers can click through to get their premium listings advertisements going.
Why You Should Promote Global Listings: Customers who are trying to market the property through Global Listings can auction it as well as selling or renting it.
8. Tophatter
Tophatter connects buyers and sellers around the world in real-time auctions covering a wide selection of categories – jewelry, apparel, handbags, home, electronics, watches, beauty, and more. They are available on iOS, Android, and via the web.
It's easy to get started with Tophatter, simply scroll to explore the feed of what's up for auction now, click the item photo to read reviews and learn more about it, or jump right in and hit bid to get in on the action. If you miss out simply click the heart to get notified when the item you want comes up for auction again later.
Tophatter's affiliate program is being administered by Commission Junction.
Why You Should Promote Tophatter: They have been around since 2012 and they have buyer protection where one can request a return within 30 days for a full refund.
9. Wilson Auction Company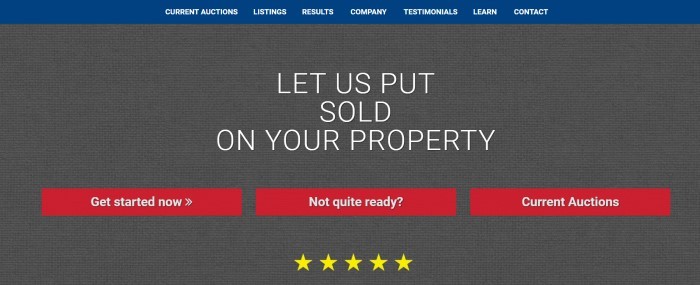 Wilson Auction Company is a real estate auction company that specializes in residential, estate, and farm properties. The website includes tabs for current auctions as well as for real estate listings. In an auction event, results are typical in 30-45 days.
There are some great upsides to real estate auctions. The property is sold without contingencies, and the buyer can view all the offers at one time. The asking price is also settled on without any guesswork, which can alleviate a lot of the stress related to traditional real estate sales.
This company runs its own affiliate program, which is open only to real estate agents and brokers. They get a 10% commission for pre-registering a client and then representing that client with a successful bid. There's also a referral program where real estate agents maintain control of the listing but partner with Wilson Auction Company to meet the client's goals. Interested real estate brokers can apply using the form on the affiliate webpage.
Why You Should Promote Wilson Auction Company: Wilson Auction Company only accepts real estate salespeople as affiliates, but it pays a great commission rate and offers a couple of ways to partner up.
10. eBay

eBay is a well-known online auction company. This company auctions a wide variety of products, including several types of antiques as well as a global inventory that's 80% new. Around 90% of the auctions offer a buy-it-now option.
The affiliate program, which is called the eBay Partner Network, is run through the company itself. There are several types of affiliate programs, including content websites, coupons and deals websites, email marketing, social sharing, and more. Affiliates choose the type of affiliate program that is most suitable for their business.
Why You Should Promote eBay: eBay has a global inventory and a great reputation. However, the commission rate isn't listed on the affiliate webpage, so it's difficult to tell how much you could make or what the specifics are for earning a commission.
Affiliate Website Ideas
This list of the top ten auction affiliate programs just scratches the surface of what's out there, but it can give you some ideas of what's available and how to use what you find. There are a lot of ways to utilize these types of programs, and it might be easier to use them than you think.
For example, an affiliate marketer with a website about antiques could easily fold in eBay's affiliate program. A website like this one could also promote furniture restoration supplies, storage solutions, and retro fashions.
A second idea is a website that focuses on running successful small businesses using WordPress. Several plugins could be featured here, including the WP Auction plugin from the list above. You could also promote computers, small business management software, domain names, and hosting services.
One final idea is a website focusing on living a high-end lifestyle on a budget. Auction King from the list above would be a good fit, and Overstock might be a good choice, too. This type of website could also feature budgeting apps, consignment shops, and coupon books.
Boost Your Affiliate Earnings
These 10 affiliate programs are just the beginning of what's possible. There are hundreds of ways to earn affiliate commissions with your website, including product reviews, top 10 lists, how-to guides, and more
But what about traffic and conversions? How do you make sure your affiliate links get clicked?
I used the affiliate training here to turn my brand new website into a six-figure income generator in less than two years. Build a business, not just a pocket-money side project!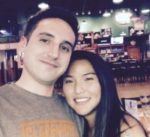 Nathaniell
What's up ladies and dudes! Great to finally meet you, and I hope you enjoyed this post. My name is Nathaniell and I'm the owner of One More Cup of Coffee. I started my first online business in 2010 promoting computer software and now I help newbies start their own businesses. Sign up for my #1 recommended training course and learn how to start your business for FREE!