Selling products on Amazon has been increasing in popularity within the past couple years, and for good reason. Amazon is the biggest online retailer in the world, and anyone can open up shop on their website to start selling stuff and make some money. AmaSuite is one infoproduct that wants to teach you how to do this successfully, and in my AmaSuite 5 review, I'm going to dig in to see how well it does that.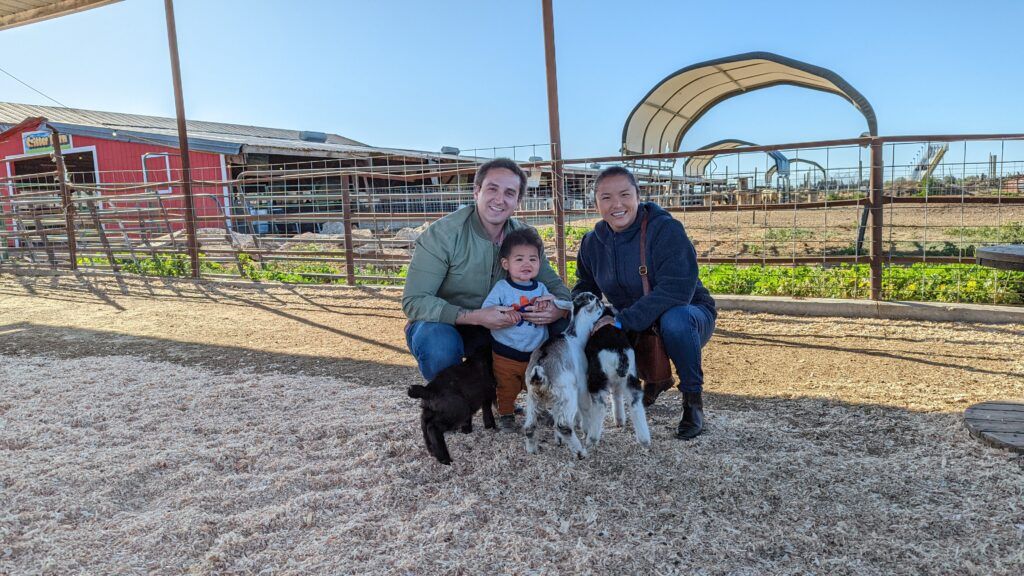 Are You Ready To Work Your Ass Off to Earn Your Lifestyle?
Are you tired of the daily grind? With a laptop and an internet connection I built a small website to generate income, and my life completely changed. Let me show you exactly how I've been doing it for more than 13 years.
But there are many products online that claim to do the same! How does AmaSuite 5 compare to those? We'll look into that too.
For many newbies, investing in a course like this is a big decision. I want to organize my review of AmaSuite 5 into a few broad sections to help you make your decision, and I'll also include some details from the course for examples to show you exactly what you're signing up for. Here's the questions I'd like to answer over the course of my review:
What Does AmaSuite 5 Teach?
How Much Does It Cost & What's Included?
What Exactly Do The Lessons Cover?
Is The Quality Good?
How Good Is The Support?
Is It Worth The Price
How Does It Compare To Similar "Selling on Amazon" Courses?
I'll organize this review into three parts to cover everything included in AmaSuite. Let's get started!
Before You Buy AmaSuite 5 (Beginning)
AmaSuite is currently selling for $197, or you can break it up into $67 per month for 4 payments. This is currently one of the cheapest options for learning how to sell physical products on Amazon. Other courses range from about $350 – $5,000.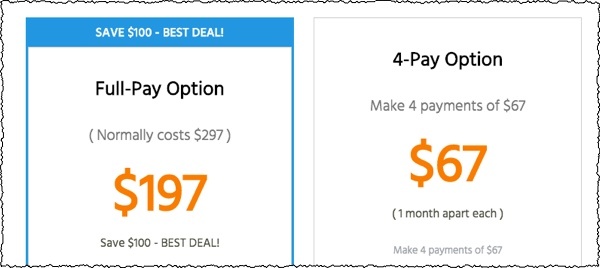 If you are reading this review of AmaSuite 5 and comparing it to other course, my suggestion is to not even consider buying something that costs more than $1,000 USD. You can buy a variety of awesome courses, proven to create success stories, for under $500. Most courses that charge thousands of dollars are hoping to capitalize on the 'info-guru' craze. You know the scam…sign up for my course and retire next week.
Many of them ask you to join a $997 seminar, then upsell you to $10,000 mentorship. Read the comments of this post and you'll see that some folks have lost a lot of money paying for this junk.
Anyway, that's just a long winded way to say that what AmaSuite is charging for their course is a very reasonable price.
The owner, Chris Guthrie, has a good reputation as well. He runs Upfuel.com, has a podcast about making money on Amazon, and I've even purchased a few of his Amazon plugins for my own websites (EasyAzon, TableZon). He has a lot of experience selling on Amazon, and that experience shows while he narrates the videos.
The entire AmaSuite course is narrated by Chris, and is done in a very casual, but knowledgable style. It's clear he has specific things to teach for the lesson, but the videos do not sound scripted or stiff. I think this is a very effective way to teach something!
Inside AmaSuite 5, the members area looks quite nice, and is easy to navigate. Here's a list of the lessons you'll get access to:
Module 1: Introduction to selling on Amazon: 9 min
Module 2: How to pick the right product to sell: 19 min
Module 3: How to find a supplier: 19 min
Module 4: How to get sales on Amazon: 19 min
Module 5: How to get reviews on Amazon: 15 min
Module 6: How to scale your from one product to many: 6 min
Module 7: Customer Q&A – December 29th 2016: 1 hour 14 min
Module 8: Customer Q&A – Jan 30th 2017: 1 hour 4 min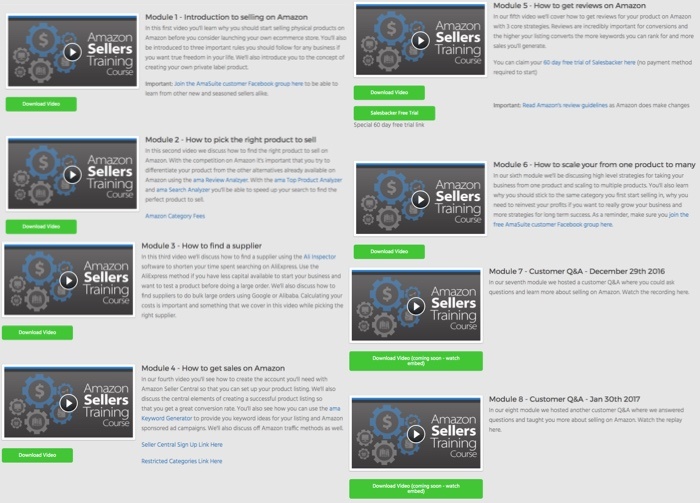 There is a set of bonus training videos, teaching how to create an Amazon Affiliate website, but you will probably not need those. They are interesting to watch, and may help you later on as you expand your online presence and possibly add multiple streams of income to your earnings, but for now, they are just a distraction if you plan to sell physical products on Amazon.
One possible use for these videos in the future would be to make your own website on a topic related to the products you sell on Amazon. Then you can direct traffic to your Amazon store, plus make commissions recommending related products not available in your personal store.
For example, if you sell Bitcoin hardware wallets in your Amazon store, you could refer people to Udemy courses on how to trade Bitcoin, or cryptocurrency exchanges. Once you start collecting emails, you can really build a strong audience! But let's save niche domination for a later time, and just start with the basics of how to get yourAmazon business started.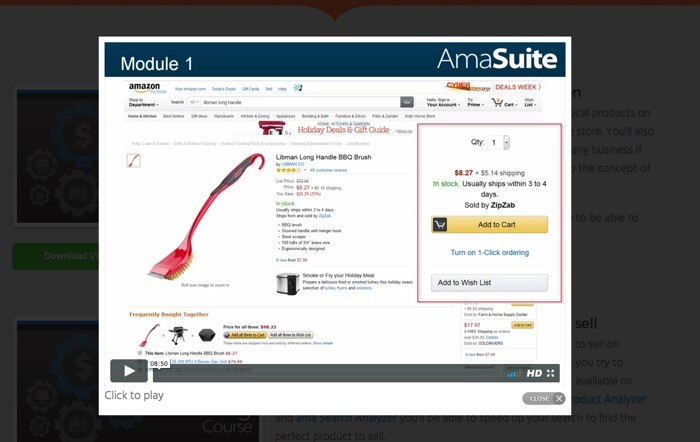 The Core Training of AmaSuite 5 (Middle)
After watching the first three videos in AmaSuite, I already had most of my basic questions answered. These were the most important questions that most newbies will have.
what to sell
how to find suppliers
get the impression he's done this many times
how to test if a product is profitable and good to scale
calculating margins
how many sales of an item would make an income
how to create a good product listing that converts
how to improve sales over time
how to get traffic to your listing
I know that as a beginner with my Amazon Affiliate sites (I specialize in affiliate marketing), what to sell/promote was my biggest issue. Chris spends a lot of time helping you make this decision, and uses a few examples to get you moving in the right direction. The 5 pieces of software included with your AmaSuite purchase will help you optimize your research as well. This way you don't have to search in Amazon and Google in a daze wondering if you're making the right decision.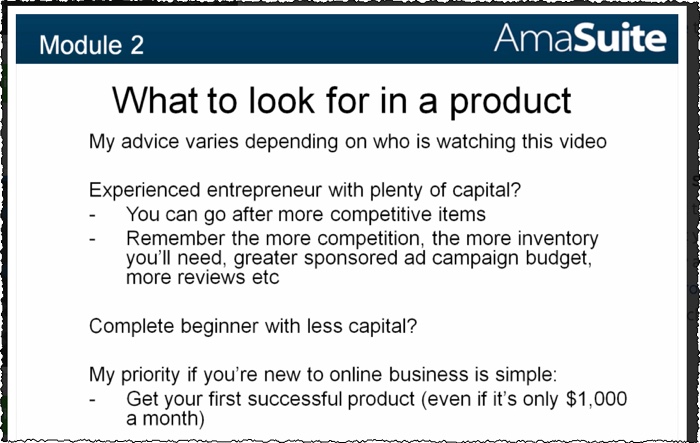 In total, there are 6 main training modules to go through, plus two Q&A webinars to watch.
All of the training is high quality, easy to understand, and makes the product well worth the money. However, one of my critiques of this product is that there could be MORE information about how to run your Amazon business. A few things that were missing included
Leveraging Fulfillment By Amazon specifics
How to package and ship product inventory
Drop shipping vs keeping inventory
Business taxes information
International sellers information
These things are more to do with running a business, or with specifics about FBA, so I can't be too critical of AmaSuite in this regard. However, other selling on Amazon courses have covered this information, so you should consider it when choosing the right product for yourself. In general however, AmaSuite does a great job of covering all the necessary information to run your Amazon store.
One last thing I really liked about the AmaSuite 5 training is that Chris really encourages us to have a well-rounded approach to building our online business. On this front, the AmaSuite training outperforms other courses.
Chris encourages us to have a website, social media, and use outside traffic methods to sell stuff from our store. Many courses stop at the point that you have the "buy box" and are getting Amazon traffic. Great…now you're making money.
But you can expand your business 10x and beyond by getting free traffic from Google by building your own website. Then you can build a social media following on Twitter/Facebook/Instagram/Pinterest and get more traffic from there. Then you can build an email list and increase your sales with customer engagement. Then you can start buying paid ads on Facebook and Google.
The internet is HUGE, and you can build a six-figure-per-month business leveraging Amazon and other online services.
AmaSuite Software
Further below in this post, I'll discuss more about each piece of software that's included in the price. I don't want to bore you with too many details, but I did want to make you aware that there's one more area where AmaSuite makes themselves better than any other Amazon product.
There's about 6-9 extra training videos for each piece of software. It's all designed to help you pick the right products to sell for your business. Choosing a direction for your business will take some time and thought. Using these analyzation software packages will help you make that choice with confidence.
In the screenshot below, we're looking at different product metrics at a glance. This is much more efficient that opening up 25 tabs in your browser at the same time!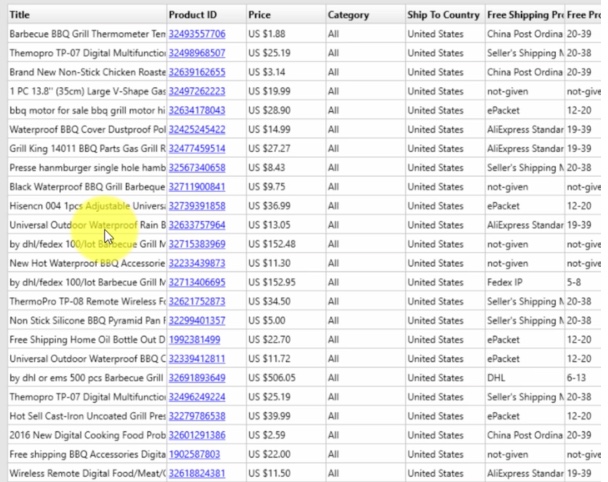 The Facebook Support Group
Having support is one of the most important aspects of buying any info product these days. Luckily, AmaSuite 5 has a Facebook group where you can post questions! In fact, the same day I joined, I read a success post of someone making $140,000 Euros in a month thanks to AmaSuite training.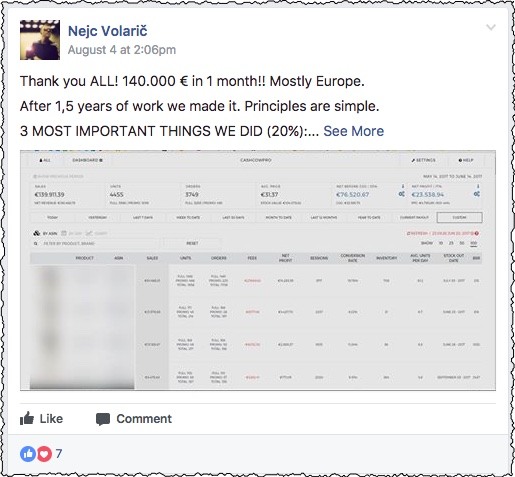 Unfortunately, that was the extent of good stuff in the Facebook group. There are over 9,000 members, but there was very little activity in the group. Most of what was being posted was Chris Guthrie himself posting a podcast episode every couple of days. In fact, I found a few spam posts that hadn't been moderated, which was frustrating.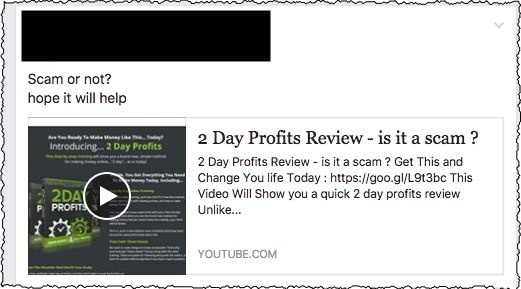 I don't think this particular Facebook group is going to be much help with running your Amazon business. The two products Amazon Bootcamp and Proven Amazon Course have much more active communities with frequent questions, success posts, and discussion happening.
Here are some screenshots from other Facebook groups. Notice these things: Recent dates + number of engagements. I've included two more success stories I found from recents dates on those groups.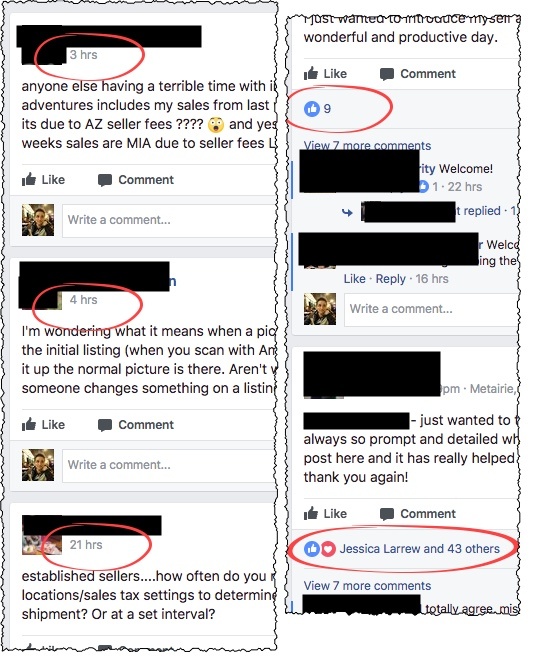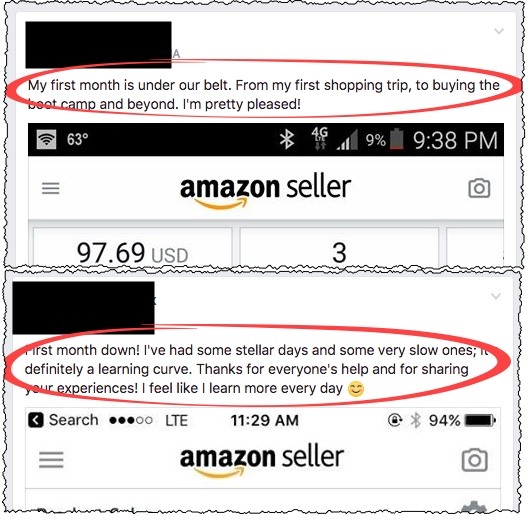 For me, the Facebook group is a big question to focus on. AmaSuite 5 is the cheapest Amazon product that I recommend, but the community is not excellent compared to other products. If you are on a budget, AmaSuite is a great choice, and you can definitely build a successful business with it. Plus, if you don't plan to post public questions or ask for help, then that's another great reason to get it. You could probably find some free blogs or forums to fill this gap.
But if you like the idea of posting questions to a Facebook group and communicating with other new/experienced Amazon business owners, then you may want to consider getting an alternative product.
AmaSuite Software Breakdown
To finish off the AmaSuite training, we get access to two 2-hour live Q&A sessions from Chris Guthrie. Usually "freebie" webinars are kind of a joke, and just a way to sell you more junk, but the questions asked in these webinars were pretty interesting. I definitely recommend that you watch them.
The questions gave me more insight into problems other people were running into, or confusing parts of their business they needed to work through. I was able to gain a lot of insight into what other people were doing with their own businesses. This type of peer-learning is really helpful in my opinion. One example was question asked about how to choose a US supplier over an international supplier.
The answer was pretty obvious – make some phone calls, but those are the simple type of issues that newbies run into. Sometimes an obvious question to an experience person could be a "sky is falling" type of question for a newbie.
Product & Keyword Analyzation Software Included in AmaSuite 5
Included in the price of AmaSuite is 5 types of proprietary research software to help you pick the right products to promote. There are 6-9 videos for each software that will teach you what it's used for, how to use it, and of course include examples of potential business ideas based on each. For some people, these are the most valuable part of AmaSuite, since they help you to really get your business moving in the right direction from the beginning.
Top Product Analyzer
Search Analyzer
Keyword Generator
Review Analyzer
Ali Inspector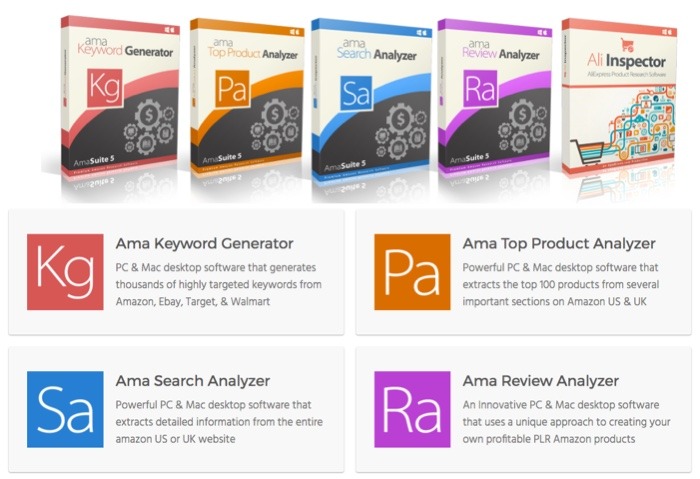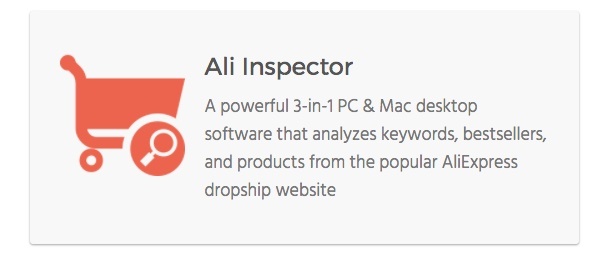 Ama Top Product Analyzer Software
This software help you find the best products in a variety of categories. Amazon doesn't simply have a "best" list. They divide it into different categories with different themes. Those include Best Sellers, Top Rated, Hot New Releases, Movers and Shakers, Most Gifted, and Most Wished For. It's pretty obvious that "most wished for" is not the same as "best sellers", and is again, something different from "hot new releases".
Sometimes, a product with 2,000 reviews is old news, and the one with just 100 reviews is selling a lot faster.
Ama Search Analyzer Software
This software extracts product information from Amazon, including price range, discount amounts, and customer ratings. It's more data to help you find the best products to promote. For example, two similar products could have a similar price. But if one is display has having a 10% discount, while the other is displayed as full price, the discounted one might sell better.
Alternatively, a product with 2,000 4-star reviews will have a different sales patter than a product with 4 5 star reviews.
Ama Keyword Generator Software
This is a keyword generator that pulls searches from online shopping websites. It'll help you pick the right keywords for your listing and product descriptions, to help optimize your ranking and sales. I would imagine you could also use this for inspiration in writing articles for your website if you choose to build one.
Ama Review Analyzer Software
The review analyzer is a cool software to help you quickly skim Amazon reviews and figure out what people are saying about it. What's wrong about it? What makes it so popular? This information can be leveraged to fix what's wrong, or do more of what's right if you choose to launch your own product on the Amazon Marketplace.
Ali Inspector Software
Uncovers top performing dropship products from AliExpress that you can fill your store with.
AmaSuite 5 Final Review
AmaSuite 5 was an excellent product for a very fair price.
Alternatives For Learning How To Sell On Amazon
AmaSuite was a great product, but it's on the only one available. I've bought and tried about 5-6 products over the years. How do they compare to what you just read about? There are two main things to consider.
One, AmaSuite is a bunch of TOOLS to help you build your Amazon business. The training course is there to help you learn to use the tools effectively. However, in my opinion, the course is an addition to the tool suite, which is the main feature of this product. In contrast, other Amazon courses are made specifically to help you build your business, and then they recommend various things within the training to help you do that.
Two, there are other products out there where you'll get more help with your business. They have a more developed support system, which is going to be a huge advantage to newbies starting an online business. If you are seriously considering buying a course on how to start an Amazon store selling physical products, you need to check out two other products I've reviewed: Amazon Bootcamp and Proven Amazon Course. They are more expensive (about double the price), but two of the top rated and longest standing courses in the industry.
Amazon Bootcamp focuses on retail arbitrage, which means you would buy cheap products in Walmart or Target and resell them on an Amazon store. This is a proven strategy, and very simple for newbies to understand: Buy low, sell high.
Proven Amazon Course has a lot more training material, including lessons for international sellers. Having both a US and non-US focus is one driving factor behind PAC's popularity, but they also have a wider range of Amazon store styles, drop shipping, which is extremely popular.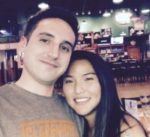 Nathaniell
What's up ladies and dudes! Great to finally meet you, and I hope you enjoyed this post. My name is Nathaniell and I'm the owner of One More Cup of Coffee. I started my first online business in 2010 promoting computer software and now I help newbies start their own businesses. Sign up for my #1 recommended training course and learn how to start your business for FREE!