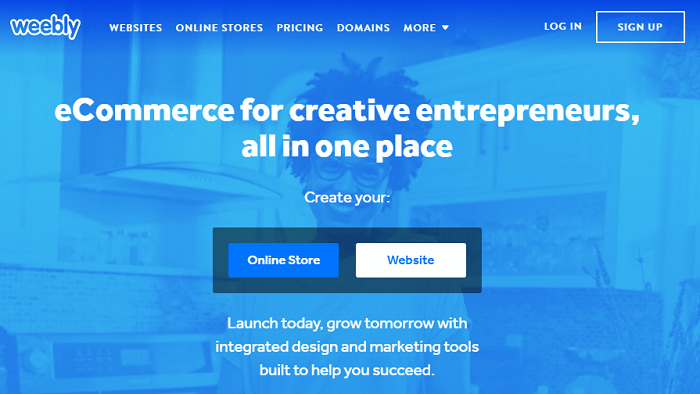 You, along with 40 million other eager entrepreneurs all around the globe, know Weebly as one of the worlds largest and most powerful website and eCommerce platforms. They trust Weebly to host their website, maintain it's security, and fight for a spot in Google's ranking hierarchy so you can be successful.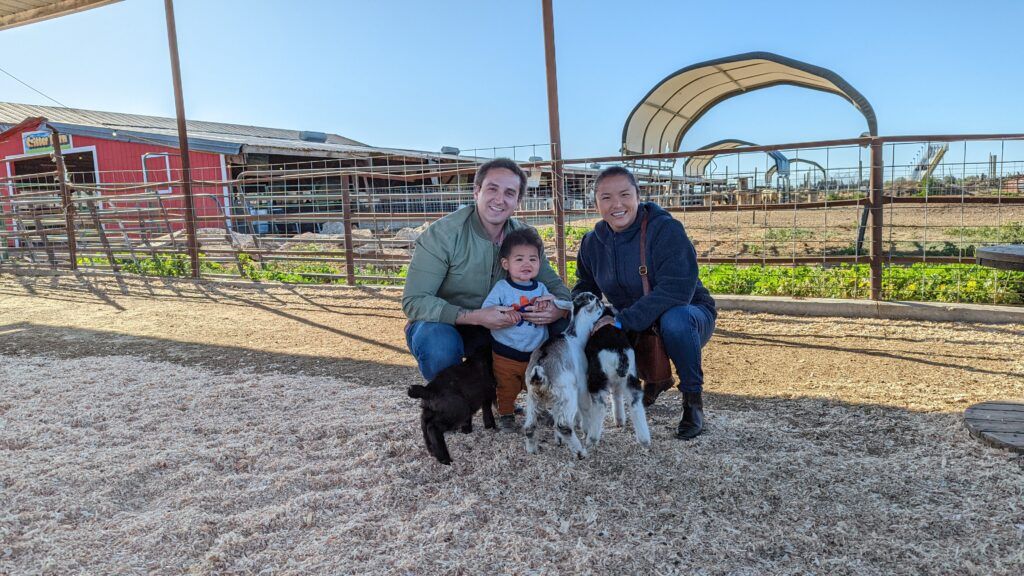 Are You Ready To Work Your Ass Off to Earn Your Lifestyle?
Are you tired of the daily grind? With a laptop and an internet connection I built a small website to generate income, and my life completely changed. Let me show you exactly how I've been doing it for more than 13 years.
This huge online presence has been made possible not only by Weebly having a great product, but also by having an innovative partnership with it's users. This partnership is made beneficial by them enabling a profitable affiliate program that it's affiliates can easily promote and benefit from. I've also reviewed Weebly's hosting platform, and the results were less than ideal for the type of business that I run. They may do great for personal blogs or ecommerce stores, but for an affiliate site, I still prefer WordPress.
We have reviewed lots of different website platforms with affiliate programs, but Weebly is one that I have been excited to share with everyone. The Weebly platform is simple and easy to sell to those who are looking to start their own website which makes their affiliate marketing easy as well! Even though I wasn't too happy with their SEO features, for newbies trying to build their first site, they have a lot of fans out there.
Great products = Easy to sell = Great commission!
Lets take a look at their products/services offered, what their affiliate program commission is, and how you can start using their affiliate tools so you can start earning today!

What Type Of Products Are Featured?
Weebly offers a website building platform and all the tools you need to either build your own blog, digital newspaper, online store, or for whatever you need an online presence for. They have many different plans no matter what your budget is, which is why it's such a great place to start up your first website.
You can startup your website for $0.00 in order to get you going. Now of course the more you pay, the higher the benefits are. So here are the basic plans that Weebly has to offer it's customers:
Website Builder
If you want a website, but dont have the need for an online marketplace store (to sell things on) then you can build a website with Weebly by selecting any of the following plans:
Free: Thats right, their starter plan is FREE. There is a catch that your website will have a storage limit for photos/data and the website URL will say ".weebly.com" which doesn't make websites look as authentic. But it is free and you can start building your website today with no investment required.
Connect/Starter/Pro ($4, $8, $12/monthly): There are 3 other plans for website owners which each have their increased cost per month, but the rates for Weebly websites are insanely low which is perfect for starters! With any of these 3 plans you get to make your own unique website domain without the .weebly.com in the URL.
I suggest you checkout the pricing and plans here if you want to get started with your own site: https://www.weebly.com/pricing
Those are not bad prices for beginner stores, and it's the kind of thing most people are looking for. I pay $300 per month for hosting, so good hosting is no joke. For newbies however, $5-$10 per month is a good way to start.
Online Stores
When you are creating your own online store, this takes a bit more work and will cost a little more as well.
Starter, Pro, Business, and Performance: These are the names of each of Weebly's online store plans which will allow you to create your own online eCommerce site. Each of these have their own benefits and as the price (Starting at $8 up to $38 per month) goes up, so does the security and benefits.
The biggest difference between the plans is the product limit. With the Starter plan, you can only have up to 10 total products for sale on your site. Each increased plan allows for more products. If you're just starting, you may only want the 10 product plan. If you have big plans for hundreds of products, then I suggest you go with the Business plan right off the bat.

What Is The Commission Rate?
Weebly's affiliate program offers commission to it's partners whenever a user signs up for a paid plan (since many customers get the free plan, you dont earn commission on those!). The way this works is when you refer customers to Weebly via some of the affiliate tools which we will discuss below.
As you refer customers to Weebly's site, they are considered your referral and for the next 120 days if they end up purchasing a paid plan, you will get a 30% commission of that payment.
At the lowest plan for websites at $4/month you would receive $14.40 on a yearly plan purchased. If they got the highest plan for the online stores at $38/month then you would receive a $136.80 commission on it.
Even at the lowest commission, it's still great!

The average earning per sale on Weebly is approximately $60 which is a really great average commission!
While this does remain consistent with other website builder affiliate programs, Weebly's much easier to sell because it has a good range of plans so you can cater to both hobbyist and to big-time experts alike.
Other Website Builder Affiliate Programs
There are so many different companies that create websites and I know from experience that it's really really difficult to decide which one to go with. Selecting a company to use as an affiliate program is also equally difficult because there are so many.
While I do love Weebly, I am still a sucker for WordPress platform sites usually. It's good to have different options so here are a few of my favorites that have great affiliate programs too:
Flywheel: One of the coolest website builder platforms out there is Flywheel. Their team made sure the platform is fun and easy to use and centers completely around the WordPress platform. Their affiliate program offers you a commission of 3x the rate of the monthly plan they select. If they select the basic plan of $15/month, you would receive a $45 commission from that customer.
Bluehost: This is a great company which offers very low starting plan packages which is great for starters, but it also caters to large companies with custom packages in case you have big plans. They offer a flat $65 per referral that signs up for an annual website plan no matter what package they get. This is one of the most lucrative hosting affiliate programs out there, which is part of the reason why you see them promoted so heavily among website creators!
Shopify: There are a lot of eCommerce platforms out there, but Shopify is one of the largest ones around the globe that offer a great platform to sell your products on. This is used in all countries around the world and is the key to many people's successful businesses. As an affiliate, you will receive 20% commission for every customer who signs up for a Shopify site for as long as they are an active Shopify customer.
WordPress.com: By far the most popular platform in the world for online websites and blogs and while many different companies use the WordPress platform, WordPress.com offers their own website hosting and affiliate program along with that. While it's not as high as other commission rates at 20%, it is one of the most highly trusted brands which makes it very easy to sell.
There are so many more sites that we could talk about, but you'll have to play around with each and see which one is right for you as an affiliate partner.
Can You Make Money With The Weebly Affiliate Program?
So – back to Weebly:
Q: How do you get started with using their affiliate program to make money?
A: Easy! Sign up with their affiliate portal partner ShareASale here: shareasale.com.
Weebly does not manage their affiliate program directly through their own website but instead enlisted the help of ShareASale affiliate portal which is extremely easy to use and has hundreds of other affiliate companies as well which you may utilize.
Once you have your ShareASale account created, just search for Weebly in the Merchants list and hit Apply. As soon as you're approved you can start using the program to make money!
Affiliate Program Tools
Lets take a look at all of the affiliate program tools that Weebly has available in ShareASale. To do this, click the "Get Links" button on the Weebly page in ShareASale. You'll see the following tools available: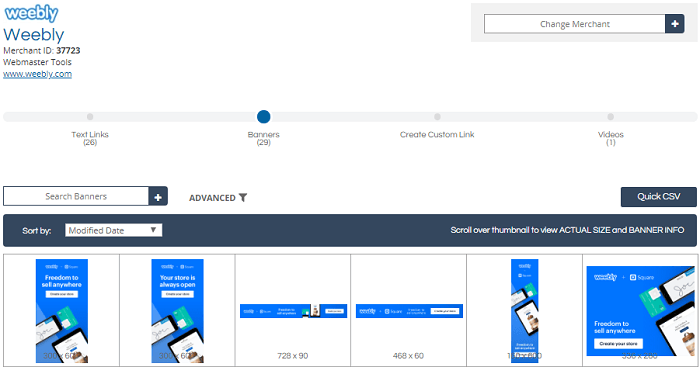 Text Links: While different photos and videos are great for advertisement, sometimes it takes away from the message you're trying to make. Thats why Text Links work great because you can simply hyperlink text and move right along with your posts. These can also be used when you're working directly with users and you want to refer them to Weebly.
Banners: One of the easiest ways to get others to notice your suggested companies is by placing a banner on your sidebar, header, or footer. Weebly has some great easy to understand banners in different shapes and colors which tell your visitors exactly what Weebly is.
Videos: By far one of my favorite tools that most companies AREN'T using is videos! Thank you Weebly for getting above the rest of the affiliate competition and putting out a video to use! Simply get the HTML code and anyone who watches the video from your page will automatically be locked to you for 120 days if they buy a plan, you get the commission!
Pros/Cons of Working With Weebly
So at the end of the day, whats the two liner wrap up to know whats good and not good about Weebly?
The Good: Weebly has a beautiful platform that is affordable for users, easy to use, and is well known globally as a leader in website hosting.
Not so Good: Weebly's website platform has an incredibly large competition with WordPress sites and some currently offer a higher commission rate.
The Internet's #1 Affiliate Training
It sounds like you're pretty familiar with the basics of how affiliate marketing works. Awesome! But is your website profitable yet? Are you stuck spending hours wondering why you aren't seeing results yet?
You aren't alone. Most newbie affiliate marketers are a little lost, jumping from one "how to" guide to the next, hoping to learn the secret sauce of how to make money with affiliate marketing
I was able to turn my basic niche blog into a six-figure earner in 18 months following the training from this company. They focus on building a sustainable business that will earn for years, not just a website that will "game" search engines for temporary rankings. That's why 8 years later my websites are still earning and still growing.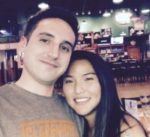 Nathaniell
What's up ladies and dudes! Great to finally meet you, and I hope you enjoyed this post. My name is Nathaniell and I'm the owner of One More Cup of Coffee. I started my first online business in 2010 promoting computer software and now I help newbies start their own businesses. Sign up for my #1 recommended training course and learn how to start your business for FREE!