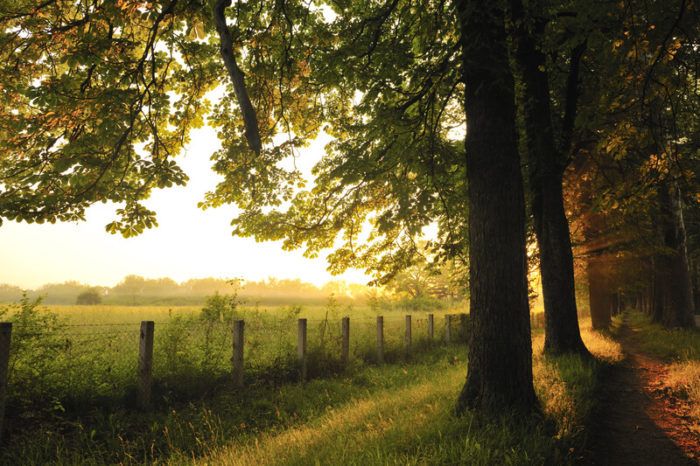 As a decade-long member of Wealthy Affiliate, I know quite a bit about what they teach and how the community works. I've seen plenty of complaints over the years, and actually deal with quite a bit of complaints in my day to day mentorship of my referrals.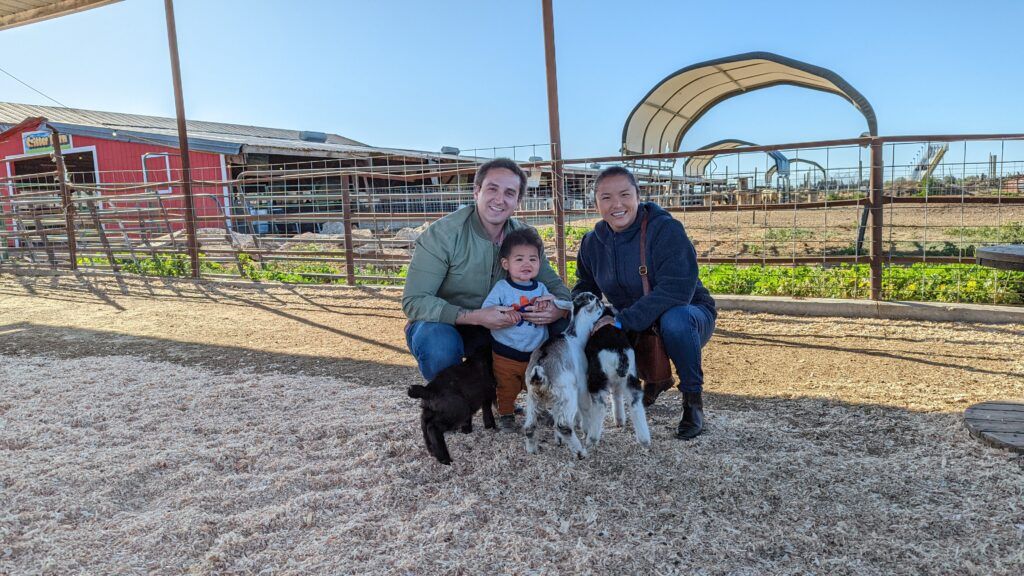 Are You Ready To Work Your Ass Off to Earn Your Lifestyle?
Are you tired of the daily grind? With a laptop and an internet connection I built a small website to generate income, and my life completely changed. Let me show you exactly how I've been doing it for more than 13 years.
"Well if there's so many complaints, why are you still a member?"
Well, the program freakin' works. Wealthy Affiliate has, quite literally, changed the course of my life. I started out in China working a dead end job making $12,000 USD per year as an English teacher. Within 18 months I was making $10,000 per month based on what I learned through their affiliate marketing training.
I don't care how much this-or-that thing could be better. If you get me results, I'm happy. They produce more and more success stories every year, so I guess they're doing something right!
But you want to hear the bitching, right? LOL. So let's get into it.
Here are all the complaints about Wealthy Affiliate I could think of. I don't agree with all of them, so what you'll read below won't just be a big rant about stuff that sucks. I basically want to cover what people complain about. Then I'll offer my opinion on whether I think it's a valid complaint, or if people don't get what's going on.
For example, I've seen complaints that they send out too many emails. Well, there's a spot where you can change your email settings. Problem solved. Other complaints I may agree with! No service is perfect, so there's always room for improvement.
Wealthy Affiliate Complaints
1. No Refunds
Let's get this #1 complaint out of the way. Wealthy Affiliate doesn't offer a refund! Yes, the rumors are true.
This is documented in their Terms of Services, although nobody really reads them (Section 4.2 and 4.3). It basically says that by signing up, you agree to be billed each month for a non-refundable service.
I understand why this is frustrating! Most online services these days push the idea that you can get a full refund if you are unhappy with anything. Many companies will even prorate your cancellation, so if you sign up for 12 months and only use 3 months, they'll refund the other 9-months fee.
However, keep in mind that you can join Wealthy Affiliate for free. The Starter Membership costs $0.00, and you don't even have to submit any credit card information. You can use Premium features like live chat for 7 days, and do the first 10 lessons (out of 50 total), which include building a free website. If you join through someone like me (an active member), you can even contact your referrer directly and ask for help during those 7 days.
If you don't upgrade to Premium, you can still continue to work on your free website and view the training although you won't be able to participate in discussions.
The point being: You get a full picture of what you're signing up for before you pay. If you legitimately tried to cancel and there was an accidental rebilling, they will refund your money though. They are not hard-asses.
2. Not Enough Offered In Starter Membership
This is a complaint that frustrates me because I spend so much time helping people for free within the community, and somehow it's never enough. I personally spend the first hour or two every day in the community talking to free and paying members equally, answering questions about their online business.
On the free membership, you get to build a free website, understand how affiliate marketing works, and you also get access to 500+ free training modules showing you how to build out your business.
Yet, still, people arguing that the free membership isn't good enough because it doesn't give you full access to everything?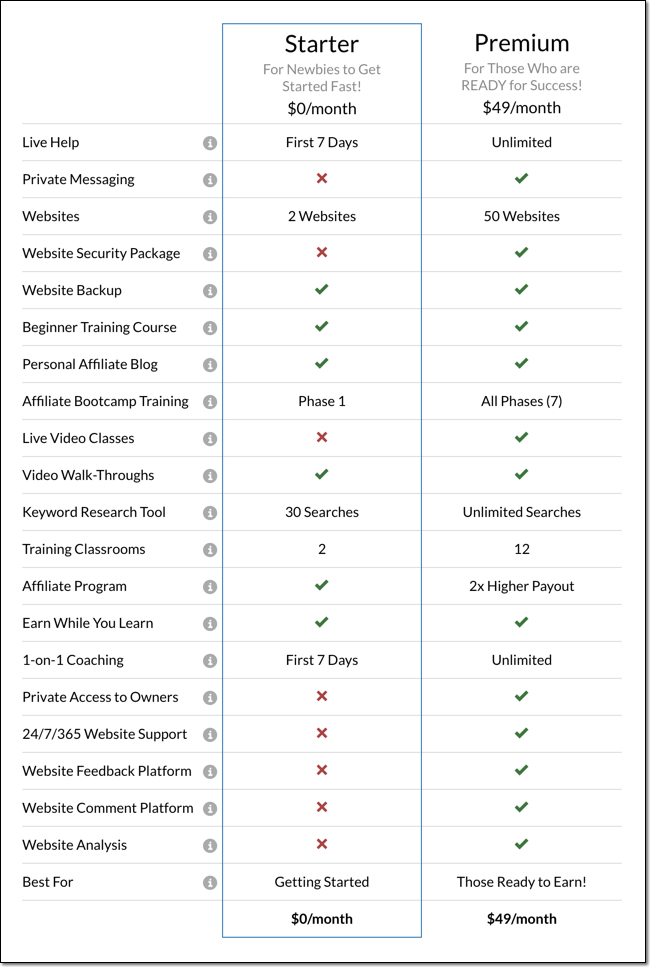 So what you have here is people complaining about something they got at no cost because it's not enough. They had nothing before. Now they have something (website, training, support). It's kind of like if someone gave you $5 and you threw it on the ground because it wasn't $20.
Actually, a lot of people suggest that Wealthy Affiliate should allow members to do everything for free, and then pay a portion of their earnings after they start making money. Considering that it can take six months or a year to start making income, I'd love to see how that would work out. Now Wealthy Affiliate has to chase you down for backpay for the past six months? I don't think so.
Sure, we'd all like to get something for nothing. It's human instinct. They could definitely offer more within the Starter Membership, and they may do that in the future. For now though, it's a pretty sweet deal that you can sign up and get basic affiliate training without even submitting a credit card.
3. They Ban Some Plugins
This issue doesn't happen too often, but it comes up from time to time. There are some plugins they simply don't allow on their hosting. The most commonly requested one is JetPack. This is a super popular plugin, but it's very resource heavy.
Actually, they are not the only host that does this, for example WPEngine lists Jetpack as a server & mysql thrashing plugin. On top of that, many hosts ban certain plugins with a broad stroke to save their servers and help manage websites.
There's usually good reason for this, and most of the features people like can be obtained with other plugins or services. For example, the traffic tracking feature of Jetpack is easily replaced by Google Analytics.
4. They Only Offer Basic TLDs
Currently, Wealthy Affiliate only offers .com, .net, and .org domain names through their domain service SiteDomains. You won't be able to buy country-specific domains, or any of the funky ones like .fun or .blog.
I see both sides to this issue. On the one side, if you're building an affiliate website, you really only need those three top level domain extensions. Anything else is usually a waste of time and money.
However, if you decide to use WA hosting for things like hosting local business websites, or building out an affiliate website in your local language, you may need to use a dedicated registrar like Namecheap to buy domains.
Remember that you can still use Wealthy Affiliate to host your website even if they are not your registrar! You just need to change the DNS of your domain after you purchase your domain elsewhere.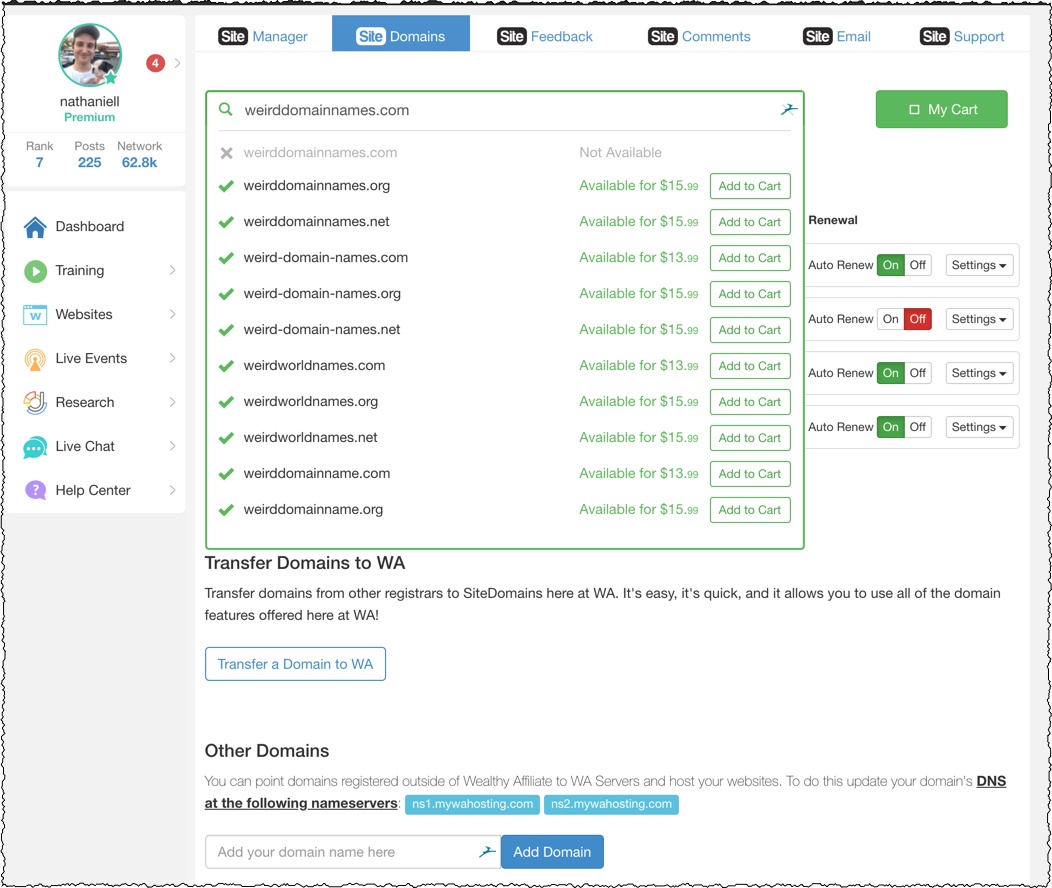 5. No Phone Number
Wealthy Affiliate not having a phone number is a frequent complaint, and I get it. Most big companies will have a phone number where you can resolve issues on the spot. Some companies are moving away from phone numbers though. For example, from the services that I use, I can think of several that only have a live chat or ticket support system.
Kinsta hosting doesn't have a phone number. OptinMonster doesn't have a phone number. StudioPress doesn't have a phone number.
So it's not like they're completely weird for doing this. Having a phone number adds to expenses, so consider it a method of keeping your membership fees down. However, I do see how it could be frustrating to have a billing issue and you have to wait two days for an email response.
Members have requested a phone number both for billing support and website support. For billing support, I totally agree that a phone number would be useful (and faster). For website support, it's not really feasible. Most things go to ticket support anyway so that you can see screenshots and links of what's happening.
Have you ever tried to give website building advice over the phone? I have. It's a nightmare.
6. Too Much Chatter In The Community
Another gripe I hear often enough is that the live chat isn't productive. People in live chat just shoot the breeze instead of actually say anything useful.
Here's what I have to say about this: You probably haven't spent enough time in chat!
I watch live chat every single day to keep an eye out for unanswered questions. Also, I spend a few hours a week in there just helping out and adding to the discussion. The vast majority of what I see is productive conversation around the topics of affiliate marketing, business, and making money online.

Sure, there's plenty of useless chatter as well, and I have been known to do this myself! It's a community, guys. People are just having fun while working.
Here's a great example! Sometimes I'll make it known that I'm in chat and that I'll take any questions for 15-20 minutes. Just then, my buddy (who also runs a successful online business) happens to stop by. Since there's no questions coming in from newbies, we just kill time chit-chatting until someone pops in with a question.
Yeah, you can look at it as wasting time talking about nonsense, but at least chat is active. Would it be better to see a dead live chat?
So there's definitely a mix of useful information and general chatter in live chat. If you want to rub shoulders with other internet entrepreneurs in any context, just hop in and make some friends. If you want to stay in "learning mode" while inside the community, that's alright too. Get in, ask your questions, then get back to work.
7. Too Many Emails
Here's the "too many emails" complaint I mentioned at the top of this page. Yes, I agree. Emails suck.
However, WA can be a complex community, so there's a lot to learn about how things work inside Wealthy Affiliate on top of learning how to build your online business. You've got to learn the ropes of how to navigate your dashboard, how to build your website, and how to make money online.
There's a lot to learn when starting a business, so yeah, there's going to be plenty of important emails coming your way.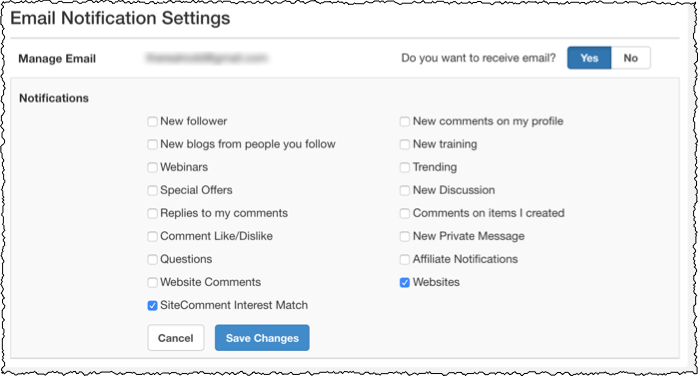 That being said, you can always change your email settings. Navigate to your account settings, and you can turn them off completely or pick which ones interest you. Simple to fix!
Lastly, make sure the emails you are complaining about are actually from Wealthy Affiliate. It's not uncommon for someone to PM me about annoying emails, and I discover that they are talking about a different program. Actually, I get email requests for refunds for products I've never heard of as well. I guess some people are just not paying attention to what they're signed up for.

8. It's Too Expensive
Here's the price breakdown of what costs money in WA.
Membership fee: $49/month
Domain: $14/year
Jaaxy (optional) $19/month
If you upgrade to yearly, you save over 40%. The cost is $359/year, which works out to about $29/month.
What that means is that you can run your entire business for a year for $359 + $14, or $1.02 per day.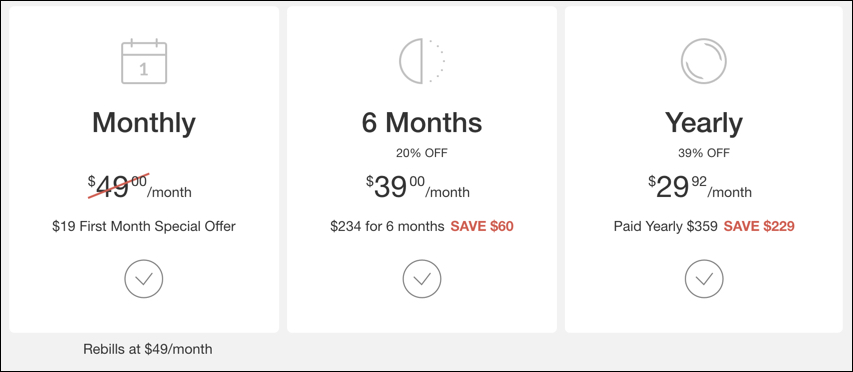 That's a dollar per day to run a six figure business.
A medium cup of coffee at Starbucks costs $2.45, my friend. A dollar a day for 1-on-1 mentorship on how to build your own online business is simply not that expensive.
Yes, I realize not everyone will have the $19 (discounted) fee for the first month. Some people don't have an extra $49/month to pay the normal fee, or the $359 up front if you want the discounted price. I get it. Money can be tight!
That doesn't mean that Wealthy Affiliate is expensive. It just means that you can't afford it.
However, I find that unlikely. Most of us, including myself, set budgeting goals and then break them daily. You need to save just $2 per day to have the fees to pay for your membership. What fat can you cut out of your lifestyle?
I'm not here to judge, but a single meal at a Japanese restaurant can easily cost $50+. Could you save up fifty bucks by not going out to eat? Could you make coffee at home instead of buying it on your way to work? Could you switch to Geico and save on your car insurance? (that last one was a joke).
The point is that I think most of us could scrounge up $50/month if we really wanted it.
If you are really living to your last $49 every single month then you need to make some life changes before you start a business. Again, I'm not here to judge. I'm just being realistic.
9. Rank Gamers & Spambassadors
This is a dumb one, but it's annoying, so I agree with this complaint. Let me explain.
Wealthy Affiliate has a ranking system where members are ranked in order of their activity on the platform. I currently rank #7 because I answer and ask a lot of questions, publish blog posts, and participate in live chat. I also have some training modules I've published.
The more activity you do, the higher you rank.
This internal rank metric has no influence on your affiliate website earnings. It doesn't change anything about your membership. It doesn't do anything at all except to show how active you are within the community.
Some members are quite competitive, and really try to game the system to boost their rank within the system. They don't do it maliciously. They just think it's cool to rank high. They enjoy the engagement and all the positive vibes in the community.
Even though they have good intentions, it can be annoying at times. They leave short answers, post nonsense questions, or publish crap training just to seem active and retain their "Ambassador" status.
What's an Ambassador?
A Wealthy Affiliate Ambassador is just the designation given to anyone with a rank of 25 or above. The basic idea is that since this person is active in the community, they can act as an "ambassador" to new members. You know, show 'em the ropes, explain the basics of the training, and help out if they get stuck.
They are not always "experts" at affiliate marketing, but many of them are, including myself!
Again, there's no incentives to be an Ambassador. It's just supposed to be a fun thing for enthusiastic members. The funny thing is that the so-called Ambassadors who are clearly gaming the system to achieve rank have been dubbed "spam-bassadors".
What's the solution? Just ignore them. There's only a few, and they usually get bored after they figure out their time is more valuable when spent on their affiliate website.
10. Wrong Answers
Wealthy Affiliate is supposed to teach you how to do affiliate marketing so you can earn money online, so I understand when people complain about members giving bad advice or wrong answers.
However, the vast majority of the advice you get within Wealthy Affiliate is correct. I'm there every day slogging through questions, so I get a good overview of what's being said. Most of it is legit advice, and in line with how I build my own affiliate sites.
That being said, there are times when newbies (see spambassadors from above) start doling out advice they don't really understand. It's almost never anything that would permanently damage your business. Instead, it's usually simple mistakes like "meta keywords are important for SEO". Well, meta keywords are definitely not important for SEO! However, using meta keywords will not break your site. It'll just waste your time.
The good news is that this is a thriving community, so most of the time there will be a swift response to counteract the bad advice. More experienced affiliate business owners will chime in with their own advice, or respond directly to the erroneous answer to contradict it.
Wealthy Affiliate is a community, so there's a lot of activity going on. It's like any other forum where everyone has a voice. When you ask a question, it's like crowdsourcing an answer. If you get 10 responses and one is different from the rest, you can ignore that one and follow the group advice.
11. Too Much Emphasis On Joining The MMO Niche
This is a bit of a complicated one, so strap in.
MMO stands for "make money online". There are a lot of websites out there in the MMO niche that promote Wealthy Affiliate. Why not? It's a great product, and they offer 50% recurring commission, which is a great deal.
On top of that, they teach legit SEO practices, and emphasize long-term business goals, so Wealthy Affiliate websites rank well, and generally benefit from Google algorithm changes which reward websites for quality content. (Many webmasters fear Google updates because they are gaming the system with artificial linking strategies).
To a casual observer, it may appear as if the majority of members promote Wealthy Affiliate to make money. This is a logical fallacy. What's happening is that because you are looking for ways to earn money online, you keep running into successful members promoting Wealthy Affiliate.
Why are so many people promoting WA? Right now, the training recommends the MMO niche for anyone who simply can't figure out a better niche. The main training inside Wealthy Affiliate does NOT encourage you to go into the MMO niche.
I go over this issue in more detail on this post, but here's the gist:
The main training in Wealthy Affiliate painstakingly directs you to pick a topic you're passionate about. As an aside, they say, "If you are REALLY STUCK at this point and you cannot decide on a niche, perhaps you may be interested in the make money/affiliate marketing niche". Then there's a link to the MMO niche training called "Affiliate Bootcamp".
So, all that is to say that there are a good number of folks that enter the MMO niche just because they don't take the time to think of their own niche. It's a smart idea though. Many people coming to Wealthy Affiliate are simply sick of all the scams online and know a good deal about all the garbage get-rich-quick schemes out there.
Most individuals going through the WA training have experience being scammed or disappointed with products they bought online. Plus, everyone knows what money struggles are, and it's super easy to want to help people make more money. It's a universal problem!
Furthermore, there are plenty of sub-niches like:
pay your own way through college

prepare for retirement

get out of debt

work from home moms

single dads struggling to make ends meet

survey reviews

…and so on
Even under the umbrella of MMO, there's still plenty of room to develop your own voice, brand, and direction with an affiliate website.
Does the Wealthy Affiliate training encourage you to get into the MMO niche? Not at all. Do they force you to promote WA? Not in the slightest. Are you required to promote them to make money online? Nope.
Here's me making $12,000 from a non-MMO niche site. Here's a list of 100+ people earning money from non-MMO niches.
Keep reading to the Not Enough Success Stories complaint below for more success stories from the community that are not focused on affiliate marketing or anything to do with MMO.

12. No cPanel
If you're a newbie, then you won't care about whether you have access to cPanel. If you're an experienced webmaster, you will also not care. Why? Because cPanel isn't necessary.
There's a middle ground of semi-experienced website owners that are used to cPanel as their main way to access the back end of their website. cPanel is common with popular shared hosting companies like Bluehost and Hostgator. You can use cPanel to edit files, create email addresses, add new domains, and manage other stuff.
However, it's a pile of garbage. The last time I used it, it looked like it was designed in the late 90's and then never updated. Sure, it gets the job done, but it's clunky and hard to navigate. There are much better ways to get stuff done.
For example, here's how to add a domain via cPanel: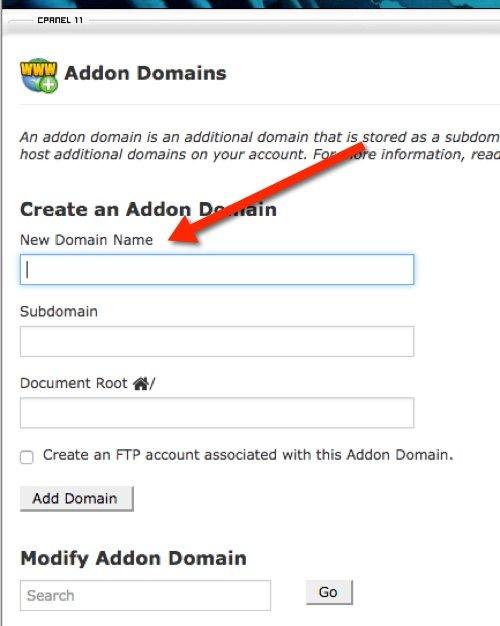 By comparison, here's how to add a domain to your Wealthy Affiliate hosting.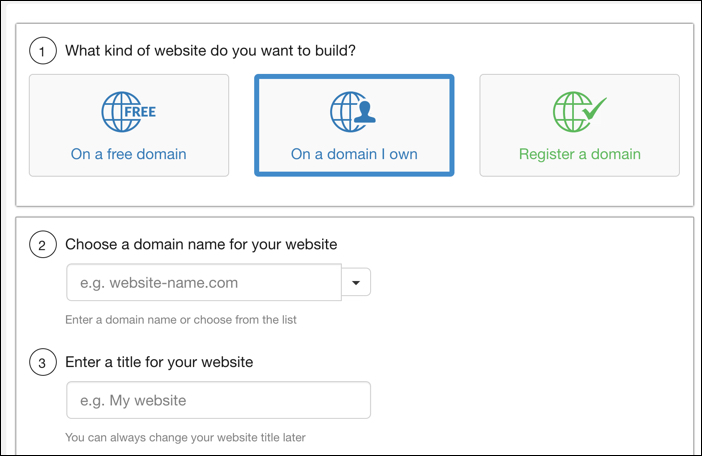 Here's how to generate an SSL certificate on hosting that uses cPanel.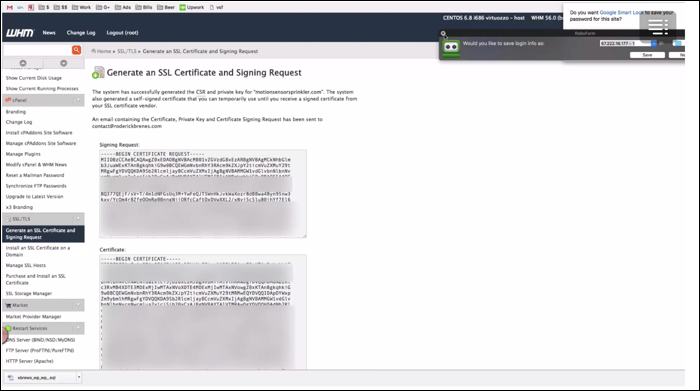 Here's what SSL implementation looks like on Kinsta hosting, which does not have cPanel.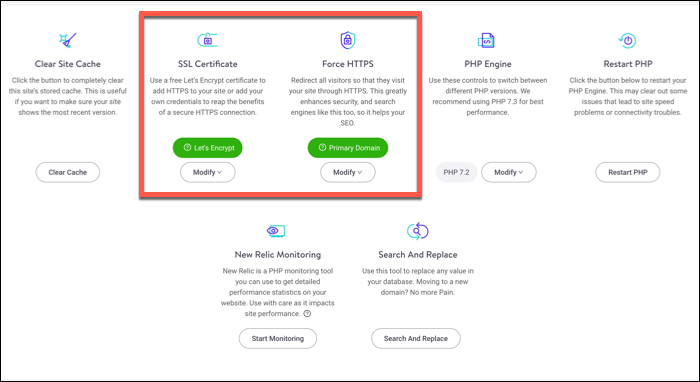 All of this is to basically show you that cPanel is not worth worry about, and anyone who complains about it probably doesn't really understand what they're talking about. Overall, this is a minor issue, and not a frequent complaint anyway.
13. Referrer (Mentor) Is Unavailable
One of the major incentives for signing up to Wealthy Affiliate is that you can get 1-on-1 help within the community. As an added bonus many affiliates, such as myself, add an incentive that they are available via Private Message for any questions.
For example, the first thing I do every morning is long into the community and go through my PMs. The second thing I do is go through recent questions from my referrals, and I check out all previous threads to see if anyone had follow up questions.
I'm on the ball! Plus, I have almost 10 years experience doing affiliate marketing, so I know what I'm doing.
The trouble is, not all affiliates do this, and some that do, are not very good at it. They are either not available every day for questions or they don't give very thorough answers. Whatever the reason, they are not happy with who they joined through.
Actually, this whole "mentorship" thing is not a guaranteed part of your membership. As I mentioned above, it's just a bonus offered by some people. The community functions great and does an incredible job of training you to be a profitable affiliate, even if you have no direct contact with any specific "mentor".
Really, it doesn't matter who you join through. You still have access to live chat, where you can ask questions of anyone who is participating. That includes many multi-millionaire affiliate marketers as well as regular people just like you who are learning how to do this stuff.
There's always an opportunity to learn, and it doesn't matter from whom you're learning.
On top of that you get access to "Classrooms" which is basically segmented forums where you can ask/answer questions and respond to threads.
All other features of Wealthy Affiliate are exactly the same, and you can still PM other members for help. Their response is not guaranteed (people are busy building their own affiliate sites), but you can still get in contact with a lot of members for help.
All of that is to say that even if the person who referred you to Wealthy Affiliate isn't a great mentor, you can still get excellent results from your training. It's not something that'll make or break your online marketing career. I never contacted my mentor at all, and now look at me!
If you do want an awesome mentor, here's my link.
14. Free Domain Isn't Included In Price
There is definitely a bit of confusion surrounding the whole "free website" thing which is advertised frequently. Yes, you do get two free websites as a Starter Member (free membership). You also get 25 free websites as a Premium Member.
However, these aresubdomains.
That means they are mywebsite.siterubix.com. This is the same concept as WordPress.com websites and Blogger free websites which would be mywebsite.wordpress.com and mywebsite.blogspot.com respectively.
Subdomains are fine to tinker with and to start your first website. No commitment required! Try it out and see if you want to continue.
However, if you're going to run a serious business you need to move to a TLD (Top Level Domain) like .com/org/net. They will rank faster and better, no doubt about it!
Some freshly-minted Premium members get upset when they realize that they will need to purchase a domain for about $14/year. Actually, Wealthy Affiliate domains are relatively cheap, costing $13.99/year for a .com domain with Privacy and SSL included. (That's a flat rate too, so the price won't double or triple next year, like happens with Godaddy and many other registrars)
Since WA is pitched as an "all in one" solution to building your affiliate site, I can see why some folks would get upset when they then have to purchase a $14 domain after they just spent $19 for their first month of membership.
However, I look at it this:
It's $14 per year. That means it's going to cost you less than $1 per month for the domain. It's not gonna break the bank guys.
On top of that, a domain costs money to register, even for Wealthy Affiliate. So the deal would be that you pay $19 and get a free $14 domain name? I'm pretty sure they'd be losing money on every members first month if that was the situation!
I think a potential solution could be to include a free TLD with your purchase of a yearly membership ($359). That sounds like a fair compromise to me!
15. Cannot Downgrade From Premium To Starter
Here's a real bummer I run into quite a bit. People want to downgrade their accounts from Premium to Starter, and it's not possible.
So you get the 7-day access to some Premium features for new Starter Members. After that 7 day period, your Starter Account is limited to 10 lessons in the Online Entrepreneur Certification and 10 lessons in Affiliate Bootcamp. You can also access all member-created training, which is probably 1,000 modules or more, and of course those two free websites you can continue to work on.
However, after you upgrade to Premium, when you cancel, you cancel. You cannot host any websites there for free, and you cannot access any training modules at all.
The idea behind it is that you know what Wealthy Affiliate is all about now, so you are either in or out. The trial is over!
I understand that a lot of people would like to be able to try Premium (full features like weekly Webinars, Private Messages, and all Premium Lessons), then downgrade to Starter and wait until they are ready to commit to the monthly membership.
I'm in the middle on this complaint. On the one side, you have to understand that these guys are running a business, and paying customers get preference. It's a tough sell to tell them, "OK, I want to stop paying you, but please help me move my website to a free account first". Imagine you were a business owner. Would you do it?
On the other side, I see that people want to be able to dip in and out of their Premium membership. It sucks that one month you may pay $49 but you were super busy so you only logged in once. Or maybe you had some financial issues pop up, and you want to downgrade for a month, then come back the next month.
There are a lot of situations where it would be convenient to flip a switch and go between Starter and Premium.
I don't have a great answer here. What would you do with your domain? Flip back and forth between a subdomain and .com? That's going to destroy your rankings. Are you going to move hosts? Then you lose access to WA features like SiteReview, SiteContent, and SiteComments. Are you going to be switching hosts every couple of months, moving your domain between WA hosting and BlueHost?
What do you think is the best answer here (Let me know in the comments)

16. All The Reviews Are Affiliates Looking For A Commission
Page one of search results for Wealthy Affiliate Review is stuffed full of websites promoting Wealthy Affiliate. Plus, many members do product reviews of Warrior Plus and JVZoo garbage info-products, and the conclusion is very often that Wealthy Affiliate is the best way to learn how to make money online.
For someone doing research on how to start their first online business, it's probably annoying to see so many positive reviews out there. Plus, every single review, of course, has their mother-freakin' affiliate link ready for a commission!
What else would you expect though? WA has a sweet affiliate program that pays 50% recurring commissions for the lifetime of the account. That means if you have just a few members sign up under you, that's a couple hundred dollars per month you can rely on.
Wealthy Affiliate has incredible retention rates (members stay on for multiple years) because the training and support is so good. I know some members which have been around for more than a decade. Imagine $25/month recurring commission for 10 years. That's about three grand in commissions for one sale.
So yeah, there's a big incentive to promote this company.
The only thing I can say is to do your research. Nobody really complains that the training sucks. Nobody complains about the level of support they get. There are very few complaints about the cost. So you have great training and support at a fair price. Sounds pretty good to me!
With regards to too many affiliates promoting them, I'm not sure what you expect. You mean you want someone to write a positive review of WA then leave money on the table and not include an affiliate link? I mean sure, they can do that if they want, but for any product I positively review, I'm going to try my my darndest to get an affiliate link in there and make some money!
That's the whole point of starting an affiliate website.
17. They Don't Give Enough Niche Direction
Picking a niche can be an easy task for some, but impossible task for others. That's why a lot of folks get involved in MMO, dating, or weight loss — because they don't know what else they are interested in.
The complaint here is that Wealthy Affiliate doesn't give enough direction when choosing a niche. Some people have complained that they don't "give" you any niche ideas, and other people have complained that they don't have you do enough niche research before building your website.
Well, there's two things to address here.
More Direction = Less Variety & Creativity
The first idea to address is that of giving out a list of potential niches. The thing is, there are an infinite amount of websites you could create. Literally. Millions upon millions of ideas out there. Some ideas are broader like "healthy cooking for college students", while others are super specific like "how to build custom arcade cabinets".
What kind of list are they supposed to give you, huh?
Let's say they list four example ideas like:
weight loss for women
build muscle for men
how to potty train a puppy
date again after divorce
You know what ind of websites everyone's gonna build?
weight loss for women
build muscle for men
how to potty train a puppy
date again after divorce
Now you have a bunch of people making affiliate sites about stuff they don't care about! Long term, I think it's better to leave niche choice open-ended rather than guide people to make websites about things they don't care about.
Fewer people give up when they're building a business about something they care about!
Should You Do Niche Research Before Building A Website?
The other idea to combat here is that you should do in-depth research before building a niche website. This is the boilerplate advice given in all the niche website blogs. You know, stuff like:
find high traffic, low competition keywords
research competitors
buy an aged domain
find high ticket products to promote
etc
Those are all great points to follow for experienced affiliate marketers. If I were to start a new website, I'd do a ton of research beforehand, because I don't want to waste my time. I want maximum payoff for minimum effort.
For newbies? This process can be frustrating.
A newbie affiliate marketer doesn't even get what keyword research is, so how are they going to do it effectively? A newbie can't really identify what's a good website, let alone which one of their competitors they should emulate, or whether competition is too strong.
So are you saying the setup would be that a new affiliate marketer has to do a month of research before even starting a website? And they have to pay $49/month for that privilege? That sounds pretty sucky to me. I'd rather get building my site and see what happens.
And that's pretty much the philosophy behind jumping in and having newbies create a site about anything they're interested in (within reason!).
Of course, everyone in the community tries to help narrow down these ideas into a refined niche, but let's be honest — a lot of our first websites sucked. If you have any experience in this industry and look back at what you did a couple years ago, you probably cringe.
I say, let people start taking action. Let 'em build a website. Some will get lucky and earn money with their first website. Others, like me, will have to cycle through a few ideas before they hit on something. I always tell people their first website doesn't have to be a home run!
So would a little niche research be bad for them? No. But it's a whole lot better to dive in and get some work done, then tweak your site as you grow as an affiliate marketer, webmaster, and entrepreneur.
Here's my idea! I think the owners should pay someone a few hundred dollars to brainstorm 1,000,000 niches and create a downloadable PDF guide. Anyone doing the training can pick their own niche, or browse a guide one million for some cool ideas!
18. Not Enough Success Stories
This one I LOL pretty hard at. Let's just get this out of the way:
These lists are INCOMPLETE. Actually, here's more.
They are just the successes which were publicly shared
They are just successes that I saw in my feed
They are just success stories which are not in the MMO niche
That means there are plenty of other people making money with Wealthy Affiliate training who (1) did not post about their earnings, (2) not active enough to get a lot of attention, and (3) did not promote Wealthy Affiliate on their website. (I purposely left those out so crybabies wouldn't say the only way to make money is to promote WA).
Oh yeah, and that's just three years of data. What about 2005 – 2016? I wasn't around then, and wasn't promoting WA, or I just hadn't taken the time to track them.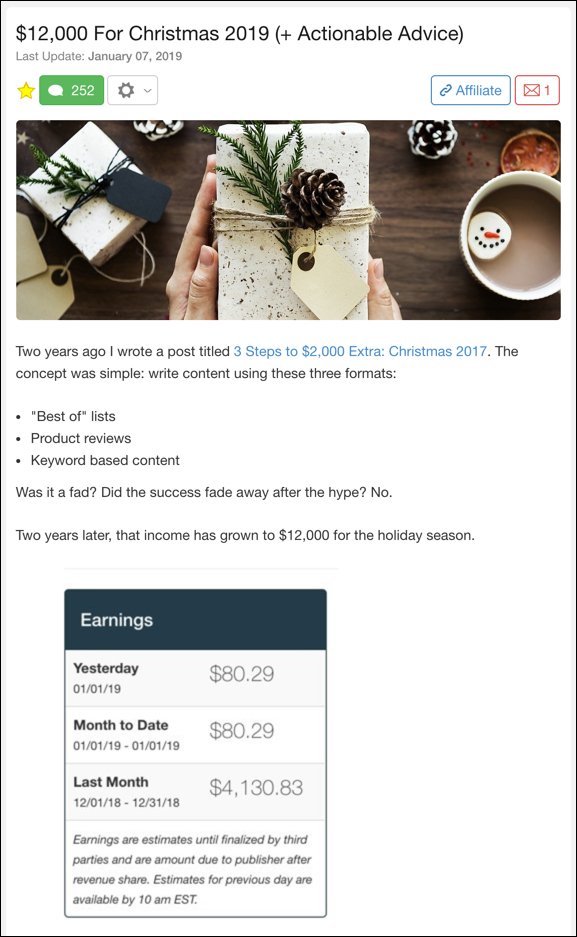 Here's the other thing that so many skeptics don't get: When you post about money people glom on to you. They ask what you niche is, what products you promote, and if they can find your website, they rip it off. Copycats are not really a problem within the Wealthy Affiliate community (everyone is too busy building their own niche sites!), but it does happen from time to time.
That's why a lot of folks don't announce when they finally hit pay dirt. They don't want to draw too much attention!
Sometimes, I do get some PM sharing private details with me, but they don't post publicly. Other times, people drop off the map. Maybe they quit. Maybe just just made enough money to quit their job and are working online full time now.
What about those people? Some folks just use WA for training, start making money, then move their websites and just leave the community because they've outgrown it. Not all success stories are public, but there are enough public ones that I'm positive there are a good amount of secret ones too.
So yes, there are plenty of people making money with the Wealthy Affiliate training. Some of them I've met in real life!

Final Thoughts About All These Complaints
Well, obviously I'm still a fan of Wealthy Affiliate despite all these complaints. You know why? Because the training works and the community is the best on the internet. Where else can you sit shoulder to shoulder with multi-millionaires, expert entrepreneurs, and regular people who just want to get out of their job they hate.
It's a pretty neat little place, and I hope you take the time to check them out if you want to learn how to make money with affiliate marketing!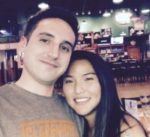 Nathaniell
What's up ladies and dudes! Great to finally meet you, and I hope you enjoyed this post. My name is Nathaniell and I'm the owner of One More Cup of Coffee. I started my first online business in 2010 promoting computer software and now I help newbies start their own businesses. Sign up for my #1 recommended training course and learn how to start your business for FREE!