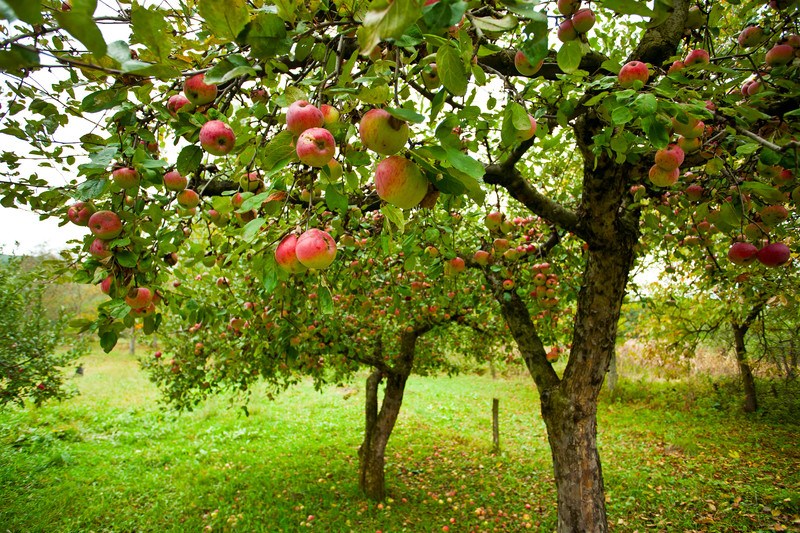 There's no shortage of training programs on how to start an internet based business and make money online. One of the most popular and talked about places to learn this stuff is Wealthy Affiliate — where I've been a member for 9 years and counting. But are the Wealthy Affiliate success rates any better or worse than other programs?
In a previous post about the average earnings of Wealthy Affiliate members, I made the case that there's no way to track what members earn. Just like a gym doesn't weigh you when you come and go, they don't keep track of how much you earn promoting other companies. In fact, it would be weird if they did.
Even so, I'm confident that Wealthy Affiliate success rates are on the rise. I'm an active member, and I see what's posted daily. Though its just anecdotal evidence, I see more and more people making money with their affiliate training, and there are some very clear reasons why.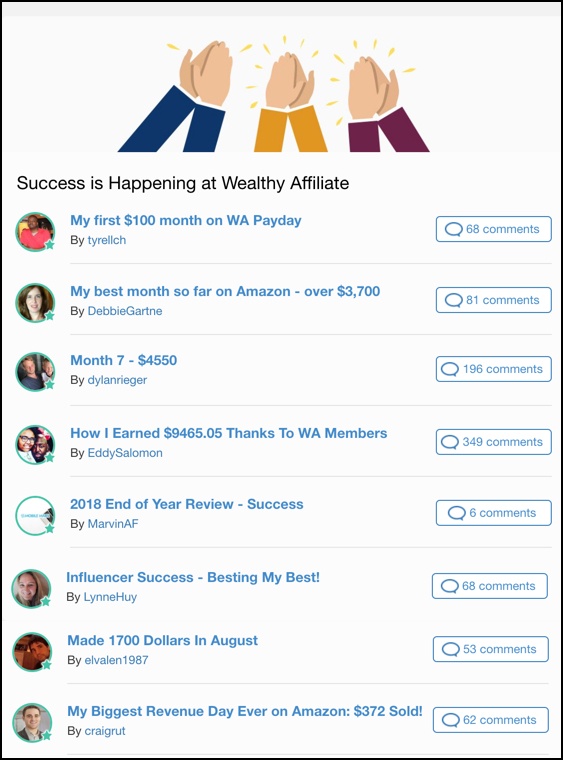 Why Wealthy Affiliate Success Rates Are On The Rise
A little background.
I joined WA in 2010. Back the it was a normal forum with their own website builder. They had quite a few training courses, but it was basically just training, hosting, and the forum. Obviously, it was good enough to teach me how to build a six-figure online business in 18 months, but recent changes have made the platform even more incredible.
The main point I want to get out over the course of this article is that I was able to succeed with some very basic tools they provided. In the last decade, they have exponentially increase the value of the service they provide (without raising the price), meaning meaning more success stories are going to be pumped out of their program.
On top of that, affiliate marketing and online business in general is getting easier.
How's that possible?
Well, the internet is getting more dummy-friendly.
Think about what it took to build a janky little website back in 2000. Coding was the main hurdle people had to get over, but there were lots of other problems too. Now with WordPress and managed hosting, you can have zero technical skill and still get a website online in less than a day and be profitable in less than a few months (if you put in the work).
On top of that, you have way more training courses available, free blogs on all topics imaginable, and YouTube is an amazing for learning each step you need to do to get your affiliate site earning money.
Anyone can build a website. Anyone can build a business. Earning $10k/month online isn't some pipe dream created by internet gurus. It's a reality for thousands of people, including myself.
The combination of improvements to the WA platform and the implementation of Web 2.0 across the internet means that more people are reaching their goals. Let's look at exactly what Wealthy Affiliate has improved, so you can see exactly why Wealthy Affiliate success rates are on the rise.
Upgraded Hosting
When I joined in 2010 I could only host 5 WordPress websites on their hosting. Now you get 25 spots with 500K Visitors/month limit and 30GB website space. This is huge. In comparison, a place like Hostgator will say you get "unlimited hosting", but they'll pull a little trickeroo where they limit the "inode" count, which is basically the number of files you upload. So the space is unlimited, but you'll have to upgrade pretty quickly once you start publishing content.
Compared to other managed WordPress hosts, you also get added bonuses like botnet security, unlimited email accounts, and free SSL certificates.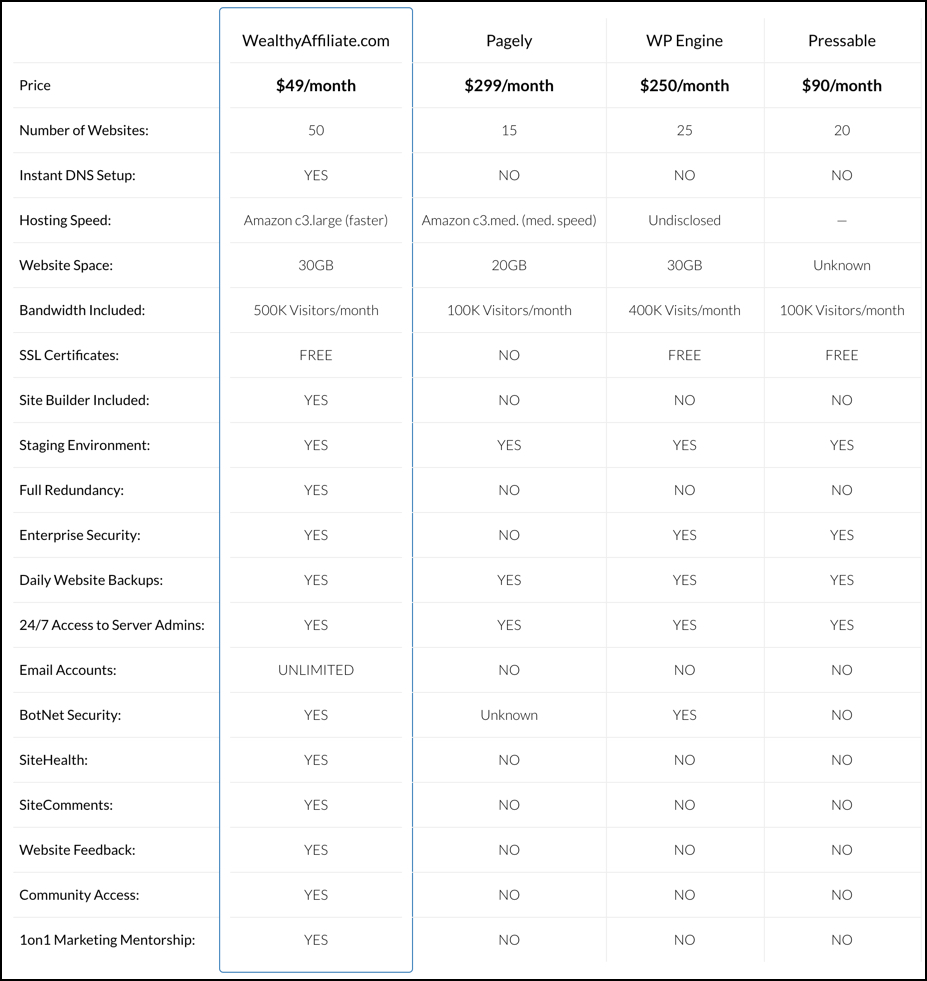 Fast, secure, and inexpensive managed WordPress hosting is huge, especially on the SEO front, but we'll get into website speed below.

SiteSpeed Extreme
To be honest, I'm not exactly clear on what SiteSpeed does, but as far as I understand it, it basically works like a caching system. It's not a caching system, but it produces similar results. They serve up a static version of your website to visitors so that the page loads super fast, instead of having to load each element dynamically.
The cool thing is that it's not like a caching system where you have to battle your browser to show your recent changes, either clearing the cache constantly or opening your site in an incognito window to display the new changes. It's a unique system to Wealthy Affiliate.
The end result is what matters, and it's that your site is super fast. Fast loading pages is a huge SEO signal, so you can expect better rankings, more social engagement, and higher conversion rates. Are you starting to see why these success rates are directly related to what Wealthy Affiliate is offering with their membership?
On top of all that, you can check out the page speed of each individual page and get recommendations from Google PageSpeed Insights.
I'll also add here that they block spam and bots natively with their hosting, so you do not need spam filters or security plugins. Fewer plugins generally mean faster load times, increasing your overall site speed.

SiteComments
Whether or not "comments" on your website are a direct SEO signal is disputed, but the fact is that Google says comments on your site are better than offsite. I think it's pretty clear why.
No, Google isn't monitoring what people say about your content. They do see notice some important things about the process of commenting though.
fresh content
longer time on page
return visitors
keyword repetition
social signals
When people comment on your website they are engaging. When you publish someone's comment, that person will come back to see what your response was. If you are involved in a discussion, they may come back a few times. They may even share the post with their friends, or at the very least give it a Facebook Like.
That means more traffic and more social signals for that page. More engagement means more rankings for you.
Plus, as they type of words on your page, you get credit for updating your content as well as simply having more words. Your 1000 word blog post suddenly turned into a 2000 word blog post over night. It's also different than before, meaning you updated something.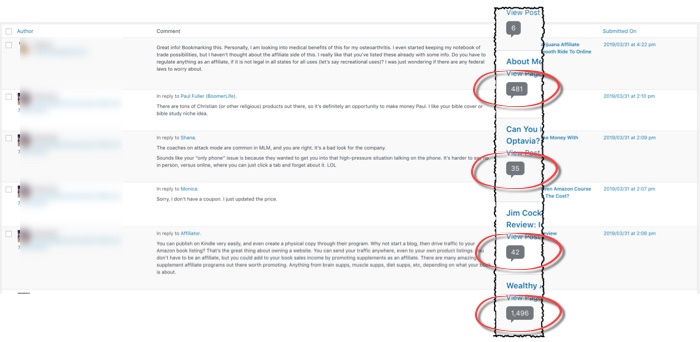 Google loves fresh, updated content.
SiteComments is unique to Wealthy Affiliate. You can submit your site to receive comments, or you can offer comments to other websites and receive "credits" to either cash out for money, or to trade for comments on your own website.
This way you have an unlimited resource to get real people onto your website, engaging with your content. Seeing as these commenters have an incentive to get their comments approved, you won't have to worry about spam or drive-by comments that just say "you suck" or "please link to me".
FreeSSL
Google is all about privacy and security, so they are gradually moving to all https for their search results. The first indication that SSL was a positive ranking signal came in 2014, with a second push in 2017/2018. My prediction is that in the future, all sites will use https.
For the time being, technically, you are not punished for not having an HTTPS website. However, it's an easy way to get a small advantage over the competition.
The trouble with SSL is that it costs money and it's hard to implement for newbies. Wealthy Affiliate allows you to turn on SSL with the click of a button.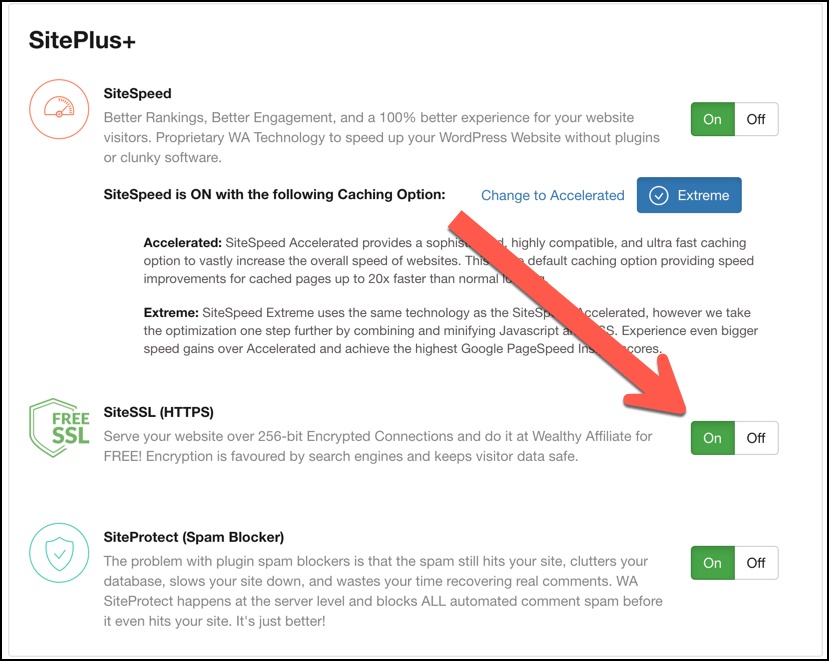 This button implementation also means it's easy to fix mixed-content issue, where some elements of your site don't transfer from HTTP to HTTPS properly. Just flick it on, then off. Easy.
How to install and renew and SSL certificate is just one more thing you don't have to learn how to do when you host your websites at Wealthy Affiliate.
These types of hurdles are what prevent newbies from succeeding! Imagine barely knowing how to upload a picture to your WordPress website, and now they want you to figure out how to know what type of certificate to buy, how to generate a key and certificate, know what type of server your hosting with, and a bunch of other tech jargon? No thanks.
I've done my own certificate before, and it can be a pain. As a newbie, that's just the kind of thing that would make you feel like you can't do it and you just want to quit.
SiteDomains
Here's another great example of a necessary task that makes people want to quit.
If you have any experience building websites, then you know it's not a big deal to change the DNS at your registrar to point to your host. It takes about two seconds.
For a newbie? That task can be devastating!
What the heck is a DNS and how to I put my website on my domain?
It's just gibberish to them. I know, because I had to learn this stuff too.
Having your host and registrar at Wealthy Affiliate means everything is in-house, and it's easy to fit together. You don't even have to mess with your DNS to get your domain you just purchased to point to your hosting. It's already set up.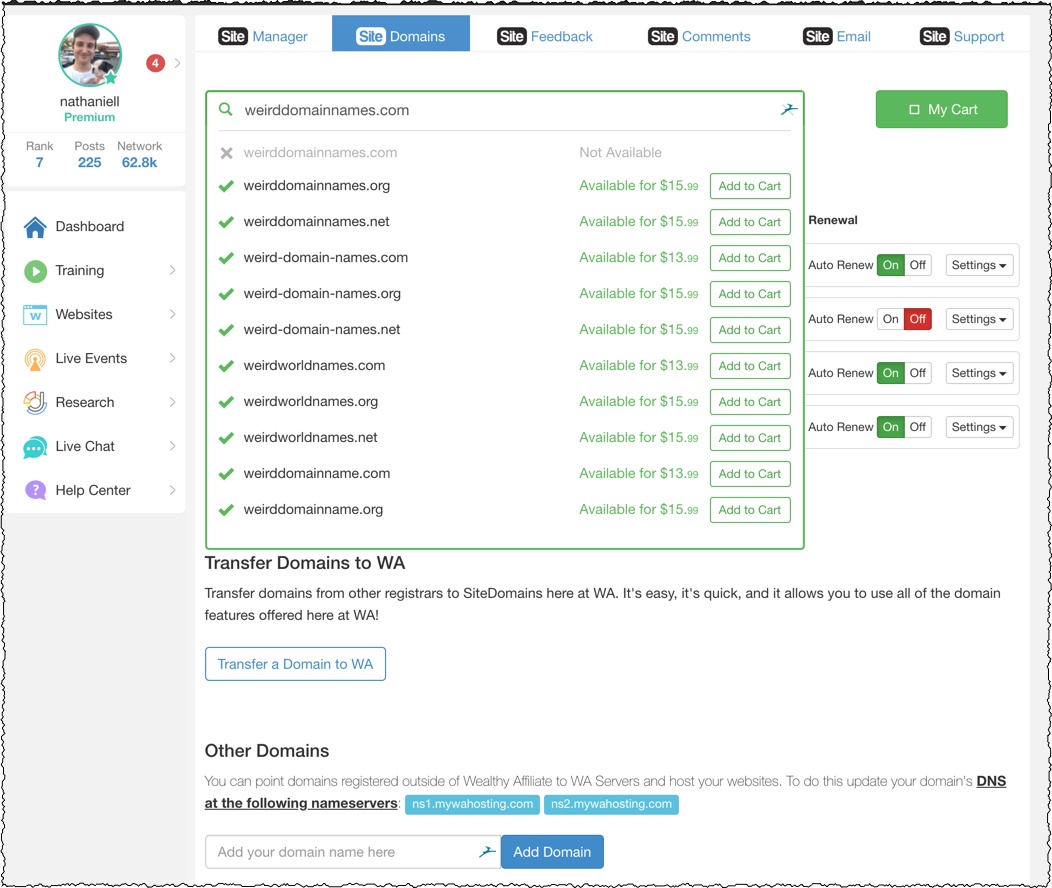 Did you run into a snag? SiteSupport can fix it. After all, this is managed hosting.
Streamlining the website building process is exactly why more people are succeeding in Wealthy Affiliate than just a few years ago. As soon as you get your first website online, it's a great feeling. You feel like you've accomplished something, and you might actually be able to "crack the code" and start making money.
More websites being successfully built means more people get past the initial hurdles and make it to the finish line where they start profiting!
24/7 Live Chat
The instant help you can get in live chat is invaluable. I think it's maybe the main factor (If not, it's in the top 3) reasons why more members are making money from their website.
OK, picture this:
Scenario 1: You can't figure something out, and can't make progress until you figure it out. You leave a question on a forum. You know it's going to be a day or so until you get a response, so you leave the computer and go watch some TV.
The next day you come back, and someone left a response. They need more information. So you leave a response. Then leave the computer and go work in the back yard.
Things get busy, and you don't check the forum for a few days. Finally you get back to check the responses, you fix the problem, and move on. It took five days to get past that road block.
Scenario 2: Same deal. You can't figure something out, and can't make progress until you figure it out. Instead, this time you drop by live chat. You have a short conversation with someone in real time. You describe the problem, maybe even include some screenshots.
In less than 10 minutes the problem is fixed, and you can move forward.

It's pretty freakin' easy to see that in scenario 2 you get a lot more done that week. More progress on your business means more results and more good feelings. The positivity snowballs, and leads to you earning money a few months down the road.
Live chat means you can solve a lot of little problems really fast, and get closer to your goals much quicker.
On top of that, you also get to just chit chat with other entrepreneurs. You've probably seen those memes about your personality being a combination of the five people you hang out with most. This is pretty true in my experience.
If you want to be successful, hang out with successful people.
Many people in your life will be naysayers about affiliate marketing or building an online business. I've seen it in my own life, with my own family and friends. Live chat is a great way to meet other people who share your goals and dreams. These people will cheer you on instead of put you down.
Live chat wasn't always a feature of Wealthy Affiliate. Back in my day…well, you know the story.
Weekly Webinars
Webinars are also a relatively new-ish feature of the WA community. Jay, an SEO expert and long-time internet entrepreneur hosts weekly live webinars (every Friday) on a wide variety of topics, including:
SEO checklists
keyword research
writing techniques
local SEO
Bing and Google Webmaster Tools
Google Analytics
Affiliate link tracking
Private affiliate programs
Facebook ads
Scaling your business
Outsourcing
Ecommerce
Creating graphics
Drop shipping
Building authority in search
Competition research
CSS basics
Those are just some of the topics from the past few months. There are 5+ years of topics at your disposal since you get access to all past webinars as well. That means there are 260+ webinars to browse though. At 1-hour long each, that's a whole lot of content included in your membership.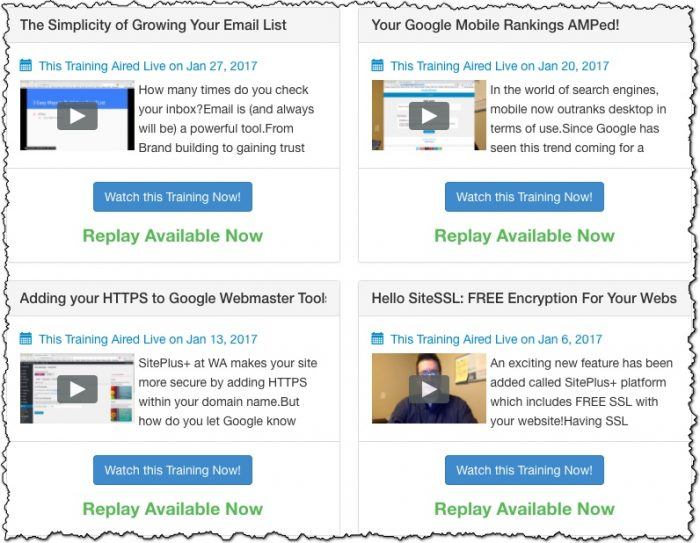 Webinars are great for engagement as well as keeping up to date with the affiliate marketing business as a whole. When AMP was released – Jay did a webinar. When the SSL requirements came out — Jay did a webinar. SEO changes for current year? Yeah, there's a webinar for that.
The fact that you can talk to a live expert each week and basically have a meetup with other internet entrepreneurs is pretty amazing. The weekly webinars are one of the main reasons I still keep my membership, other than to help out my referrals with their webistes.
More Website Slots
I mentioned before that they previously limited you to about 5 websites, and now it's 25.
Let's face it. Your first few websites are going to suck. You're going to have lots of ideas as you learn how the whole process of affiliate marketing works, so you might build one for a few weeks, then start another. Some folks are even starting their own web hosting management service, hosting websites for friends and family. They charge them a small fee, and that helps pay for their Wealthy Affiliate membership.
Many hosts will limit you to just one website on the basic plan. Even my current $300/month plan with Kinsta limits me to just 10 websites! I think the fact that WA is allowing people to host more websites on their account is having people stay around longer. In turn, that means more folks are seeing results.
More Affiliates
How can more WA affiliates lead to bigger Wealthy Affiliate success rates? Because there's more experts to help out.
Here's a great example.
I log into my account every day and check out the activity of my referrals. I see what they are asking, if they asked me any direct questions, or if they responded to my initial responses. While I'm there, I like to pop into Live Chat to show my face and see if any of my referrals are lurking in the background.
Since I'm there, I help anyone who needs it, whether they are my referral or not. There are now more WA affiliates than ever, meaning there are lots of other people doing the same thing: answering questions, chatting, and generally being helpful.
Another thing I do to keep my referrals engaged is regularly posting content within the community. About once a week I publish a 1000 word blog post on their internal blogging system. My referrals get notified of my activity via email or on their dashboard, and they can comment on the post.
That blog post is available to everyone to read and comment on! The more I blog with the purpose of helping my referrals, the more other people can glean information from my content. Whether it's motivational stuff or tutorial-style trainings, everyone can benefit.
As more affiliates do this same thing, the community as a whole has a steady stream of awesome content from expert affiliate marketers. This is why more WA affiliates leads to better retention and more success stories within the community.
What Still Works (And Always Has)
Everything I wrote above was more about recent changes to Wealthy Affiliate and how they contribute to the overall success of its members. There are some aspects of the community that haven't changed, but are also great reasons to join.
spam free zone (no advertising!)
positive vibes (no flame wars, politics, or religion)
tight-knit community
focus on supporting newbies
updated video and written training
ability to ask questions and participate in discussions
emphasis on long-term business growth instead of short term gains
That's pretty much the quick-and-dirty of what's offered with your members, but you can read my full review for more details.
So are you ready to become the next big Wealthy Affiliate success story?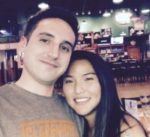 Nathaniell
What's up ladies and dudes! Great to finally meet you, and I hope you enjoyed this post. My name is Nathaniell and I'm the owner of One More Cup of Coffee. I started my first online business in 2010 promoting computer software and now I help newbies start their own businesses. Sign up for my #1 recommended training course and learn how to start your business for FREE!